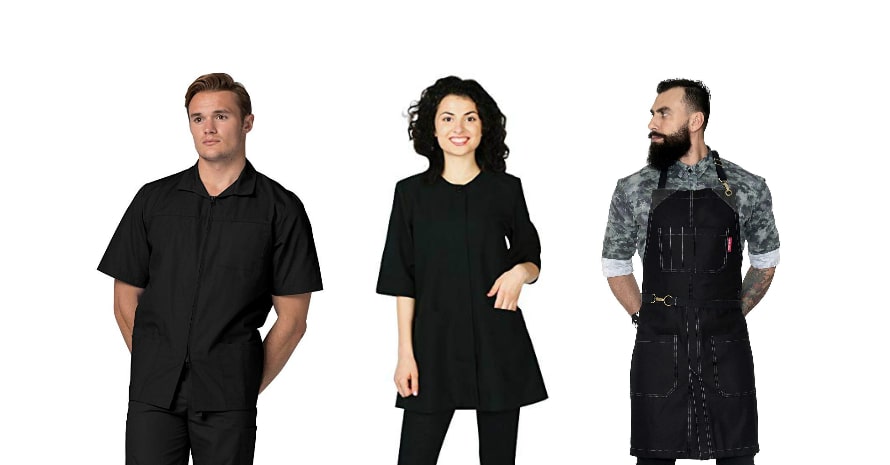 Are you currently thinking of purchasing a barber cape, an apron, or a smock? It can be cumbersome to choose the right items for yourself and your clients, especially if you are a beginner hairdresser. However, I am here to provide you with guidelines on what quality items to purchase for comfortable work. Check out my reviews of the top-rated hairstylist clothing you can buy today.
Thanks to my huge experience of working as a hairstylist, I have come up with a list of the sixteen best barber smocks and other apparel you can find on the market. All the products I have mentioned here will definitely give you the value for your money. Read on to learn about the pros and cons of each item and make an informed decision.
16 Best Barber and Hairstylist Apparel: Capes, Aprons, Smocks
Below, you will find my detailed reviews of the best salon capes, barber vests, and aprons. Take time and go through the descriptions and tables with the advantages and pitfalls of each item to find a "perfect match" for you.
1. Salon Sundry Nylon Cape with Snap Closure – Best Hairstylist Apparel
Salon Sundry is a leading company that specializes in manufacturing high-quality salon products, from hair steaming tools to nylon capes. It caters to a broad range of clients, including nail technicians, skins consultants, barbers, tattoo artists, and even pet groomers. Judging from my experience, which I have gained through working as a professional hairstylist for many years, I associate this brand with top-notch products for salons. That's why the nylon cape made by Salon Sundry tops this list.
This product is quite easy to get on and off, so your customers will be comfortable wearing it while getting their hair cut. The cape has a snap closure that can be adjusted to fit a customer's neck circumference from twelve to twenty-three inches.
Although it is made of nylon, this cape is quite lightweight. You can store it easily or hang it on a rack, thanks to the loop on the clothing. The thing I love the most about this cape is that it can be cleaned simply by wiping it up. Also, this item can be machine-washed.

---
---
2. GreenMan Barber – If You Have Been in Search of Custom Salon Capes
This salon apron is made of durable pongee polyester material. It is one of the most creative barber capes to get. Also, it is quite smooth to the touch and does not electrify (and that can be irritating). This cape is available in black color, making it an ideal buy if you want apparel that does not make stains too visible. There are buckles on the cape to allow adjusting the size of the neck part.
This item is quite easy to clean. It can be washed in a washing machine and dried naturally. All told, I love this cape because it has a transparent area at the front that allows clients to check their phones, reach out to their pockets, read a magazine, and so on.

---
---
3. Betty Dain Vintage Print Cape – Among the Top-Rated Hairstylist Capes
Betty Dain is a renowned brand that produces salon apparel meant to last for long. It manufactures some of the best hair cutting capes of durable material. The company has been on the market for about 75 years now, and almost everyone in the hairstyling sphere is conversant with Betty Dain's products.
This Betty Dain cape has a lovely design. The vintage print features traditional barber equipment such as clippers, tonics, and combs. For the fitting, you have to adjust the cape to match the size of your client's neck.
It is quite a lightweight item. The waterproof fabric used for this cape has a cloth-like feel that is sure to impress your clients. Cleaning this apparel is quite easy. Moreover, the colors do not fade with washing. This cape is long enough to ensure that hair will not fall on the clothes of your clients. That said, it is one of my favorite capes on the market.

---
---
4. Xbes Professional – An Innovation Among Hairstylist Capes
It is an innovative cape that comes with a great design for catching hair, thus, preventing your floors from getting dirty. By adjusting the size of the neck part, you can fit this cape to any male or female client.
The main material used for manufacturing this product is nylon, meaning it will not irritate the skin nor let in water. The cape is also quite effortless to clean and can be folded to store.

---
---
If you are looking for an excellent cape for the younger generation, then this model is your ideal product. It has a colorful design that is sure to impress your young clients.
The item is lightweight and waterproof. It is a perfect cape for both boys and girls. This product has a snap closure that makes it easy for you to adjust the neck size, as well as get the product on/off your customers.
Taking care of this apparel is easy. You can wipe it whenever it gets dirty, or wash in a washing machine. Although it won't last you a lifetime, this Betty Dain Social Kids cape will make your young clients happy.

---
---
6. Space Starry Sky Kids Haircut Barber Cape – Amazing Hair Cutting Cape
It is yet another cape meant for younger customers. As this product was manufactured for kids, the item features playful and colorful designs that are guaranteed to impress your clients.
The cape is made of polyester. Thus, you can be sure that it is waterproof. This item does not electrify, meaning no hair will be attached to its surface during hairdressing or other haircare routines. It can be adjusted easily to fit the neck of your young clientele. What I also love about this item is that it is machine-washable and dries up really fast.

---
---
7. Facón Professional Leather Barber Apron – Top-Rated Hair Salon Apron
This leather apron is handmade, top-grade apparel for barbers and hairdressers. It's made of durable PU leather and features seven useful pockets in the front, one at the top and the rest below the waist.
This apron also has two straps to tie at the back and an adjustable neck strap. The latter has a quick-release buckle on the sides. The large chest pocket, dark color, and heavy-duty material make this apron an ideal choice for everyday use. This professional apron from Facón is available in black, brown, and red colors.

---
---
8. BabylissPro Barberology Apron – Functional Barber Uniforms
Black, trendy, and comfy are the best words to describe this barber's apron. It is made of polyester, except for the PVC base. This light fabric makes it an ideal wear for the entire workday.
The front part of the apron has three large pockets with zippers. You can use these pockets to hold a variety of hairstyling tools, including hot combs and clips. You can also use one of the pockets to hold your phone, cash, and other personal accessories.
This item has straps that go around the shoulders and then crisscross at the back. This design gives you ample support, especially when you are carrying a lot of work tools.

---
---
9. Betty Dain Vintage Barber Apparel – A Pretty Apron to Note
For the best comfort during work, you may want an apron that is lightweight and easy to clean. This vintage style model is exactly what you were looking for.
It is designed by Betty Dain, a professional salon apparel maker that I have already mentioned in this article. You can find these cute hairstylist aprons in six different colors and styles.
This model is made of the nylon material, which makes it incredibly lightweight and waterproof. The apron has four pockets for putting your work tools, two at the top, and the other two at the bottom. The two bottom ones can be zipped up. You can also adjust the neck part to your comfort.

---
---
10. Under NY Sky No-Tie Apron – Trendy Hairstylist Aprons I Recommend
From the rich colors to the vintage clasps and double-stitched pockets, there's everything to love about this apron. It provides a handy alternative to tie aprons. Instead of tying two ends at the back, you need to fasten the clasp to the ring around the waist.
This apron is handmade. The product is mostly made of cotton twill with added patches of leather. The waist strap, on the other hand, is made of cotton entirely.
This top-notch apron is manufactured by one of the best brands in the industry, Under NY Sky. This company is well-known for making high-quality and stylish barber aprons and apparel for stylists, chefs, servers, baristas, etc. You can buy this product in deep black, opaque black, moss green, chocolate brown, or armor grey colors.

---
---
11. Jeanerlor Denim Apron with Pockets – Stylist Wear for Women
Looking for a fashionable apron that's still functional and love denim? The Jeanerlor model has got you covered. The item is mostly made of cotton and features seven pockets of different sizes. It can, therefore, hold a variety of tools, including your mobile phone, so that you can reach things quickly while working.
The size and design of this apron make it an excellent fit for female hairstylists. You can adjust this apparel from small to large fitting. The Jeanerlor denim apron comes in black and blue colors.

---
---
12. Landy Adjustable Bib Apron – Among Best Hairstylist Aprons in Denim
This versatile work apron from Landy is another denim apparel to appear on this list. It comes in black color and several designs. While the apron is made of soft denim fabric, the straps are made of leather.
The upper strap doesn't go around your neck. Instead, this apron's straps crisscross on the back. As such, you won't strain your neck with continued use.
The hems of the pockets are double-stitched for extra strength and long-lasting use. There are multiple pockets on the apron to hold everything from your working tools to personal stuff. The size of the model can be adjusted easily, therefore, making it ideal for women and men.

---
---
13. Professional Hairdresser Canvas Apron – Multipurpose Hairstylist Clothes
Do you need an apron that can last for long, even with your busy schedule? This handy hairdresser model is truly functional. The length doesn't cover the full body, as it starts from your waist and goes a few inches down.
The item has large pockets on either side that can hold even a water spray bottle or a can. It also has two small pockets and one zip pocket at the center that are ideal for storing small wooden brushes, clips, pins, and other items. The additional four open pockets are for storing hair and makeup brushes.
Along the waistline, there are two additional pockets with zips that provide space for storing your phone and other personal things. This apron features a belt and buckle that allow quick fastening and unfastening around your waist. This model is a great choice if you are looking for something small but multipurpose.

---
---
14. Smockers Betty Professional – Perfect Hairstylist Smock
Who said that you couldn't feel comfortable if wearing stylish apparel in the salon? This Smockers Betty Professional smock is what you need to look stunning at work. It fits a variety of sizes so that you can buy the item of any size ranging from XS to XXXL.
This model is ideal for using as a cosmetology smock, salon apron, or spa uniform as it does not get damaged by bleach. It is also resistant to soil and water. Therefore, this Smockers model offers complete protection while you work.
You can wear it in the salon or barbershop over your outfit or use it at home. This apparel is great for everyday wear. The color stays intact after wash, and the item doesn't shrink.

---
---
15. Betty Dain Glitz Rhinestone Zipper Salon Wear Vest – Cheap and Useful Option
For a classic yet stylish look, this hairstylist vest made by Betty Dain is a great choice. It features a V-neck and rhinestone embellished zipper and comes in black color.
What's unique about this vest is that it has large zip pockets on the sides that allow for comfortable work. The item is made of poly-nylon, so it will last you long. Not only is this barber vest durable, but it is also wrinkle-resistant.

---
---
16. Adar Universal – Fantastic Men's Zippered Hairstylist Jacket
This zippered jacket can work as a wonderful alternative to the Betty Dain vest. It ensures that you still look stylish and protected at work without messing up your clothes.
This jacket is made mainly of polyester and some cotton. There are several colors to choose from, such as white, black, burgundy, etc. The model has two pockets near the waist and a chest pocket. It also features short sleeves, a V-neck, collars, pleats at the back, and a slim waist that adds a tailored look to the apparel. You can choose an appropriate size from XXS to XXXL.

---
---
Buyer's Guide on Hairstylist Clothes
How can you be sure that you buy the best cape, apron, or smock? Well, some features are absolutely necessary, while other ones can be compromised. Check out the following tips before selecting your hairstylist's or barber's gear:
The type of fabric that the smock, apron, vest, or jacket is made of matters. It should be a high-quality and durable material, as salon clothing is washed often. The material should also be waterproof so that your clothes underneath don't get wet. Most hairdresser apparel is made of nylon, polyester, or cotton.
The apron or a smock you want to buy shouldn't be too difficult to take care of. Generally, it should be machine-washable and dry quickly. Moreover, the clothing should be resistant to bleaching and stains from dyes and other products.
If you are always busy and tend to create a mess while working, black or dark blue colors would be the best choice for your apparel. However, if the material is waterproof and stain-resistant, you can still go for a bright color.
Good apparel should be lightweight. Remember, you will be moving around a lot and working in a relatively stressful environment. Moreover, hairdresser aprons, vests, or smocks are meant to be worn on top of your own outfit. As such, it shouldn't be too heavy or thick.
As you buy hairstylist apparel, it is also important to compare prices with features. There are many brands and products on the market that are worth spending money.
The FAQ on the Best Salon Wear to Purchase
Here are the answers to the most frequently asked questions on what hairstylist apparel is worth purchasing. I hope that the information below will help you to choose the right items according to your needs.
What is the best hairstylist apron?
The choice of apron depends on your needs and preferences. For example, one of the main factors is whether you are looking for men's, women's, or unisex aprons. I have mentioned a few suitable models for men and women above.
What styles of aprons are available on the market?
There is a wide variety of stylish apparel on the market. You can choose one that fastens with straps or clasps, around the waist or full-length size, etc.
What is the difference between a smock and an apron?
Smocks are loose-fitting and lightweight items that are worn on top of clothing for protection. Aprons are also worn as protective cloth, but instead of being free-fitting, they have straps or clasps. Usually, you tie an apron at the back.
Pick the Best Salon Apparel for Yourself
What is your favorite stylish apparel from the list? Or do you prefer wearing stylish shirts for men and women, without any capes or aprons?
Buying a quality apron, smock, vest, or jacket is important if you are a hairstylist or a barber. Such an item ensures that you have no worries about staining or getting water spilled on clothes. But apart from protecting your outfit, it should also look stylish and be functional professionally. All the models mentioned in this article are durable and helpful, so you now have options to choose from.
I do hope that you have found the information in this article useful. Are you a hairdresser or a barber? Have you tried any of the brands mentioned in this review? Share your experience in the comments below.
Last update on 2022-12-11 / Affiliate links / Images from Amazon Product Advertising API