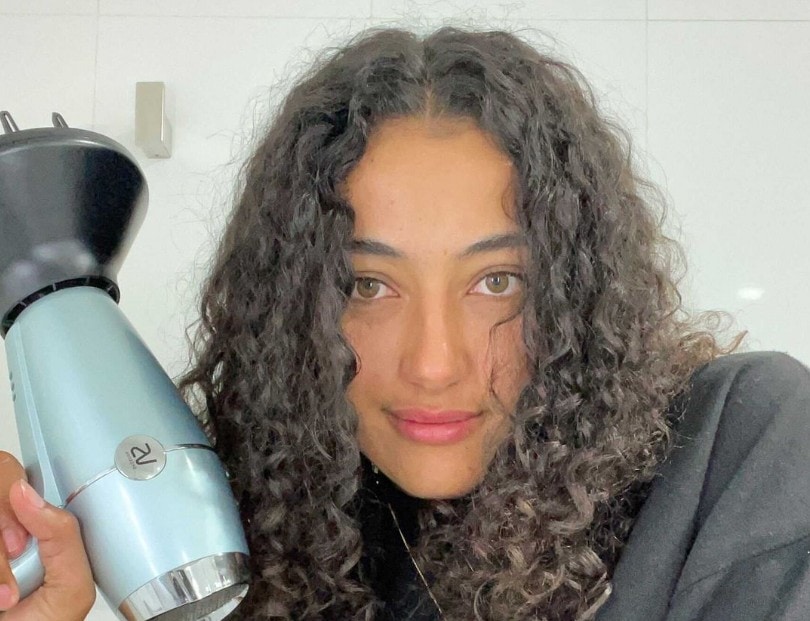 Having luxurious natural black hair comes at the price of higher maintenance. Kinky black hair is highly fragile and more predisposed to heat damage, which is why it is essential to pick the right kind of blow dryer that will be 100% compatible with your hair type.
In this post, I have reviewed the seven best blow dryers for natural black hair that deliver consistently outstanding styling results at a minimal investment of time and effort. Read on to see why BaBylissPRO Nano Titanium hairdryer ranks the highest on the list, what makes the DevaCurl diffuser unique, and how the CROC Greenion blower came to be so eco-friendly.
6 heat/speed settings to match any hair type
Significantly reduces the average drying time
Eliminates static charge and frizz, giving your hair a smooth, glossy finish
Top Pick
6 heat/speed settings to match any hair type
Runner-Up
Significantly reduces the average drying time
Premium Pick
Eliminates static charge and frizz, giving your hair a smooth, glossy finish
7 Best Blow Dryers For Natural Black Hair: Reviewed
BaBylissPRO Nano Titanium Hair Dryer – Top Pick
RUSK Engineering Speed Freak – Runner Up
Elchim 3900 Healthy Ionic Hair Dryer – Premium Pick

No products found.
Below is a list of the top-7 most exciting and high-performing blow dryer models in 2021. The reviews also feature pros and cons for each product to help you make a more informed shopping decision.
1. BaBylissPRO Nano Titanium Hair Dryer – Top Pick

well-balanced blend of robust performance, innovativeness, and wise design choices.

At 2000 watts, the BaBylissPRO Nano Titanium is more powerful than most other hair dryers in its price gap and is perfectly capable of tackling some elaborate styling jobs. More power here equals higher drying speed, which results in less time your fragile black hair is exposed to heat. Its 6 speed/heat settings and the cool shot button allow you to experiment with a variety of styling options without risking any hair damage.

The nano titanium ionic technology used in this hair dryer helps restore a proper balance of negative ions, minimizing static charge and ensuring a sleeker, shinier, and healthier look for your hair. This very feature also makes straightening much easier and guarantees excellent and lasting results.

While being so heavily loaded with amazing functions and capabilities, this BaBylissPRO dryer remains surprisingly lightweight, ergonomic, and manageable. It is a perfect travel mate whose detachable design ensures super-easy and safe cleaning.

PROS:
Fast and efficient drying;
6 heat/speed settings to match any hair type;
Ionic technology fights frizz like it is nothing;
Lightweight and compact – perfect for traveling;
Removable parts for super-easy cleaning.
2. RUSK Engineering Speed Freak – Best Blow Dryer for African-American Natural Hair With Extra-fast Drying Capabilities
Powered by 2000 watts, this ceramic and tourmaline blow dryer releases natural ions and uses the far-infrared heat technology to seriously bring down the average styling time. As a result, your hair looks shiny, free from static and frizz with minimum input of your efforts and time.
The use of ceramic and tourmaline helps overcome the heat damage problem that is common to many cheaper blow dryers. It does not cause frizz or dryness even when the appliance is set to work at the highest heat level. The far-infrared heat technology makes hair smooth and soft and rounds up your styling experience by adding a glossy finish.
The design of the blow dryer is very modern and user-centric. The main controls like speeds, 3 heat settings, and the cool shot button are all ergonomically located and can be reached easily. The compact size and small weight of the dryer make it a perfect companion for long-distance traveling, and the 9-inch cord allows just the right amount of styling flexibility.
PROS:
Sleek, hi-tech look;
Excellent for coarse coily hair;
Significantly reduces the average drying time;
Minimizes frizz and flyaway hair;
Long cord for easy maneuvering.
3. Elchim 3900 Healthy Ionic Hair Dryer – Best Hair Dryer For Natural Hair Of Thin And Delicate Types
Even though it is placed on the costlier end of the spectrum, the number of styling possibilities that this 2000-watt professional ceramic hair dryer provides fully make up for the inconvenience. Investing in the Elchim 3900 will let you save on purchasing other products like a straightener or a curling iron and still get a sleek and shiny salon look after each blowout session.
The Elchim 3900 model works nicely on any hair type and texture, but people with thin, delicate hair will benefit the most from using this dryer because of its fabulous heat protection properties.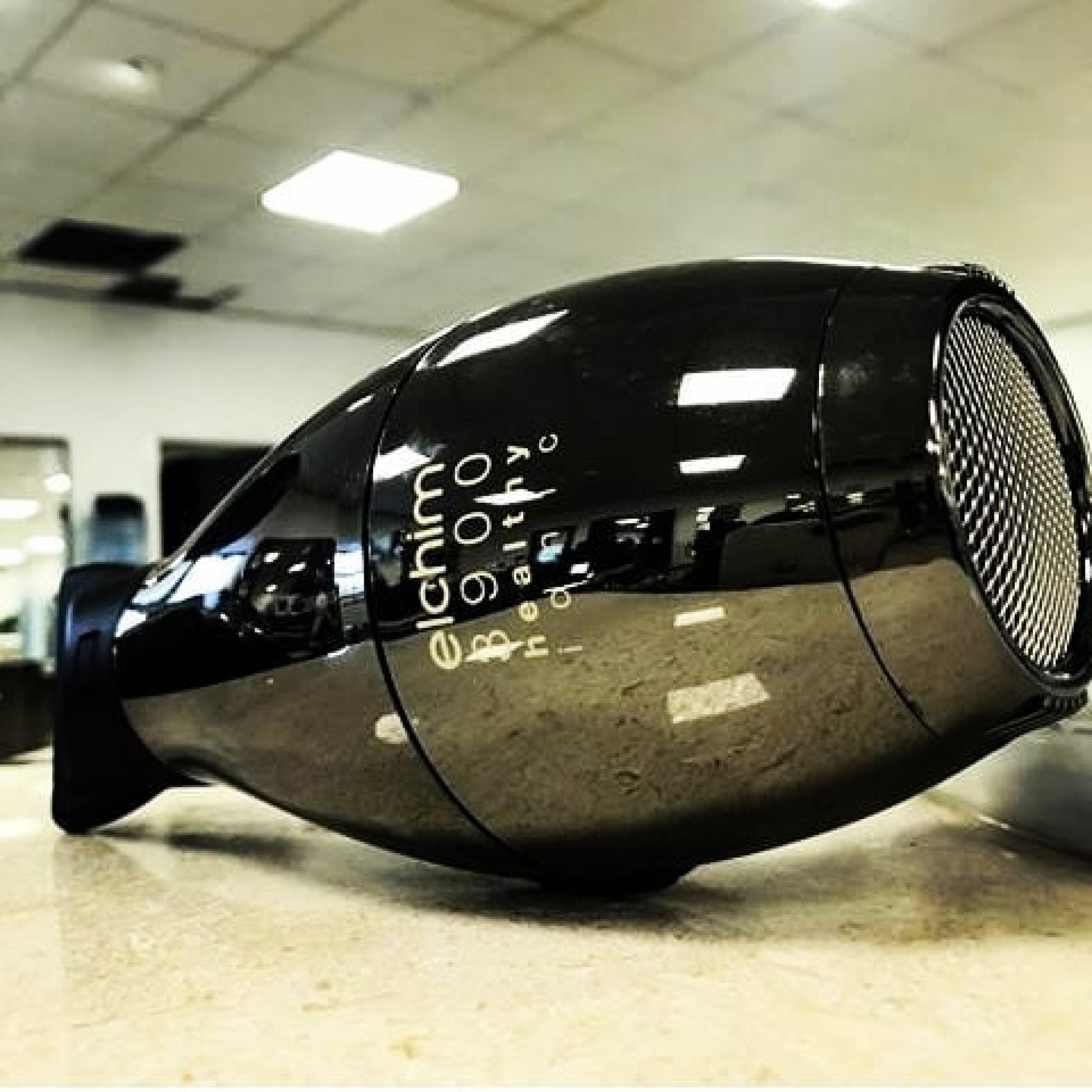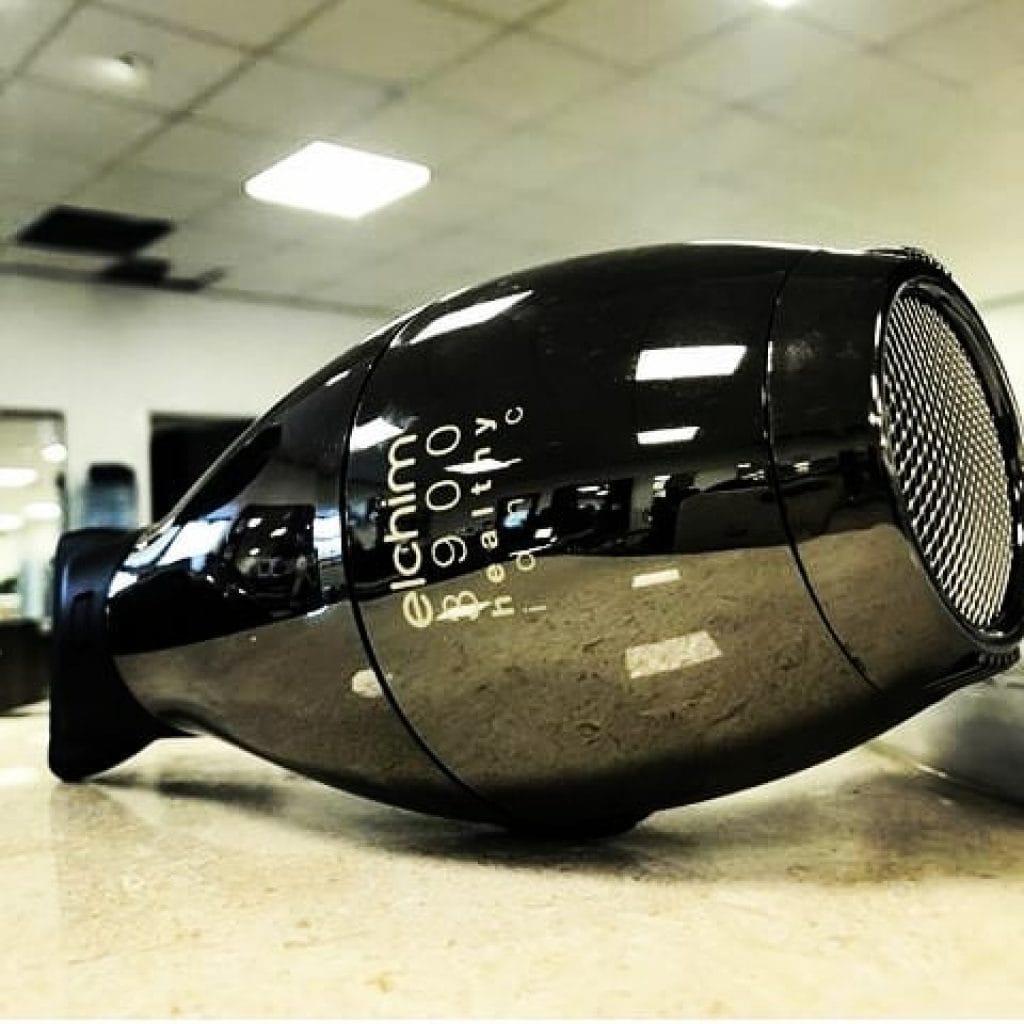 Its two concentrators allow for unmatched drying and styling precision, while the cold air button seals the results in place, giving your hair a glossy finish. The model is lightweight, easy to maneuver, and incredibly quiet in operation. Its 6 different heat/speed settings will enable you to work out the hairstyle that will suit you best.
The infrared technology shortens the average dry time by up to 30% and prevents cuticles from overheating. The ionic ceramic system utilized in this blow dryer eliminates static charge and helps keep frizz and flyaways under control.
PROS:
Reduces dry time by 30%;
Eliminates static charge and frizz, giving your hair a smooth, glossy finish;
Comes with two concentrators – for styling and brushing;
Lightweight, ergonomic design.
4. BaBylissPRO Ceramix Xtreme Hair Dryer – Budget Blow Dryer for African-American Hair
The BaBylissPRO Ceramix Xtreme is a nice choice of a hairdryer for people who seek an affordable combination of excellent performance, cutting-edge technology, and handy design. Operating at 2000 watts, this BaBylissPRO dryer is powerful enough to accomplish a variety of drying and styling tasks with the ease and reliability found in more expensive products.
Even though it is heavier than many similar products, the BaBylissPRO Ceramix Xtreme model is surprisingly easy to handle and operate, mostly due to its well-balanced construction, rubberized grip, and precisely located, easy-to-reach controls.
The ceramic technology helps improve heat distribution, optimizing ion production and far-infrared heat. As a result, the warm airflow that affects your hair is extra-gentle and even. This cuts the dry time in half and eliminates the risk of damage, leaving your locks smooth and frizz-free.
PROS:
Inexpensive and powerful model;
6 speed and heat settings;
Dries hair fast; works quietly;
9-foot long cord.
CONS:
Rather heavyweight;
The handle can sometimes get too hot.
5. CROC Greenion Blow Dryer – Most Eco-friendly Hybrid Hair Dryer For African-American Hair
The CROC Greenion Blow Dryer is an excellent example of how advanced hair styling tools can help you create luxurious and rich hairstyles while also preserving the environment. The model is brimming with efficiency, safety, and style – it has a super-sleek, highly ergonomic design, relies on more sustainable materials, consumes less energy, delivers consistently great results, causes less frizz, and needs very little time to do its job.
The innovative ion-switch technology of this hybrid model allows quickly and easily having your hair done in a way that best suits your current mood. Turning on the proprietary Croc's Greenion power for straightening hair will give it a silky smooth, sleek look, while turning off the Ionizer switch will result in more volume and lift.
The ceramic ball technology utilized in the CROC Greenion blow dryer enhances moisture levels in cuticles, helping keep your hair well hydrated, shiny, and frizz-free. It also facilitates the growth of healthy new hair and preserves your black color naturally rich. This full-featured blower is light and ergonomically designed, so handling and maneuvering it will not be a problem.
PROS:
Eco-friendly;
The ion switch technology for dual styling effect;
Ceramic ball technology keeps your hair properly hydrated.
6. DevaCurl DevaDryer Ionic Hairdryer – Best Diffuser Blow Dryer For 4c Hair
Featuring an AC motor of only 1600 watts, the DevaCurl DevaDryer blower is not the most powerful model on the market and will likely take more time to dry your hair than some other products on this list.
However, fast blow-drying capabilities aren't what this device is famous for: its true value lies with the uniquely shaped diffuser that releases a 360-degree airflow to encircle your curls – even at the very roots, helping them dry faster and providing them with the needed lift and volume.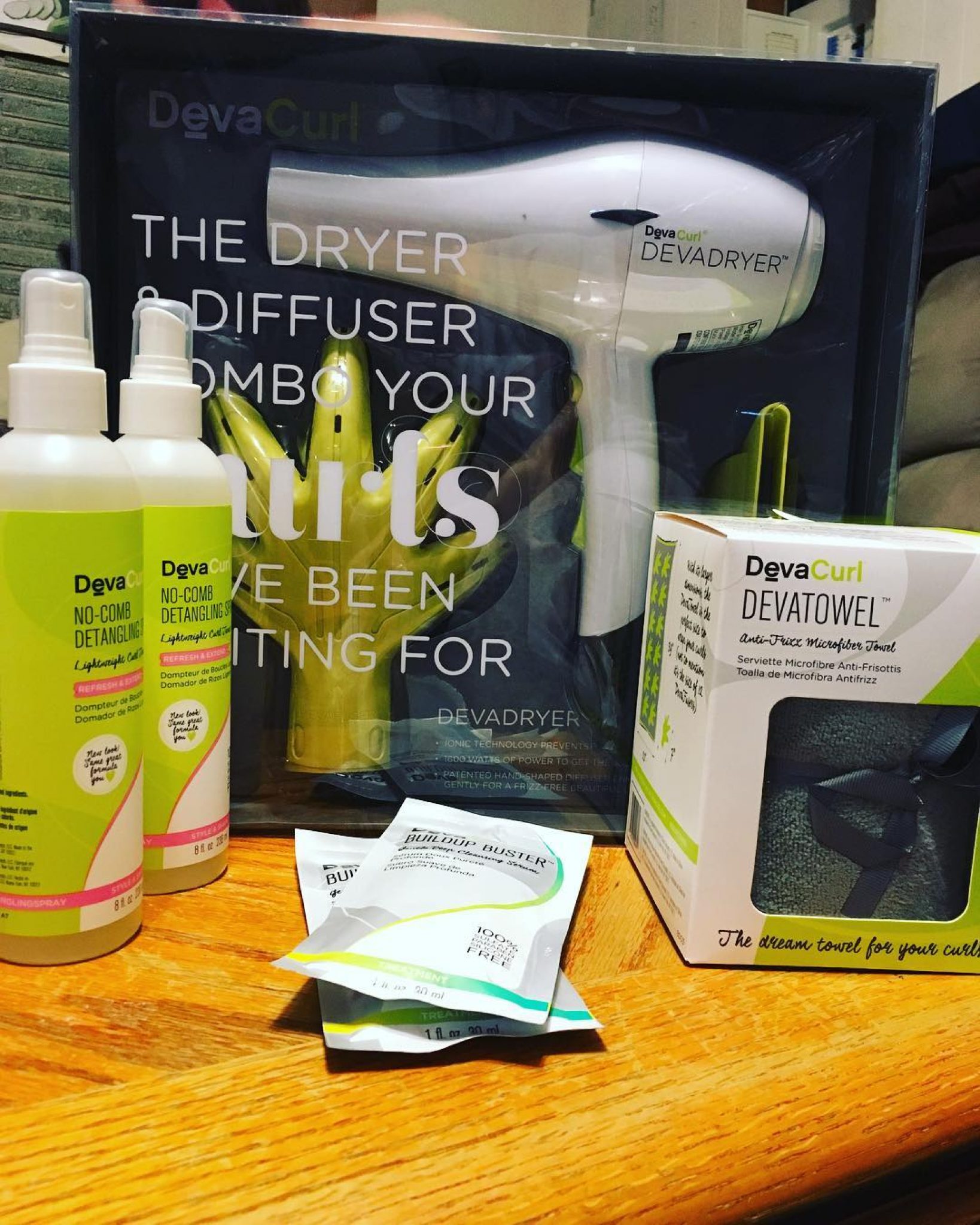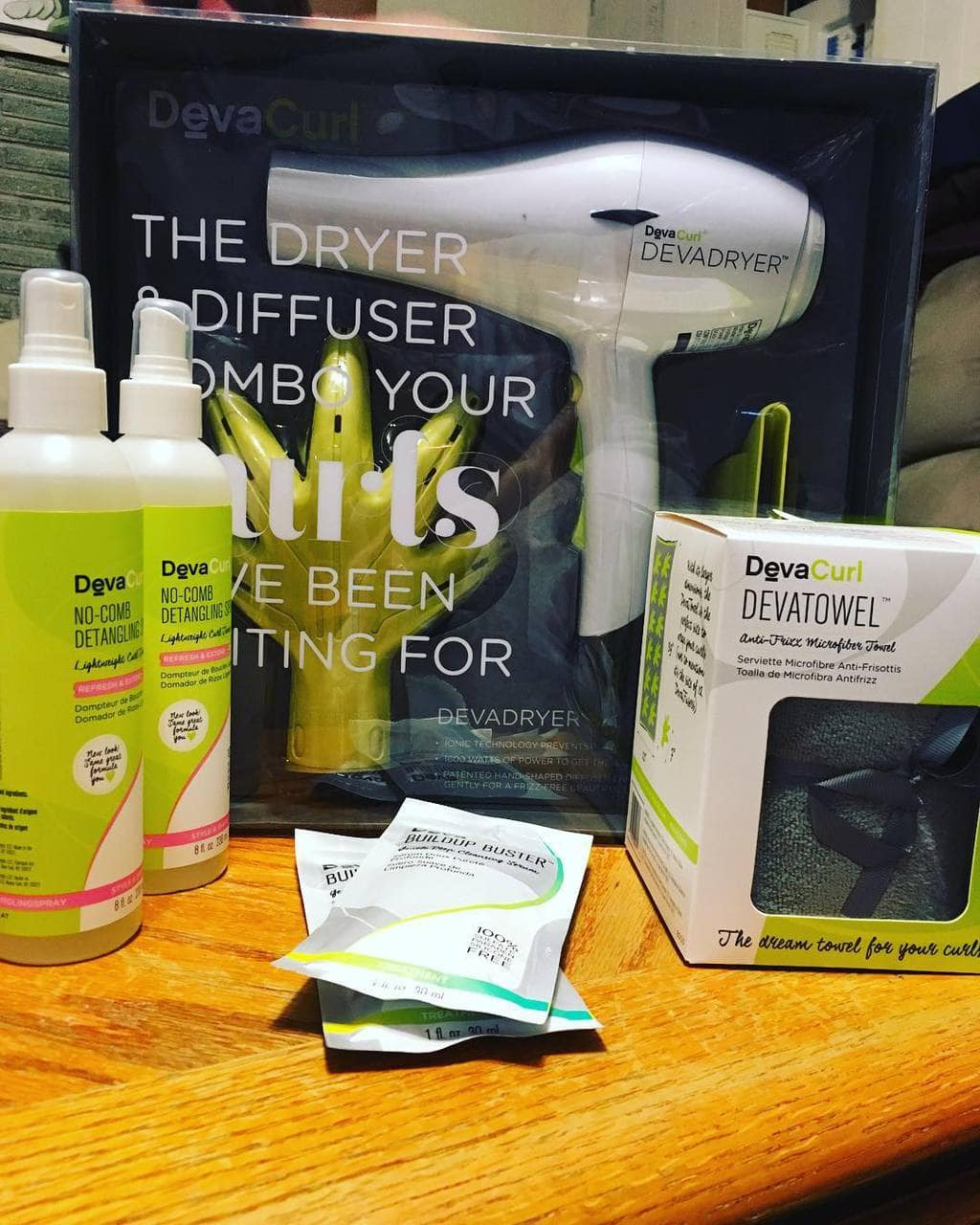 The ionic technology helps preserve a proper moisture balance in the hair and ensures its shiny, soft look while also reducing frizz and flyaways.
The dryer comes with 3 heat options, 2 speeds, and the cool shot button to allow you to work out the most befitting combination of settings that will minimize heat damage and maximize the styling effect.
PROS:
A hand-shaped, 360-degree airflow diffuser for adding lush volume to your curls, sans the frizz;
Quiet in operation;
Lightweight and manageable.
7. Conair INFINITIPRO Styling Tool/Hair Dryer
Sleek and stylishly bright, the Conair INFINITIPRO 1875-watt hair dryer is unique in more than one way.
In addition to its eye-catching orange exterior, the model packs a hefty wallop with its robust feature set. These include 5 different heat/speed settings, 2 removable diffuser/concentrator attachments, and the must-have cool shot button for sealing cuticles and adding extra shine.
The advanced ionic technology used in this blow dryer helps give your hair a glossy salon look, reduces frizz, and eliminates flyaways. The ceramic additions to the structure of the model ensure an even and consistent spread of airflow, protect roots from getting over-heated, and facilitate styling in general.
The 2.55-pound Conair INFINITIPRO hair dryer that measures 3.8*11.6*9.4 inches is lightweight and compact enough for travel. All the switches are placed ergonomically to make drying and styling your hair effortless and convenient.
PROS:
Visually appealing ergonomic design;
Travel-friendly size and weight;
Advanced ionic and ceramic technology;
The concentrator attachment is perfect for pinpoint styling, while the diffuser helps add volume and lift.
Buyer's Guide: Tips and Tricks for Choosing Top Blow Dryers for Black Hair in 2023
Now that you have read my pick of the top blow dryers for black hair let us go over some practical tips and tricks that will help you shop with even more confidence and joy.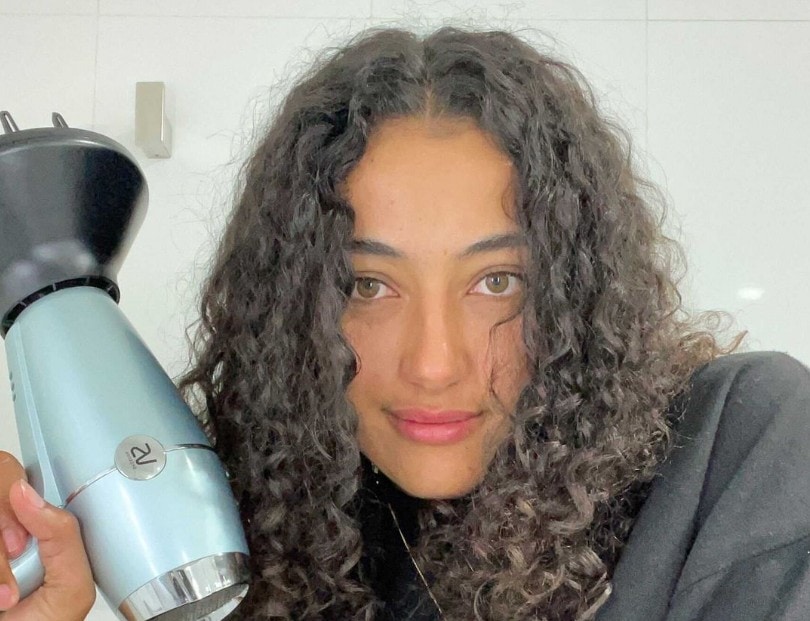 What to look for in the best blow dryer for natural black hair?
Here are some of the most significant features to look out for when buying a new blow dryer for Afro-textured hair:
1. Wattage
The ideal power consumption specification for a good blow dryer is between 1800 watts and 3600 watts. Many natural hair dryer reviews show that anything below 1800 W is simply not efficient enough. You will either fail to achieve the desired styling results at all or will spend too much time doing so, which will expose your fragile hair to massive heat damage.
2. Heat/speed settings
A decent blow dryer must have a minimum of three heat settings – cool, medium, and hot, but the best models will also allow you to adjust speed to match your blow-drying needs. Two or three speeds to control the airflow mixed with at least three heat settings is a beneficial combo worth investing in.
3. Ionic technology
This feature is most often utilized in tourmaline blow dryers but can also be found in products made of other materials. The use of ionic technology helps release plenty of negative ions that interact with and neutralize positive ions in your hair.
Because of this, the frizz that appears during a blowout session is reduced considerably. Mind that when used on hair that is not prone to frizzing, this technology can produce the effect of overly styled hair.
4. Infrared technology
If your hair is overly sensitive and fragile, the use of infrared technology will be very helpful. Employing the IR waves to dry the hair from the inside, the feature minimizes the damage that heat can produce on its outer part.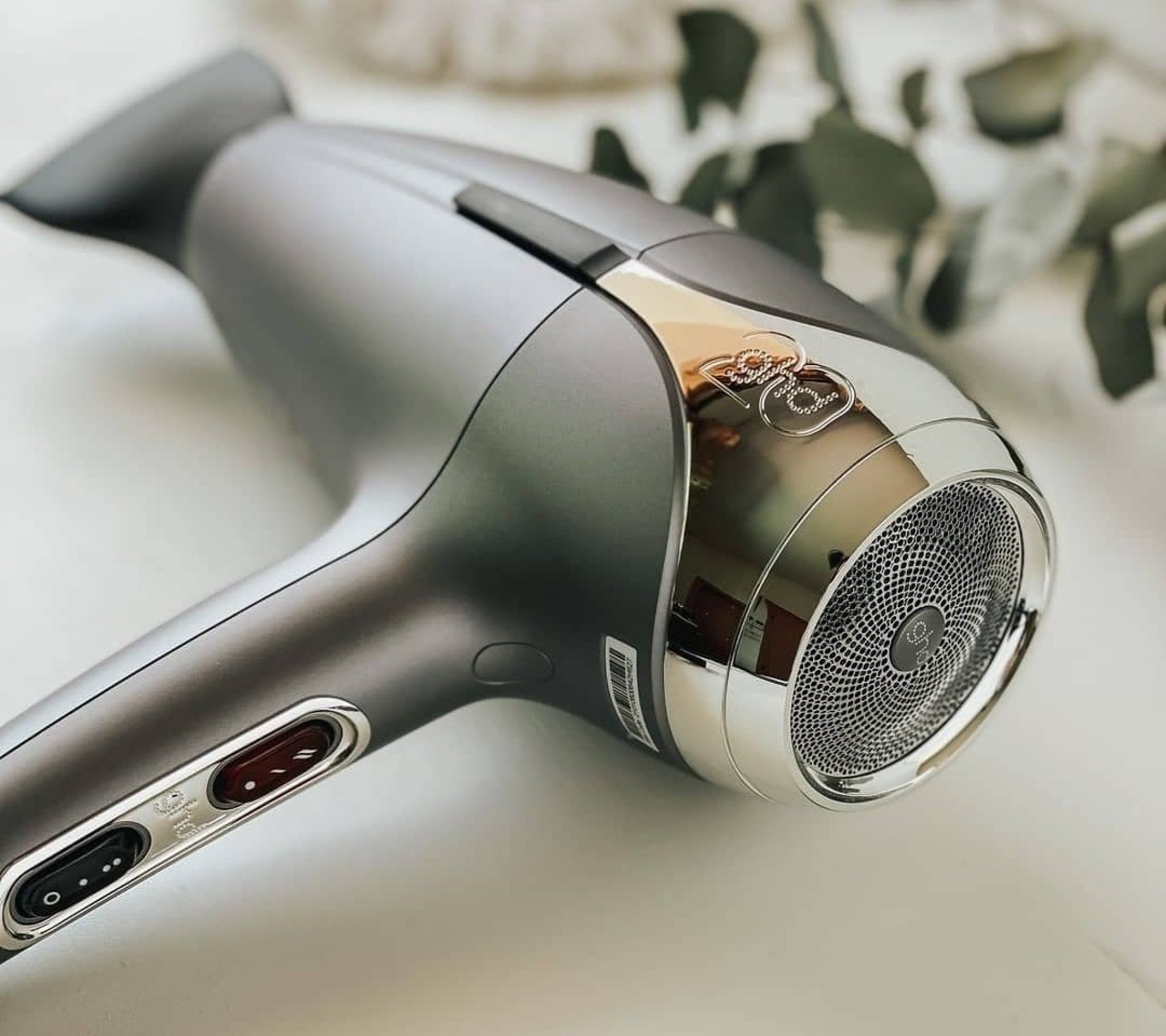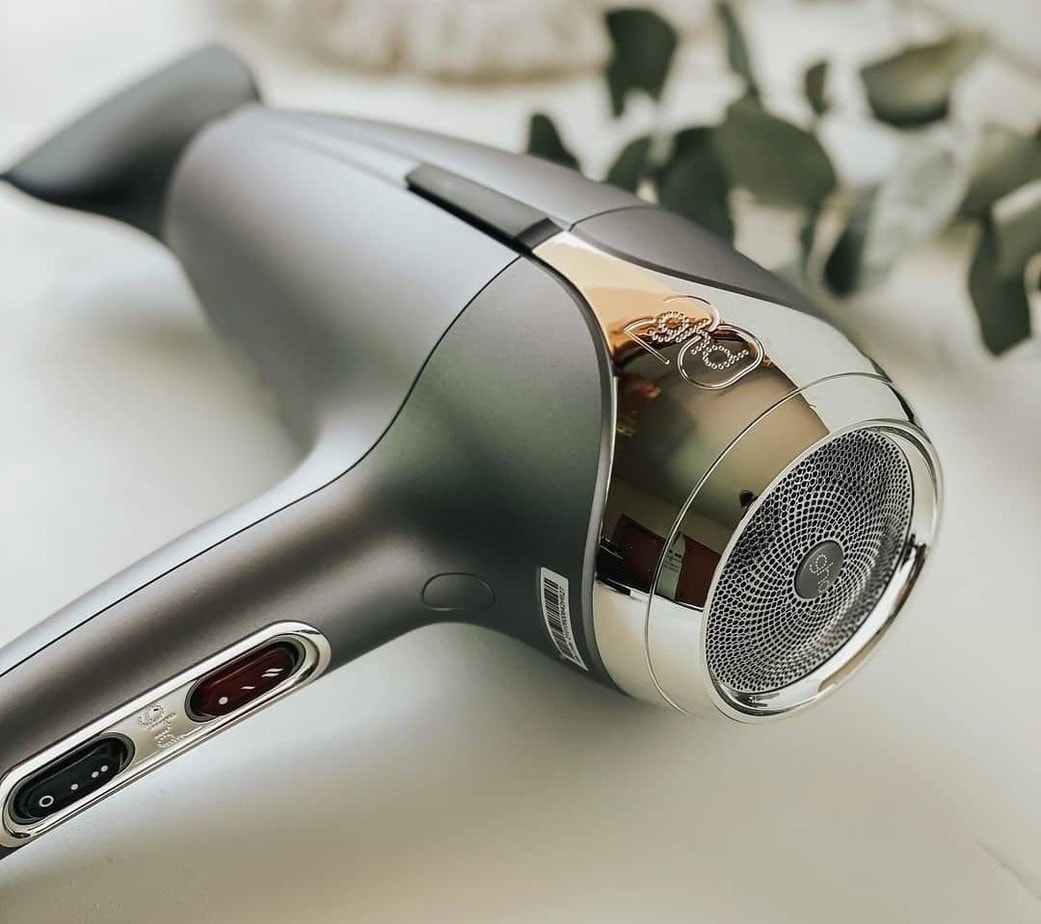 5. Attachments
Whether or not to splurge on a blow dryer with multiple attachments depends on your unique drying and styling needs. A diffuser attachment can help create more defined, bouncy curls, while a concentrator fixture will facilitate straightening hair. Some of the most advanced models have additional attachments, such as combs, stylers, etc.
6. Weight and size
The more lightweight and compact the chosen model is, the easier it will be for you to handle and maneuver it around. Also, when looking for a model to take on trips with you, make sure it is equipped with the dual voltage feature and can effortlessly fit in any power socket.
The most travel-friendly options are foldable ones or those having detachable parts that can be removed and stored separately.
That is a nice feature to have if you need a quick way to lock in your hairstyle once you are done with it. The cool shot function ensures a long-lasting hold and gives your styled hair an incredible shine.
There are other handy features a good blow dryer for natural black hair should have, such as:
A long cord of 8 or more inches (preferably, swivel or retractable one);
A rubberized handle for easy and safe grip;
Noise-reducing technology;
Washable and reusable filters;
Safety features like automatic shut-off.
How to Dry Natural Black Hair: Do's and Don'ts to Keep in Mind
Even though it often requires extra-cautious care, natural black hair is not as challenging in terms of drying and styling as it seems. Carefully follow these few tips and tricks, and you will be awarded lavish, glossy, and healthy-looking locks:
Wash your hair thoroughly with the right type of shampoo and deep conditioner.
Pat it dry with a microfiber cloth until it is around 70% wet.
Detangle your damp hair with your fingers before combing it out.
Start combing at the ends and slowly make up your way to the roots to prevent unnecessary pulling and breaking.
Segment your hair into as many sections as you can handle and apply a heat protectant product on each before blow-drying it.
Set your blow dryer to work at a low heat setting and gradually increase it to the desired temperature. Try to stick to the lowest most effective heat setting throughout your styling session to prevent hair damage.
Do not stretch your hair when blow-drying it, as it can lead to breaking.
Use a diffuser attachment to ensure a more even heat spread and give your locks more defined contours.
Closer to the end of your drying and styling session, utilize the cool shot feature to give your hair a revitalizing cold blast. This will seal the cuticles, fixate your hairstyle in place, and add a bit of extra shine.
FAQ
This section brings together, summarizes, and helps answer several most pressing questions regarding the day-to-day care for natural black hair.
Is blow-drying bad for natural black hair?
All hair types respond negatively to continuous or frequent exposure to heat. However, due to its genetically fine texture, natural black hair is even more fragile and susceptible to breakage and dryness when placed under excessive stress from blow dryers or straighteners.
For this reason, it is not recommended to use blow dryers on natural black hair more often than three times a week.
What do you put on natural hair before blow-drying?
There are two key elements to preserving the beauty and health of natural black hair: using professional blow dryers for African-American hair and applying the correct heat protectants that keep your hair moisturized, elastic, and more resistant to breakage.
A spray works best for fine tresses, while thick and coarse hair will benefit more from a cream heat protectant for natural hair. If you are looking for something greener, try refined avocado or grapeseed oil instead.
Can you straighten natural black hair with a blow dryer?
If you are craving a straight, sleek hairstyle but have no flat iron at your immediate disposal, a good blow dryer for natural hair with a concentration nozzle will do just fine. The secret to easy straightening with a blow dryer is to use the right shampooing, deep-conditioning, heat protectant, and blow dry products.
Does it matter what kind of hair dryer to use if I have natural hair?
Natural hair varies in texture, density, porosity, and width. Each type requires a different approach to blow-drying and styling, which means the use of different tools and products. A hair dryer that is not specifically designed to handle your hair type will produce a very insignificant effect at best. At worst, it can cause lasting damage to your strands that will take many months to fix.
Give Your Natural Black Hair the Luxurious Salon Look
Styling your unruly and demanding Afro-textured hair at home might be easier than you think with the right kind of heating tools on hand, like the Nano Titanium hair dryer by BaBylissPRO. Your beautiful curls deserve the very best care they can get, and one of the seven models listed above is sure to provide it in full.
Which hair dryer brand do you trust the most? How does it work on your curly and coily natural black hair? Feel free to comment below and share this post with your friends if you liked the review.
Last update on 2022-12-11 / Affiliate links / Images from Amazon Product Advertising API