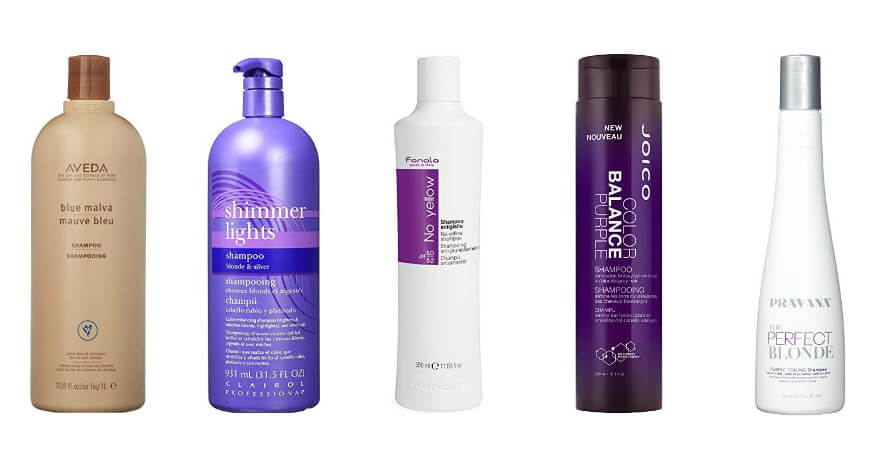 Today, I will be talking about some of the best blue shampoo solutions on the market. In this post, I will answer all of your questions about using a top-rated blue shampoo to cover gray hair. If you make the most of the knowledge shared with you below, you will manage to buy the best blue shampoo for gray hair – and even save some extra bucks on your purchase.
There are usually two camps of women when it comes to gray strands: those fancying their silver look and those who are constantly trying to cover it up. Regardless of your gray hair-related decisions, there's a shampoo that will keep your color fabulous.
You just need to find it. You've never heard of the miraculous purple and blue shampoos? Today's your lucky day. Read on, for you will definitely need this information when you (and your locks) get a bit more mature…
Does Blue Shampoo Work? Our Experts' Opinion
What is a blue tone shampoo? What does blue shampoo do? Is it effective? What are the basic rules of using a reliable blue/purple shampoo? What are the best blue tone shampoo brands out there? If these questions keep lingering on your mind, you've come to the right place. I'll answer them all for you. But let's start from the very beginning – why your naturally gray hair is not always as shiny and hot as you would want it to be…
If you've found this post, we're sure you've been wondering what causes gray hairs and how to get rid of them for some time already. Whether you've just begun your transition to gray locks or have been rocking silverness in your hair for years, we've got the best shampoo solutions to boost your gray mane and erase all the unwanted brassy/yellow/dull tones off it.
With this solution, you will realize that your naturally gray hair is actually VERY hot. Read on…
Something a lot of us notice as our locks go gray is that unattractive brassy or yellow undertone. Wondering why your graying hair suddenly turns yellow/orange?
A lot of aspects contribute to this unwanted undertone, such as sun exposure, various medications you take, poor quality water, and many others. Want to prevent your gray tresses from becoming yellow? Use the best blue shampoo for gray hair from our product selection below.
Keep in mind that graying strands are also changing their texture. Graying hair often becomes coarse and excessively dry. Therefore, when you're shopping for the best shampoos for gray hair, always focus on products that effectively nourish and hydrate your type of strands.
By choosing a blue shampoo that caters to both your hair health and color, you get the chance to embrace and rock your natural silver look in the most beautiful way.
Any top of the line blue or silver shampoo is very effective. A great nourishing product like Hask Blue Chamomile shampoo, for instance, really does work wonders with your gray hair – and it doesn't damage your locks at all, which is also paramount.
By choosing the best blue shampoo for your gray hair, you will remove the unwanted brassiness from your locks while keeping your hair shiny, glossy, and healthy along the way.
If you want the best blue shampoos to work on your gray hair, make sure you use them wisely. Avoid leaving blue and purple shampoos in your hair for long periods of time. Don't use them on a daily basis – usually, an every-other-week approach is ok.
Read the directions on the bottle carefully. Also, some women need to wash out their blue shampoo sooner than others. That's why always notice how your locks respond to the blue shampoo you fancy every time you use it.
Have you ever noticed elderly purple- or blue-headed ladies shopping next to you at your local supermarket? Do you think these ladies pick these wild shades on purpose? They most likely don't. They just don't use their blue/purple shampoos wisely.
Top 11 Best Blue & Purple Shampoos for Gray Hair: Reviews & Buying Guide
Important note: when looking for the best blue-violet shampoo for your gray hair, make sure you focus on products with some extra enhancers on the ingredients list.
Gray hair is a fact of life, but you have the power to make your sterling tresses look absolutely stunning. By studying the blue and purple shampoo selection below, you have real chances of investing in a proper product that will help you get rid of that blorange hair look for good.
So whether you're rocking your natural gray mane or have dyed your locks silver on purpose, with the products below, you'll get as close to the perfect lusciously silver hair look as possible.
1. Purple Shampoo by B Uniq: Excellent Results That Speak for Themselves
Looking to turn your hair from unwanted yellow to gorgeous ash blonde? Purple Shampoo by B Uniq is a great choice. It's very effective, sulfate-free and smells really nice. And it doesn't dry your hair out which is also a great bonus.
If you've been searching for one of the best purple shampoos for gray hair, with this product you will definitely feel like your hard-earned cash has been spent wisely. Blondes and grays absolutely love Purple Shampoo by B Uniq. Total must-have! Just make sure you read the instructions thoroughly and use gloves when putting it on.
This shampoo totally gets the job done by neutralizing yellow/brassy undertones from your precious tresses. This shampoo is not the cheapest on the market, but it's definitely worth every penny. It leaves your strands feeling extremely soft and smooth. Use a good conditioner, and your hair will say thank you multiple times.
---
PROS:
very potent and effective on gray hair;
elevates your blonde strands to almost platinum;
doesn't dry your hair;
makes your locks look and feel amazing;
sulfate-free.
CONS:
a bit on the expensive side, but worth the money;
roots may go a little lilac.
---
2. Fanola No Yellow Shampoo: Great Product for Gray/Ashy Blondes
If you've tried almost every purple shampoo for gray hair out there and still haven't found the perfect product for you, you can finally stop looking. Fanola is the champion.
This shampoo is excellent and it works great, especially if you use it correctly. It will help you tone out that stubborn brass and prevent your gray hair from fading and becoming one bright orange brassy mess.
Remember that Fanola will work on you only if you're light blonde to platinum blonde. If you're planning to use it, say, on brown hair, opt for a blue-based product. Also, keep in mind that this shampoo was created to keep your color eye-pleasing between hair dying sessions.
It's definitely not a replacement for visiting your colorist. But it can make your hair look a lot better and prolong the time between salon visits. In addition to this, Fanola is a godsend if you've decided to embrace your silver/gray look and rock it on a daily basis.
---
PROS:
works great on gray hair;
very pigmented;
does what it says;
shampoo and a toner (perfect if you love a slight lavender tint);
helps you go from yellowish to icy blonde.
CONS:
not the most cost-effective product, but worth every penny;
it will stain your hands (and everything it comes in contact with), so consider wearing gloves.
---
3. Jhirmack Silver Plus Ageless Shampoo: For Gray, Blonde, Bleached or Highlighted Hair
Finally, decided to transition from previously dyed locks to your naturally gray hair? Great choice! Worried about the not-so-appealing yellow and orange sections? This shampoo will help.
It gets the job done beautifully, leaving your silver locks looking and feeling amazing. It makes your gray hair shine bright like a diamond. By the way, if you're currently looking how to fix orange hair, this shampoo is just what the doctor ordered.
According to our specialists, who have tested this shampoo, it works as good as a salon product, yet it is very affordable. And it doesn't stain the bathtub or leave the unnecessary purple tint on your silver locks.
Just try the Jhirmack Silver Plus Ageless Shampoo and you will definitely get hooked. So buy Jhirmack today and start getting regular compliments on your gorgeous healthy-looking silver hair!
---
PROS:
combined with excellent conditioner, works wonders with gray hair;
eliminates brassy tones;
smells great;
nice packaging;
very reasonable price.
CONS:
a bit more drying than other blue and purple shampoos for gray hair.
---
4. Clairol Professional Shimmer Lights Shampoo: Designed Specifically with Gray Hair in Mind
This shampoo removes brassiness from dyed blonde and gray hair very well. If you are looking for a gray tone or if you need that gorgeous icy white tint, leave the Clairol Professional Shimmer Lights Shampoo on for about 40 minutes and only then rinse. As a nice bonus, the shampoo makes your strands feel thick and strong.
Shimmer Lights is the perfect shampoo for maintaining gray hair, hands down. There are also the best shampoos for thinning hair, but most of them don't remove brassiness. So before making a purchase, make sure you decide which function is more important to you.
And keep in mind that if you leave the Shimmer Lights shampoo on for too long, your hair might turn a little bit purple. Our experts who have performed multiple tests on it didn't mind the subtle and flirty makeover, but we've decided we should keep you posted on this issue.
The price of this item is very appealing. In fact, a lot of users claim that Shimmer Lights is one of the best purple shampoos for the price. They say that this product stands out because it's inexpensive and does the same thing as other (more expensive) purple shampoos. We can't but agree here. Five stars. Highly recommended.
---
PROS:
created specifically for blonde and gray hair;
leaves your strands soft and style-able;
keeps your hair beautifully cool-toned;
very economical.
CONS:
adds a slight purple tint if you don't wash it out thoroughly;
not the best-smelling shampoo out there, but the price makes it very forgiving.
---
5. Klorane Anti-Yellowing Shampoo with Centaury: Best Shampoo for Silver Hair
Have you seen Salma Hayek showing off her gray hair on Instagram saying she's proud of it? Still beautiful, even with the salt-and-pepper look! However, there's a lot of contrast between her gray and dark strands, which doesn't make her hair look mousy.
If your salt and pepper gray are mixed with lighter brownish tints, you may need the amazing Klorane Anti-Yellowing Shampoo with Centaury or any other excellent blue shampoo and conditioner from our selection. It'll make your gray locks gorgeously silvery white.
This product is perfect. If you're searching for a great blue-violet based shampoo to help you rid your gray strands of the brassy/yellow tones, Klorane Anti-Yellowing Shampoo with Centaury is a great option. If you try it, you will stick with this shampoo for as long as you can buy it on Amazon or elsewhere.
---
PROS:
makes your gray hair shine;
has a pleasant fragrance;
doesn't turn your hair purple or blue;
leaves your gray strands soft.
CONS:
a little pricey, but worth the money.
---
6. Matrix Total Results So Silver Shampoo: Brassy Hair No More!
Want your naturally gray hair to look shiny and silvery? Keep bleaching your hair and not satisfied with the occasional brassiness? Like to have your hair highlighted but hate the orange color that arrives afterward? This shampoo is for you! It never fails to keep the yellow color out.
It works like a charm, and you don't need a lot to banish the brass. If you use it in combination with an excellent moisturizing shampoo, you will get beautiful, healthy, and shiny silver hair.
Matrix Total Results So Silver Shampoo is a lot darker purple than Shimmer Lights. Don't let this scare you. On the functionality side, it means that the product works better in making the gray part of your hair silver and the white brighter.
As a fine bonus, Matrix Total Results So Silver Shampoo extends the life of your coloring by up to 4 weeks. With this shampoo, gray is even more gorgeous. Expert-approved and highly recommended by hair colorists and stylists.
---
PROS:
effectively eliminates brassy warmth;
makes gray hair silver;
leaves your tresses to feel extremely clean;
doesn't make your hair purple;
very economical.
CONS:
not the most moisturizing shampoo on the market, but there's nothing a good conditioner can't fix.
---
7. Aveda Blue Malva Shampoo: Where to Buy and How It Works
Searching for a handy and independent Aveda blue shampoo review? We've got you covered. Our experts test each and every product they review on their own making reasonable and experience-based conclusions.
Our reputation is paramount, that's why we're very interested in sharing our most honest expert opinion with you. So, if you're hunting for the best blue shampoo for gray hair, this product is exactly what you need.
The Blue Malva shampoo is especially helpful if you're transitioning to your natural silver strands. You've probably noticed that the color of your strands is a bit uncertain now. But with this shampoo, the silver sections will start looking beautifully shiny and bright, without a single hint of orange. With this shampoo, your gray hair is always bright silver and never dull!
An added bonus: your Aveda blue shampoo for gray hair will make your locks look and feel healthy. For an even better effect, feel free to use your favorite blue shampoo and conditioner. Ready to say goodbye to all the brassiness? Buy the Aveda bluing shampoo on Amazon today and start using it ASAP!
---
PROS:
makes your gray hair silver;
effectively keeps the orange tones away;
the calming smell is to die for;
doesn't stain your tub;
eco- and animal-friendly.
CONS:
rather expensive, but worth every penny.
---
8. Pravana The Perfect Blonde Purple Toning Hair Shampoo: Holy Grail of Shampoo for Gray Hair
This shampoo is a must-have for blonde, highlighted, or gray hair. Based on our experts' conclusions, it literally turns gray to silver and yellowish blonde to bombshell in one wash. Furthermore, we've noticed that the product makes your hair stronger, shinier, and even adds elasticity to your gorgeous mane. So, it's also one of the best shampoos for color-treated hair.
Let's say you're 66 years old who prefers highlighting your silverish strands every once in a while. You like it, but there's a small section of a very stubborn yellow color that refuses to go silvery blond. Buy Pravana and watch how easily it banishes the stubborn yellow/gold undertones making your hair shiny silver.
A quick tip from our hairstyling pros: this product is best used on the yellowish blonde. If your hair is on the darker side, you may not get the desired result. Don't forget to wear gloves when you wash your hair with this highly pigmented product. Even though the Pravana shampoo is non-drying, for extra blond/gray care you can use it in combination with your favorite conditioner.
---
PROS:
potent and pigmented;
you can see how effective it is after the first wash;
smells amazing;
softens your hair instead of drying it.
CONS:
may give your hair a subtle purple tint, but we love it.
---
9. Joico Color Balance Blue Shampoo & Conditioner: Best for Gray Hair
Have you already seen the Joico Blue Shampoo before and after photo transformations online? You will notice them in multiple Joico blue shampoo reviews and will definitely be amazed by the effect.
Well, the shampoo does work. And it works excellent, we must admit. This Joico blue shampoo gorgeously keeps the cool tone in your silver strands and eliminates all the unwanted orange-ish sections.
If you use this blue shampoo and conditioner on a regular basis, you can even consider getting gray mermaid hair. With all the amazing bright silver accents accompanied by mint green, sky blue, and gorgeous velvet, you will rock this look like a Queen.
In other words, this best bluing shampoo grants you the possibility to embrace and play with your gray hair in the most fabulous and fashionable way ever. The Joico Blue Shampoo definitely keeps your gray tresses well-maintained.

---
PROS:
works great on gray hair;
tames the brass very effectively;
doesn't dry out your strands;
smells divine;
great conditioner.
CONS:
makes your hands Smurf blue, so make sure you wear gloves when using it.
---
10. Joico Color Balance Purple Shampoo: Turns Yellow Strands White Again
Need to take the brassiness out of your blond highlights? Looking to keep the yellow out of your gray hair? Joico Color Balance Purple Shampoo will do the trick. Just apply the shampoo to wet hair and allow it to absorb for up to 5 minutes. Rinse.
Use it every other week in combination with a great conditioner, alternating with your everyday shampoo. And don't forget to get back to basics by learning how to properly wash your hair first. If you've missed the Joico Blue Shampoo review from our hair experts, it's right here in this post. Just scroll up a little and you'll find it.
Another benefit of the Joico Color Balance Purple Shampoo is that you don't need to use it too often, which means the bottle lasts quite long. And you will definitely get a lot of compliments on your hair color after using this product. So buy this wonderful brassiness eliminator and get ready to hear the 'Have you just gotten your hair done?' question very often.

---
PROS:
strong and effective on gray hair;
non-drying;
smells great;
great deal for the price.
CONS:
can tone light blond hair purple if you leave it on for too long.
---
11. Fanola No Orange Shampoo & Mask: Excellent Blue Toning Shampoo
If you're on the fence about buying what is being promoted as the best blue shampoo for grey hair, you may find this expert-composed review very handy. Our hair coloring and styling professionals have tested the No Orange shampoo and it turned out to be excellent.
We love everything about the product: the effect, the scent, the color… Chances are high that this blue bottle shampoo will eventually become your all-time favorite.
So, if you've been rocking your orangey hair for too long (without even knowing what the blue color shampoo is), it's time to change the situation for you.
As a matter of fact, the experts even claim that their (and their clients' hair) became a lot easier to manage after using this gem of a shampoo. In other words, the Fanola No Orange shampoo will never make you feel blue about your naturally gray hair.

---
PROS:
life-changing bluing shampoo for gray hair;
effectively neutralizes the unwanted orange tint;
gives your tresses a stunning ashy look;
the big bottle lasts very long;
nice scent.
CONS:
stains your fingers, but washes easily;
the results are not instant, but really good.
---
Blue Shampoo FAQ
If you're wondering if blue shampoo works as promised by hair colorists/stylists, if you're not really sure about the main difference between blue and purple shampoo, this FAQ section is for you.
Below, I'll answer some more of your frequently asked questions about blue shampoo solutions. Our experts are always happy to guide you through the issue of blue vs. purple/violet shampoos for gray hair.
How to prepare homemade blue shampoo?
If you're not ready to splurge on an effective (and rather expensive) blue or violet shampoo, the answer to neutralizing the unwanted yellow/orange tones in your tresses lives in your kitchen. So, how to solve the hair fading/oxidation problem? By using your regular food color gel!
Just mix blue food coloring with your everyday shampoo, and it will neutralize the orangy tints in your tresses. If you need to eliminate yellow in light blond (or gray) hair, use purple food coloring. Don't forget to condition.
Here's the summary of the basic rules:
to remove red tone in dark hair: mix shampoo with green or blue gel food coloring;
to remove yellow in blond hair: mix shampoo with violet/purple gel food coloring;
to eliminate orange tints: mix shampoo with blue gel food coloring;
enjoy the process!
We must admit, we're a bit scared to put this celeb hair stylist-approved recipes through their paces on our own. Perhaps, you've already tried using your food coloring to erase unwanted tones in your strands? If you have, please let us in on your experience in the comment box below.
Blue vs purple shampoo: which is best for gray hair?
Your natural tresses have their underlying warm tones. If your hair is naturally dark, then it has warm orange tones. If it's naturally blond, it has yellow tones. These warm tones become highly exposed when your strands are lightened.
Remember the good old chromatic circle (or color wheel) from school? If you look at it, you will see that the opposing color to purple is yellow, while the opposing color to blue is orange. It means that purple cancels out yellow, while blue eliminates orange.
With everyday washing, frequent use of styling tools, occasional swimming in the sea, sun exposure, and even certain meds, your hair color may become brassy/yellow/dull.
To prevent this, brunettes with highlights, ombre, balayage, or any other form of hair lightening are advised to neutralize the unwanted brassy tones with a top-notch blue shampoo. While blondes are recommended to eliminate the yellow hair sections by using a good quality purple/violet shampoo.
Is blue shampoo good for gray hair?
Yes. If you manage to choose the best blue shampoo for gray hair, you will turn your naturally gray hair from out of control to soft, sleek, shiny, and gorgeously silver. A great paraben-free blue shimmer shampoo will hydrate and soften your hair.
It will nourish your silver strands with everything they need to look and feel fantastic – while keeping your scalp healthy! For more information on how to enhance gray hair, feel free to refer to other sections of our website.
You are Now Ready to Buy the Best Blue Shampoo for Gray Hair
Have you noticed that the gray-hair revolution has begun? More and more women embrace (and grow out) their silver strands instead of frantically tweezing them. No wonder. With so many awesome blue shampoos and other excellent gray hair maintenance products out there, you just can't but fall in love with your natural silver mane.
So whether you want to cover up your gray locks or to embrace them, in today's world of plenty and diversity you will definitely find the perfect product for your needs.
Now that you've read this post, you are definitely ready to nail down exactly what you need to counteract brassiness and yellow patches of hair on your gorgeous mane.
Therefore, now that you're that enlightened, you are also more than ready to buy the best bluing shampoo for grey hair on the market – specifically for your requirements. Just make sure you follow the instructions on the bottle and use your blue shampoo with your favorite conditioner (for the best effect).
What about your experience with purple or blue shampoo solutions? Have you tried any of the products from our selection listed above? Perhaps, you've had the chance to test other blue shampoos and found their effect fabulous?
Or, maybe, you want our experts to review any specific blue shampoo that has recently caught your eye? Please express your thoughts and ideas in the comment section below. We'll be delighted to test the products you're interested in and get back to you with our expert reviews ASAP.
Last update on 2022-12-11 / Affiliate links / Images from Amazon Product Advertising API