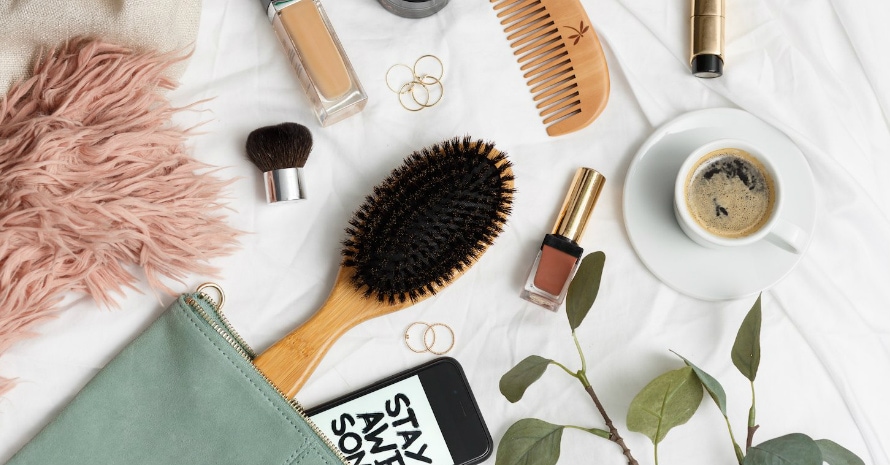 It's not a secret that the beauty and health of your hair depend not only on the quality of the chosen care products but also on the brush you use every day. That's why it is rather important to find the best brush for fine hair and use this brush correctly.
Pros
Made with natural materials
Premium Pick
Pros
Made with natural materials
A proper brush should not only comb and detangle hair. It is also capable of giving shine to curls, improving their growth, and stimulating blood circulation. There is a huge variety of tools for combing hair made both from natural and synthetic materials. How to choose the best detangling brush for fine hair? Let's find this out.
Top 8 Best Brushes for Fine Hair
If you are searching for the brush that will serve you for a long time and have a good impact on your hair, check this guide to find your perfect option.
1. The Best Brush for Fine Hair: Wet Brush Pro
The Epic Professional Wet Paddle Brush is a perfect assistant for the daily care of your fine strands. Besides combing, it also has a massaging feature that contributes to hair growth stimulation. The professional product is made of very high-quality materials, so it does not damage the scalp, does not pull out hairs, or split them.
Moreover, this hairdressing tool gradually refines stratified hair tips. Nylon bristles make your curls smoother and shinier. The rounded tips of the bristles gently touch the skin, transforming the usual daily combing routine into a real delight.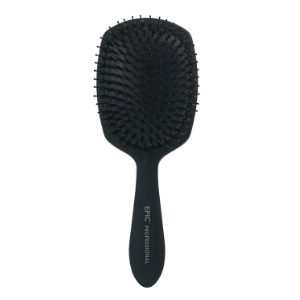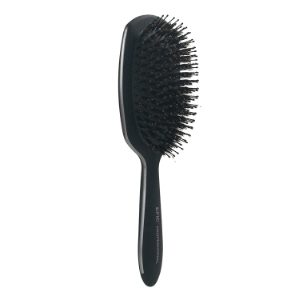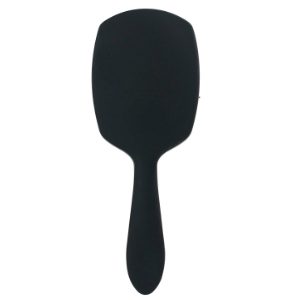 It's perfect for brushing, styling, straightening, and curling your hair. Do you want to achieve the effect of smooth and shiny hair? Use Wet Brush Pro to solve the problem of tangled hair quickly and easily. The brush prevents tips from splitting, and it fits your hand very comfortably.
Pros:
Doesn't electrify hair;
Detangling and gentle touch;
Perfect for everyday fine hair care.
Cons:
This oval massage brush from the popular Mason Pearson brand is a multifunctional professional product that is also ideal for home use. It makes combing and styling much easier. The tool provides convenience and comfort, turning the routine process into a pleasant "ritual".
This product is characterized by a quality wood base, natural boar bristles, and amazing durability. This brush brushes the hair gently and smoothly, softens it, and adds shine without causing any harm. By massaging the scalp, you improve microcirculation and contribute to the overall health of the skin and hair, providing root nutrition.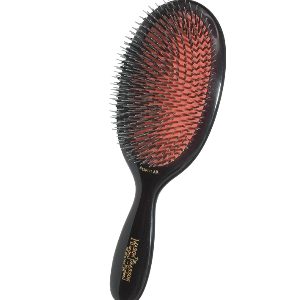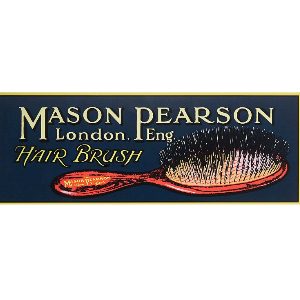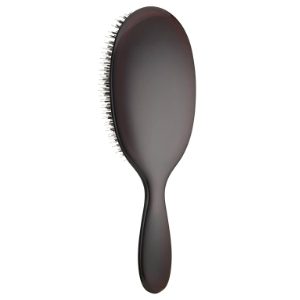 It helps to give complete care for the strands and provides normal blood circulation to the scalp. Due to the gentle bristle tips, you'll get the scalp massage while just combing your hair.
Pros:
Premium quality boar bristle;
Doesn't tangle and rip out the hair;
Made with natural materials.
Cons:
3. Good Option of Vent Brush for Fine Hair: Epic Professional Quick Dry Hair Brush
This vent brush for fine hair will become an indispensable tool for daily and festive styling. It fits for brushing medium to long hair. The ribbed, porous body of the brush allows warm air to circulate freely between the curls and bristles, ensuring the fastest drying possible. This brush is good for daily styling and won't harm your hair.
The model has a stylish black design. Thanks to the ergonomic handle, it fits well in the palm and does not slip out. Its bristles gently unravel even the most tangled and most rebellious strands, making them smooth, silky, and neat-looking.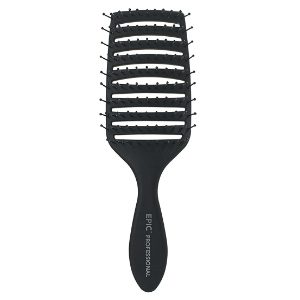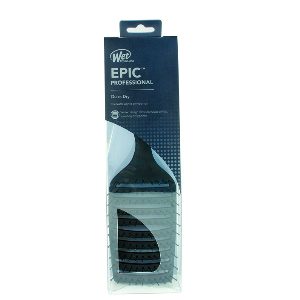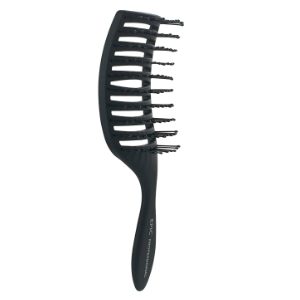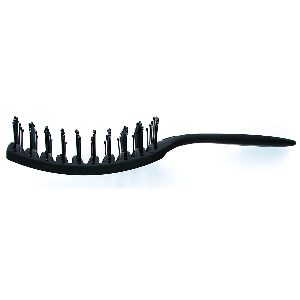 The design of the brush allows you to style your hair effectively during blow-drying, without damaging its structure. By allowing warm air to pass through, the bristles minimize its detrimental effect on the curls, preserving their beauty and health. By the way, the price of the product will pleasantly surprise you.
Pros:
Good price for amazing quality;
Prevents tips damage;
Comfortable and easy to use.
Cons:
Its service life may be short.
4. Useful and Convenient Hairbrush for Fine Thin Hair: Ibiza Hair Brush
To make each hairstyling successful, use this special lightweight brush designed by the specialists of the Ibiza brand. It gently lifts the roots of strands, giving them needed volume and beauty. Also, the product is suitable for delicate and non-traumatic everyday hair combing.
This brush is made with natural boar bristles, so it is extremely tender and comfy for the strands. The tool does not tear or damage the curls, but gently and delicately helps to detangle them during the combing process. It is also convenient to use when blow-drying your hair.
The bristle of the brush is easily cleaned of dust and hair. Its ergonomic handle is lightweight, so it is very easy to use.
Pros:
Good for every haircut;
Can be used for blow-drying;
Natural hypoallergenic materials.
Cons:
The stated size may not match the actual one.
5. A Soft Bristled Hair Brush Kit for Travelling: Belula100% Boar Bristle Hair Brush Set
A completely natural set for your hair is perfect for both daily care and using it during the trips. This kit provides a real SPA experience at home. It includes an all-natural wooden brush with boar bristle for everyday usage, wooden comb, and a cotton hairband. Moreover, the kit is suitable for male and female hair.
The Belula Brush Set can be a perfect gift for your friend as well. The boar bristle improves the condition of fine hair, making it healthier and softer, and the comb can be used to deal with complex tangles. The headband is a pleasant addition to your everyday combing rituals.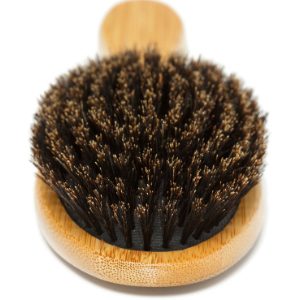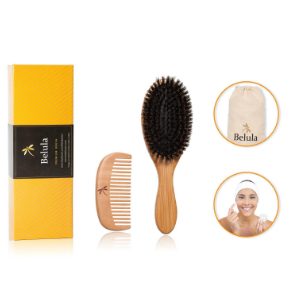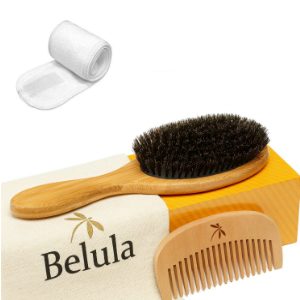 Put it on to start your hair and skin routines and have a nice home SPA session. By the way, during the lockdown, this is the best choice to apply saloon care for your hair.
Pros:
Complete kit for daily usage;
Fits for male and female hair;
100% natural set.
Cons:
The small size might not be convenient.
6. Affordable Option of Best Paddle Brush for Fine Hair: T3 Smooth Paddle Hair Brush
Based on my clients' reviews, brushing your hair with this massage brush gives a truly wonderful result. With the help of this simple procedure, you also improve the blood circulation to the scalp, awaken the hair follicles, provoke hair growth, and increase the hair density. And this is only a small part of the useful options this hairbrush provides.
The brush is very durable and will last much longer than usual. The presence of rounded balls on the teeth provides a high-quality massage of the scalp and hair roots. Thanks to this, your fine thin hair strands look better and become healthier. I totally recommend trying T3 paddle brush for fine hair.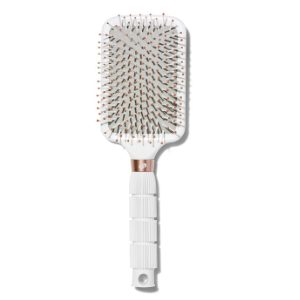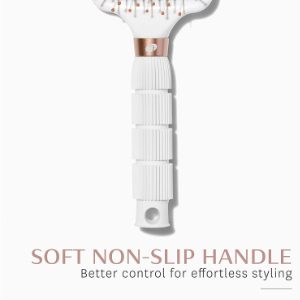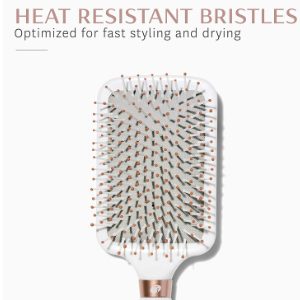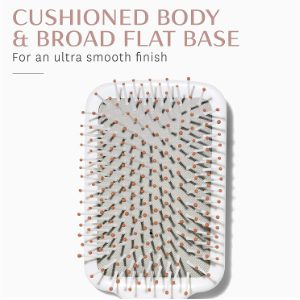 The product is designed to speed up the drying process when styling and, at the same time, maintaining the health of the fine curls.
Pros:
Contributes to hair growth and health;
Fits comfy in the palm of your hand;
Fair price for good quality.
Cons:
7. Best Option of Soft Round Brushes for Fine Hair: Osensia Professional Round Brush for Blow Drying
It is no coincidence that the Osensia Professional Round Brush series is popular and receives many positive reviews from my clients. With a size of 1.7 inches, this brush is perfect for creating flawless styling of fine medium length hair.
The ceramic brush coating helps to avoid overdrying and overheating by distributing the hot air evenly. Anti-static, nylon bristles prevent electrification due to their plasticity and softness. The bristles gently comb the hair without damaging it.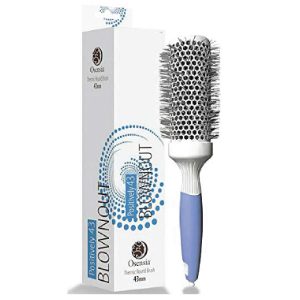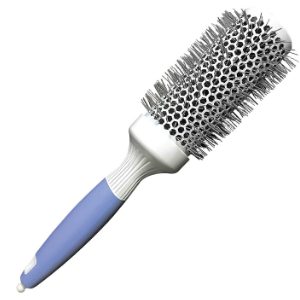 Large air vents ensure maximum airflow, thereby significantly reducing the hair dryer's harmful effects on hair and helping to maintain a healthy and shiny look. The rubberized handle is comfortable to use. And there's also a small surprise! At the end of the brush, you can find a divider for perfect parting.
Pros:
Heat resistant;
Creates perfect curls;
Doesn't make your hair frizzy.
Cons:
Requires very careful cleaning.
8. The Best Detangling Brush for Fine Hair of Little Princesses: Crave Naturals Glide Thru Brush
If your baby girl isn't happy with her brush, surprise her with Crave Naturals Detangling Brush. Moreover, it fits for styling both kids and adults, so you can purchase matching brushes for you and your little angel.
This brush will be a good addition to the process of pampering your curls with masks and oils, and other styling products and styling devices. The colorful design of the brush will decorate your cosmetic bag as a stylish and chic addition.
Thanks to its ergonomic shape, the product fits comfortably in hand and does not slip out. Soft bristles of different lengths with round tips gently unravel curls without pulling them out, improve blood circulation in the scalp, and promote hair growth.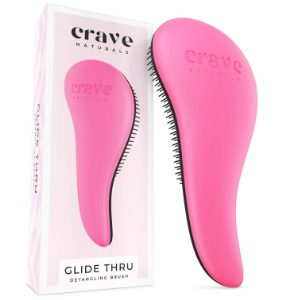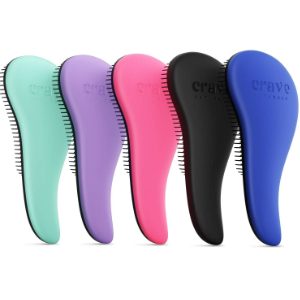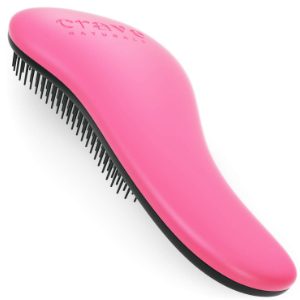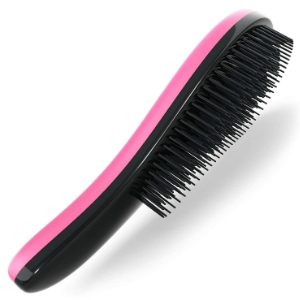 Since the comb is quite compact, you can take it with you on the trips. The tool is made of durable quality plastic. It's light, safe, and has a long service life.
Pros:
Bright and cool design;
Convenient size;
Can be used to brush kids' hair.
Cons:
May promote hair frizzing.
Buyer's Guide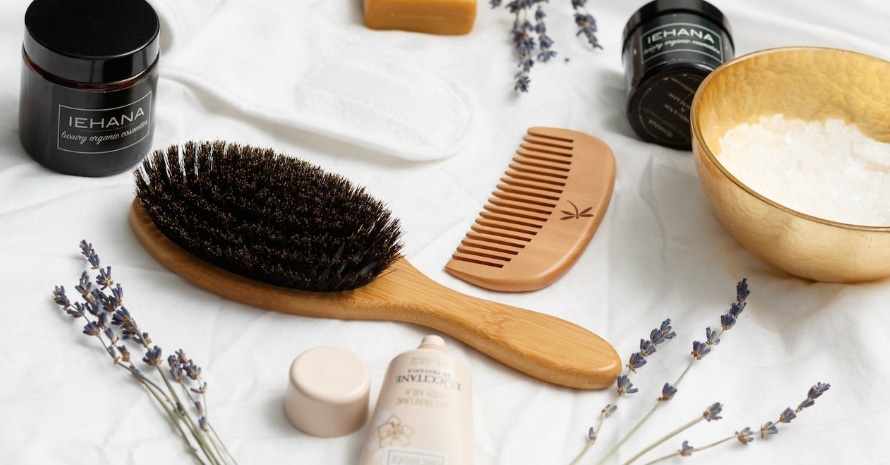 Now, when you know about different styling and daily brushes for fine hair, use this buyer's guide to make a successful purchase.
What are the best brush types for fine hair?
A good comb for fine hair is designed not only to detangle and smooth strands, but it also should be a scalp massaging tool. Correct stimulation promotes healthy hair growth, while improper stimulation can cause even more damage to the strands.
A simple, fine-toothed comb massages the scalp. This option is suitable for short and medium-length fine hair.
The wide-toothed comb is suitable for curling and creating root volume.
The classic wooden comb is suitable for detangling and smoothing fine hair.
A wide brush. These combs are designed for medium to long hair. They make your hair smooth and silky and provide scalp massaging.
There's also a special styling brush for fine hair. The wet brush is one of the latest trends in hair care. It is a convex comb with silicone teeth of different lengths. The comb fits comfortably in hand; it can be used on dry and damp hair, as well as immediately after washing. The comb does not harm the hair and is suitable for hair extensions, and damaged hair.
Tips for selection of your comb
When choosing a brush, pay attention to the presence of small balls at the tips of the teeth. They protect the scalp from scratches and provide massaging;
Check if there are no visible traces of glue on the comb, this indicates a low quality of the product;
The wooden comb should not be chipped; otherwise, the hair will stretch and break;
For a comb or brush to serve you for a long time, remove hairs from it daily;
Clean your comb with special means once a week;
Ebonite combs should not be washed in very hot water, as this leads to softening and deformation of the material;
If the teeth are cracked, replace the comb as soon as possible.
What to look for in a brush for fine thin hair?
To make the right choice, I recommend choosing a brush based on the purpose of its use. To be sure which one to choose, proceed from your daily styling preferences.
The best brush for fine or thin hair is a large boar bristle massage brush or any other natural bristle brush. They are super delicate and will not pull out strands, which makes them perfect at giving daily care for fine hair. A good scalp massage provided by natural bristles increases blood flow and boosts hair growth by activating dormant bulbs. Natural bristles glide right through your hair, so they don't pull or break.
Considering how well they dispense natural oils from the scalp, these brushes are also effective for dry hair. The best brushes for fair hair of medium thickness are massage brushes with nylon bristles. In general, nylon brushes are universal, but for people with medium strand density and straight or slightly curly texture. The flexibility of the nylon bristles helps to easily unravel tangled curls and distribute styling products very easily and evenly.
Tips for brushing the fine hair
Many people do not even think that it is possible to comb hair incorrectly. However, it only seems that this process is simple and easy to complete. In order to avoid hair loss, static electricity, and rapid dirtying, you need to know a few rules for the correct combing of fine hair.
Prevent static electricity
The friction of the brush with hair can cause static electricity. To prevent this, spray the brush with hair spray before using it. Alternatively, you can put a couple of drops of hair oil on your fingers and run it all over your head.
Maintain your brush clean
In order for your favorite comb to serve you for a long time, you have to clean it regularly. First of all, remove hair that remains on the brush daily, wash it once a month with warm water and a little shampoo. Many people never wash their comb at all, believing that it cannot be dirty. In fact, loose hair, dead skin particles, and sebum remain on it. Just think about it the next time you brush your clean hair.
Comb wet hair properly
When the hair fibers are filled with moisture, they stretch, becoming weaker. When combing, the stretched hair damages and breaks faster. If you want to detangle your hair after showering, use a wide-toothed comb.
Use special care
Think about using beauty products for the health of the tips and detangling strands. Professional means cope with tangles easily and do most of the work for you, by softening and smoothing the strands. For example, a leave-in conditioner smoothes the hair locks and makes the comb easier to slide.
Additionally, leave-in sprays, creams, and oils care for your curls, remove static electricity, and prevent further tangling.
FAQ
Naturally, modern hair care products can do wonders, but they are not omnipotent. One of the keys to healthy hair is the normal circulation of the scalp. Therefore, even miraculous balms, conditioners, and serums are not able to cope with the problems of a spoiled hairstyle alone.
Here, the comb comes to the aid of chemistry and nature. If you still have questions about choosing the correct option, use this section.
What hairbrush should I use for fine hair?
Unfortunately, it is not possible to find one perfect comb for all purposes and needs. Luckily, the assortment is quite extensive and offers different shapes and materials, so everybody can make the right choice. I hope you will use this guide to find your perfect brush for fine hair.
How often should you brush your fine hair?
The process of combing itself is essentially harmless, but even the softest comb or brush can cause micro-damages. Rough texture, low-quality materials are causes of hair damage, thinning, and hair loss.
Based on my own experience, I recommend brushing fine hair three times a day.
Combing your hair in the morning, during the day, and before going to bed is a perfect algorithm for maintaining good-looking and healthy strands.
It is important to remember three golden rules for proper hair combing:
Do it smoothly, starting from the tips and move up to the hair roots.
Do not comb wet hair, and do not tug at tangled strands. It may cause excessive secretion of the skin glands.
Carefully consider the choice of the comb so that the result meets your expectations. Large massage brushes are perfect for thin and long hair. Combs are more suitable for the careful combing of weak and badly damaged locks. Wet brushes will help to create pretty styles and make your hairstyle shiny and voluminous.
What does brushing your hair do?
There are no "standards" for the number of strokes of the brush since everyone's hair and combs are different. If your hair is short, and your hairstyle keeps its shape after a hairdryer, you can probably refuse to brush it after drying.
If the hair is thin and very tangled, then it is better to apply a balm or mask after washing. It easies the brushing process and deals with the tangled locks, therefore, preserving them from falling. By brushing your hair, you provide your roots with needed nutrition because the massaging effect improves blood circulation.
In fact, a proper brush can deal with a problem of hair loss without making you visit a specialist. Be very attentive when buying a new brush for your fine hair.
So, What Is the Best Type of Brush for Fine Hair?
Choosing a comb or hairbrush is the same as deciding on any other personal care product. Considering all the features of your hair, choose a brush that will not only cope with its direct responsibility but also help your hair look better and healthier.
Of course, I didn't put the Wet Brush Pro at the top of this list for nothing, as I consider this item the best universal choice for all fine hair types. I personally tested it on many of my girls with fine hair, and the brush showed excellent results.
I hope you'll trust my recommendations and find the best brush for your hair. If you still have any questions, please leave them as the comments below. By the way, I`m interested in your opinion. Do you think it is necessary to comb your hair after washing? What does this affect? Feel free to share your thoughts.
Last update on 2022-12-11 / Affiliate links / Images from Amazon Product Advertising API