For some women, a hairdryer is a daily necessity in a struggle for the beauty of hair; for others, it's an emergency rescue tool. In both cases, the device has to be powerful and convenient enough to dry the hair gently and quickly and, most importantly, cause no damage to the locks. These reviews will help you figure out how and where to find the best budget hair dryer.
Many manufacturers offer various options of hair dryers for different needs, and you can easily pick a good quality/price ratio. Use this guide as your assistant to manage a successful purchase.
Power suitable for everyday use
Suitable for maintaining the color of dyed hair
Top Pick
Power suitable for everyday use
Great Value
Suitable for maintaining the color of dyed hair
6 Best Budget Hair Dryers Reviewed
BaBylissPRO Nano Titanium Hair Dryer – Top Pick

No products found.

– Runner Up
Read the following reviews of blow dryers under $100 to find out more.
1. BaBylissPRO Nano Titanium Hair Dryer – Top Pick
Every woman and every hairstyling enthusiast knows that creating a perfect look isn't possible without quality styling products and a reliable device. The BaBylissPRO Nano Titanium low-cost hair dryer is probably the only definition of a reliable and fast hair dryer for all hair types.
Thanks to Italian technologies, you can be sure that your hair gets a perfect style, care, and healthy shine. The device provides your locks with gentle treatment during drying due to the ionic option.
The professional hair dryer from the BaByliss brand is an excellent addition to your everyday caring routine for providing yourself with a real salon experience. This cheap professional hair dryer perfectly copes with curls of any length and density, ensures their reliable fixation, without damaging the structure or provoking dryness, brittleness, or split ends.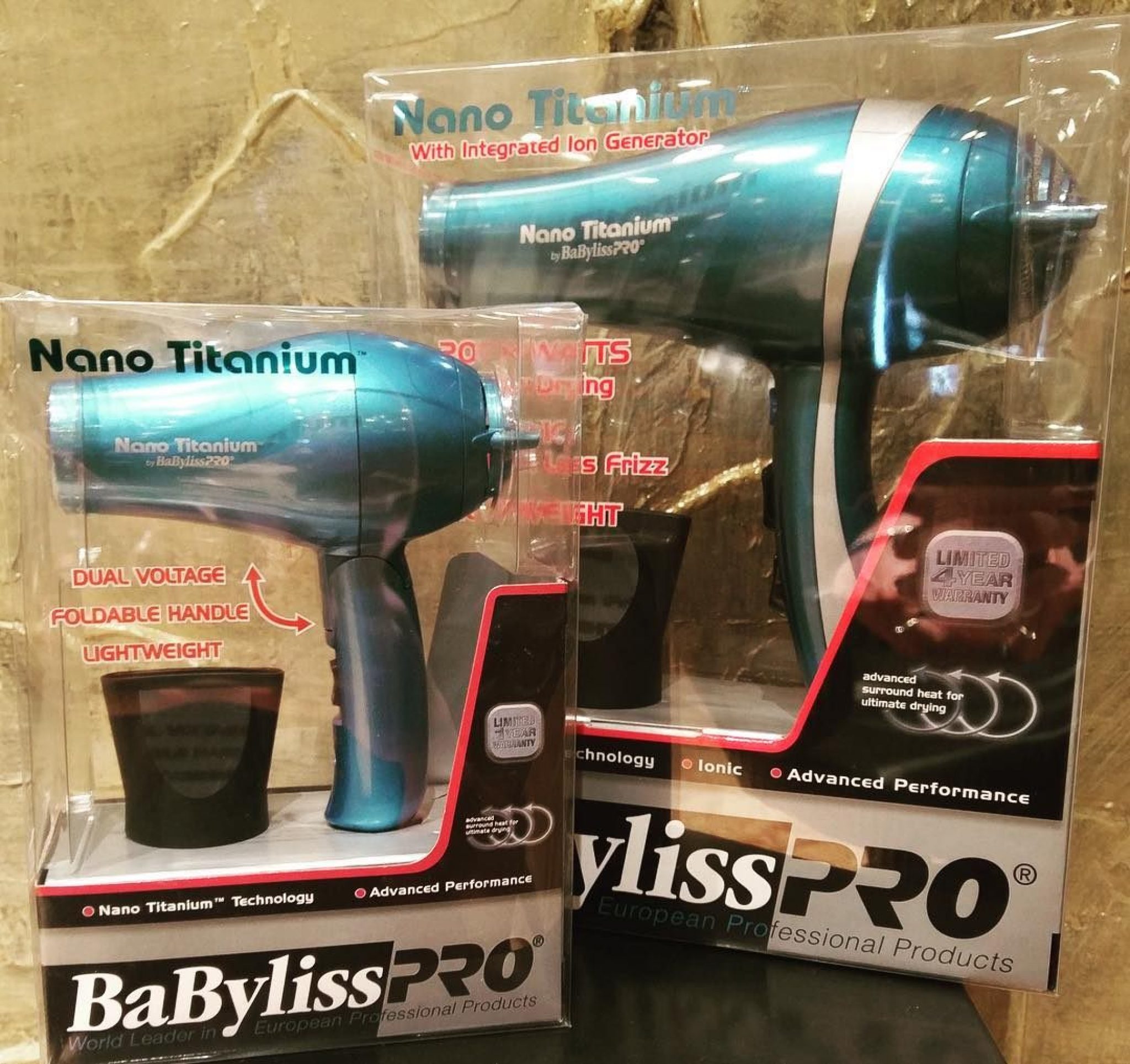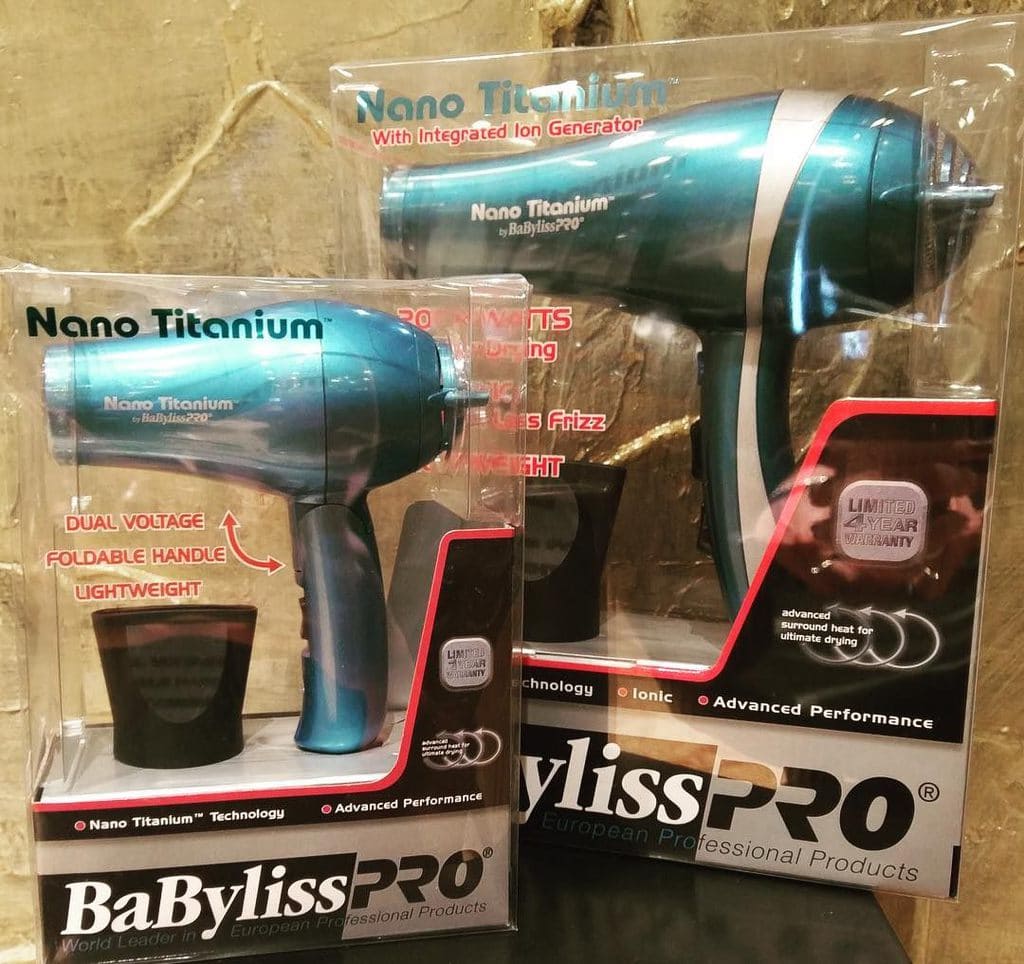 The ionization technology reliably protects the strands from overheating. Since it combines strong airflow and high power, you will spend less time creating an amazing look.
The BaBylissPRO Nano Titanium dryer is a perfect combination of features and price if you're looking for a solid domestic cheap ionic hair dryer.
The tool features 2000-watt power, has a simple design, complemented by the bright blue coating of the metal body and an ergonomic handle. This device has 6 options of heat and speed to adjust to your needs. The hair dryer also has a hanging loop.
PROS:
Convenient device dimensions;
Power suitable for everyday use;
Easy to store thanks to the hanging loop;
Air ionization.
2. BaBylissPRO Ceramix Xtreme Hair Dryer – Runner Up
The BaBylissPRO Ceramix Xtreme hair dryer is a great choice of a compact and convenient device with 6 customizable options (3 for speed and 3 for air temperature) that provides quick and healthy locks drying.
The power of the device is 2000 W. It's an amazing model of a cheap ionic hair dryer for everyday usage. The body of the device is made of ceramic, and this feature provides its reliability. Many users note that even after several years of use, this hair dryer still looks new.
But it's not the main benefit of ceramics. The thing is that it has high-quality thermal insulation, which does not allow the case to get too hot during the blowing session.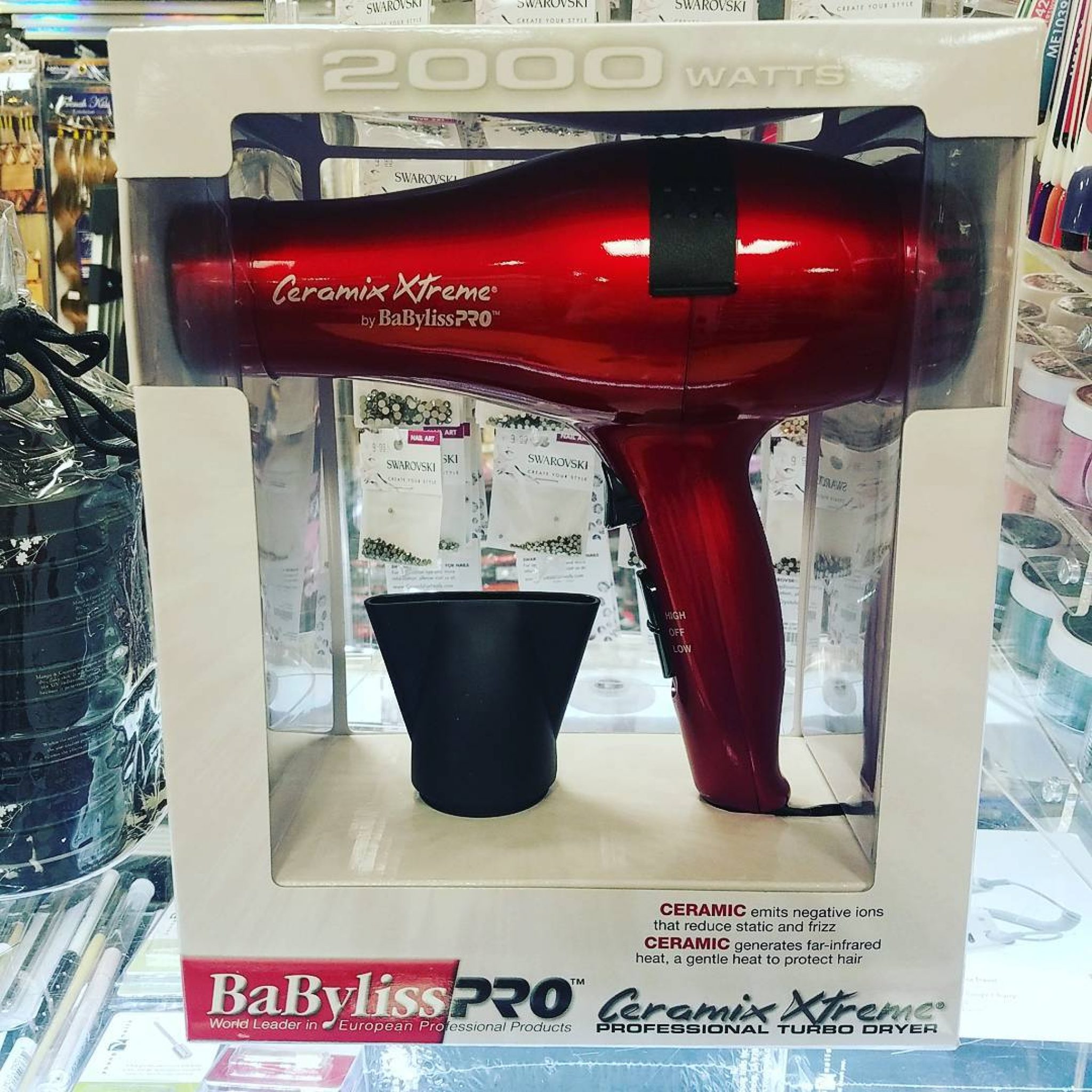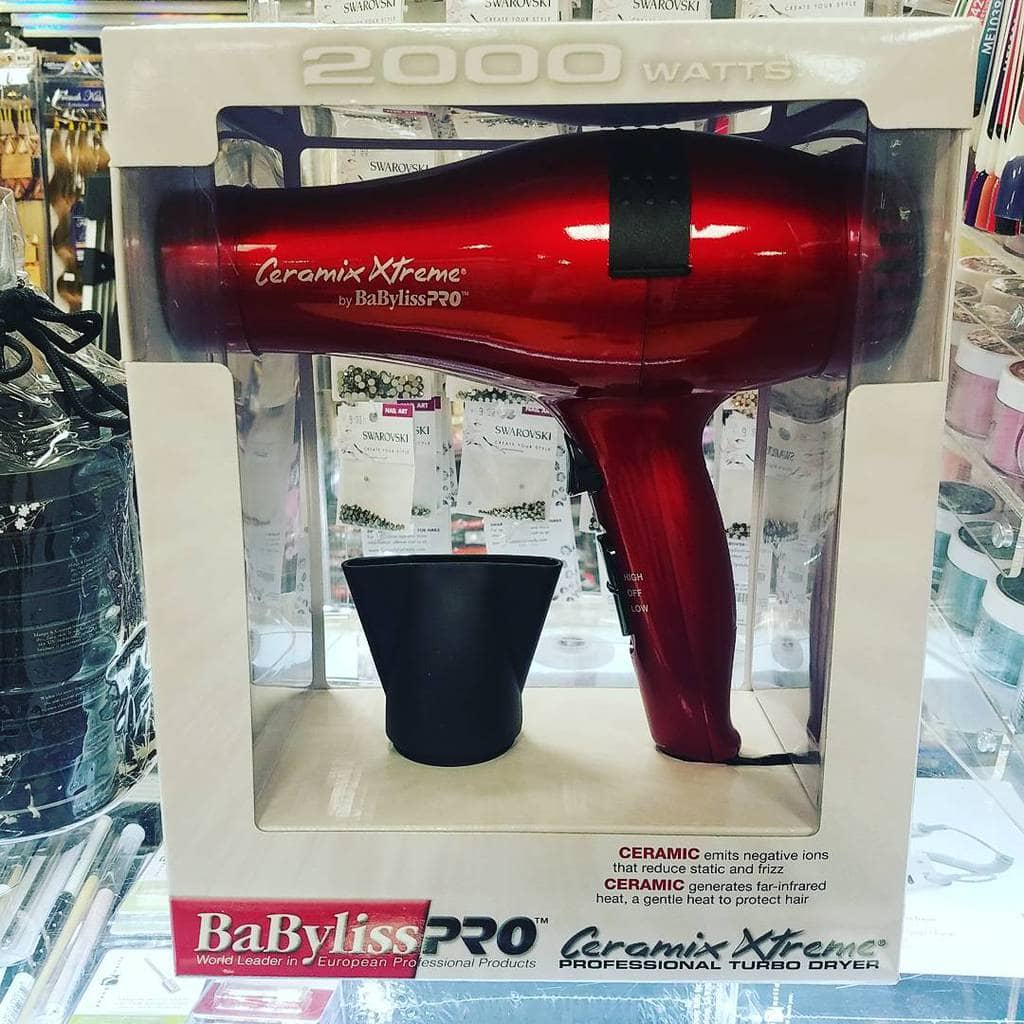 The hair dryer has a built-in ionizing generator that saturates the blown-out air stream with negatively charged ions. They have a positive effect on the condition of the hair, making it softer and more manageable. This effect contributes to faster styling by avoiding static electricity.
The set includes a special nozzle that provides a convenient and quick styling of strands. The device differs by the original and ergonomic design. The shape of the handle is well-thought-out so that the weight of the dryer is evenly distributed throughout the device.
PROS:
Relatively lightweight;
Suitable for both household and professional use;
Hair does not become electrified when dried;
Weight is optimally distributed.
CONS:
Cold air is blown out only when the button is constantly pressed.
3. Revlon Infrared Heat – Best Affordable Hair Dryer for Dyed Hair
Revlon Infrared Heat hair dryer has a stylish design, provides safety and high efficiency. This option of the best inexpensive hair dryers is equipped with a unique Infrared Heat technology, which regulates and applies the optimal air temperature for drying curls, thereby maintaining the natural level of moisture and giving the hair a healthy shine.
It's a useful feature if you have dyed hair. A special infrared sensor that measures the heating of the hair during use also helps to prevent damage to the strands, avoid cuticle wreck, and excessive dryness. Thanks to its high power, the hair dryer allows you to quickly dry and style even thick and long curls.
Depending on the desired result, you can adjust the heating and speed. The tool is equipped with 2 heat options and 2 air speed modes along with a cold air option, which is enough for home use. Your strands will dry in a very short time.
The package comes with a smoothing concentrator, volumizing diffuser, and sectioning clips for your convenience. The Revlon Infrared Dryer uses 2000-W power.
PROS:
It dries well even thick hair without damaging its structure with high temperature;
Copes with drying hair of any length;
Suitable for maintaining the color of dyed hair;
Very lightweight and easy to use.
CONS:
Not the most convenient location of the buttons (on the back of the handle).
4. Hot Tools Professional Dryer – Best Hair Dryer Under $50 for Everyday Use
The functional and convenient hair dryer by Hot Tools has a beautiful design and an affordable price with a wide range of functions. It can be described as a high-quality and reliable device that gently dries your hair and cares for it. It is a powerful and versatile tool that can fit in almost any budget.
The device will become your irreplaceable assistant and personal stylist, eliminating the need for regular visits to the hairstylist. This model is professional, so it can be used not only at home but also in salons, as its reliable AC motor withstands all tests.
The manufacturer can easily guarantee a flawless work of the hair dryer for several years, even with regular daily use. The power of the device is 1875 W, which allows it to effectively cope with the most difficult tasks, like creating everyday and festive styling, quick-drying of hair of any length and density.
This model is equipped with 3 temperature and 3 speed modes so that anyone can adjust the best drying/styling option depending on the type of hair. The cold blowing feature makes it convenient to fix individual elements of the hairstyle, for example, bangs or curls.
The manufacturer has equipped the device with an ionization function, thanks to which static electricity is removed from your curls, and the hair will become perfectly smooth and silky. The package also comes with a concentrator, a diffuser, and pik attachments.
PROS:
6 speed and heating modes allow you to choose the one that suits your hair type;
The "cold air" button allows you to finalize the styling;
The device is very quiet, even at maximum speed, it does not hum very much;
The handle has a loop for easy hanging of the hair dryer.
CONS:
The handle of the device is not rubberized; it slightly slides in the hand;
Large dimensions.
5. JINRI Salon Ionic Hair Dryer – Cheap Ionic Hair Dryer for All Hair Types
The extremely powerful ionic dryer by JINRI has innovative features to help you create a perfectly shiny and smooth hair style. The negative ion generator has 90% more ions for incredible shine. This fantastic hair dryer also has a DC motor that is two times more durable (compared to a standard AC motor) and two attachments for creating any look you want.
The hair dryer is equipped with 5 heat/air speed modes, so you can always change both the temperature setting and the intensity of the hot or cold air supply. The concentrator gives the hair volume at the roots, and the cold air supply mode will fix the resulting hairstyle. There's also the cold air button for completing your look.
PROS:
Soft-touch tool coating;
The concentrator nozzle provides targeted air flow to the strands you need to fix;
The model has overheating protection;
Ionizer reduces static electricity in hair and makes it smooth and manageable.
CONS:
By the position of the "cold air" button, it is impossible to understand whether it is on;
The attachments are difficult to remove and put on.
6. KIPOZI Hair Dryer – Low-Cost Hair Dryer with Safe Design
The hairdryer is designed so that you can save your time and money by minimizing the number of visits to beauty salons. Most girls can no longer imagine their daily morning beauty routine without drying their hair using this wonderful gadget.
This device with a power of 1875 W dries the hair quickly and efficiently, and the ionic conditioning function protects it from drying out and overheating, as well as removes static. The DC motor is extremely powerful and provides high performance of the tool every time you use it.
The convenient handle and ergonomic and glam design make the gadget a bright addition to the dressing table and an indispensable accessory for adding volume and splendor to your hair. Straight, flowing strands, cute curls, or intriguing waves, and all other variations are available with this KIPOZI hair dryer.
The device has 3 heat settings and 2 air speed options for the best experience of creating a nice, shiny hair look. Two attachments are included in the package as well.
PROS:
Despite the low power, it dries hair of any thickness quite effectively and quickly;
Small device dimensions;
2 attachments included;
Convenient design;
Deals with different hair types easily.
CONS:
When drying the hair at a high temperature for some time, you can smell the plastic odor.
Buyer's Guide on Budget Hair Dryers
Are you confused by the number of cheap salon hair dryers from the list above? Don't worry, as you can check this section out to learn what to look for in a good low-cost hair dryer.
How to choose the best affordable hair dryer
Think about how many family members will use the fan. If you buy a model for the entire family, take into account that the device should be as multifunctional as possible.
Drying modes and airflow rate must be different to be applicable to different types of hair. Three temperature modes are usually enough. The power of the hair dryer is one of the defining factors when choosing a new tool too.
Related Article: Best Hair Dryers for Straightening Hair
What to look for in the best budget hair dryer
When choosing a hair dryer, you should consider a number of points that will affect its functionality and cost.
Power
Power and voltage are very important indicators. Try to choose models with 1875-2000W. It's enough for providing your strands with quick drying and maintaining them healthy. If you choose a hair dryer with a wattage for everyday use, your hair can become brittle and dry. Also, if you travel out of the US often, especially to Europe, and want to use your dryer on the trip, make sure to look for dual voltage models.
Heat and speed settings
For domestic use, it is best to take a device that has three speeds and two temperature settings. Most modern models of hair dryers have a special air ionization system and are capable of delivering a cold air stream.
Professional hairdressers say that these options allow you to get a beautiful styling that will last all day;
Material
The body of the hair dryer is recommended to be made of fireproof material, as the device heats up during operation at high temperatures. My advice to you is to choose a hair dryer made of heat-resistant plastic.
Also, be sure to pay attention to the materials the attachments are made of. Ceramic is considered the best choice and a professional approach, as it does not damage the structure of your hair;
Weight
A quality hair dryer shouldn't be too light. Otherwise, this points to the unreliability of the motor, which will lead to its rapid failure;
Extra features
Thermal protection. If you dye your hair a lot, take a look at models with infrared heat options;
Cold air. This option helps to secure the style;
Ionization. For toned and fluffy hair types that get frizzy all the time, ionization mode is not a cure but a solution to the negative effect of strongly heated air.
Next, pay attention to the attachments.
Diffuser – great for curly or wavy hair;
Diffuser with massage effect – equipped with movable "fingers" to provide scalp massaging;
Concentrator – for styling strands independently;
Volumiser – for smoothness of hair and hair root volume;
Removable round brushes – for drying strands quickly and easily.
Related Article: Best Hair Dryers for African American Hair
FAQ About Budget Hair Dryers
Have you already decided on your perfect cheap blow dryer for curly hair? If you're still in doubt, proceed to read this section.
What affects the price of a hair dryer?
When buying such an important assistant as a hairdryer, you need to take into account its power, the materials used for manufacturing, the features that it provides, and, of course, the brand.
To choose a hair dryer that will faithfully serve you for a long time, think about how often you intend to use it and set the budget.
Do I need an expensive dryer for home use?
When purchasing a hairdryer, everyone believes that the more powerful it is, the better it works. Is this indicator really so important, and what does it really affect?
A high-quality hair dryer does not have to be expensive and extremely powerful, it all depends on which functions are needed in this device. The main thing is that you should be able to make your hair look gorgeous using it.
Is ionic or ceramic hair dryer better?
Many modern high-quality hair dryers are equipped with ionic or ceramic features. But what is it, and how does it affect the hair? Ionization is a simple process: using a special generator, the air around the device is saturated with negative ions.
As a result, the static charge is removed from the hair, and your strands become smooth and shiny.
The ionization function also prevents the curls from drying out and helps them retain moisture longer. The ionizer will help keep your hair looking healthy if you dry it frequently.
In models with a ceramic heater, heating is even and maintains the same temperature during the whole process of drying. Ceramic also provides a more gentle drying mode and is not prone to overheating.
Related Article: Detailed Bonnet Hair Dryer Reviews
Is it worth buying an expensive hair dryer?
It's not necessary for a good hair dryer to be expensive. Make sure that you follow the above recommendations and don't miss important parameters. Most of the modern hair dryers are quite powerful and have similar function kits, so just be attentive when managing a purchase.
Best Inexpensive Hair Dryers: Choose Yours
Finding your perfect cheap professional hair dryer is like picking a little black dress. It means that you have to be attentive and choose that one option that will rescue your look in any situation. To be honest, I believe that BaBylissPRO is like Coco Chanel in the world of hair styling tools. So, make your notes.
Have you already tried any device from the list? Did you enjoy it? Let us know by using the comments section below!
Last update on 2022-12-11 / Affiliate links / Images from Amazon Product Advertising API