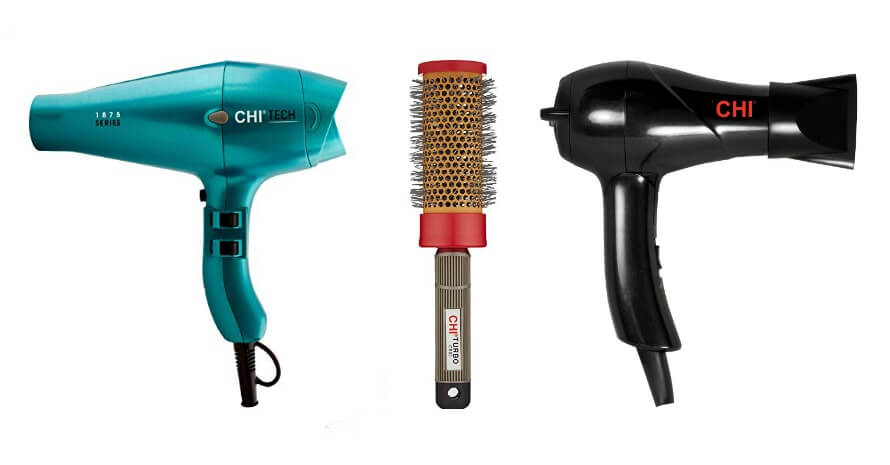 You can spend half a lifetime with a mediocre hair dryer and be just fine, even though your hair would get a bit frizzy. But do you really want to live like that? You deserve a beautiful frizz-free blowout, gorgeous smooth hair, fabulous curls, perfectly sleek style or any other kind of magic a truly brilliant hair dryer can manage to work with your locks. What is more, you deserve to create that perfect look in the comfort of your home.
Pros
works faster than other hair dryers
Removable filter prevents damaging lint buildup and extends motor life
Сeramic barrel saves your hair from frizz
Pros
works faster than other hair dryers
Pros
Removable filter prevents damaging lint buildup and extends motor life
Pros
Сeramic barrel saves your hair from frizz
But again, you're going to need some top notch tools to achieve the perfect-hair look. My name is Monica. I'm a professional hair stylist who is going to assist you with all things CHI in this post. If you're after the best CHI hair dryers, in this article you will find tons of useful information and tips on choosing the right CHI professional hair dryer for you. This best CHI hair dryer review is about to let you in on the pros and cons of my top-tested picks.
Before you get to shopping for the right hair dryer, you need to consider myriads of aspects. Do you blow-dry on a daily basis? Do you use your hair dryer to straighten your hair? Perhaps you're looking for an excellent tool to dry your wavy hair as fast as possible? Don't let all these questions overwhelm you.
Below I've rounded up some of the most fabulous and effective CHI hair dryers to help you find the perfect solution for your hair scenario.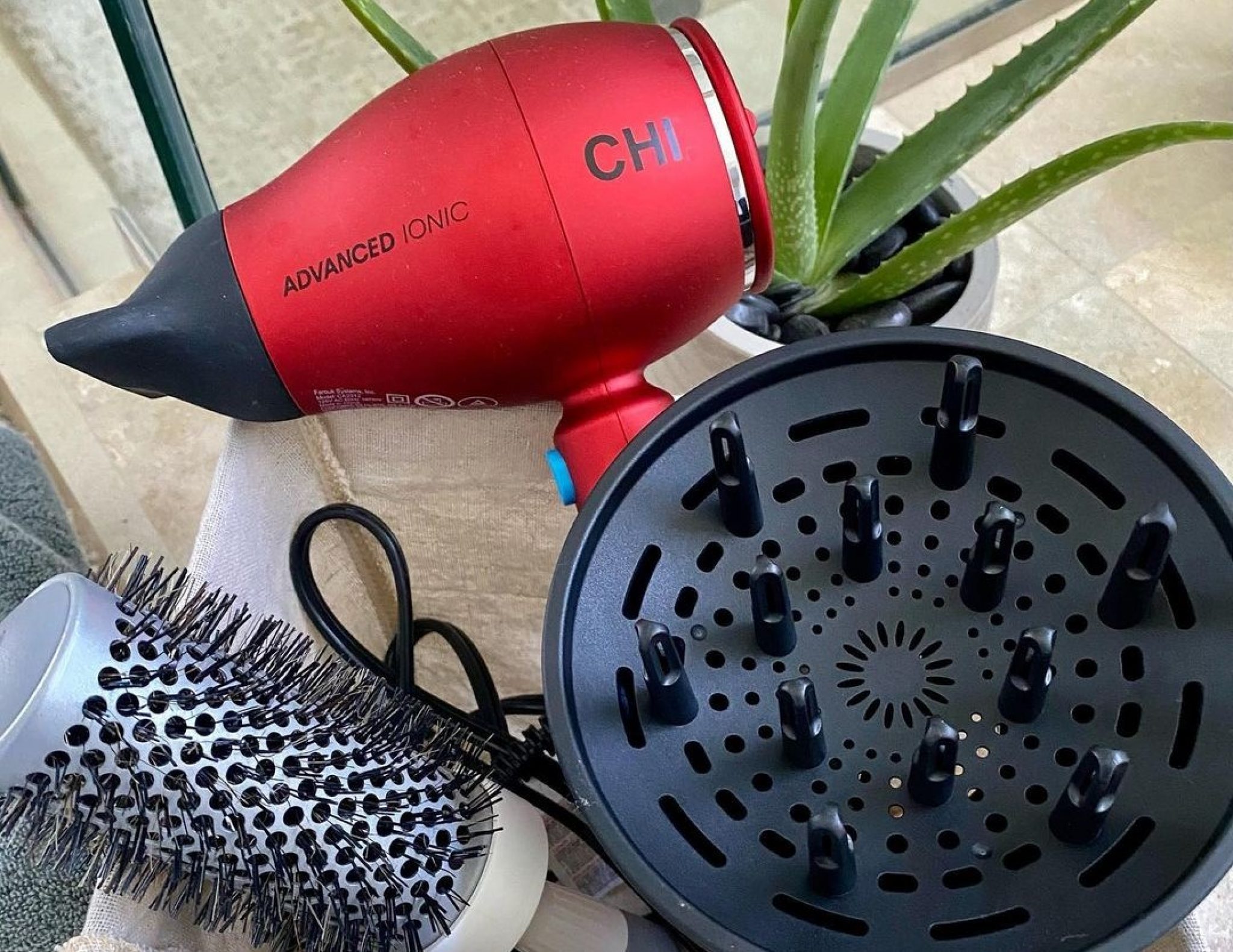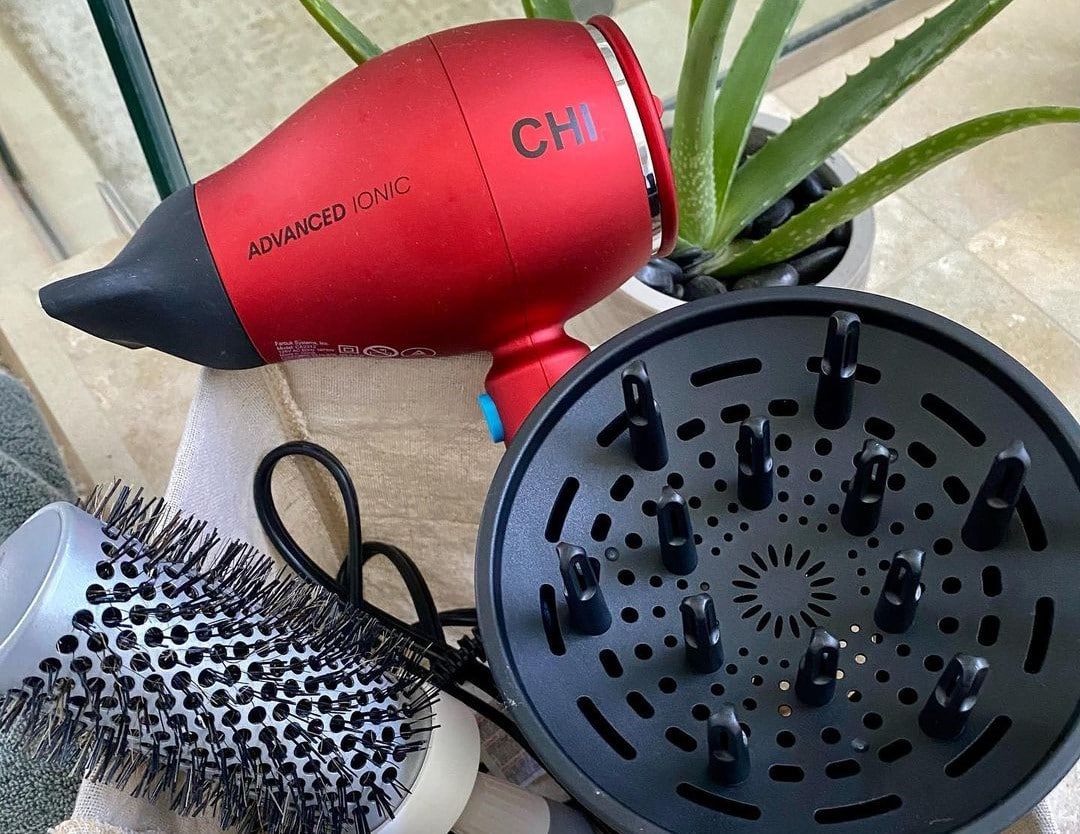 With my expert assistance, you will find the best hair dryer by CHI to suit your most exquisite hair styling needs. The very instant you test one of the below-reviewed products, it's going to dawn on you just how much you've been missing.
If you're seeking the best CHI ionic hair dryer reviews, this post is your go-to guide as well. Knowledge is power, especially when it comes to making some really important purchases, so keep reading!
Top 13 Best CHI Hair Dryers That Pro Stylists Swear By
Good news! Using the top notch CHI hair dryers (and doing it right) can actually keep your hair healthy. I'm thinking we don't appreciate the hair dryer enough.
From making your usual morning routine a lot more hassle-free, and significantly cutting down your styling time, to effectively helping you style your hair the way you like it, your blow dryer is one of the most flexible and effective hair styling solutions out there. In this post, I've put together a selection of the 13 best CHI blow dryers for natural hair, as well as the rest hair types.
1. CHI PRO Hair Dryer: Dries without Burning
This 1.7-pound solid baby is a hybrid of ceramic and ionic heating technologies. CHI PRO hair dryer (also referred to as CHI PRO Low EMF hair dryer) boasts a ceramic heater and an ion generator, as well as ionic infrared light which minimizes the impact of heat on your strands. To put it in simpler terms, the device is designed to dry your hair fast making it all shiny and soft. In this sense, the CHI ionic blow dryer is similar to the Babybliss Pro Portofino Ionic blow dryer.
CHI PRO Low EMF hair dryer has multiple distinctive characteristics. While some of them resemble other great hair dryers, many of them make this device completely stand out among the rest. Because the CHI Low EMF blow dryer is ceramic, it's perfect for flat and thin to medium hair. With this type of hair, you will create volume using this device without even putting too much effort into the process. And its rather modest 1500 watts definitely won't mess up your hairstyle.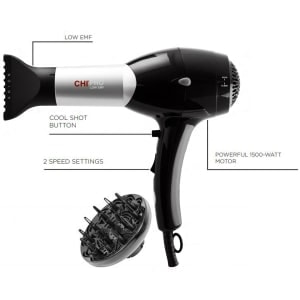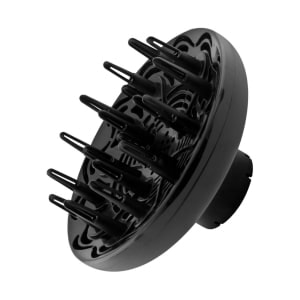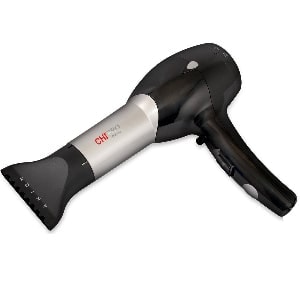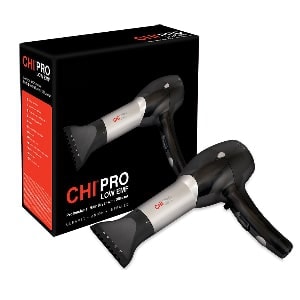 The CHI PRO hair dryer has a great 11-foot long cord. A lot of other hair dryers have much shorter cords. Being stuck near an outlet doesn't sound too good, does it? We thought so! That's why in this sense CHI PRO is very appealing. The CHI PRO Low EMF hair dryer features two temperature settings, and you can instantly feel a noticeable difference on the higher one.
The CHI PRO hair dryer is rather quiet and speedy. It's going to make your hair absolutely frizz-free and shiny like Rapunzel in Tangled with no extra product at all! One minor disadvantage is the inconveniently located on/off button, so you can sometimes accidentally turn your CHI PRO off while blow-drying.
At first, the device may seem heavier than other blow dryers. But this is perfectly balanced out by the amazingly comfortable handle. CHI PRO Low EMF hair dryer may be quite expensive, but with all the perks mentioned above, it's well worth the money.
A great bonus is that the CHI PRO Low EMF blow dryer manufacturer is based in the US. Therefore, getting help is as easy as pie whenever you need customer service. Feel free to read more CHI PRO Low EMF hair dryer reviews online or just head to Amazon to purchase this excellent device.

PROS:
solid and fast
compact size
doesn't burn your hair
works faster than other hair dryers
very comfortable grip
CONS:
heavier than other dryers
rather costly
2. CHI 1875 Series Advanced Ionic Compact Hair Dryer
3. CHI Turbo Ceramic Round Large Nylon Brush for Your CHI Blowouts
You can use the best hair dryer for your hair in the whole wide world, but it becomes useless if you lack the right hair brush. Roaming the internet for the best and most independent CHI PRO Low EMF hair dryer reviews along with some honest opinions on excellent quality round brushes?
I'm here to lend you a helping hand, along with a multitude of handy reviews. So, if you need an awesome round brush to smooth and straighten your long hair, the CHI Turbo Ceramic Round Large Nylon Brush is definitely worth picking up.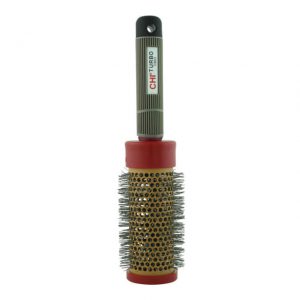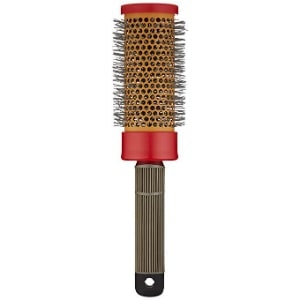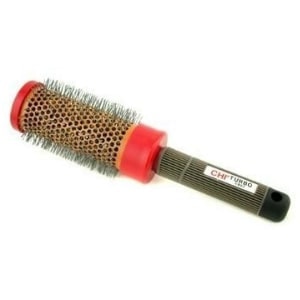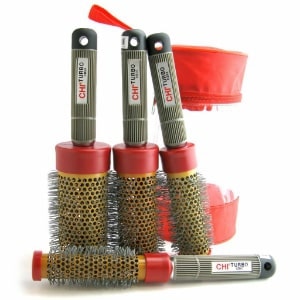 This brush has a two inch barrel – something that makes it more convenient for long hair. The nylon bristles glide smoothly through both dry and damp hair, while the ceramic barrel means the drying process will leave your hair shiny, smooth and totally free of frizz.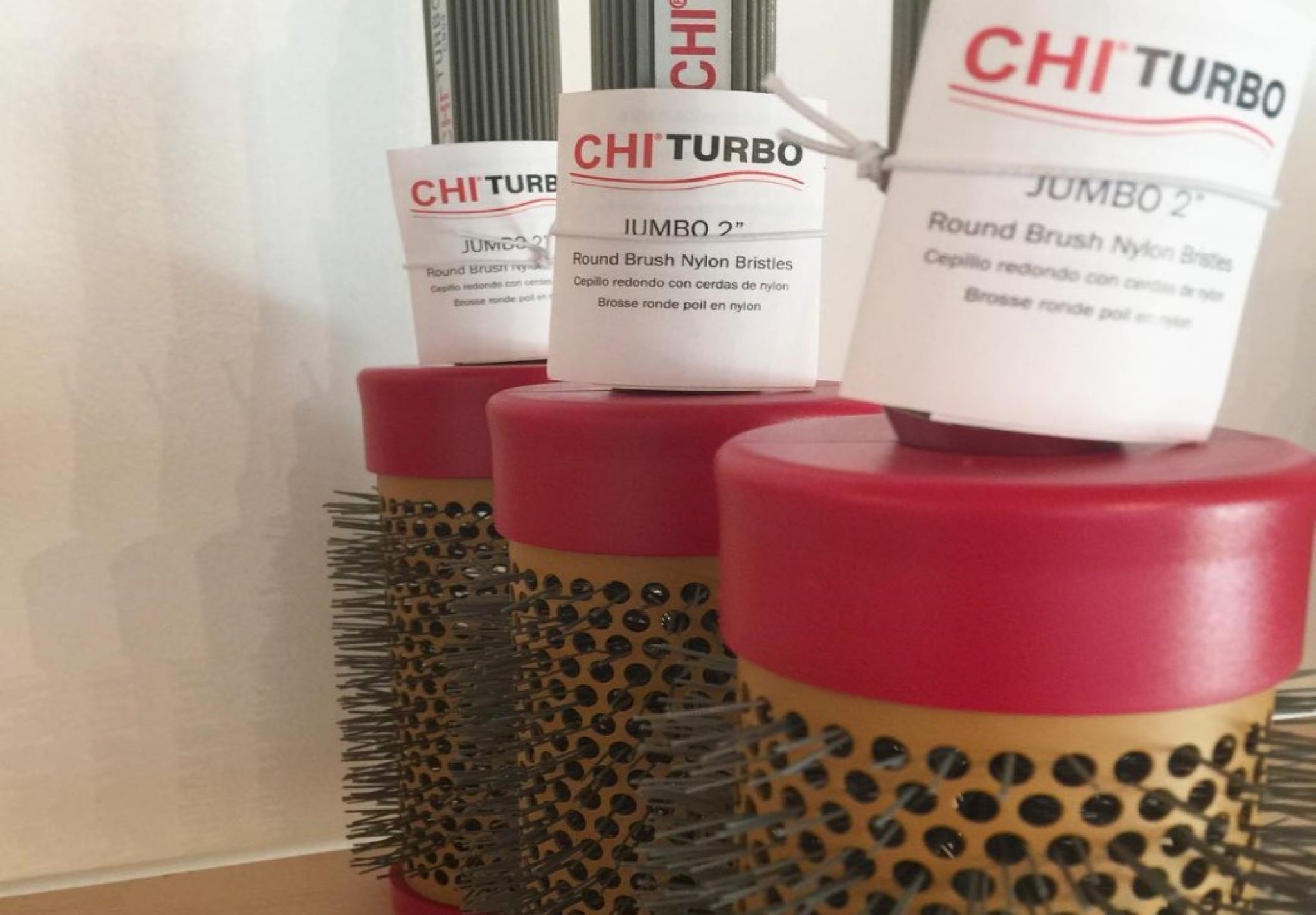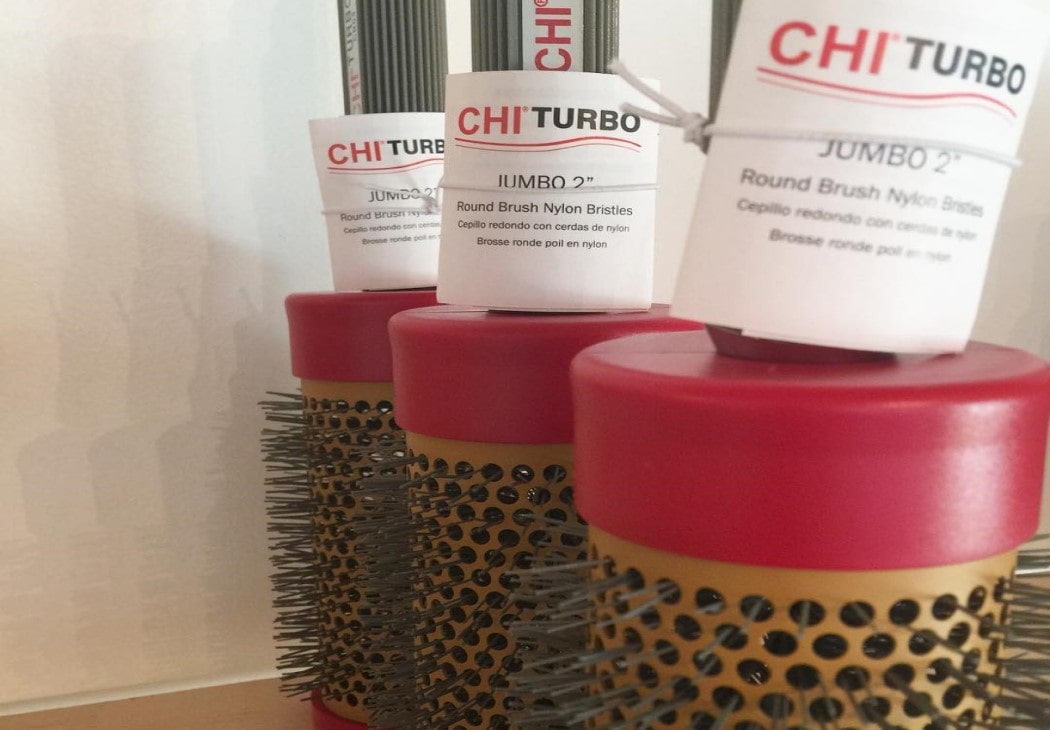 The aerated barrel implies that heat flows through, leaving you less prone to hair damage while drying. I also adore the lightweight style, and the easy to grip ribbed handle is a major perk. For best results, the manufacturer recommends using the CHI Turbo Ceramic Round Large Nylon Brush in combination with the CHI styling hair care products.

PROS:
ceramic barrel saves your hair from frizz
aerated barrel minimizes damaging exposure to heat
tangle-free nylon bristles
convenient handle
good-looking price
CONS:
some users find it less volumizing than other similar products
4. CHI Touch 2 Dryer: Perfect for Long Thick Hair
If Apple designed a hair dryer, CHI Touch dryer is what it would most likely be like. The second generation CHI Touch hair dryer with a touch screen is significantly more lightweight than its predecessor. And it's a lot slimmer as well! I personally absolutely adore this digital matte black salon quality tool.
The controls are unique, and it dries your hair without burning it. You can even use it hands-free thanks to its exclusive design! Because this CHI touch screen hair dryer has its own unique ion generator, it tames frizzy hair and leaves it silky smooth.
The tech geek in me loves the oohs and ahhs of a touch screen. When it comes to the topic of controls, this CHI touch screen hair dryer allows you to adjust in minute detail such parameters as heat, speed, and ions. What is more, with the CHI Touch 2 hair dryer you can even set the temperature of the cool shot button.
Just slide your finger across the screen if you want to do that. Also, the CHI Touch 2 hair dryer has a satisfyingly long cord, just like its previous PRO brother. Therefore it's perfect for rooms where the outlets are nowhere near the mirrors.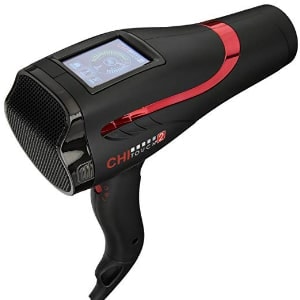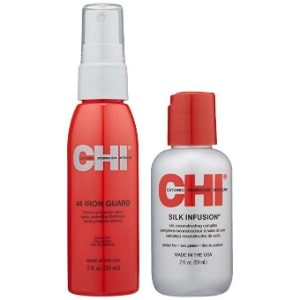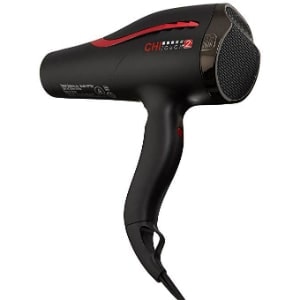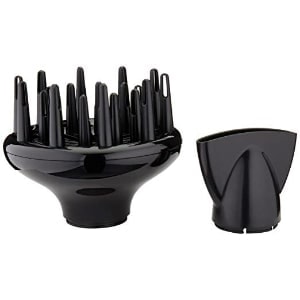 Also, if you've been looking for the CHI Touch dryer with included nozzle and diffuser hair, look no further. The product comes with a diffuser attachment that beautifully dries your hair without drying it up. If you're on the prowl for the best salon quality dryer that money can buy, the CHI Touch 2 hair dryer is ideal for you. With all its sophisticated functions, this incredible feat of engineering is worth every single penny and then some!
Just like its less digital brother CHI Turbo professional hair dryer, this CHI touch screen hair dryer works magic on thick, long and wavy hair. All the CHI touchscreen blow dryer reviews out there are the living proof of the tool's uniqueness.
Wondering where to buy CHI Touch hair dryer? Amazon is the answer! So whenever you need a great quality hair dryer CHI Touch dryer is what suits your needs perfectly.
PROS:
slimmer and more lightweight than its older bro
cool touch screen with adjustable settings
long cord
great for thick long hair
the best CHI hair dryer for curly hair
CONS:
a tad on the heavier side
difficulties using touch screen with damp hands
5. MISS UNIVERSE STYLE ILLUMINATE by CHI Titanium Hair Dryer
The CHI Illuminate Miss Universe hair dryer may not be powerful enough to make you a supermodel. But this pink, pretty, professional tool does an excellent job giving you the impeccable supermodel hair look. The CHI Miss Universe hair dryer flaunts a negative ions producing ceramic heater that gets your hair sleek and gorgeously smooth.
So if you're searching for second to none CHI ionic hair dryers, this tool might be just what the doctor ordered. Aside from testing the tool first-hand, I've read multiple CHI Miss Universe hair dryer reviews on the Internet. I must tell you, I'm not the only expert who thinks this device will definitely tickle your fancy.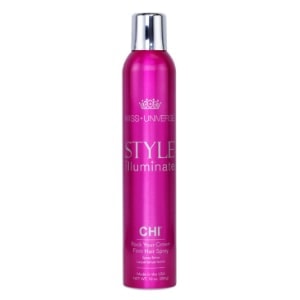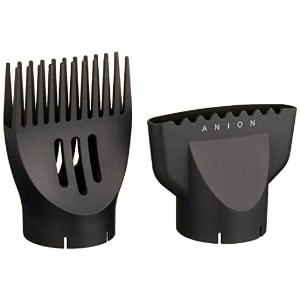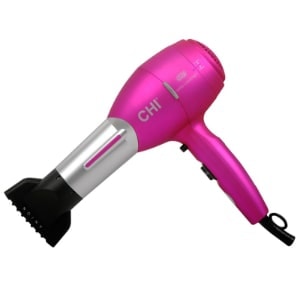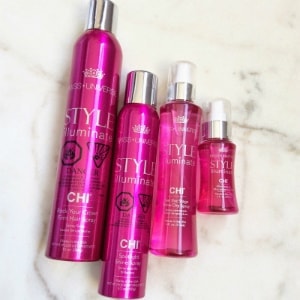 With its 1800 watts of steady airflow, this CHI blow dryer helps you achieve the desired styles with ease, speed and flexibility. The customizable heat settings allow you to effectively dry your hair without it feeling scorched. Your CHI Miss Universe hair dryer comes with two concentrator attachments giving you different style results. Furthermore, this hot pink CHI blow dryer also has a fine cold shot button to assist you in setting your hairstyle.
Chances are high the color will even match your makeup or hairbag set. In fact, if you're searching for the best CHI travel blow dryer, this tool (as well as the next one) is a great option! It's a little pricey but totally worth the investment.
To cut a long story short, the functionality of the Miss Universe dryer is excellent. The only thing that may slightly annoy you is the necessity to hold down the button if you want to put the device on the cool setting. The CHI Miss Universe hair dryer has a very long cord which makes the tool ideal for salon use. The device is small enough for your hands and the fuchsia color is juicily amazing.
PROS:
leaves your hair shiny and smooth
fast and flexible
does not damage your hair if used correctly
effective on curly hair
small but powerful
CONS:
a bit pricey
holding down the cool-setting button is annoying
6. CHI Tech Travel Ceramic Hair Dryer for Shiny Strands
CHI blow dryers are among my favorite products when it comes to hair styling and care. If you're a travel junkie, you will fall in love with the CHI Travel blow dryer. It's super lightweight and perfect for styling on the go. It's so good for carrying around. You can put it in any travel bag and it's going to fit perfectly. The CHI Tech travel hair dryer has a 1400W motor for faster dry time as well as a ceramic heater to prevent frizz and overheating.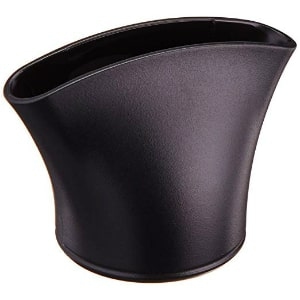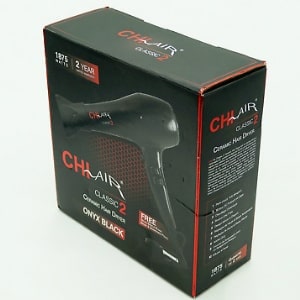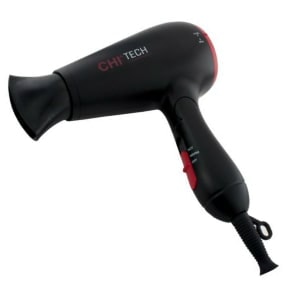 The CHI Tech travel hair dryer has customizable temperature and speed settings as well as a collapsible handle which is ideal for storage. Also, an effective air concentrator nozzle comes with this hair dryer. Drying your hair with this tool is easy and almost effortless. To achieve the level of volume you're looking for, opt for a round brush when using your CHI Travel blow dryer. If you need a sleek and straight hairstyle, feel free to take advantage of your flat brush.
Whether you're seeking a CHI professional blow dryer or a hairstyling tool to use at home, you can never go wrong with this brand. Just make sure you place a laser-like focus on this best CHI hair dryer review page to keep tabs on what's hip and detect what might suit your individual needs perfectly.
PROS:
the size is perfect for travel
leaves your hair silky and smooth
lightweight and effective
works fast even on thick, coarse and wavy hair
7. CHI Handshot Hair Dryer for Your Smooth Hairstyles
If you're on the hunt for a handleless hair dryer by CHI, this tool may definitely blow you away (pun intended). The Handshot blow dryer by CHI is portable and feels very decently well-made. Its handle-free body design will definitely please you if you need a compact device for styling on the run.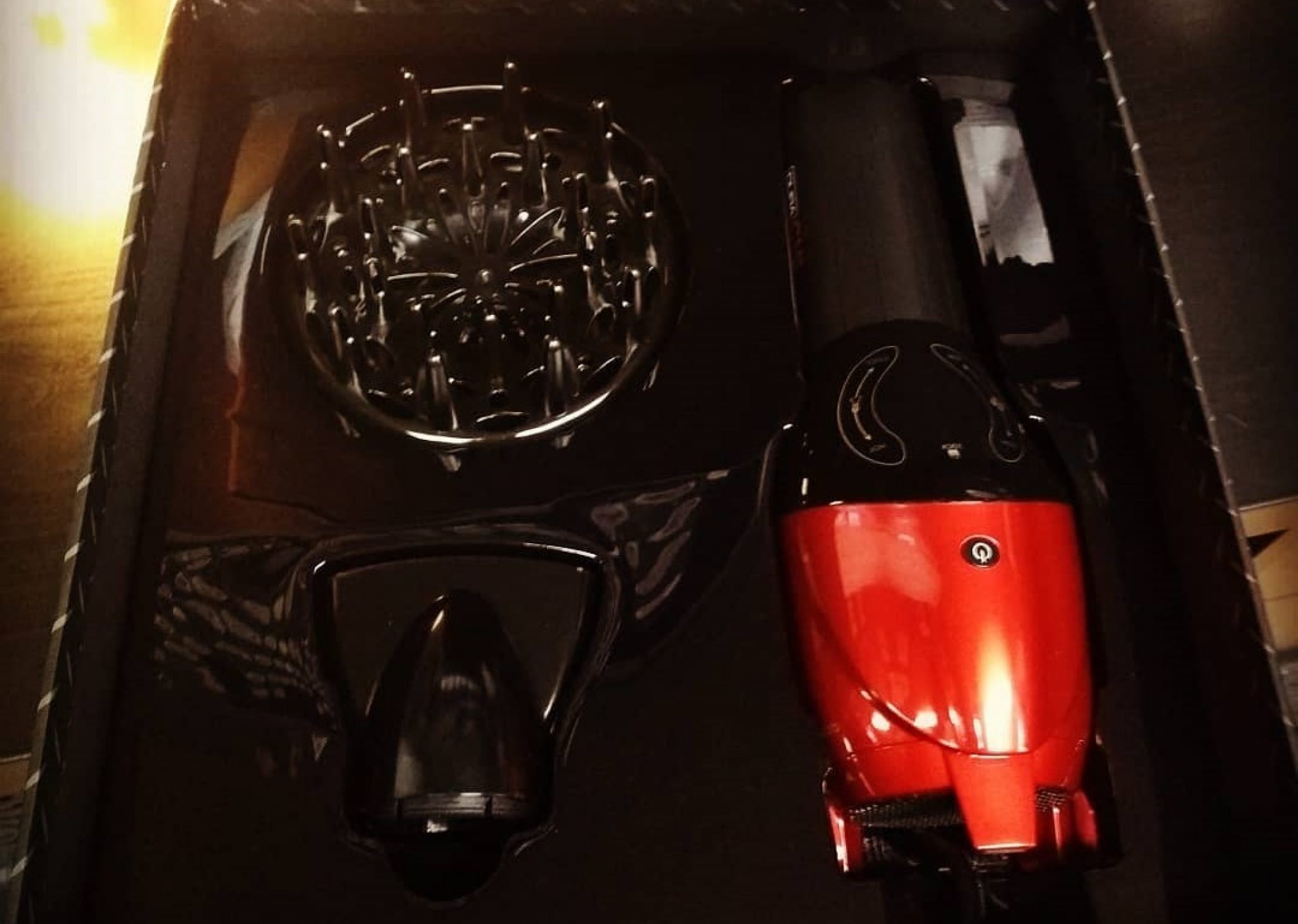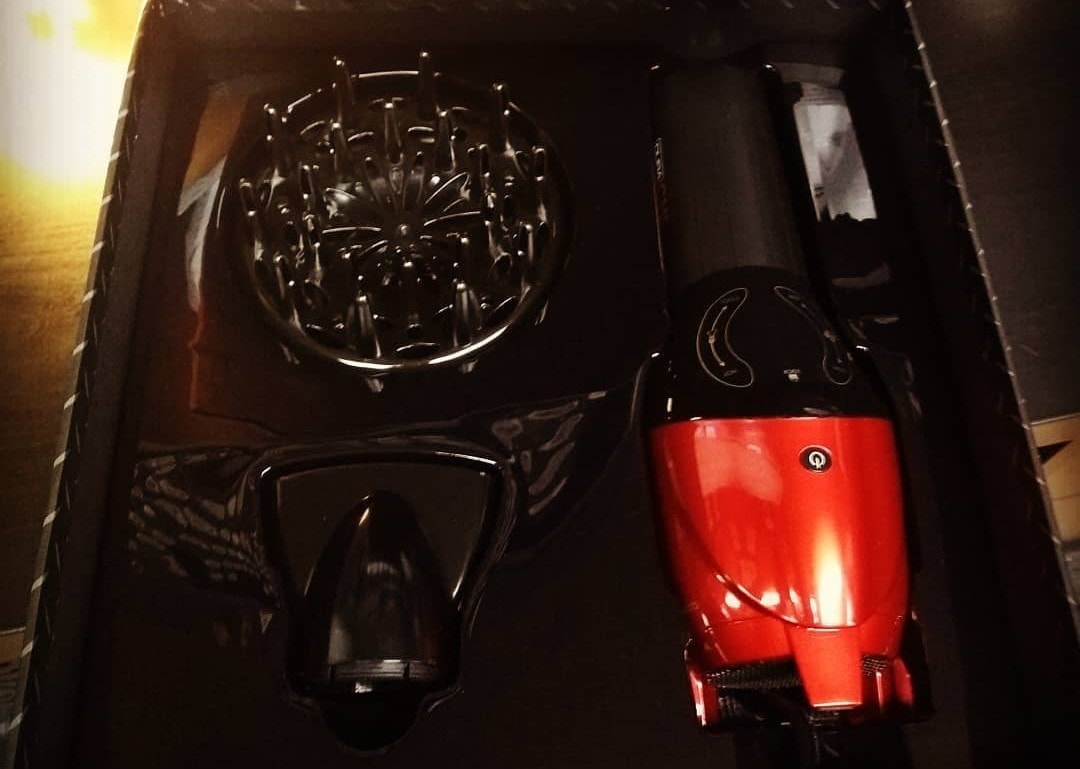 This excellent CHI hair dryer manufacturer has done a great job enhancing the dryer motor and the fan blade. You get significantly increased airflow which speeds up your styling process without increasing the tool's weight.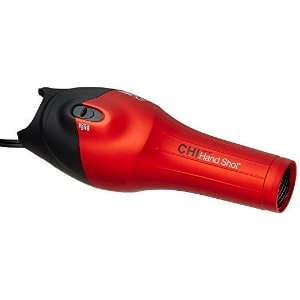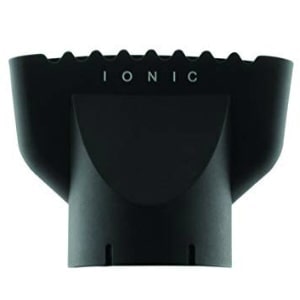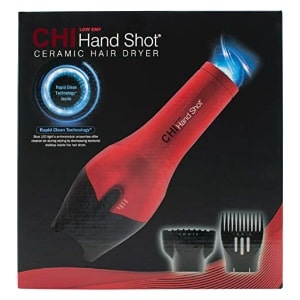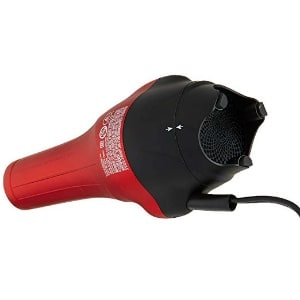 The CHI Handshot blow dryer comes with awesome accessories and never damages your hair. It takes some time to get used to this dryer's shape. But once you do, you will absolutely love it and start looking for the best CHI hair straighteners to complete your collection. I hope that my today's batch of CHI professional hair dryer reviews gives you a glimpse of each of these beautiful products.
The ceramic heater is effective and maintains consistent heat that's just right to create smooth sleek hairstyles without overburning your hair. With this CHI hair dryer, you have the control you want and need, and the tool is not heavy at all.
PROS:
it's tiny and feather-light
easy to maneuver
does not fry/ruin your hair
nice long cord
CONS:
pricey but worth it
not the best choice for thick and/or curly hair
8. CHI Tech 1875 Limited Edition Series Hair Dryer: Mind Blowing!
CHI Tech 1875 Series Limited Edition DC motor hair dryer uses ceramic technology to almost effortlessly transform your hair from frizzy to sleek and shiny. This honey weighs less than a pound which allows you to style your hair with ultimate ease and comfort.
This little but powerful device delivers the goods, without fatigue, making it a fabulous option for hair stylists who spend hours daily dealing with their clients' hair.
Various speed and heat settings provide custom styling for all types of hair. This hair dryer comes with a direct airflow nozzle that helps you add more volume or smoothness to your blowout. The CHI Tech 1875 Series Limited Edition Teal Hair Dryer is very gentle on your tresses.
It does a great job drying your hair and leaving it soft and shiny. If you have a lot of hair, this styling tool (as well as the majority of other CHI hair dryers mentioned in my reviews) is the best for you.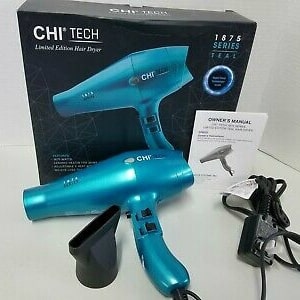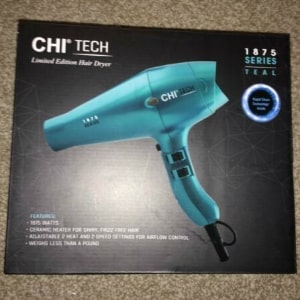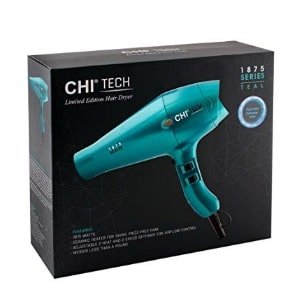 The controls are excellent. The blower is just strong enough on high setting and low is just right as well. This limited edition CHI professional hair dryer delivers 1875 watts of powerful airflow, to provide you with speedier drying times. What you will also like about this tool is that it's always the right temperature. You can never go wrong with the CHI Tech 1875 Series Limited Edition Teal Hair Dryer!
Just like other blow dryers by CHI, this little powerhouse is rather expensive. In fact, you'll be exceptionally lucky if you ever come across cheap CHI blow dryers. In any case, this teal-hued miracle of a blow dryer is well worth every penny it costs.
If you're wondering where to buy CHI hair dryers, feel free to check the price by clicking the below button and make your ultimate decision only when you're fully informed!
PROS:
lightweight
leaves your hair shiny with zero frizz
fast and easy to hold
doesn't ruin your hair
the teal color is fantastic
CONS:
expensive but worth it
limited edition may not be available for long
9. CHI Deep Brilliance Dryer for Highly Textured Hair
The CHI Deep Brilliance hair dryer was created specifically for highly textured hair. And it does the trick! When you're done using this, your tresses will feel all soft and bouncy.
Even if your hair is extremely curly and dry, your Deep Brilliance gem of a dryer is guaranteed to leave your locks manageable and gorgeous. With its ceramic heat and ionic technology, the hairdryer smoothes your hair into silky, shiny strands. They sure don't call it Deep Brilliance for nothing.
It flaunts a strong 1875 watt AC motor which produces top notch wind power. And it's super easy and comfy to hold, which is also a great bonus. The Deep Brilliance tool is very quiet, so it's perfect for you if you live with light sleepers. Seeking more quiet hair dryer reviews? I have something really special in store for you… If you love a dryer with a cool comb that doesn't come off, this baby is just the ticket. And it dries your hair in no time!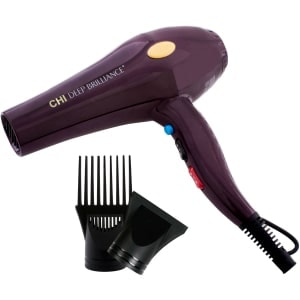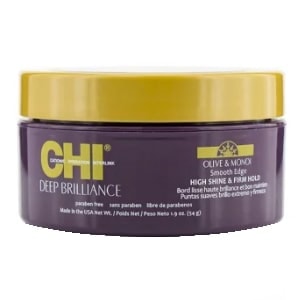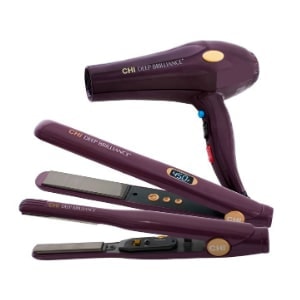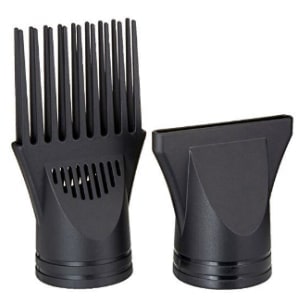 The CHI Deep Brilliance hair dryer has two heat and speed settings, which is not quite enough for a salon-quality item. For some extra shine, take advantage of the cool-shot button which reduces frizz and locks in essential moisture.
The CHI Deep Brilliance low EMF hair dryer comes with a removable filter which means you can clean it on a regular basis to improve its durability. The 11-foot cord allows you to feel the freedom of movement and almost forget where the outlet is.
This particular CHI hair dryer warranty is two years. In any case, you can be absolutely sure that these types of dryers are exceptionally reliable and extra-durable. Yes, this blow dryer is more expensive than others, but it's worth every dime spent. With the CHI Deep Brilliance hair dryer, you really get what you pay for!
PROS:
lightweight and quiet
additional nozzles for creating various styles
long power cord
powerful AC motor
CONS:
slightly more expensive than other hair dryers
10. CHI Tech Hair Dryer and Ceramic Hairstyling Iron – 2 Piece Travel Set
The CHI Tech 2PC Travel Set consists of a 1400 watt hair dryer and a 3/4″ ceramic hairstyling iron that are ideal for your on the run styling endeavors. The dryer is compact but very powerful for faster drying time. The straightener in this set maintains a consistent temperature and works very well on all hair types. Both devices boast ceramic technology which means you can finally start saying goodbye to heat damage and frizz.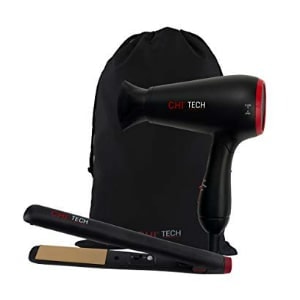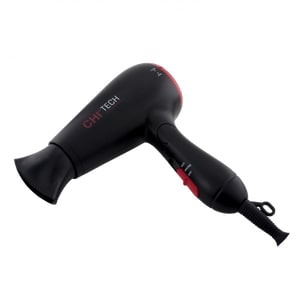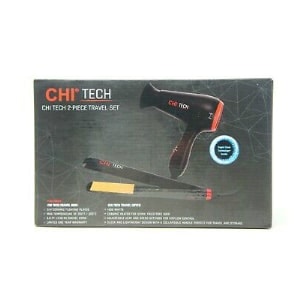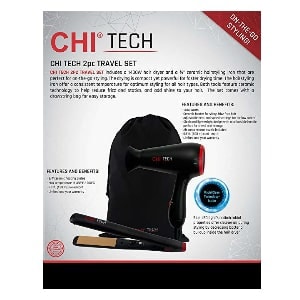 The CHI Tech 2PC Travel Set boosts your hair shine and helps with the frizz. The set comes with a drawstring bag which makes it even easier to store. The set is obviously great for traveling. But you will love using it after you wash your hair even when you're at home.
The little hair dryer is super powerful, and you can conveniently fold it for easy storage. This CHI straightener and blow dryer set price is definitely going to appeal to you.
PROS:
hair dryer boosts hair shine
helps with frizz
the hair dryer is small but powerful
flat iron has temperature control and i.e. doesn't damage your hair
this CHI flat iron blow dryer set is very easy to store
CONS:
some ladies prefer a straightener that gets a bit hotter
11. CHI Air Classic Travel Collection 3-in-1 Hairstyling Iron and Dryer Plus Zip Bag
Your precious CHI Air tools have now gone mini to help you with all of your styling requirements. With this set, you can take you hair goodies wherever you go. This set features 3-in-1 Travel Iron, 1000W Travel Dryer with/nozzle and diffuser as well as a nice and handy travel bag. The set contains travel size versions with the same full-size power as the original CHI tools.
The price for this set is very lucrative, given that you're getting three high tech hair tools from CHI the leader. With your CHI Tourmaline Ceramic 3-in-1 Smooth, Curl and Wave Styling Iron, creating multiple styles is as easy as ABC. It utilizes the ultra modern technology that leaves your hair silky, shiny and perfectly volumized for your current needs. With this amazing set, the sky is the limit when it comes to choosing and creating your next jaw-dropping hairstyle.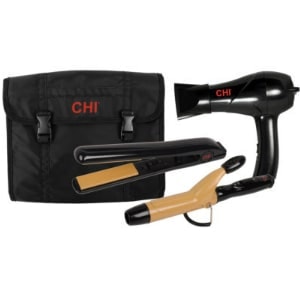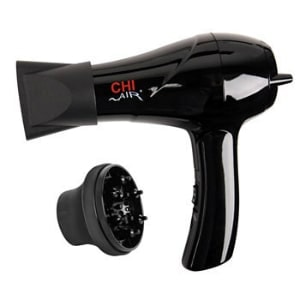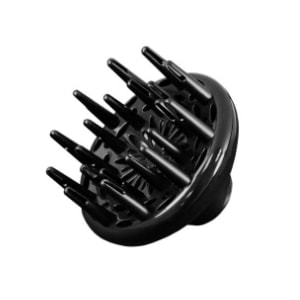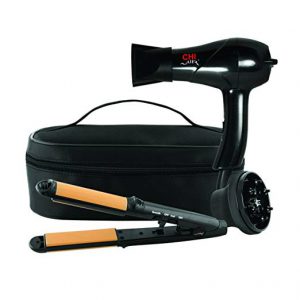 The ceramic technology within the CHI Ceramic 1000W Travel Dryer reduces untameable frizz and locks in vital moisture. This hair dryer works very well on all hair types. Chances are high that this set is going to quickly become your favorite straightener and curler combined.
Needless to say that the dryer's lightweight design and dual voltage functionality make it suit your traveling needs to a T. If you have never tried CHI due to the high price, this travel size kit is an awesome opportunity for you.

PROS:
perfect travel kit
less frizz, more shine
even heat distribution
dries hair fast and safe
easy to hold and store
CONS:
the mini size items may not be the most convenient to use on long hair
12. CHI Lite Dryer: Lightweight AND Effective
The CHI Lite hair dryer is very lightweight and features a less powerful (and i.e. lighter) DC motor. The carbon fiber shell protects the product from any bumps or knocks. The hair dryer includes a detachable concentrator nozzle featuring a 180-degree rotation ability. Therefore, you can choose specific areas of your hair to volumize.
The detachable concentrator nozzle allows for a highly precise styling. The icing on the blowout cake? The hair dryer contains all the cutting edge tech that looks after your strands, with maximum ion generator functionality and far-infrared heat that add shiny smoothness and an overall luscious look to your hair while protecting it from within.
Asking yourself the frequent is a CHI hair dryer worth it question? When it comes to the CHI products (especially the ones reviewed in this post), the answer is always YES.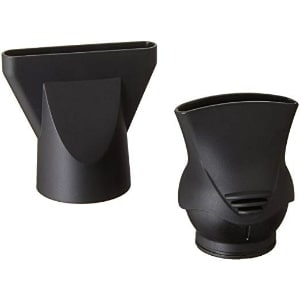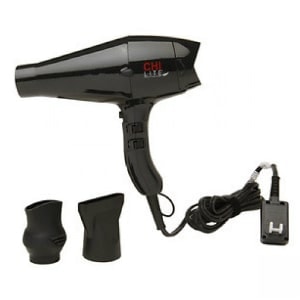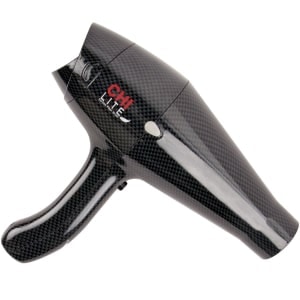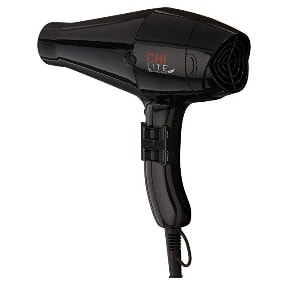 If you're seeking a CHI professional blow dryer, this model is not the best to opt for due to the rather limited heat and speed settings. However, the CHI Lite hair dryer can give you a perfect blowout at home. And it is absolutely ideal for your traveling purposes.
It's compact, durable and very effective for styling on the go. It works very well on any hair type, but perhaps might take longer to dry thick long hair. If you're searching for the best CHI blow dryer for fine hair, CHI Lite is the perfect option. Some of the best CHI blow dryers on sale await you on Amazon.

PROS:
lightweight and durable
easy and convenient to use
excellent quality for a travel product
rotating nozzle for precise styling
protects your hair health
CONS:
may take longer to dry thick/coarse hair
limited heat and speed settings
13. FAROUK DURA CHI Professional Grade Dryer: Power and Longevity
Are you scouring the market for the best hair dryer for professional use? Feeling a bit overwhelmed by the number of CHI pro hair dryer reviews out there? Monica's got you covered! The DURA CHI blow dryer was designed to turn out-of-control tresses into a salon-like hairstyle.
The device features a long lasting 1875 watt AC Motor boasting powerful airflow and ultra-fast drying. The DURA CHI blow dryer targets speed, weight, and noise which makes it great both for professional and home use.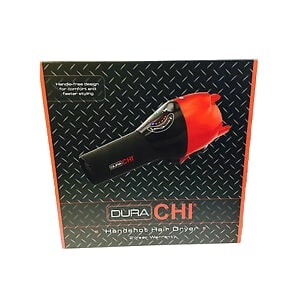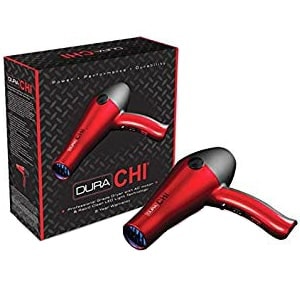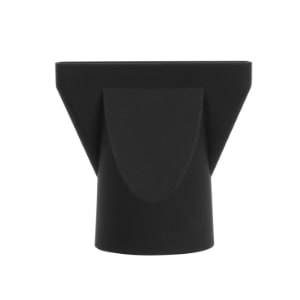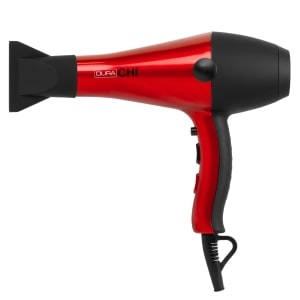 The hair dryer's ceramic heater contributes to quick and even heat distribution. Furthermore, the tool boasts an automatic ion feature which adds shine and smoothness to your hair while doing an excellent job nipping frizz in the bud.
This professional grade hair dryer can't be compared to the ones that fill the drugstores in your area. It's expensive, but its power and durability are worth every penny. Ready to reach your (and your clients') #hairgoals? Read more DURA CHI blow dryer reviews or just opt for this awesome product now!

PROS:
powerful and durable
effectively eliminates frizz
adds shine and smoothness
fast and not heavy
CONS:
rather pricey but worth it
14. CHI Rocket Hair Dryer: It ROCKS!
The CHI Rocket hair dryer is one of the brand's ceramic tools that has been discussed by many experts already. I've also taken a closer look at this tool to let you know about its pros and cons. I hope that after reading all the CHI Rocket hair dryer reviews out there you will decide whether to equip yourself with this device or not.
There's also the CHI Rocket hair dryer limited edition. This stylish baby is guaranteed to add more visual charm to your bathroom decor. This product is unavailable on Amazon so far. But I hope that it's going to be up for grabs there very soon. If you're looking among the CHI Low EMF hair dryer options, the CHI Rocket blow dryer is your best pick.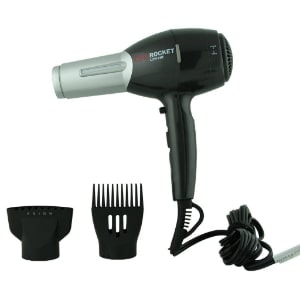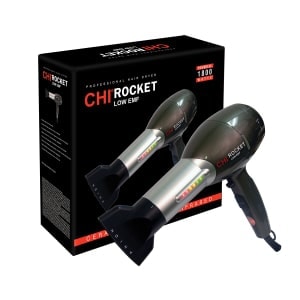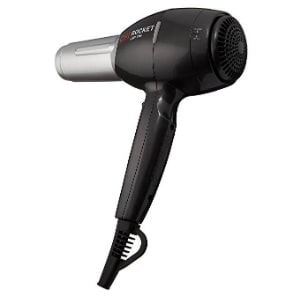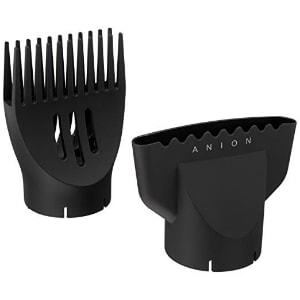 A lot of CHI Rocket hair dryer reviews verbalize the distinct could-not-live-without-it idea. Actually, my love for this product is equally passionate. When using the CHI Rocket blow dryer, you will capture the magic of a salon blowout. It dries your hair fast which is immensely convenient in the morning when you're rushing around before work.
This hair dryer doesn't leave your hair frizzy or damaged looking. On the contrary, you will notice your strands shine and get all smooth after you use your CHI Rocket blow dryer. And it's not too heavy. The cord is long which makes it easier to move around while working magic with your tresses. Pamper your locks with the CHI Rocket hair dryer because you're worth it!

PROS:
lightweight
long cord
quickly dries your hair
hair feels smooth and healthy after use
comes in great colors and designs
CONS:
doesn't come with a diffuser
a little pricey (but totally worth it)
CHI Hair Dryers FAQ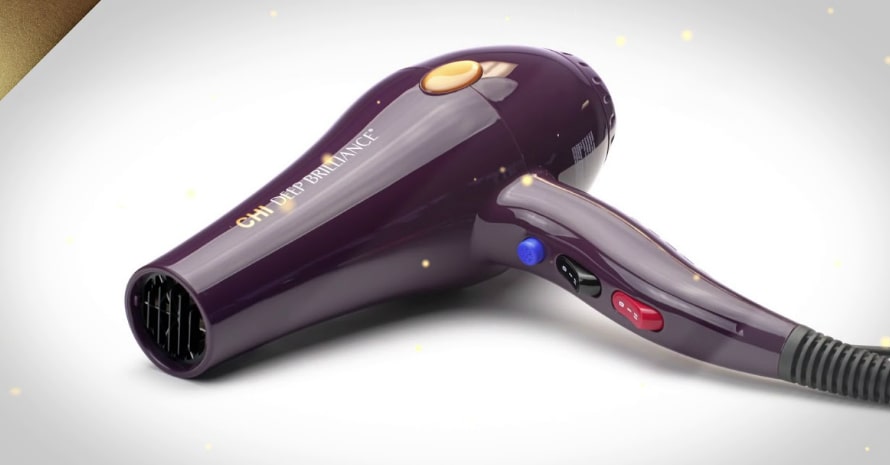 Have some questions left about the use of your CHI hair dryer? Great. Below I've answered some of the most frequently asked questions about the CHI hair dryers and hair drying devices in general. Read on and get all enlightened on the issue of healthy blow drying.
What technology used in the history of the CHI hair dryer brand makes their tools so effective?
Ceramic infrared technology, ionic technology, even NASA technology — these revolutionary scientific know hows are utilized in some of the best CHI ionic hair dryers. In addition to this, a lot of CHI blow dryers for professional use combine the above mentioned functionality with a Blue LED Light system that provides cleaner air during the drying procedure.
As a result, you get absolutely smooth, frizz-free, shiny and overall healthy looking hair with the most suitable type of volume for you. In other words, the possibilities of the CHI technology hair dryer seem to be limitless.
How do the CHI ionic hair dryers work?
Your CHI ionic hair dryer produces myriads of negatively charged ions which break down the positively charged water molecules. Negative ions don't open up the hair shafts, therefore, your hair looks smooth, shiny and sleek after you use the dryer. One of the big perks of an ionic hair dryer is that you can opt for a lower temp to dry your hair.
How do I blow dry my hair without damaging it?
There are certain steps you can take to minimize damage from exposure to heat. First, buy a top quality hair dryer. Second, adjust the dryer temp to suit the texture of your hair. Third, use heat protection products prior to blow drying.
Distribute the product evenly throughout your locks using your paws or a comb. Opt for products containing silicone. Silicone is especially good at saving your strands from damage. I will provide more tips on how to dry your hair without damaging it in a separate post.
What are some alternatives to blow drying?
Using a subpar blow dryer can, indeed, damage your hair. But what are the alternatives? You can shake your hair out after you get out of the shower, blot it with a towel and let it air dry. You can even shake your hair dry or sit in the sun. In any case, these 'alternatives' will never give you the mind-blowing styling effect of a blow dryer. Only a (fabulous) blow dryer can shape your hair perfectly, giving maximum volume or the right texture to your hair type. In other words, nothing replaces a good hair dryer.
Can my blow dryer cause hair loss?
No. Concluding that a hair dryer causes hair loss due to the exposure to heat is very easy. But things are not that simple. Regular hair care procedures such as washing, combing and blow-drying will not result in hair loss. Washing your hair frequently is good hygiene. Yes, if you pull or expose your hair to excessively high heat while blow drying, your hair may start thinning.
But this will not cause hair loss on a large scale. Just make sure you opt for a fantastic CHI ionic hair dryer with ceramic technology and the best heat protection spray for you to stop your hair from getting frazzled. You can find a more detailed answer to your question "Do heat protectants work?" in one of my earlier posts.
What if my CHI Blow Dryer is Blowing Cold Air?
If your expensive CHI dryer is blowing cold air only, any of the following parts of the device are more likely to fail:
Heating Element
Thermal Cut-Out
Hi-Limit Thermostat.
All these elements combined should cost less than $100 in total. If your CHI hair dryer warranty is up, just check some electronic repair shops near you. They may be able to repair it for less than a hundred bucks. Whenever you have similar questions about your hair dryer CHI touch dryer or any other model, feel free to contact me for assistance.
Do I really need a concentrator or a diffuser?
While using your hair dryer without these attachments is impossible, chances are high you're adding more work to your morning hair styling routine than you really need to. Which one you use is determined by your hair type as well as the style you're looking to achieve.
If you're aiming for straight, smooth and frizz-free hair, use a concentrator with a flat brush. To add some relaxed curliness to your style, use a diffuser.
Cutting to the Chase
One of the major secrets to gorgeous, selfie-ready, salon-level hair is a top notch hair dryer for your bomb-ass home blowouts. A reliable hair dryer is, indeed, a godsend for all of us who don't have much time on our hands but would like to have neatly-styled hair before leaving home in the morning.
Already know how to choose the best hair dryer for your hair type? Excellent! Fully aware of exactly what you need in terms of styling? Perfect! Then you've definitely appreciated what I've been dwelling upon in this post.
Getting to the grips of everything related to blow drying prior to making your purchase is the best strategy. Leave no stone unturned in pursuit of as much information and as many reviews as you can possibly find. Just to make sure you're making the right choice, you know.
When it comes to the best CHI hair dryers on the market, you cannot go wrong with any of them. Most of them are lightweight and powerful. From the hair dryer CHI Touch dryer to the CHI Lite model, they are designed to style with maximum ease and comfort.
Just make sure you make your pick depending on your hair type, as well as your hair styling needs and purposes. Now that you've explored all the perks and drawbacks of the best CHI blow dryers, studied all the CHI PRO Low EMF hair dryer reviews out there (not to mention my expert reviews above), you're more than ready to get to shopping. Have questions or comments about CHI blow dryers? You're very welcome to post them below. I will happily get back to you as soon as possible!
Last update on 2022-12-11 / Affiliate links / Images from Amazon Product Advertising API