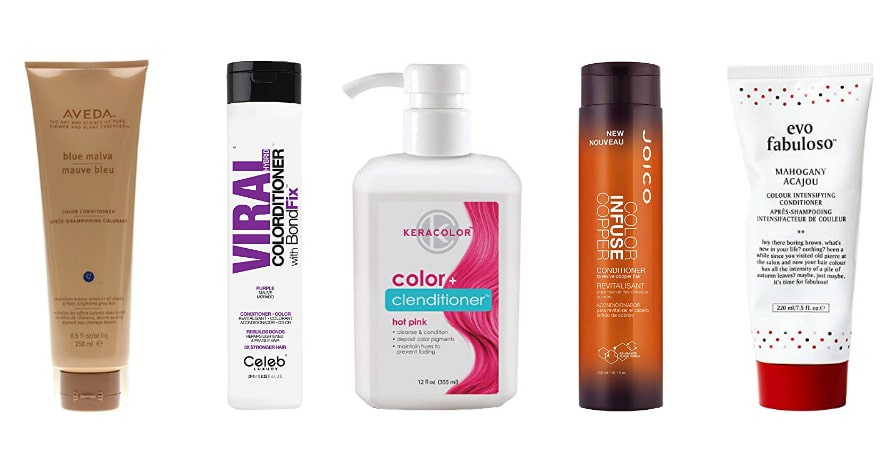 Freshly dyed grey hair is fabulous. However, as time goes by the color begins to fade, and in the case of grey hair, you always end up with those bronze strands that don't look right. Of course, you can visit your hairdresser and make your hair shine again. Thus, there are moments, when you want to save time and money.
So, what to do now? The great news is that you can try color conditioners for gray hair that do their job perfectly.
I am Clarissa, a co-author and blog editor assistant. I write about the nature of going grey and products for the women who have such type and color of hair. According to my experience, hair conditioners are the best solution when you don't have time to get the hair done.
Pros
It brightens your silvers
Runner Up
Pros
It brightens your silvers
I have gray hair, and I always want to give it different color shades to look better. They are a great alternative to chalks and self-coloring since they guarantee you healthy hair and perfect style.
These conditioners can also be used for hair that isn't colored, but the results won't be so good. I will be sharing more about the best color depositing conditioner for grey hair in this piece. So, read on and choose the best for you.
10 Best Color Depositing Conditioners for Grey Hair
I have been using these conditioners, so my experience can tell you the advantages and disadvantages of these products. It has been a long learning process, but I have finally managed to get ten of my preferences. So, here are my best color depositing shampoos and conditioners for grey hair.
1. Keracolor Clenditioner Color Depositing Conditioner Colorwash – My Top Pick
The Keracolor Clenditioner is by far, one of my favorite products on this list. It combines the action of a color depositing conditioner with a cleanser to give you clean and beautifully colored hair. It is also available in a wide range of colors, so if you would like to explore, the options are endless.
This is the product to use when you want to make your hair perfectly in a couple of minutes. The hair can look a bit dull after some weeks, so this conditioner works to change all of that. It gives you a beautiful shiny and silvery look, and if you have highlights, they will look even better.
Since it is a cleansing conditioner, you don't need to use shampoo, and you can be sure there will be no residue or build-up.
It is made using cruelty-free and healthy ingredients. A non-foaming cleanser is vital to maintain your natural hair color. It softens and strengthens the hair strands, so this is about to become one of your favorite products as well.
You can leave it on for longer to get an even better outcome. Another great thing is its durability. After using this product, you may feel that you just dyed your hair. It can stay on for up to 15 washes without fading. However, if you wish you can use it weekly or even a few times a week.
---
PROS:
cleans and softens hair
has a wide range of colors
it is paraben-free
gives good value for money.
---
2. Professional Color Depositing Conditioner: Celeb Luxury
This conditioner is a bit different from the other products on this list. It has by far the best retention due to its unique fade control that makes it more like a semi-permanent dye. While this Celeb Luxury Colorditioner is not the cheapest color conditioner on the market, it's a good bet since it will always leave your hair looking sleek and more attractive.
It is not used on damp hair like the other products, instead, you apply it on clean but dry hair for the best results. You should leave it on for about 20 minutes or more if you want the color to become more profound.
For refreshing it after a week or so, you can use it for two to five minutes. It has excellent conditioning properties, so it leaves your hair silky smooth.
You can use it on hair that is not dyed for a fresh look, and it won't bring any harm. The conditioner also has to repair properties for fixing and strengthening your strands. It comes in a variety of colors so you can go all out and get several to try out.
---
PROS:
it conditions the hair making it smooth
brightens hair and gives it great highlights
easy and safe to use
it moisturizes and protects.
---
3. Davines Alchemic Conditioner: Brown Color Depositing Conditioner
This is yet another of my favorite products. Firstly, because it gives even results, and, secondly, because it hydrates and smoothens dry hair. It guarantees beautiful and strong hair, so your gray curls will look even more shiny and silky.
Unfortunately, this is not one of those pleasant-smelling conditioners, but since it is excellent, we can overlook that. Use it on damp hair and leave it for five to eight minutes then rinse off. It protects your hair against fading and completely clears any brassiness. The hydrolyzed milk is an excellent conditioner, and it helps with the brightening effect.
With more usage, expect the better texture of your hair. Moreover, I would recommend this for those that have a rough and dry ones.
It maintains the hair color for up to a week depending on its conditions. However, it is safe to say that this will keep away all yellowing until your next salon visit.
---
PROS:
protects against fading
it softens and moisturizes hair
gives even results throughout.
---
4. TouchBack Plus Color Conditioner, Medium Brown: Color Depositing Conditioner
This TouchBack conditioner is a favorite one because it is affordable and doesn't contain any harsh and harmful chemicals that affect hair. It is peroxide, sulfate, and ammonia-free. According to the instruction, this conditioner is good to be used when the hair is wet.
The product's formula is unique since it gives lasting solutions, which is why I love it. It uses the ionization of the hair strands to lock in the color, so you get excellent results.
It is very gentle on both your hair and scalp so you shouldn't expect any weird surprises after using. You only need to leave the conditioner on for two minutes after that you can wash it off.
It is an excellent product to use even when you are in a hurry, and you need your hair to look good. The conditioner ultimately gets rid of inappropriate shades of your hair color so that you can join the popular grey hair summer trend. It also has smoothing properties, which is ideal since your hair will look healthier and stronger.
---
PROS:
it is very gentle, so good for all types of hair
the price corresponds the quality
gets rid of any bronzing
lasts up to three washes.
CONS:
the color may stain your hands.
---
5. Pravana Nevo Color Enhancer Treatment: Color Depositing Conditioner for Grey Hair
One of the things that I love the most about the Pravana Nevo treatment is its effect on durability and quality. Unfortunately, your hair can be damaged by some enhancers, but not in the case of this conditioner.
Since its quality is high and ingredients are safe, professionals often market it for use. However, it is perfectly safe to use at home, following the instructions correctly. It is made using safe, ammonia, and sulfate-free products that have contributed to its yummy smell.
You cannot use it in the shower since your hair needs to be dry before applying it. The best way is to dry it using a towel just to get rid of the excess water.
Apply generously all over your hair then leave for two minutes and rinse. This method is enough to get you good results, but for a more intense outcome, leave it for up to 20 minutes then rinse.
---
PROS:
results are good for uncolored hair as well
durable
safe for regular usage
can be mixed with other color conditioners.
CONS:
the outcome may be too intense for some people.
---
6. Color Depositing Conditioners: One N Only Argan Oil Condition Color Ash-Violet
If you are worried that your hair is dry and brittle after using a color depositing conditioner, then the One N Only is the best product for you. It is rich in argan oil that not only maintains your shine but also nourishes it, so it is healthier. This is a hair-tinting product with no dye that can fit perfectly with your style.
This conditioner gives you a balance of intensity, so you can still enjoy your dyed hair. It also uses safe ingredients that will not harm you or your hair. They are made to ensure that your color lasts longer. The product takes only five minutes to get excellent results that can last you a couple of days.
It does a great job at balancing out your hair's pigmentation, so you don't have those rusty looking strands. If you would like a better outcome of using this conditioner for your hair then you may leave it for more than five minutes. The color doesn't become too deep, but it will last longer without washing off.
---
PROS:
great for a quick fix
helps nourish and soften the hair
comes in a variety of colors
is affordable.
CONS:
color lasts two-three days.
---
7. Aveda Blue Malva Conditioner: Conditioner That Deposits Color
This is one of the best products to get rid of yellowness in grey hair. It has friendly ingredients that are purposely picked not only for the benefit of your hair color but also to help it become more nourished.
The recommended time to leave it on is about five minutes, which works well, but the results may not be excellent. This is why you should consider leaving it for longer. Luckily, it is safe for your hair so even if you leave it on for hours, it will not harm it.
If you want the color to be intense and to clear off the brassiness then you may leave it for more than 30 minutes. You shouldn't use it on dripping hair, which is a rule that works for most of these conditioners.
Unfortunately, this product has an unpleasant smell, so if you are sensitive about that, you may want to use the goods listed above. It also doesn't treat your hair, so if you rinse it off it is best to use a conditioner if you want your hair to be softer.
---
PROS:
doesn't turn your hair blue
has lasting results for a week or more
is excellent for hair that is not colored as well
it brightens your silvers.
CONS:
quite expensive
you might find its smell a bit intense.
---
8. Ion Color Depositing Conditioner: Evo AD652 Fabuloso Mahogany Colour Intensifying Conditioner
The AD652 is another intense color corrector that works very well for all types of hair. It is specially created to provide the best results in such a short time. So, you don't need to leave it for hours or use it too often. It is also great to use on hair that is not dyed if you are looking for a way to switch up your hair color or test out another one.
Use it on freshly cleansed and towel-dried hair. It is excellent for long-term use, but you can easily apply it one time every two weeks. However, this is dependent on how brassy your hair looks before your next appointment.
Due to its delicate, you may want to mix it with some of your conditioner or shampoo when using it. Alternatively, you can combine it with another color conditioner to the same effect. It moisturizes and strengthens your hair, so, undoubtedly, you will come out of the salon fresh and satisfied.
---
PROS:
moisturizes and softens hair
gives an excellent outcome after a few minutes
it doesn't stain scalp or hands.
CONS:
the color may be too intense for someone.
---
9. Joico Color Infuse Conditioner: Best Color Depositing Conditioner
Joico is a known leader in producing hair and beauty products, so you know that the conditioner is excellent. One of the great benefits is that it contains healthy ingredients that soften and make your hair shine. You don't need to use a conditioner after this since it will take you the day or a couple of days until you need to reapply.
Its smell and structure are perfect. It makes your hair brighter with every use, and you don't even need to leave it on too long. In just about three minutes, you will have beautiful looking hair, and it gets better the more you use this product.
I prefer leaving the conditioner on for longer as opposed to using it more frequently. The hair will look better, and the result doesn't fade as fast. Unfortunately, this product has sulfates so while it is perfect and works well for many women, the presence of the sulfate almost cancels how well it is.

---
PROS:
it smells great
gives an intense color
the results last several days
has sun protection.
---
10. Joico Color Intensity Color Butter: Hair Conditioner with Color Deposit
The Joico infuse conditioner is excellent. It has highly intense colors that instantly brighten your hair and add more life to it. The butter is excellent if you have light hair or even a darker one although you may have to wait longer to get the desired results.
I love that it comes with an applicator brush. However, you may have to ditch it since the butter is just more natural to use by hand. You can use it on damp or dry hair depending on what you want to achieve. Using it on dry hair and leaving it longer produces more intense results.
It softens the hair, so you don't need to use conditioner after rinsing it off. It protects your hair color from fading by making it more vibrant, and you can reapply for an even better outcome. The ingredients are friendly, so you shouldn't experience any nasty reactions after using them. However, do not exclude such consequences.

---
PROS:
it protects hair from fading and drying out
it is affordable
available in a variety of colors.
CONS:
you may get unexpected results.
---
FAQ about the Best Color Depositing Conditioner to Cover Gray Hair
If you are new in using color conditioners, then you must have some questions about them. Here are a few of the most common ones.
Can i make my color depositing conditioner?
It seems simple to make your conditioner since it has two main ingredients. However, it is not that easy. The semi-permanent dyes that you can buy in the store are not suitable for mixing with conditioner to make your color enhancer. Therefore, it would be difficult for you to achieve perfect grey hair dye shades without harming your hair.
What is the right way of using a color-depositing conditioner?
If you want a fresh look every day and try new colors, then some conditioners are great for giving you that much-needed change. However, since many of these products are semi-permanent at some point, you will need to get your hair adequately dyed. With time, the fading will look more and more apparent.
Do such products work well?
This is dependent on you and the type of conditioner that you buy. Some are excellent in softening and making your hair more manageable while others aren't. Get a feel of your hair after using the products to know whether you still need to care.
Final Words about Picking Hair Conditioner
Now you know the secret how someone's hair looks so good during weeks or even months after the coloring. These conditioners are the perfect way to ensure that your hair looks like it is freshly done. Most of the time, they maintain the color so well that you may forget about your appointment to get dyed.
However, remember that if you have your hairdresser appointment coming up, you should stop using the conditioner approximately a week or two before that day. This helps the color to fade, so when you go in you can be sure that you will get excellent results.
What is your biggest concern when managing dyed hair? What is your favorite conditioner and tricks you use to keep those grey strands in check? Let me know in the comments below.
Last update on 2022-12-11 / Affiliate links / Images from Amazon Product Advertising API