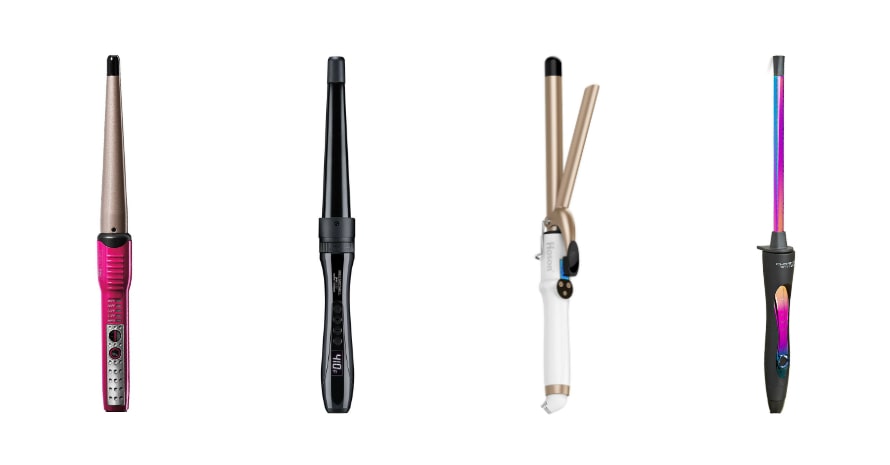 Curling short hair is often a hassle. You have to be experienced with handling a curling iron. With short hair, there are a lot of things that could go wrong. You could easily burn your scalp from holding the iron too close to your head.
You could end up with the worst hairstyle ever – a bunch of curls that would make you look like a psych ward patient. Choosing a curling iron is the first step towards having a great curly hairstyle. But with so many brands to choose from, how can you find a good curling iron for short hair?
Pros
Covered with a tourmaline ceramic coating
Top Pick
Pros
Covered with a tourmaline ceramic coating
Being a hairstylist with the immense experience of using too many curling irons to count, I always get questions about picking a proper model. I have tried a few of the latest heat styling tools in order to share my findings with you. Therefore, I will review eight great curling irons you can buy. I will also compare these irons based on the following critical qualities:
Barrel material;
Barrel diameter and shape;
Temperature settings.
Moreover, I will tell you how to keep hair healthy when using iron. Thus, you will be able to get gorgeous curls yet maintaining your hair health.
Best Curling Iron for Short Hair – Top 8 Review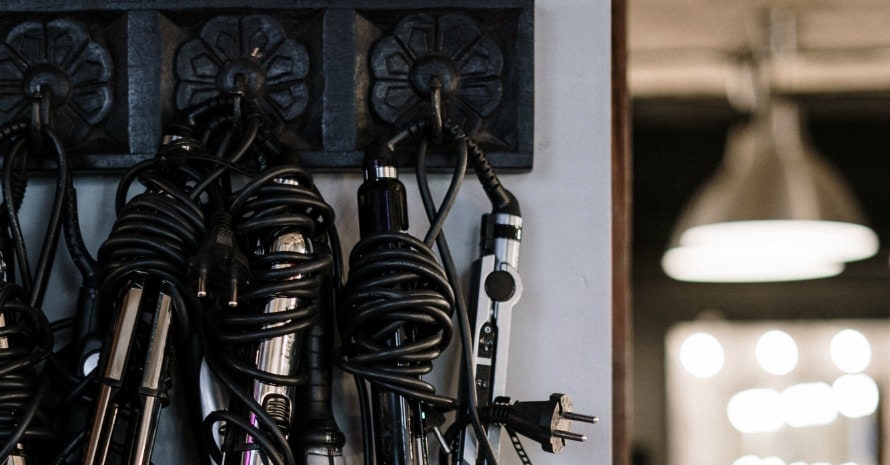 Curling irons come in different shapes and sizes. From tapered barrels to cylindrical ones, 1-inch diameters to 1.25-inch ones, there is quite a variety to choose from. Here are eight curling irons you should consider buying if you have short hair:
1. GHD Curve Band – Best Curl Iron for Short Hair
Since its inception, GHD has revolutionized hairstyling techniques for women with innovative products. Ranked as the best curling iron for short hair, it provides a unique curling experience through the application of advanced technology for wavy and strong curls.
The barrel material has a ceramic coating for ensuring that your hair remains smooth while getting rid of frizz. At the end of the styling process, you can get those clean and defined waves.
Barrel diameter and shape
The measured barrel diameter ranges between 28 mm to 23 mm. This means you can achieve a looser volume curl on top. In case you are wondering how to use a curling iron for short hair, it can also be tightened at the top with defined curls that run down your shoulders. The GHD band features a 1 to 0.9 inched barrel for crafting those strong curls together with flowing waves.
With the curved band, the device offers the precise heating that ranges from 365℉. This enables the product to provide the volume. The waves are also formed in a short matter of time and remain held together. As to other advantages, the item takes care of the health of your hair so they could grow longer.
When it comes to safety purposes while using the curve band for curling hair, this device has a protective tip. It guarantees an easy time when styling.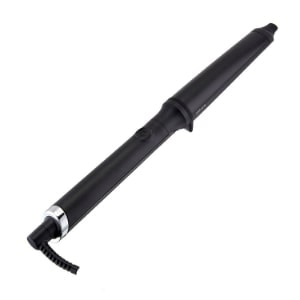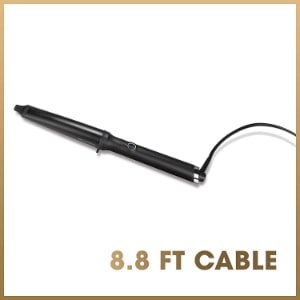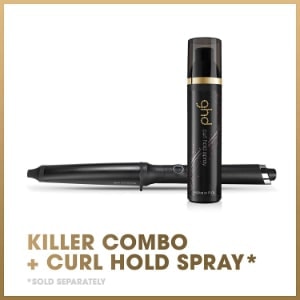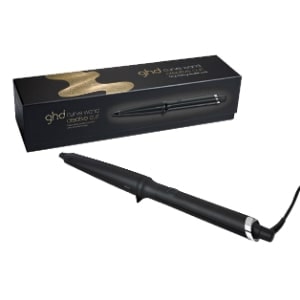 Alternatively, the disheveled finish is recommended as a means of running your fingers through the length of your hair while giving the strands a touch with your preferred texture spray. I highly recommend using the 30-minute automatic switch to avoid instances of burnt fingers.
I like the short styling time of this curling iron, which heats up in less than 30 seconds. The primary step is to ensure that the hair is held on for less than 10 seconds to avoid hair damage.
GHD cuts across the entire barrel with homogenous heat, which guarantees consistent curls in less than 10 seconds. Ceramic flat irons prevent hair damage due to excessive heat.
---
PROS:
fast heating time;
high temperatures for achieving strong curls and waves;
advanced technology for homogenous heating.
CONS:
high risk of burning fingers.
---
2. O'Bella Curling Iron Wand Set
The O'Bella 5-in-1 curling iron wand set features five clips with five barrels. They can be interchanged to let you achieve the various sizes of curls.
For the even distribution of heat, the wand features the latest ceramic technology. It has become a trend for most manufacturers, improving the performance of most curling irons. The tourmaline is also essential in producing negative ions. This helps in preserving the moisture present in your hair while reducing the build-up of frizz. It improves your hair's health while making it shiny.
Barrel diameter and shape
The tapered barrel sizes come in a range of ½ and ¾ to 1 ¼ inch. You can buy the one in ¾, 1 to 1 ¼ inches based on your hair length. The different barrels offer the opportunity of achieving unique looks with only a single curling wand.
The wand features a wide set of temperature control settings, which you can regulate to the preferred temperature to get the best results for your hair. Through the digital LCD display system, you can arrange this rate easily. The curling iron also heats up in less than a minute. Hence, it reduces the waiting time to begin your hairstyling.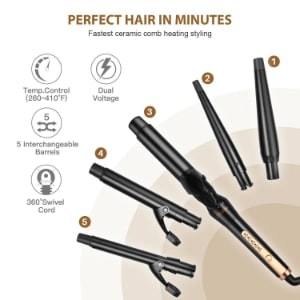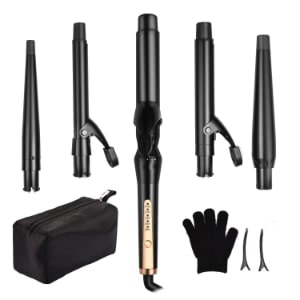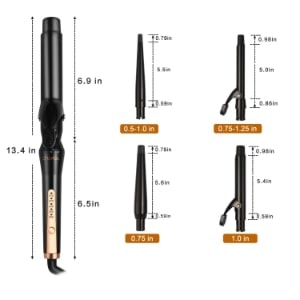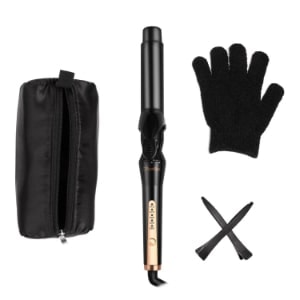 With the even heat distribution of the wand, the cool tip is insulated to ensure further protection. This guarantees you will not burn your fingertips when dealing with high temperatures.

Additionally, the O'Bella wand has anti-scalding advice, which is much safer when curling your hair. It comes enclosed in a travel pouch, which provides portability when traveling with a dual voltage package.
---
PROS:
covered with a tourmaline ceramic coating;
anti-scalding feature;
different tapered barrel sizes.
CONS:
a bit costly as compared to other brands.
---
3. Paul Mitchell Pro Tools Express Iron
The Paul Mitchell Pro Tools brand is a part of the high-quality hair products of John Paul Mitchell Systems. It is a frontrunner in qualitative salon products in the beauty industry, with a dedicated line of hair curlers.
This curling iron for beach waves is a bit pricey as compared to the rest. However, it comes with the assured quality of the manufactured product.
The barrel is a ceramic blend plate. That means the plates of this item are not fully ceramic but are made of ceramic in a blend with silicone. However, they still provide that ionic and infrared advantages common to ceramic plates in equal measure.
The silicon material added to the ceramic plates helps in ensuring you will get both equal heat distribution and straightening of the various sections of your hair. This feature is highly helpful, especially when your hair is more or less dense in other sections when being parted.
Barrel diameter and shape
It measures 1.25 inches in diameter, which is an additional 0.25 inches when compared to other brands. The 1.25 inches ceramic plates are separated from the common inched plates of the Paul Mitchell Pro Tools Express. Even though this characteristic does not cater for different hair lengths, women with an average length of hair can take advantage of the additional 0.25 inches, which promotes fast straightening.
The temperatures range up to 410 ℉, hence, making the item a worthwhile purchase for different hair types. This product can provide you with that curly and thick hair to achieve perfection. The design includes three rods, which are meant for styling ringlets. With the Express Ion Complex, you will surely get shiny and healthy hair. In addition, the device has both digital temperature control and dual voltage.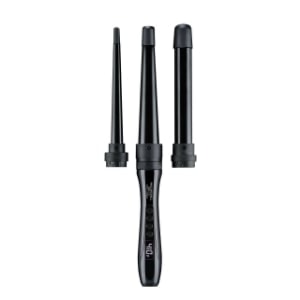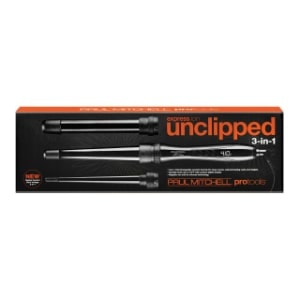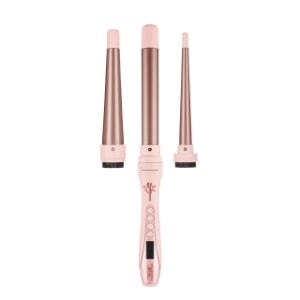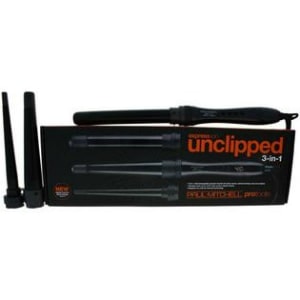 It also does not interfere with your regular rod straightening when compared to other flat irons with ceramic plates which widths extend the 1.2 inches mark. This makes the item one of the necessary flat irons you must possess. My hair is medium, hence, I like how Paul Mitchell Pro Tools product gives those wavy curls. With the growth of my hair, the curling iron has also increased its usefulness.
---
PROS:
three added rods for curly and healthy hair;
silicon blend barrel for equal heat distribution;
digital temperature control.
CONS:
not suitable for all hair types.
---
4. Bed Head Wave Artist Deep Waver – Best Curling Wand for Short Hair
The Bed Head Wave Artist is a professional hairstyling appliance recommended by top stylists. The wand is fitted with the universal double voltage system, which can be carried in different places.
It includes the latest addition of ceramic technology. Moreover, the wand is manufactured with the automatic turn off button for safety precautions in times of unprepared incidents.
Barrel diameter and shape
In addition to the elegance of the best wave curling iron for short hair, the device is fitted with a 1.25-inch cylindrical barrel. The latter can contain high temperatures to craft deep waves.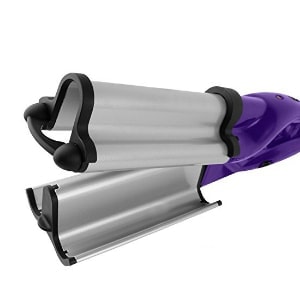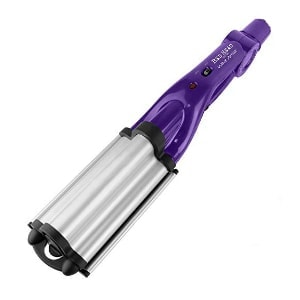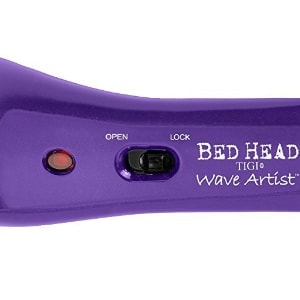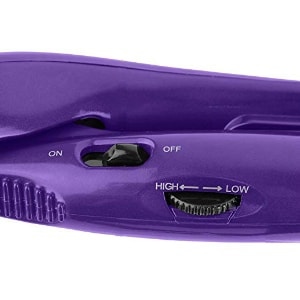 The temperature settings can reach a maximum high of 400℉. The range of heat settings makes it applicable for the different hair types. It works especially perfectly on short hair.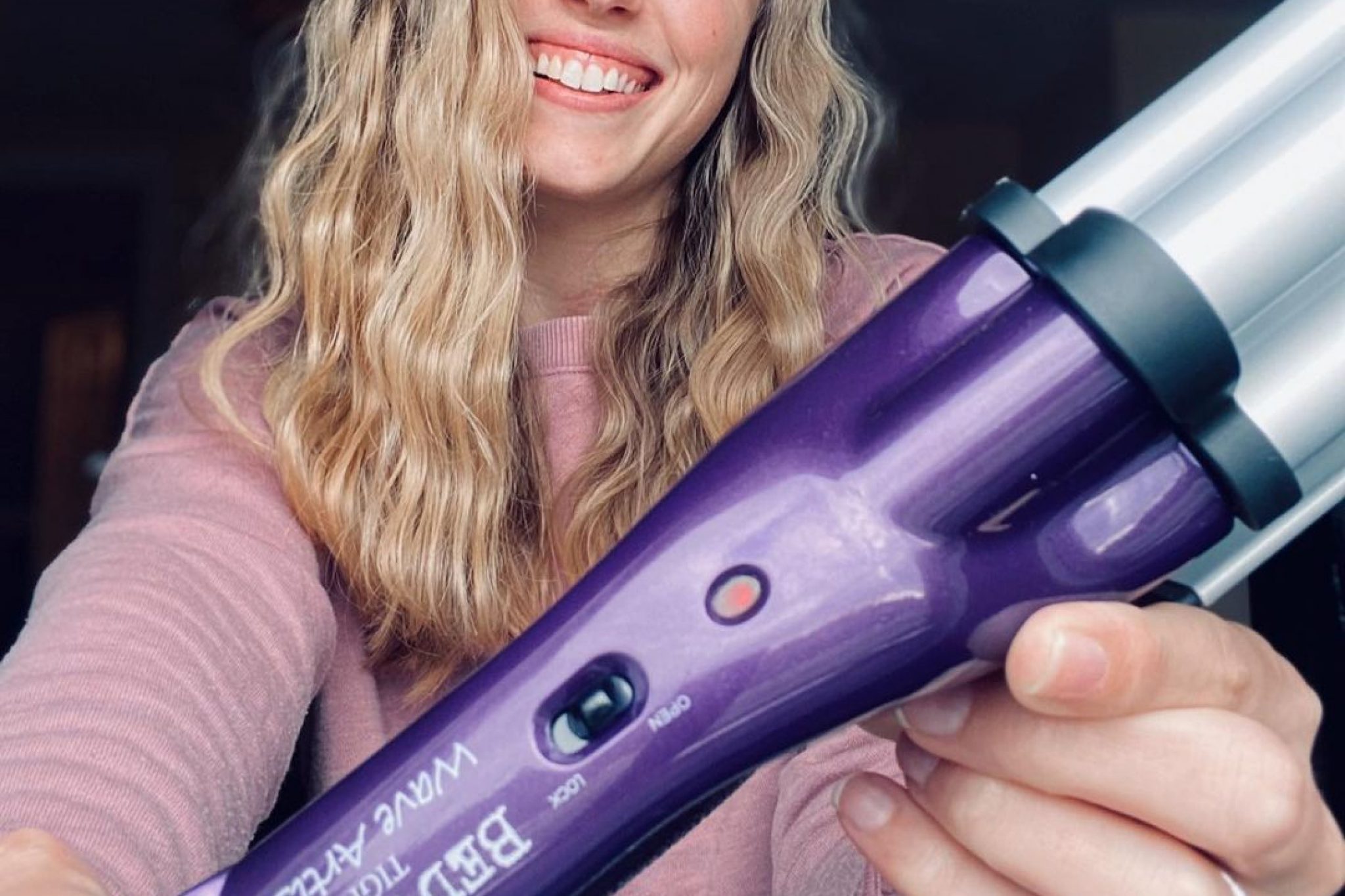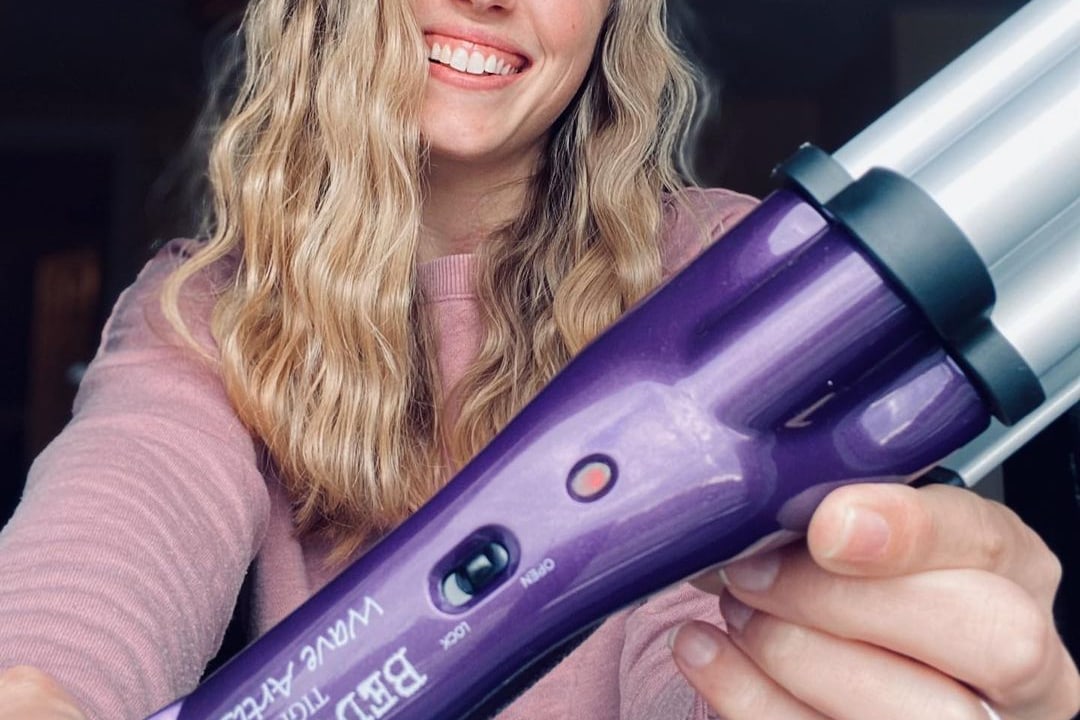 This makes the process of styling easier no matter if it's handled by a beginner or a professional.
---
PROS:
universal dual voltage;
turns off automatically;
combined plate locking system.
CONS:
requires experience of handling the wand.
---
5. Chopstick Styler Hero – Best Curling Iron for Beachy Waves
Hero Chopstick brand is based in the UK, and it is responsible for the hairstyling appliances fitted with small diameters on the market.
The product owns a titanium barrel. This material is a good conductor of heat. Hence, it provides perfect waves and curls for your hair. The heating wand is protected with a cool tip for preventing the occasions of burnt fingers.
Barrel diameter and shape
The Hero Chopstick Styler has a 6 ½ inch barrel, which is essential for use on short or long hair. The significant difference that distinguishes the Chopstick curl iron from the other ones on the market is that it comes in a rectangular-shaped barrel. It also has a flat design as opposed to a smooth one with defined edges.
The temperature settings of the wand can rise to 410℉. Moreover, there are five ranges of temperatures. The lowest heating range that can be reached by this wand is 250℉; it can be activated by pressing the power button. With each press of the power button, the heating level is adjusted accordingly. However, it will take some time to learn your way around the heat settings.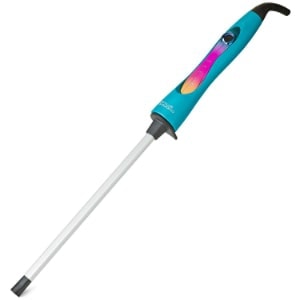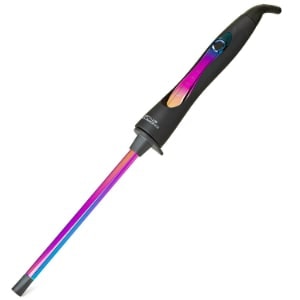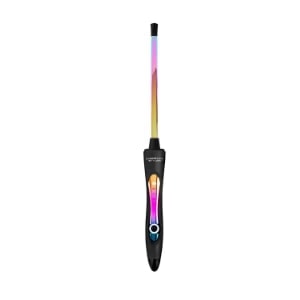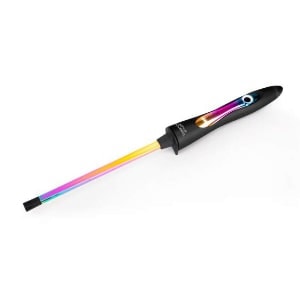 The automatic turn off feature is very convenient to avoid burning your hair during styling. With the extended barrel, it makes the procedure of using the wand very simple. The titanium material guarantees optimal durability and even heat distribution. There is also a digital display system with the wand showing the current temperature level.
---
PROS:
small diameter is suitable for short hair;
digital display;
reaches high temperatures very fast.
CONS:
the necessity to learn the temperature ranges.
---
6. InfinitiPro by Conair – Great Curling Iron for Short Hair
Conair brand is a renowned beauty appliance and personal service care equipment firm making waves in the industry. The company is closely associated with a range of various hair products at pocket-friendly prices. The simplicity and quality is the cornerstone for the manufacture of these products.
It exactly fits the description of the Infinity Pro wand. This hails from the Conair range, which makes use of different aesthetics all wrapped as one package.
Conair applies advanced technology that uses heating styling tools with ceramic elements. These include simplicity, affordability, and performance.
Ceramic is a safe option as it conducts heat faster and ensures that each section of the surface delivers a similar amount of heat for your curls. It can also hold on to heat to ensure you do not make mistakes when styling and to avoid cases of uneven curls.
The ceramic plate of this good curling iron for short hair is infused with tourmaline, which increases its performance. The blend of these two materials smoothens the surface while preventing the chances of your hair getting caught up and burnt in the styling process.
Additionally, it maintains the health of your hair by the creation of negative ions. It is important in unlocking moisture, thus ensuring your curls do not dry out and become brittle due to the heat.
Barrel diameter and shape
The barrel has a conical shape, which at first may seem unusual, but with time it becomes very versatile. The conical barrel guarantees you will not produce the same results from time to time. You can also try out other curling styles when you get some practice with the appliance.
The temperature range for this wand varies from 310 to 410℉. Therefore, it is a preferred pick for different hair types.
Beginners can also have an easy time when navigating the use of the tool. The reason is it does not involve dealing with a clip while maneuvering and styling. The trick is to wrap your hair around the wand carefully and nicely. Another added advantage of the curling irons for short thick hair by this brand is the measurements tapered to allow you to wrap your hair ends on a small diameter – quite a simple technique.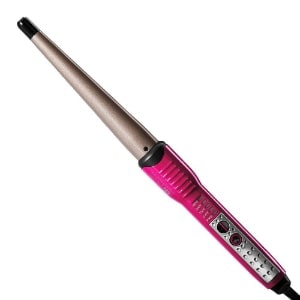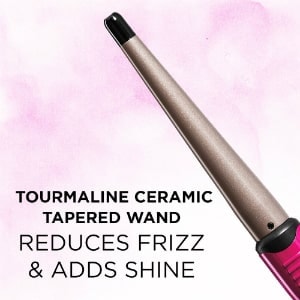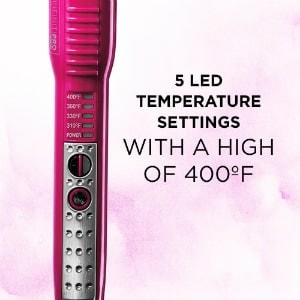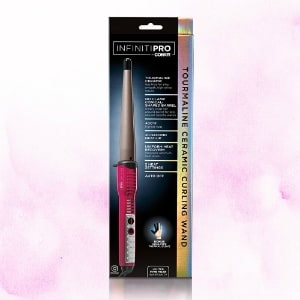 Configuring has been made easier with the best flat iron for curling short hair, apart from simple maneuvering. There is no fuss when it comes to operating the heat settings you need.
This is because the device comes with designated buttons for the range of four heating settings.
---
PROS:
heats up very fast;
available in three different sizes;
durable tourmaline ceramic barrel;
automatic turn off the feature.
CONS:
easily damages thin hair.
---
7. Hoson ¾" Curling Iron for Short Beachy Waves
The Hoson brand has been making strides in the beauty industry. It includes a couple of releases of high-quality products. The Hoson ¾ curling iron is a specified short hair appliance. An advantage of this device is that it does not cause any hair damage.
The iron wand added to the coated barrel gets rid of any static, thus retaining hair moisture. In the end, it also releases negative ions, which are essential for healthy hair. This further improves the hair`s condition, providing it with a soft and frizz-free structure.
Barrel diameter and shape
The end product is guaranteed to get you through the day without falling out of place. The diameter of the barrel measures 8.3 inches. This makes it perfect for different hair types and lengths.
The wand also heats up very fast to reduce your waiting time for styling. It is fitted with an in-built PTC heater. The appliance heats up to 225℉ in less than a minute. Hence, you can begin styling immediately. Additionally, the barrel distributes heat evenly with reduced instances of damaging your hair.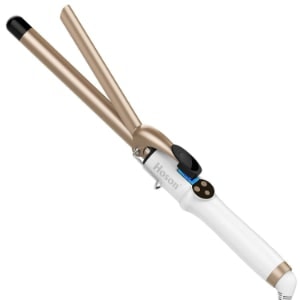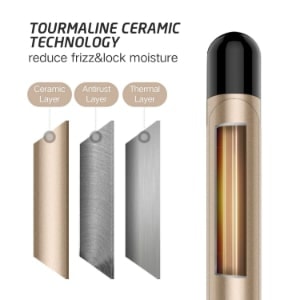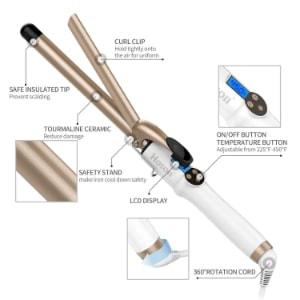 It also has precise heat setting control, which is displayed via the LCD screen. It ensures a guided setting of temperature while making adjustments ranging from 225℉ to 450℉. The item works for various hair types that range from coarse and thick to thin.
To make sure your hair`s health is also maintained, the best curling iron size for short hair has an anti-scalding feature. The swivel cord is also extended to 78 inches to ensure you can move around when styling your hair with ease.
The automatic curling iron for short hair has an hour automatic shutting feature combined with a custom clip holder for safe hair curling. It features a universal voltage that ranges from 110V to 220V. The product comes with a three-year warranty.
---
PROS:
reduced hair damage instances;
auto shut-off technology;
LCD display for temperature.
---
8. BaBylissPRO Nano Titanium Spring Curling Iron
BaBylissPRO is a renowned brand with innovative technologies. It is a frontrunner in the manufacturing of different hair products ranging from hair straighteners, hot rollers, hairdryers, and curling irons.
The mini curling iron for short hair is produced with the sol-gel ceramic technology, which provides smooth surfaces to ease your styling process. It contains nano titanium material for the ceramic barrel, which is a good conductor of heat. It also maintains stability in times of high temperatures.
Barrel diameter and shape
In terms of the temperature settings, the BaBylissPro curling irons provide a similar heating setting. This particular product is fitted with a turbo heat button for accelerating the heating time. It can hold up to a maximum far-infrared heat while going through your hair. As if being handled by a professional, the shaft doesn't cause any damage to your hair.
This curling iron for short thick hair is fitted with up to 50 heating settings, which range to 450 F. There is also a turbo button that elevates the temperature to the maximum. The added 8-foot cord enables to move around freely when styling.
I highly recommend this curling iron size for short hair in case you are targeting for the textured curls and waves. It is also very stable in terms of the high temperatures. This stability enables you to get the curls you desire without necessarily clinging to your hair for long.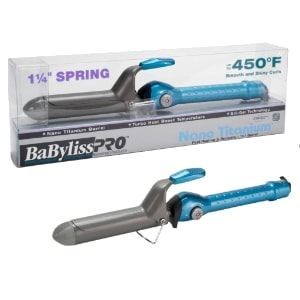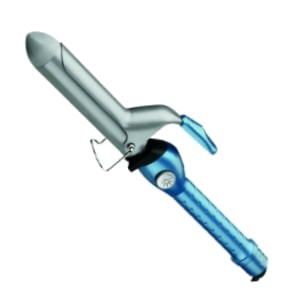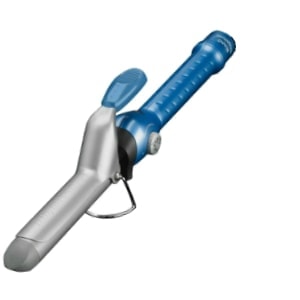 Another advantage of using the BaBylissPRO nano titanium curling iron is it is safe to use even for beginners. After curling your hair, when not being in use, it automatically turns off. It is fitted with a cooled tip that is important for protecting your skin from scalp burns.
You can find the small curling irons for short hair in various sizes, which range from ¾ inches to 1 ½ inch. The dimensions of the curling irons are based on the heating rod size. Therefore, you can alternatively opt for a size that reflects your style.
---
PROS:
Sel-gel nano titanium is a good conductor of heat;
turbo heat button for boosting heat;
8-foot extension cord.
CONS:
the high potential of hair damage due to high temperatures.
---
Final Take on Curling Irons for Short Hair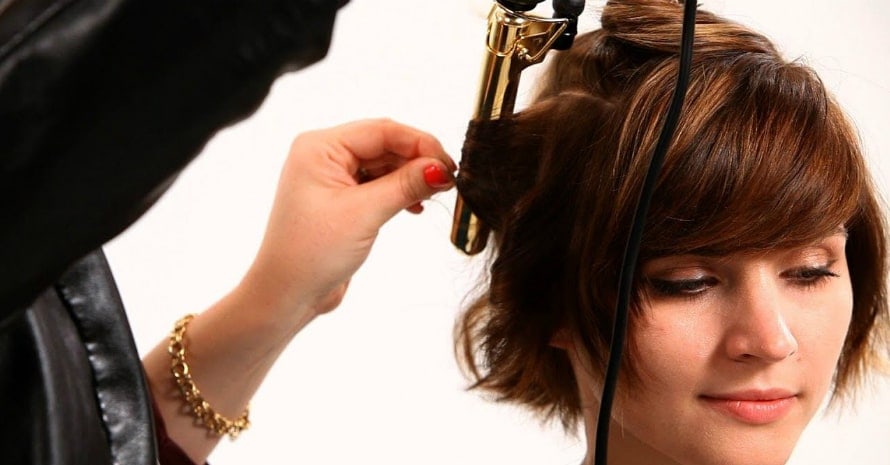 Choosing the best curling iron brush for short hair is never an easy task. However, thanks to this review, your work just got easier. Curling irons have barrels that are made of ceramic, tourmaline or titanium material, which are all suitable for short hair. The barrels of the devices vary in size. Every type gives different curls and effortless waves. With all this information compilation, you are ready to make the right purchase.
Have you learned something new from this review? Do you think there is a great curling iron I have left out of the list? Please let me know in the comment section below and be sure to get professional feedback.
Last update on 2022-12-11 / Affiliate links / Images from Amazon Product Advertising API