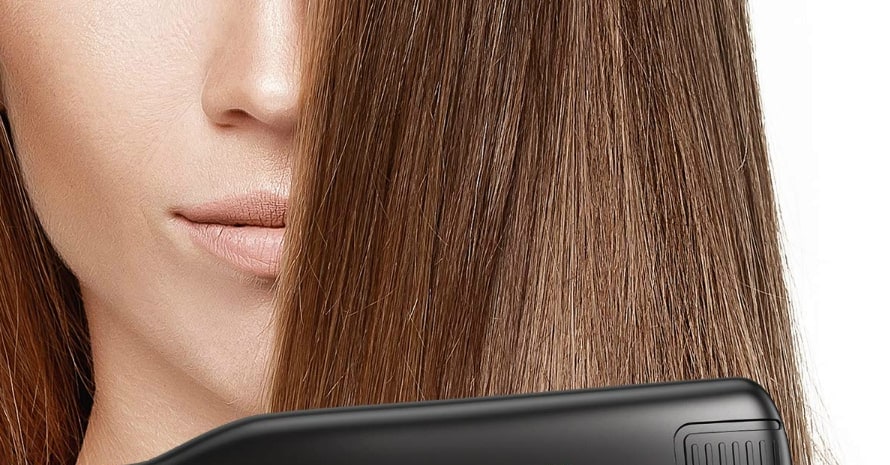 Are you on the prowl for the best flat iron for damaged hair? At first glance, laying your hands on the safest hair straightener may seem easy. Surf on the web for some reviews, stick with the most feature- and budget-friendly option, and that's it.
Alas, things are not so effortless. Once you delve into the world of flat irons, you will realize how confusing it is. In this post, I'm going to help you clear out the confusion and cover some of the best hair straighteners for damaged hair.
Pros
Works great for curls, too
A 3-year warranty is a big plus
Best Bang for Your Buck
Pros
Works great for curls, too
Premium Flat Iron
Pros
A 3-year warranty is a big plus
9 Best Flat Irons for Damaged Hair Reviewed
Certain kinds of straighteners (as well as certain types of heat) can significantly reduce the amount of damage done to your crowning glory during the straightening process. If you're on the hunt for straighteners that don't damage hair, you've come to the right place. Read on and enjoy choosing the least damaging flat iron for your strands.
1. BaBylissPro Nano Titanium Straightener: My Best Pick
Excellent choice of heat adjustment levels, swift heat-up time, ionic technology, compact size, fairly long cord… You get these and many other perks with this one-of-a-kind straightener. When you unpack this honey, it may seem way too skinny to you.
However, this little beast does a brilliant job straightening your hair without pulling or damaging it. One pass through, and your locks radiate smoothness and shine.
The titanium feature in lieu of that of the ceramic has a great impact on the tool's efficiency. You'll also love the fact that it comes with a temperature control setting, not just a typical (and very limiting) on/off button. This flat iron makes your strands look sleek and healthy. Furthermore, this salon-quality flat iron can curl your strands, too.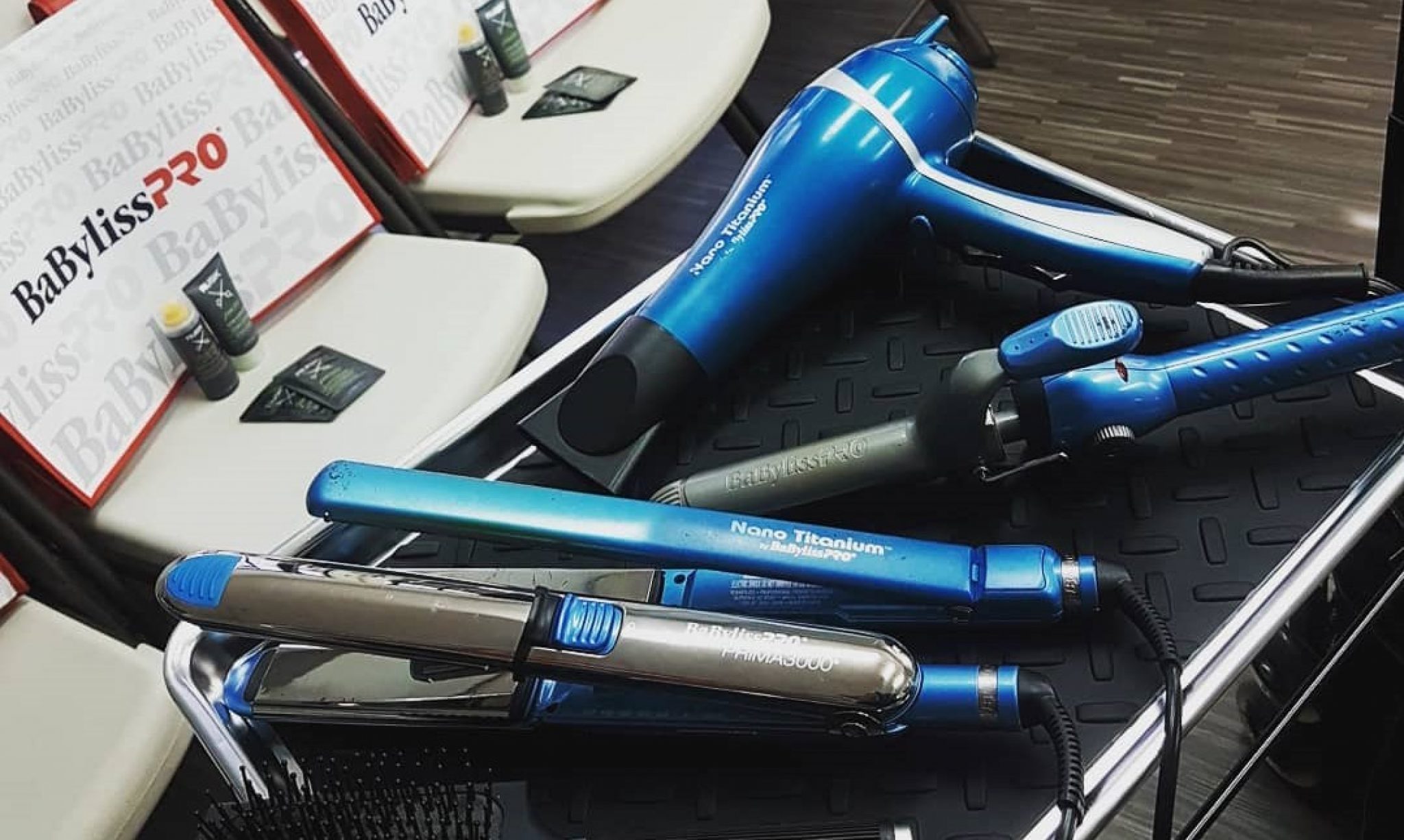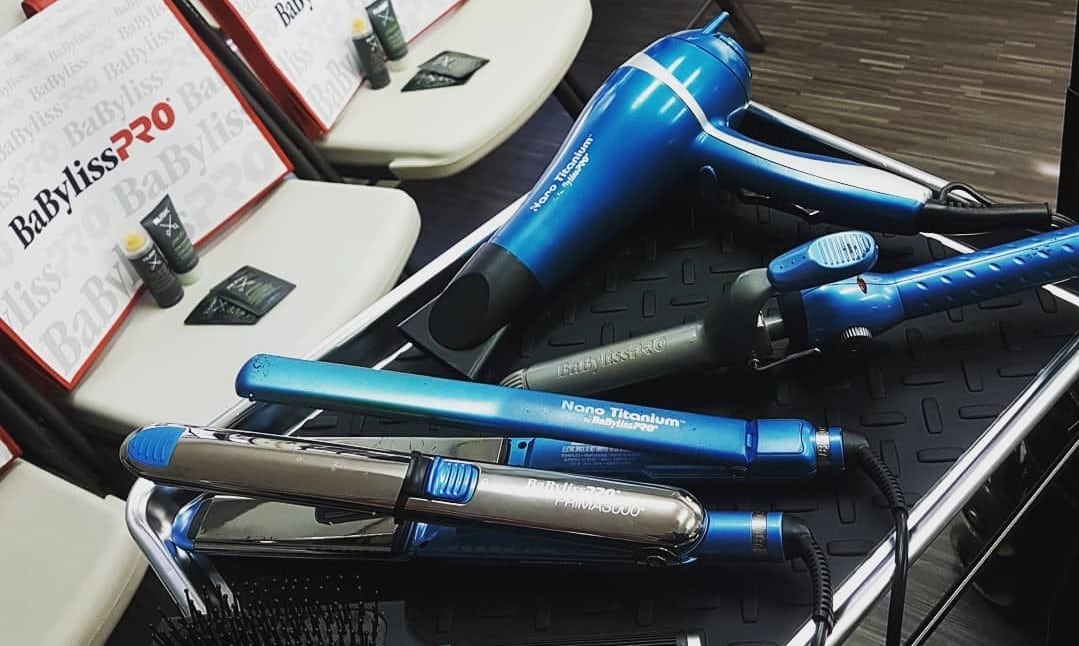 On an additional plus side, it's well-constructed and long-lasting. No arm fatigue as you style your hair at all! The blades excel in wiping clean easily, while hair styling products don't seem to build on them. And the cord is rather long, which is especially handy if your bathroom outlet is in an inconvenient place. Overall, this flat iron fully lives up to the hype. It does work wonders on your locks. Definitely money well-spent.
PROS:
Lightweight (but sturdy) and a breeze to use;
Heats up speedily;
Top-level heat customization;
Best choice for travel;
A long cord is always a plus.
CONS:
A bit on the expensive side.
You're going to need something to protect your counter from this super hot flat iron.
2. RUSK: Best Bang for Your Buck
This attractive honey is, indeed, a best-value offer. Aside from being temptingly affordable, this flat iron doesn't damage your hair. It glides through your strands and tames even the wildest mane like a pro, without tugging or breaking your locks off. You'll love that it straightens your tresses without burning them.
The cord is rather long, and the tool itself is definitely built to last.
Don't like the look and feel of all those clunky hair straighteners? This baby is all slim and graceful. This straightener is also featherweight (1.1 pounds), which means you can straighten your locks fast without any pain in the arm.
The bad boy works great on thick, long, and damaged hair. And it makes curling your locks super easy. In many ways, your Rusk flat iron is as good as any overpriced 'big name brand' out there.
An additional silver lining is that this flat iron comes with splendid temperature customization possibilities. It doesn't turn off automatically if you accidentally leave it on, but that's not a deal breaker for a price like this.

To cut a long story short, when it comes to the price-quality ratio, this hair straightening tool takes the cake.
PROS:
Returns professional-looking results.
Light in your hand and heats up within mere seconds.
Makes your tresses smooth and soft.
Works great for curls, too.
Closes tight and comes with a comfortably long cord.
CONS:
Doesn't come with an automatic shut off (if you accidentally leave the tool on).
With this amazing, lightweight tool, you no longer have to Google 'hair straightener damage' — all because GHD Platinum Plus is among the smartest, hottest (in terms of design), and safest hair straighteners on the scene. Yep, it's possibly the best flat iron to keep your hair healthy (well, it's among the best tools, for sure!).
This flat iron heats up within fifteen seconds and makes your strands look shinier, healthier, and smoother than ever, with no breakage at all! It will not fry your tresses like many other cheap flat irons!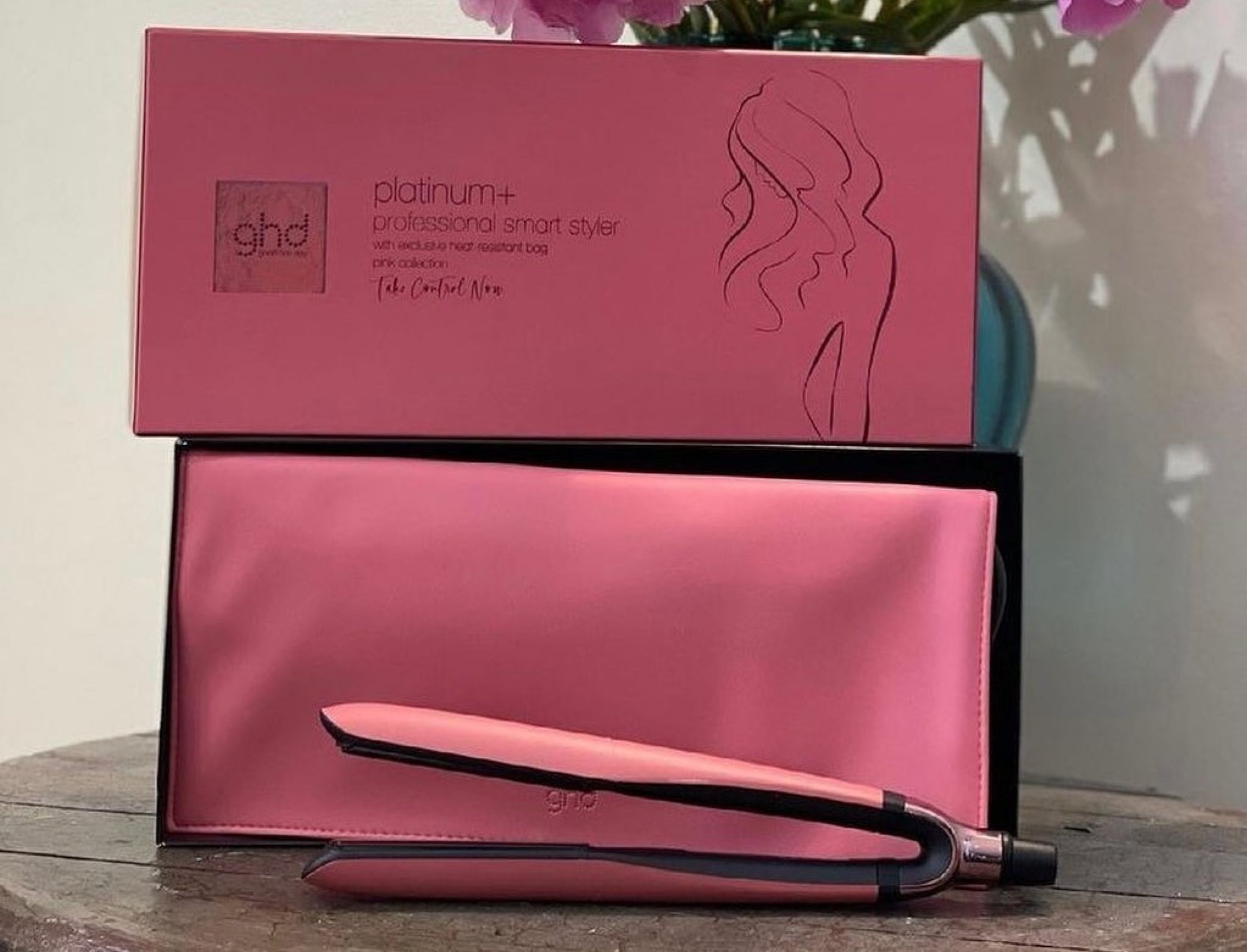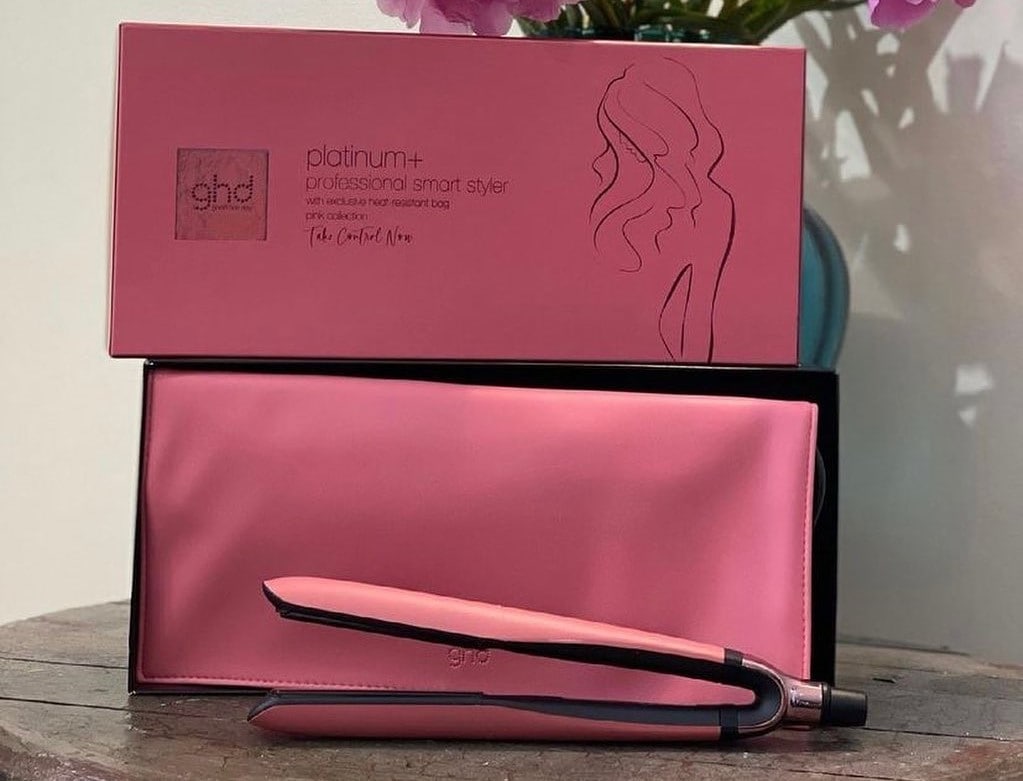 It's perfect for all ages and hair types, particularly for coarse, brittle locks. Furthermore, this honey is a cakewalk to maneuver and move around. It's 100% automatic. Just push the 'on' button, and you're all set.
Naturally, this tool's high price prevents it from being accessible to each and every consumer out there, but no doubt, the thing is worth every penny it costs. And this bad boy is so stylish and incredibly efficient!
At the end of the day, this life-changing, frizz-taming hair straightener does a fabulous job with no damage. It can be featured on the list of the best tricks for healthier, fuller-looking hair. So, it's definitely a keeper and worth the splurge.
PROS:
Fantastic design and automatic sleep mode.
No grabbing of the hair and no burning smell!
Easy on the hands and takes just a few seconds to heat up.
Really functional and easily adapts to your styling habits.
A 3-year warranty is a big plus.
CONS:
Expensive, but worth every dollar.
No possibility to control/adjust the temp.
4. LumaBella 1″ Keratin Dual Touch: Solid-Quality Flat Iron for Damaged Hair
Wondering how to straighten your hair without causing irreversible damage to it? Make the best of this outstanding pro-quality piece of equipment. It comes with a promise of smart and healthier styling — and it sure does keep this promise like a champ.
This hair de-frizzer (and curler!) was designed using advanced ceramic plates with keratin micro conditioners integrated into them. Thanks to this innovative functionality, you get a super healthy shine and absolutely no oily residue on your tresses. It keeps your locks stick straight and makes them shiny as new!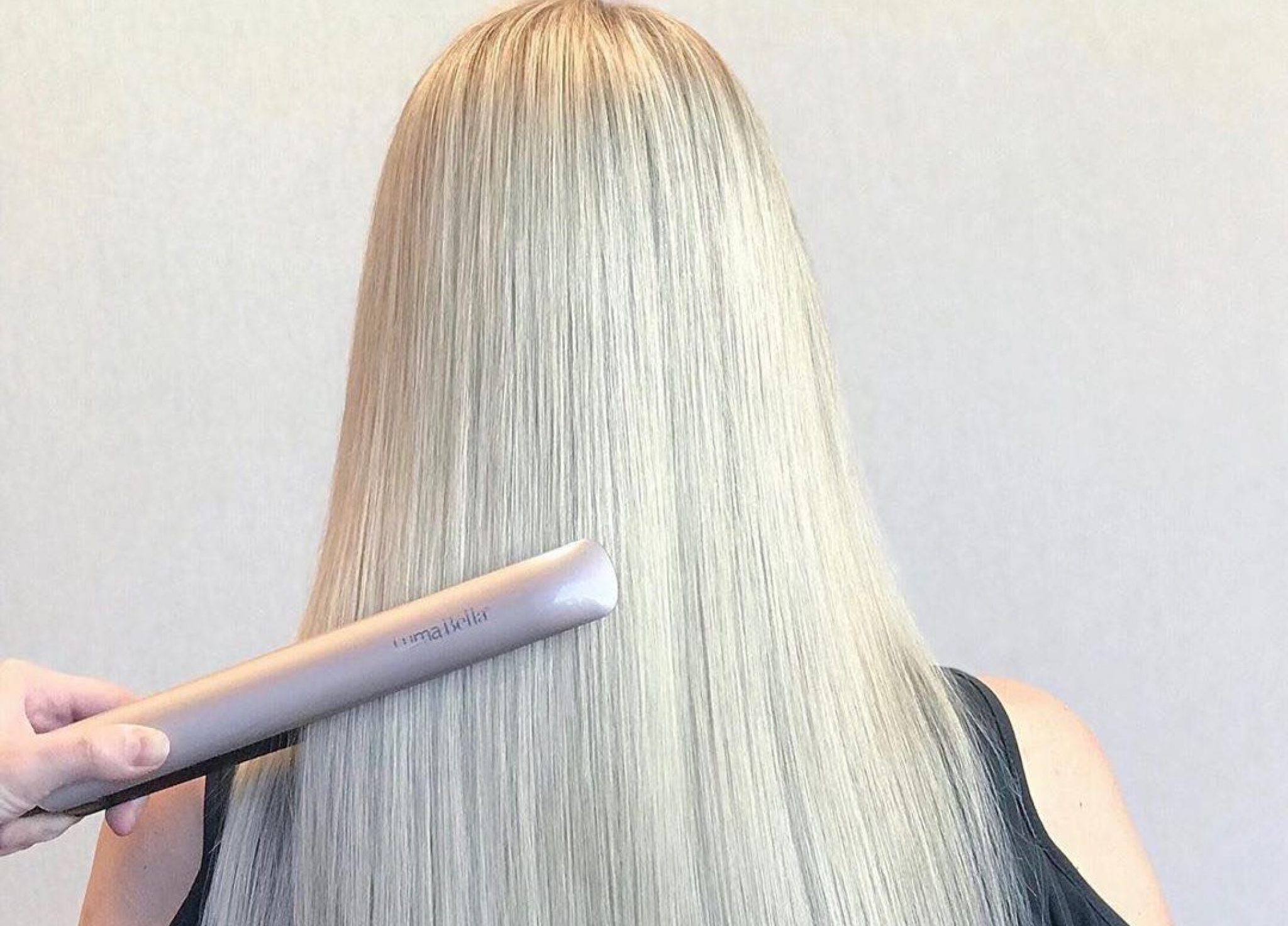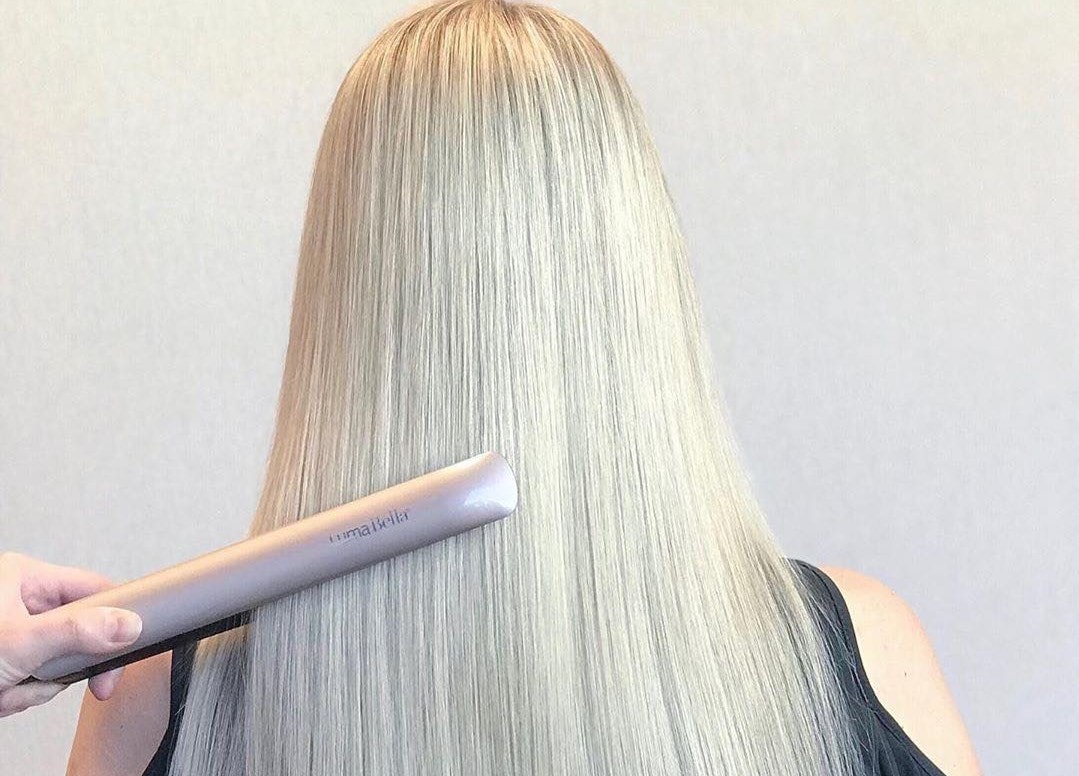 Furthermore, this impressive tool is equipped with heat sensor strips that react whenever your crowning glory is exposed to extreme heat. You get to customize the heat parameters to make your hair styling process as safe, healthy, and effective as possible. That way, you will avoid damaging your gorgeous tresses and, i.e., enjoy saying good-bye to split ends.
After running LumaBella through its paces, you will no longer need to rely on the salon to get that fabulous sleek and shiny look you can't live without. And the perks don't end here.
The tool features a long swivel cord and comes with a four-year warranty. Such a great product to invest in!
PROS:
De-frizzes your strands like a pro and leaves them perfectly smooth.
Heats up incredibly fast and reduces styling time.
Great at creating multiple hairstyles.
Featherweight and a piece of cake to store.
Comes with an automatic shut-off and boasts a fairly reasonable price.
CONS:
If you want to use this flat iron abroad, you're going to need to get a voltage converter.
5. KIPOZI Professional Titanium Hair Polisher: It Rocks!
This top-of-the-line flat iron boasts 1.75-in. titanium plates that add up to the speedy and fuss-free sleekening process. This cutting-edge tool was manufactured for maximized comfort and outstanding smoothening outcome. And it keeps your locks straight even when it's super humid outside.
Boasting a pro-grade, innovative design, as well as customizable temperature settings, a sturdy handle, dual voltage (read as great for travel), and a fine shut off, this excellent hair straightener heats up speedily and evenly. And it glides even through the most unmanageable strands without aggressively grabbing them.
This honey is incredibly feature-friendly and flexible. You will enjoy using it for straightening, curling, and shaping your crowning glory.

What's even more impressive: this item is incredibly affordable – just the ticket if you're in search of a good flat iron for stubborn, damaged locks that won't break the bank.
PROS:
Fast heating time.
Smoothes out and tames even the unruliest of strands.
Great for both straightening your tresses and getting a nice soft curl.
Beautiful soft-black design.
Keeps your electric bill low.
CONS:
Not exactly right up your street if you have clumsy fingers (chances are you will often accidentally push the button on the side and change the temp settings).
6. HSI Professional Glider: Tames the Beast (Your Strands)
Craving a salon-quality hair polisher at home? This honey might be your best bet. Now, while it may not be the most well-known name in hairstyling, this hair straightener proves that you don't always have to get a famous brand to get excellent quality. It works wonders on all hair types and is especially good on frizz-prone, damaged locks.
The product is a lot less expensive than most high-class straighteners, but it still leaves you with really impressive results. Its ceramic tourmaline-infused plates contribute to your mane's perfectly sleek look.
Flaunting a variety of heat customization perks, as well as superb versatility and speedy heat-up time, this flat iron might be exactly what you've been longing for.
In addition to all this, this hair polisher supports 110-120 volts and 220-240 volts, which means that it can become your perfectly safe (read as fry- and fire-proof) travel flat iron.
This baby doesn't feature an automatic shut-off, but shutting the thing off when you're through with it is as easy as pie, especially considering the tool's affordability. The cord is fairly long, and it won't cause tangling thanks to its swivel feature.
PROS:
Excellent for damaged locks.
Reaches high heat within seconds.
Ushers in excellent results when it comes to both sleekening and waving your locks.
You also get a carrying bag, a heatproof glove, and a small-sized hair serum.
Fairly long swivel cord.
CONS:
Doesn't turn off automatically.
7. Paul Mitchell Pro Tools Express Ion Smooth+ Ceramic Flat Iron: Game Changer
Still practicing home remedies for frizzy hair? No doubt, some of them may turn out to be more or less effective. However, you can get perfectly sleek, beautiful hair only if you combine these remedies with a solid-quality non-damaging hair straightener. This Paul Mitchell Pro Tools mane enhancer might be your perfect choice in this respect.
With all that said, this wonderful pro-grade tool excels in turning your locks into silk without damaging them. So, if you're on the fence about whether to buy it or not, just do it. This item is not the cheapest out there, that's a fact. But it gives you salon-quality strands from the comfort of your sweet home. Totally worth it.
This flat iron comes with a comfy grip, it's effortless to hold and maneuver, it reaches up maximum heat and cools down quickly, leaving your crowning glory all straight, shiny, soft, and healthy-looking. This Paul Mitchell Pro Tools honey gets the job done with minimal effort. And it won't burn your locks even if you use it on the highest setting.
PROS:
Great at polishing and smoothing your mane.
Makes your tresses scream beauty and health.
Doesn't tug your locks.
Delivers quick and even heat within about 40 seconds.
Has dual voltage (superb travel companion).
CONS:
Doesn't turn off automatically.
8. Solano Sleekheat450: The Cadillac of Hair Straighteners
A lot of pro stylists love this particular hair straightener for its multiple features and impeccable reliability. It's expensive but worth the extra money. Here's why.
First and foremost, it's effortless to use and maneuver. And you only need to go over your locks once for them to look like you've just left the salon.
Second, it protects your tresses and allows you to create a variety of styles on your crowning glory. The tool won't burn your hair (or your fingertips) and boasts a conveniently long cord. Boasting a multitude of heat settings, this bad boy suits any hair type. Its ionic beveled plates glide in a buttery smooth way through your strands and effectively prevent them from getting damaged.
Furthermore, thanks to its ceramic-coated heat plates, this flat iron heats up in the blink of an eye and maintains heat throughout the whole straightening procedure. Also, it aids your locks in retaining more moisture and prevents frizz. This baby comes with an ultra long cord, which means your movement won't be restricted when you work your hair magic.
Overall, this outstanding flat iron may not come with all the bells and whistles. But it is still very reliable and excels in leaving your strands looking straight, super soft, and healthy.
PROS:
Very well-made and long-lasting.
Delivers even heat rapidly and doesn't damage your locks.
Reduces frizz like a pro and straightens speedily.
Delivers great results within just one pass (even on thick hair).
Customizable heat settings (makes it great for all hair types).
CONS:
Expensive, but worth every dollar.
Doesn't turn off automatically.
9. Moroccanoil Professional Series Titanium Ceramic Flat Iron: Excellent!
Rummaging the net for a great hair straightener? Can't stop bombarding your search engine with queries like 'best flat iron for dry, damaged hair reviews'? Breathe in, breathe out, sit back, and relax. Because with this one-of-a-kind hair polisher, you may have already found everything you've been looking for.
This functionality-rich pro-grade flat iron is a fantastic combination of form, function, and feature-friendliness. Ergonomic design, effortless use, top-level performance – these and a slew of other perks make this tool something you'd really love to lay your hands on. If you're seeking a durable and professional flat iron, that is.
This high-performance hair enhancer will assist you in creating a range of frizz-free hairstyles, without pulling or damaging your locks. Thanks to its titanium-coated ceramic plates with negative ions, the heat distributes evenly, and you get that perfectly smooth, sleek, and gorgeous look right in the comfort of your room. Such a comfy, cost-effective, and time-saving solution!
PROS:
Creates multiple hair styles.
Heats up speedily and evenly.
Utilizing it is as easy as ABC.
Perfect for dry, damaged tresses.
CONS:
Not the cheapest option on the scene, but worth the investment.
A Guide to Damaged Strands and How to Repair Them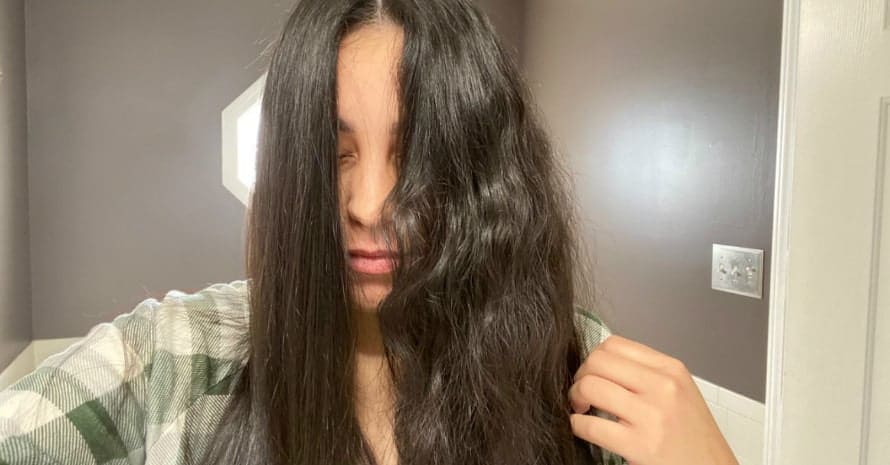 We wash, brush, sleeken, and curl our locks on a daily basis. With all of this pulling and overstyling, our hair can quickly become damaged. Furthermore, you're probably aware that your hair mirrors your overall wellbeing. Oftentimes, dry locks are a sign of a deep health issue.
Have your tresses become excessively dry, dull, and lifeless? This guide will aid you in pinpointing and solving the problem.
What Is Damaged Hair?
To identify whether your tresses are damaged or not, take a look at your ends. They're the mature part of your mane that needs your TLC the most. As a matter of fact, the ends always clearly show just how unhealthy your tresses are. Here are the main signs that your locks are damaged:
thin, shabby, split ends that look frayed and don't match the rest of your mane;
your crowning glory doesn't have that usual shine to it;
your locks look and feel excessively dry.
How to Choose the Best Flat Iron for Damaged Hair?
A high-grade mane polisher is your best friend and loyal assistant, that's a given. Most flat irons come with excellent versatility features that offer you the possibility to work up a multitude of styles and finishes, from perfectly sleek to wavy and curly.
If you're aiming to find the best-performing flat iron for your damaged locks, don't just buy the first tool you come across online.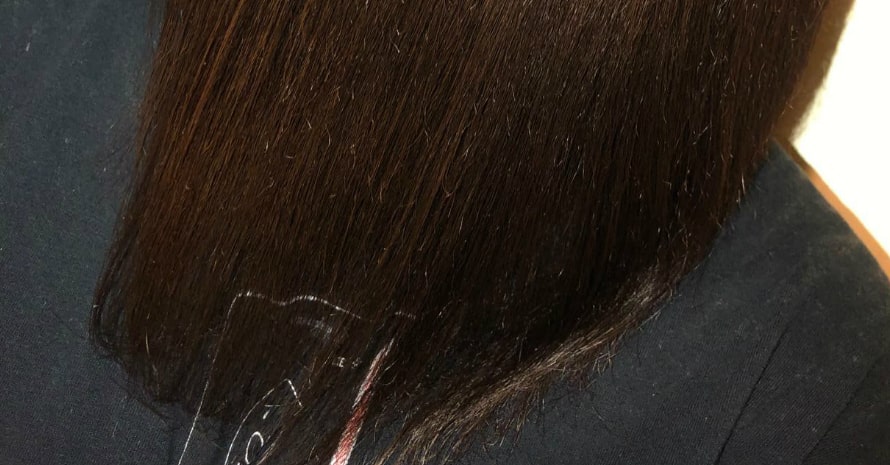 If you have dry or damaged strands, I recommend that you stick with any flat iron that has ionic plates. The thing is, the negative ions these plates produce focus on neutralizing the positive ion charge of your unruly tresses.
Another criterion to base your choice on is titanium plates. A solid hair straightener with titanium (or tourmaline) plates glides very delicately through your strands.
One more perk to concentrate on is the so-called one-pass technology. It implies that a hair straightening tool that comes with this feature is capable of catering to your styling needs with a single pass on your locks. Naturally, if your hair is damaged, opting for a tool with this wonderful technology is highly recommended. It's going to reduce damage significantly.
Last but not least, heat customization is a vital parameter when it comes to sticking with the right flat iron for weakened hair. There are two kinds of settings: fixed and customizable.
Some flat irons are pre-fixed on high heat levels, while the others can be adapted to the heat levels you need. If you have fine hair, stick with the former type, while if your strands are coarse, choosing a fixed-temp flat iron is advisable.
What Makes a Flat Iron Less Harmful for Your Hair
Being exposed to extreme heat on an ongoing basis damages your locks; that's something we all know about. That's why purchasing the most suitable type of hair straightener is so paramount.
Along with studying reviews online and asking your female friends with similar hair type for advice, read this brief overview of what makes a flat iron less harmful for your strands.
The most suitable material. Based on your hair texture and specifics, you can choose among ceramic, tourmaline, or titanium hair straighteners.
Plates matter. If you were born with curly locks, opt for a flat iron with wider plates. For short strands (and/or thin), choose narrow plates. Need a flat iron to work on wet hair? You need a tool that's specifically designed for that purpose – if you want to prevent hair damage, of course.
Temp settings are key. Get yourself a straightening tool with customizable digital temperature settings. That way, you will achieve maximum control when styling your crowning glory.
Shape and size are important, too. This parameter is determined by the length of your hair and the styles you're aiming to achieve.
How to Repair Damaged Hair?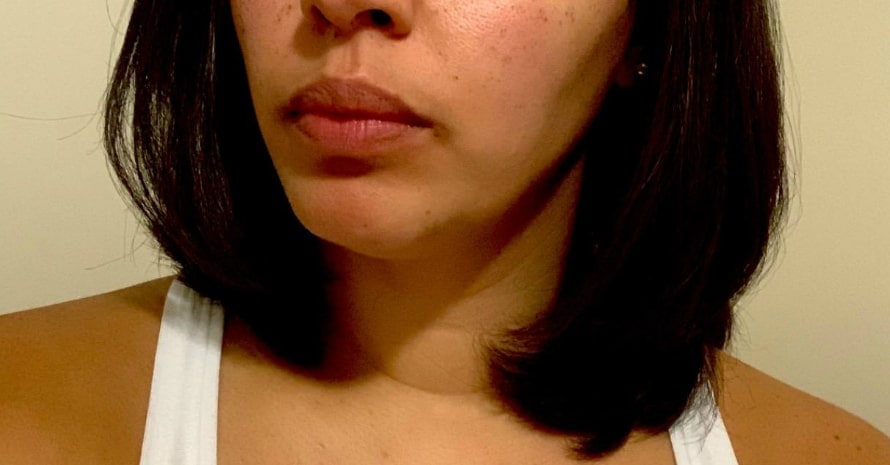 These days, there's a multitude of cool things you can do with your locks. Choose among hundreds of braid types, rock beach waves, or flaunt a sleek glass-smooth finish. Beware, though. If you over-style your hair, it won't thank you for that.
Quite the contrary, you may end up with damaged, dry locks that need repair. Here are a few quick tips on how to repair your dry hair:
reduce the temp on your tools;
give lots of love and care to your wet hair;
trim your split ends;
don't neglect to moisturize your mane;
avoid excessive exposure to sunlight;
choose the right (preferably sulfate-free) shampoo.
Top-Notch Flat Irons for Damaged Locks: Answering Your FAQ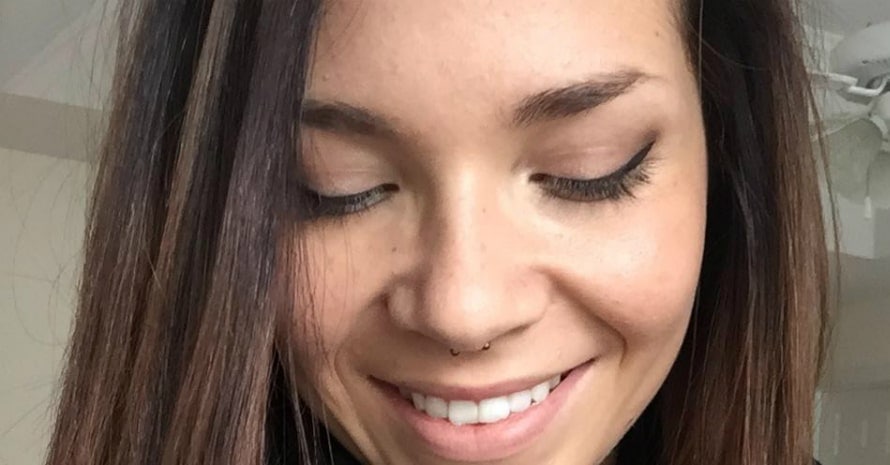 Still have questions about flat irons for damaged hair? No worries. I'm always here with prompt answers. Just drop me a line in the comment section below, and I'll address your question as soon as possible. Meanwhile, look through the FAQ section below.
Does a flat iron damage your hair?
'Does using a flat iron cause hair loss?' – this is an alternative version of this question. The answer to both is yes, but only if you end up buying the wrong one for your hair type. If you want to stay with the least damaging hair straightener, make sure you focus on the selection I've published above, and don't forget to heed my advice from the Buying Guide section.
Is ceramic or titanium better for damaged hair?
Both materials are good. If your hair is thick, you're going to require more heat. Therefore, opt for titanium. Ceramic hair styler, on the other hand, is best for fine, damaged hair (read as less heat exposure). So, the answer is ceramic is definitely better.
What is the healthiest hair straightener?
We have to be realistic and admit that there's no such thing as a perfectly healthy hair straightener. However, you can definitely find the healthiest possible straightener for your hair type. For fine, color-treated, severely damaged locks, it's best to stick with a ceramic hair straightener designed expressly with your hair type in mind.
How bad is a flat iron for your hair?
Pillaging flat irons nonstop is not entirely good for your scalp. To reduce the risk of damaging your hair when heat-styling it, follow these tips:
know your beauty tools inside out;
reduce the heat settings;
never use your straightener on wet tresses;
be gentle and avoid pulling on your locks;
use professional heat protectants on your tresses.
Heating to the Chase: Gotta Cut a Good Tool Some Slack
Even though flat irons aren't as healthy as vitamins for your locks, you can always minimize their potential damage by sticking with the best tool for your needs and adjusting its multiple settings to your liking. I hope that my today's post will help you do just that.
So, what are your thoughts on the topic? Are your locks coarse or fine? Do you have a favorite flat iron? Feel free to share your opinion on the issue in the comment section below. Your two cents are paramount.
Last update on 2022-12-11 / Affiliate links / Images from Amazon Product Advertising API