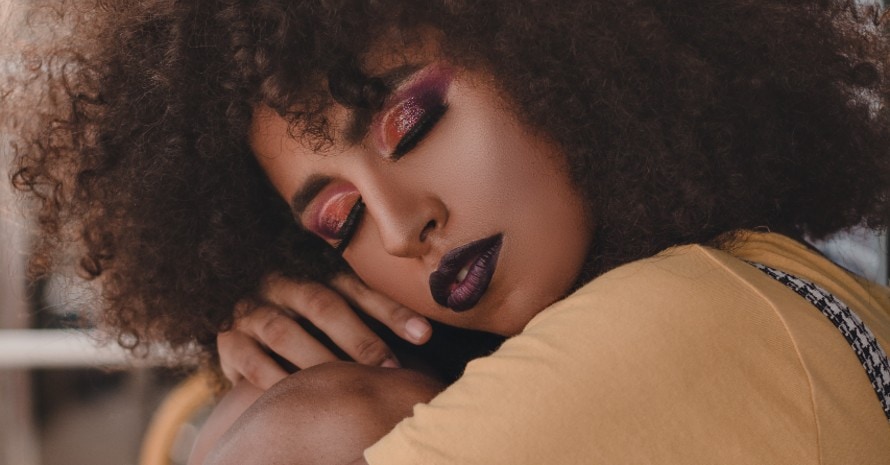 Many people have coarse hair naturally, while others have it as a result of improper care or health problems. The strands are often dry, so it is important to choose a tool that will gently take care of their structure without damaging it or making the hair even more dehydrated.
To write this article, I tested the most popular products and made the seven best flat iron for coarse hair reviews. Here you will also find a short guide on what to look for when choosing a tool, what common mistakes are made when styling thick locks, and how to avoid them.
Elongated titanium plates
Ultra-modern technologies
Top Pick
Elongated titanium plates
Premium Pick
Ultra-modern technologies
7 Best Flat Irons for Coarse Hair: Reviewed
Using the wrong tool can make coarse hair even drier, frizzier, duller, and unruly. I have picked seven devices with which your strands will stay healthy and look great.
1. My Top Pick: BaBylissPRO Nano Titanium
The French company BaByliss is a recognized leader in the beauty industry. So it's no surprise that their product took first place on my top. BaBylissPRO Nano Titanium is the best flat iron for thick coarse hair overall. It excels at straightening such locks.
The device has 50 temperature settings with a maximum of 450°F. While experts recommend not heating your styling appliances that much, it's still nice to be able to. From my own experience, I can say that you can get excellent results with a temperature not higher than 400°F.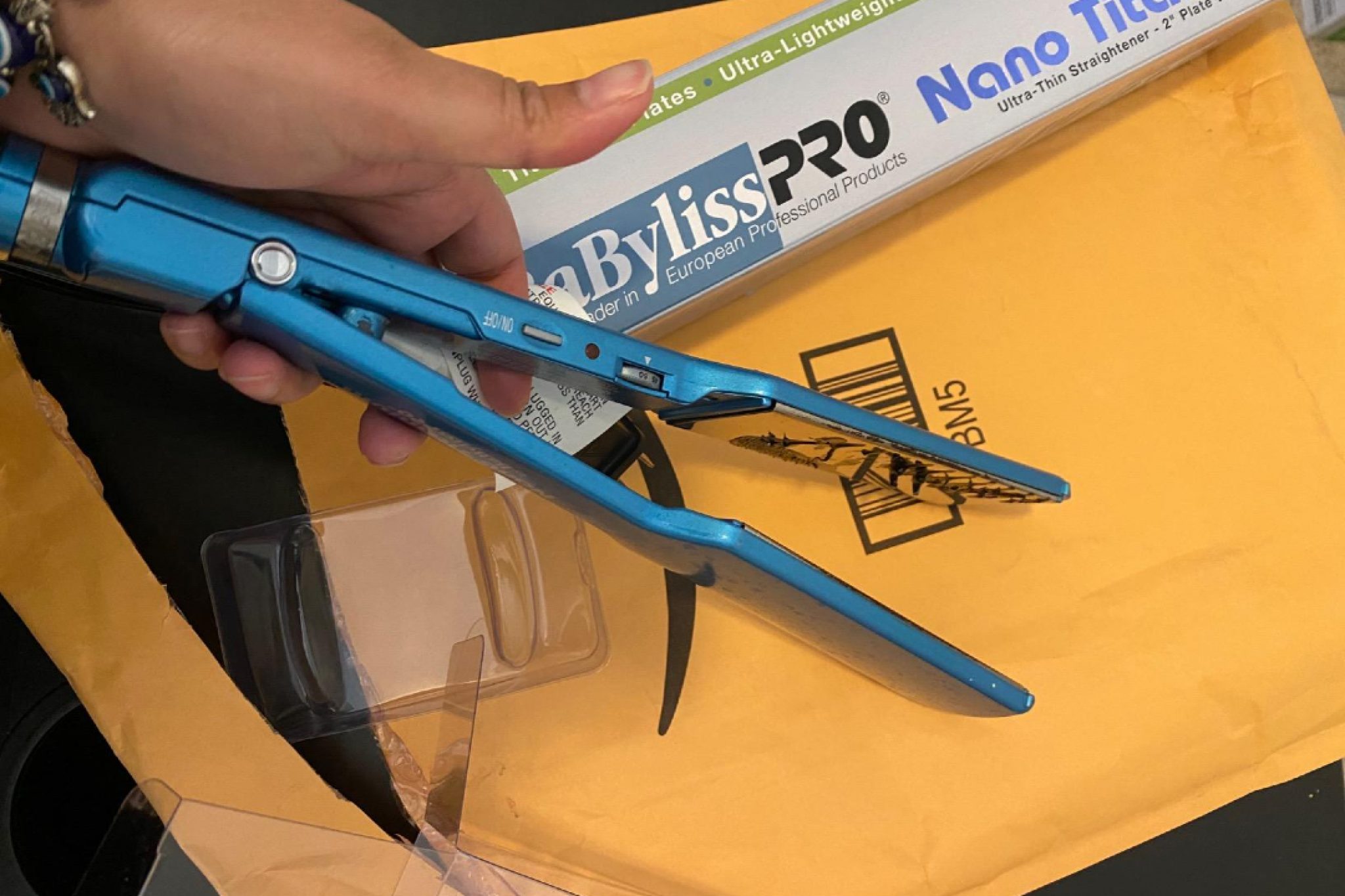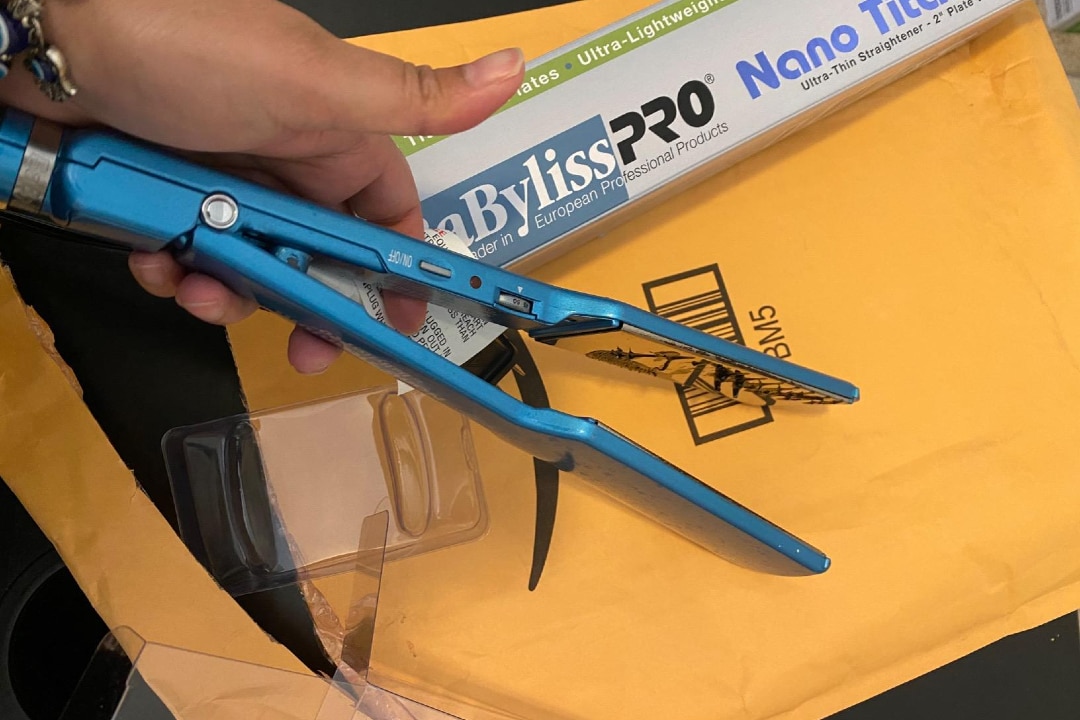 To protect your hair from exposure to such high temperatures, the manufacturer has used a special Nano Titanium technology. It protects locks from possible damage. Note that unlike most competing products, this instrument's plates are made of titanium.
While metal is traditionally considered not the best for hair, it is another matter entirely. The fact is that it perfectly conducts negatively charged ions, relieving static and preventing curling and puffing of locks.
The tool has an excellent design. Plates are fairly standard in width (1 inch) but somewhat longer than other devices (5 inches). Thanks to this, you can process a wider strand in one move.
Plus, it's quite lightweight (16 ounces) and compact, which means your hands won't get tired of straightening even the longest hair. Perhaps, the only drawback of this model is the lack of an automatic sleep mode function.
PROS:
Elongated titanium plates;
Relieves static perfectly;
Lots of temperature settings;
Lightweight.
2. Runner Up: Rusk Engineering W8less Professional Ceramic and Tourmaline Str8 Iron
This model also has excellent professional features that set it apart from other competitors. Its temperature is adjusted with a wheel in 25-degree increments and can be heated up to 450°F.
So that such high temperatures do not spoil locks, the manufacturer has introduced an ionization function into the product and also used heat in the far-infrared range. It allows heat to penetrate into the hair faster, shortening the overall exposure to high temperatures, making the item the best flat iron for coarse frizzy hair.
The plates are made of ceramics known for their excellent thermal conductivity and have a tourmaline finish. Thanks to this combination, you get an excellent straightening result, and your hair becomes shiny, does not lose moisture, and does not break.
The combination of modern technology and high-quality materials makes this tool one of the most productive. It is also very durable, as it was developed specifically for heavy-duty tasks.
The plates have a standard length of 4 inches, but their width is slightly increased (1.5 inches). It is very convenient when working with long and thick hair, as it allows you to style it much faster.
Overall, the model has an attractive compact design and does not weigh very much (17.6 ounces). The case itself is quite thin and may heat up a little. It is not dangerous for your health, but I would still like a device of this quality to have better thermal insulation.
PROS:
Far-infrared heat;
Tourmaline coating;
Budget-friendly.
Negatives
The case may become hot while used for a long time.
The ghd company specializes in the production of styling tools, and each new model is more tricked-out than the previous one. The company calls ghd Platinum + the first smart tool in its product line. Its peculiarity lies in the fact that it has two built-in sensors that analyze your hair thickness and adapt to it.
This way, your locks get less damage with the daily use of a straightener. Unlike other brands, there is only one 365°F temperature setting. According to the manufacturer, it is this warmth that is ideal for styling hair.
The plates are made of ceramics, traditional for many hair care tools. They quickly (in just 25 seconds) and evenly heat up to the maximum temperature, glide smoothly over strands, and have natural ionizing properties.
Combined with state-of-the-art technology, this produces truly amazing results while keeping your hair healthy. Unfortunately, any innovations' disadvantage is their relatively high cost, and this device is no exception. To make it last as long as possible, store it carefully and clean it regularly because ceramics is a somewhat fragile material.
The item has a standard plate length, width (1 inch), and weight (16 ounces). But its design is rather unusual. It has a rounded wishbone shape, so your hair won't get stuck at the junction of two grips. A protective case is supplied with the product; therefore, you can take the straightener with you on your travels.
PROS:
Ultra-modern technologies;
Heats up quickly;
Protective plate included.
CONS:
High price;
Only one temperature setting.
4. Best Flat Iron for Coarse Curly Hair: LumaBella Cool Mist Straightener
The young LumaBella brand was established in 2016 but has already gained popularity among both professionals and ordinary users. LumaBella Cool Mist Straightener has a unique spray function to provide the highest level of hair care.
Conditioner is poured into a special container, which evaporates during styling and falls on locks with a light mist. Conditioning treatment with macadamia oil is included. According to the manufacturer, it almost completely gets rid of frizz and strengthens the hair.
The appliance has five heat settings from 300 to 450°F and heats up to the desired temperature in 30 seconds. A built-in sensor monitors the straightener's temperature and keeps it constant throughout the styling time. After 60 minutes of inactivity, the instrument switches off automatically.
Ceramic 1-inch plates heat evenly and smooth out even the thickest hair. When combined with a spray conditioner, they create a long-lasting look.
Despite the use of such sophisticated technology and the presence of an auxiliary container, the device weighs very little (only 15.04 ounces). It has an attractive white/rose gold design; however, the body seems rather massive due to the wide openings from which mist is sprayed. Of course, it is a matter of taste, as this product perfectly style coarse and curly hair.
PROS:
Spray conditioning mist;
Cute design;
Automatic shutdown.
CONS:
The hole from which the conditioner is sprayed may get clogged.
5. Best Straightener for Coarse Hair for the Money: HSI Professional Glider
If you are looking for a budget flat iron model that still has excellent performance, then the HSI Professional Glider is for you. It is the most inexpensive straightener on my list.
Unlike other products, not one, not two, but eight sensors are installed here, which monitor the appliance's temperature and maintain constant heat all the time you style your hair. This instrument features the widest temperature range, 140°F to 450°F. Regardless of the settings you choose, you will get excellent results.
The floating ceramic plates are 1 inch wide and gently straighten the coarse hair, making it softer and more manageable. At the same time, the tourmaline coating provides an anti-static effect and retains moisture in the lock structure.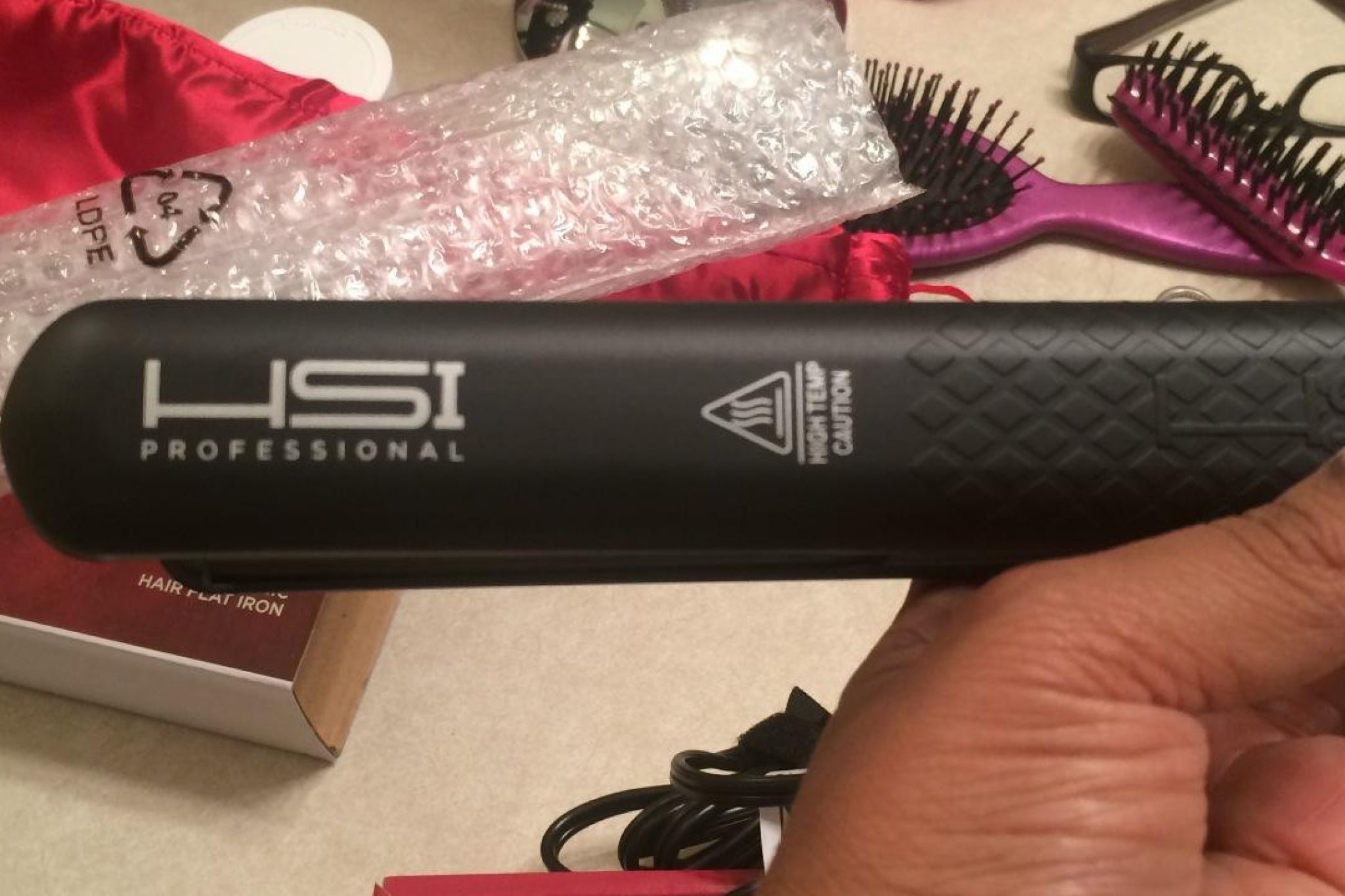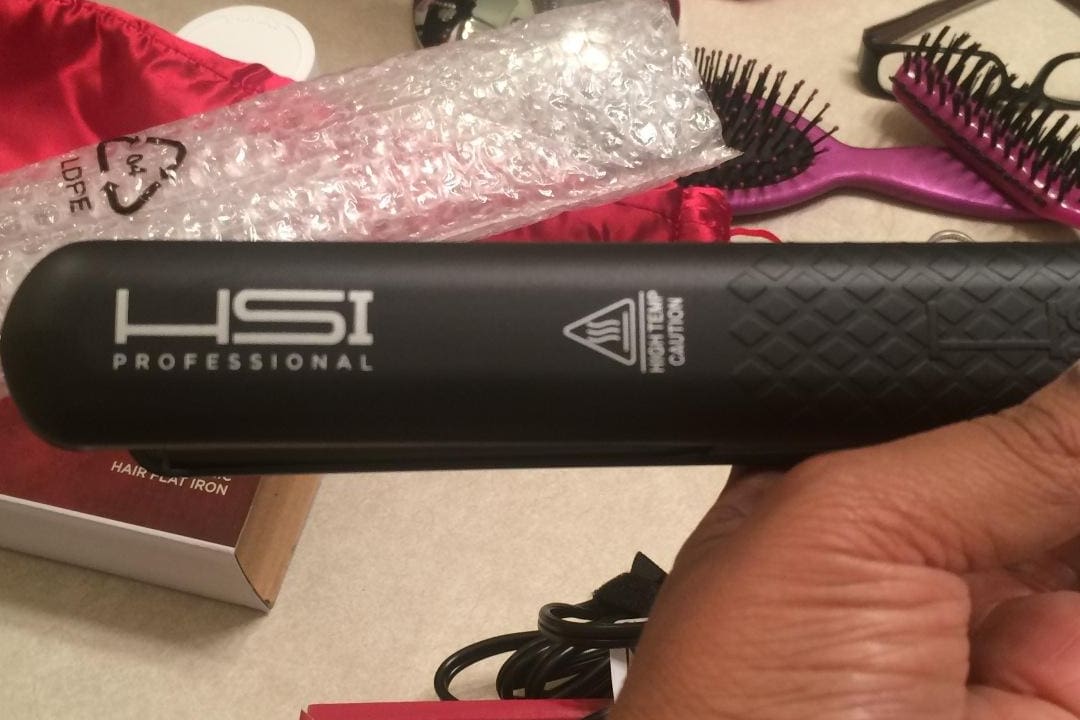 The plate size allows you to style both long and short hair and even bangs. Optionally, you can use it not only to straighten strands but also to create curls.
What I love is that a soft case comes with a tool for storage and easy transportation. A styling guide, an argan oil hair protector, and a heat-resistant glove to protect your hands from high temperatures are also included.
The device has a traditional design, but the handle has a convex pattern so that the tool does not accidentally slip out of your hands. I'm not sure if it is necessary; in my opinion, this pattern tends to get dirty pretty quickly.
PROS:
Inexpensive;
Wide range of temperature settings;
Multifunctional.
CONS:
Not the most attractive design.
6. Best Flat Iron for Coarse Natural Hair: Paul Mitchell Pro Tools Ion Smooth +
With any Paul Mitchell device, you can achieve salon-quality hair styling. Paul Mitchell Pro Tools Express Ion Smooth + has multiple temperature settings from 250 to 410°F. It is recommended for naturally thick and coarse hair to preheat the appliance to 370°F and above.
This model reaches its maximum temperature in 60 seconds. Temperature data is shown on a small display for your convenience. In case you forget to switch it off, the instrument will turn itself off after an hour of inactivity.
The plates are made of ceramic, which itself has excellent qualities, and is also treated with a unique silicone Express Ion Complex. It removes frizz, leaving hair smooth and manageable. Far-infrared heat technology and negative ions also remove static, retain moisture inside locks, and help you style faster.
This model's plates have an increased width of 1.25 inches for comfortable work with the thickest hair. Simultaneously, the case itself is thin and rather compact (its weight is 15.99 ounces). It was done specifically so that you can straighten your hair even at the very roots.
And for you not to burn the scalp accidentally, there is a special soft cushioning on both sides of the plates. The product's design is quite common for such tools; however, you can choose from two available colors: black or bright pink.
PROS:
Ceramic and silicone coating;
Automatic shutdown;
Wide plates.
CONS:
Hair might snag in it;
A bit overpriced.
7. Best Hair Straightener for Thick Coarse Hair: CHI PRO G2
Another professional straightener with unrivaled performance at an affordable price is the CHI PRO G2 Hairstyling Iron. It has a temperature range of 218 to 425°F and heats up to a maximum in 40 seconds.
The data is shown on a display that reflects in color (blue, green, and red) which hair (fragile, medium, or thick coarse) is best styled at what temperature. The device switches off automatically after 60 minutes of inactivity.
The plates are made of titanium-reinforced ceramics. It significantly extends the life of the product. Even after several years of use, the plates do not lose their smoothness and glide perfectly through the hair. Also, this combination provides excellent straightening of the most unruly strands.
The plates' size and width (1 inch) are standard for most models, making them versatile and suitable for both straightening and curling. Ultra-thin design and lightweight (15.8 ounces) make this tool convenient for travel and business trips. The set also comes with a convenient storage pouch.
Ceramics, in combination with titanium, conducts heat more efficiently inward, speeding up the styling process and reducing the overall exposure to high temperatures.
PROS:
Color digital display;
Reasonable price;
Durable.
Flat Iron for Coarse Hair Buyer's Guide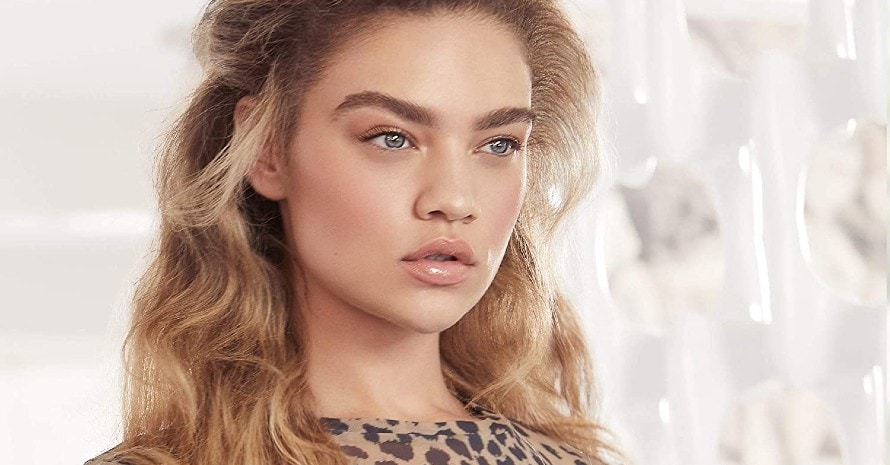 Straightening coarse hair is not as difficult as it might seem at first. However, it is really more difficult to treat with different styling tools due to each hair's large diameter. That is why it is essential to know which tools are best for working with thick unruly strands.
How to choose the best flat iron for coarse hair?
If you have coarse hair, you should use high temperatures. I recommend looking for an instrument that can heat up to 350-450°F. It is in this range that the best results are obtained. Choose a specific temperature depending on the condition of your hair.
For example, if they are damaged due to frequent dyeing, choosing a setting not higher than 400°F is best. And if you have naturally thick hair without visible damage, then you can safely set the maximum mode.
Of course, there is a chance to harm locks with such high temperatures, so the ideal device should have additional characteristics and exceptional technologies that protect your strands from heat.
Pay attention to the material of the plates first. For coarse hair, I recommend using ceramic or titanium instruments. They conduct heat well, retain moisture in curls, and give shine and a healthy glow.
The correct size of the plates depends on the length of your hair. The wider the plate is, the faster you can finish styling. The maximum width is 2.5 inches, but such straighteners are hard to find. The most common inserts are 1 or 1.5 inches wide.
To reduce styling time, manufacturers provide their appliances with various functions, such as ionization, which reduces hair frizz and removes static. This way, you do not have to process the same strand several times.
Among other technical characteristics, I also recommend paying attention to the weight of a tool. Since coarse hair styling is a rather laborious process, a heavy device can cause many inconveniences.
A too light one, in turn, may not compress your hair tightly enough, and you will have to make your own efforts to process strands. Therefore, choose a medium weight straightener (15-18 ounces) that is comfortable to hold in your hand.
Common mistakes while straightening thick, coarse hair
Since coarse hair is prone to dryness, you need to style it in a way that does not cause more damage. In this section, I will explain how to avoid the most common mistakes and how to straighten coarse hair for the best results.
Straighten wet locks
Always allow your hair to dry completely naturally or blow-dry it. One of the most common mistakes is ironing wet hair. Together with the water after the shower, a straightener also evaporates the liquid from locks. It makes them brittle and weak and leads to split ends. Instead of feeling smooth and silky, the strands start to look awful.
Overuse flat irons
Many modern models are designed in such a way that you can use them literally every day without harm. However, using styling tools too often can negatively affect the quality of your locks. Use them less often, if possible.
For example, a good quality dry shampoo can help you with this. Put it on your scalp, and you don't have to shower and straighten your hair again.
Straighten damaged hair
Hair can become weak and brittle for various reasons: regular dyeing, too much styling, etc. In any case, first, it is better to cure your locks, give them time to rest from special tools, and only after a while return to flat ironing.
Avoid heat protection
Using the right heat protection is a must in any person's beauty routine. Regardless of how you style your hair (hairdryer, straightener, or curling iron), be sure to use professional products or make protectant spray yourself.
Use the wrong flat iron
The wrong tool can do significant damage to the structure of your curls. Select the plate material and size according to your hair type. For thick and extremely coarse hair, it is recommended to choose ceramic or titanium products. They heat evenly and conduct heat well.
It is also desirable for the instrument to have multiple temperature settings. This way, you can find the heat that suits your hair. Remember, hotter is not better. Even for thick hair, it is not advisable to raise the temperature above 400°F.
Flat Iron for Coarse Hair FAQ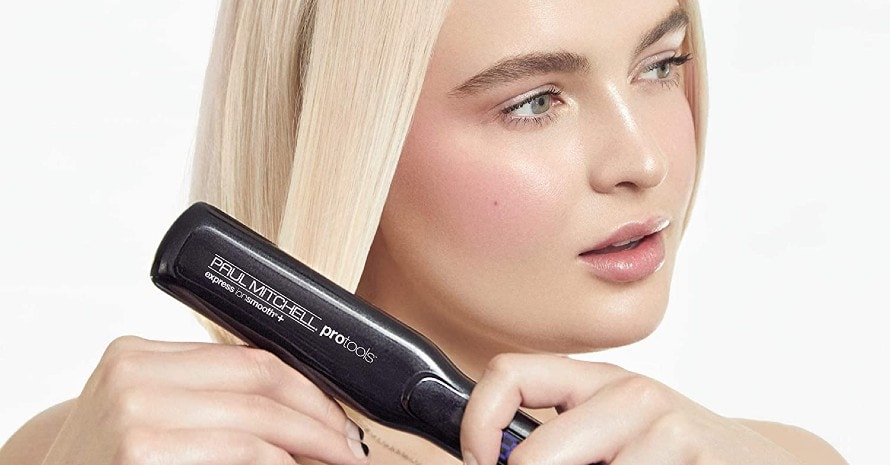 Now that you know how to make coarse hair straight, I will answer the most common questions about flat irons.
Is titanium or ceramics better for coarse hair?
As practice shows, titanium plates heat up faster and conduct heat better into curls. They are suitable for all hair types, while ceramic products are best not used on damaged strands.
Besides, ceramics is a rather fragile material, but ceramics, combined with a titanium coating, gives a very durable tool.
What type of flat iron is best for coarse African American hair?
For such hair, it is better to choose devices that give a long-lasting result, preventing curling and frizzing of strands. I recommend looking for a straightener with wide and elongated titanium plates with an ionization function that removes static.
How do you fix coarse hair?
If your hair is not naturally coarse, then it could be due to improper treatment, wrong diet, the use of hormonal medications, health problems, etc. To restore your hair to its original look, watch your diet (add vitamins), use conditioning serums, masks, and creams, avoid heat styling and cosmetics containing alcohol, buy a silk pillowcase, and get the right brush.
How do you flat iron thick coarse hair?
After you have washed your hair with a moisturizing shampoo and conditioner, applied heat protectant, and completely dried it, you can start flat ironing it. Divide your hair into several sections and secure with hairpins.
Hold a small strand with your tool near the roots and smoothly sweep it along the entire length. Some locks may need to be treated several times. Use a shine product as a finish that will solidify the result.
Keep Coarse Hair Straight with Perfect Tool
The key to beautiful and healthy locks is to understand their needs properly. Straightening thick, coarse hair is not as difficult as it seems. The main thing is to find the right tool.
In my opinion, BaBylissPRO Nano Titanium does the job perfectly. It has the best value for money among its competitors. Anyway, the choice of the device is a very individual matter. I hope my article will help you find the perfect flat iron.
What model do you use? Which brand is the best for you, and why? Please share your tips for perfect hairstyling with other readers.
Last update on 2022-12-11 / Affiliate links / Images from Amazon Product Advertising API