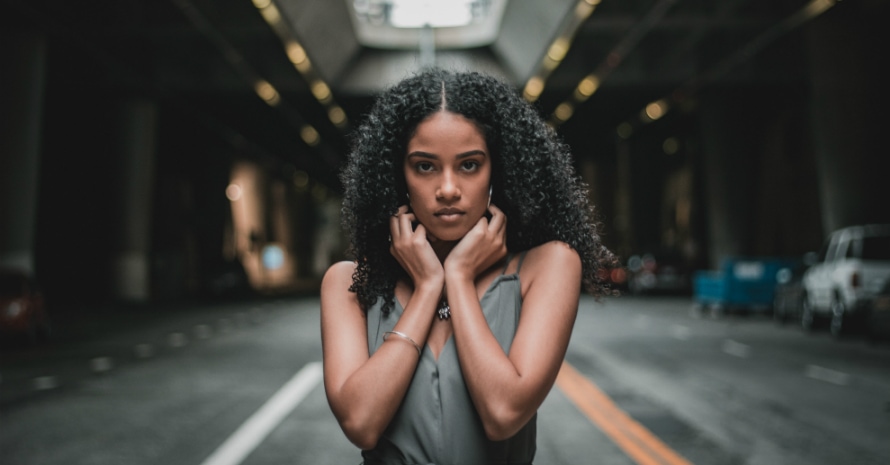 Using a flat iron to curl your hair may sound like too much trouble, but if you take a minute to evaluate all the benefits of being able to style your hair any way you want with one single tool, you are likely to change your mind.
Today, I present my list of the best flat irons for curling hair that features the most advanced and innovative models. All of the reviewed products are easy-to-manage, compact, and capable of performing versatile hair styling tasks in minimal time. Read on to learn which one will make an ideal pick for you.
Pros
Available with a 2-year warranty
Sleek and user-friendly design
Predictive technology for precise and even heat
Top Pick
Pros
Available with a 2-year warranty
Great Value
Pros
Sleek and user-friendly design
Premium Pick
Pros
Predictive technology for precise and even heat
9 Best Flat Irons for Curling Hair Reviewed
RUSK Engineering Heat Freak – My Top Choice
Paul Mitchell Pro Tools Flat Iron – Best Value for Money
ghd Platinum+ Hair Straightener – Best Pick in the Premium Category
KIPOZI 2-in-1 Hair Straightener
NITION Professional Salon Flat Iron
HSI Professional Glider Straightener
ghd Gold Flat Iron
T3 – SinglePass Luxe Styling Iron
FURIDEN Hair Straightening and Curling Iron
Seeking to make your flat curling iron-shopping quest a little easier, I have created a list of top-9 best models worth your time and money. Keep reading, and you will know what to look for in 2020!
1. RUSK Engineering Heat Freak – Best Flat Iron for Curling Hair Overall
RUSK Engineering Heat Freak Professional is a salon-grade flat iron that works on your long and fine hair like a charm, giving it elegant and lasting curls or superb beachy waves with minimal effort and time required.
The 1.5-inch wide ceramic and tourmaline plates ensure super-fast and precise ionic and far-infrared heat that is evenly distributed to minimize unnecessary damage to your hair and provide consistent, zero-frizz results.
The compact and lightweight appliance is ergonomic in design, and the handle promises a safe hold on the tool, with controls positioned on its side for effortless and fast reach. The Rusk Engineering Heat Freak model comes with an adjustable heat dial, meaning you can alter the temperature from 235°F to 450°F based on your needs and find the right setting for every hair type.
PROS:
Intended for heavy-use by salon pros and home-based hair styling enthusiasts;
Adjustable heat settings;
Ergonomic design with easy-to-reach controls;
Compact and lightweight – ideal for trips;
Available with a 2-year warranty.
2. Paul Mitchell Pro Tools Express – Versatile Rounded Flat Iron for Curls
Paul Mitchell Pro Tools Express is a versatile and fast-working hair styling appliance that can be used to both straighten your unruly hair or curl and wave it any way you like. The 1.25-inch cushioned ceramic beveled plates of the device heat up to a whopping 410°F in under a minute and need only 5 seconds to recover heat.
The advanced Express Ion Complex technology utilized by the Paul Mitchell Pro Tools Express model helps lock in moisture, ensuring incredibly smooth, shiny, static frizz-free results.
The digital display allows you to monitor the temperature throughout the entire styling session and adjust heat conveniently to your unique needs. Its dual voltage functionality coupled with the compact build and small weight make the straightener an ideal companion for taking on your worldwide trips.
PROS:
Compact and lightweight;
Elegant and durable design;
Suitable for any hair length;
Large digital display for added convenience in monitoring heat;
Ionic technology helps minimize static frizz and give your styled hair a healthier and shinier look.
Of all the straighteners that curl your hair on this list, the ceramic ghd Platinum+ Hair Straightener is the costliest option, but, as far as its innovative functionality and lavish design are concerned, it is worth every dollar. This sleek tool comprises a bunch of advanced features to make your every styling session a breeze.
From the predictive technology that monitors and adjusts the heat to your individual needs to the wishbone hinge function, which guarantees that the plates are always perfectly aligned to achieve maximum effectiveness with each pass.
Its inch-wide floating plates serve two purposes – they can smoothen your hair quickly and effortlessly as well as curl it with the help of the built-in roller barrel, producing delicate beachy waves and perfect ringlets. To eliminate the possibility of an accident, this hair styler is designed to shut off and go to sleep mode automatically when not used for 30 minutes in a row.
PROS:
Modern and sleek design;
Predictive technology for precise and even heat;
Ceramic plates implement the wishbone hinge technology for additional flexibility and ease of use;
Perfect for all hair types;
3-year warranty.
4. Kipozi 2-in-1 Flat Iron and Curler – For Long and Frizzy Hair
This Kipozi 2-in-1 model is a real multi-tasker that can do short work of straightening and curling your hair at an expert level. Thanks to the rounded design of its 3D floating plates made of nano-titanium, you can easily adjust the position of the appliance to compress your hair tightly and provide an even and steady heat distribution.
The heating range for this model is 122°F to 450°F. With features like 30-second fast heat-up and a digital LED temperature display, you will easily find a temperature setting that is most compliant with your unique hair styling needs. Another characteristic that makes the Kipozi 2-in-1 device unique is its 1.5-inch plates that are wider than most other flat iron models and will help you style your long hair in much less time.
PROS:
Ergonomic twist-lock design;
Auto shut off;
Capable of faster styling thanks to 1.5-inch nano-titanium plates;
30-day return policy.
CONS:
Inconvenient placement of heat controls;
May occasionally snag on your hair.
5. NITION Professional Salon – Best Hair Straightener for Curling Thick Hair
The NITION Professional Salon Hair Straightener is a fantastic heat styling tool that can smoothen and curl your hair effectively in mere minutes. It is known for its extra-long, 1-inch wide floating titanium ceramic-coated plates that comprise a unique mixture of tourmaline, argan oil, and nanosilver.
The titanium ensures fast heating with no frizz or flyaways, the ceramic coating provides for a tug-free smoothening experience, and the argan oil keeps your hair healthy and shiny even after multiple applications.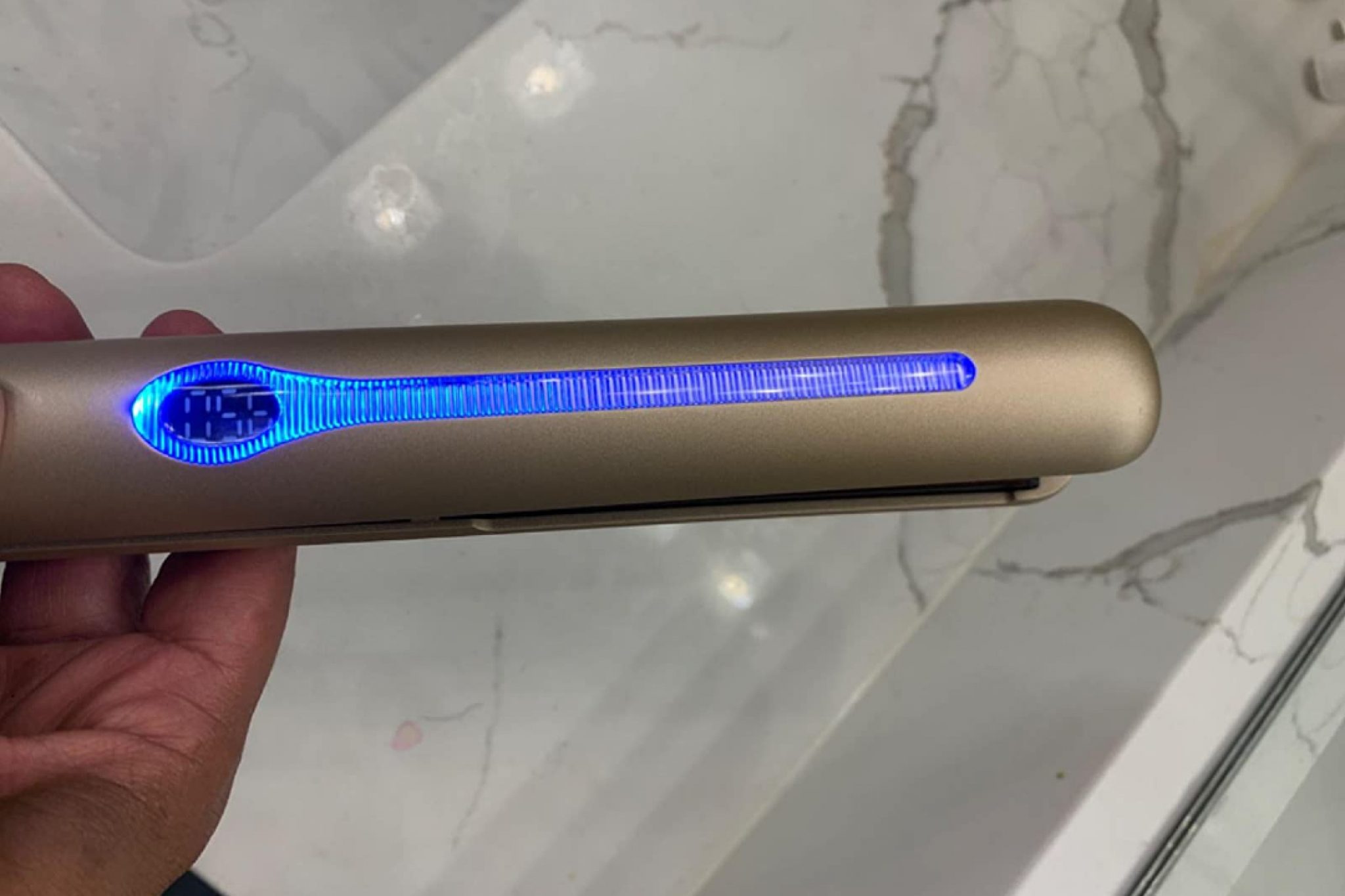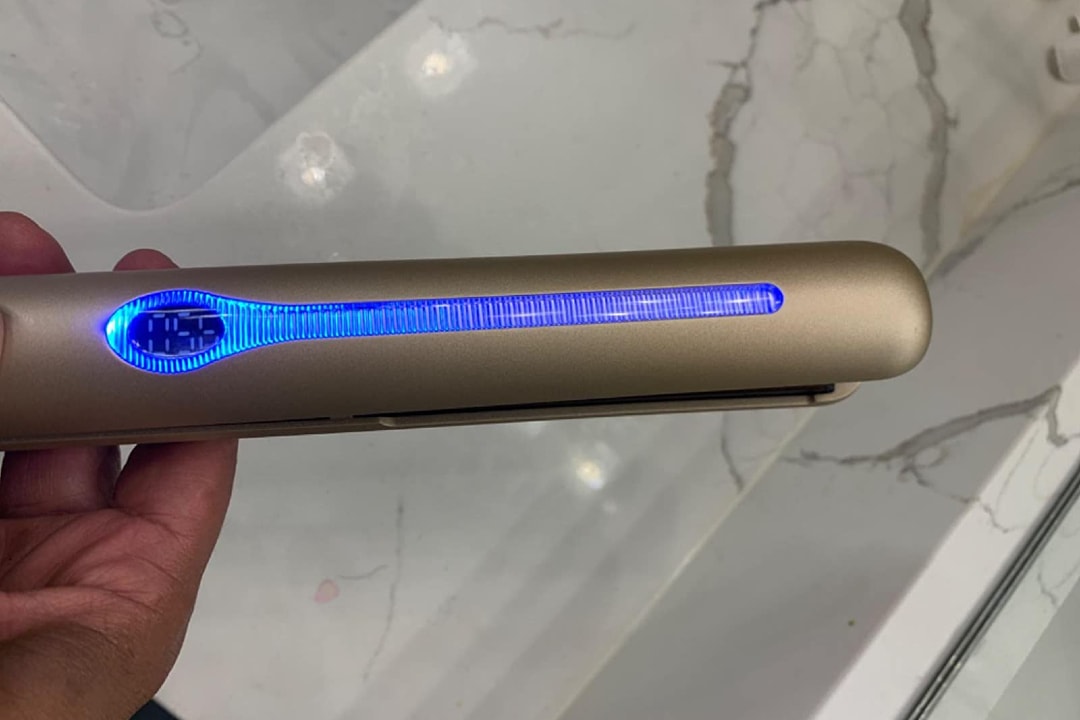 This hairstyling appliance has no confusing button controls; instead, it turns on/off and changes the heat setting through rotation of the handle. Also, the tool boasts universal voltage compatibility and is accessorized with a travel pouch bag, a heat-resistance glove, a salon comb, and salon hair clips.
PROS:
Sleek and user-friendly design;
Extra-long floating plates allow styling more hair in one go;
5-in-1 heating plates feature a unique composition of nanosilver, argan oil, tourmaline, ceramic, and titanium;
Auto shut off after 60 minutes of non-use;
No physical buttons: control is done through rotation of the handle.
CONS:
Users can often change the temperature accidentally.
6. HSI Professional Glider – Best Budget Flat Iron Curler
HSI Professional ceramic tourmaline ionic flat iron is an adept and budget-friendly option that straightens your hair like a professional salon-grade tool. Due to its slim shape with plates that are nicely rounded at the edges, this HSI model can also be of service when you need to give your hair that romantic and seemingly effortless curls quickly.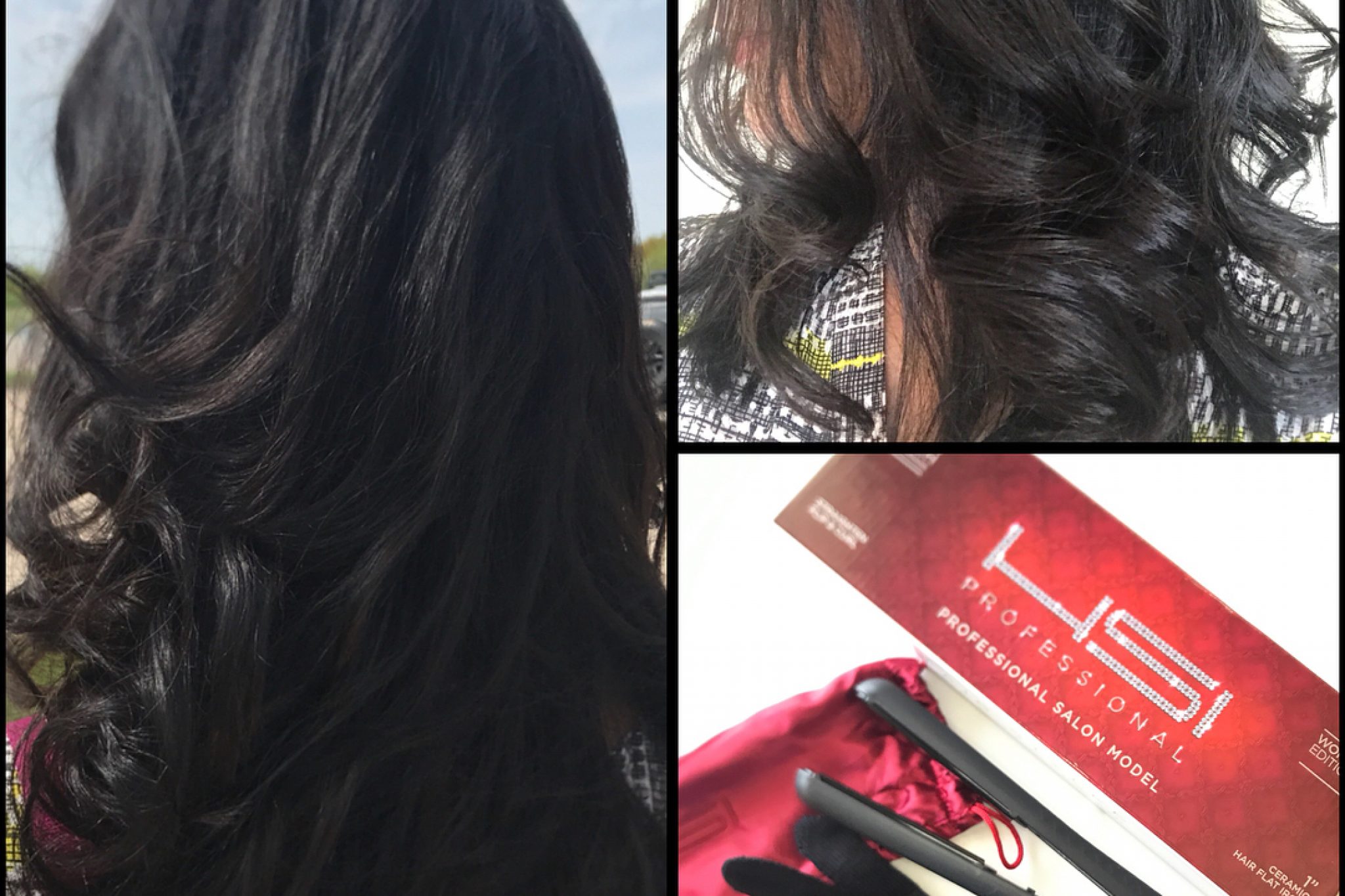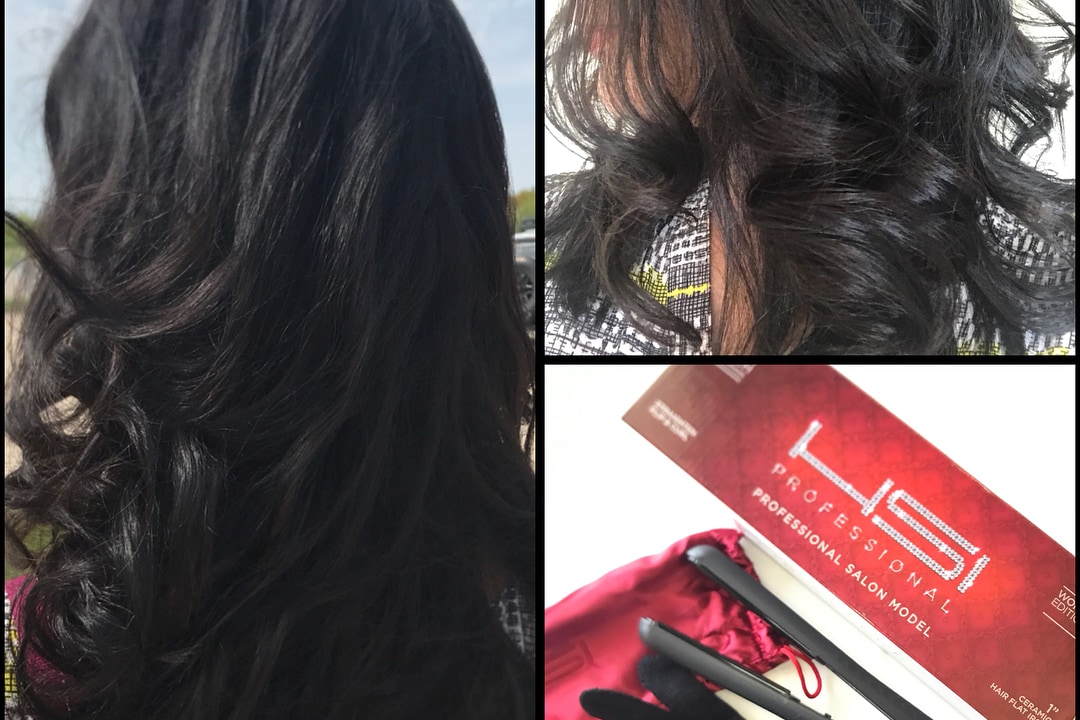 Any traveler will appreciate this handy and compact dual-voltage flat iron that can be used anywhere around the world.
Its solidly built plates of ceramic minimize damage to your hair and give it an enhanced shine. By utilizing 8 innovative micro-sensors, this HSI glider adjusts the temperature that can vary from 140°F to 450°F according to your immediate needs and spreads heat evenly so that the perfect results can be achieved with fewer passes.
PROS:
Modifiable heat settings;
HeatBalance micro-sensors to protect your hair from unnecessary damage;
Gives your hair a very sleek and glossy finish;
Affordable price.
CONS:
No digital display;
No automatic shut off.
7. ghd Gold – Best Flat Iron That Curls and Straightens at Safe Temperature
ghd Gold Hair Straightener is another popular choice in the brand's product lineup, halfway between the economical ghd Classic Styler and the more expensive feature-packed ghd Platinum+ model. The Gold version boasts a sleek round barrel design with a luxurious all-black finish. Its velvety-gray ceramic floating plates promise a snug fit to your hair, ensuring the best possible outcome with minimal effort invested.
The device uses dual-zone technology, meaning it has two built-in heat sensors per plate to monitor the temperature and keep it even across the hair throughout your hair styling session. There is only one heat setting available in the Gold model, which is 365°F, as it is considered by the manufacturer to be the optimal temperature that neither compromises the performance nor damages your hair.
PROS:
Easy-to-handle and intuitive design;
Super-fast heat up (under 25 seconds);
Perfect for straightening/curling, free from snagging and pinching;
Works well on the majority of hair types;
Dual-zone technology.
8. T3 – SinglePass Luxe – 2-in-1 Hair Straightener and Curler for Fine & Damaged Hair
T3 – SinglePass Luxe is a versatile option that works incredibly well on fine and damaged hair prone to excess frizz. The tool copes effectively with hair of any length, effortlessly straightening/curling each strand with a single pass and without much effort on the side of the user.
The tourmaline and ceramic model is compact and lightweight, with an elegant and minimalist design. The indented power button allows adjusting its heat settings according to your needs and wants. Its positioning is well-thought-out to prevent accidental change in temperature.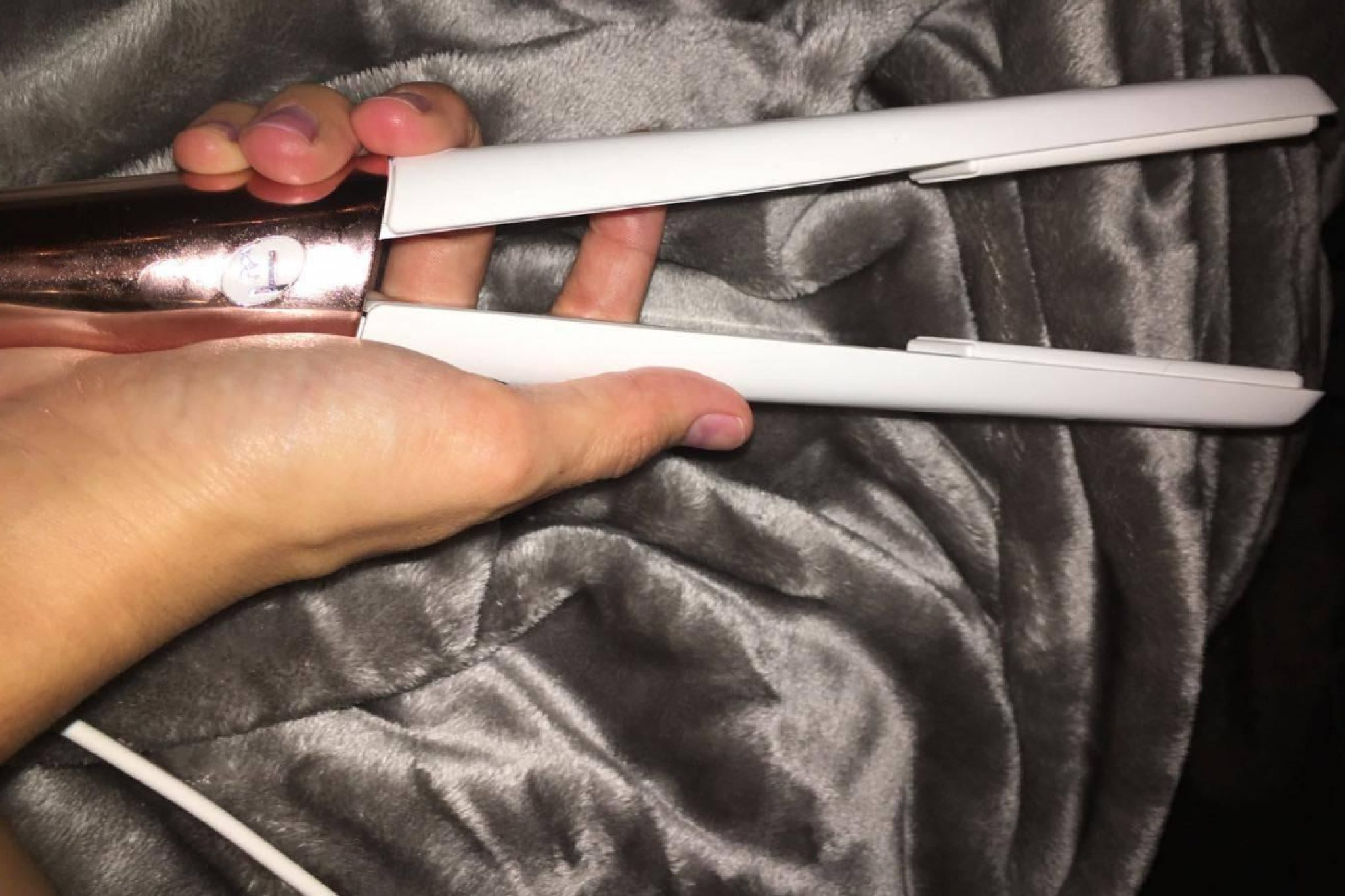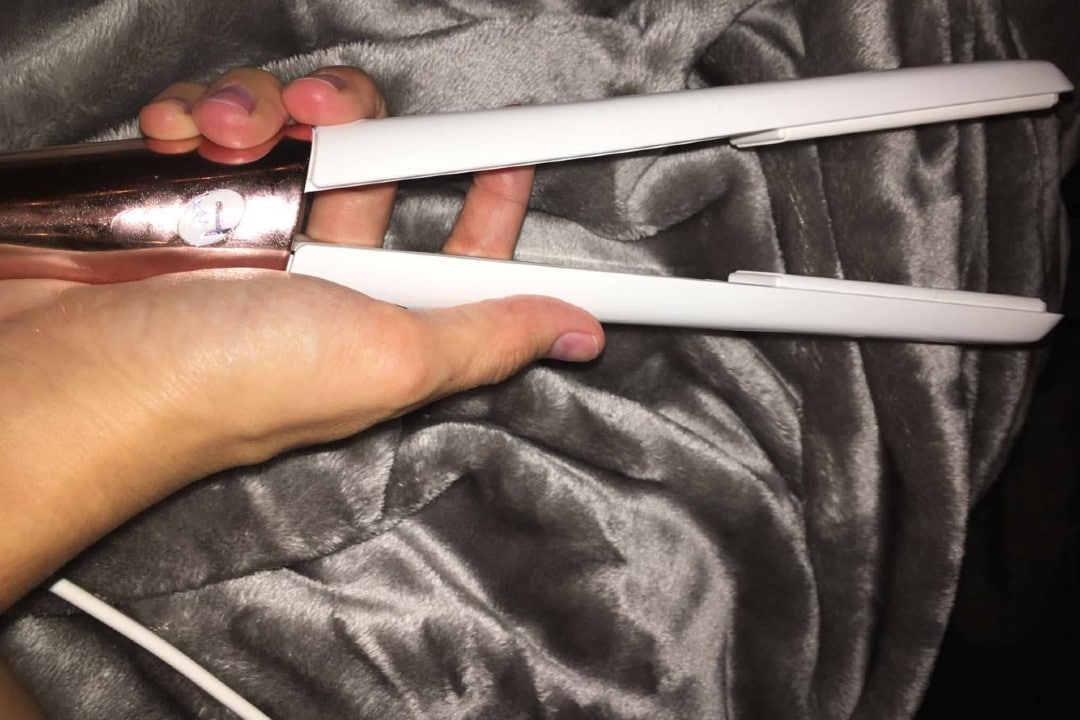 That said, some of the users find the location of controls to be less intuitive and straightforward than they would like. There are five different heat settings ranging from 260°F to 410°F here, but the device cannot show you at what temperature exactly it is working at the moment – it just displays the numerical value.
PROS:
Versatile styling options;
Gives your styled hair a smooth and shiny finish;
5 heat settings that can be adjusted to your needs;
Built-in microchip helps preserve even temperature throughout the entire styling session;
Auto shut off after 1 hour of non-use.
CONS:
A pricey option;
The controls lack intuitiveness.
9. FURIDEN Titanium Flat Iron – Best Curling Flat Iron for Novel Users
FURIDEN Professional Hair Straightener is one of the brand's latest models, and, based on the multiple flat curling iron reviews found online, it is also one of the most successful products by this manufacturer. The model is highly durable and does an excellent job as far as heat distribution is concerned.
Its heat range varies from 265°F to 450°F, which makes this tool equally effective at curling fine, medium, and thick hair alike. The maximum heat is achieved in just 30 seconds, and it needs only 10 seconds to switch between the 5 different temperature settings.
Its 1-inch wide titanium plates are thin enough to let you manage the device easily on the hair of any length. The overall design is sleek and well-planned: the flat iron does not snag on your hair, the tip stays cool at all times, eliminating the possibility of your burning yourself, and the control is done via rotating the handle instead of pressing hard-to-reach buttons.
PROS:
5 adjustable heat settings;
Auto shut-off feature;
Well-planned design for a more streamlined and effortless styling experience;
No confusing button controls;
Affordable price.
CONS:
Multiple passes may be required to achieve maximum straightening efficiency.
Best Curling Flat Iron in 2020 Buyer's Guide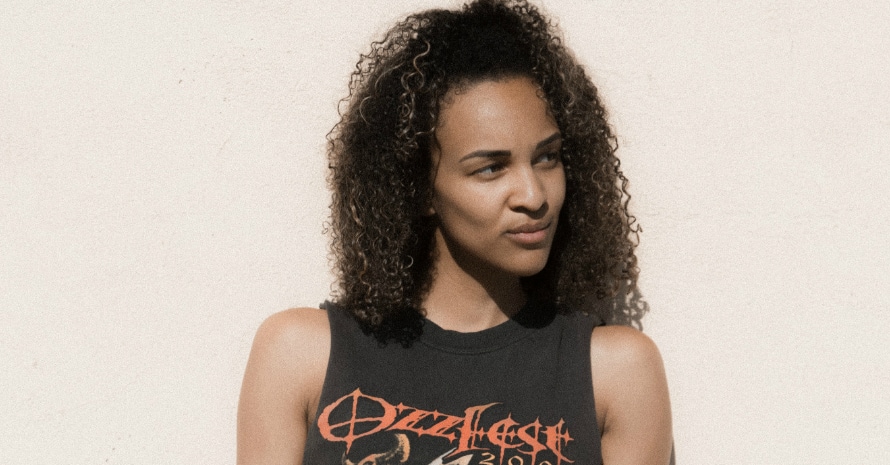 Today, the hairstyling tool market has no shortage of quality, reliable, and easy-to-use products that allow you to fix your hair safely and effortlessly in every imaginable way. Their functionality can be as versatile as you need it to be, and the price usually depends on the number of settings included.
From no-frills blow-drying brushes and hair wavers to advanced hair straighteners and fancy stylers – there is an appliance to fit any budget and purpose.
If you are after bouncy curls alone, a simple curling iron will do. With practice, you will learn to turn your unexciting strands into perfectly tight ringlets or elegant waves that will draw attention and inspire awe. However, if you want more flexibility with your styling options, you will be more comfortable with a flat iron that curls and straightens your hair depending on your immediate needs.
A well-chosen 2-in-1 hair straightener and curler will allow you to switch between sleek and shiny straight hair and whimsy curls in no time and with minimum effort required.
This buyer's guide will teach you everything you need to know to pick the very best hair straightener for curling that will suit your individual styling needs. I will also gladly share my wits on how to curl with a flat iron at home to give your hair that just-out-of-the-salon look everyone loves. Keep reading, and you will soon learn to style your hair like a pro!
What features to consider when choosing a flat iron?
Choosing a flat iron curler is not a task to be taken lightly – not unless you want to end up with a product that will scorch your hair or break down halfway through your very first styling session. With so many options out there, one can easily get overwhelmed.
Not to worry, though: helping you make a smart decision is what this guide is all about! Here are some of the key features to consider when shopping for a flat iron curler:
Temperature settings
If you have little experience in curling hair with a flat iron (or any other heat styling appliance for that matter), picking the one with adjustable heat settings is a must. Every hair texture needs a different temperature range, and it might take you a while to understand which one is yours.
In the meantime, stick to the basics – never go over 420°F, do not hold for longer than 10 seconds, and always apply hair care products.
Plate material
Titanium irons are great in every way but their price. They heat up quickly, reach a very high temperature in mere seconds, maintain consistent heat, clean easily, and last long. A rounded flat iron for curls, which plates are made of titanium, will be a fine purchase for users with coarse and thick hair.
Ceramic irons (not ceramic-coated, mind you!) are best for people with fine or normal hair. They take a little longer to heat up but preserve heat effectively and disperse it evenly, just like titanium products. They are also less pricey, which is a clear advantage.
A tourmaline tool is a decent option for people whose hair tends to be a bit frizzy and unmanageable. Generating negative ions, tourmaline seals hair cuticles and keeps it calm, moisturized, and protected against unnecessary damage.
Overall size and shape
If you seek a truly versatile option, a flat iron and curler with rounded plates should be your first pick. These appliances are capable of straightening your hair into sleek and shiny strands, as well as turning it into beautiful waves and curls without unsightly creases and kinks. Square-edged irons will make short work of smoothening your tresses but might be a little challenging to handle if you use them for curling purposes.
Extra frills
Depending on your needs and budget, there are a couple of cool features you may want your flat iron curler to have, such as:
far infrared technology: these irons heat your hair from inside out without damaging its outer layers;
floating plates allow you to adjust the grip on your hair properly and ensure tighter contact with it, which leads to heat being spread more evenly;
dual- or tri-zone sensor technology is used to make sure heat is dispersed evenly at all times;
automatic shut off function guarantees that your iron goes into sleep mode after some time of non-use, so you are less likely to cause an accident if you leave it unattended;
dual (universal) voltage is a must-have feature for travelers if you do not want to carry around a voltage converter. Wherever you go on a trip, you can be sure that your straightening/curling iron will work just fine.
Curling your hair with a flat iron: Step-by-step guide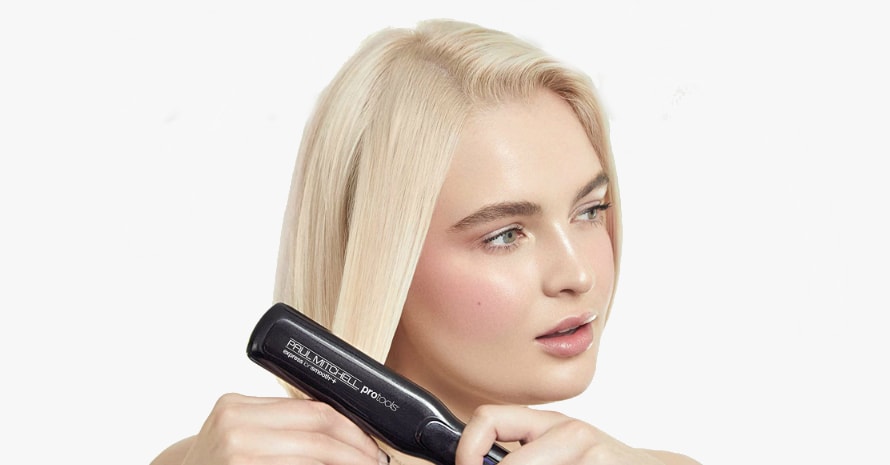 If willing to give it enough time and practice, you are more than capable of creating picture-perfect beach waves and salon-grade curls with your flat iron. This short 5-step instruction contains all the tips and tricks you will need to get the hairstyle of your dreams.
Step 1. Apply a reliable heat-protectant spray to shield your strands from getting scorched or damaged.
Step 2. Begin curling the hair that is closer to the nape of the neck and gradually move all the way up toward the hairline. The iron needs to clamp the hair section above its mid-length, or only the ends will be curled.
Step 3. Finish the side by curling the section right at the hairline. Repeat with the other side.
Step 4. Massage the roots with your fingers to break the curls apart a bit. If you want a more homogeneous finish, use a boar bristle brush to do the job.
Step 5. Use a little hairspray on your styled hair to fixate the curls and keep them in place.
Mistakes you can make when curling hair with a flat iron
Using the wrong barrel size. Bigger plates are hard to maneuver on shorter hair. As a rule, you will need a 1-inch wide barrel for short and medium hair and a 1.25-inch-wide appliance for long tresses.
Using hair oil before curling since it may weigh down your locks.
Using a curler on damp hair will simply fry it.
Using higher temperatures to set the hair faster will lead to long-term damage, especially if your hair is delicate, colored, or lacking moisture.
Keeping an iron on your hair for more than 10 seconds will lead to its becoming scorched and damaged.
Not using a heat protectant. Big mistake. Period.
Flat iron vs. curling iron curls
You should decide which of the two heat styling tools to use to get yourself lovely waves and curls based on your experience level, type of hair, styling frequency, budget, etc. While a regular curler will be entirely up to the task at hand (as suggested by its name), a modern flat iron may give more flexibility and spare you the need to shop for a multitude of additional appliances.
Curling irons are easier to manage to make perfectly tight ringlets of the same size, but these devices are limited to just one purpose, which is inconvenient. Flat irons, on the other hand, can be used to create sexy curls, beachy waves, or silky strands that are smooth as glass. The downside here is that using a flat iron for curling requires practice.
Best Curling Flat Iron FAQ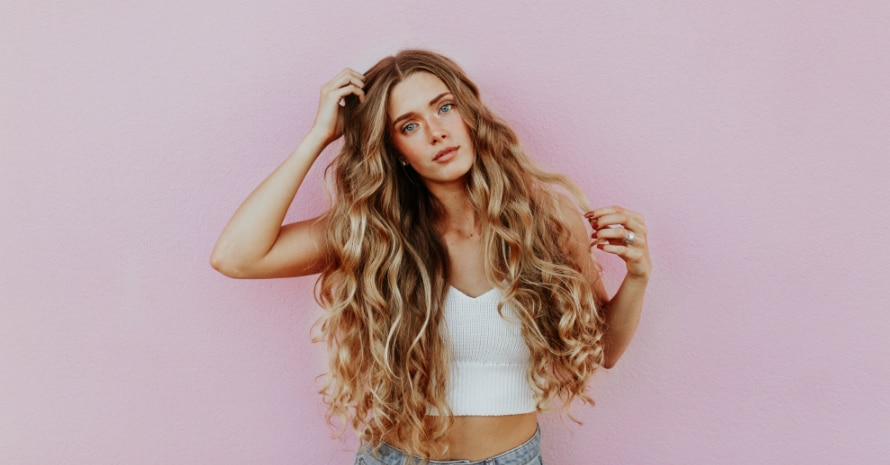 In this section, I decided to provide the most common questions about flat irons for curling hair. Perhaps, the answers to them will help you clarify any uncertainty you might have about these tools.
Is titanium or ceramic better for curling hair?
Choosing between the two should depend on the type of hair you have. Ceramic irons are best for fine, delicate hair prone to damage, while titanium flat iron curlers will manage coarse and thick hair more effectively.
What should I put on hair before flat ironing?
Applying a heat protectant before flat ironing or curling your hair is an absolute must. Apart from that, you might consider using hold products like a thickening mousse or a tad of hairspray to help your future curls last longer.
Can you curl your hair with any flat iron?
In theory, yes. However, the less specialized the tool is, the more time and practice it will take you to manage it. If you want perfect and consistent results fast, you should stick to flat irons that are rounded at the edges or have special curling attachments.
Final Verdict: Which Model to Choose
Flat irons are incredibly handy multipurpose tools that give you an excellent value for the money. If you are new to curling hair with a straightener and want to have an easy learning curve, I recommend setting your eyes on RUSK Engineering Heat Freak as the best straightener to curl hair. It is very manageable, reliable, gets the job done faster than others, and comes with an appealing price tag.
Do you curl with a straightener? Are you always pleased with the outcome? Can you recommend any other flat iron models that are just as good as the ones already mentioned? Feel free to comment below!
Last update on 2022-12-11 / Affiliate links / Images from Amazon Product Advertising API