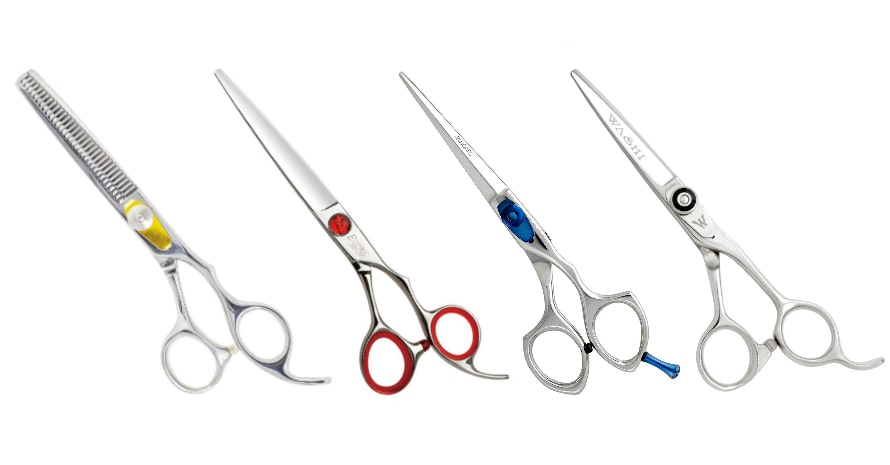 Sometimes, we may underestimate the importance of small products and accessories. For example, until you buy more than one pair of scissors for hair in search of perfect shears, you may think that it is easy to shop for this product. However, finding the best hair cutting shears is not a walk in the park.
For the many years that I have been a hairstylist, I have come up with a list of features to look for when shopping for hair cutting scissors. For example, I have to consider the length of the pair, whether it will need to be sharpened regularly or not, and the weight of the tool.
Pros
There are models for left-handed hairdressers
The handle has an offset design
Made with high-quality steel
Pros
There are models for left-handed hairdressers
Pros
The handle has an offset design
Pros
Made with high-quality steel
I have realized that shears differ in these features, and since there are thousands of brands on the market, shopping for this tool appears complicated. However, with guidance from an expert, you won't get exhausted as you browse through millions of web pages, searching for the perfect product.
To save your time, I have compiled a list of nine best hair shears. Below, I will review each product and then give a guide on what points you need to note before making the ultimate buying decision. In the brief descriptions of each tool, I have highlighted the main characteristics of the hair cutting shears that play an important role when choosing the product.
Top 9 Hair Cutting Shears: Comprehensive Hair Shears Review
Shears are an important tool for every hairstylist. Below are nine hair cutting shears that will adequately meet your hairdressing needs. Get to know the characteristics of each model, the pros, and the cons. I have tried all the shears mentioned below so that I could profoundly recommend any of the reviewed products.
1. Washi Beauty Hair Cutting Shears – Best Professional Hair Scissors
For a uniquely designed pair of professional scissors, consider this model by Washi. The handles of these shears have a very noticeable and attractive pattern, as well as an overall offset design. With these Washi Beauty hair cutting shears, you will have a more open hand position thanks to the comfortable handles. Thus, this model ensures comfort in work.
You can also alter a tension adjustment dial according to your preference. The blades of these scissors have a convex edge that ensures clean and perfect cuts. I find it great that you can be sure of every action with this tool.








These scissors are made of Japanese V10 steel. It is associated with a high ability to hold an edge. Thus, these shears won't wear out soon and will stay sharp for long. With these hair cutting shears, you will not need to replace the blades regularly. I can recommend this product for all professional hairdressers. The only con is that the blades are not very long, so you may need to get used to working with this tool.

---
PROS:
durable;
the handle has an offset design;
adjustable.
---
2. Equinox Professional Razor Edge Series – Best Affordable Hair Shears
Are you looking for an adaptable pair of shears? Worry no more, because Equinox International has covered your needs with their razor edge series shears. Whether you are doing haircuts for children or adults, these hair cutting and thinning shears are safe and handy. You can even cut or thin a baby's hair with this tool.
The quality of these hairdressing shears and the way the handle is made are at the top level. With this product, you will not be troubled by handling them over lengthy periods. You can modify a fine-tunable screw on these handles to suit your preferred tautness.
Besides, stainless steel is the primary material used in making these hair shears. If you plan on thinning or cutting wet hair, scissors made of steel material are ideal because they are softer. You can have them sharpened to an excellent edge. With these Equinox shears, you will notice how clean your cuts have become.








Once you get these shears, you may never need another pair because they are multipurpose. If your customers visit your salon for various services like hair trimming and thinning, these shears will come in handy. Even those who come to texturize their hair will not be left out, as these shears will ensure the achieving of any hair goals.
Besides, the use of these scissors is not limited by professional hairdressing, and they are also ideal for personal use. So, you can go for this tool without hesitation.

---
PROS:
multipurpose shears;
an adjustable handle;
have a sleek steel texture.
CONS:
you can't sharpen them by yourself, for that, you need to bring the tool to a service center.
---
3. 6.5″ Hair Cutting Scissors – Best Barber Scissors For Beginners
For most barbers, the handles of the shears they use are an essential consideration because this part dictates the level of comfort when holding them. Are you a hairdresser who has been troubled by the many hours needed to spend holding the shears daily? Then, you need the Kovira scissors that allow adjusting them to your fit. You only need to tighten or loosen the knurled knob.
These shears give you a comfortable grip as they are fitted with a rubber handle. It is removable, thus, allowing you to handle the shears comfortably. Apart from the perfect grip on these shears, the sharp blades of this tool will ensure perfect results with every haircut. Also, your customers will never get split hair ends if you use these hair cutting scissors.








If your barbershop is a busy place visited by both children and adults, you will need to ensure that all your tools are safely stored to prevent accidents.
With these shears by Kovira, you will not need to spend additional cash on a case. The product comes with a black leather box for storing the scissors.
Moreover, these barber shears are manufactured of top-grade stainless steel from Japan. This 440C steel is the bare minimum for good hair shears. It guarantees the top quality and durability of the model.
Also, the material ensures that they remain sharp for longer compared to similar models on the market. Thus, you will not need a new pair of scissors every time, once you get this product by Kovira.

---
PROS:
top-grade stainless steeled;
provide a comfortable grip;
come in a leather case.
CONS:
may not be as sharp as more expensive products.
---
4. ShearGuru Set for Perfect Cuts – Best Shears for Hair Stylist
Are you looking to upgrade your professional hairdresser scissors and want the best tool for the money? This haircutting set by ShearGuru will be ideal for your needs. With this kit, you will no longer need to worry about split or choppy hair ends.
Made using superior stainless steel from Japan, these shears retain their sharp edge for up to five times longer compared to the ordinary stainless steel models. Thus, your cuts will always remain clean and perfect.
Professional hairdressers have an idea of how annoying shears get when their blades grind together or get stuck. With these ShearGuru scissors, it will not be a cause of concern for you. The blades of this tool do not get locked up or dull as the steel material is quite smooth.
Moreover, you will experience maximum comfort when using these hair cutting shears as they are fitted with a fine-tunable screw for adjusting. Thus, you can spend a whole day cutting or trimming your clients' hair without feeling the hand fatigue in the evening.






If you are a hairdresser who does not only operate in salons but also outdoors or makes house calls, you need to invest in a case for storing your shears and other necessary tools.
With this set, you will not need to spend a lot of money on a box as it comes with a free leather case. You can safely store the scissors and transport them easily.
I want to note that these professional shears are designed not only for cutting hair. You can use them for thinning hair as well. Also, you will not turn away clients who want to texturize their hair once you own this set by ShearGuru. I recommend this product for all the hairdressers looking for complete haircutting set for work.

---
PROS:
a multifunctional hair cutting set;
made with high-quality steel;
high retention of sharpness.
CONS:
you can't buy the shears separately from the set.
---
5. Japanese Hitachi Pro Hair Cutting Scissors – Top Rated Hair Cutting Shears

Left-handed hairdressers often struggle with finding tools designed for them. If you fall under this category, worry no more because these Japanese Hitachi scissors will be ideal for you. You have the freedom to choose right-handed or left-handed shears with blade lengths from 5.5″ to 6″.

Besides, these scissors' functionality is impressive, as they were manufactured with advanced computer software. The balanced blades align perfectly during a haircut session.


Moreover, this model allows you to create different hairstyles, tapered cuts, and layering. You also do not need to worry whether the hair is dry or wet when using these scissors.








These shears are made of the finest Japanese stainless steel. It not only ensures that they will last for a long time but also prevents them from corroding. These scissors come with premium blade oil that you can use to prevent corrosion.
Another important fact is that these hair cutting shears are incredibly lightweight. Thus, even if you spent a whole day cutting hair with them, you will barely feel fatigued.

---
PROS:
lightweight;
durable;
there are models for left-handed hairdressers.
CONS:
the blades may be short for some barbers.
---
6. Feather No.55 Switch-Blade Shear – Salon Scissors with High-Cost Performance
Blunt shears can be tiresome to use, especially if you have more than one client a day that needs your service. The sharpening of blades is an activity that requires expertise. Too much pressure during sharpening can shorten the blade life, while low pressure can cause the shears to pull hair. Moreover, incorrect sharpening may also alter a blade's surface.
With these points in mind, many people opt to buy shears that need no sharpening. If you are one of them and have been wondering which tool to get even after reading countless professional hair scissors reviews, the Feather manufacturer has you covered.
Their No.55 shears come with replacement blades. Thus, the shears get renewed every time you change the blades. With this tool, you will forget about paying for sharpening services.








Besides, the replacement blades that come with these shears are ice-tempered. This tempering softens the steel, thus, resulting in a high ability of these scissors to retain sharpness and strength for a long time.

---
PROS:
no need for sharpening;
come with replacement blades;
ice-tempered replacement blades.
CONS:
you have to handle this model with extra care because the blades are extremely sharp.
---
7. Six Inch Shears – Best Scissors for Cutting Hair At Home
Any amateur or professional barber should consider these six-inch shears. The edge line of the blades is well-proportioned to give you the perfect balance when in use. Besides, the scissors are quite sharp, thus, ensuring clean cuts.
You don't need to worry about the safety associated with the use of these hair cutting shears. The tip of these scissors is round in shape, making it safe for the barber and the clients. Moreover, the 440C material used for these shears ensures that the blades remain sharp for a long time.








This product is designed to allow maximum comfort for the hairdresser. For example, these shears have unique handles that minimize fatigue when held for a long time. Also, the strong middle screw of the scissors allows managing the position of the tool. The screw also tightens the scissors so that they remain firm and do not cause accidents due to looseness.

---
PROS:
attractive design;
quite sharp blades;
a well-balanced model.
---
8. Suvorna Ador – Best Hair Stylist Scissors That Fit Your Hand
If you are in search of professional and durable hair cutting scissors, focus your sights on this model from Suvorna. The sturdiness of these scissors is ensured by top-grade stainless steel from Japan used for their manufacturing. Also, this material boosts edge retention, thereby giving you a proper spacing between sharpens.
These shears have a screw that can fine-tune the scissors to your liking. Also, they have portable finger inserts that give you freedom and comfort when using the tool.








This Suvorna product is also great for hairstylists that work not only in salons but make house calls. The tool comes with a portable leather case where you can safely store it during transportation. This set from Suvorna comes with two pairs of shears, one for thinning hair and the other one for trimming. Hence, these scissors are practical for daily use.

---
PROS:
fitted with rubber finger inserts;
have a finger rest;
come in a leather case.
---
9. Professional Hair Scissors/Shears – Stylist Shears with Eye-Catching Design
These hair shears have an impressive aesthetic design. From the packaging box to the appearance of the scissors, you can be certain that all eyes will be on the tool whenever you are using it. The functionality of these shears won't disappoint you. Fitted with a tension screw that allows you to adjust them to precision, the shears are ideal for different haircuts.
The blades have a convex edge as well, which gives smooth and soft cuts, leaving your clients satisfied. Besides, you will not struggle with using this tool for a whole day because its ergonomic design ensures comfort and minimizes hand fatigue. Also, the blade of this model is 6.5″ long, thus, allowing easy sliding and cutting.








If you are looking for a stylish and durable pair of shears, these are ideal. Made with a Japanese 440C stainless steel, they will last for quite a long time.

---
PROS:
a stylish design;
fitted with an easily adjustable tension screw;
highly durable;
fit a right hand perfectly.
CONS:
relatively pricey;
not for left-handed stylists.
---
Frequently Asked Questions about Hair Cutting Shears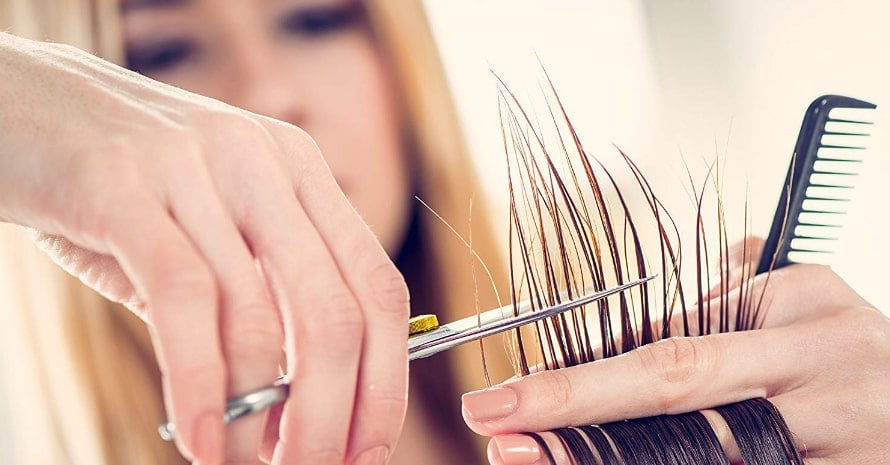 After reading through the hair cutting shears reviews, you may have some questions on these tools. Moreover, you need to form a criterion that will help you in selecting a product that suits your needs. Each of the products mentioned above is great, but different barber shears are suitable for different needs and requirements. Therefore, check out the tips below to choose the right shears.
What is the size of the shears?
The size of shears differs from one brand to another. Also, the size of people's hands is not the same. Therefore, you may not be comfortable holding the same size of shears that your colleague can work with easily. The size of the palms indicates that you need to choose the tool that will fit your hand.
Therefore, ensure that you know the size of shears that your hand can comfortably hold. The next thing is to look for the corresponding scissors so that you can settle on a great pair.
What should be the level of your skills in using scissors?
Your capability in using the best hair scissors is also an essential factor. You need to be honest with yourself and conclude whether you are an expert or an amateur in hairstyling. If you are an amateur, you must start with scissors meant for beginners. These products will help you to sharpen your skills, and once you become an expert in hairdressing, you may get a pair for professionals.
What type of handle do the scissors have?
All the best hair cutting scissors have different types of handles. Therefore, you need to determine which type of handle you are comfortable with. There are three main types of handles, with the first one being the even handle. The even handle creates symmetry between your left and right hand, as the handles are of the same size.
The second one is known as an offset handle. There is a long and short version. Therefore, the left and right handle are of different sizes. Such a model helps you in keeping your elbow low so that you are comfortable while cutting or trimming hair. Finally, there is a crane handle that is similar to the offset one. The only difference is that the longer handle is straight.
Buying Guide – Factors to Consider Before Purchasing Hair Shears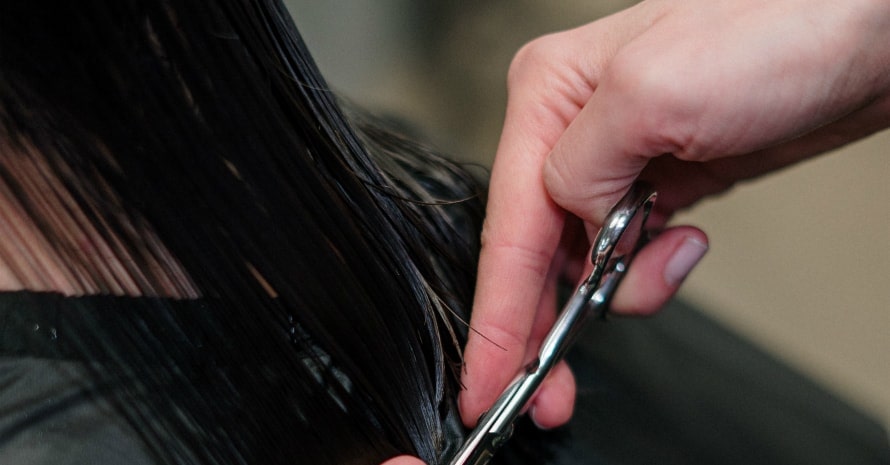 In addition to answering the questions above before getting a pair of high-quality hair shears, there are other factors that you need to consider. These aspects play a huge role in determining the brand and type of shears to buy. The factors include:
Price is a significant factor when purchasing anything, shears included. You need to know how much you are willing to spend on the perfect shears before you start shopping. Otherwise, you may end up paying too much or too little. When you have set a maximum amount to spend, it is easy to select the best scissors within that price range.
You also need to know how safe the scissors are in an environment where you are going to use them. If they are for personal use, safety may not be a significant concern. Since you will be the only one using them, you can store the pair of shears at a place where only you can access the tool.
However, if you are a professional hairstylist, you need to secure the shears to prevent accidents. In such a case, you will need shears that have a protective case where you can store them when not in use. Therefore, even if things fall around your working area, you will not risk cutting yourself or your clients with the scissors accidentally.
The type of clients you are going to serve with the scissors
If you are an expert, you need professional hair cutting shears for all your client types. For example, if you have children as your main clientele, it is necessary to get shears that will not hurt them. The shears should not have very sharp edges because a child can move his or her head at any time without notice. I assume you do not want to injure your clients' skin using sharp scissors, for example, made of Japanese steel.
If you have mostly adult clients, it is fine to use any shears. You may get the sharp ones that cut with a high rate of precision. If you ask an adult client to sit still and not move while you are doing their haircut, they will do precisely that. Therefore, you will have nothing to fear.
The material used to make the shears
No one wants scissors that will last a day and then spoil because of the poor-quality material used. Japanese steel is the best for making shears as it does not rust and remains sharp for a more extended period. Most of the high-quality shears that I have reviewed are made of this material. Hence, no model mentioned above will disappoint you in terms of durability.
The more durable the scissors are, the better. They will save you from spending now and then on another pair. Moreover, high-quality hair shears are easy to clean. Hence, they are great for working in a salon where you have to serve many clients in a day.
Get a Pair of Hair Cutting Shears and Enjoy Cutting Hair with High Accuracy
As a hairstylist who has experience in using professional scissors, I have reviewed some of the best scissors that you can get, whether you are an expert or amateur. Some of the top brands that I have reviewed include Feather, Washi, Suvorna, and Kinsaro.
All these shears are of high quality. However, they slightly differ in the features. Thus, your main task is to determine what specific scissors you need so that you may select the best pair for your job. For example, since these tools differ in terms of price, you need to set a budget for scissors so that you can get the best professional hair shears that fall within the amount that you are willing to spend.
Other factors that you need to consider before getting shears include the weight, the type of handle, and the durability of the tool. If you can't handle heavy scissors, go for lightweight ones as there are a lot of not weighty models available. And if you have enough cash to spend, buy the ones made of the most durable material.
Have you used any pair of shears mentioned above? What are the most critical shears features for you? Which of the hair shears fit your needs? Feel free to share your thoughts in the comment section below.
Last update on 2022-12-11 / Affiliate links / Images from Amazon Product Advertising API