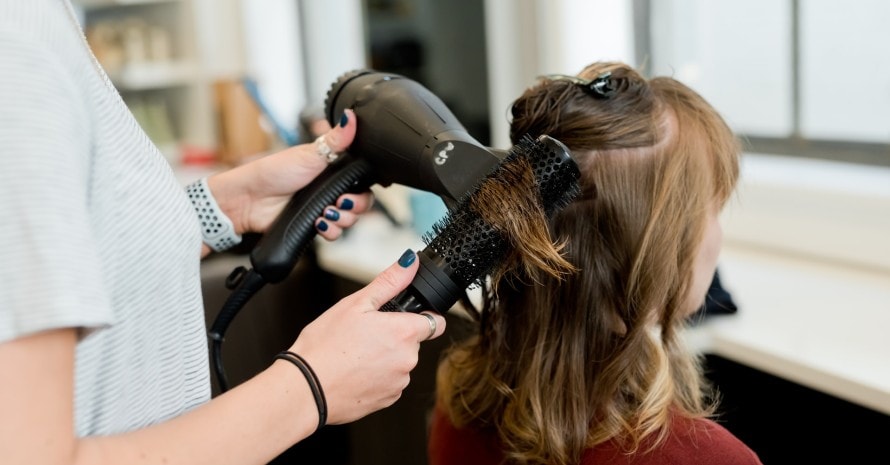 If you're looking for a reliable way of styling your hair, the best hair dryer for straightening hair is an excellent choice. With such a device, you can make a straight hairdo with a little effort.
Also, it keeps your hair healthy and shiny. It's significant to choose the high-quality option to reduce the damages and provide quick styling – you will find the top products below.
Effective for different hair types
Can create various styling effects
Six heat and speed settings
Top Pick
Effective for different hair types
Runner-Up
Can create various styling effects
Premium Pick
Six heat and speed settings
7 Best Hair Dryers for Straightening Hair Reviewed
These devices have diverse features, but they all are suitable for straightening hair. So, look and choose the one you like the most.
1. BaBylissPRO – Best Hair Dryer for Straightening Hair
There are so many designs and trends Babyliss offers nowadays. This company is providing electrical tools for hairstylists, and this nano titanium hair dryer is one of the top products on the market now.
Power
As this device is designed for professionals, it has an impressive drying system. With the 2000-watt power, the item provides fast-drying; however, it doesn't damage your hair because of the innovative technologies.
Also, although it is quite powerful, the dryer doesn't weigh a lot. So, it is highly convenient to use it even for a long time.
Settings
The BaBylissPro hair dryer has six speed and heat settings. You may wonder why there are so many options. Such a design allows you to work with different hair types and try diverse styles.
As a result, you can choose this tool no matter which hair type you have. Besides, the device has a cool shot button and a concentrator nozzle to create any hairdo you want.
Technologies
Low-quality hair dryers may damage the hair and make it dry. To avoid this, Babyliss offers the best blow dryer to straighten curly hair with ionic technology I have tested.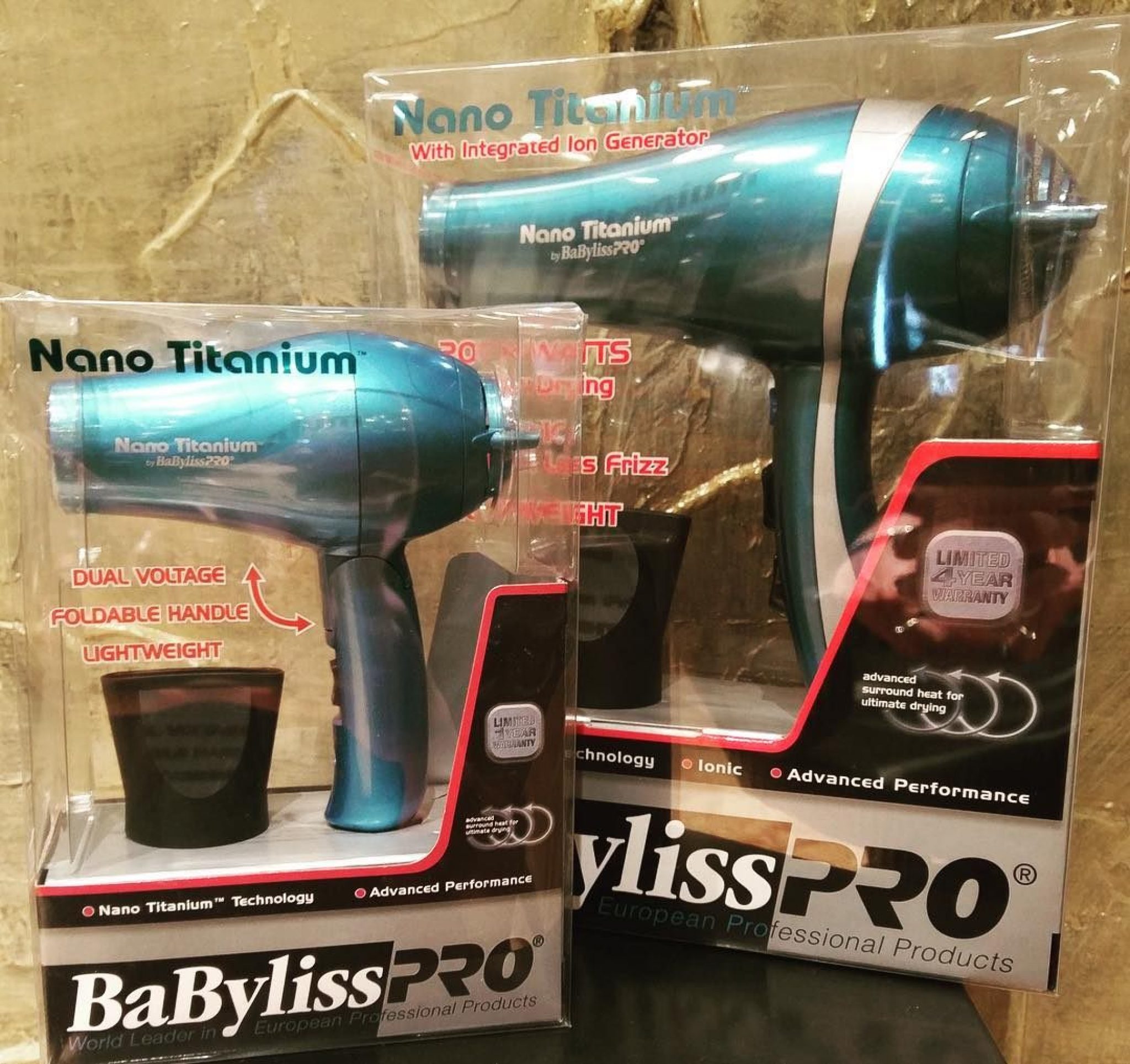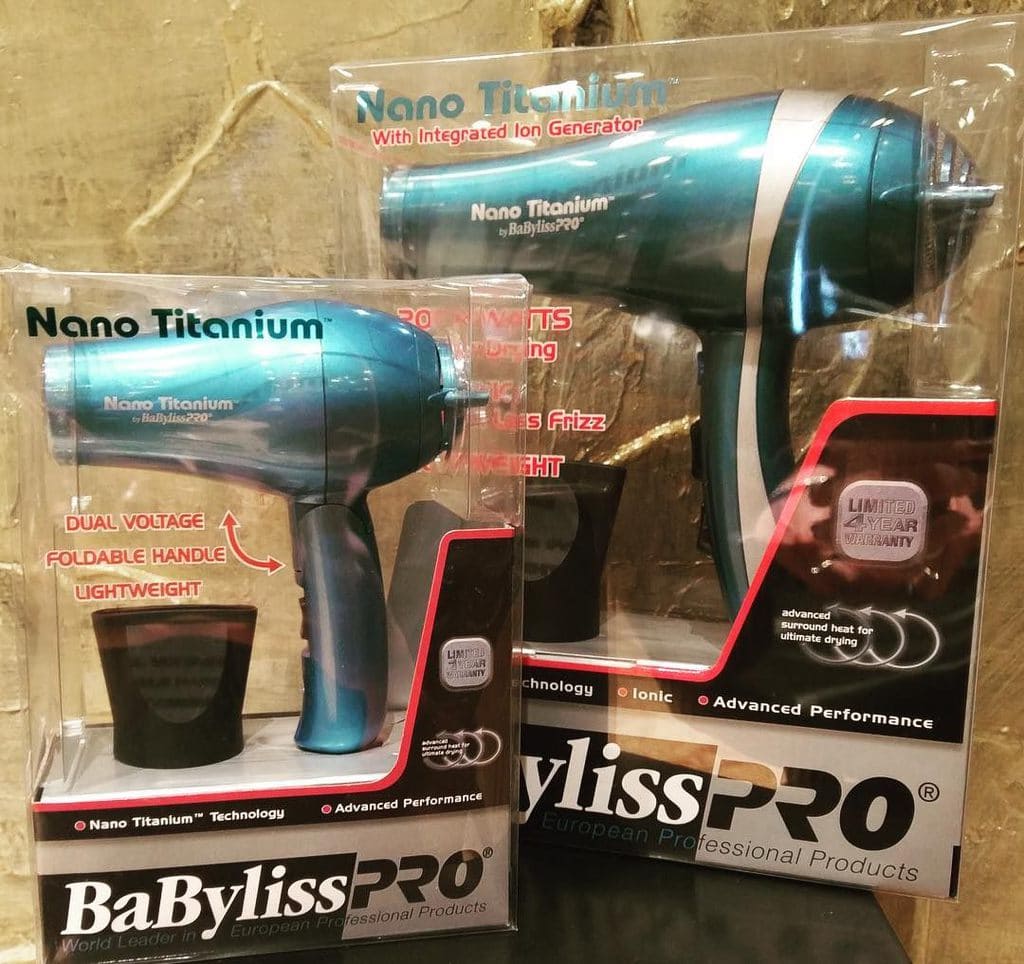 It reduces frizz and allows you to dry your hair in a little time. The nano titanium construction assures long-term usage without breakage.
PROS:
Provides fast drying;
Has a powerful 2000-watt design;
Ionic technology doesn't damage the hair;
Effective for different hair types.
2. RUSK Engineering W8less – Professional Hair Dryer to Straighten Hair
Mostly all the RUSK Engineering products are created for professional hair styling, no matter if you work in a salon or at home. This model is ideal for straightening, and there are some reasons for this I would like to point out below.
Power
The device is supplied with a 2000-watt power system, which allows you to style your hair even if there is half an hour left before you should go. Also, it can straighten both long and short, thick and fine hair with the same incredible effect.
Settings
There are seven heat and speed settings. So, you can not only make your hair straight but also create a wavy hairdo and just dry your hair quickly. You can change the settings during usage and not be afraid to break the device.
Technologies
RUSK hair dryer is infused with tourmaline and ceramic; this technology reduces frizz and protects your hair from breakage. The device emits the far-infrared heat waves to dry the hairs from the roots to the tips.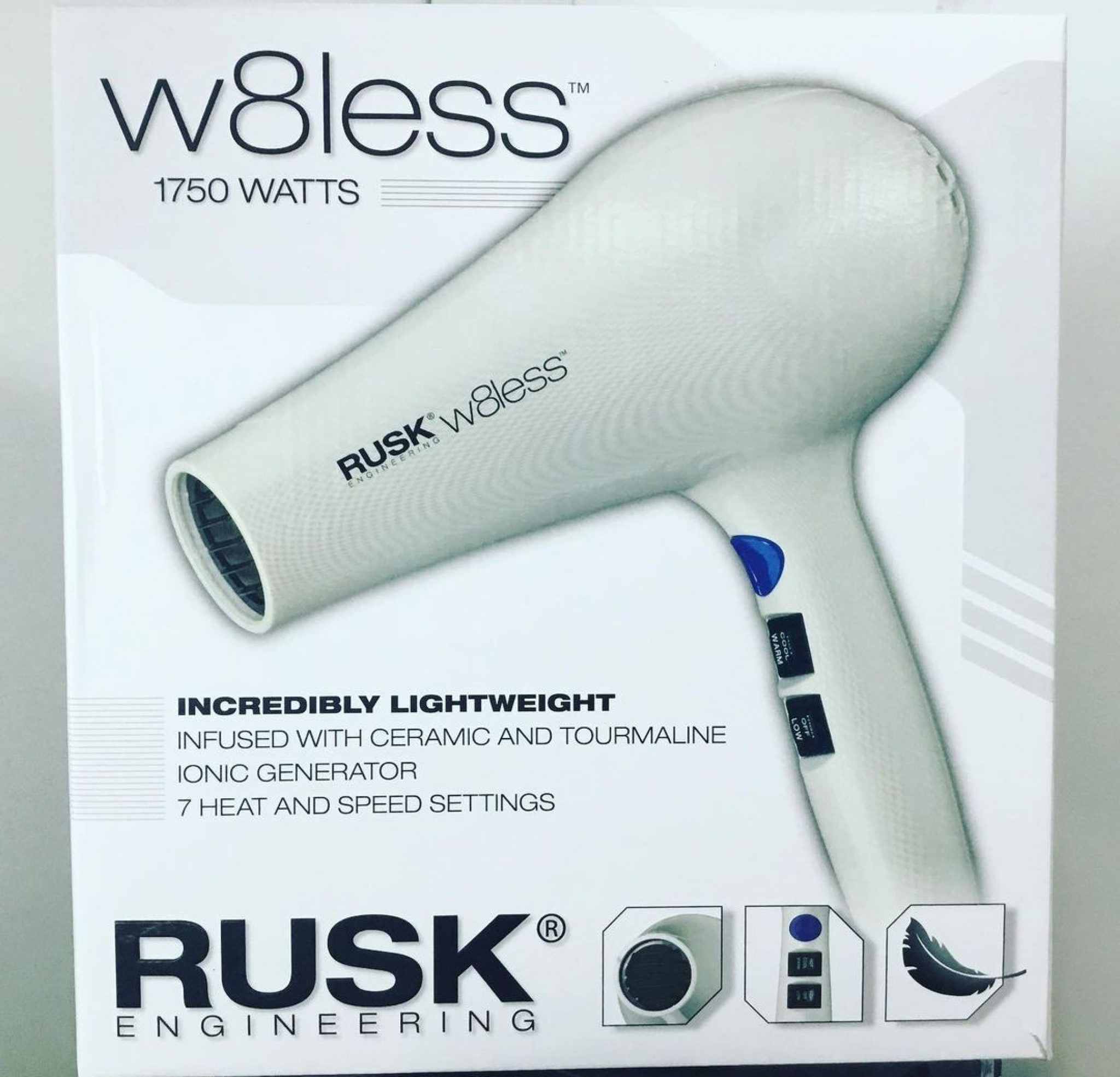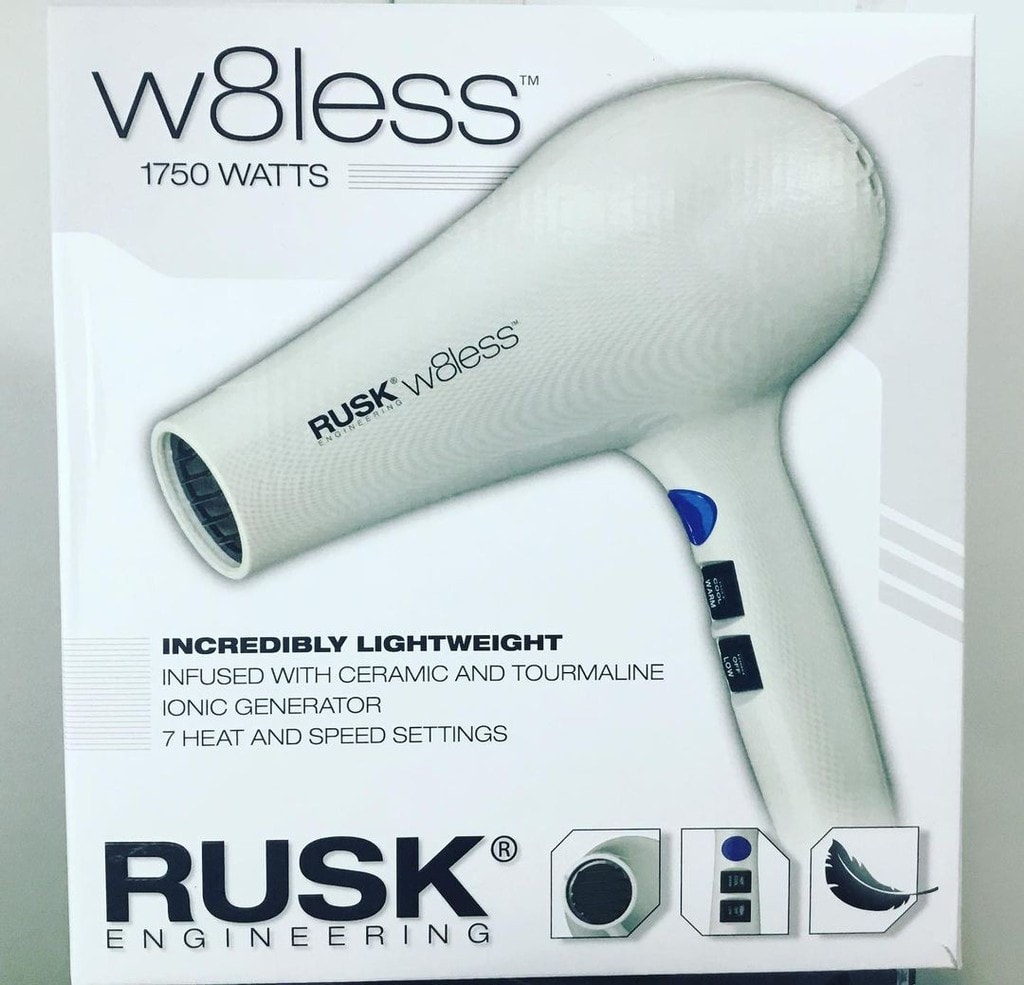 Besides, the tool has a lightweight construction. It weighs less than a pound, so it's comfortable to use.
PROS:
Has 7 heat and speed settings;
Powerful;
Can create various styling effects;
Lightweight and convenient;
Ceramic and tourmaline technology.
CONS:
Better for the salon usage.
3. BaBylissPRO Portofino –Easy-to-Use Blow Dryer to Straighten Hair
This titanium blow dryer, which is perfect for straightening hair, is one of the most powerful and easy-to-use products. It has a simple but highly convenient design.
Power
The 2000-watt power construction provides a high-level performance. It works quickly, and you may need up to twenty minutes to dry even the longest hair. Although the device is fast, it keeps the hair healthy.
Settings
You can use this hair dryer for long and short hair, even if you have a thick and coarse hair type. There are six speed and heat settings and two concentrator nozzles for the smoothest hair.
So, you may turn on the fastest and hottest mode to make styling in a few minutes. Or, you can choose the medium settings for quick straightening.
Technologies
Babyliss uses nano titanium ionic technology. Such a design fights static electricity and frizz for easier styling. What is more, this technique creates shiny and long-lasting hairdos for straight hair.
Also, the device comes with a removable filter. It simplifies the process of styling and protects the hair from damage.
PROS:
Powerful construction;
Six heat and speed settings;
Easy-to-use;
Creates shiny hairdos;
Ionic Nano Titanium technology.
4. BRAZILIAN BLOWOUT– Lightweight Hair Dryer That Straightens Hair
Brazilian Blowout is popular in many countries and offers a huge variety of straightening tools for different hair types. This ionic hair dryer is an effective universal device from a respectable brand.
Power
Sometimes you need up to an hour to style your hair, and during this time, a low-quality hair dryer can easily damage the hair. However, if the device is powerful, there is no need to spend so much time straightening the hair.
This Brazilian Blowout tool decreases the drying time by 60%. As a result, your hair looks healthier and shinier with less effort.
Settings
There are only two speed settings. However, you can regulate the temperature – the low mode is better for fine hair, and the hottest one is suitable for the thick one.
Overall, there are three heat modes. Also, the hair dryer has a removable filter for easier usage. It also reduces the noise, so you can use the device day and night.
Technologies
A big plus of this hair dryer is that it is lightweight. Thanks to this, the design decreases the wrist strain, so you can use the tool as long as you need. Besides, the item includes a snap concentrator nozzle and diffuser.
They allow you to try diverse styling at home. The Brazilian Blowout hair dryer is supplied with ultra-low EMF technology, so you should not worry about possible hair damage with such a design.
PROS:
Provides quick styling;
Lightweight and compact;
Includes concentrator nozzle and diffuser;
Has a removable filter.
CONS:
Expensive;
Only several heat and speed settings.
5. CONAIR 3-in-1 – Ceramic Styler for Straightening
This manufacturer offers not only haircare styling tools but also diverse products for skincare, health, traveling, and others. Conair ceramic styler has an innovative design for creating many hairdos, including straight hair.
Power
This device has a little different design from the standard dryers. It is small and compact which makes it a perfect dryer for traveling. With the 1875-watt power system, it heats up quickly and dries the hair in a short time. It also works fast because all the heat is concentrated in a little area.
Settings
You will get two speed and three temperature settings. The tool is excellent for coarse, curly, thick, frizzy, and wavy hair. There are three attachments for making various hairdos.
If you want to straighten your hair, you should use a dual-row comb. The bristle styling brush is intended for making curls and waves, and another comb is for detangling.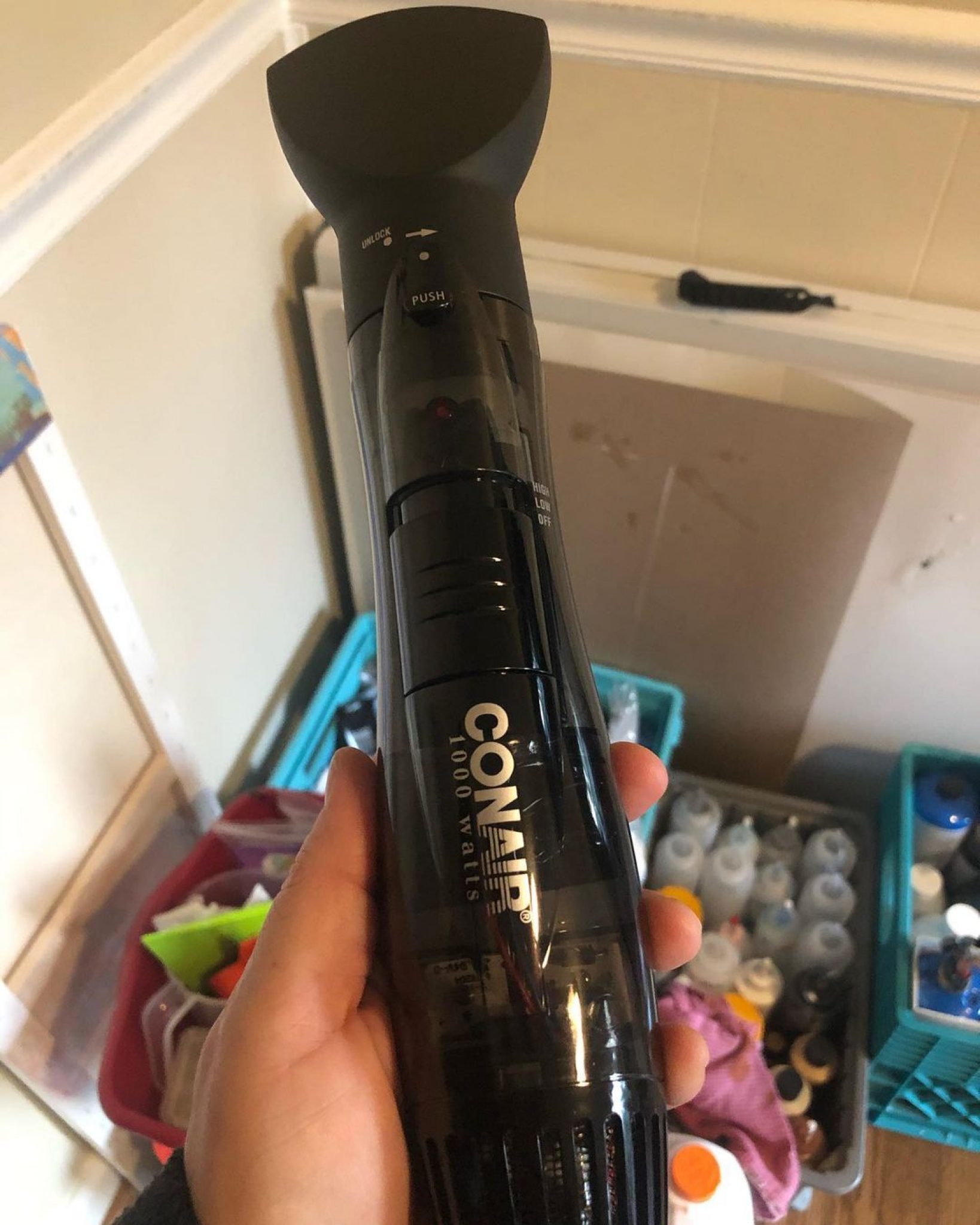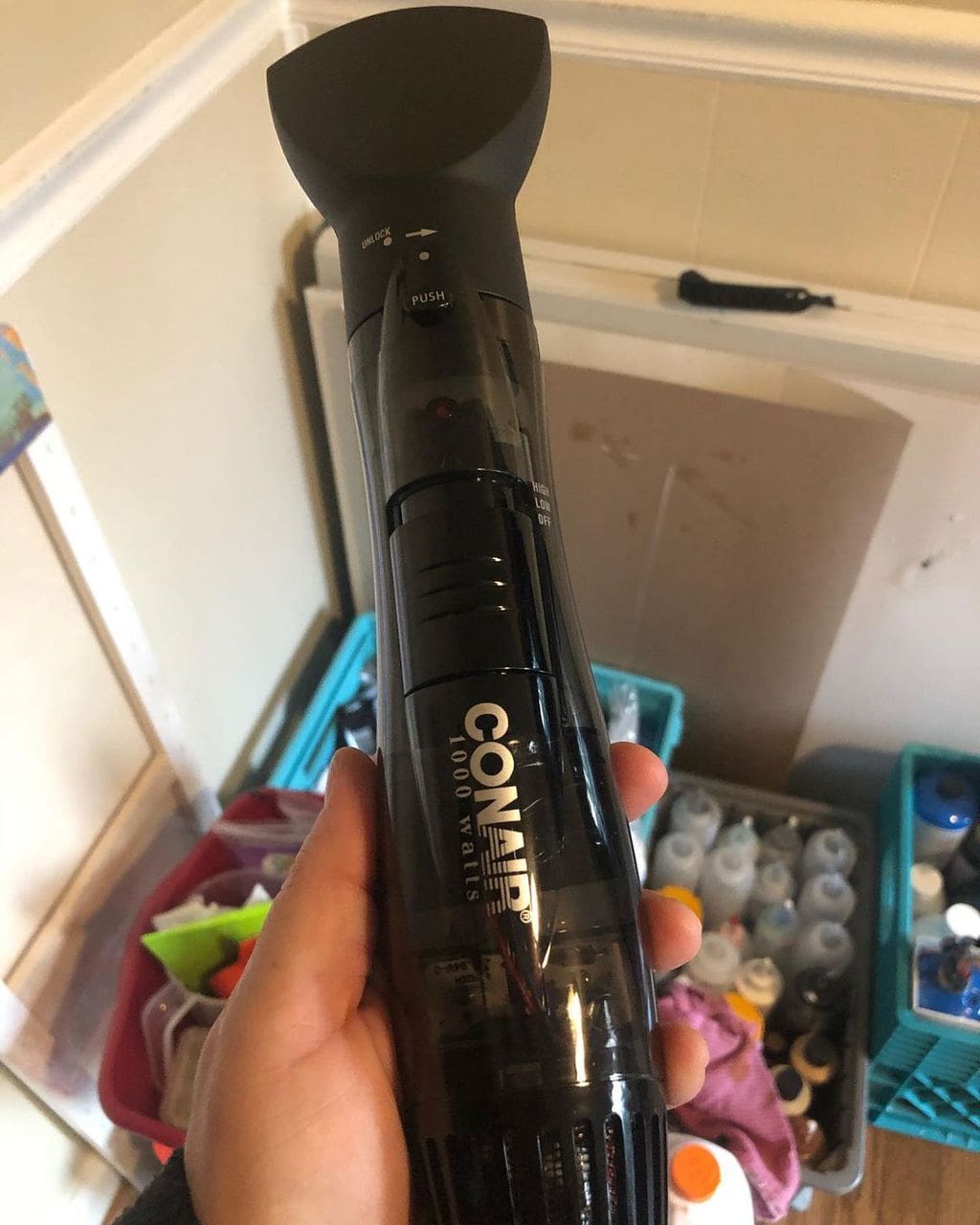 Technologies
Conair's tool offers an ionic technology that reduces frizz during styling.
Also, a tourmaline ceramic technology protects your hair from damage and makes it shinier and smoother. The lock button secures the attachments in place. So, the styling procedure becomes easy and safe.
PROS:
Three different attachments;
Excellent for many hair types;
Ionic technology;
Tourmaline ceramic construction.
CONS:
Less powerful than other models.
6. FHI Brands Nano Ionic – Blow Dryer for Straightening Natural Hair
The mission of FHI Brands is to make the tools that inspire creating beauty with passion and confidence. Their nano ionic pro hair dryer combines all the features for straightening hair easily.
Power
The device has a powerful DC motor, which means you can style your hair in a little time, but the tool won't damage it. For easier straightening, the kit includes a straightening comb. Also, it has a speed-dry nozzle for quick drying.
Settings
You can choose from three heat settings and two air modes with different airflows. Besides, there is a lock button to fix the styling. Such settings are good for most hair types.
Technologies
Like most other models, this hair dryer is also supplied with the tourmaline ceramic technology that reduces static and frizz.
It also seals in moisture. So, your hair won't get dry after long usage. It's easy to store the device because it has a self-gripping closure and a hang-up hook.
PROS:
Powerful DC motor;
Has two attachments for various styling;
Reduces static and frizz;
Easy to store.
7. T3 Featherweight – Top-Quality Blow Hair Dryer
The T3 manufacturer produces the tools for professional hairstylists as well as for home usage. This top-quality hair dryer has a small weight for the most convenient application.
Power
This device is supplied with a long-life motor. It is powerful, so it takes a little time to dry the hair. Also, the tool has two concentrators. A wide one is for rough drying and the second one is narrow for more precise styling of separate strands.
Settings
There are two heat and three speed settings. So, you can regulate the temperature according to your hair type.
Technologies
This hair dryer has a quiet design for a more pleasant styling process.
Also, the ion generator reduces the frizz and makes more soft and smooth hairdos. There is a lock-in cool shot to finish the styling and give the hair more shine.
PROS:
Long-life motor;
Suitable for many hair types;
Lightweight;
Buyer's Guide on Best Hair Dryer for Straightening Hair
Styling your hair with the blow dryer doesn't take a lot of effort. However, it's better to know some tips for the greatest result each time. Here you will find recommendations on styling and choosing the best tool for your hair type.
How to straighten your hair with a blow dryer?
There are three steps you need to follow to straighten your hair in the right way to avoid damage and get a perfect hairdo.
Step 1: Preparation
You can't straighten your hair with a hair dryer if the hair is dry because there won't be any effect. The volume appears when you style wet hair, though it should not be too wet.
After you have washed your hair, you should dry it a little with a towel. Besides this, you should also apply some heat protectant to your hair.
The innovative blow dryers protect your hair from damage but don't provide a 100-percent guarantee, so a heat protectant gives an additional layer of protection.
Related Article: Read more about straightening products in this article
Step 2: Straighten the hair
Now, your hair is ready for straightening. You should divide it into small sections of 1-1.5 inches to get the best result. Besides the hair dryer, you also need a round brush.
You need to take a small part of the hair, put the brush under it and near the roots, and then comb towards the tips. During this movement, you should heat the section with the hair dryer.
There are several settings in modern devices, so try different combinations to see which one works better for your type. I can say that if you have fine hair there is no need for the high temperature.
But for the thick hair, the low heat setting may give a weak effect. The speed setting influences the styling process a little, so choose the one that is suitable for you.
Step 3: Add some spray
The hairdo will last for a longer time if you apply some blow dry hair spray to it. But don't overdo it because it can be tough to comb the hair lately.
Other tips
By the way, if you don't have a heat protectant or don't want to use it, you can apply a small amount of the oil, like argan or coconut oil. It also creates a protective layer while styling.
It's better to put it from the tips to the middle of the hair length. The hair already has its oil near the roots, so there is no need to add more.
Also, while you're styling, the hair may get dry. That's why you should keep it in the right condition with a wet towel. So, the unfinished sections will be perfectly straightened too.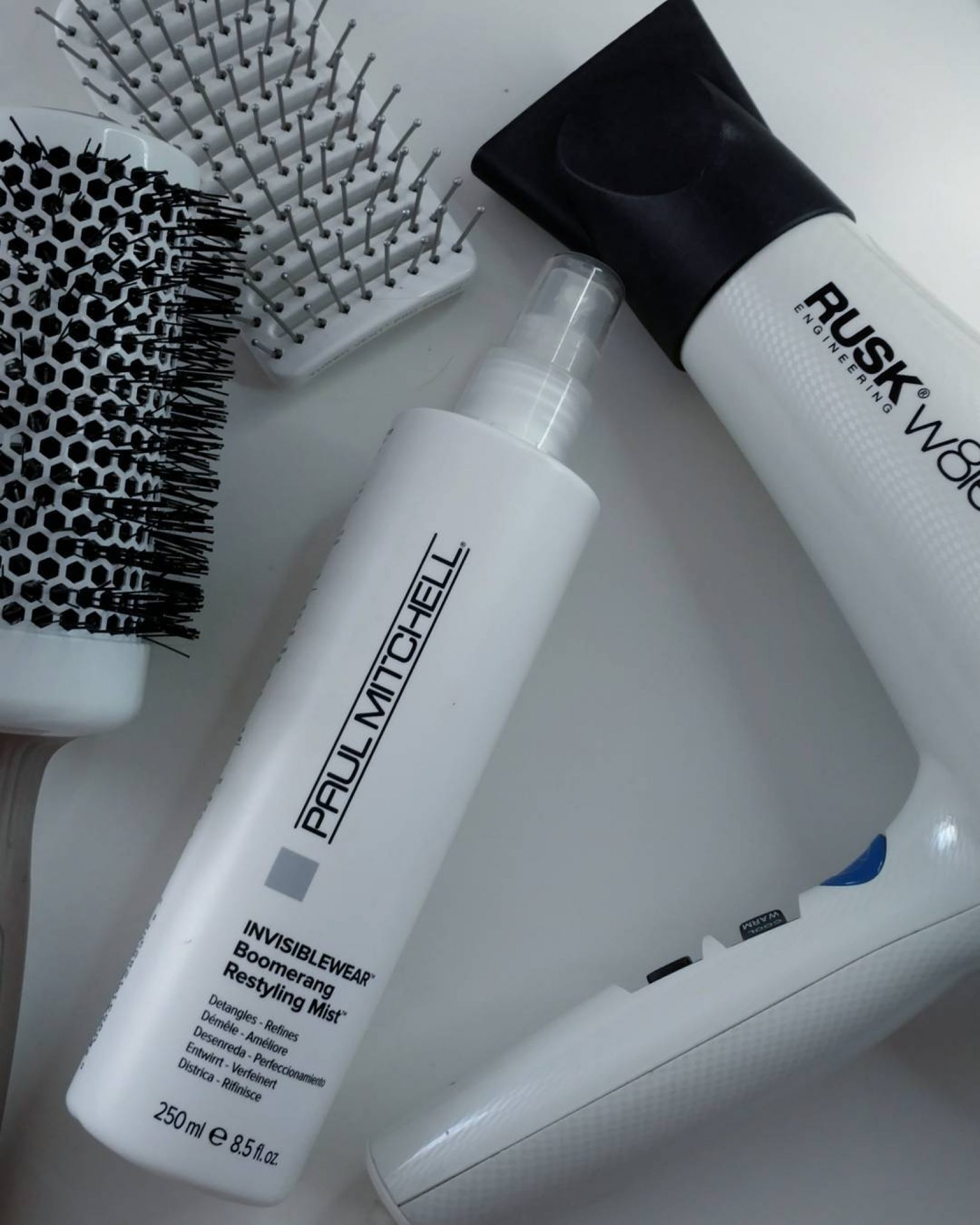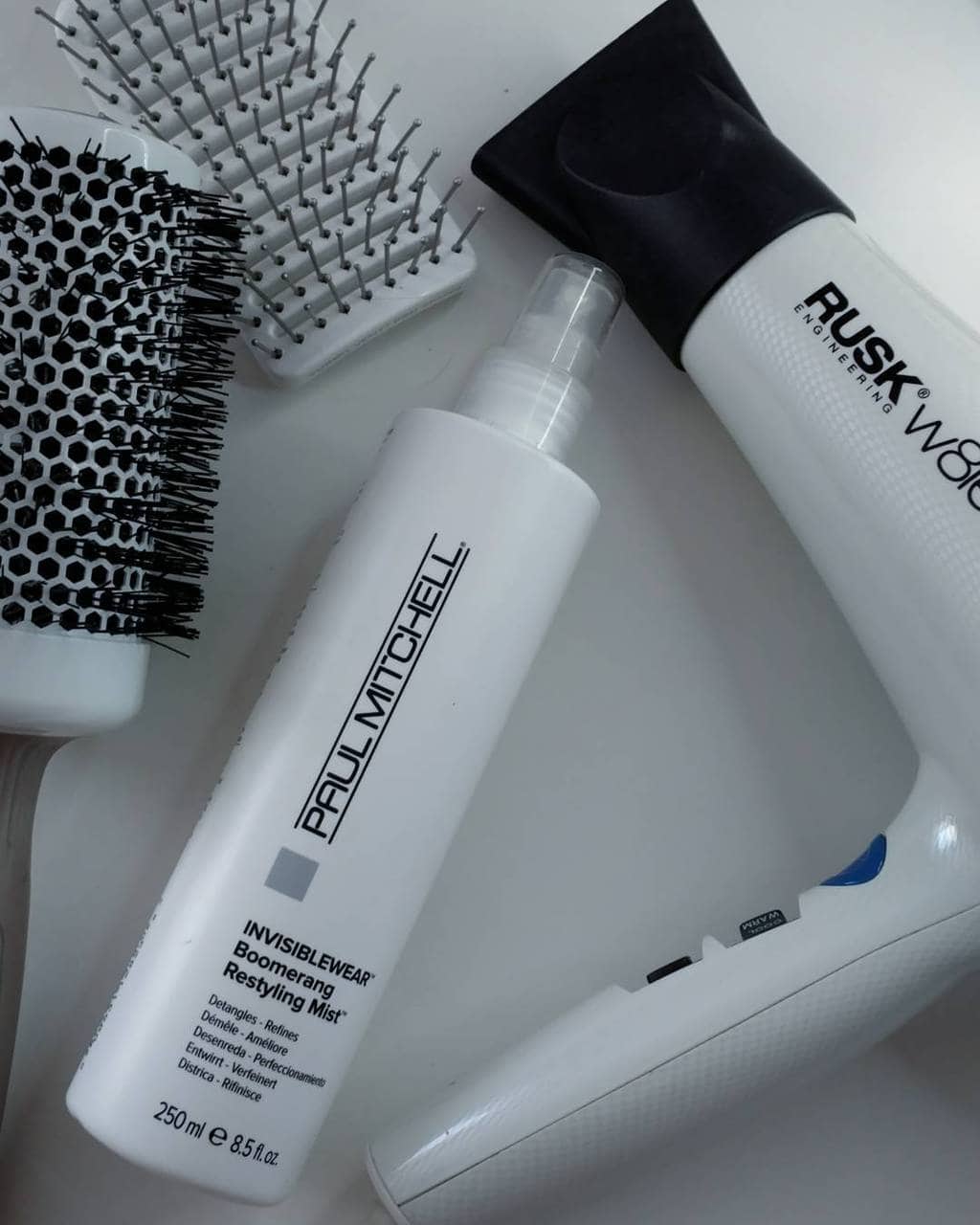 How to Choose the Best Hair Dryer for Straightening Hair?
There are several features you should consider while choosing the right hair dryer.
Power
The more powerful the device, the faster it works and styles the hair. The hair dryers with 2000-watt power systems are perfect devices for straightening, and they are suitable for other types of styling too.
Heat and speed settings
It would be better if the tool had at least six heat and speed settings. It would allow you to create diverse hairdos. Also, various regulations are effective for different hair types.
Ionic or non-ionic
The non-ionic devices can damage your hair a lot; that's why there are not so many models on the market. So, you should search for the ionic item. It protects the hair and also reduces the frizz and static for easier straightening.
Hair type
Most hair dryers are excellent for all hair types. You can choose different settings to find the perfect ones for your hair condition.
Weight
It would be more convenient if you chose the device with a little weight. It should be about one pound.
Other features
The lock-in shot button allows you to finish the hairdo ideally and add more shine to the hair. Also, hair dryers with a tourmaline ceramic technology are more durable.
FAQ About Top Hair Dryers for Straightening Hair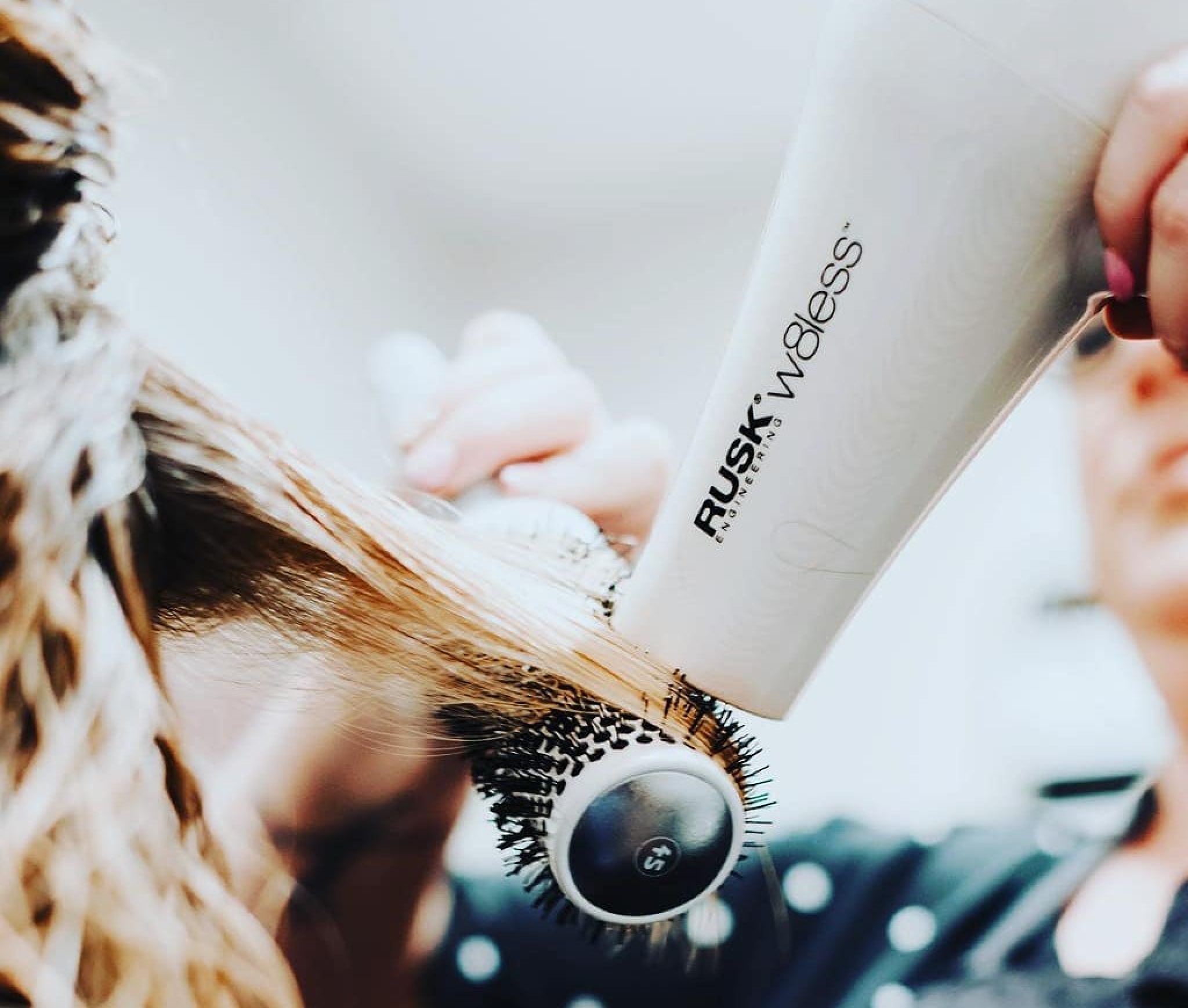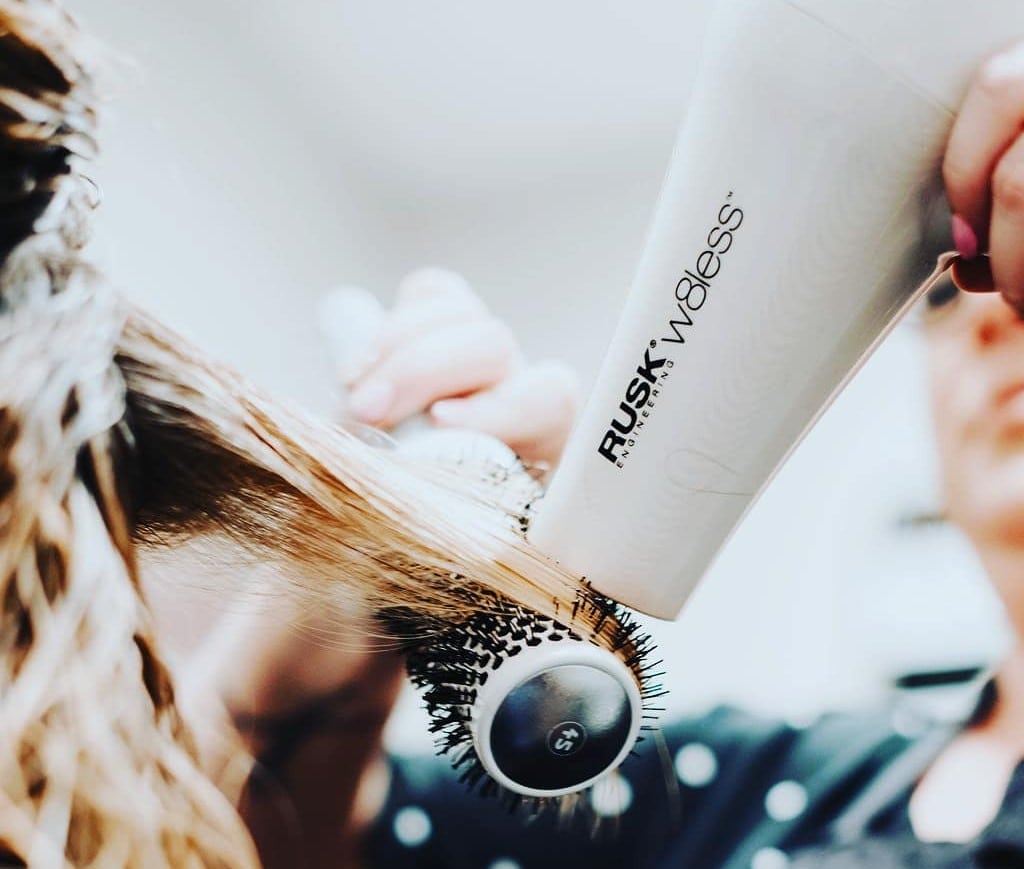 If you still have some questions regarding the straightening procedure with a hair dryer, you can find the answers here.
Can you straighten your hair with a hair dryer?
Yes, you can do it easily. You will find a step-by-step guide in the section above. Actually, you just need a hair dryer and a round brush and a little time to do this.
Is it better to straighten hair wet or dry?
It's better to straighten the hair when it's wet. If it is dry, it won't keep a volume for a long time.
Which is better: hair dryer or hair straightener?
A hair straightener works faster but it also damages the hair quicker, especially if you use it every day. A hair dryer gives the same effect but also keeps your hair healthy.
How to straighten African American hair with a blow dryer?
The devices I have described above are all suitable for African American hair. The way of straightening is the same – you should use a hair dryer and a round brush. It is better to keep the hair wet during the styling for the best effect.
Straighten Your Hair Easily with the Right Device
If you work with a quality device, straightening the hair brings only pleasure and a perfect result. I hope these straightening hair dryer reviews will help you choose the perfect product for your case. Just follow our recommendations, and it will be much easier for you to purchase a reliable blow hair dryer.
Do you use any hair dryer to style your hair or straighten it? Is it convenient for you? What other styling recommendations would you give to other readers? Please, leave your comments in the section below.
Last update on 2022-12-11 / Affiliate links / Images from Amazon Product Advertising API