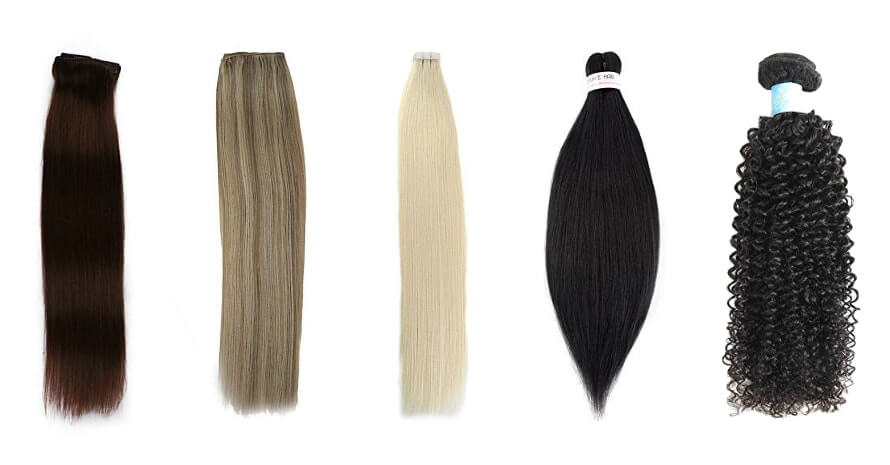 There are a lot of rumors and myths about these beauty tools. As for me, I love adding extra pieces to make hairdos look more voluminous and stylish. So, I've decided to clarify the situation a bit and review the best hair extensions for fine thin hair.
Every woman or girl wants her hair to look amazing. But what to do if you don't like the appearance of your hairstyle?
Change it, of course! You can change the color and length, dye them in a crazy color or just cut them. Looks like the problem can be solved immediately. Well, but what if you have a short haircut and want long, shiny curls? That's when hair strands enter the game.
Nowadays, this is the most popular way to improve your hairstyle. Many celebrities use wigs and hair extensions. No doubt that a good set of hair extensions is a Hollywood must-have. Have you ever noticed how often Kardashian-Jenner sisters change their hairstyles?
Especially Kylie Jenner and Kim Kardashian are so much into it. And there's nothing to feel ashamed about. Good looking hair extensions can become your magic wand when you have a bad hair day but need to look flawless.
My clients ask me if hair extensions cause damage to their thin hair quite often. I usually answer that everything depends on the type and quality of the extra strings you choose.
Yet, this question, as well as others, similar to it, comes up so frequently both in real life and on the Internet. I hope this article will get you through all the issues you might have about hair extensions and what are the best hair strands to buy.
How To Choose The Best Hair Extensions For Fine Hair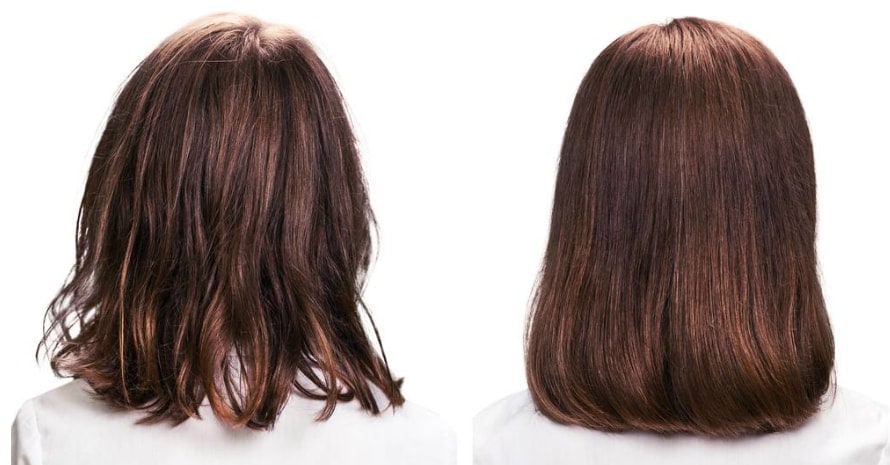 If you finally decided to use some extra hair, this simple guide will help you to choose the best clip in hair extensions for fine hair. Follow these tips to make sure you pick the right product.
Tip 1: Decide which length of hair extensions you need
Remember that hair clip in extension looks good if your natural hair length is at least 10 cm. It will be easier to hide the junction from your hair to the extra hair strands. If you want the length of the extra hair to be below your shoulders, a 30-40cm hair clip or tape set will satisfy your needs.
Thereafter, the longer hair you want, the longer the hair strands you choose. If you're buying hair online, consider your height. I advise you to find a salon where you can try a desirable hair extension length and then complete the order.
Tip 2: Determine the appropriate hair volume
To choose the right volume, consider what type of hair you have. If you have thin or medium thick hair, it is better to take standard sets of 100-120g (depending on the extension length). If you have thick hair, then you need a lot of hair extensions. Get yourself several strands that weight up to 160g per 50 cm, or 200g per 65 cm.
Do not focus your attention on the number of strands, the main thing is how much extensions weight. This is important to ensure that the length of the pinned hair extensions does not look thin compared to your natural hair. There are sets of 7 strands weighing 100g, and there are sets of 4 strands weighing 100g. How to choose? It depends on the result you want to get.
It is also necessary to take into account that 120g for 40cm is enough, and 120g for 75cm is not enough since a significant part of the weight goes not into volume, but into length. My recommendation is to consult your hairdresser on picking the right amount of hair clip-in extensions and don't overpay for extra strands.
Tip 3: Determine the needed color.
How to choose a proper hair color is always a complex issue. The color of good clips in hair extensions must be chosen based on the color of your natural hair. Your hair tips should match with the color of the hair extensions you choose, then the junction from your true color to pinned strands will be completely invisible. Make a photo of your hair and compare it to those on the Internet catalog. If you dye your hair, just use the name of the color on the pack or ask your hairdresser.
Tip 4: Should I choose synthetic or natural hair extensions?
Hair extensions can be both synthetic and natural. Of course, a natural strand of hair extensions will cost more than a synthetic one.
Natural or fake hair strands can be easily straightened with an iron, curled, and even dyed. Synthetic hair extensions can easily withstand a heat styling, but you can not dye them. Also, synthetic strands are a little more crispy to the touch than natural hair extensions.

---
Top 14 Best Hair Extension for Thin Hair: A Buyer's Guide
After you have chosen the type, amount, and length of tresses, there are two tasks left to solve:
which kind of extra strands you need
where to buy the best hair extensions for you.
Clip In Hair Extensions
These are synthetic or natural hair on the hairpins (clips). Usually, there are several strands in a set:
one parietal (wide)
a pair of medium-length strands
four narrow temple strands.
Hair clip-in extensions have a number of advantages, one of which is that you can buy a whole large set to create the extra length and volume, or get several strands of a different color to create an effect of highlighting or coloring.
Such hair strands attached to your natural hair without damaging their structure. This method is also quite easy to use: you can put them on and take them off any day you need. Just don't forget to take them off before you go to sleep.
Tape-In Hair Extensions
These are also synthetic or natural hair extensions on the tape. This kind of extra hair is more difficult to set, but you can use it without removing it for a long time. Strands can be sewed to your natural roots with a special hairdressing needle, without using gum or glue.
Tape in hair extensions requires professional treatment. It means you can't put them on and take them off at home. Anyway, this kind of hair extensions can be worn for a couple of months.
Another very popular type of hair extensions is fake fringes. This is a much more time-saving option than cutting off the natural one. The fake bang can be set with a hoop, pins, and a special tape or fabric.
Congratulations! You solved the first part of the issue. Now, let's get to the second one and decide what are the best hair extensions for thinning hair to buy.
Best Clip In Hair Extensions for Fine Hair
This list includes short reviews of the best clip in hair extensions based on my experience. I use many of them for doing different hairstyles for my clients. Hope you'll find something to your taste!
1. Googoo Hair Extensions Clip in Ombre Chocolate Brown to Honey Blonde
Googoo is a quite popular hair extensions brand in the USA. The company produces many hair extension types including synthetic and natural. I often use them for work. A shiny, natural hair strand is what can make your hairdo look fabulous.
Googoo Ombre Chocolate Brown is a perfect match for those who want to get an amazing ombre hairstyle without dyeing their own hair. This clip in hair extension is a perfect match for brunettes as it has a beautiful color transition from a dark shade to light. Can be used by both short and long hair owners. Just make sure your hair tips match the color of the extension.
The hair extension set comes in 5 sizes from 16 to 24 inches and 6 different colors.

2. Sunny Halo Human Hair Extensions for Fine Thin Hair
Sunny Beauty is a trustworthy American brand that delivers high-class hair extensions of 100% natural human hair. I use their products both for work and myself. These hair extensions are soft to touch and quite comfortable to wear.
Improve your hairstyle or get a new look with highlighted strands in a short time! Sunny Halo Human Clip In Extensions are a must-have if you like to experiment but don't want to dye or restyle your own hair.
A hair set comes in 5 sizes from 12 to 20 inches and 27(!) different colors. The hair strand is based on a long light fabric strip and two clips. Simply place the extra hair strands layer between the layers of your natural hair and get a fresh look in several seconds! Also, the price of these extensions will please you a lot.

3. REECHO Hair Extensions Clip in Straight Curly Wavy 4 PCS Set Thick Hairpiece
These hair extensions are highly rated by many customers. The REECHO company represents a high-quality product that will serve you for a quite long period of time. The set is a basic synthetic hair clip in extension. REECHO synthetic hair are difficult to distinguish from natural.
They are quite similar to touch and thick like real human hair. If you need to dress for an event or a themed party, then buying synthetic hair will save you money.
You can choose from 7 colors and 4 different types. Every color comes in short and long length, wavy and straight style. REECHO Hair Extension is a perfect way to upgrade your hairstyle whether you go on a date or to a costume party.
One set consists of 2 pieces of 4.7 inches wide 2 clips in wefts;1 piece of 6.5 inches wide 3 clips in weft;1 piece of 7.7 inches wide 4 clips in the weft.

4. Water Wave Curly Clip in Human Hair Extensions for Thin Fine Hair
These extensions are the best match for African-American women with voluminous, lush curly hair. They come only in true black color and 2 styles: natural easy weave or water weave. The seller claims that the hair extensions are made of strands cut from one single donor.
The product is created without harming the hair structure. The extensions are naturally curled and contain 100% human hair. A set of curly clip in hair extensions will add some volume for your hairstyle within several minutes.
A basic set comes in 7 sizes from 10 to 22 inches and includes 7 pieces of hair extensions. These strands can be straightened, dyed, or cut if you need them. In my opinion, these are the best real hair extensions for dark-skinned beauties.

5. Double Weft 100% Remy Human Hair Clip in Extensions
Remy extensions are one of the best brands of hair extensions. If your hair lacks volume and softness, there is a solution: Remy hair extensions will help you look perfect on any occasion. With proper care, natural hair extensions will last for a long time.
Natural Remy hair can be washed, dyed, curled, and straightened easily. While the prices of their products are quite acceptable, the quality of hair extensions is always high. Remy Hair Clip In Extensions will make you look chic and stylish.
A thick bundle of natural, 100% human hair is easy to put on. A lightweight hair extension is a great choice for everyday use or occasion hairdos.
A basic set consists of 8 beautiful natural hair strands and comes in 8 sizes from 10 to 24 inches.

6. REECHO Full Head Curly Wave Clips in on Synthetic Hair Extensions
Another REECHO hair extension option but in synthetic. What is the advantage of synthetic hair? Well, usually synthetic hair extensions palette comes in more bright and multi-colored variants. Also, REECHO synthetic hair seems to be the best cheap hair extension on the market. I absolutely love these products.
This REECHO product is a full head hair clip in extension made of linen, a heat-resistant material. This type of hair looks natural, just like real hair extensions. Strands can be curled or straightened easily. Attach the strands by fixing them at the roots of your hair with special clips sewn at the base of the extensions.
A basic set includes 1 piece of hair and comes in 4 sizes from 14 to 20 inches. The color palette is also huge. You can choose from 32 different colors and styles (both simple and ombre) to improve your look with beautiful natural-looking tresses.

7. Kinky Curly Hair Extensions for African American Hair
One more hair extensions are alternatives for curly hair owners. Kinky hair is natural human curly hair extensions. These shiny virgin strands will definitely come into notice. Just fasten some strand to your natural hair easily and enjoy tons of compliments the whole day and night! They feel just like your natural hair strands. No extra-sweating or any other unpleasant feelings.
A basic set of Kinky hair extensions includes 7 hair strands and comes in 9 sizes from 8 to 22 inches.

8. Clip-in Hair Extensions Brown with Blonde Highlights
This one is the best hair extension alternative for ladies who don't want to dye their hair. Usually, hair coloring procedure takes a lot of time and money. With a set of Remy real hair extensions, you will get a fresh hairstyle in several minutes. Choose a perfect option from 19 different colors and improve your look easily due to stainless hair clips. A silky, shiny hairstyle is what you will get once you put on these hair extensions. Get one pack or several at once and enjoy a new hairstyle every day!
A standard set of hair extensions contains 7 hairpieces and comes in 4 sizes from 15 to 22 inches.

9. Pre-stretched Professional Braiding Perm Yaki Hair
Fiber hair strands for perfect braids! Have you ever dreamed about long and beautiful braids while wearing a short hairstyle? Here comes a solution! Try Yaki hair extensions to upgrade your look within several seconds. Yaki is also known as a professional product and used by many beauty salons.
Yaki synthetic hair extensions are soft to touch and look gorgeous. These are no doubt some of the best synthetic hair extensions for fine hair on the market. Just add some strands under your natural hair layer and make one thick stylish braid or get a flirty look with two side braids.
A standard set of Yaki hair includes 8 hair strands and comes in 4 sizes from 16 to 24 inches long. I bet you will also like the variety of colors the seller offers.

10. Clip-in Hair Extensions Remy Human Hair For Women
What is the easiest way for a woman to become happy? I'd say a new hairstyle! And this is when Remy hair extensions come at your service. These hair extensions are lightweight and simply cool.
Natural Remy hair extensions are high-quality hairpieces that are cut with cuticle growth direction preserved. Remy's hair is usually collected from a single donor. Remy's hair saves its natural direction, so it doesn't get tangled and has a natural look.
Silky Straight Human Hair Clip in Extensions by Remy is a perfect choice whether you want to get a long hairstyle or a short cut. They come in 15 different colors both natural shades and dyed in ombre or highlighting style.
Choose one pack or several and collect compliments on any family gathering or friends meeting. The totally natural human hair extensions are also available at quite an attractive price.
A basic set of Remy hair extensions includes 4 pieces of hair and comes in 5 different sizes from 12 to 20 inches.

11. REECHO Fashion One Piece Clip in Hair Bangs/Fringe/Hair Extensions
And finally, we've got to my favorite stuff! False fringes are probably my most used hair extensions for fine hair. I don't like to wear a bang all the time, so this is why I bought this magic wand. Or should I say a magic bang? Anyway, REECHO does amazing stuff and these fringes are also awesome.
A synthetic hairpiece is a perfect match for your natural hair. It looks just like real human hair and easily blends with your natural strands. You can customize the fringe if you don't like the length and cut it or iron/curl if needed.
Made with high-quality fiber material, REECHO One Piece Clip In Hair Extensions are one of the best and affordable hair extensions on the market.
A standard pack of REECHO One Clip Extension consists of 1 fringe piece and comes in 22 different colors.

Best Tape In Hair Extensions
Well, this list is quite shorter than the previous one, but here I collected only the best tape-in hair extensions for you. Have you tried other tape in strands? Share your experience in the comment section below!
12. Mongolian Virgin Kinky Curly Human Hair Bundles Extensions
BLY curly hair extensions are probably the most high-rated kinky tape in bundles. Just look at these beautiful, shiny strands! They are perfect for adding extra volume and length. Tape in hair extensions by BLY is heat-proof, can be styled and colored in any way you want them to be.
What is great about tape-in extensions is that they attach to your skull pretty invisibly. This type of hair extensions will suit you if you have thin hair and want to add some lush to your hairstyle.
With BLY hair extensions you will get long, thick, natural hair look. This hairstyle can be worn for two to three months. Don't forget to get a regular correction procedure.
A basic set of Mongolian Virgin Kinky Hair Extensions includes 3 hairpieces and comes in 28 different sizes.

13. Moresoo 18 Inch Tape in Hair Extensions For Thin Hair
Moresoo is a well-known American beauty brand that sells high-quality hair extensions at a fairly low cost. These tape-in bundles are probably suitable for any hair color. Due to the amazing color palette, you will definitely find a perfect shade to match your hair. Soft and smooth natural human hair extensions can be flattened or curled easily. Treat them like your own natural hair, and they would serve you for quite a long time.
Moresoo strands look good on all hair types. Just attach hair extensions close to the forehead and temples and get voluminous hairstyle in the shortest period of time.
A standard set of Moresoo 18 Inch Tape in Hair Extensions includes 20 hair strands and comes in 8 different sizes.

14. SARLA Synthetic Wavy Halo Hair Extension
The last but not least: SARLA synthetic hair extension. It's a great choice to adjust your look for a party or meeting by an extremely pleasing price. This extension is probably more like a wig. To wear it on your head, you must create something like a hairband with a silicon thread. This is a quite simple process if you follow the instructions from the site. A wide range of available colors makes it easy to find a needed shade.
A basic set of SARLA Synthetic Wavy Hair Extension includes 1 large hairpiece and comes in 32 different colors.
Natural and synthetic hair extensions are very popular today. Every day, women all around the world choose this method to improve their appearance quickly and with minimum spends. However, it is important to choose quality strands so that they will please you for a long time.
Hair extensions look great if you know how to use them right, but they can also ruin your image. Of course, it is easier to consult a local hairdressing salon where you can try and buy some fine hair extensions. Yet, I believe you can handle it by yourself if you follow my tips and advice.
So, have you already chosen the best hair extension for you? I bet you did! Then, it's time to dispel some myths and answer some common questions about the most popular hairdo improving method.

How Should I Take Care Of My Hair Bundles?
Hair extensions also need proper care to serve you for a long time and to have an attractive look. This procedure is not complicated at all and will not take you much time. If you repeat it regularly, your natural or synthetic hair extensions will stay shiny and healthy for a much longer time. So, let's see which steps you should take to provide proper hair extensions care:
Use hair extensions following recommended instructions
If you bought tape in fine hair extensions, you can wear them for a long time. Unlike tape in strands, clip-in extensions should be removed before you go to sleep.
Comb the extra tresses before attaching them to your head
It is better to comb them with a soft brush in order to save the textures and softness of hair extensions.
Don't wash hair extensions together with your natural hair
If you use clip in hair extensions, it is better to put them off and wash separately. Usually, hair tresses need no less washing procedures than your real hair. For tape in hair extensions, it is better to ask a professional to get them off your head so you can wash them properly. Use only quality hair masks and best shampoo options for hair extensions.
Use the required treatments for hair extensions
Moisten each strand separately.
Rinse each strand with shampoo.
Wash off the shampoo well and squeeze out the excess moisture.
Put nourishing balm, mask or conditioner for 2-3 minutes.
Wash off the balm, mask or conditioner carefully.
Gently squeeze out the hair strands with a towel.
Blow-dry each strand separately. Remember that you can't comb the wet hair.
Comb through the dry tresses separately. It is better to use a comb with rare teeth, starting from the ends to the hairpins or tapes.
Use a hair iron or curling device if needed, or just get yourself a straightening brush to get the best result.
Please, follow these tips if you want your hair extensions to keep a healthy, smooth look for a long time.
FAQs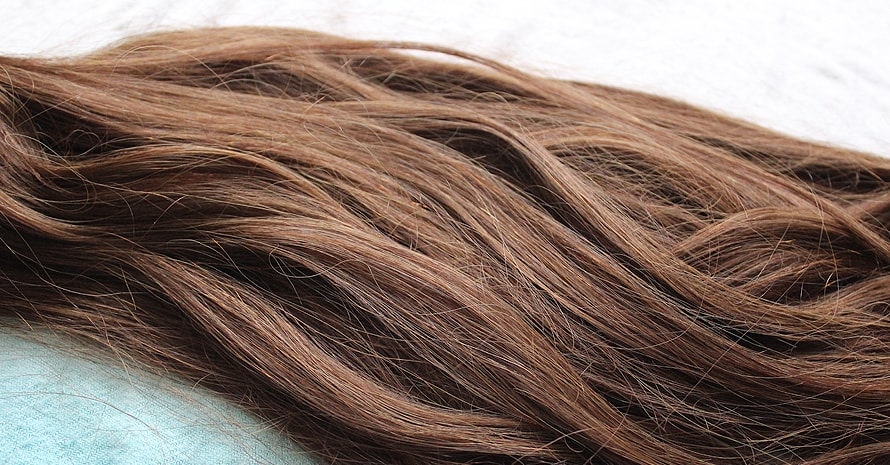 Which hair extensions are better for fine hair: synthetic or natural?
We've already discussed the pros and cons of both natural and synthetic hair extensions. So, once again: both hair extension types are great in usage and have a quite long lifespan if you treat them right. The only difference is the price. A set of natural hair extensions will cost you more than a synthetic one.
How to choose a color that will match my natural hair?
Consider the color of your hair tips. Remember that hair extension is usually attached under the layer of your hair, so they should blend perfectly to create an invisible junction. Anyway, if you have miscalculated the color of the product, you can still dye the extensions in the needed shade. My recommendation is to do it in a salon, not on your own.
How long should my hair be, so I could wear hair extensions?
Make sure you have at least a shoulder length hair cut.
Can hair extensions damage my own fine hair?
If you ask different people, the opinions will also be different. So, consider what beauty specialists think about hair extensions.
Of course, no hair strands can damage your thin hair. The stainless hair clips or fabric tapes are safe attachment methods due to their size and weight. Still, you can always put off the extra hair strands to give some rest for your natural fine hair.
Can hair extensions fall out?
The attachment of hair extensions is strong enough to stay where you need them to be. Moreover, extensions are also being used for stage performances and fashion runways. It's no concealed that even Beyonce or Victoria's Secret angels use hair extensions to have a thicker lushy hair look.
How long can I wear clip-in or tape-in hair extensions?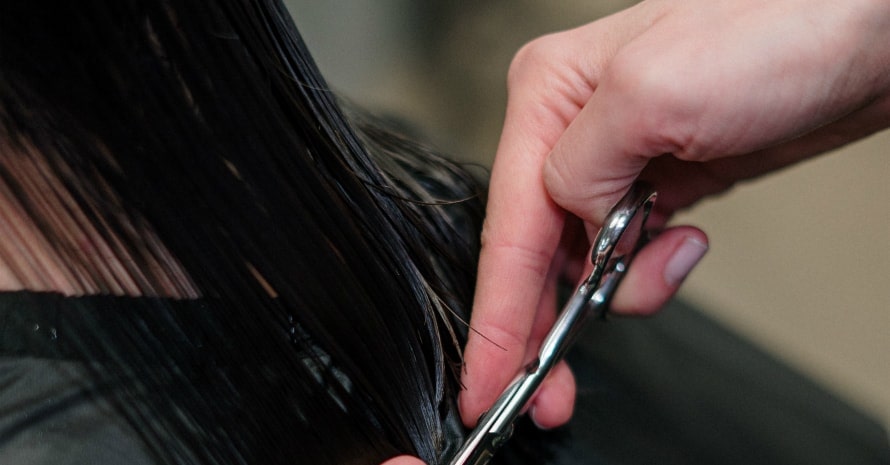 Clip-in hair extensions can be worn as long as you need them. Just don't forget to put them off before you go to sleep. Tape-in extensions can be worn for weeks or months-long due to the attachment method.
Total Summary
Tresses of hair extensions are a real salvation for those who can't grow their own hair or just love experiments. Hair clip-in extensions or tape in strands will look great if you use and treat them right.
Today, there are so many hair making companies that it's hard to choose the best hair tape in or clip in extension brand. That's why this article was written! Follow my guidelines and tips, so you can get the best synthetic hair extensions or natural tresses that will please all your needs.
It does not matter what hair extension type you will choose, the main thing is that the result should make you happy! Thanks to the hair bundles, you can add the volume, cover the bald areas, or just get a longer hair cut. With proper care and right treatment, these beauty tools will serve you for a long time.
Have you already tried any of the mentioned hair extensions for fine hair? Share your impressions in the comment section below!
Last update on 2022-12-11 / Affiliate links / Images from Amazon Product Advertising API