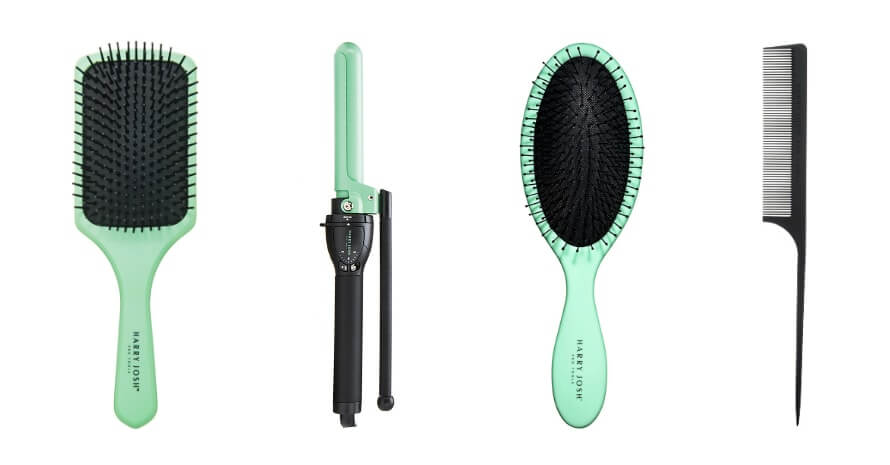 Hi there. My name is Monica. I'm a professional hairstylist whose passion for hair began more than a decade ago. Today I'd like to dwell upon the best Harry Josh Pro Tools, their pros and cons as well as the reasons why each of these tools is worth every penny it costs. I must admit, Harry Josh Pro Tools are among my all-time favorites. This made reviewing them exceptionally easy and pleasurable.
Whether you've got your own hairstylist or not, there is a multitude of pro hair styling tools out there to make your mane look like celebrity hair in a flash. If Gisele Bündchen's enviable bombshell beach waves meet your (or your clients') #hairgoals, consider getting yourself a nice set of Harry Josh Pro Hair Tools. These tools are far from cheap, but you definitely deserve the quality and longevity they boast.
Harry's most iconic hair tool? His signature award-winning mint-green Harry Josh Pro 2000 Dryer. In this post, I will review this marvel of a blow dryer letting you in on the names of celebrities who adore it. They say that making the most of the Harry Josh Pro Tools line is the next best thing to being his celebrity client. In my humble opinion, with these amazing tools, you can become your own Harry Josh without the need to settle for anything less than what you deserve.
Harry Josh: Hair Stylist to the Stars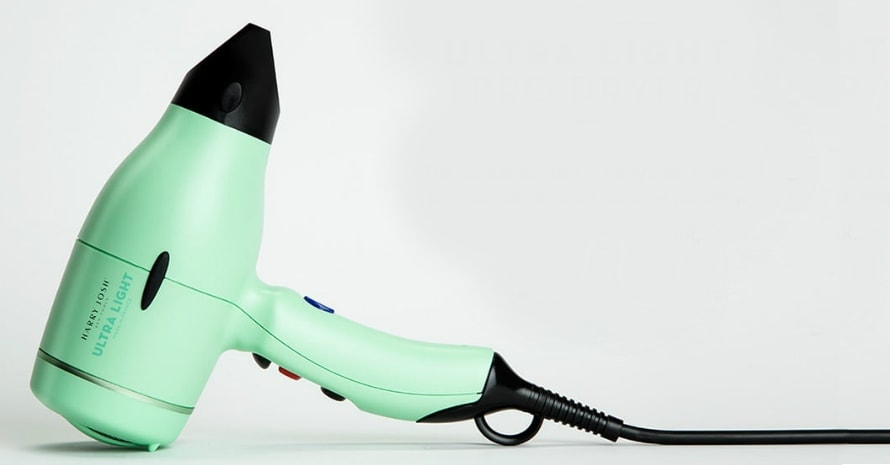 Before Instagram ever existed, girls were obsessed with Gisele Bundchen's sultry beach waves. And the master behind Gisele's then-revolutionary signature hair (as well as some other famous runway and red carpet manes) is the one and only Harry Josh. Today Harry Josh is one of the most sought after celebrity hairstylists. He creates hairstyles and does editorial work for some of the leading fashion magazines like Harper's Bazaar, Vogue, GQ, Allure, etc.
Harry Josh has touched the heads of Cindy Crawford, Kaia Gerber, Miranda Kerr, Gwyneth Paltrow, Natalie Portman, Fergie, Karlie Kloss, Gigi Hadid, Jennifer Garner, Rose Byrne, Mary-Kate, and Ashley Olsen. Today, Harry Josh is living a dream regularly working on Vogue shoots, helping develop products for John Frieda and doing what he loves – providing celebrities with those perfect hair cuts and styles that later become part of their signature look.
Before this talented man's career skyrocketed, he had worked as a celebrity hairdresser and casting director for Louis Vuitton and Marc Jacobs. This genius hairdresser's road to A-list stylist stardom was never smooth or easy. Born to Indian immigrant parents in Canada, he chased his dream all the way to New York despite multiple trials and tribulations that came his way. In 2002 he styled people's hair in his apartment, while in 2012 his celebrity styling work was in full swing.
In 2013, Harry Josh (in partnership with Dermstore) developed and launched his hair tool line: Harry Josh Pro Tools. Remember that mint green blow dryer from everyone's Instagram shots? That's Harry Josh Pro Tools 2000 Pro Dryer – the ultra-lightweight cult status hair tool everyone from experts to celebrities to your colleagues and besties is super excited about. So, are you ready for the Top 15 Best Harry Josh Pro Tools list with reviews? Read on and get blown away!
Top 15 Most Wanted Harry Josh Pro Tools & Sets
Nobody knows flawless hair better than Harry Josh – the talented celebrity hairstylist whose client base is made up of just about every Victoria's Secret Angel you can think of. Harry's luxurious line of professional quality tools has taken the hair care industry by storm leaving each and every pro stylist to crave the iconic Harry Josh dryer, his flat iron, hair curler, various brushes, combs, and hair clips. Below, I have shared my expert reviews of Harry Josh Pro Tools – just to help you decide what's best for you prior to splurging. Enjoy empowering yourself with knowledge!
1. Harry Josh Pro Dryer 2000: Yes, It's Worth the Splurge
For some nice things in life, you absolutely get what you pay for. Facelift, breast implants, nice shoes, BMWs… But what about blow dryers? A top quality blow dryer works faster, quieter, more effectively. It's super lightweight, convenient and leaves your hair a lot healthier and smoother – with little to no effort. But is the expensive Harry Josh Pro dryer worth the splurge? My answer is yes, it most certainly is. And here's why.
First, the Harry Josh Pro Tools Pro Dryer 2000 is compact but powerful. Second, it's extremely reliable and ideal for professional use. If you buy the Harry Josh Hair Dryer, say, for your salon in NYC and use it all day every day, you will never have a single problem with its performance. Thanks to its unparalleled longevity, this blow dryer will still be going strong even after several years of use. That's not something other blow dryers would boast. And you will love its amazing mint green color…
Third, the Harry Josh Pro Dryer is quiet – such a nice perk! Furthermore, it will cut your drying time in half and make your strands look healthier and smoother. With this awesome hair dryer, you will forget about the cheapies you've used before.
The Harry Josh Pro Tools 2000 Pro Dryer makes your hair look like you've just got back from your favorite salon. In other words, if you buy Harry Josh's hairdryer on Amazon or anywhere else, you'll absolutely get your money's worth!

---
---
2. Harry Josh Pro Tools Lock, Stock and Barrel: The Ultimate Hair Styling Kit
This set is a complete collection of Harry Josh's smart and beautiful hair styling tools. The set consists of the Pro Dryer 2000 (3 pieces), Ceramic Styling Iron 1.25 Inch (2 pieces), 2-in-1 Ceramic Marcel Curling Iron 1.25 Inch (4 pieces), Premium Oval Brush, three various size round brushes, Wooden Paddle Brush, Mini Oval Brush, Carbon Tail Comb and Detangling Brush Pro Styling Clips (3 pieces).
The 1875-watt $300 professional high-end hair dryer from the kit, along with the top-notch flat iron is among the most wanted celebrity hair styling tools on the planet. And they're totally worth every penny! You will definitely enjoy using the brushes and combs from the set, for they're truly wonderful additional tools to make your (or your clients') hair shinier, sleeker, and 100% runway-worthy.
Armed with the Harry Josh Pro Tools Lock, Stock, and Barrel marvel of a kit, you get all the necessary tools to blow dry, straighten and curl your strands faster (and much better) than the rest. In fact, if you show this kit to your friends or colleagues, chances are high it will instantly make them (mint) green with envy. Looking to take the stress out of styling? Then the Harry Josh Pro Tools Lock, Stock, and Barrel kit is a must-buy!

---
---
This Harry Josh Pro Tools kit consists of a top-notch oval brush, a comb, and three styling clips. The kit is not complete without the amazing Harry Josh blow dryer or at least the fabulous ceramic styling flat iron.
So it can be a great gift for someone who already has the best Harry Josh hair tools in their collection and could use a few additional professional-quality instruments and accessories.
Let's say your best friend is a professional hairstylist who has recently bought the amazing mint green Harry Josh blow dryer. She's in love with it. She adores everything about it.
To make your bestie even happier on her birthday (without exhausting your own wallet), you can buy her the Harry Josh Pro Tools Premium Starter Kit on Amazon. It could be the perfect completion for your friend's Harry Josh hair tools collection.
The Oval Brush from the kit combines nylon and natural boar hair bristles which allows it to comb through wet hair really gently taming the tangles and leaving your tresses all soft and gorgeous. The comb is surprisingly smooth and strong, you will love it. As for the clips, they are lifesavers. The kit is superb! These salon-quality professional-grade hair styling appliances are definitely among the best gift ideas for hairstylists.

---
---
4. Harry Josh Pro Tools Combo: Hair Dryer, Detangling Brush & Pro Styling Clips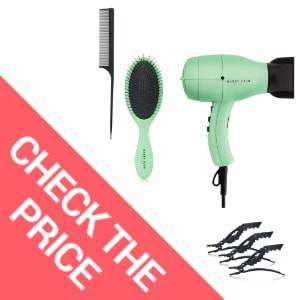 If you're a hairstylist looking to give yourself the best present of the month, the Harry Josh Pro Tools Combo Kit is a perfect choice. The kit consists of the iconic Harry Josh Pro Ultra Light Pro Dryer, a gorgeous mint-green detangling brush, and pro styling clips. It's definitely slightly incomplete without the amazing Harry Josh straightener, but you can treat yourself to it a bit later, once your wallet gets recharged.
As for the Harry Josh Ultra Light Pro Dryer from the kit, it's a much lighter, faster, and quieter version of the original Harry Josh blow dryer. Harry Josh decided to refine the already-perfect original version of his hairdryer because of his fans' feedback.
People loved the tool but thought it would be even more ideal if further enhancements were made. So the genius who has blessed the locks of Gisele Bündchen, Gwyneth Paltrow, Gigi Hadid, Natalie Portman, and other celebs has presented his even more perfect hair styling tool with all the fans' comments in mind. Needless to say that it's unparalleled. As a matter of fact, it's one of my personal all-time favorites…
The Harry Josh Pro Tools Detangling Brush from the kit is so much better than what you may have used before. It's light, gentle, convenient. And it does feel like a head massage when you use it which is totally amazing! The hairstyling clips are perfect for both professional and at-home use. They work perfectly well on all hair types. And I love the design – here's to no more post-clip dents in your hair!

---
---
5. Harry Josh Perfect Professional Curl Set: Make Major Waves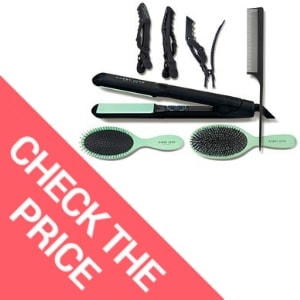 The Curl Set consists of the Harry Josh Pro Tools 2-in-1 Ceramic Marcel Curling Iron, Premium Oval Brush, 3 Pro Styling Clips, Detangling Brush, and Carbon Tail Comb. The curling iron from this amazing set is astonishingly convenient. Even if you're not a professional stylist, you can easily learn how to create various types of curls with this superb tool. In other words, once you get the hang of this curling iron, you simply cannot go wrong with it!
At first, you may doubt whether to pay the advertised price or not. But once you do, you will never regret it. Marcel Curling Iron is definitely worth the money.
When it comes to the pro styling clips from the set, they are created with professional stylist needs in mind. These little tools hold your hair perfectly well – without any slipping! Is your thick curly hair prone to tangling? The detangling brush from the set is perfect for you!
As for the oval brush, you will absolutely adore the way it will make you feel. Even after hair products and on vacation when your hair is exposed to the sun a lot, you can still get the silky effect after using this brush and your Harry Josh blow dryer.
Don't forget to purchase its mini version for your purse! As for the Harry Josh Carbon Tail Comb from the set, it makes straightening your hair as easy as ABC. With this set of wonderful Harry Josh hair tools, you will definitely succeed at making waves like never before.

---
---
6. Harry Josh Perfect Sleek Hair Set: Excellent For Any Hair Type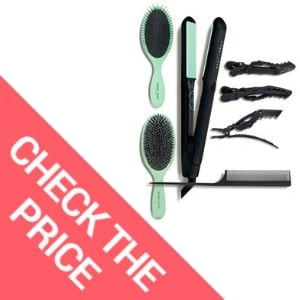 This set consists of Ceramic Styling Iron 1.25″, Carbon Tail Comb, three Pro Styling Clips, Detangling Brush, and Premium Oval Brush. The ceramic styling iron from the set is top quality. In fact, it's a godsend!
Your (and your clients') hair will love it. It heats up really fast and makes your hair look healthy and shiny without over-drying it. And it helps you make perfect curls whenever you need them.
The comb from the set is convenient and very easy to help straighten your hair and divide it into sections. If your old hairstyling clips keep breaking whenever you take them out of your thick coarse hair, the Harry Josh styling clips are very strong. Moreover, they are convenient and they don't slip at all. In fact, after trying these little tools, you won't ever want to live without them!
The detangling brush from the set is pure perfection. Tired of endlessly getting knots out of your curly hair in the morning? No worries. This brush will help you like no other similar tool! As for the Harry Josh Premium Oval Brush, this baby is the Superstar of airbrushed.
It boosts your hair without tugging at it at all! The Pro Tools Perfect Sleek Hair Set definitely lives up to the 'pro tools' name.

---
---
7. Harry Josh Pro Dryer 2000: Gives Amazing Curl!
This professional curling iron is very convenient and effective. It allows you to create tons of various looks from the perfect tousled loose waves to some really gorgeous kinky tight curly hairstyles. This tool features a Marcel clamp, which you can detach entirely if you want to turn your iron into a clipless curling wand that gives beautiful loose curls.
The Harry Josh Ceramic Marcel Curling Iron heats up speedily giving your amazing curls. It comes with a fine heat protective glove which is very handy if you want to avoid burning your fingers.
Chances are high that this curling iron will become your favorite hair styling tool once you get used to it. I highly recommend this hair curling iron for professional use. Planning to use this wonder curling iron at home? Learning more about the most common curling iron mistakes would be very handy.
If you're looking for the perfect hair curling tool for solid long-term problem-free use, the Harry Josh Ceramic Marcel Curling Iron is just what the doctor ordered. If you're not 100% convinced by my review and need more professional opinions, feel free to read other reviews online.

---
---
8. Harry Josh Detangling Brush: Perfect for Unruly Hair
If you try this full-sized hairbrush once, you will buy its smaller version for your purse and another one for your office. It really is that good. The Harry Josh Pro Tools Detangling Brush detangles even the craziest hair very well – without ripping, pulling, or breaking it. It's great for detangling both wet and dry hair. The brush has a very convenient rubber-covered handle as well as unique flexible bristles.
The tool is conveniently light in your hand. It works like head massage, stimulating blood flow, and boosting your overall hair health. With the Harry Josh Detangling Brush, you no longer have to spend your mornings getting them nasty knots out of your hair.
This wonderful hair styling tool will do it all for you! It's such a reliable appliance, especially if your hair gets tangled often. And it's absolutely painless!
Just like the rest of Harry Josh's hair tools, the brush is a splurge. However, considering all the perks it blows you away with, it's worth the investment. I definitely recommend this brush to anyone with difficult unruly hair. This little hairstyling tool looks cute but insignificant.
However, it's going to make your daily routine a lot easier, enhancing your quality of life immensely! And the mint color is so beautiful… It has long become my personal go-to, hands down.

---
---
9. Harry Josh Pro Dryer 2000 Diffuser (1 Piece): Ready for the Perfect Coiffe?
This Harry Josh hair dryer diffuser was created to effectively blow dry curly hair. It may seem larger than it really is, but in reality, it's average size. It pairs very well with the Harry Josh blow dryer and stays on rather tight as well.
So if you have lots of curly locks that take forever to air dry, the Harry Josh hair dryer plus diffuser is the perfect combo for you. For the most impressive results, I recommend using the diffuser on the lower heat setting.
The diffuser will help you create an ideally coiled hairstyle. Thanks to its unique design, the heat is distributed evenly throughout your locks blow drying your strands to the flawless frizzles finish. It works wonders with all types of curly hair creating quick fabulous soft curls you'll fall in love with.
The Harry Josh hair dryer diffuser is not the most expensive accessory in the world. But it's going to make your wallet lighter. In any case, this purchase is 100% worth the investment. Highly recommended!

---
---
10. Harry Josh Ceramic Styling Flat Iron 1.25 Inch: So Smooth

If you prefer straighteners that feel right on your strands, the Harry Josh Pro Tools Ceramic Styling Iron is just the ticket. This baby is exceptionally gentle, smooth, soft, AND effective on your hair. It straightens your locks beautifully, leaving them all shiny, silky, and perfectly sleek.

If you know how to curl your hair with a straightener, this baby will do the job brilliantly! It doesn't burn your hair. On the contrary, it's among the best flat irons that won't damage your hair.


This flat iron neither pulls nor tugs on your locks. It heats fast and lasts all day even in a very humid environment. The Harry Josh Ceramic Styling Flat Iron comes with the heat protectant mat which is really handy. If you're lucky, you may even purchase this hair straightener with a hefty discount! I hope this Harry Josh flat iron review helps you form an opinion about the tool.

I highly recommend buying this baby to surround yourself with comfort, finally, achieve that flawless supermodel hair look and flaunt it on a daily basis. Combined with your Harry Josh dryer, the Harry Josh straightener will work magic with your strands.

After using these amazing hair styling tools, you will truly realize that a good blow dryer and a great quality straightener do matter. Your hair will love the result, mine certainly did! If you're wondering whether you can straighten damp hair ask me questions in the comments and I'll gladly answer.

---
---
11. Harry Josh Ultra Light Pro Dryer with Diffuser: Time Saver
You've most likely seen this Harry Josh pro dryer on Instagram, for it's one of the top favorite picks of celebrities like Gisele Bündchen and Miranda Kerr. This tool smoothes out your tresses beautifully leaving them all shiny and frizz-free.
It's quiet, lightweight, and dries exceptionally fast saving you lots of time before work. Your hair will definitely feel softer and healthier after using it. And this Harry Josh hair dryer is such eye candy!
Yes, this hairdryer is most likely more expensive than your average cheapie from a drug store. But it's absolutely worth every penny it costs. If you like being confident that you have a reliable, top-notch blow dryer to make your strands look fantastic, this Harry Josh Pro Tools Hair Dryer is exactly what you need.
If you're used to buying cheap blow dryers from drug stores, you may not even realize how much you need this baby. I really hope my review did a good job convincing me that you deserve the best.

---
---
12. Harry Josh Wooden Paddle Brush: Upgrade Your Blowout
The Harry Josh Wooden Paddle Brush is recommended to use on wet or dry hair to reduce stress on your scalp during styling. This lovely brush was designed to smoothly glide through the coarsest and thickest strands providing the ultimate convenience when blow-drying. I loved its long bristles.
When making the most of the brush I felt how much they contributed to the fantastic sleek finish I got after I'd blown dry my hair. And the nylon ball tips gently stimulate your scalp while using the brush, giving you the blissful massage-like feeling.
No doubt, it only makes sense to use the Harry Josh Wooden Paddle Brush in combination with the Harry Josh Pro Tools dryer. So consider investing in this gem of a blow dryer first. After that, feel free to purchase this wonder brush and enjoy your supermodel hair look on a daily basis.
I highly recommend this tiny but very effective pro hair styling tool for professional use. You can buy it separately or purchase it as part of the Hair Josh Pro Tools set. Scroll up if you've missed my Pro Tools set reviews.

---
---
13. Harry Josh Carbon Tail Comb: Tames Bangs Perfectly!
Your Harry Josh Carbon Tail Comb is like your second set of hands during blow-drying. This tiny but awesome tool gives your hair a perfectly straight, smooth, and sleek look. Its thin, pointed tail beautifully weaves through your tresses to form even sections while the thin teeth nip all the potential frizz and knots in the bud. The comb is made from a strong high-temperature-resistant carbon material which no doubt contributes to its unparalleled longevity.
The Harry Josh comb may be slightly more expensive than your average cheap combs, but when it comes to Harry Josh, everybody knows that this mastermind's hair styling tools are top of the line.
So if you need a top-notch salon-quality comb for your hair dividing and/or straightening needs, feel free to purchase the Harry Josh Carbo Tail Comb as soon as possible. I personally have two of these babies, just in case one disappears.

---
---
14. Harry Josh Ultra Light Pro Dryer Long Nozzle Concentrator
Are you looking for an authentic replacement wide nozzle concentrator for your all-time favorite Harry Josh Ultra Light Pro Dryer? I've got you covered. Harry Josh Pro Tools Ultra Light Pro Dryer Long Nozzle Concentrator does a great job directing the airflow of your Ultra Light Pro Dryer to assist you in drying large parts of hair speedier. If your original concentrator is broken or missing, this separate baby is going to become a fine authentic replacement. This small but powerful accessory contributes to making your hair smoother, sleeker, and frizz-free.
---
---
15. Harry Josh Pro Makeup & Wave Setting Clips (6 piece): Handy to Have
If you're wondering if you really need these fancy hair clips or doubt if they're as amazing as they are promoted, my review will help you balance out your thoughts. So, what are wave setting clips? You've most likely seen them a hundred times already.
They are used for various purposes from dividing your locks into sections to setting your waves and/or holding your hair firmly in place. These clips do an excellent job of smoothing down your flyaways without leaving any dents.
Unlike your average clips, the Harry Josh Pro Makeup & Wave Setting Clips neither pull/tug your hair nor leave creases in your flawlessly styled strands. Another important benefit that makes these hair clips stand out from the rest of similar tools is that they're the biggest and the strongest. Yet they're super lightweight!
They're a tiny luxury you will wonder how you lived without for such a long time. Just don't forget to learn how to use Harry Josh Pro Wave Setting Clips from the pros.
If you're a professional makeup or hair artist, these clips are a must-buy. They hold really strong and work even with super thick curly hair. They come with their own cute bag which makes storing these puppies as easy as pie. The hair clips look so cute that you can easily wear them out while your hairstyle is still setting. Once you try these clips, you will realize just what a difference a teeny-tiny hair tool makes.

---
---
Harry Josh Pro Tools FAQ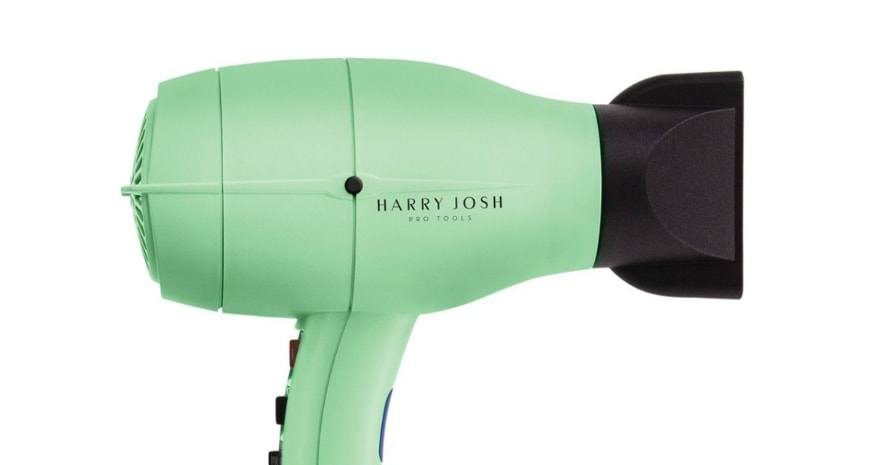 We've all got some important hair-related questions. Your bestie may give you tons of helpful tips on every hair scenario possible. However, what has worked for her may not necessarily work for you – just because your hair is different. So, the best strategy here is turning to hair experts for answers to some of the most frequent hair-themed questions. Don't forget that as a professional hairstylist with vast experience, I'm always here with answers and hair styling tips.
What is the difference between professional hair styling tools and your average hair appliances from drug stores?
The ultimate difference between professional hair styling appliances and the tools used at home is quality. Because salon-grade hair tools must be able to hold up to many hours of nonstop use, they are made from top-notch materials and therefore last a lot longer than hair styling equipment designed for home use.
Why are the Harry Josh Pro Tools products so expensive?
Because they are made with professional hairstylists in mind. Cheap hair straighteners damage your hair a lot more than their expensive pro brothers – that's a given. The same goes for hair dryers. When creating his signature pro hair styling tools, Harry Josh combined his unparalleled knowledge and experience with the ultra-modern technology available. That's how his one of a kind Pro Tools line was born. The quality of these hair styling tools is top-notch. Naturally, things like these are never cheap.
Can I get salon-perfect hair if I use the Harry Josh Pro Tools appliances at home?
Yes, certainly. Be prepared to learn a lot if you want to master all the hacks that will help you on your way to a soft, silky, shiny hair flawlessness. If you are persistent and motivated (just like Harry Josh before his major success), with one of a kind pro tools, you will definitely manage to get silky hair and become your own hairstylist.
Where can I get the Harry Josh blow dryer promo code?
Taking into account the Harry Josh Pro Tools prices, you must be looking for the magic Harry Josh dryer sale offer to save on this significant purchase. Join the club, I love a good discount as well! You can find your Harry Josh Pro hair tools promo code online either via search engines or directly from coupon code sites. Don't forget to bookmark this page, for I may update it with some handy promo code info in the nearest future.
Cutting to the Chase
Hairdryers, as well as other hair styling appliances, were not created equal. When it comes to the Harry Josh Pro hair tools, we love everything about them: the weight, the design, the specs, the color, the compactness, and the truly unbeatable performance.
Almost each and every detail about them is perfection. Now that I and my team have put these tools through their paces, we can definitely say that they are worth every penny of your investment. From what we've heard from our partners, customers, and colleagues, they are in love with this styling equipment as well.
What about you and your experience with Harry Josh's hairdryers and/or straighteners? Have you ever tried any of these professional hair tools? Have you enjoyed using them? Have you come up with your own pros-and-cons list? Please share your opinion below to get the discussion going.
If you have more Harry Josh-related questions left, feel free to leave them in the comment box below as well. I read my blog fans' comments religiously and I will get back to you with some pro answers as soon as I can. Good luck purchasing the best hair styling tools for your needs!
Last update on 2022-12-11 / Affiliate links / Images from Amazon Product Advertising API