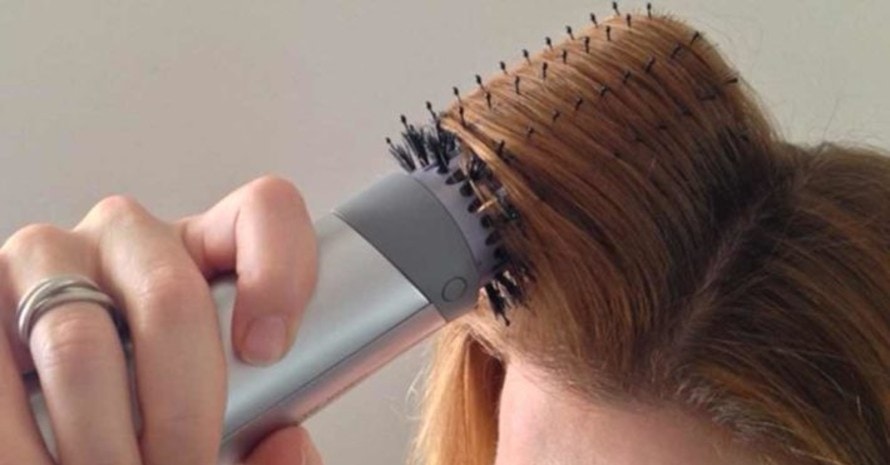 When it comes to caring for fine hair, most of us, women, are willing to do whatever it takes to facilitate the process. That is why one cannot overestimate the importance of hot air brushes, which are excellent tools for combing, drying, and styling thin hair and giving it some much-needed volume.
If you are ready to purchase the very best hot air brush for fine hair but do not know how to pick the right one, the tips below are guaranteed to help. Read on for pointers from professional stylists that will make your shopping quest so much easier.
Bidirectional rotation for versatile styling options
Excellent for second-day hair touch-ups
Perfect for all hair lengths and textures
TOP Pick
Bidirectional rotation for versatile styling options
Runner-Up
Excellent for second-day hair touch-ups
Premium Pick
Perfect for all hair lengths and textures
6 Best Hot Air Brushes for Fine Hair Reviewed
BaBylissPRO Nano Titanium – Top Choice
FHI Heat Stylus Successor – Runner Up
ghd Glide & Rise – Premium Pick

No products found.
Below, there are detailed reviews of the six hair tools for fine thin hair that I find the most reliable and effective. I have carefully tested each of them and drawn up a list of pros/cons that will come in handy when choosing an ideal air brush for you.
1. BaBylissPRO Nano Titanium – Best Rotating Hot Air Brush for Fine Hair
I have picked BaBylissPRO Nano Titanium brush as the best straightening brush for fine hair because of how versatile and highly manageable the tool is. It is equipped with all features necessary to give your fine hair a salon-grade, voluminous look.
The elaborate design of the brush handle with ergonomically placed controls ensures its convenience and safety for users, and the 2" barrel can rotate in both directions, creating sizable and bouncy locks in mere minutes.
When in the mood for a straighter style, I can simply turn off the rotating feature and quickly smoothen my hair into polished and sleek strands.
The ionic technology enhanced with an anti-static bristle mix reduces frizz and adds shine, while Nano Titanium here increases the durability of the thermal element and shortens the time needed for the device to heat to the desired temperature.

PROS:
Bidirectional rotation for versatile styling options;
Three temperature settings – cool, low, and high;
Excellent and lasting effect with no hair damage;
Travel-friendly and manageable;
The ionic technology removes static and frizz.
CONS:
A 110V to 220V converter is required for use outside the USA.
2. FHI Heat Stylus Successor – Best Hot Curling Brush for Fine Hair
The FHI Heat Stylus Successor model comes highly recommended by salon stylists. This versatile tool can be used for straightening or curling, creating perfect beach waves, and simply adding a little body and volume to your second-day hair.
The FHI Heat thermal brush offers five different heat control settings, which makes it easy to adjust the temperature to your individual styling needs. The automatic shut-off feature ensures maximum safety for the user by forcing the appliance to turn off after 1 hour of no-use time.
The tourmaline technology helps eliminate static and frizz and locks moisture within the hair, leaving it shiny and silky smooth. The unique Dual Heating system allows the hot brush to heat up super-fast and spread the heat evenly throughout the entire brushing surface.

PROS:
Excellent for second-day hair touch-ups;
Heats up and cools down very quickly;
The unique Dual Heating system with 5 responsive heat settings;
Auto shut-off feature.
CONS:
Not suitable for thick and coarse hair.
3. ghd Glide & Rise – Best Volumizing Air Brush for Second-Day Styling
Nothing can revive your second-day hair and give it a fresh, salon-style look like this handy hot air tool from ghd. The brush uses a mix of shorter and longer bristles with an anti-static ionic coating that can easily tame hair of any length and complexity, eliminating frizz and ensuring sleek and durable results. It can save the day if you did not have time to shampoo your hair the previous night.
It is also impressive how this brushing tool manages to maintain an optimal temperature throughout the entire styling session.
With it, there is no need to worry about the heat being too much and damaging your hair, or, on the contrary, not enough to provide any noticeable or lasting results. The light indicator on the handle will signal its readiness for use.

PROS:
Perfect for all hair lengths and textures;
Frizz-reducing ionic technology;
Uses a heat-up light indicator to inform you when the optimal temperature is reached;
Makes short work of styling second-day hair.
4. Calista Perfecter Fusion – Most Evenly Heated Hair Brush Styler
Calista Perfecter Fusion is another all-rounder that I hold in high esteem. This heated round brush is a perfect choice for when you need a styling tool that can volumize your fine hair, creating gorgeous, durable locks just as quickly and efficiently as it can straighten an unruly mane into smooth and frizz-free shiny strands.
Thanks to its ceramic cover further enhanced with ionic technology, the brush shows excellent effectiveness in reducing static and frizz so that your styled hair looks smooth and lush even many hours later. Calista Perfecter Fusion is very lightweight, which is an essential benefit if you need to hold it for a long time, working on a tricky hairstyle.
The one thing that is missing here is the automatic shut-off function. However, considering the more-than-affordable price of the styler and its overall superb performance, I'd say this flaw can easily be forgiven.

PROS:
Even heat distribution;
The ceramic cover and ionic technology minimize frizz;
Can be used on all hair types;
Affordable.
5. Hot Tools Professional Volumizer – Most Manageable Blow Dry Brush for Fine Hair
The very first thing that meets the eye in this superb styling device from a well-known brand is its luxurious design. The 24k gold used in this volumizer not only guarantees a fabulous look but also enables an even distribution of heat for more consistent and durable results. The proprietary Direct ION technology helps minimize damage to fine hair while keeping frizz and static at bay.
The oval-shaped 3" barrel of this styling appliance is equipped with thick charcoal-infused bristles that add a smooth and polished finish to your second-day hair.
Hot Tools Professional Volumizer is equally suitable for creating romantic waves and bouncy curls, straightening your unruly hair, or adding body and volume to your weak and exhausted locks.

PROS:
Convenient design for safe handling;
Spreads heat evenly for consistently great styling results;
The Direct ION technology prevents frizz;
Charcoal-infused bristles help revive second-day hair.
CONS:
The barrel has to be turned physically for creating curls.
6. Calista Perfecter Flip-Top – Best Thermal Brush for Short Hair
Calista Perfecter Flip-Top is a versatile and reliable styling tool with a 1" ceramic barrel that can effectively handle even the most unruly short hair. This thermal brush is suitable for use on all types of hair – thick and coarse or fine and frizzy. It is equally good at straightening hair, curling it, creating beach waves, and adding volume.
The well-crafted design of the barrel ensures great convenience and safety for the user. All the heating parts are duly protected to make sure there is no direct contact with the skin. The controls are ergonomically located on the handle within easy reach, plus there is a digital display indicating the temperature for maximum control and styling precision.

PROS:
The Dual Ceramic and Ionic technology ensure quick heating and consistently good styling results;
Suitable for all hair textures;
Lightweight and compact, thus perfect for travel;
Digital display and easy-to-reach controls.
CONS:
Not effective for medium and long hair.
Buyer's Guide on Hot Air Brushes for Fine Hair
Due to its versatility and ease of use, a hot air brush for volume has gained worldwide popularity today. If you have made up your mind to buy one, it is essential to know what features a good brush must include. On your shopping spree, pay attention to the following:
Barrel size and shape
The majority of hot brushes have round barrels, but there are a few paddle-shaped models as well. If you seek versatility, go for a styling tool with a round barrel as it allows you to both straighten and curl your hair effortlessly.
The size of the barrel depends on the length of your hair. Individuals with short hair usually do better with a narrower barrel of 1".
Bristle type
Ceramic-coated bristles will keep your fine hair safe, ensuring an even distribution of heat. If more smoothening and detangling are needed, a hot brush with boar and nylon bristles will do the job marvelously.
Materials
Ceramic, tourmaline, and titanium are the safest choices available. They are sturdy and durable, can spread heat evenly, and fight frizz and static well, making your hair glossy and smooth.
Cord length
The ease of use of a hot air brush largely depends on the length of its cord. Look at the models with a cord of 6 to 9 feet that will provide you with the flexibility you need to create a hairstyling masterpiece.
Temperature control
Being able to adjust the heating temperature is crucial. Opt for a brush with several heat control settings that cover a large temperature range.
Ion technology
To prevent frizz, minimize static, and help your hair stay smooth longer, you will want a hot air styling tool that utilizes ionic technology.
Rotation
Some of the best hair styling tools for fine hair have the automatic rotation feature. Other, less advanced models require the user to turn them physically to create curls.
Safety features
If you are concerned about your safety and the safety of your home, pick the hot air brush model that is equipped with the auto shut-off function and has a heat-tolerant tip to protect you from burns.
Price
Hot air brushes with a very basic set of features will cost you just $25-$40. The price of salon-grade models can be $75 or higher.
FAQ About Hot Air Brushes for Fine Hair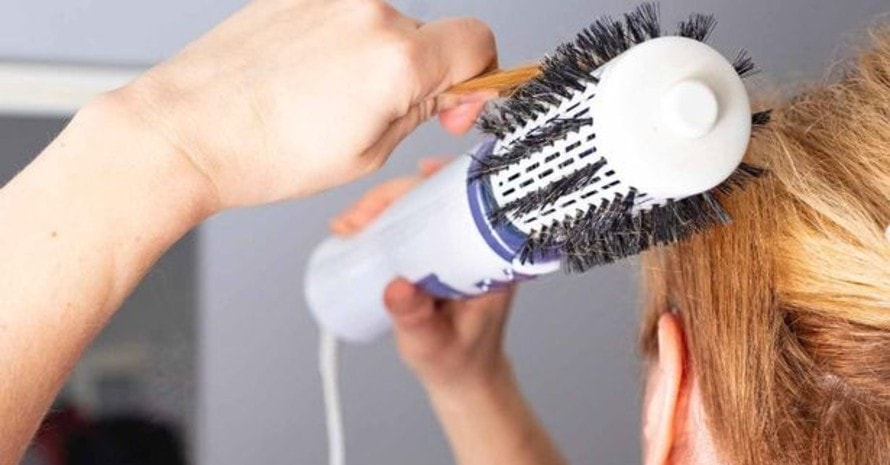 Here is some more information on hot air brushes that might be of use to you.
Are hot air brushes good for fine hair?
Hot brushes can damage your fine hair if chosen poorly or used incorrectly. To ensure the safety of your locks and achieve excellent results, always select the temperature that fits your hair type, and remember to use heat protectants.
Are hot brushes better for your hair than flat irons?
Hot brushes aren't better per se, but they are quicker and easier to use than flat irons and introduce more versatility regarding the choice of styling options.
Can you curl your hair with a hot air brush?
You can easily curl and wave your hair with a hot air brush with a round barrel. Paddle-shaped hot air brushes are best for straightening hair.
How often should I use a hot air brush on fine hair?
Even when applying proper hair cosmetics and heat protectants, daily styling with a hot air tool can damage your hair beyond repair. Therefore, the optimal frequency of use is 2-3 times a week.
Best Hot Air Brush for Fine Hair: Expert Verdict
BaBylissPRO Nano Titanium is my all-time favorite thermal brush for styling fine hair. The tool is incredibly versatile and easy to use. It fights static and flyaways and ensures excellent and consistent results. Calista Perfecter Fusion is another great and more affordable pick that suits all hair types.
What is your preferred hot air styling tool? How often do you use it? How do you protect your fine hair during a styling session? Feel free to leave your comments below and share this post with others!
Last update on 2022-12-11 / Affiliate links / Images from Amazon Product Advertising API