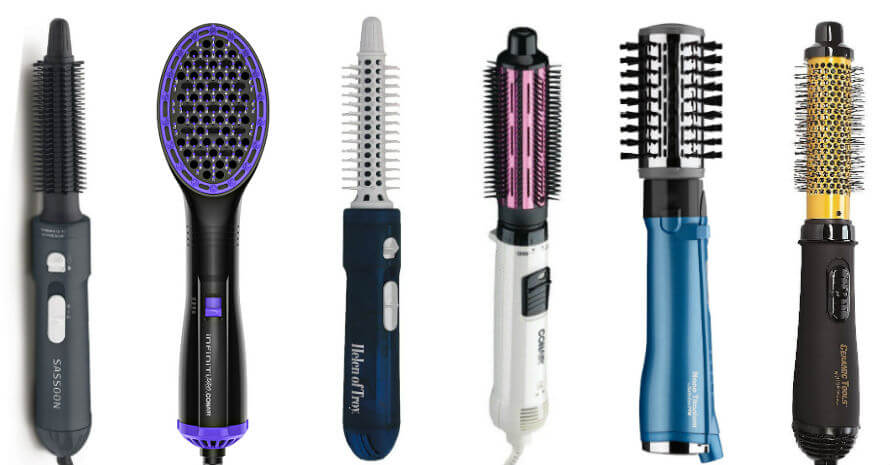 We all know how difficult it is to create a stunning hairstyle, especially if you're not a skilled hairstylist. Going to well-established hair salons takes a bite of your wallet and time. However, there's a sensible solution!
Using the best hot air brushes, you can easily achieve the desired result in a matter of minutes.
It is a simple and convenient solution that allows you to create sleek and delicate curls without damaging your hair structure. A hot air brush both dries hair and shapes the locks while you have only one hand occupied. Therefore, it saves time considerably.
The market is full of hot curling brushes from different manufacturers; each hot air brush has its advantages and peculiarities. To avoid the agonies of choosing, you should know exactly what you need. Consider the length and thickness of your hair, your desired hairstyles, and other needs.
This article will guide you through the selection process and inform you about 8 worthy hot air brushes. You will learn how a hot air brush differs from conventional hair dryers and brushes, get tips for brush users, and decide which hot air styling brush is best for your hair type.
15 Best Hot Air Brushes On the Market: Reviewed
Check out my detailed reviews of hot air brushes I personally recommend. Though Ghd Glide is my number one and I don't even consider purchasing something else to replace it, there are still lots of other great models on the market.
1. Ghd Glide Hot Brush – Professional Hot Air Brush
The ceramic technology in this advanced professional hot brush for hair styling offers extra care to its user. Apart from it, there is an ionizer that protects hair from damage.
The brush was created to style your hair as fast as possible, without the need to run to the beauty salon. This is the first professional hot air brush created by ghd. It quickly turned into a bestseller and my personal tool.
Ionizer in the brush works splendidly on any type of hair, minimizing frizz. The temperature of heating is 365F, which is considered to be optimal for hot brushes if you want to avoid damage. According to ghd, the hair is getting even healthier on the second day after the use of a brush.
I can agree with the statement, as ions plus ceramic coating really make locks shiny and healthy. There are long and short bristles on the brush for professional hairdos. I recommend you to use short bristles for a light airy effect.
This brush also has additional features that may be useful for you. It automatically turns on sleep mode, after 60 minutes without use. The brush comes with a 9 ft cable. The ghd company offers a 2 years guarantee.
PROS:
Ceramic coating;

Ionic technology inside;

Different size of bristles for a wide range of hairstyles;

Optimal 365F temperature for hair;

Sleep mode.
2. BaBylissPRO Nano Titanium – Best Rotating Hot Air Brush
Are you searching for a professional styling tool? With the BaByliss hair brush blow dryer, you can create your desired hairstyle pretty quickly. It's highly convenient to use, and users claim that it's safe, too. Nano Titanium technology makes the heating element durable and reduces heating time. This 2-inch brush is also quite large.
There are three temperature settings: low, high, and cool.
The button layout is traditional. A slider is used to switch on the device and choose the temperature, while buttons under the barrel activate rotation.
Its catchy blue color makes the BaByliss stand out from the crowd of similar models, and its size is optimal for carrying it in a bag. A protective cover keeps bristles safe – one more bonus for travelers!
Long, thin bristles grip hair tightly, so the brush should be used accurately. It can be recommended for medium-length hair, as long locks may get easily tangled.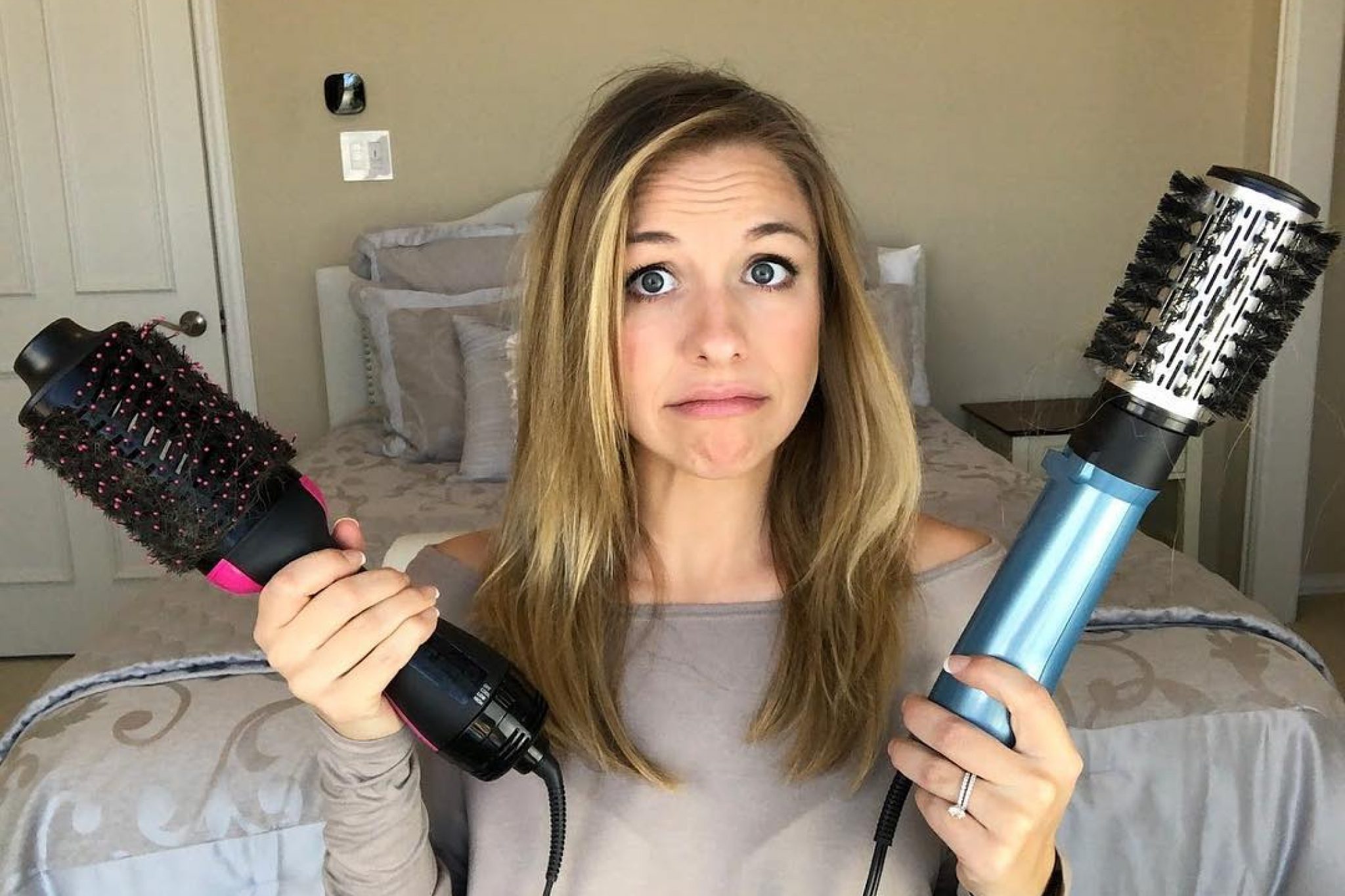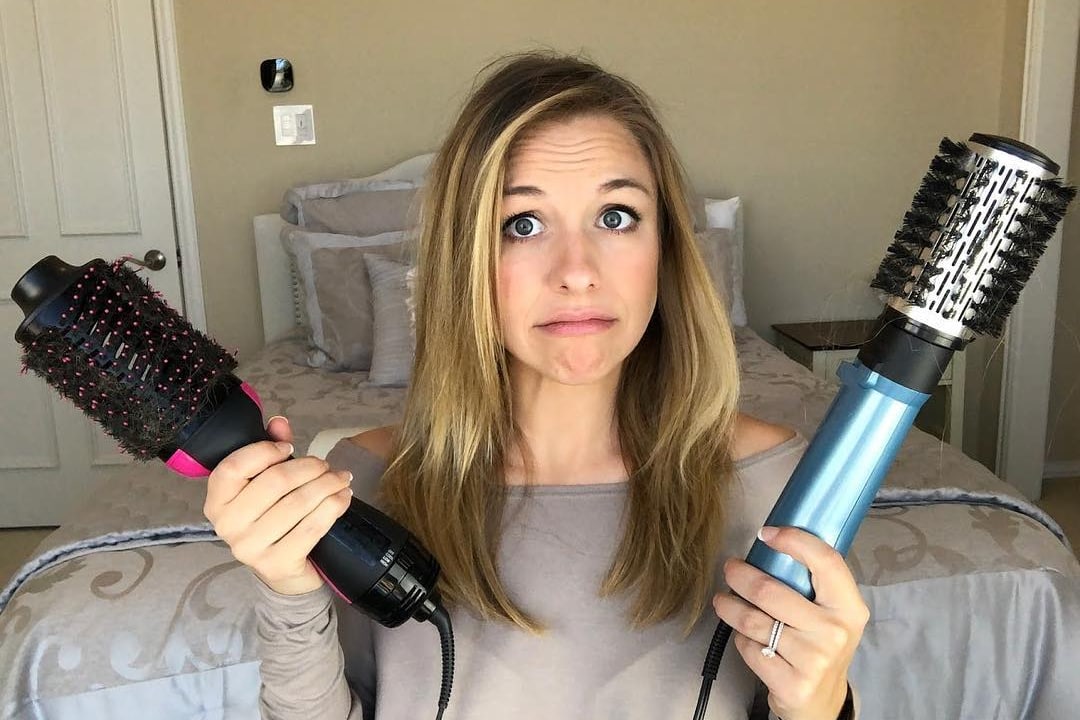 How to use: Before using the brush, you should air-dry hair until it's at least 80% dry. Brush your hair and apply heat protectant or argan/coconut oil. Divide your hair into sections. (You can create a bun.) Advance the brush from roots to tips slowly for at least 20-30 seconds per strand. Note that this big brush won't make your hair too curly: rather, your hair will be naturally straight.
If you read BaByliss hot air brush reviews, you will learn that users are mostly satisfied with it because it rotates in both directions at an optimal speed and the bristles do not bend or get damaged quickly. This instrument can last for longer than a year.
PROS:
Nano Titanium technology for fast heating and a healthy look;
Rotation in both directions;
Long-lasting effect.
CONS:
There is only 110 V power, so you'll need a converter to use it outside the U.S.
3. Moroccanoil Heated Brush – Stylish Ceramic Miracle
The brush works perfectly on frizzy, coarse, and fine hair types. You may easily fall in love with its stylish design and outstanding turquoise blue color. The ceramic material can quickly and evenly heat up the bristles to minimize the thermal exposure of your hair. The ionic cover allows you to avoid the static. The handle is heat-resistant with a digital panel on it.
There is a display on the handle that shows the current temperature of the brush. You can change it when you need it. The maximal temperature is 430F, which can be reached in 60 seconds. After one hour of work, this brush shuts off automatically, but I recommend turning it on after use.
There is a worldwide voltage, so you can easily take the brush on every trip you go. The 9-foot cord guarantees comfort in a hotel. I also like its 1.87-pound weight, which makes it easy for me to carry this brush around in my bag and hold it while I am fixing my hair. I recommend using this brush with Moroccanoil Protect spray.
PROS:
Simple to use;
Automatic shut down;
Ionic technology;
Worldwide voltage.
A digital display inside the handle may save your hair from damage. If you want to adjust the temperature, just move your fingers one inch lower from the display and change it with the two buttons. There is an on/off button below them. You will quickly get used to the panel on the handle. However, from time to time, I can change the temperature just by pressing buttons automatically, so always watch your moves and try not to tighten your grip.
The teeth are made of high-quality nylon, which is a durable material that easily handles the heat from two heaters from both sides of the barrel. The barrel itself is made of ion ceramic. You can choose the 1-inch barrel for short hair and 1 ½ inch barrel for the long one. I still believe that the 1 ½ inch barrel is more universal, and you can come up with numerous styles every day.
Ionic technology takes care of the health of your hair, removing the morning frizziness in no time. This brush offers 325-395 F temperature. Since it is only 1.75 pounds, you can hold it for an hour without feeling discomfort.
PROS:
Ionic ceramic barrel;
Comfortable handle;
All settings under your hand;
High quality.
5. Ghd Rise Hot Hair Brush – Professional Care of Your Locks
Check out this stylish hairbrush. It is completely black, prolonged, and smooth. It is round, so you will love it for an extra volume of the hair you receive. Move it from the roots to the tips, so the brush can lift the locks. It is perfect for the volume you want to reach. I also recommend using it with the temperature protection spray from ghd.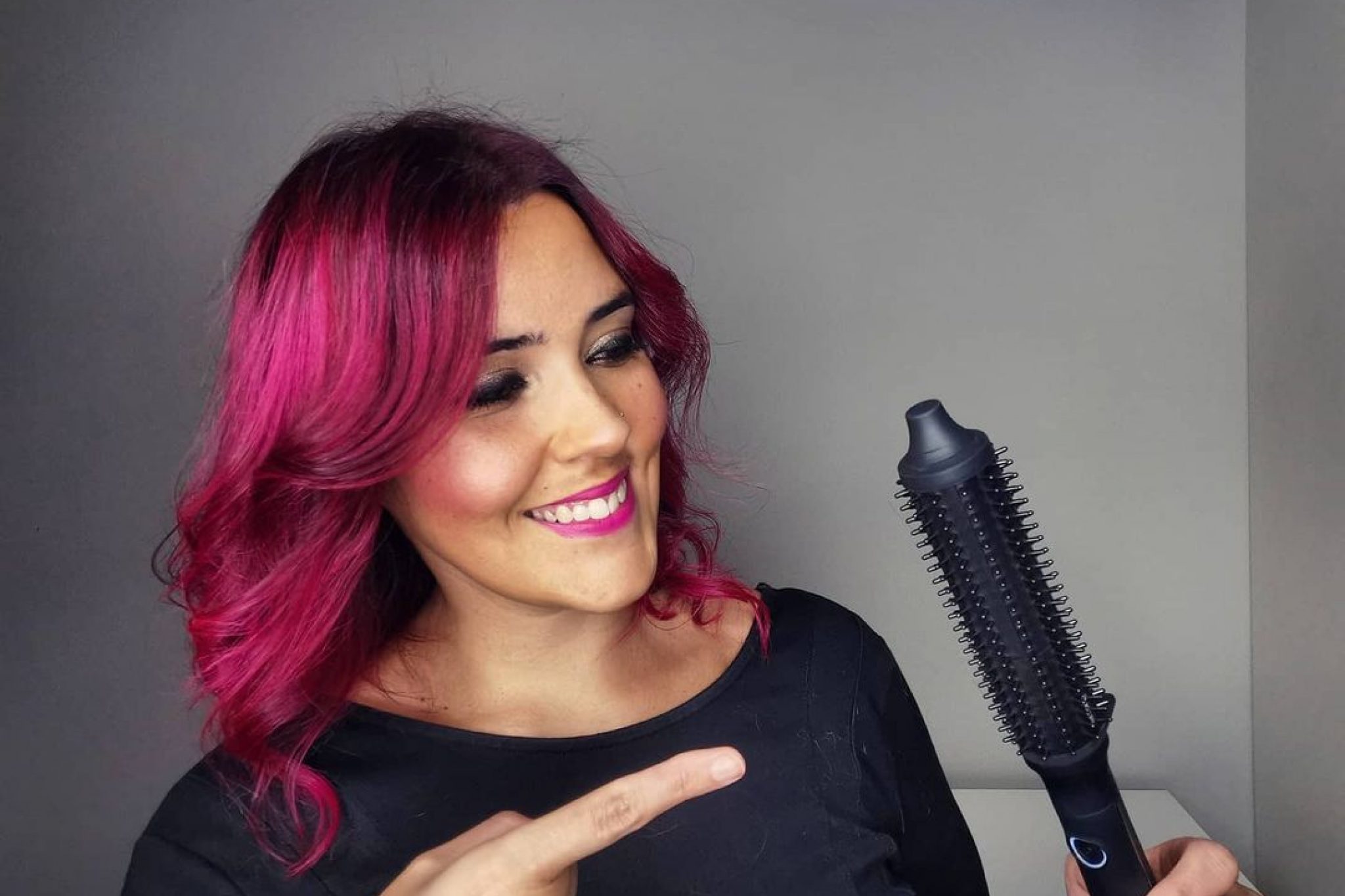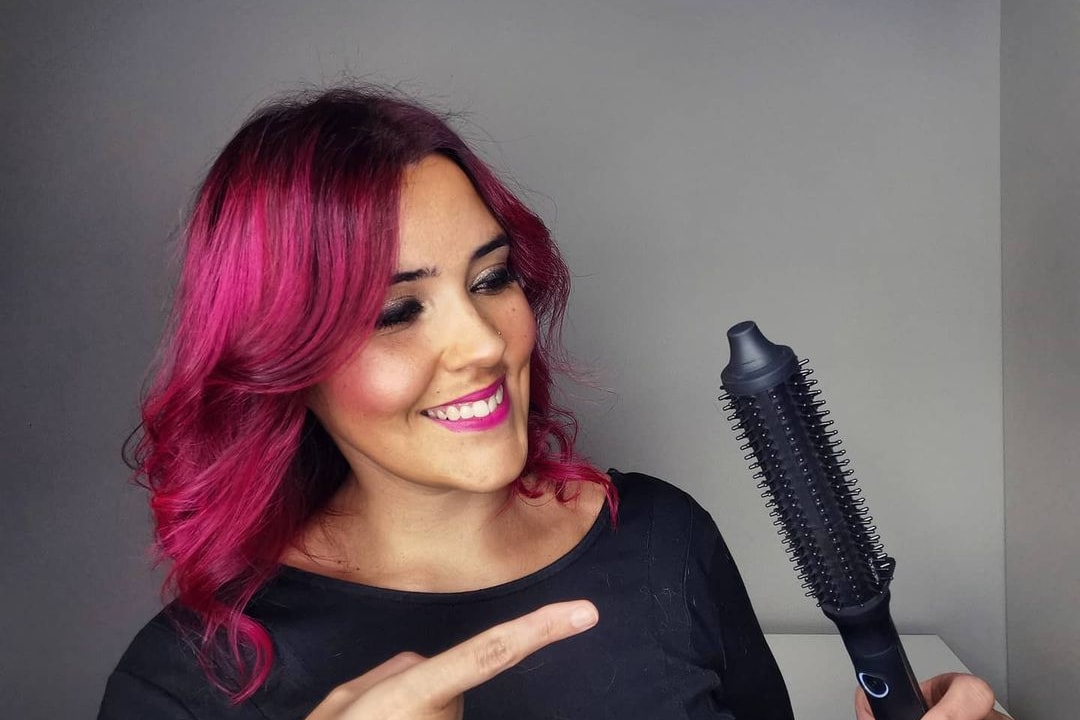 The barrel is 1.25 inches, which suits both short and long hairdos perfectly. The temperature is stable, optimal 365F. The bristles are made of nylon. They lift the hair gently, avoiding damage. The swivel cord is 8.8 ft, which is usually enough to locate comfortably while fixing the hair.
This brand is award-winning for its hairstyle products and well-known around the world. The on/off button is located on the handle. There is only one thing I am not really comfortable with, which is the lack of temperature settings. This brush weighs 1.6 pounds and can be easily transported everywhere in your bag.
PROS:
Stylish design;
Round brush extends hair volume;
Nylon bristles prevent hair damage;
Affordable price.
CONS:
There is only one temperature mode available.
6. Hot Tools Professional Blowout and Styler – Runner Up
This one is also a great styling appliance designed by a well-known brand. The first thing that I like about this tool is its amazing design. I would buy this one for myself.
An oval-shaped comb can both straighten and wave your hair as well as provide it with an extra volume in no time. It will help you get glossy frizz-free silky locks.
The tool is designed in a way that the heat distribution and airflow are even, and it will grant you the most stunning results. Moreover, it will be safe for your hair, and it will reduce the damage that hot temperatures can usually cause.
This very brush has three different heating settings, so you can select the most appropriate one that will be perfect for all types of hair: wavy, curly, and straight. The moisture will be locked inside your strands with the special ion technology that will also reduce static and frizz for a smooth look.
The design of this styler is extremely safe, so you won't burn your fingers while using it. The convenient tip gives you more control over the styling process while enabling you to create perfect beach waves or vivid curls or get smooth strands with extra volume at the roots to get a more natural and playful look.
Double bristles will easily tame your locks and provide you with outstanding and long-lasting results. The comb is very lightweight, so you will be completely comfortable using it, and a soft handle will enable you the firm grasp for more control over this styling appliance. With this amazing comb, you can get professional salon results at home.
PROS:
Amazing design;
Oval shape for volume;
Easy in use;
Different heating settings.
7. Calista Perfecter – Evenly Heated Round Brush
I use this brush to make Hollywood-esque locks, but it is suitable for hair straightening, creation of smooth and frizz-free hair. The round shape is beneficial for those who want to add an extra volume to the locks. Don't worry about overdrying; just use the temperature protectant, and you will receive shining and smooth hair.
This brush was created with the help of well-known stylist Maria McCool. She has 25 years of experience in making different types of hair look gorgeous. The brush is ceramic with ionic technology to prevent static. I believe this brush is one of the most affordable on the list.
There is no electronic display on the handle. You can turn it on and off using the button there. The entire brush weighs 1.5 pounds. You can easily hold it for a long time with one hand. I also recommend you avoid overheating the brush and turn it off right after you finish the hairdo. There is no automatic shut off option.
PROS:
Weightless;
Ionic technology and ceramic cover;
Affordable price;
Suitable for all hair types;
Well-known developer.
CONS:
There is no digital panel on the handle.
8. Revlon One-Step Hair Dryer & Volumizer Hot Air Brush — Best Budget Hot Air Brush
This manufacturer is one of my favorite ones as it offers amazing strand styling tools that will provide you with an amazing effect. This comb is not an exception, and I can easily recommend it to anyone as it's truly one of the best styling appliances I have ever used.
There are various color options, so feel free to pick the design that you like most. The tool has a very convenient handle that will allow you to grasp it firmly and do all your styling routine with ease.
The product has bristles that will enable you to untangle your hair, and oval shape will help you achieve the volume needed to create a stunning look. The comb is powerful enough to provide you with the right amount of heat to style your strands without overheating and damaging hair. You can straighten, give more volume, and shape your strands while still keeping your hair healthy and shiny.
The brush is coated with ceramic, so it will spread the temperature and air evenly, thus protecting your hair. Your stands can be dried and styled within a few minutes. The process has never been easier with this styler.
With a swiveling cord, you can be sure that your styling comb will serve you for a long time.
The tool won't let your hair to lose its natural moisture and, respectively, potential heat damage will be minimized. This is the easiest way to create stunning looks and keep your locks sleek and healthy.
One pretty important thing that you should have in mind is that the voltage of this great styler is suitable only for the USA. It's highly recommended not to use any adapters as it can seriously damage the tool and cause a breakdown.
PROS:
Lightweight model;
Easy styling;
Powerful tool;
It gives additional volume.
9. Revlon Amazing Dryer & Styler
Here is another great hair styling tool by Revlon. For the most reasonable price, you will get a perfect dryer and styler tool to achieve a stunning look. This particular comb has a paddle design that will allow you to get faster results and dry your hair in a few minutes.
Your locks will be smooth and silky with no efforts at all; with this tool, you can always untangle your hair easily. Also, the dryer will eliminate frizz, so you will tame your strands. I love this styler as it is fast, effective, and functional for everyday strand care routine.
The special ion technology spreads heat equally, and airflow will keep your hair moist, conditioned, glossy, and lustrous. This styler is perfect for keeping your locks healthy. There are two different heating speed options, so you can pick the one that suits your hair type. There is one that is more cooling – it will help you fix your style in a few seconds to last longer.
With this amazing tool, you can easily and quickly add volume, detangle, and straighten your strands. Unlike other stylers, the tool is very powerful, and the voltage allows you to get faster results. It's a perfect way to get a smooth and glowing hairstyle that will be perfect for any occasion.
You can take this one with you on trips to stay gorgeous, even if you are far away from home. The manufacturer created an ergonomic design that makes the use very comfortable and easy. Additionally, the swivel cord will never tangle! Get stunning results fast and easy.
PROS:
Amazing price;
Comfortable handle;
Fast drying and straightening;
Effective ionic technology.
10. MiroPure Enhanced Hair Straightener Brush
What I love about this item is that you will also get a glove that will protect your hand during styling and won't allow you to burn your skin. In addition, you will get a nice bag to store your styler in a safer way or take it with you on trips.
This amazing tool will give you all the freedom to experiment with your hair and grant you the perfect flawless look. Special technology will keep your locks healthy and shiny and prevent your hair from splitting up. It will be a perfect solution for damaged and thin hair that requires extra care and attention. Though it is a perfect match for any hair texture, type and length as well.
The temperature level is adjustable, and you can choose the most appropriate setting for you. Once the temperature attains the required level, the tool will turn off, so you won't even have a chance to destroy your strands. Choose the required heat level and start using the tool right away. It won't take long to achieve a stunning look.
You can straighten your hair in just a few minutes, and you can take this hair straightener brush with you when traveling. With this item, you can be sure that silky and lustrous hair is not a dream but an everyday reality. Swiveling cord won't ever break, and you can use the styler for many years.
PROS:
Glove for extra hand protection;
Great price;
Great functionality;
Rotating cord.
11. Infiniti Pro by Conair Rotating Brush Hair Dryer — Best Rotating Hot Air Brush
Ladies with medium and long hair will find this hot air brush particularly convenient and useful. It comes with three temperature settings (low, high, and cool) and is perfect for creating voluminous hairstyles. You'll get a magnificent glossy set without spending too much time and effort. Because this hot air brush spins in two directions, you can easily grip and release hair without using another hand. Please note that the device does not rotate in cool mode.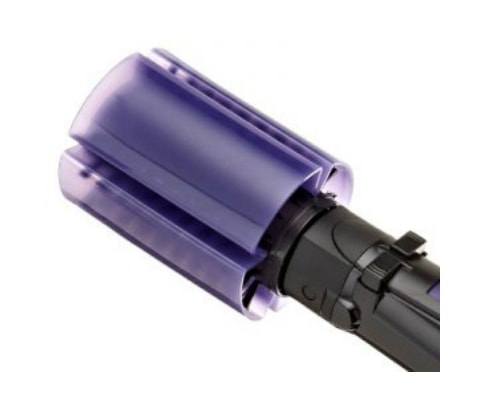 It comes in two colors: silver and black. The handle is quite wide in diameter, so if you have short fingers, your palm won't grip it entirely; however, Infiniti Pro hot fusion brush reviews show that this is not a serious problem.
What users like is the protector of the 2-inch spin air brush: it protects the thin plastic teeth from bending and deforming. Therefore, if you travel and take this brush with you, don't forget to take the protector. Increased ionization reduces frizz and ensures a silky, glossy look.
The Infiniti Pro power styler by Conair should be used on almost dry hair; before using it, you'll need to air-dry your hair. Before styling, apply some hair protectant or oil. (Argan and coconut oil are the most optimal.)
The rotation is activated when you press the button located right under the barrel. Women with small hands may find it inconvenient but after a few uses, everything will be fine. When using the brush, you should place it closer to the roots, then span to get the lock drawn in. After that, you will release it slightly, pulling the hair.
The procedure is easy and quick. Most users manage to create a decent hairstyle and dry their hair within 10 to 15 minutes. Therefore, the Infiniti Pro is a handy spinning brush that saves time considerably.
The cord is long but comes without a hanging hook. The Infiniti Pro has only 110 V, so you must buy a power adapter if you're going to use it outside the U.S.
PROS:
Rotates in both directions;
Comes with a barrel protector.
CONS:
It comes without a hanging hook;
The Infiniti Pro has only 110 V, so a power adapter is necessary if you're going to use it outside the U.S.
12. Tymo Hair Straightener Brush
I'm in love with the next styler as its design is truly fantastic, and it was created by the renowned brand in the world of beauty appliances. This amazing, powerful tool will suit almost everyone; it is universal.
I like the modern-looking design and convenient handle shape of this item. It's made of a soft-to-touch material that will make the styling process more comfortable with better grasp and control. The manufacturer has used the last anti-scald technology that will keep your fingers safe and won't let you burn your sensitive skin while using the tool.
The main thing to mention about this styler is that it heats up in a few minutes. You don't need to wait long, just plug the brush in, and in a moment you will be able to start your everyday styling process and achieve amazing results.
This great product will enable you to create a natural shape and perfectly straight, glossy strands. Also, it will minimize static, as well. If you need to get quick results and shiny, sleek hair, then this styler is certainly the best choice for you.
With this excellent styling tool, you can minimize the detrimental heat effect and be sure that your locks are perfectly protected, so you can easily use this item on a regular basis without any serious harm. As was mentioned above – the design is pretty modern, and thick bristles will perfectly comb your hair to achieve better and faster results.
There are various hear settings for your convenience. Pick the best temperature that matches the condition of your strands, and each option will grant you an excellent styling effect and a shiny, healthy, gorgeous look.
PROS:
Cool design;
Fast, long-lasting results;
Modern design;
Different heat settings.
13. John Frieda Hot Air Brush
Those who need an inexpensive and simple heating brush should consider the John Freida brand.
The brand's hot air brush doesn't spin but it's a piece of cake to use and the results will definitely astonish you. Its 1½-inch barrel is suitable for long and thick hair, creating maximum volume. The heating element is made of titanium and ceramic, so the device is durable and protects the user from burned scalp and hair.
Like many other models, this brush blow dryer has three main temperature settings: low, high, and cold. Women with thin hair should choose the "low" mode to avoid damaging their hair structure. The swivel cord doesn't tangle; that's important because when you turn the brush with your hands, the cord may easily twist.
As for button layout, it's very convenient. However, it's likely that you'll accidentally move the bars when using the brush, though they're located on the handle. An advanced ionic generator blocks static electricity and makes hair smooth, shiny, and glossy.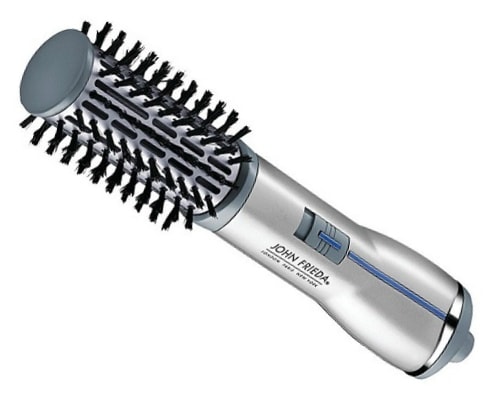 How-to-use tips: Before using the brush, you'll need to wash your hair (it's recommended that you use a volume shampoo) and air-dry it to remove at least 80% of the dampness. Spray your locks with oil or John Freida blow-dry lotion to protect hair from heating and damage. Divide hair into small sections to prevent tangling. Switch on the device and start drying your hair, pulling it slowly from the roots to the tips.
The ends will be slightly curled. The big brush won't make your hair too curly – rather, it will become naturally wavy.
PROS:
The titanium and ceramic heating element is safe and long-lasting;
Negative ionization technology protects hair;
The John Freida heated hair brush is a simple but efficient device (500-watt power) that will definitely work.
CONS:
The spin hot air brush will be useless for short hair, as the barrel is pretty big;
If you are a beginner and don't have much experience with hair styling, it will take some time to get the hang of using the device;
It's not dual-voltage (110V only), so non-American users must find a power adaptor for the device to work outside the U.S.
14. Revlon Hot Air Brush for Styling & Frizz Control — Best Hot Air Brush For Short Hair
This model is the best hot air brush for travelers!
The kit includes a diffuser for drying and two brushes for styling. A smaller brush is perfect for women with short hair; it allows for curling hair close to the roots and the soft bristles won't scratch the scalp.
The juicy red color of this hot air curling brush appeals to users, though no other color variations are available.
As for button layout, it is pretty convenient. The attachment release button allows the instrument to be switched on in a couple of seconds. The on/off switch features an indicator light and is unlikely to be accidentally pressed during use.
There are three heat and speed settings, so you can easily adapt the temperature to create an optimal hairstyle. The speed of rotation is optimal for creating great curls in a matter of seconds. Ionization helps reduce frizz and makes for healthy gloss and shine.
Although the manufacturers claim this brush can serve as a hair dryer, in fact, it doesn't dry very damp hair quickly. If you read Revlon heated brush reviews, you will realize that it takes an eternity to dry your hair with this device, especially if you have long, thick hair. Therefore, ladies in a hurry should air-dry their hair until it is about 70-80% dry before switching to the Revlon round brush hair dryer.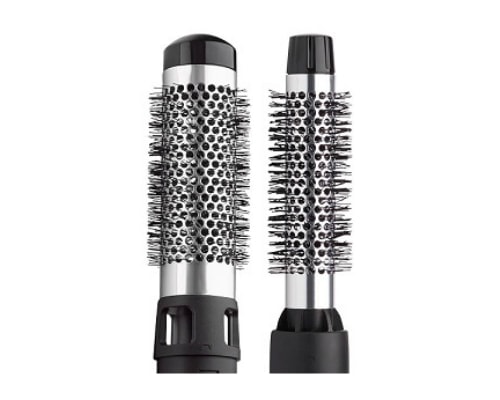 How to use: Comb your hair properly and apply heat protectant or argan oil. Take a small handful of hair and place the hot air brush underneath it, then brush it for 10-15 seconds. If you need slight, natural curls, use a bigger brush attachment. The small attachment allows you to create fine curls that can become part of a dressy look.
PROS:
This heated round brush is very lightweight and compact, so it's perfect for those who are always on the go;
Convenient button layout and indicator light;
Ionization reduces frizz and makes hair healthier;
It heats up easily and switches off until it cools down.
CONS:
If you use the device on a high-temperature setting, you should style your hair quickly, as the bristles can melt and deform after a few uses.
Judging by reviews, this is the best hot air brush for thick hair.
15. Phoebe Curling Iron Brush — Best Hot Air Curling Brush
The Phoebe Curling Iron Brush is a low-budget brush that is an excellent choice for beginners and your best option for on-the-go styling. It can be used for both straightening and curling your hair. It includes all the necessary features, from locking in your hair's moisture to being more flexible and easy to handle.
It will suit short-haired people thanks to its 2-inch barrel, which can get closer to the roots than most of the regular curling brushes. With its flexible temperature settings, it covers almost all hair types.
There are three temperature levels from which you can choose depending on whether you want to add light touches or straighten your hair. The temperature of 265° to 320° is perfect for normal straight hair that needs a little bit of glow. It will also suit fine hair that can be easily overheated.
Phoebe brush users with fine hair praise it as one of the best tools for creating volume and shine. It has a special negative ion technology to lock in moisture and protect your hair from heat; this also acts as a smoother for frizzy hair and adds body to tired, fine hair.
If your hair is curly or wavy and you need more control over it, turn up the temperature to 320° to 395° and hold each piece for 30 seconds. With thick and coarse hair, you might need the hottest temperature of 395° to 430°. Whether you choose to straighten your hair or make it curly, the hairstyle will last all day.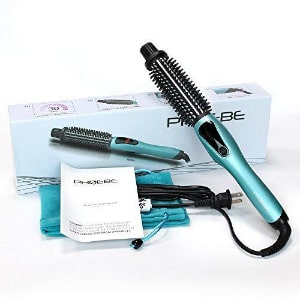 There's an LCD display that allows you to control the temperature. The dryer's fast 30-second heat-up and temperature lock provide you with total control of your hair combing and styling, while the cool tip prevents the burning of your scalp. The plastic bristles worked fine for my hair and should be great for thicker textures, though people with fine hair may find them a bit inflexible. Still, the bristles work well to protect your scalp and they are unbreakable. This tool works best on semi-dry hair.
PROS:
Perfect price/quality ratio;
Small size;
Perfect for travel and will work for short hair.
CONS:
The plastic bristles are a bit inflexible;
You will need an adaptor to use it abroad.
Nuts and Bolts of Hot Air Brushes
As I mentioned before, many different models are on the market today. A hot air brush has gained wild popularity because it is incredibly convenient to use. While drying your hair, you can twist the ends, straighten locks, and make your strands look shiny and healthy.
By the way, you can find an advanced rotating hot air brush that turns in both directions. This way, you can hold your hands at any convenient angle while styling your hair.
Different Types of Hot Air Brushes
The vast majority of products are blow dryers that curl hair and do not rotate. This means you have to do all the work on your own. This is not particularly convenient but unskilled users find this option safe; at least your hair won't get accidentally tangled.
Paddle hot brushes are not very widespread because they won't curl your hair even slightly. However, if you have straight hair and don't want to spend much time in front of the mirror, you should opt for one.
Another interesting option is a hot air brush with styling attachments. Combo kits may feature several round brushes, attachments for pin-point styling, and concentrators.
Materials
Modern manufacturers prefer either ceramic or tourmaline antistatic teeth and heating elements. These materials conduct heat freely but don't burn hair. In addition, negative ion emission kills bacteria and makes for glossy, healthy shine.
Some hot air brushes feature cheaper aluminum barrels that heat up quickly but may be harmful to hair!
Hot Air Brush Advantages
First and foremost, a hot air brush was created to replace both blow dryers and wooden hair brushes. Now, instead of holding the devices in both hands, a woman can use a lightweight device that dries and curls (or straightens) hair simultaneously.
As a result, you get perfect shiny hair without much effort. If you read heated brushes reviews and watch tutorials, you will realize that hot air brushes allow for the creation of more complicated hairstyles, so they are convenient for more than daily use.
Most often, static and rotating brushes feature two heat settings and one cool setting. This is more than enough to dry hair quickly and achieve the desired styling results. The choice of a hot brush styler depends on what you want to do with your hair. Long-haired women who love curly locks and slightly turned ends should choose models with big, round, rotating brushes.
If you need perfectly straight hair, a flat pad may be a more appropriate solution. Unfortunately, a round brush blow dryer is inconvenient for women with short hair. However, smaller round brushes can dry and style hair closer to the roots.
Popular Tips and Questions About Hot Air Brushes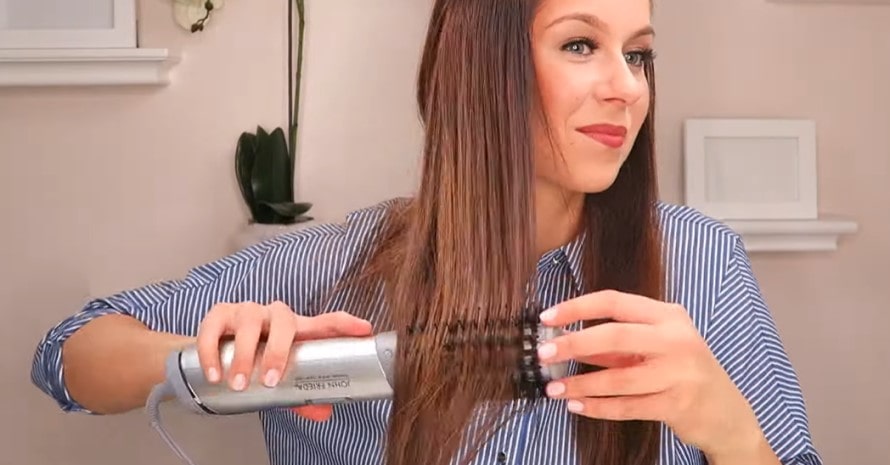 What Materials are Heated Brushes Made of?
The vast majority of modern heated curling brushes have ceramic or tourmaline barrels. This is the safest option because such materials heat up quickly but do not damage the surface and structure of the hair.
As a result, you'll get a sleeker, more natural look without dried split ends. Iron and aluminum barrels appear to be a bit outdated and more harmful to natural hair.
Most straightening brushes have a plastic handle but they still differ; some don't overheat and burn hands, while low-quality plastic can get too hot or even melt. Read reviews thoroughly before making your final decision.
Heated brushes usually feature thin plastic or nylon bristles. Pay attention to their length; short bristles bend and deform less but are more suitable for short and thin hair. Long bristles allow for the styling of long, thick hair, but you will need a plastic cover to protect them, especially if you take the brush with you when you travel.
Can I Use My Hot Air Brush Outside the U.S.?
Many brushes produced for American audiences (including some of the above-mentioned ones) work with 110 V only. In other countries, you will need a 240 V device. In addition, the form of a plug can differ from region to region. Therefore, if you want to buy a brush for traveling, make sure it's dual-voltage (e.g., it can automatically adjust its voltage). Otherwise, you'll need a power adaptor.
Do not plug 110 V devices into 240 V electricity points, as this may be dangerous!
What's the Difference Between a Typical Hairdryer and a Hot Air Brush?
Regular blow dryers can be used for blowing wet hair but you'll need to hold the dryer in one hand and hold a brush in the other. It's inconvenient, and the device can be heavy, making arms tired. A heated brush dries hair while combing it. However, most devices have a pretty weak air flow, so they are optimal for touch-ups and 80-90% dry hair.
Heated brushes are more suitable for thick, medium-length hair. If your hair is short, it cannot grasp the lock near the roots. Also, long hair tends to tangle; many unskilled users leave negative spin air brush reviews with photos of their entrapped locks, which they had to cut out.
Those with thin hair should choose a brush carefully because fine bristles can tangle and damage the hair. Models with thick plastic teeth instead of bristles can be more optimal.
No matter what type of hair you have, it's recommended that you apply a heat protectant or special oil to prevent burning, dryness, and destruction of the hair structure. You can save time by buying a micro-conditioning brush.
What is Ionization and Why is it Useful?
You might have noticed that numerous heated brushes come with a negative ionization feature. This means that the device emits more negative ions, which reduce frizz, kill bacteria, and make hair shine. With such a feature, you can get a sleek and smooth look without damaging your hair.
Can I use a Hot Air Brush on Short Hair?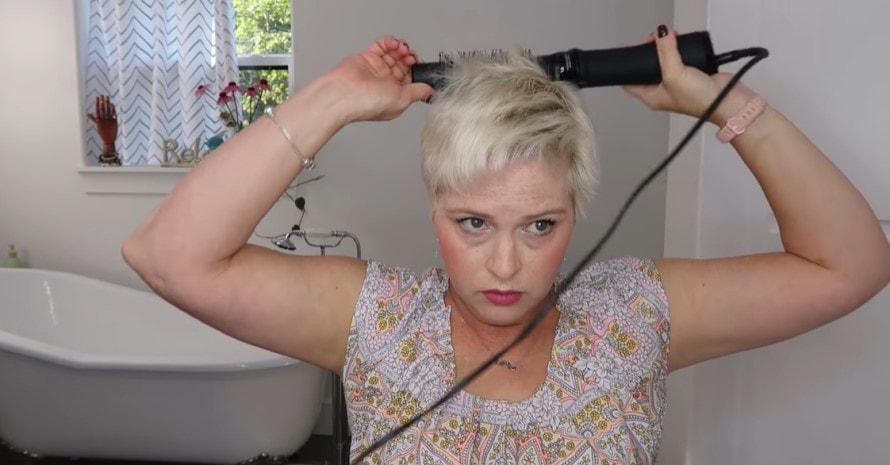 Although some models can be used for drying and straightening shoulder-length and shorter hair, most are not suitable for that.
Are hot air brushes bad for your hair?
Of course, any styling tool may damage your hair if not applied properly. But if you're using a hair dryer brush (or any other straightening tool) according to the instructions, there's no need to worry. Be sure that you select the right temperature for your hair type and always use some kind of a heat protectant before styling (a spray, oil, etc.).
Also, try not to over-use the brush. Otherwise, you may get split ends, burned or dull hair. I don't think that using a hot air brush every day is a good idea, but you definitely can style your locks with it 2-3 times a week.
Be sure that you select the right temperature for your hair type and always use some kind of a heat protectant before styling (a spray, oil, etc.). Also, try not to over-use the brush. Otherwise, you may get split ends, burned or dull hair. I don't think that using a hot air brush every day is a good idea, but you definitely can style your locks with it 2-3 times a week.
Hot air brushes are considered to be safer than curling tongs because they don't hold the hair between heated plates but style it by blowing hot air. Also, the surface of such brush is usually coated in ceramic, and this material not only is safe for hair but also make it smooth and silky. To achieve a better look, I recommend you to choose a good moisturizing shampoo and use argan oil or hair wax after styling.
Some new technologies that hot air brushes use could make your hair healthier as well. For example, an ionizing function is a great achievement of modern manufacturers. Ionic brushes lock in moisture so hair doesn't get dehydrated after styling. Such an appliance gives you silky and smooth hair that looks like you want it to be.
Girls with fine, brittle or colored hair can also use a hot air brush without worrying about damaging their locks. So, as long as you're using it properly, there is no risk of damaging your hair.
Which Barrel Size is Better?
Two-inch barrels are better for longer hair, as they allow for slightly curled tips and a natural look. 1- and 1.5-inch barrels are recommended for women with medium-length hair; they usually straighten hair.
Now you know which heated hair brushes are worth your attention and money. When selecting a suitable model, take into account your hair length and thickness, as well as safety and convenience of use.
Do you have experience using heated curling brushes? Tell us which is your favorite one and why! Let's share our experiences to help other users make the right choice!
Last update on 2022-12-11 / Affiliate links / Images from Amazon Product Advertising API