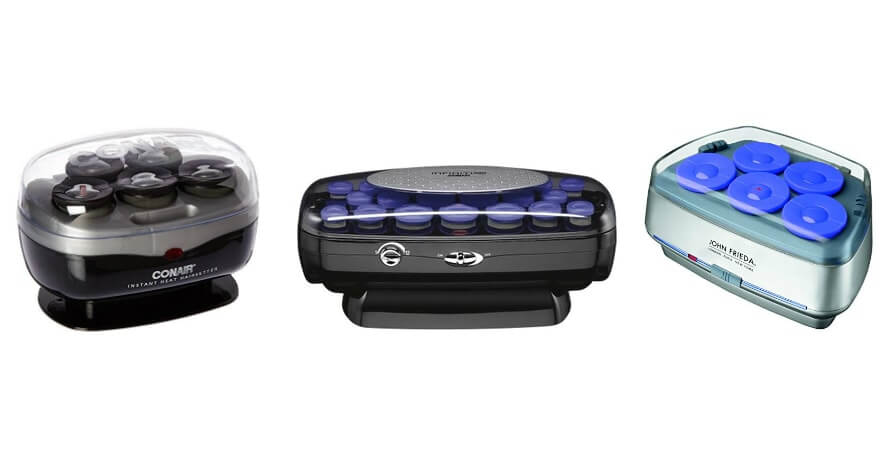 Looking for the alternative to your curling iron? Try out hot rollers! They are believed to cause less damage to your hair, and they take less effort to achieve this glamorous curly look. Plus, one big set of hot rollers in different sizes will give you much more versatility than a single curling iron. The benefits are quite obvious, right?
I'm Chloe, and today I'd like to present my personal top-list of the very best hot rollers. I've used them either for myself or for my clients. As usual, I've read other people's hot rollers reviews to give you a full picture. Some solid advantages and minor flaws become clear only with long use, and I'm talking not only about hot rollers 🙂
So, we're going to explore 15 brands and models. But before we get to the reviews, explore my step-by-step guide on how to use hot rollers. If you're going to use this tool for the first time, I highly recommend you to check out the guide. Plus, I'm going to answer some of the questions about hot rollers. Curious what are the best hot rollers for thick hair? How to choose hair curlers for medium-length locks? How long do you leave the hot rollers in your hair? Find out in my newest post!
How to Use Hot Rollers: Step-by-Step Guide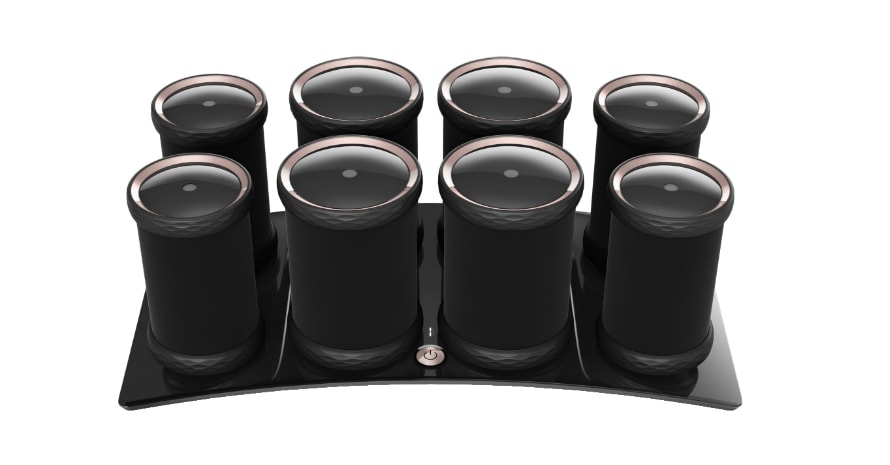 If you're new to using hot rollers, you may wonder how to style hair with them properly. That's not very difficult, but curlers may take some practice to master them. So, where do we start?
Brush your hair properly, so there is no tangles.
Apply a heat protectant.
Heat up your curlers according to the directions. Different brands and models need different time to get hot.
Divide your tresses into several sections.
Take one section and apply a hot roller, wrapping the hair around it. Place the roller underneath the hair section, about halfway up and wrap the ends around the barrel. Then, roll up and back towards your head. Be careful not to burn your scalp.
Use a hairpin or a clip to secure the roller in your hair.
Repeat wrapping and securing with the other hair sections. Make sure to roll hair away from your face.
For tight curls, wait until the rollers cool down in your hair, so that the blowout will last longer. If you want loose waves, leave the rollers in your hair for about 5-10 minutes.
Gently remove all the rollers one by one, letting the curls fall loose.
A couple of tips: 
To achieve a more natural appearance, you can use hot rollers of different sizes.
If you want your curls to last longer, you can finish the look with a bit of hairspray.
Using hot rollers take some practice. For the first time, try doing a hairstyle without heating up the curlers to learn the ropes.
Best Hot Rollers for Different Hair Types and Lengths
Here are my favorite hot rollers that I use in my practice as a stylist. They come in all shapes and sizes, and different hair requires different tools. I've tried to pick up the hot rollers for all hair types and lengths, so you can choose the ones that work for you.
1. Clipless Curlers: InfinitiPro Secret Curl by Conair
If you're tired of endless attempts to secure hot rollers with clips or pins, try out these clipless silicone hot rollers by Conair. The set includes 12 pieces, six of them being ¾-inch and other six being 1-inch wide. The advertisement promises you salon-quality, shiny, and silky curls or waves, and the clipless design of these pop-up rollers is meant to leave your hair crease-free. That's generally true, but there is a learning curve in using the clipless rollers. Some of my clients complained that the curlers just wouldn't stay in and slipped off, especially on thick hair.
So, if you manage to secure the curlers, the results will be rather impressive. Just keep in mind that these hot rollers don't work well with styling products in your hair. Also, they might dry out hair and cause split ends in rare cases. The tool gets hot in about 3 minutes, and the "ready dot" changes color when heated. As for the design, I like the top carry handle and the fact that the cord wraps around the base for easy storage.

2. Conair Xtreme Instant Heat Hot Rollers – Best Hot Rollers for Long Hair
It's definitely a set for girls with long tresses. There are 12 jumbo hot rollers, eight of them being 1.5-inches wide and four of them being 1.75-inches wide. Use these hot rollers to create those big and bouncy salon-styled waves that attract so much attention. These Conair hot rollers employ the ceramic-infused technology to give you long-lasting waves. They get hot in about 90 seconds, and the velvety covering on the rollers help protect your hair against heat damage.
These hot rollers by Conair come with 12 wire pins to secure the rollers. They work like a charm for some people, while others complain about pins being flawed as they either hold the rollers too loosely or if they stay well, the rollers get uncomfortably hot against your skin. So, you may want to consider purchasing plastic clips separately to secure the curlers.
One more shortcoming – there is no place in the set to store these little metal clips, and it's easy to lose them. Also, the set is rather big and heavy, so it's not a great option for traveling.

3. 20 Hot Rollers for Short Hair: Conair Compact Multi-Size Hot Rollers
How many hot rollers do you need to curl short hair? This set by Conair offers you as many as 20 of them: eight small (½-inch), six medium (¾-inch), and six large ones (1-inch wide). For short hair, use hot rollers that are smaller, and for shoulder-length locks, you can combine them with large ones. Also, there are 20 color-coded stainless steel clips in the set to match all the rollers. If needed, you can replace them with spring-loaded clips – you just have to find ones small enough.
The rollers are suitable for short and shoulder-length hair. If your locks are longer than that, go for larger curlers – these won't work. These Conair hot rollers work well on thick hair, but they may be too hard for fine. When they are ready to use, the ready signal light up red.
The curlers are fast to heat up, yet fast to cool down, too. You may need to heat them up once again to finish styling. Still, be careful to avoid burning as these Conair hot rollers get rather hot. The same holds true for many other brands and models, so I guess it's an inevitable flaw.

4. T3 Voluminous Hot Rollers – High-Quality Hot Rollers for Long Hair
To be honest, these T3 hot rollers will cost you a fortune. For that price, the company promises that every strand of your precious hair will get shine, volume, and shape – all thanks to the advanced tourmaline technology and a ceramic core. The infrared heat helps to style your hair from inside out when sealing the hair cuticle against frizz. Well, in my experience, this styling tool has worked like a charm indeed. Eight hot rollers (4 large ones and 4 jumbo ones) help you to create those big, soft, voluminous waves. If you prefer tight curls, go for a curling wand instead.
The ceramic heater in each roller heats up to 250°F in 3 minutes, and the aluminum core transfers heat without losing surface temperature. The velvet flocked surface provides better hair grip and adds shine. These ion hot rollers have the ready-to-use indicator on each of them which changes color when ready.
The set comes with eight spring-loaded clips. Since these T3 hot rollers are heavier than many other brands, you may notice that the clips don't hold in the curlers tightly enough. They take some time to catch the trick. Or, you can replace them with separately purchased clips or pins that work for you.

5. BaBylissPRO Nano Titanium Roller Hairsetter – BaByliss Hot Rollers for Long Hair
These are especially great hot rollers for long hair as they are 1.5 inches in diameter. Plus, there are 12 pieces in the set, so this should be enough to style your waist-length locks. The curlers generate far-infrared heat from a ceramic core for gentle styling, and the velvety coverage helps them to grip hair better. The heat is said to be distributed evenly, and the rollers heat up reasonably fast. Also, the light indicator with a color-change sensor on the roller tip indicates when the roller is ready.
The set comes with 12 butterfly clips and 12 color-coded metal clips which is a big plus. You can use the type of clips that works best for you. The only solid flaw of these BaByliss hot rollers is the price which is about three-fold higher than that of competitive products.
6. Good for Travelling: John Frieda Body & Shine Smooth Waves (5 pieces)
This set is very much like the other John Frieda set in my top-list, except this one includes only five 2-inch hot rollers. They're designed to smooth your hair, adding volume and body, and NOT to make tight curls. The set of five pieces may be not enough for long hair. On the bright side, it's quite handy for traveling. The storage pouch is only 5 inches in height.
These hot rollers employ the advanced ionic technology for smoothing your hair, adding shine, and reducing frizz. The rollers themselves are titanium ceramic flocked, and there are five butterfly clips for securing them. If the clips don't work for you, you can replace them with any other pins or clips that suit the rollers. Also, you can choose from two temperature levels (high or low) depending on your hair type and texture. The tool gets hot in about 2 minutes which is rather fast.

7. Remington Ionic Conditioning Hair Setter – Great Hot Rollers for Short Hairstyles
The set includes 20 velvety rollers that should be enough to cover your whole head and create various curly hairstyles. They come in 3 sizes: ¾-inch, 1-inch, and 1¼-inches wide. Smaller curlers will come in handy for girls with short hair and for those who prefer tight curls.
To create bigger, looser curls, use hot rollers with a larger diameter. There are 20 color-coded J-shaped clips in the set which come in 3 sizes as well. They may fall out from time to time, but overall, they hold in the curlers pretty well.
The tool features the exclusive thermal wax core for long-lasting results. And the ionic technology helps to reduce frizz and add shine. The curlers heat up quickly, and the ready indicator lets you know when the hot rollers are the perfect temperature for styling. The cool-touch ends make the styling more comfortable, yet the rollers get pretty hot, so be careful.

8. InfinitiPro Instant Heat Hot Rollers by Conair with 12 Heat Settings
The set includes 20 ceramic multi-sized hot rollers: 6 small (¾-inch), 6 medium (1-inch), and 8 large ones (1¼-inches). They give you the versatility to create various hairstyles from tight curls to loose waves. The set comes with 20 plastic clips which do the trick, in my experience. But you may want to replace them with the metal U-shaped holders. And 12 heat settings make these hot rollers by Conair a great styling tool for all hair types and textures.
The velvet flocked curlers heat up in about 2 minutes. They can get very hot, so be careful to avoid burning your fingers. The ceramic technology offers even heat distribution, reducing frizz and static. As a result, you get long-lasting soft curls that will get tons of compliments. These curlers work great even on fine hair, but for better results, you can use a bit of a hairspray right before using these hot rollers.

9. Hot Rollers for Fine Hair – Caruso Professional Steam Hairsetter
The Caruso hot rollers in this set come in all shapes and sizes. There are 30 pieces in total, ranging from the petite to the jumbo rollers. Their diameters vary from about 0.5-inch to 1.5-inches, but the tighter you wind your hair, the tighter curls you will get. The foam part of the roller compresses quite easily.
These steam hot rollers work well for both fine and thick hair of pretty much any length. The only thing is, if you have naturally straight hair, especially Asian type, the results may be not so impressive.
The Caruso steam hot rollers hold a curl really great, especially if your hair is prone to waves. The curls can stay all day long and even the next day, yet more relaxed. Plus, these hot rollers give them shine, bounce, and body – and who doesn't want that? The set comes with the comb clips which are rather comfortable to use.

10. Remington Pro Thermaluxe Ceramic Hairsetter for Loose Waves and Ultimate Body
This hairsetter definitely stands out for its amazing vertical design. The set looks cool and doesn't take much space on your countertop. Even the cord wrap helps you to keep things organized. There are 20 lilac and pink hot rollers in the set – 12 large (1.25-inches) and 8 medium ones (1-inch wide). Such sizes work best for shoulder-length and longer hair. Each hot roller comes with a clip attached, and they may take some time to get used to. The clips may leave a line on your hair. To avoid this, wrap your hair as tight as possible. If your hair is loose on the roller, the lines and creases may occur.
The tool features the advanced thermal technology and the ceramic-coated hot rollers. Both, the rollers and the clips, heat your hair from the inside out, so you get more even results. The set heats up reasonably quickly. The rollers get rather hot, so be careful to avoid burning your skin.
Everything about these Remington hot rollers is great, except for one design flaw. For me, it's hard and time-consuming to get the curlers off and put them back on the heating rod. But I guess, I can live with that after all 🙂

11. Ion Hot Rollers for Smoothing and Creating Volume – John Frieda Body & Shine Smooth Waves (8 pieces)
These extra large hot rollers are meant to smooth your hair, giving it extra volume and body. Keep in mind that they won't give you tight curls. The set includes eight rollers, 2-inches wide. These John Frieda hot rollers feature titanium ceramic flocking and the advanced ionic technology to eliminate frizz and create shine.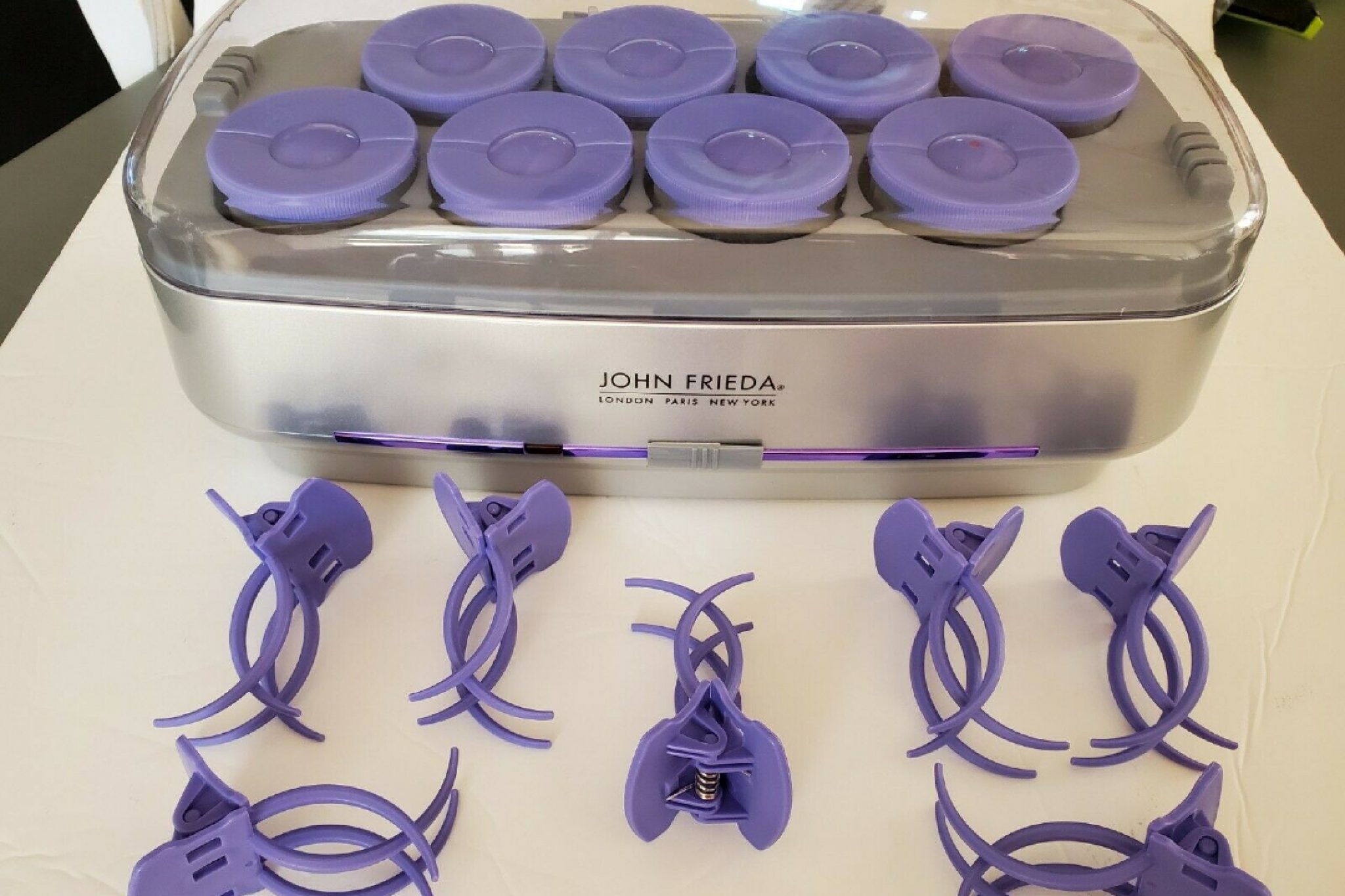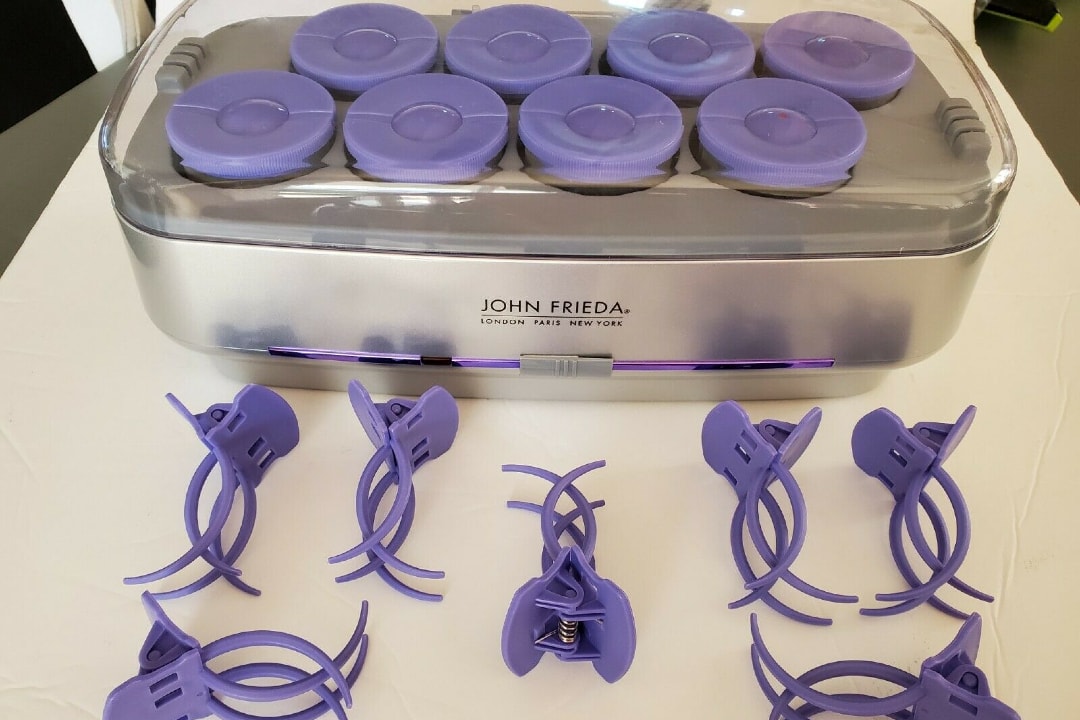 They get hot in about two minutes which is rather quick for such a tool. Plus, you can choose between high and low-temperature settings to select the perfect heat level for your tresses. That is quite a rare feature in hot rollers.
There are butterfly clips for each hot roller in the set. They hold the curlers rather securely if you position them correctly, yet some people complain about the clips not holding the rollers in place. The only thing is, these clips may leave small crimps in your hair. The crimps are faint and almost invisible, but you still know they're there. All in all, these 2-inches hot rollers are a great tool for creating volume and body on shoulder-length or longer hair.

12. Conair Instant Heat Travel Hot Rollers – Great Hot Rollers for Long Hair of Medium Texture
This set of the Conair hot rollers is perfect for those who travel a lot. It's lightweight, compact, and features dual-voltage. There are five jumbo hot rollers; each one is 1.5-inches wide. If you dream of big soft waves and extra body, go for it!
But these heated hair rollers won't give you those tight, defined curls. They provide good volume and all-day hold for normal hair. If your locks are really thick and coarse, the results may not be so impressive, so you may want to switch to a curling iron. For fine hair, these Conair hot rollers probably won't work either.
These compact hot rollers have a flocked velvety roller surface and stay-cool end rings for more comfortable styling. They heat up in two minutes which is quite fast for such a tool. The set comes with the plastic clips which may be not very convenient.
For instance, if you have thin hair, the rollers may just slide out even if you're using the clips. Also, they may leave dents in your hair if you don't secure them close to the scalp. On the bright side, the velvety surface of these hot rollers holds the hair well.

13. Outstanding Styling Product: Calista Tools Ion Hot Rollers
There are as many as 12 hot rollers in the set, six of them being 1-inch wide and other six being 1.2-inches wide. To tell you the truth, the last one is not a very common size, so if the rollers 1.5-inches in diameter are a bit wide for you, this may be a good option. These Calista hot rollers heat up reasonably fast, plus you have two temperature settings.
In my experience, the clips really help to keep them in your hair without loosening, yet I've heard some complaints about the clips not holding hair in.
Use these hot rollers to create salon-styled looks at home. You will get nice curls or waves that can stay longer with a bit of hairspray. The rollers and the heating base are quite lightweight, so you can take it with you when traveling.
Also, the tool is easy to handle and rather save to use, although you don't want to get the rollers right up against your scalp. Then again, this is true for any hot roller. All in all, it's quite a reliable product, especially as compared with those mediocre, poorly-gripping, and finger-scorching hot rollers.

14. Remington H1015 Ceramic Hair Rollers – Travel Hair Rollers That Save Space in your Suitcase
This compact set features ten hot rollers in two sizes: five large (1.25-inches) and five medium ones (1-inch wide). They will help you to create not only beautiful long-lasting curls but also extra volume and body. The ionic ceramic surface of these hot rollers will give your hair more shine while reducing frizz. And the exclusive J-clips are designed to provide a better hold and less creasing, comparing with the standard Remington setter and clips. In actual practice, they may be not that convenient.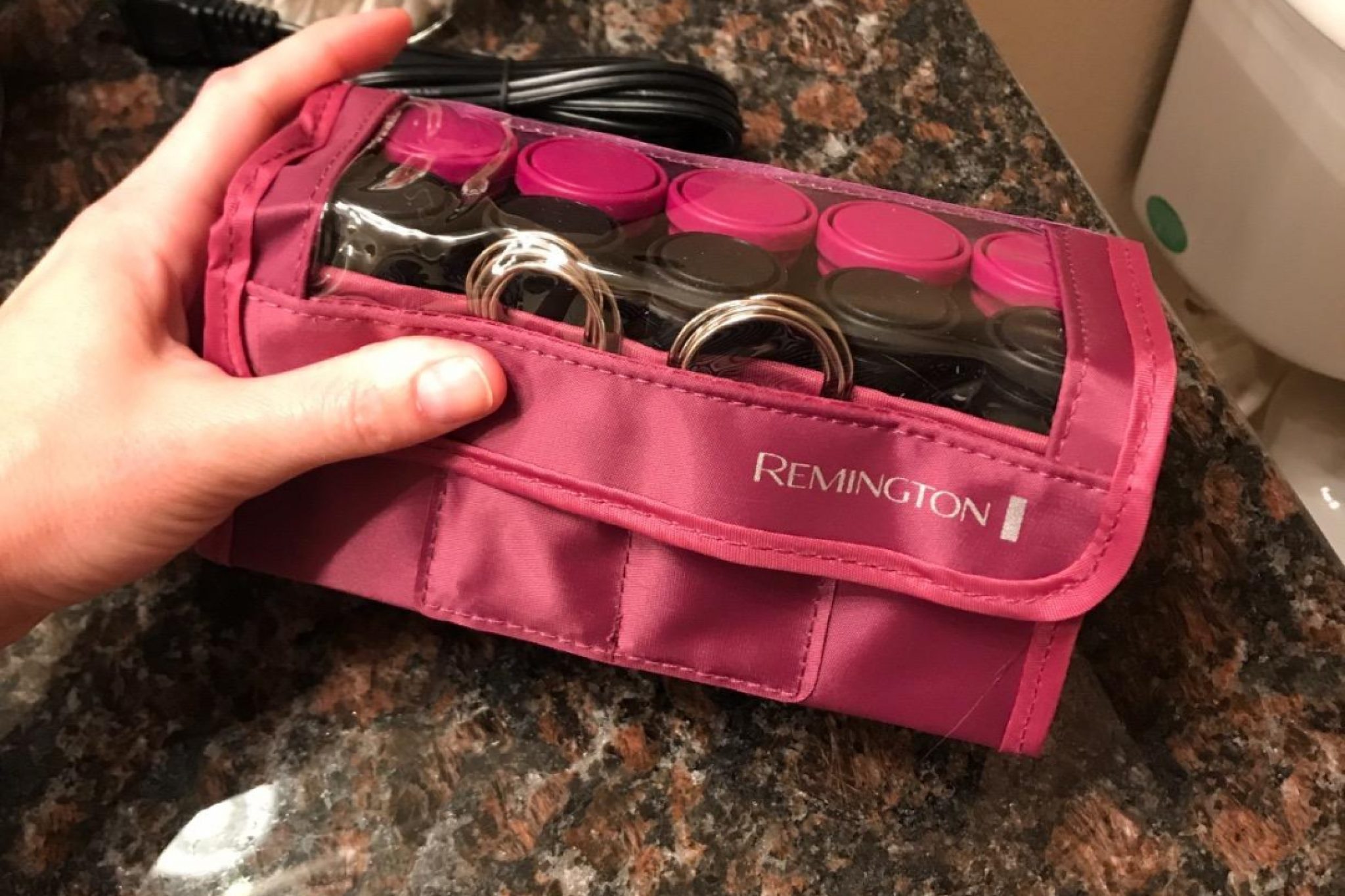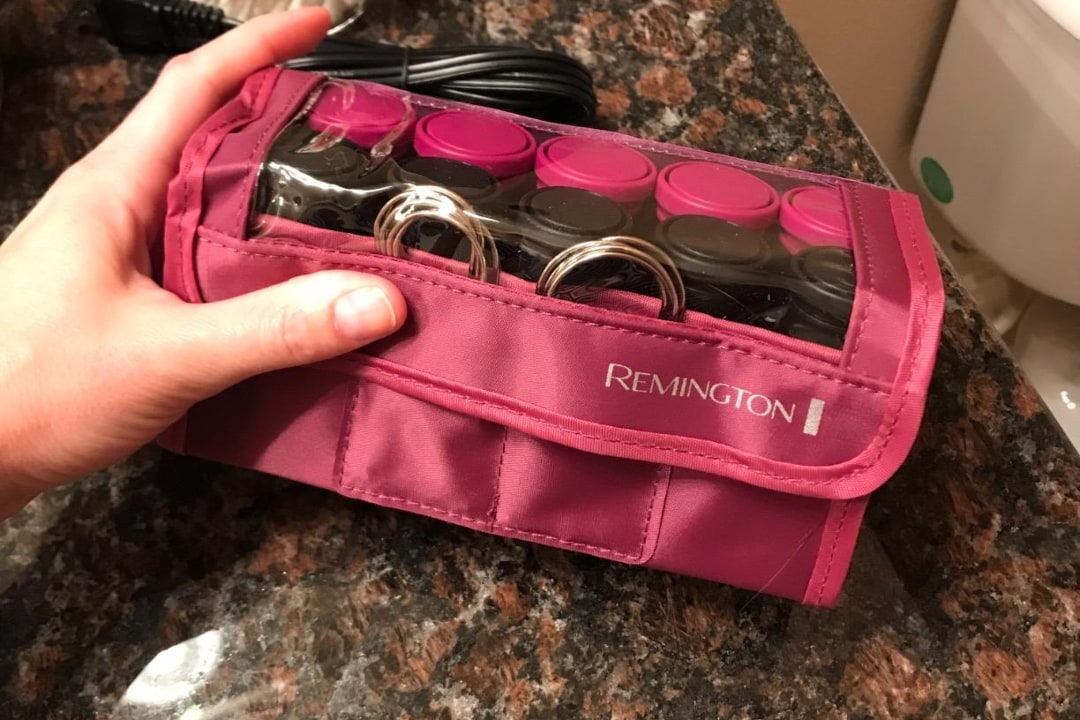 Some of the clips don't fit the rollers properly, so replacing them with the ones purchased separately may be a better option. Also, the clips don't hold hair in place: sometimes, they let the rollers slide off your head or slide down onto your neck which is not a pleasant experience.
The good news is, these Remington hot rollers have cool-touch ends for a safer styling. The tool heats up in about 90 seconds which is rather quick. Also, it features the worldwide voltage, so it's a great choice for traveling. The set is very compact, being 7-inches long, 3.5-inches high, and almost 3-inches wide. It fits well in a bathroom drawer and helps to save space in your suitcase.

15. Revlon Curls-to-Go Travel Hot Rollers with the Tourmaline Ionic Technology
In this set, you will find ten ceramic coated curlers in two sizes, about 1-inch wide and ¾-inch wide, so you can use these hot rollers even on short hair. The Ready Dot indicators turn white when the rollers are heated and ready to use which is rather handy.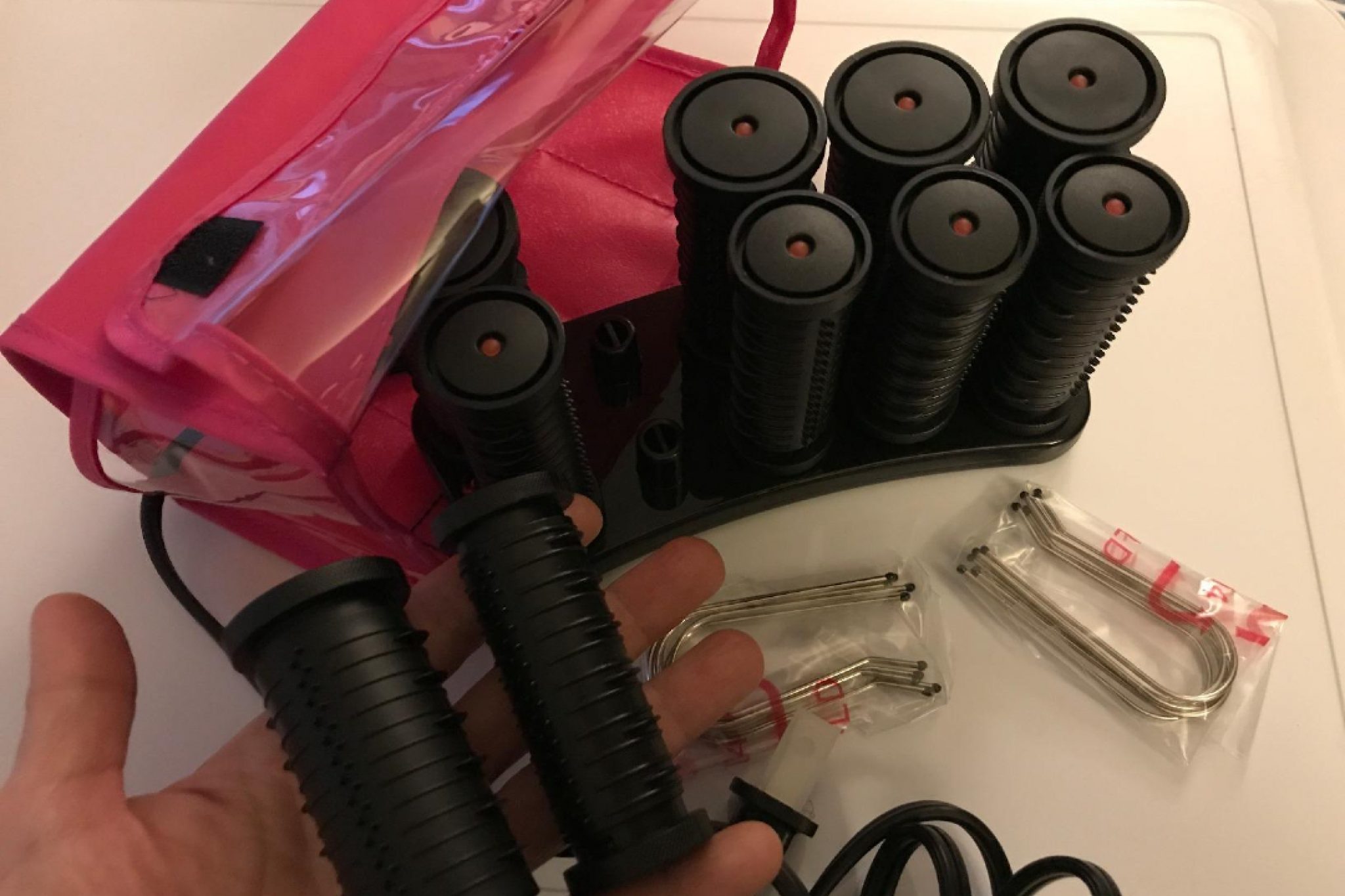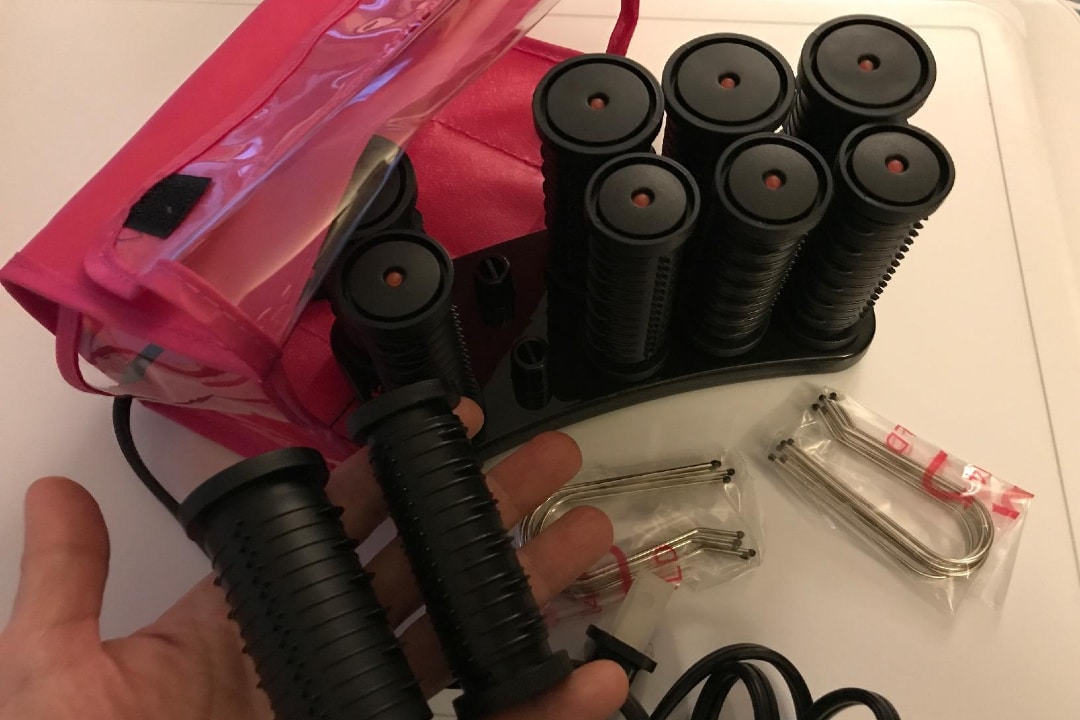 Also, the curlers have cool-touch tips that make styling safer and more comfortable. The tool is said to feature the tourmaline ionic technology for smooth and shiny hair with less frizz. It heats up rather quickly, but the temperature is too hot for fine, thin hair.
As for the clips, here you may face the common issue – they don't secure the curlers well enough. The clips are advertised as ergonomically designed, but the fact is that they still don't hold the hot rollers in place, according to some people's complaints.
For others, the clips work just fine. I guess it's very individual. Those little tines on the curlers somewhat help to stay in hair. On the bright side, this compact and lightweight set is a good option for traveling since it features dual voltage.

Choosing and Using Hot Rollers: FAQ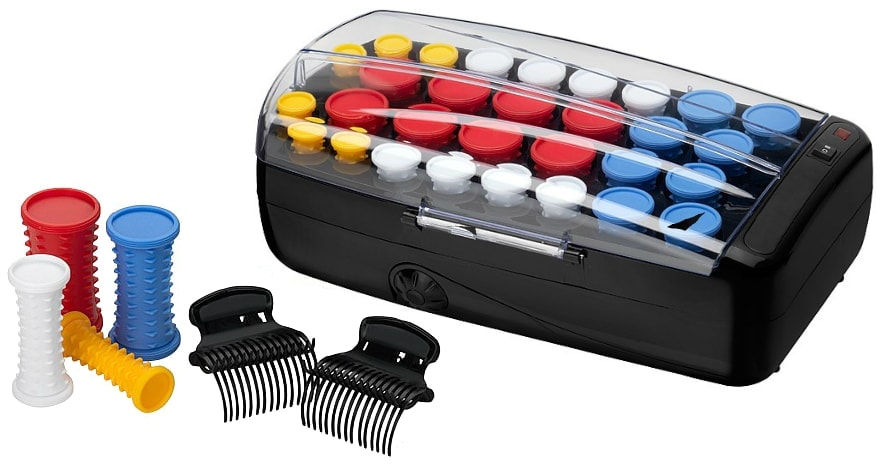 How long do you leave hot rollers in?
To know this for sure, read the directions for your particular brand and model. Depending on the material and the temperature level, different rollers need more or less time to create curls. Generally, if you want to make loose waves, leave the curlers in your hair for about 5-10 minutes. And for tighter curls, hold them in for 10 minutes or more. If you have enough time, let the rollers cool down in your hair to prolong life of your curls.
What size of hot rollers to choose for medium-length hair?
When it comes to hot rollers, shoulder-length or a bit longer hair is the most versatile one. Depending on what type of curls you want to get, you can use either small-barrel curlers or rollers with a larger barrel.
For tight curls and coils, take the rollers less than 1 inch in diameter. And for bigger, loser waves, you need curlers with a wider barrel, something like 1.5-inches or 1.75-inches wide. Technically, you can try 2-inches or 3-inches hot rollers as well, but that they won't work properly on hair that is above the shoulder. Before purchasing the tool, look up the hot rollers review with photos so you can see what kind of curls or waves you will get.
What are the best hot rollers for thick hair?
Thick hair tends to hold the style longer than a fine, thin ones. But thick hair still requires proper care. Look for hot rollers with ionic technology and far-infrared heat that help you to smooth hair, adding shine and combating frizz. Hot rollers that employ ceramic technology also help to keep your hair smooth and somewhat reduce the damage caused by heat. If we're talking about the size of the hot rollers for thick hair, it primarily depends on your hair length.
Instead of a Conclusion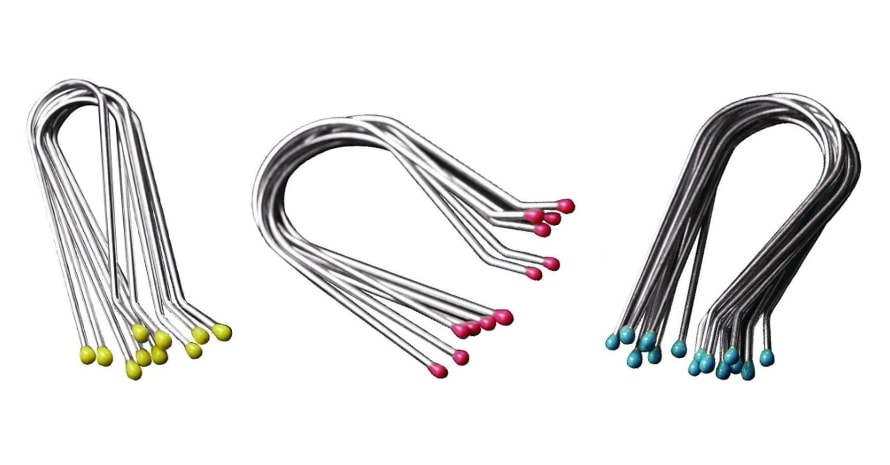 Hot rollers are an easy-to-use and very time-saving styling tool that helps you to create voluminous curls and gorgeous waves. They may take some practice, but when you get a handle on hot rollers, they'll probably take their place in your hair routine.
As they come in all shapes and sizes, take some time to find hot rollers for your hair type, texture, and length. Sets with rollers in two or even three different sizes are more versatile. Plus, they can give you more natural look than the curlers of the same diameter. Choosing the brand is up to you. I can only advise you to explore hot rollers reviews before purchasing to get an idea of their pros and cons.
Using hot rollers isn't very difficult, but there are some ins and outs. I hope that the step-by-step guide and the FAQ section in this post will help you to master hot rollers of any brand. If you have more questions, welcome to the comment section below! I would be glad to answer them all.
Girls, what do you think of hot rollers? Have you ever tried them out? What hot rollers work best for you? Share your thoughts in the comments!
Last update on 2022-12-11 / Affiliate links / Images from Amazon Product Advertising API