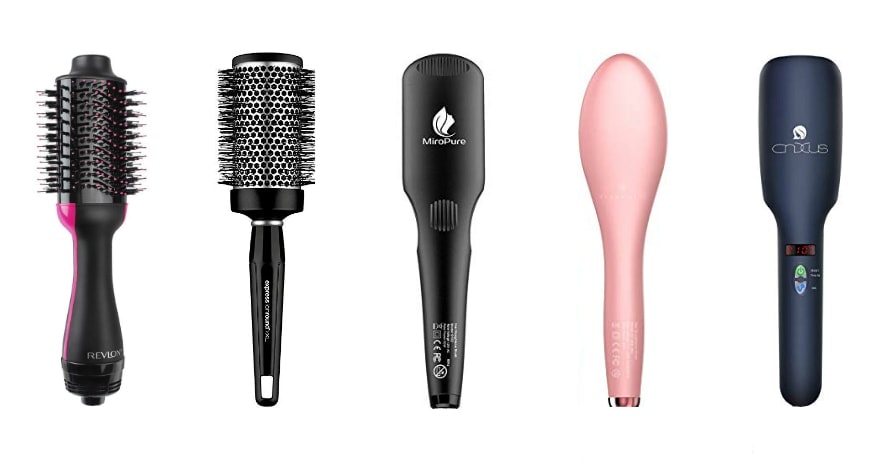 We have come a long way from combing hair with wide brushes to using the efficient and revolutionary ionic brush. There is nothing wrong with using a regular brush. They are cheaper, but if you continuously get frizzy hair, then you may want to think about changing.
My name is Monica. I am a blog writer and a women's success coach. All my articles are about new styling tools and hair products. Before I became a professional hairstylist, I used any brush, especially if I was in a hurry.
The experience I have gained when studying for my license has not only taught me the importance of using the right brush but also given me a chance to research the best hairbrushes in each category.
Ionic hairbrushes make a difference by only one thing, they add ions to your hair. Hair has positive and negative charges that are usually displaced by everyday activities. Drying, for instance, replaces negative charges.
I wasn't a genius in physics when in school, but I know similar electric charges repel. The same thing happens when your hair is only positively charged. Individual strands of hair resist one another, causing a frizz.
Ionic hairbrushes are made so they can add these charges back hence giving your hair a sleeker sheen. I have compiled some of my best ionic brushes that you can use at home, so you don't have to keep wondering what's wrong with your hair.
Top 10 Best Ionic Hair Brushes
Some of my clients often get it wrong with their hair, but it is not their fault. When you have frizzy hair, you will likely think that the products that you're using are faulty.
However, sometimes you need an ionic hairbrush to tame it to perfection. Below I have highlighted some of the best ones that I have used on different occasions, and that would be perfect for anyone.
1. BIO IONIC Bluewave Nanoionic Conditioning Brush: My #1 Pick
A barrel brush is the best way to give your hair volume while completely taking care of those flyaway hairs and split ends. BIO IONIC has some of the best brushes that I have used, and this one is great for both professional and home use. It is very well constructed, which makes it light on the hands with an excellent grip, so no slips that could end in a disaster.
It has a square-rounded barrel with wavy bristles that are made the way to improve how it brushes the hair as well as adding volume. The barrel also has a honeycomb design that helps with improved airflow so styling your hair doesn't take forever. Both the barrel and bristles are infused with a Nano-Ionic mineral that adds negative ions into hair and helps in smoothing it.
---
---
2. Ionic Hair Brush: Enhanced Hair Straightener Brush by MiroPure
If you detest heating and combing your hair separately, then this MiroPure straightener ionic brush is perfect for you. It is a two in one brush that is excellent for straightening, curling or merely brushing it. This brush is the ideal solution when you need glamorous hair but can't visit a salon.
It uses a ceramic-coated heater that's infused with negative ions, so your hair looks excellent with a few brushes. It provides you with 16 heat settings that are excellent for different stylings and hair types. The heat is distributed evenly on this brush, not like many that I have used, which give inconsistent results.
---
---
3. Paul Mitchell Pro Tools Express: Best Portable Ionic Hair Brush
This is the recommended brush when going for fine or thin hair that is usually difficult to brush using a standard comb. It uses high tension to remove any frizz, guaranteeing a smoother and silkier hair for longer. The brand's round design has a unique expression complex that assists with a reduction in hair static while fastening time taken to dry your hair.
With the brushes barrel heating up, it calls for quick styling and brushing for your hair as desired. It features a honeycomb design that also provides a flow of air, which is essential for creating a balance.
Bristles that aren't straight are always better since they grab hold of any stray strands hence softening and while ensuring they are straightened.
---
---
4. Ionic Hair Straightener Brush, CNXUS MCH Ceramic Heating
You will spend less time straightening hair when you make use of an electric brush. However, many of them give uneven results or are challenging to optimize the perfect temperature. This is usually the case with PTC straighteners, but with the CNXUS brush uses heating through MCH that is made to solve all your straightening struggles.
The brush will consistently remove split ends with little struggle. The straightener enriches negative ions to your hair, so it is more manageable even without heat. An LED display lets you monitor temperatures strictly, hence it can never be too hot for your liking. There are five levels of heat to choose from, depending on what you want to select.
It has a comfortable design to hold so brushing your hair yourself is faster. The ceramic brush heats in just five minutes and turns off after half an hour without being in use.
---
---
5. Revlon One-Step Hair Dryer & Volumizer Hot Air Brush
Many of my clients often face a hard time when it comes to using a hot air brush while blowing their hair simultaneously. In case you are a novice in using the brush, you will face the menace with tangled hair, which is a nightmare for first-timers with the incident. The hairbrush dryer reduces the procedure of brushing your hair to give you an easy brushing time hence helping you prevent your hair from tangling.
I am impressed with the oval design since it increases your hair volume through an enhanced lift. It contains 1100 watt so hand it plenty of power for straightening your hair. The three speeds when it comes to styling will help you in quickly navigating from a simple straightening to a complete blowout.
---
---
6. Blow Dry Round Hair Brush with Natural Boar Bristles: Care Me Nano Technology Ceramic Ionic Hair Brush
Many hairbrushes have nylon bristles that aren't terrible depending on what they're for. However, natural bristles which are long-lasting and are better on hair. Natural bristles are great for adding sebum oil to achieve a softer and shiny hair.
It has the option of three different sizes, which you can choose according to your preferences depending on the outcome you desire to achieve and the preferred hair length.
The core is ceramic and allows more flow of air, which means you can alternatively reduce your straightening time by half. The bristles are also infused with ions that help in lowering brittleness of any hair type.
---
---
7. Straightening Brush 2.0, GLAMFIELDS
The hair straightener brush is precisely what you need when your hair is stripped of ion since it provides you double effect. In case you continuously suffer from wet and frizzy hair, it's a useful item because it wraps in moisture and smoothens any wild hair that gives you a lovely and a complete look.
This straightener brush utilizes the MCH feature. This means you get better heat efficiency and lasting results. Upon mastering your technique, it becomes a necessary option for hastening your hair straightening routine within a few moments. It gets heated up in less than a minute while giving you up to four different heat options to utilize.
---
---
8. FIXBODY Boar Bristles Round Ionic

 

Hair Brush
If you have brittle hair that dries out pretty fast, you should stay away from inorganic brushes. This is because they lead to more loss of moisture, which only worsens the state of your hair.
This FIXBODY brush is made using boar hair bristles that are cut from farm-raised boars, so it is cruelty-free. It adds and helps spread sebum all over your hair, so it is healthier and stronger.
It has Nano Ionic properties that help in retaining the moisture from hair and adding negative ions, so your strands separate and they are manageable. The barrel has a honeycomb design that allows maximum airflow so you can dry your hair faster.
Many people struggle with removing hair from barrel type brushes so this has a retractable needle at the bottom that helps with removing hairs from the brush. It is excellent for straightening or curling. The best part is that it is cheaper than most brushes of its kind.

---
---
9. Ionic Hair Curling Brush: SUPRENT Round Brush with Boar Bristles
If you have used the SUPRENT round hairbrush, then this may seem a bit different. That is because it now has one body, so the handle isn't detachable. This improvement is much welcomed since it makes it stronger and easier to use.
The thing that I love most about this brush is the boar bristles with a nylon mix that gives you a healthy-looking and soft hair every time. Of course, the boar bristles are great for spreading sebum on the strands, but they are also gentler and longer-lasting than nylon ones, which are prone to melting and wearing out.
The core is constructed to allow as much hair as possible, which is a plus since you get your gorgeous looking hair faster. The Nano Ionic feature is present in both the barrel and bristles hence you have more ions infused into your hair. This means you can straighten faster and efficiently because the barrel heats up quickly.

---
---
10. Calista Tools Pro Grip Digital Temp Control: Ionic Hair Wand Brush
You should get the Calista Pro Grip brush if you have a problem using round brushes, but you want the benefit of more volume. It is the most straightforward barrel brush that you could buy, especially since it is electric, so you don't need to figure out how to balance the hand dryer and the tool in hand.
It has dual ceramic-ionic technology that perfectly straightens your hair by ensuring that there is no frizz. If you can hack getting the technique right, you can get professional results in just minutes.
It curls, straightens, and lifts your hair and is perfect for all types, although you may need a little extra help if your hair is thin.
It is effective if you get the right size for your hair, which is one inch for shorter and two inches for long hair. Unfortunately, for the price, the brush doesn't offer much apart from the fact that it is more durable.

---
---
11. Olivia Garden NanoThermic Ceramic + Ion Round Thermal Hair Brush — Best Brush for Frizzy Hair
Olivia Garden is a Belgium company that was established in 1968. Since that, Olivia Garden is continuing to surprise the hair stylists with new inventions and unique developments. The main specializations of the company are manufacturing of the professional and thermal brushes. Having a large experience, today Olivia Garden is a recognized leader in the fashion industry.
By the way, I and Monica very often purchase the styling tools of this brand. In the company's assortment, you can find lots of different brushes of various shapes and sizes. Moreover, their tools are much cheaper than BIO IONIC brushes, at the same time, the quality remains the same.
NanoThermic Ceramic anti static hair brush uses the latest technologies and innovations in producing ion hair brushes. It has an ergonomic design and a snag-free ring. The brush is available in ten sizes. Not sure which one to choose? Everything is very simple. If you have short and straight locks buy the brushes with small bristles (from 0.5 inches to 2 inches).
If you have frizzy, long, and curly hair, then buy big sized brushes. I recommend you to try NanoThermic Ceramic brush by Olivia Garden with 2.13 inches bristles. It has extra-large vents and can be used even after the shower. With this brush, you can create beautiful volume and curls. By the way, it is very easy to clean a round hair brush. Note, that this ion thermal hair brush is not suitable for hair straightening.
Type: conditioning brush;
Shape: round;
Main function: creates volume and beautiful waves.
Pros:
affordable price;
ergonomic design;
available in ten sizes.
Cons:
it is available in one color only;
it is not shipped to all countries.
FAQs About Ionic Hair Brushes
Ionic hair brushes are life savers if you have frizzy and static hair. However, there is a lot that is not known about them, so here are a few frequently asked questions.
Are Ionic Electric Brushes Better?
There is no clear way of determining which one is better since it depends on what you can do with it. However, nothing beats the good old brush and hairdryer in hand, as you get silky hair and the results last for much longer.
Does the Shape and Size of the Ionic Brush Matter?
Yes, they do. It would be impractical to use a broad brush on short hair and vice versa. It is also more manageable when the shape is ergonomic since it is easier for you to use but also allows you to work faster since your hand doesn't tire as often.
Should You Use an Electric Ionic Brush on Wet Hair?
Some brands may say that it is ok to do so, but there are a few risks associated with damp hair and electric brushes. While you may not risk electrocution, using it on wet hair reduces the lifetime of the brush as it may malfunction. To be on the safer side, it is best to dry out your hair as much as possible before using it.
Ionic Straightening Hair Brush Reviews Conclusion
Instead of changing your hair products every other month due to brittle and frizzy hair, why not try an ionic hairbrush. It could be the answer to all your questions since it helps in adding more ions into your hair while making it silkier and shinier.
Whether you opt for electric or non-electric brushes, the critical thing is to check that it uses some form of ionic technology. If you choose a barrel brush, remember to work on your technique and strive to brush downwards since it is more comfortable.
What is your favorite form of brush? How do you like the products of this review? Share your opinion in the comment section below.
Last update on 2022-12-11 / Affiliate links / Images from Amazon Product Advertising API