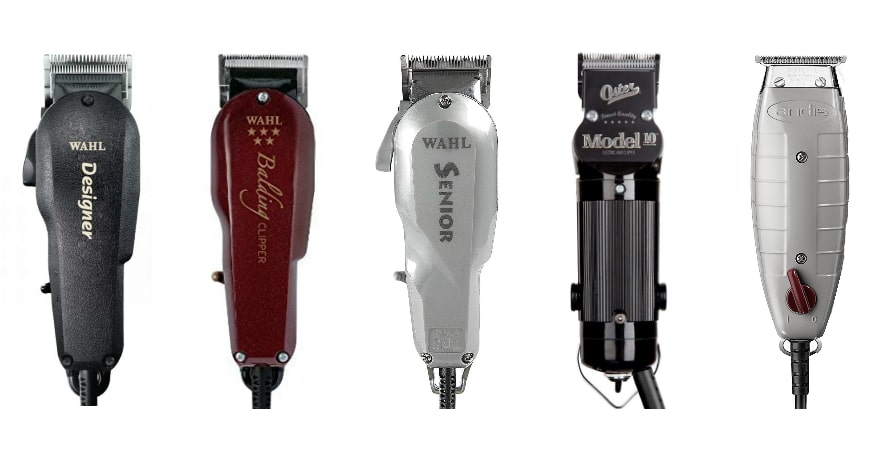 Everyone gets a haircut now and then. Some people prefer to go to a barbershop while others are more comfortable giving themselves a haircut. Getting your hair clippers can save you a ton of time and money. It also reduces the time spent at the barbershop, waiting for your turn to get the same cut you have had for years.
I have worked as a hairstylist for the past couple of years and have gathered a ton of priceless experience. One question that keeps popping up is what clippers do barbers use and how can we pick out the best ones. Fortunately, this review has everything you need to know to make a successful purchase.
Top 9 Best Professional Hair Clippers Barbers Use
Here are professional hair clippers reviews of some of the best hair clippers that you can buy on Amazon. Each of these clippers stands out for a unique reason and will suit different purposes.
1. Top Pick: Oster Model 10 Professional Barber Grooming Clipper
Oster is a subsidiary of one of the world's largest manufacturers of small electrical appliances, Sunbeam. They have a long track record for making some of the best quality and most durable appliances. The Oster Model 10 hair clipper belongs to pro barber clippers.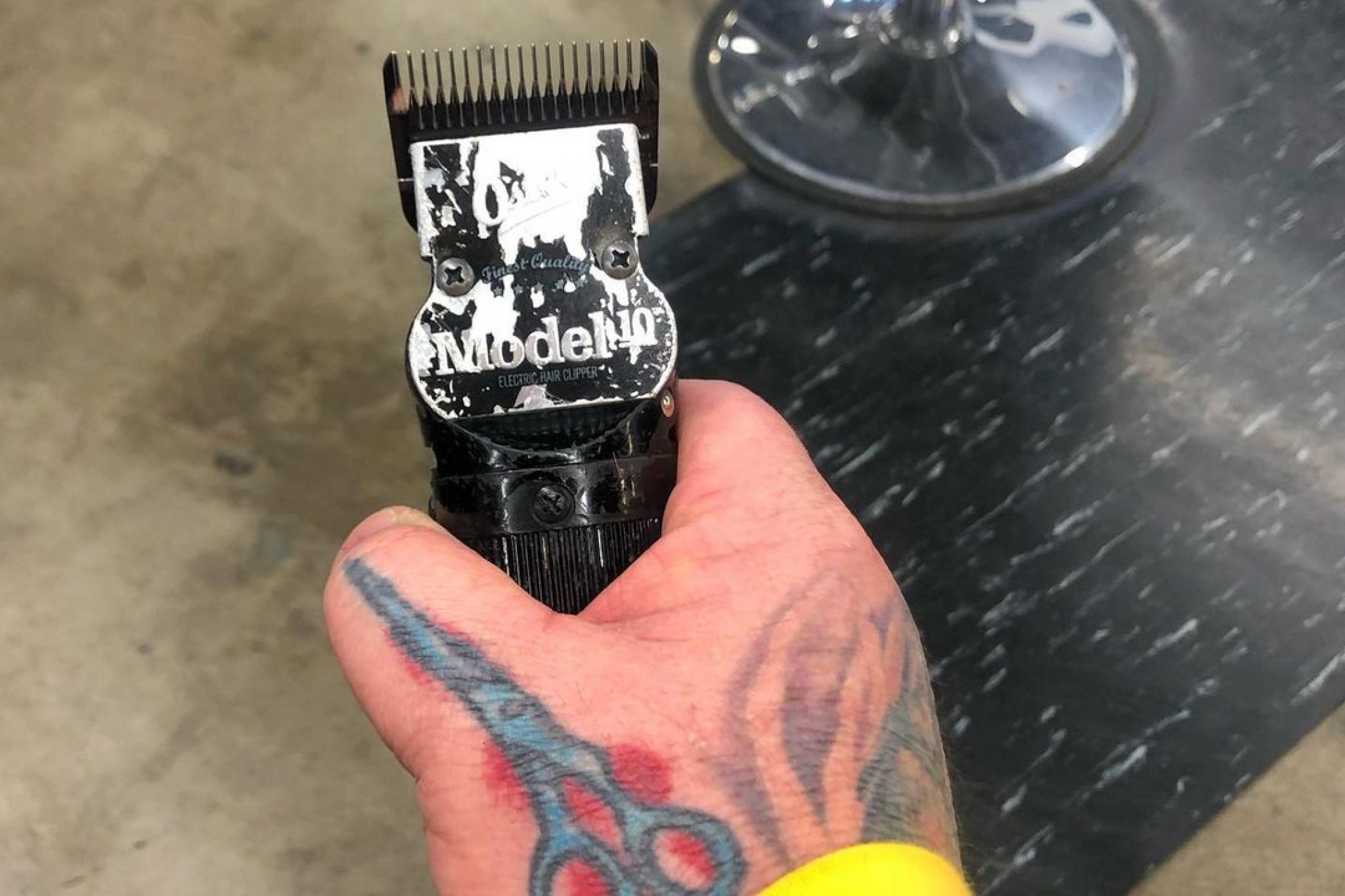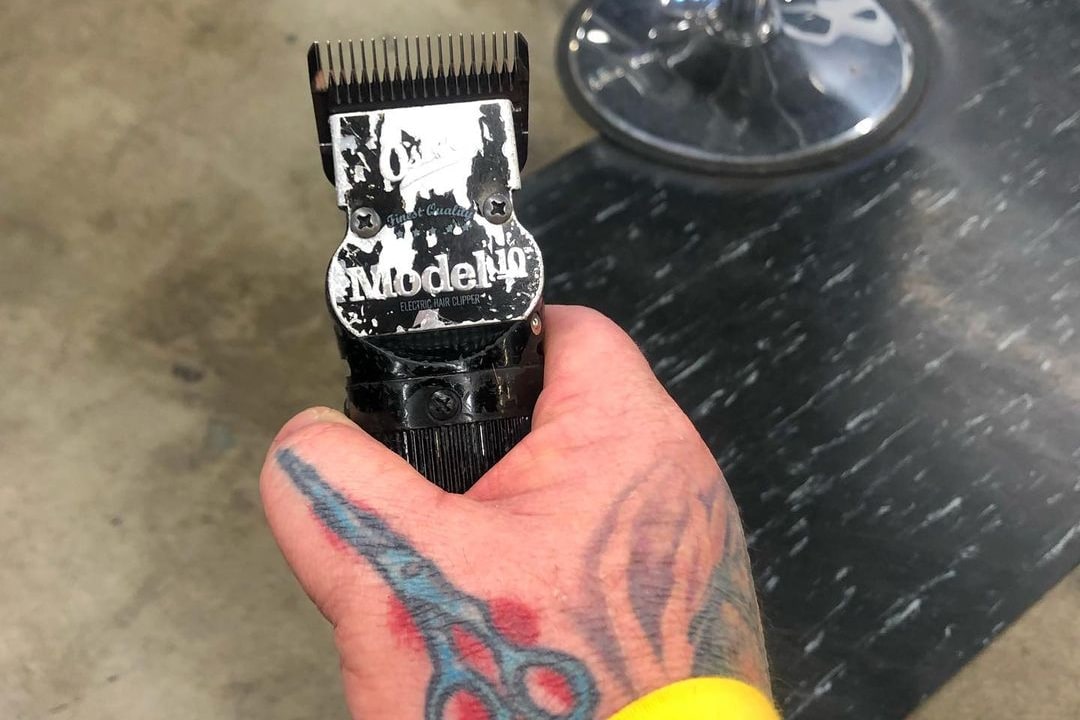 Shipping with two blades, you can get the closest shave possible. It lets you do the haircut without making you use the clippers at some awkward prescribed angles. You get a nice and clean shave with relatively normal noise levels.






It is worth noting that the clippers have a very powerful motor, which can get pretty loud. The large motor also means it gets quite hot after prolonged use, taking into consideration the duration of the average haircut. If you want to use it repeatedly, be sure to monitor those heat levels.
The blades are great quality, and the clippers will last you a pretty long time. These are high-quality hair clippers, which means they are expensive, reflecting the quality, not brand, as is usually the case with many appliances like that.
---
PROS:
clean, painless shave with size 000 blades;
powerful motor;
durable;
ships with two detachable blades.
---
2. Runner Up: Wahl Professional Senior Clipper #8500

This is a brand that needs no introduction. Wahl has over a decade of experience. Backed by in-depth research and customer feedback, the company creates some of the most durable and top-rated hair clippers on the market.

The biggest advantage of using these clippers is that with the powerful V9000 motor inside, you are guaranteed to cut the full head with fewer passes compared to using the weaker motors.


The adjustable blade angles mean you can get the cut you prefer fast and easily. The new ergonomic design makes these clippers look stylish, and this is a huge plus for the product. Also, if you are shaving yourself or your kids, these clippers will make your work go a lot faster. These are the best hair clippers for barbers and amateurs alike.








Accessories include cleaning oil and a blade for proper storage. The cable is pretty long, at 8 feet you don't have to worry about sitting too close to the power outlet.
---
PROS:
durable motor;
clean and painless shave;
ergonomic design is comfortable to use;
cheap.
CONS:
blades are not detachable.
---
3. Oster Classic 76 Universal Motor Clipper
The Oster Classic 76 is one of the most practical hair clippers on the market. As the name says, the clipper looks vintage, especially if you buy the one in brown for that rustic 70s look. Holding the clippers, you will notice the very sturdy build for durability.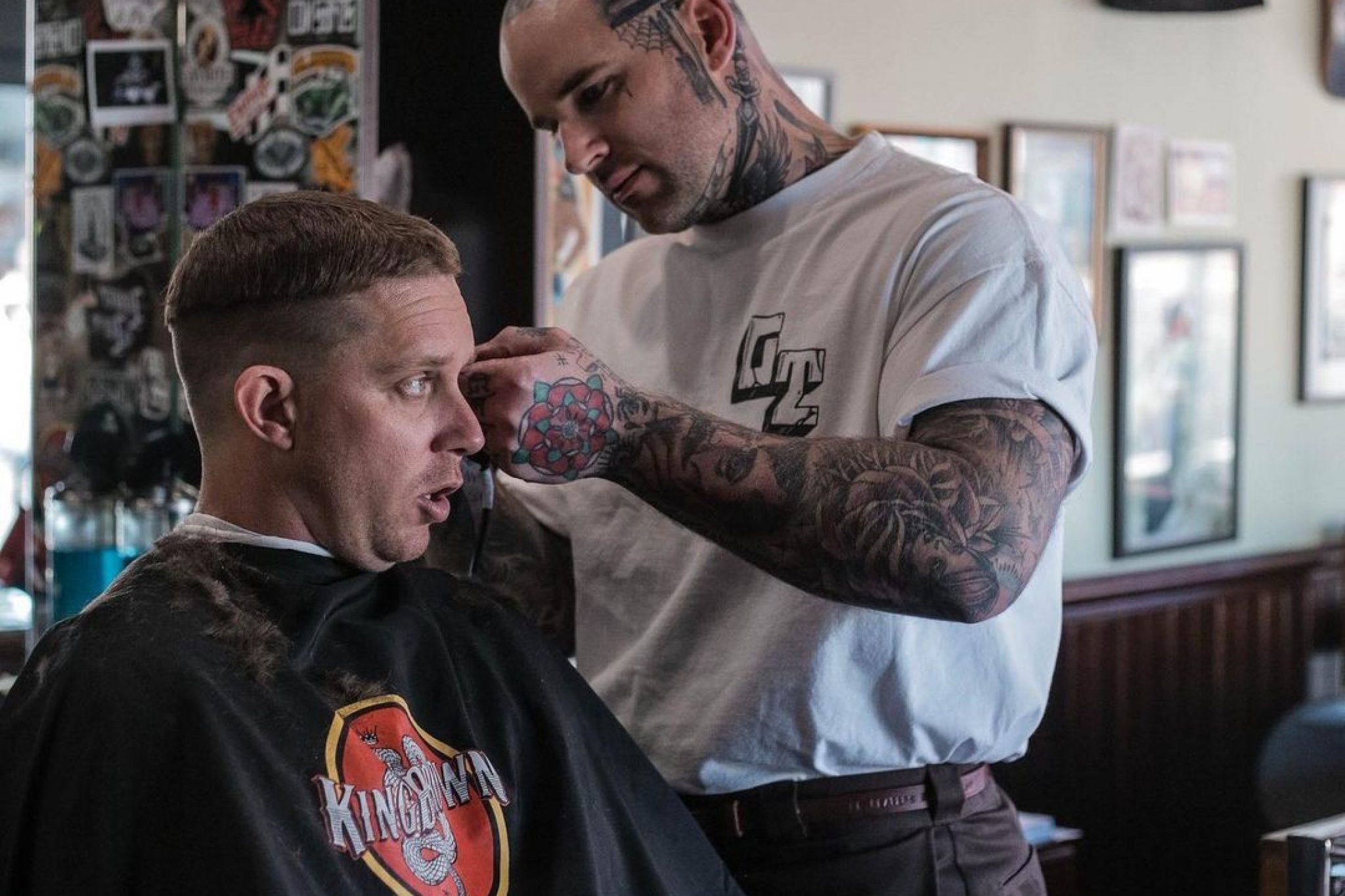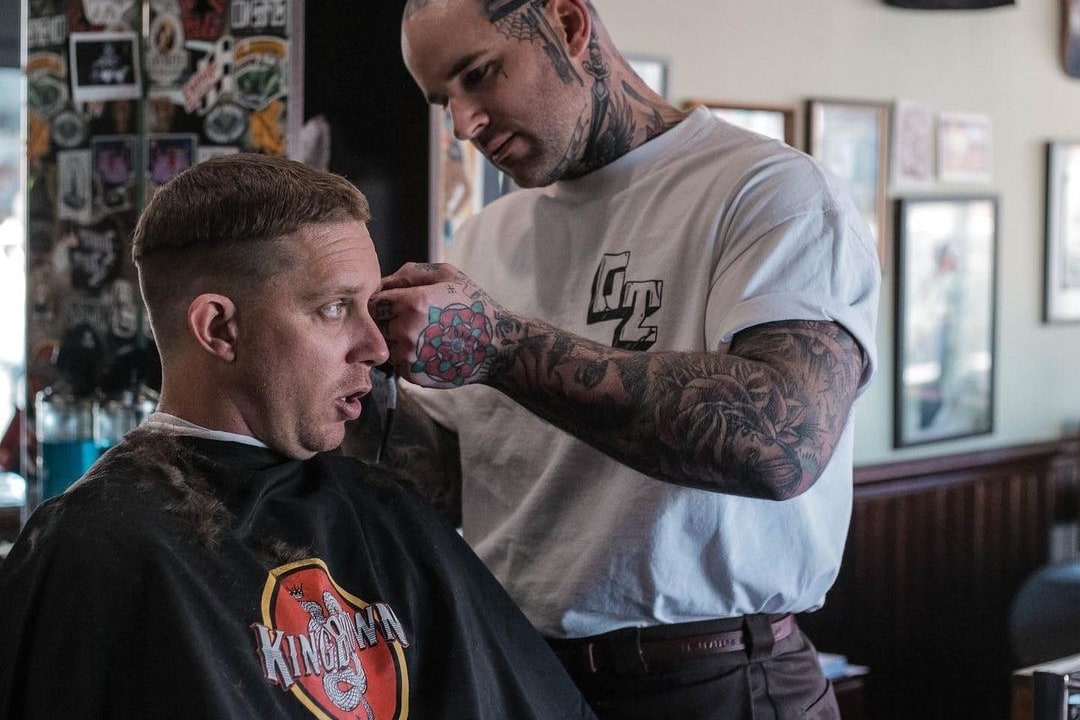 As a pro barber, your professional haircut machine should be able to handle most types of hair with relative ease. This is exactly why the Oster Classic 76 stands out from the crowd. It is perfect for most hair types and is a workhorse of sorts. You can cut hair all day with little overheating and consistent performance.
The blades are very easy to clean, the box includes a cleaning tool, lubricating oil, as well as two blades of sizes 000 and #1. The cuts are all smooth. If you have previously been using a different brand such as Wahl, expect a bit of a learning curve with these. The reason for this is the angle at which you hold clippers, as it is a little different. The unit has a fixed-length 9-foot long cable that is very durable.






Another noticeable difference is the fixed guard with no sliding lever on the side to change the cut. These blades are great for cutting beards as well. These clippers create no irritation, out with the bumps! The other lovely thing is that the powerful motor inside is not too loud; you will only notice a low constant speed hum.
---
PROS:
durable design;
very clean shave;
ships with multiple detachable blades.
---
4. Wahl Professional Super Taper II Hair Clipper #8470-500
You may have noticed a trend with the first few reviews; they are either Wahl or Oster, as these two companies make great products. When talking about Super Taper II clipper, it is shipped in a plastic body. As you would expect, plastic breaks easily, and given how heavy clippers tend to be, dropping would spell a disaster, right? Wrong.
The body is plastic, which pans out as an advantage making it light and easy to hold hair clipper. It is one of the best barber clippers available on the market exactly for this reason. As with most Wahl designs, it is ergonomically designed to fit in your hand for a good holding angle to get the perfect shave.








The Super Taper II was specifically designed to give people with very thick hair a nice clean cut. The strong blades and heavy-duty V5000 motor provide the right amount of power to go through that thick mane with ease. The clippers have the signature Wahl sliding lever. This allows you to adjust the blade angle and motor speed. Which, in its turn, lets you customize your cut to your preference.
Wahl went a step further with the specialization of these by including eight attachable combs in the box. You can style your hair any way you want with all those options at your disposal. It is easy to see why many pro barbers would go for this.
---
PROS:
relatively cheap;
light and durable design;
plenty of comb options included in the box.
CONS:
power feels a little weak.
---
5. Wahl Professional 5-Star Balding Clipper #8110
As a hairstylist, I quickly realized how different models of hair clippers gave me varying results over time. This was a combination of both the closeness of the cut expected and the type of blades that were on the clippers I used. The 5-star balding clippers, as the name suggests, are meant to give a clean, bald cut.
This was not the case for kinky hair or African-American hair. It gives more of a light shadow cut for people with tougher hair. The reason is because of the speed and sliding action of the blades.
The professional-grade hair clipper is perfect for beards, shaving light, thin hair, or when you are balding. The long-form factor of about six and a half inches is easy to wield even for those with small hands. The blades have a small fitting that allows you to slide them to get the cut you would like. This also helps to make the cleanup easier. You should lubricate the blades as often as possible to prevent any rust as well as keep them in top shape.








Hair clippers at the barbershop tend to be in use all day. As a result, you want to have electric hair cutter tools that do not heat up too often. This is what gets these on the list of the best clippers for professional barbers. If your hair is exceptionally thick, you'll need to use more than one pass to get a clean cut.
---
PROS:
very cheap;
extremely durable design;
easy to clean;
lightweight and quiet operation.
CONS:
not suitable for thick hair.
---
6. Andis Professional T-Outliner Beard/Hair Trimmer
Brand Andis has been around for a while. They manufacture some of the best professional hair clippers for barbers you can currently buy. The T-outliner is one of such offerings. It may be used for cutting both thick and thin hair. The name speaks for the design of the blade. The main aim is trimming outlines and getting that nice fade cut to stand out.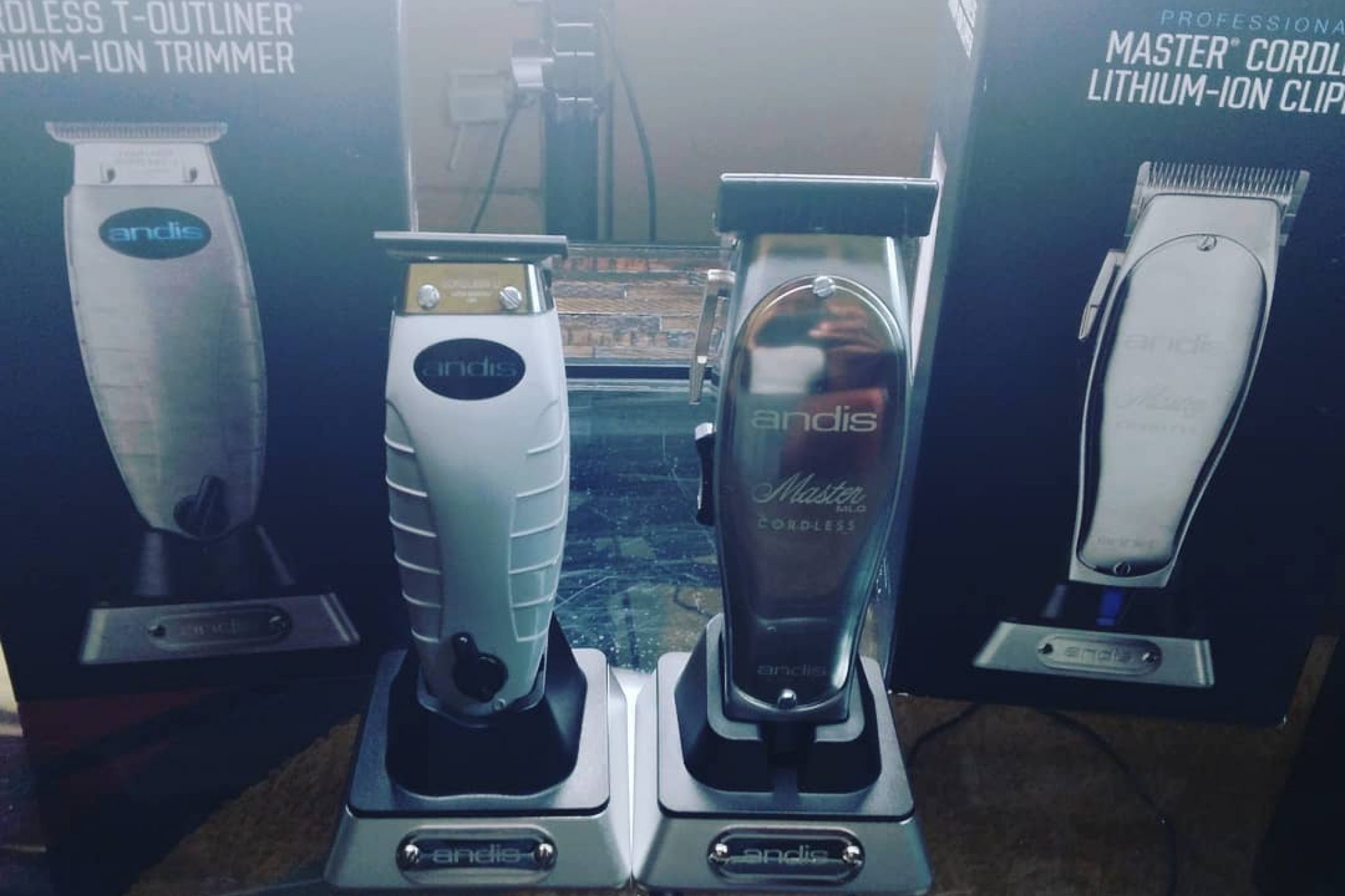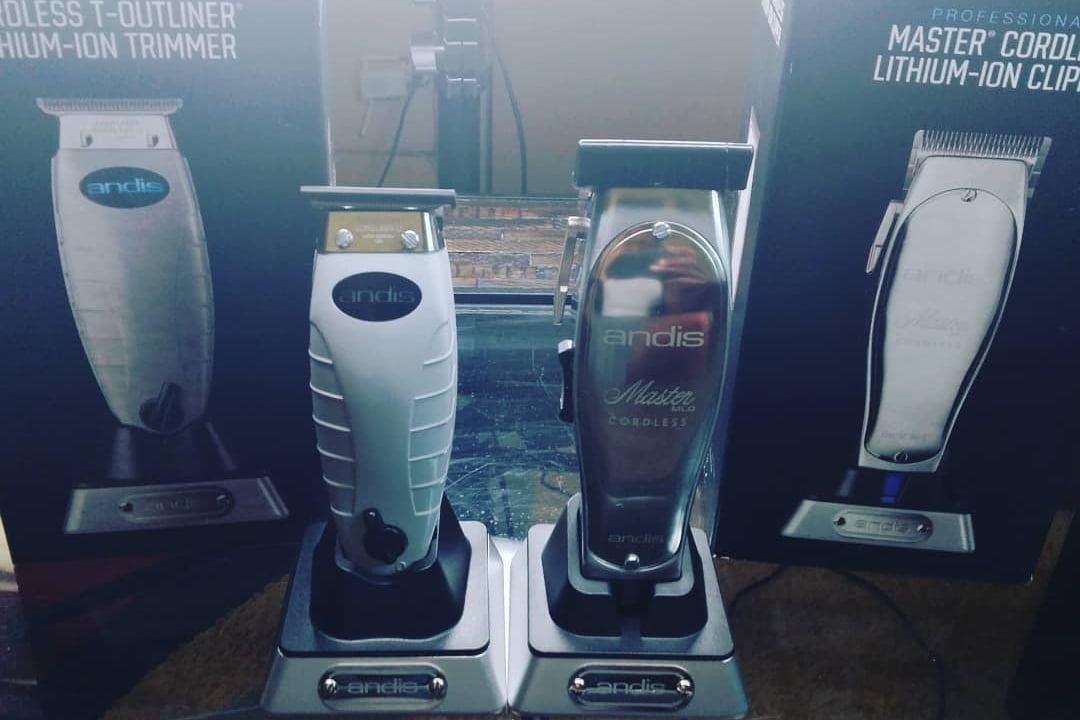 The motor is housed within a well-contoured shape for easy grip. Unlike other designs, the body bulges out in the middle and then gets smaller towards the back with the corded end. The power switch is located at the top toward the back, which is surprisingly stylish. It is a dual-tone design with a silver body and brown power switch.
The power cord offers an 8-foot allowance and includes a loop for hanging the clipper. This is the best professional hair trimmer, which makes it a favorite option for most barbers. Notice how your barber switches between different hair clippers during your haircut. That is because different hair clippers are used for various purposes. The T-outline design guarantees a precise and close cut that is unmatched.








The blade has a single-speed motor and runs fairly quiet with a low and consistent unmistakable hum. The blades cannot be adjusted. The only downside is that the blades get pretty hot if used for a long time.
---
PROS:
clean and precise cuts;
very smooth shave;
perfect for both thick and thin hair;
easy to hold for all angles.
CONS:
it may get hot during use.
---
7. Wahl Professional All Star Clipper/Trimmer Combo #8331
The All-Star Clipper/Trimmer combo is a combination of two amazing products from Wahl. These professional barbering clippers suite cutting all types of hair from thick to thin. The Wahl Designer has an 8-foot long cord shipping with it.
This gives you as much freedom as possible regardless of your bathroom set up. It has a lever to the side to adjust the blade gap and give you varying cuts to your preference. This is coupled with a variable speed motor that adjusts according to the angle you select.
Sticking to their unique design, the one-pound clippers are easy to use. Also, they offer a cutting angle that is not that hard to get used to. If you have thick hair, you will need to use more than one pass for a cleaner cut. The Wahl Designer comes in the box, with six attachment combs giving you plenty of options.








The second product included in the box is the Wahl Peanut. It is a much smaller hair clipper specifically designed for trimming edges, getting you that precise close cut. It is also a perfect beard trimming product, too. The precise cut allows for some pretty great results if used to trim sideburns or a mustache.
The best part about the two professional clippers and trimmers is how light they both are. I have already mentioned that they are very quiet during use and do not overheat, haven't I?
These two are meant to be used together but will still function just fine independently. The products are not prone to overheating even after extended use making them a favorite option for pro barbers. The only downside is the weak build, be careful not to drop either of these during use to guarantee gadgets` longevity.
---
PROS:
cheap;
lightweight build;
quiet operation.
CONS:
it requires delicate handling.
---
Want more clipper options for beginners? Check my review of the best clippers for a home cut.
8. Oster Classic 76 Hair Clipper with Fast feed and T-Finisher – Complete Trimming Barber Set
The Oster Classic 76 has already been reviewed above, here is the cute little set containing the Oster Classic 76 and the Oster T-finisher all in one pack. The T-finisher is designed to give you a smooth and clean-cut for the best edges possible.
The hair clipper blades are made to allow ease of use in all possible angles. Anytime you see someone with a haircut that has very intricate drawings or patterns, think about the T-Finisher. The precision it offers is frankly mind-blowing. The little unit has a long power cord that is sure to resist any wear and tear.
The second tool included in the professional hair clippers set is the fast feed. This allows faster trims with fewer passes. Primarily aided by the set of custom combs included in the box, it cuts hair quickly and with unmatched ease.
There is a set of 14 combs for the three clippers in the box. It goes without question why this is a deal any pro barber would jump on. You can have this set as a part of your grooming kit, the Classic 76, for the heavy-duty hair cutting work. The Fast Feed is excellent for the occasion when you need a delicate touch upon an existing hairstyle.






The last item, the T-Finisher is here to help you trim those hard-to-reach edges and mustache. All three products have very powerful motors. The Classic 76 is not very quiet, nor is it light. The other two are reasonably weighted with rounded casings for an easy grip and angle of use.
---
PROS:
all clippers give clean shaves;
plenty of options with the combs;
easy maintenance;
durable designs.
CONS:
doesn't suit those looking for a single tool.
---
The last item I want to bring your attention to is the Wahl lubricating oil. The best professional barber clippers usually get shipped with lubricating oil in the box. The Wahl premium lubricating oil is a great option for getting your clippers well maintained and protected from rust. Make sure you read the manual to know exactly where to put the oil for the best results.
Most Wahl clippers have a tiny hole on the lower side of the blade; once in a while, you should put a few drops of the lubricating oil there. Do this before and after the use. It is also recommended that you use a sterilizer after the use if the clipper is not for individual use and gets to be shared quite often. Thus, you can avoid some health risks associated with shared sharp-edged tools.








Lubricate your clippers generously after each cleaning right before storing them. The lubricant is very cheap, so feel free to use generously for the best results.
Buyer's Guide for Choosing the Best Hair Clippers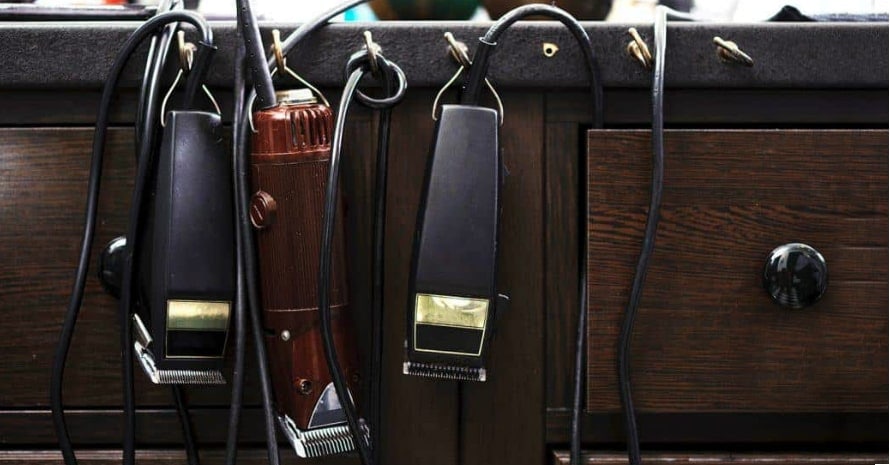 If you think that now you are ready to buy hair clippers, you must understand which questions to ask as well as the things to look out for when shopping. Below are several facts that will benefit your purchase decision. For example, if you want a hair clipper for a toddler, you should not way too powerful trimmers as the Wahl Designer or the Oster Classic 76. Instead, you would opt for a quiet and less powerful Wahl Peanut.
Read the list below to know for sure which product will meet your needs.
Hair Texture
A large part of the decision-making process is the definition of your hair type. The thing is – if you have very thick and tough hair, you should always buy a more powerful clipper, definitely not the one with the average motor; also, keep in mind that the one size tool that fits all configurations used at the barbershop won't work for you.
Trimmers meant for mustaches or beards also should not be too powerful as this type of trimming requires extra precision to get a clean shave. As you see, the well-controlled touch of a trimmer is preferred in that case.
Accessories
As a stylist, I would say that it is essential to have a clipper that fits a variety of combs and blade sizes. These options increase the number of ways I can style my clients' hair. Also, multiple comb sizes are a must for me, so that I can keep up with the varying hair lengths.
I guess there is no need to highlight the importance of disinfection. Never forget to clean the blades and accessories properly as it guarantees your clients will not suffer from any health issues after having visited your salon.
Cord Length
Admit it; if you went to a barbershop and found them with an annoyingly short cord, you get a little pissed off. This could be easily fixed with a long cord. The cord should also be chemically and water-resistant, so it will serve you for a long time. Judging from my experience, the best cords include a hoop for hanging your clippers when you are done.
Noise
There is no way you can tolerate extremely loud clippers. First, because we are all naturally very unsettled when we have loud buzzing noises so close to the head. A noisy hair clipper is like an annoying fly buzzing around your head, only 100 times louder. Be sure to find a hair clipper and trimmers that are as stealthy as possible.
Durability
When handling hair, you will have to use a variety of hair care products that tend to be oily, thus, making your hands very slippery. Ensure you buy a sturdy hair clipper with a metallic body so that when the gadget falls, it will not break.
Do not forget to check whether the blades are fixed or sliding, and if they are modular, make sure you fasten the screws tight enough to avoid damage from vibrations. These result in wear and tear, which creates the surface for other corrosion to take place.
Looking for professional scissors? Check my review of the best hair cutting shears on the market.
Some of the most frequently asked questions about hair clippers are:
Do hair clippers get dull?
Hair clippers are designed to sharpen their blades during use so that you do not have to worry about the blades getting blunt. The part you play in this process is ensuring you remove all hair from the blades when you clean the machine. Thus, the blades sharpen as required. You can tell if your clippers blades are getting dull when they start to pull your hair.
How often do I need to lubricate my hair clippers?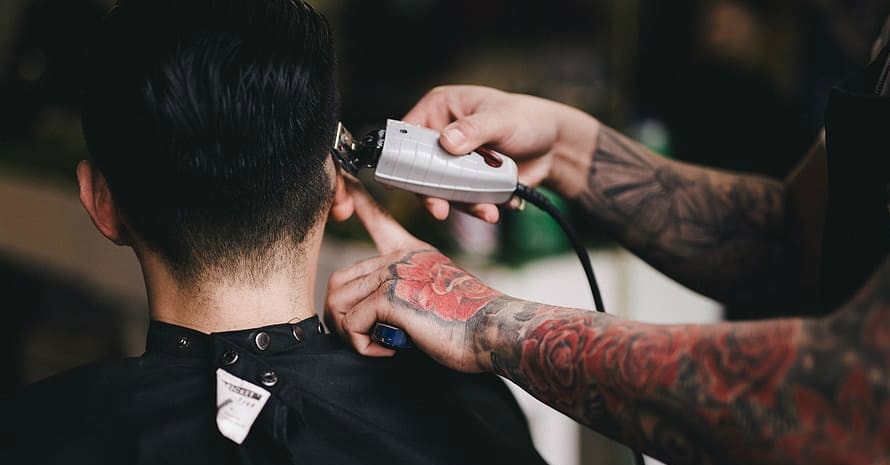 As often as you use them. First, before use and then after cleaning them, right before storage. This will guarantee the proper working process and rust prevention. Lubrication also prevents clippers from pulling your hair out.
How long do the blades on hair clippers last?
Average hair clipper blades will last about 3 to 6 months. This period will vary depending on the frequency of use and your cleaning patterns. The better your maintenance is, the longer the blades will last. Hair clippers maintenance involves: cleaning the blades after every use, lubricating the clippers before storage, and covering the blades properly.
Summing Up: How to Get the Best Professional Hair Clippers
Find out more information on your hair type and how fast your hair grows to choose the correct type of hair clippers. Barbers usually get specialized hair cutting machines to cater to their clients. In the case of private use, it is very important to determine the type of haircut you want to get. There are different cleaning requirements for various hair clippers, so read the manuals for the best results.
If you are trying out shaving your hair for the first time, remember that there is a learning curve with every new hair clipper you buy. Be patient and figure out the best way to use the clippers you chose. This information will guide you through and explain some necessary information like holding the right angles and special accessories you can use. The more options you get, the better your experience with the clipper is.
Have you used another great hair clipper that is not on this article's list? Do you have any experience with the reviewed clippers that you would like to share? If so, please leave a comment in the section below.
Last update on 2022-12-11 / Affiliate links / Images from Amazon Product Advertising API