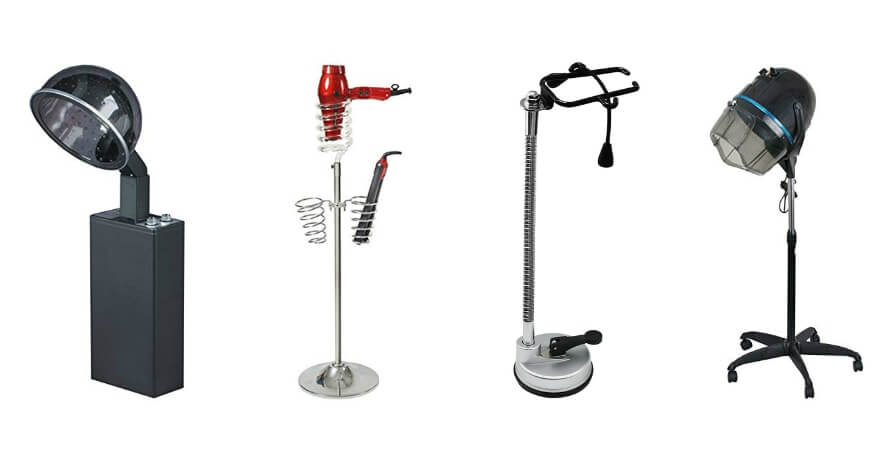 We have to use a lot of beauty tools during the day to stay perfect. It is convenient when all of them are in order and can be reached easily. And when it comes to convenience, the hairdryer holder is a must thing to have. This way hairdryer won't be lost among other tools.
It can be installed in your bathroom, in your bedroom, corridor — anywhere at home or in a hair salon, if you are a beauty business owner. You can put the holder for the hairdryer on the wall so that it could always be in your sight.
And a desktop model could become an integral part of your interior design.
What is a hairdryer stand holder anyway? The hairdryer stand is actually a special storage unit where you can put your hairdryer. This stylish and convenient accessory allows you to keep the hairdryer in a safe and comfortable position anywhere you need it. You don't need to search for your hairdryer all over the room.
My name is Monica, but you possibly already know me as your know-it-all guide to hairstyling and the owner of this blog, which I write together with my beautiful friends. Anyway, years of experience in hair salons granted me with knowledge and authority to give you helpful advice. Here I've gathered stands that I tested myself, the ones that I would definitely place in my own bathroom if only I had so much free space there.
Top 15 Best Hairdryer Stands
In this article, I gathered the most popular and obvious choices of professional hairstylists that you may want to have. All of them differ in their price, shape, and materials. Many of them have more than just one function of holding the hairdryer.
1. Standing Hairdryer LuckIn Dryer Stand Hands Free
LuckIn hairdryer stand is made of stainless steel and can hold even heavy hairdryers for as long as you need. It sets both of your hands-free, so you can actually do anything you like while your hair is getting dry. Thanks to the 360-degree rotation you are able to set the angle you need.
It might also be adjustable to pet grooming procedures and may help you with drying your pet's fur. Clamp bottom fits every desktop surface, up to 2.4 inches. And rubber belt on the stand will not let your hairdryer to fall down.
The hands-free option allows you to hold your pet under the hairdryer as well. Your arms will never be tired with this stand. If you have any shoulders or hands traumas the LuckIn Dryer Stand is what you are looking for. Clamp it to your table and press the button on the hairdryer.
---
---
2. Floor standing hairdryer Pibbs 514 Kwik Dri 1100W Salon Dryer with Casters
Made in Italy from high-quality materials and approved by the prominent specialists, this floor-standing hairdryer will bring you nothing but pleasure from the hair drying process. Just sit in a comfortable chair or sofa, put your head inside dryer head visor and read your favorite magazine or check your messages on the phone.
Both hands are free, and you are in control of the temperature. Put a timer up to 1 hour, so the drying will stop automatically, and you don't have to worry about damaged hair. Its base has 5 caster wheels, and it is easy to move around the house. Such stands are extremely popular in hair salons.
You may have seen similar stands in beauty salons, but not many of them have such extraordinary quality and settings. Its safety was checked by professionals, and this hair stand is CE certified. For many years this 25.9 pounds, portable hairdryer stand has been extremely popular on the market.
It has a one year warranty from the company developer. The dryer can be used with hot rollers as well, depending on the hairdo you want to create.
---
---
3. Stand up hairdryer Venus Plus Bonnet Hairdryer
Venus Plus Bonnet hair dryer is designed for professional beauty salons, but you can also take this powerful technology to your home. There is a heating element on 980 watts, and it may heat up to 140 F. You can put a timer and focus on your current working routine, or just relax with a cup of coffee.
Venus Plus Bonnet hairdryer was made from steel of high quality, resistant to any chemicals, and has a 15 inches hood inside.
There is a special setting that allows you to try various hairstyles with Venus Plus Bonnet hairdryer. It includes perm processing cycles and two minutes cool down cycle. Don't worry, your hair will not be hooked in a vortex of airflow as you can actually control it yourself.
And there is another convenience for users. Forget about trying to navigate buttons that are located above your head. Now you can reach them in one simple move of the right hand to the left shoulder if you are already using the hairdryer stand. You can actually see what you are doing, instead of raising your hand and trying to find the right switcher in blind.
---
---
4. Skywin Hands Free hairdryer Stand – Popular Handsfree Hairdryer Stand
Skywin Hands-Free hairdryer Stand was made for home use. It can be clamped to any surface up to 2.5 inches. You don't need any screws for that. The holder is extremely reliable. It rotates by 360 degrees and can be used at any angle you want.
The clip is secure and holds even heavy hairdryers. You may use it for yourself or for your pet's grooming procedures. This way you will be able to hold the pet or brush the hair, while the airflow will be drying it.
It is up to you where you want to place the hairdryer stand. The neck of the stand is made of silicone, so it is flexible enough, but it is also strong enough to hold a heavy blow dryer. It weighs 1.9 pounds and made in white color. If you happen to break your arm, this hairdryer will help you to act with one hand only.
---
---
5. Hairdryer on a stand D Salon Portable Professional hairdryer Hood
D Salon Portable Professional hairdryer Hood was made for both beauty salons use and private use. Its wheels make it easy to remove, and its stand helps users to adjust it to any height they need. There are timer, fan, and temperature controls. Dryer Hood is widening up to 64 inches in diameter. The price is democratic and helps to save on expensive salons without quality loss.
This hair dryer can work on 880 W/110 V. So, if you don't want to spend money on going to a beauty salon every day for a hairdo, try this stand. It has lots of features you will love and it fits the areas with limited space.
I suggest you buy a small chair like in hair salons and place it under the stand. You are in charge of the stand's height, and you can choose even to stand while your hair is drying.
---
---
6. Pibbs DH12 Dryer & Iron Holder on Stand more than a Simple Portable Standing Hairdryer
Pibbs DH12 Dryer & Iron Holder on Stand has not just one but three convenient holders for hairdryers or curling irons and hair dryers. You can put there anything you need for your daily hairdo making routine.
It has a steel holder that is able to handle heavy blow dryers and curling irons. On top of this stylish construction is an acrylic holder for a blow dryer. Below are two spiral holders made from chrome. There is a one year warranty from developers.
The base of the stand is 35 inches tall and 10 inches wide. It is reliable and well-designed. This stand is usually ordered by prosperous beauty salons who want their hairstylists to use numerous tools at the same time, without wasting their clients' time on searching or reaching for the equipment.
The stand will become a decoration for any salon or room. And don't be afraid to put the iron or dryer inside its holders while they are still hot. This stand can hold them at different temperatures.
---
---
7. Pard hairdryer Stand Holder – one of the Best Stand Hairdryers Professionals
Made in a stylish design, this portable Pard hairdryer Stand can be placed anywhere you want it to be, clipped to any desktop surface you need. You may use it at home, clamp it to your table or take it to your office, just in case.
The hands-free option allows you to do something else entirely while blow dryer works on your hair. The stainless tube and iron bracket make it stable enough to hold heavy hairdryer. There is a belt for extra fixation. Pard hairdryer Stand offers 360-degree rotation as well.
One of the best things about this stand is that it can travel together with you. Since it has great adsorption capacity, you can instantly place it on any surface, and it will handle up to 22lb with its 0.23 inches base of rubber. The stand is flexible, and you may actually rotate it anywhere you want.
---
---
8. Dyson Supersonic hairdryer Stand Holder – No. 1 Amazon Hairdryer Stand
Dyson Supersonic hairdryer Stand Holder looks futuristic and extremely compact. You will recognize this stand by its unique design. While it looks tiny, it can easily hold Dyson hairdryer, two nozzles, and a diffuser.
I also have to stress the fact that this stand was made for Dyson Supersonic hairdryer, which you are able to buy separately in the shop. Unlike floor hairdryer stand, this one is removable, transportable and does not need extra space in your room.
Salons order Dyson hairdryer stand due to its convenience as well. You can put it on any surface and with an anti-slippery mat, it will be stable almost anywhere. There is an ABS headcover for a hairdryer that protects the dryer and the stand from scratches.
Now you don't have to look for all the additional nozzles to your hairdryer, they are gathered in one place on a stand. There are not so many stand hairdryers that can be a decoration of any house or salon, but Dyson Supersonic stand hairdryer looks great anywhere you place it.
The stand is at a 45-degree angle. It was made from premium aluminum with anti-corrosion protection and oleophobic coating. Don't be worry about its reliability. It has been serving well in my own salon for several years already.

---
---
9. Meet Professional Hooded Hairdryer on Stand Ovente Professional Ionic 3-Speed hairdryer Stand
Professional hair salons love Ovente hooded hairdryers as it is reliable and stuffed with numerous features. Thus, I recommend it mainly for its quality. The stand is made of Polystyrene and Polypropylene, while the pole itself is made of electroplating and iron. All materials were checked and do not contain any chemicals or other substances that can be harmful to your health. Once you bought it, you don't need anything else.
The temperature of this stand up hairdryer is adjustable. It can be heated up to 167 degrees, but unlikely you are going to need such high temperatures. You may take control over its height as well, by turning the small knob that is placed on the pole of the stand. I'd recommend buying a small chair like in professional hair salons and place it under the hairdryer.
But it is up to you. You may put it behind your sofa or armchair and use it while you are watching TV or reading a book. Warning! Please, take into consideration that the hairdryer has an upward airflow. You need to pin your hair and cover it with a special net or cap so it would not get trapped in the air holes.
There are the 3-speed modes, so it will quickly dry your hair, no matter if it is long or short. I recommend starting with a low speed to avoid damaging the hair. Still, if you need to dry your hair fast, use medium or high options.

---
---
10. Light-Weight and Portable Hairdryer Stand Hairdryer Holder Wall Mount
If you are planning a trip, but this holder in your bag, and you will never regret this decision. It is easily installed on any surface, even as smooth as a mirror in your bathroom or the wall, close to the mirror.
This way you will be able to see what you are doing with your hair. The black plate has 4 screws that will securely handle the weight of your hairdryer.
The stand is adjustable, and you can choose whichever angle you need for drying your hair. It was designed by professional hairstylists, so everything is taken into consideration, even the rotation. It has a small size on purpose, so you could place it anywhere. The neck and head of the holder swivel anywhere you need.
The company developers claim that this transportable, hands-free hairdryer holder stand is the best gift for a birthday or wedding. I believe it must be bought without any hesitation whenever you need it. It is not expensive and weighs only 10.4 ounces.
The base of the holder is up to 5 inches wide so it does not take too much space either. You may easily place the holder anywhere you want yourself, without asking for help. Don't forget to check whether 4 screws are included in your package.

---
---
11. Meet the telescopic hairdryer stand SudaTek Heavy Duty Dog Pet Foldable Grooming Table hairdryer Stand
This is a perfect option if you have pets in your house, and you need to take care not only about your hair but about their fur as well. Thanks to the long neck of this hairdryer holder, you are able to rotate and adjust it to any height you want.
It is perfect for a table, where you can place your pet. This stand for hair blow dryer is made of reliable materials with metal clamps. It may be screwed onto the table of 1/4 – 1 1/5 inches.
If you are going to use it for your pet as well, my advice is to buy a cheap table and turn it into a grooming table. You will rotate the blow dryer to the angle you need for yourself and for your pet. The blow dryer will be fixated securely on a stand. The neck of the holder bends up to your needs and still holds hairdryer reliability in the clamps.
The whole construction weighs just 3.2 pounds and can be easily transportable. The main benefit of the SudaTek holder is that it is hands-free. I've seen cases with people who had problems with lifting their hands and holding them for some time in a steady position.
I strongly recommend using such devices if you have similar problems. The same goes for pet owners. You are going to need both of your hands or someone to help you to hold your pet while drying the fur.

---
---
12. Standing Hairdryer Professional Conair Pro Style Bonnet Hairdryer
This bonnet hairdryer with stand is made by Conair, a well-known name in the beauty industry. It is a portable standing hairdryer with a height of 16 inches only. Its base is easy to attach to any surface, so you don't have to worry about its stability. No wonder it is one of the most popular hooded hairdryers in our country.
The hood is extra large and adjustable to any head and hairdo. Just remember to pin your hair before you turn on the blow dryer if you don't want it to get sucked by the airflow.
Use a special hair net. With enlarging hood you can actually try extra rollers. The pleasant bonus is the carrying handle at the top of the hood, so you can take it anywhere you need with you.
The height is adjustable, and the hood can be rotated up and down, as well as left and right. The hairdryer is 360 degrees rotatable. You can assemble the stand yourself, and quickly disassemble it into separate pieces.
The heat can be controlled as well. Choose one of the modes and create a new hairdo. There are two heat settings in Conair pro hair dryer stand. I always advise you not to rush with drying your hair and to choose colder temperatures: they will take longer, but make less damage in the end.

---
---
13. Professional 1300W Adjustable Hooded Floor Hair Bonnet Dryer – the Experience of Salon Standing Hairdryers
This standing professional hairdryer can be seen in various top hair and beauty salons. Now it is available for your personal use as well. It does not limit your actions by a simple hair drying. You can try hot-perm, spot-caring, coloring, and conditioning.

Don't worry about missing the time with this stand up hairdryer even if you relaxed too much. You have a timer up to 60 minutes with a loud signal so you will definitely hear it. Just don't forget to set up it. You may also adjust the temperature of the air to 167 F degrees.
The hood looks like a space helm and it definitely has amazing features from the future: it accommodates big rollers. and the front visor is adjustable as well. Still, you need to tighten the legs of the dryer properly for it to stay firmly. The company developer recommends heating the dryer before using it for the first time.

---
---
14. Salon Sundry Professional Bonnet Style Hood – Hairdryer on Stand With Wheels
Salon Sundry Professional Bonnet Style Hood may be used for both professional and amateur styling procedures. You can buy it for your beauty salon or for home use. It is not a cheap standing hairdryer, but it has a lot to offer, and the money you will spend on buying this hairdryer will pay off in several months.
There are numerous tools for your creativity, including the adjustable hood that allows you to use the dryer even with the large curlers. The hood is made of tinted acrylic material.
Stainless steel and 1000 watt power help to fasten the whole process. To avoid hair damage, you need is to cover your head with a special net. You may also try various curlers and pins. If you want to lower the airflow temperature, just choose the right settings. And if you are afraid of falling asleep during the hair drying procedure, set up the timer.
One of the main attractions of this hairdryer is that it is lightweight despite its size. It also handles heavyweights and can be made portable whenever you need it. You can always correct the height up to your own preferences. Make sure that wheels do not stand on a slippery surface.

---
---
15. Professional Tourmaline Ionic High Heat Portable Salon Dryer – Enjoy the Experience of a Salon Hairdryer With Stand at Home
Tourmaline Ionic High Heat Portable Salon Dryer is a popular choice among salons. It is stylish, lightweight, and powerful. And it has the protective ion technology inside, so your hair is getting dry twice faster. Tourmaline nano-particles protect your hair from over-drying, and you are able to use this dryer every day without too much damage to the hair.
These pre-moisture features turn simple hair drying procedure into a spa treatment. Hair becomes soft and silky, without any unpleasant odor. Front visor and the bonnet are adjustable to any size of curlers you are using. You can also change the height of the stand without putting too much effort.
But make sure that all of the parts are reliably connected to each other, and the wheels will not be moved during the drying process. Two of the four wheels are lockable to avoid unpredictable situations. There are 2-speed modes for your convenience and 4 options of heat.
I strongly recommend you to read the manual before you use a hairdryer. There are too many options to ignore the guidance. It is better to try the hairdryer on low speed at first. There is a one year warranty on the stand. If you notice cracks on the hood or problems with the stand, etc, you can always contact the company developer.

---
---
My Secret Tips on How to Choose the Best Hairdryer Stand
Well, it is time to share all my secrets with you, so listen carefully. There are plenty of situations which I can imagine now where you will feel an urge to buy the hairdryer stand: from wishing to save money on the beauty salon or a new naughty pet to a broken arm. I know, the last option sounds awful, but in any case, you know what to do. Luckily, hairdryer stands do not cost a fortune, and some companies offer hairdryer stand free shipping.
Since the choice of holders is very large, let's talk about the main criteria:
By the fixation type, the holder can be a full-length stand with wheels, wall or desktop fixated. The stationary model is easily installed on a horizontal surface with the help of clamps. Wall option saves space in small rooms. Such a model is likely to be fastened with dowels to withstand large hairdryers.
However, if you constantly change the location of the mechanism, the holder on the suction cups is what you need. But, it should be noted that this option will not work on large or heavy hairdryers. The desktop model can consist of several departments for a curling iron or other accessories for hair care. Stands with wheels usually include hair drying hoods, which means they are more expensive, but already packed with a blow dryer inside.
Speaking about the material, we have to take strength and heat resistance into consideration. The most common material is metal. Reliable stainless steel perfectly tolerates moisture with temperature changes. Besides the metal base is not able to heat up from the device, it will not lose its properties and will not be deformed.
But remember that chrome-coated steel may lose its attractive appearance after a while. The holder from the brass looks enchantingly. The plastic wall hairdryer holder is cheaper, but also less strong.
If we talk about the form, the most common is the spiral. This type of holder is perfect for any design solution of space and will allow you to safely place a hairdryer. Spiral fixtures allow you to securely and firmly fix the hairdryer with a blowing long part.
How to Install a Hairdryer Stand
We already discussed here why a stand for hairdryer may be vital in various situations. Let's focus here on the way to install a stand yourself. As we already know, stands can be completely different by form, material, and a way of fixation.
The easiest stands to install are desktop hairdryer holders with clamps or magnets. The perfect examples are hairdryer stand Lady Elegance or Dyson Supersonic hairdryer Stand Holder. All you need is to fasten its base with options offered by the developer.
The hardest to attach are the wall hairdryer holders like hairdryer Holder Wall Mount. However, you can do it yourself; this work will not require any special skills from you, especially if your device is made with suction cups.
The only nuance that must be monitored is the absence of moisture between the vacuum and the wall surface. You also need to check that the air does not get under silicone, otherwise the device may become loose after a while and damage the hairdryer.
For holders made of a metal alloy, it is necessary to drill holes in the wall with an electric drill and insert dowels. After that, you need to attach the device to the wall or another surface, using screws. Before you begin the whole procedure, it is necessary to carefully consider the location of the blow dryer holder. Remember, the device should be located near the electrical socket. Also, you may consider installing the holder near the mirror.
And the medium level of complexity belongs to standing hairdryer with a bonnet. It is way easier to install than wall blow dryer holders, but you still need to assemble correctly all the details. I advise you to follow the instructions step by step.
Stand bonnet hairdryer has numerous advantages and gives you numerous professional features from beauty salons, but you need to make sure that every small screw is on its place and holds tight the construction.
FAQ
What is the main advantage of a hairdryer stand?
There are numerous advantages of stand up the hairdryer, but the main thing is that a stand frees your hands. You are able to brush your hair, read a magazine, watch TV, or even take a nap while blow dryer is working.
But don't forget to set up a timer in the latter case. All pet owners will find standing hairdryer the real treasure, as now they can hold their pets under the hairdryer. A hands-free hairdryer stand helps people who can't hold hands above their heads.
Is there a difference between a professional blow dryer and a consumer blow dryer?
Yes, of course. And as you may have already noticed there is a huge gap in the cost. So, why professional hairdryers are more expensive? The first thing that comes to mind is power.
A multitude of tests shows that professional hairdryers are more powerful. You can check it on YouTube yourself. It is made from better material, has warranties and multiple features. A consumer blow dryer is way cheaper, usually made of plastic, and does not give the same power as a professional. It is up to you which hairdryer to choose, of course.
I believe that quality is more important, and by paying more for a professional hairdryer you will save twice as much after the consumer blow dryer burns out.
Which hair dryer is the most suitable for my hair type?
The answer to this question depends on another: Why do you need a hairdryer? Do you need a hairdryer for just drying or styling? It can be simple daily styling, professional styling for special events, or something else. Before buying, you need to decide on the purpose.
It may contain one really important feature or numerous settings. And think carefully whether you need a stand for a hairdryer or hairdryer curling iron stand. You may use both, changing whenever you need it.
Does a hairdryer cause harm to the hair?
Any hairdryer is harmful to your hair. But some hairdryers make less harm than others. The first hair dryer was invented in the 19th century, and since that time it has been evolving into a multifunctional hair caring tool. Don't use cheap hairdryers with one-speed mode, one temperature, and made of bad-quality materials.
I suggest using hair protectors from high temperatures, special sprays before turning on the hairdryer. This way you may protect your hair from damage at least partly. Don't underestimate the power of a good-old hair mask that will restore damaged hair and give it more energy. When it is possible to avoid hairdryers, don't use them at all.
Which is better: a stand-up bonnet hairdryer or a table hair dryer holder stand?
It actually depends on your preferences and possibilities. I would prefer standing hairdryer with a hood if I did not have enough time on drying my hair and wanted to save money on salons.
However, a desktop hands-free hairdryer stand would be a better option for people who don't have much extra space at home or have a pet that also needs the hair drying procedures. Both standing hairdryers with a bonnet and desktop hairdryer holder stand will serve great anyway.
What features should be considered when choosing a hairdryer?
Using stand up a hairdryer or not, you need to find out which instrument works better on your hair. You may choose a hairdryer by checking these features:
Professional or consumer blow dryer. Read about the difference above. Professional is more powerful and reliable. And I recommend you to invest in your hair and buy a professional one.
Power. Thin hair does not need a powerful blow dryer and dries up quickly. Thick hair needs at least 1500W. Professional hairdryers are the most powerful which means they also have the biggest number of temperature regimes.
Temperature regimes allow you to dry your hair quickly and safely. Pick the temperature based on your hair type. Weak and damaged hair needs careful treatment and lower temperatures than thick healthy hair.
Speed. The airflow controller is important. The more speeds it has, the easier it is to concentrate on the individual characteristics of the hair type. Don't use it on the highest speed unless you really need it. Start with the low one.
How often can you use a hairdryer to avoid hair damage?
If you are afraid of damage, don't use a hairdryer every day. If you need to make a hairdo for your work, try to give your hair some rest on weekends. Always use heat protection before turning on your hairdryer. I recommend you only professional hairdryers as they do work faster and better.
Don't hold the hairdryer close to the hair. It is better to keep the hairdryer on a distance of your arm from the head. This is when even a homemade hairdryer stand will help to avoid the damage. You can't prevent it completely, but you may cut it significantly.
Which hairdryers give the best ion effect?
Negatively charged ions formed during drying neutralize the positive ions in hair structure and eliminate static electricity. All Ionic line hairdryers are equipped with a powerful ion generator that provides maximum smoothness and an "antistatic" effect. I have mentioned several hairdryers that are well-known for its ionic air.
As a result, you will receive a silky hair. Tourmaline Ionic High Heat Portable Salon Dryer is one of the most obvious choices. But don't forget that even with ions, you have to be careful with overheating your hair.
Can I make the stand myself instead of buying a hairdryer stand?
Usually, the standing hairdryer price is not so enormous. Of course, if you want freestanding hairdryers, you may try to create a hair blow holder yourself, but materials will cost you almost the same as you pay for the professional stand. It is up to you, and if you feel that you can do it yourself, there are multiple numbers of similar DIY videos on YouTube.
But with the endless options on the market, I have no doubts that anyone can find the best hair dryer stand for their budget. I have gathered the list for you on the stand-up hairdryers, so you can find the price that suits you the best.
Do I need a Hairdryer on Stand?
In this hairdryer stands review, we have talked about numerous advantages of hairdryer styling stands, holders in this article, and how to attach them. We have discussed which stand is better to pick and why professional hairdryers are better than consumers' models. Why do we actually need a professional hairdryer to withstand:
It gives the safe fixation of the hairdryer and protects the mechanical device not only from falling and accidental breakage but also from moisture, which often happens in the bathroom.
It guarantees us comfort. No need to look for a hairdryer throughout the room, if you place the holder next to the socket you don't even have to make extra moves, except for turning it on.
It saves space. The stand will always be in sight. You may keep extra noses in special departments of the stand. Besides, the whole structure looks quite aesthetic.
It saves you money. This is true. Imagine how much money you may save on beauty salons. No matter whether it is a portable hairdryer stand or hairdryer floor stand, you still can create various hairdos at your own home.
Now, when your hands are free during the hair drying procedure you may focus on brushing your hair or simply relaxing. The timer will wake you up when everything is done.
I encourage you to share your thoughts on the hairdryer stands here. Do you have such an accessory at home? If you already have one, please tell your honest opinion about it. You are also welcome to share your tips or advice with me or other readers.
Last update on 2022-12-11 / Affiliate links / Images from Amazon Product Advertising API