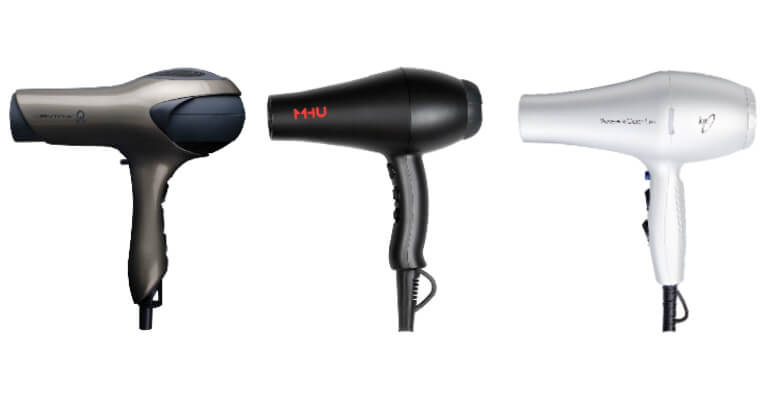 Hello everyone! Monica's here. Have you ever heard of the quiet hair dryers? They look just like the regular blow dryers but produce significantly less noise. Have I just aroused your curiosity? Then let's go into the topic and discuss quiet hair dryers that come in all shapes and sizes.
First, I will explain what makes a hair dryer quiet and what are the differences between quiet and regular hair dryers. We'll dive into the benefits and downsides of quiet hair dryers. Spoiler alert: there is just one significant disadvantage, and that is their price.
Also, I will give you some advice on how to use and choose a quiet hair dryer. Finally, I'm going to answer some popular questions about quiet hair dryers. Looks like a full agenda is ahead of us, huh?
Oh, and most importantly. I've assembled a list of the best quiet hair dryers on the market. You already know how I make such lists: I've combined my own experience as a hairdresser, my clients' and friend's honest opinions, and quiet hair dryer reviews from Amazon and some other resources. As a result, you get the detailed descriptions of all the tools so you can decide which one is the best for you.
Is there anything else you want to know about quiet hair dryers? Feel free to leave your questions and suggestions: you can always ask any question and get my answer.
What Is a Quiet Hair Dryer?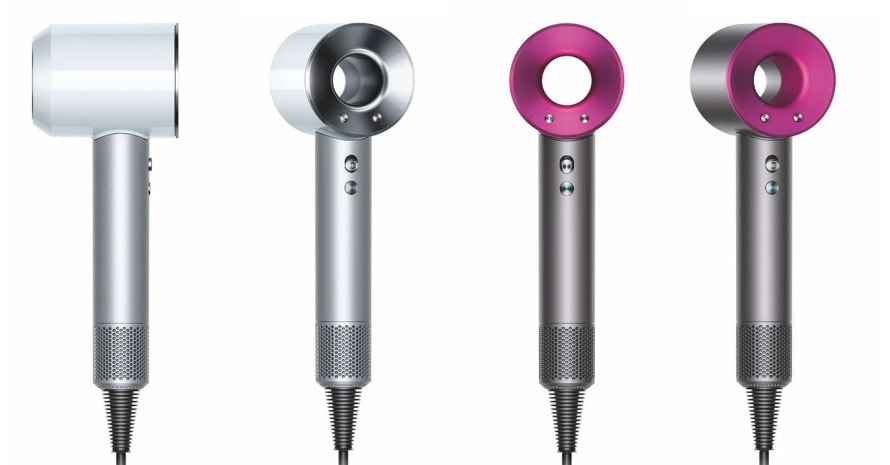 You probably wonder what a quiet hair dryer is after all. Isn't it just a regular blow dryer? Basically, yes. But with one significant difference, as the name implies. Quiet hair dryers are quieter than regular hair dryers, that's true. On the other hand, they are not entirely noiseless. It's something in between. For example, you can hold a conversation without raising a voice (or raising it just a little).
It's still a hair dryer, so it produces some noise. Why is it different from a regular blow dryer?
To answer this question, you need to understand how dryers function. All hair dryers use hot air to accelerate the evaporation of water from your hair. They take in room temperature air, then it passes across a heating element, and voila – hot air is blown out to dry your hair faster.
To suck the air in and to blow it out, a hair dryer needs a fan. And the fan has to work at a rather high speed which, in its turn, requires a motor. The fan and the motor itself – that's what produces the noise.
To make blow dryers quieter, manufacturers add extra blades to the fan and use faster motors. Another option is to insulate the motor better. All this means help reduce the noise level.
Except for being less noisy, quiet hair dryers don't differ too much from the regular ones. Usually, they feature two speed modes (high and low) and two or three heat settings. Many models have a cool shot button to release cool air for finishing your look.
Also, a number of hair dryers come with attachments that give you extra versatility in terms of styling. There are two basic types of them – a concentrator and a diffuser. The former can be used for straightening hair or making blowouts when the latter is suitable only for curly or wavy hair. It keeps hair curly without making it frizzy.
What Are the Benefits?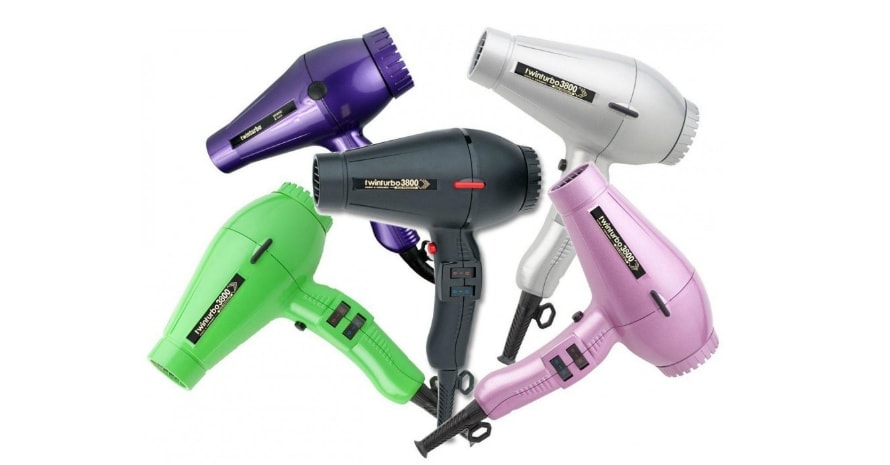 Let alone the fact that a quiet hair dryer is much more comfortable to your ears, there are some situations when such a tool is crucial. I believe all the hairdressers will take the hint at once. When there is more than one stylist in the limited space aka a beauty parlor, one working hair dryer is more than enough. And when there are two of them or even more… It sounds almost like a takeoff runway, and it's impossible to hear anything else.
Everyone who lives with a family, a partner or a roommate will also understand what I'm talking about. Being woken up by the sound of a working hair dryer isn't that much of a pleasure. And that is definitely not a pleasant start of the day. Even if you live in a big house, there is still a chance that your blow dryer may disturb other family members.
It's a challenge to calm a crying child or put him to sleep in the first place. And when he wakes up because of the noise of the hair dryer, all of your efforts go up in smoke. Who else but a mom of a newborn baby desperately needs a low noise hair dryer?
There is no need to give up on styling as long as you have a super quiet hair dryer. A variety is not that wide, so you will need to do some research before shopping. A bit later, I will tell you how to choose a hair dryer.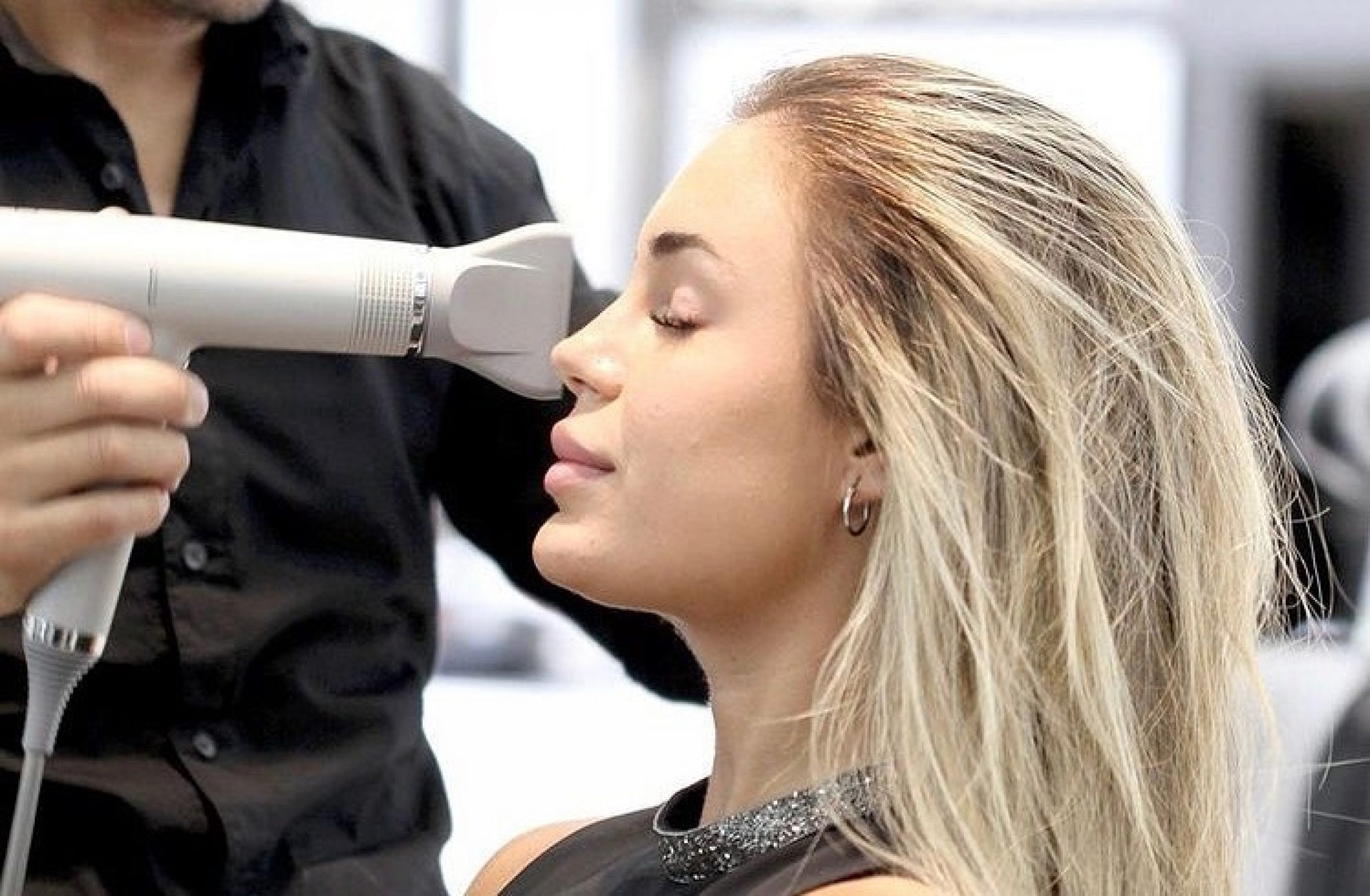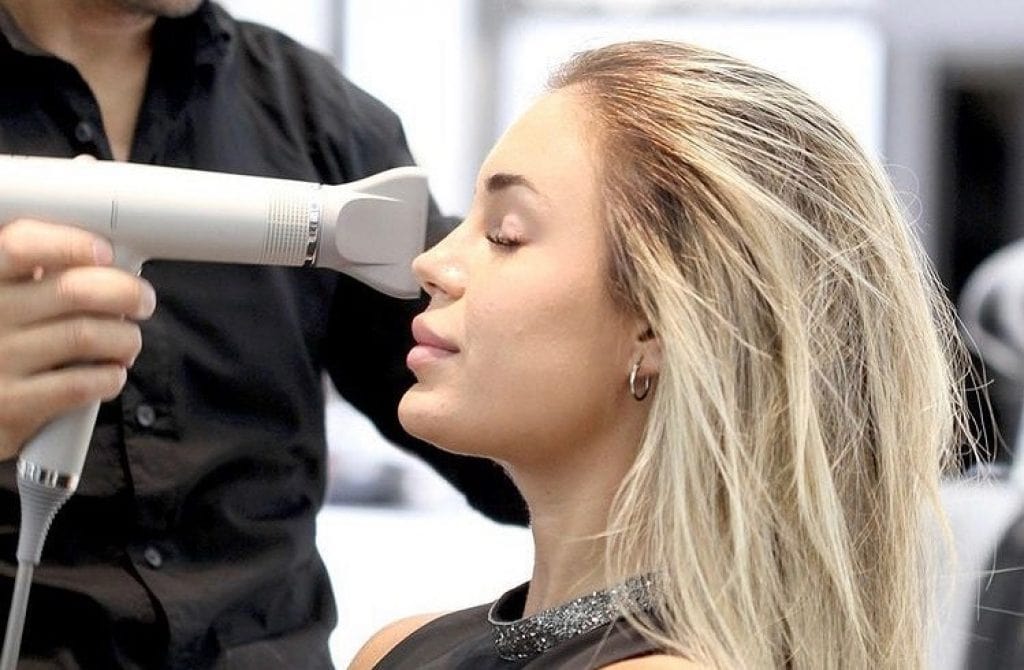 Using a regular blow dryer on a daily basis may be uncomfortable and annoying for you and your home-folks. But even more pressing issue is that it can actually cause damage to your ears.
You see, anything with more than 80-90 decibels is classified as sounds that can cause permanent hearing loss. That is the conclusion that the American Speech-Language-Hearing Association has come to. And hair dryers fall into the extremely loud category along with motorcycle engines and subways – at 80-90 decibels.
So, we definitely should take regular blow dryers seriously – probably, more seriously than we currently do. When three or four blow dryers are active in a small place at the same time, the noise level can reach a deafening 250 decibels. And that is not an uncommon situation for beauty parlors.
So, it's time to do something about it, don't you agree? Whether you are a stylist or not, getting a quiet hair dryer is a great solution.
Best Quiet Hair Dryers: Let's Take a Closer Look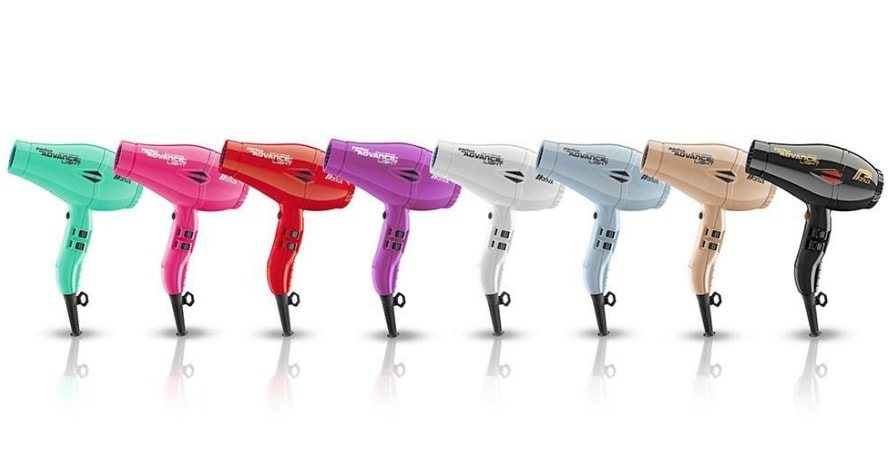 So, let's finally get down to business and look at the best quiet hair dryers on the market so far. I've picked up 8 of them based on my own experience, my clients' opinions, and quiet hair dryer reviews on Amazon. I may have overlooked some drawbacks or advantages, so I've examined the reviews to give you a complete picture.
1. BaBylissPro Nano Titanium Hair Dryer — Best Quiet Hair Dryer
Apart from the gorgeous look, this professional hair dryer provides versatile features you will appreciate. Nano Titanium Ionic technology is a well-known remedy for damaged hair. It spreads the air gently, soaking into wet hair and drying it evenly.
Hair dries twice faster and without any frizz, compared to the ordinary hairdryers. The most important thing is that despite being a professional model it's much quieter than it's competitors.
You are probably familiar with BaBylissPro dryer or at least heard about professional equipment for luxurious hair salons this manufacturer offers. Now their products are available for everyone.
Their hair dryers are the top choice for stylists, mainly because of lightweight, ionic air. They are suitable for all hair types. Besides, I love its ergonomic handle, which makes the drying process more comfortable. Its power is 2000 watt.
2. RUSK Engineering W8less Professional 2000 Watt Dryer
I've spent quite a lot of time looking for a compact, not heavy hair dryer with quite strong power until I came across this wonderful option. It is light (weighing less than 1 pound) hair dryer with a high power capability, thanks to which even thick and heavy hair will dry quickly.
Therefore, it is especially good for those who, like me, waste more than half an hour trying to dry their hair and make simple styling.
W8less is ceramic coated with high-quality material that looks reliable and stylish. Even after a year of being in usage, it remains pretty new. The hair dryer does not clutter the place in the bathroom and fits in perfectly. The infrared waves that are present during the hair dryer's operation allow you to get rid of the static and dry hair harmlessly, so your hair remains well-groomed and not damaged.
How does this hair dryer achieve such quick and safe hair drying? During operation, the hair dryer emits infrared rays that penetrate deep into the hair cuticles and help to dry the hair from the inside out. Consequently, this method is less harmful to the hair; hair does not become brittle and retain antistatic.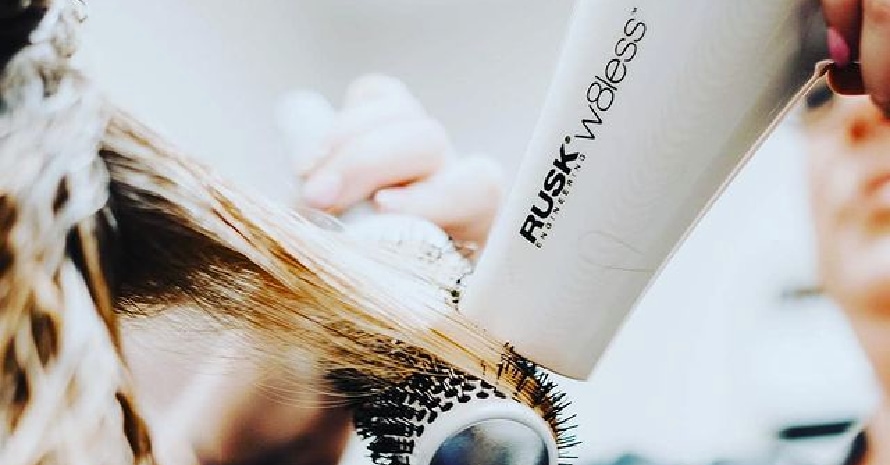 The hair dryer has several nozzles, so it is well suited for both creating the waves or making voluminous hair. The worst hair type combo you can have that will make you spend ages searching for a good hair dryer is thick but curly hair. Having such hair, you will always encounter struggles such as tangled, frizzed locks; you will need hours to take care of them.
3. Sam Villa Professional Ionic Dryer
If you are looking for a device with excellent performance as a professional tool that is lightweight, compact, and suitable for travel, you should definitely check out this Ionic Blow Dryer from Sam Villa. It is small in size and weighs 1 pound.
Its only drawback, perhaps, is the rather high cost. It is more of a high range. However, in my opinion, this dryer is not overpriced.
It is generally accepted that devices with power up to 1600W are the quietest. But this device has 1750W and does not exceed the permissible noise level. That means you can quickly dry your curls without exposing your ears to unnecessary noise. You can even talk and hear another person perfectly while styling.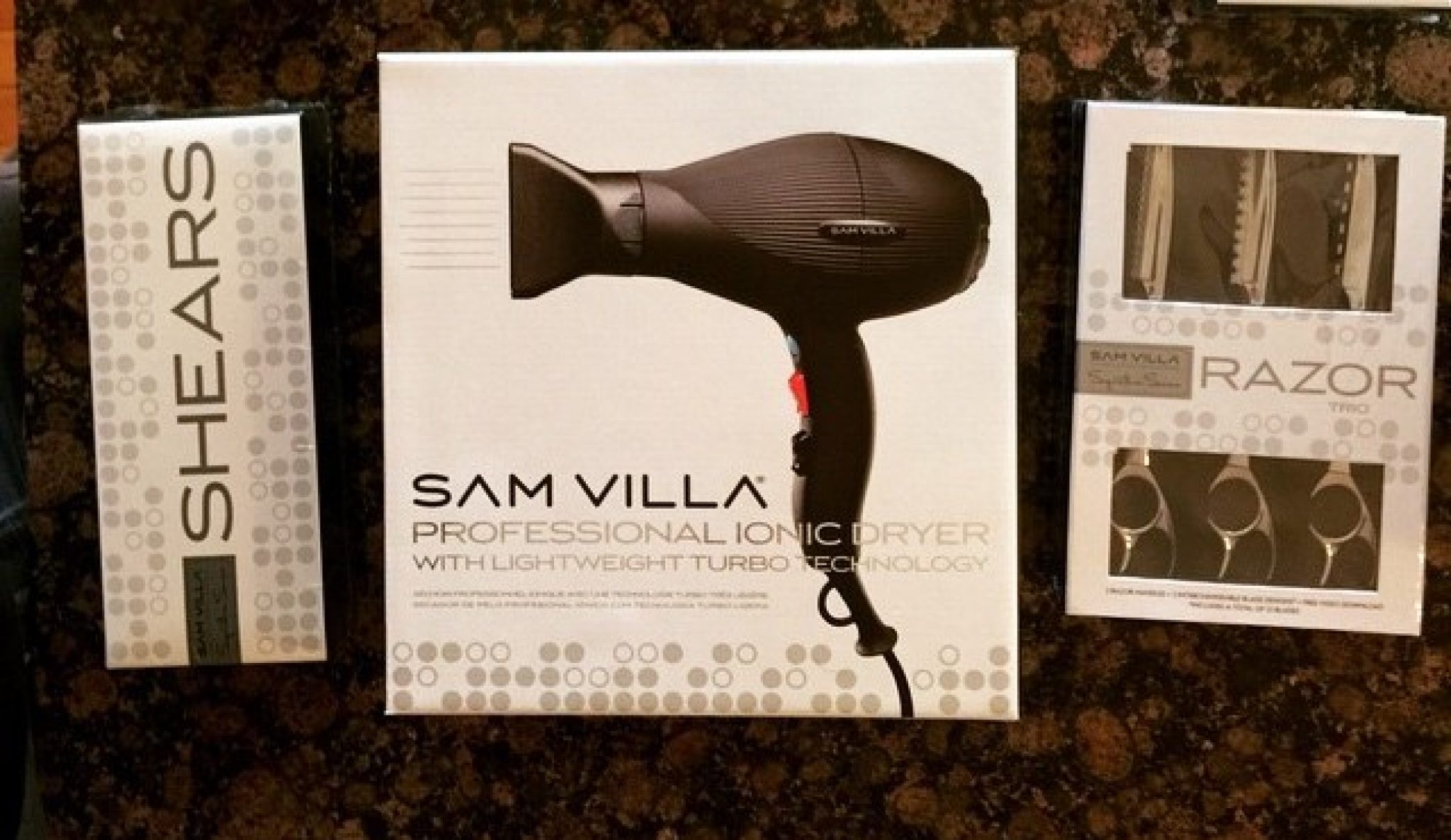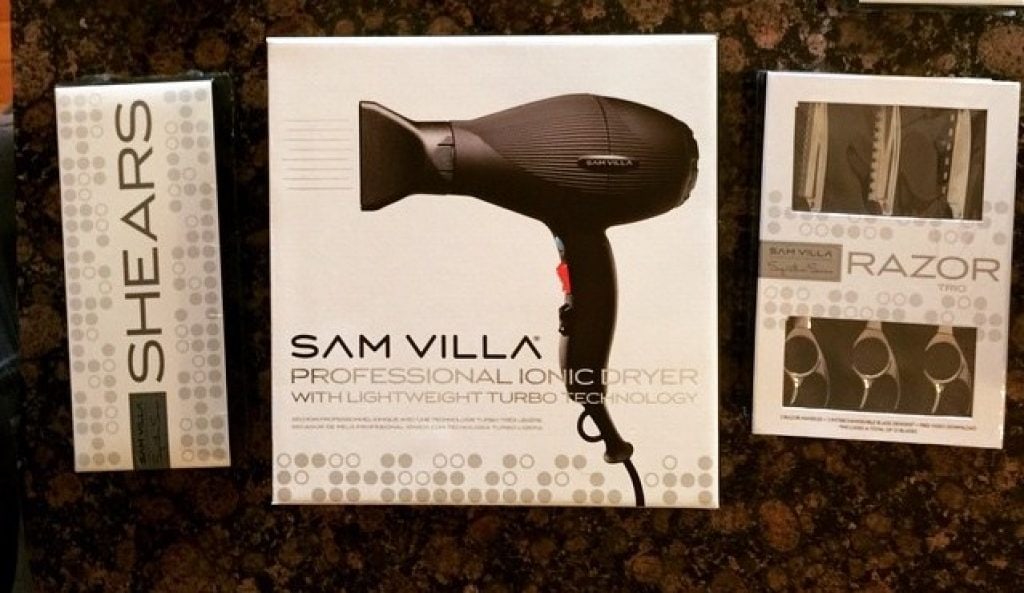 The device has two speed settings and three temperature options, as well as a separate button for activating a cold airflow.
4. GAMMA + Aria Hair Dryer
This model stands out from others on my list for a special technology applied to its motor. The Evolution Turbo Compressor does not generate a direct air stream as most hair dryers do, but a spiral one. This allows for a deeper penetration of heat into your hair, which reduces the total styling time by 70%. It means your curls are much less exposed to heat and remain healthy and shiny.
Despite such a non-standard hybrid motor, the hairdryer is one of the most lightweight (13.4 ounces) and quietest (68 dB). The model has excellent sound insulation, does not overheat, and can be used for a long time. It has three heat settings, two speeds, a cool button, and comes with two replaceable nozzles. Tourmaline ionization removes static and smoothes unruly hair effectively.
5. Elchim 3900 Ionic Hair Dryer
Elchim 3900 Ionic Hair Dryer does an excellent job of drying and styling any hair type but is especially suited to those with curly, thick, and coarse locks. It is one of the most powerful hairdryers on the market as it has a high wattage rating (2400W). Such a potent motor simply cannot be silent at all. I would say this product is slightly louder than some of the models on my list; however, it's significantly quieter than most devices.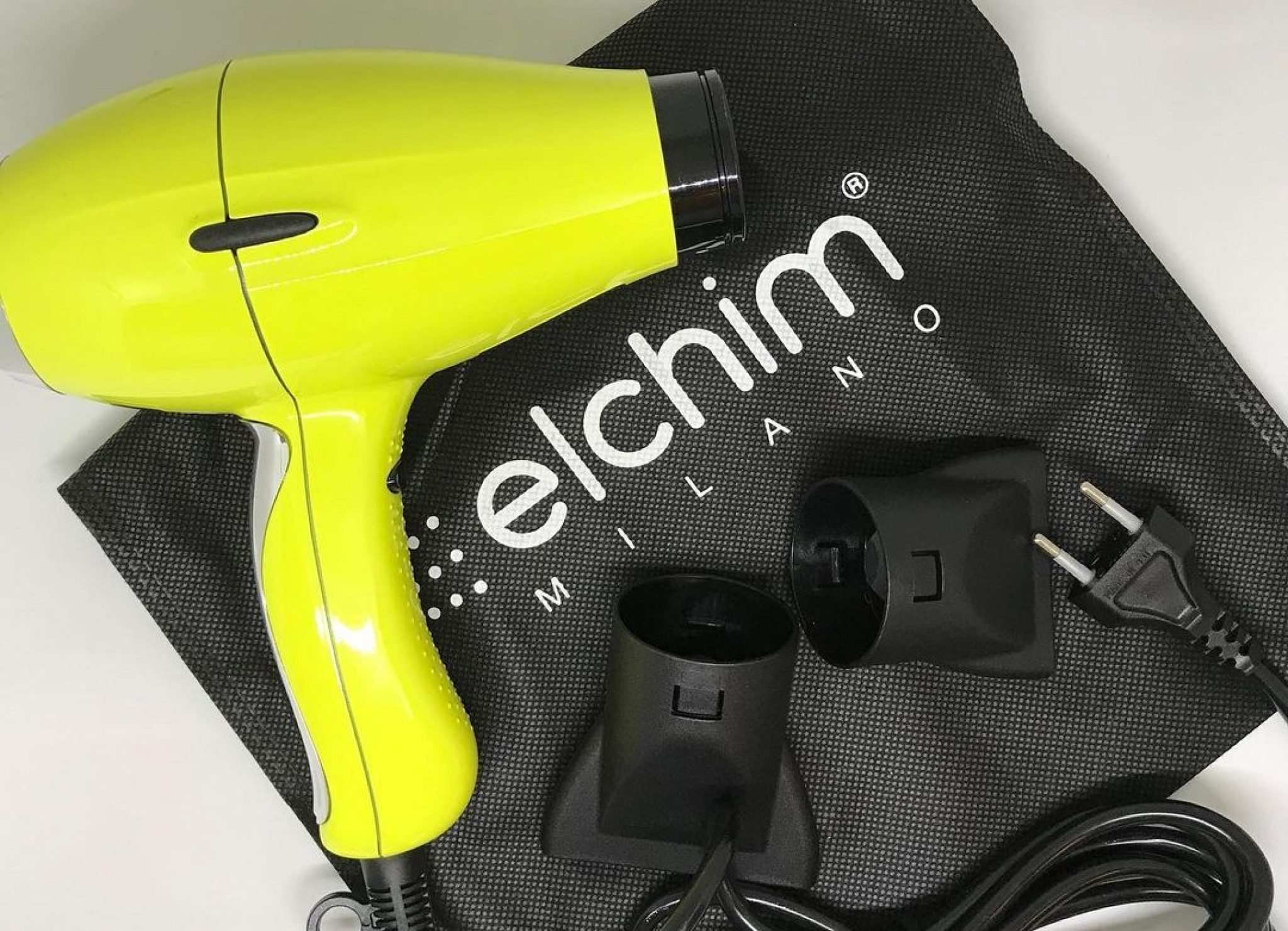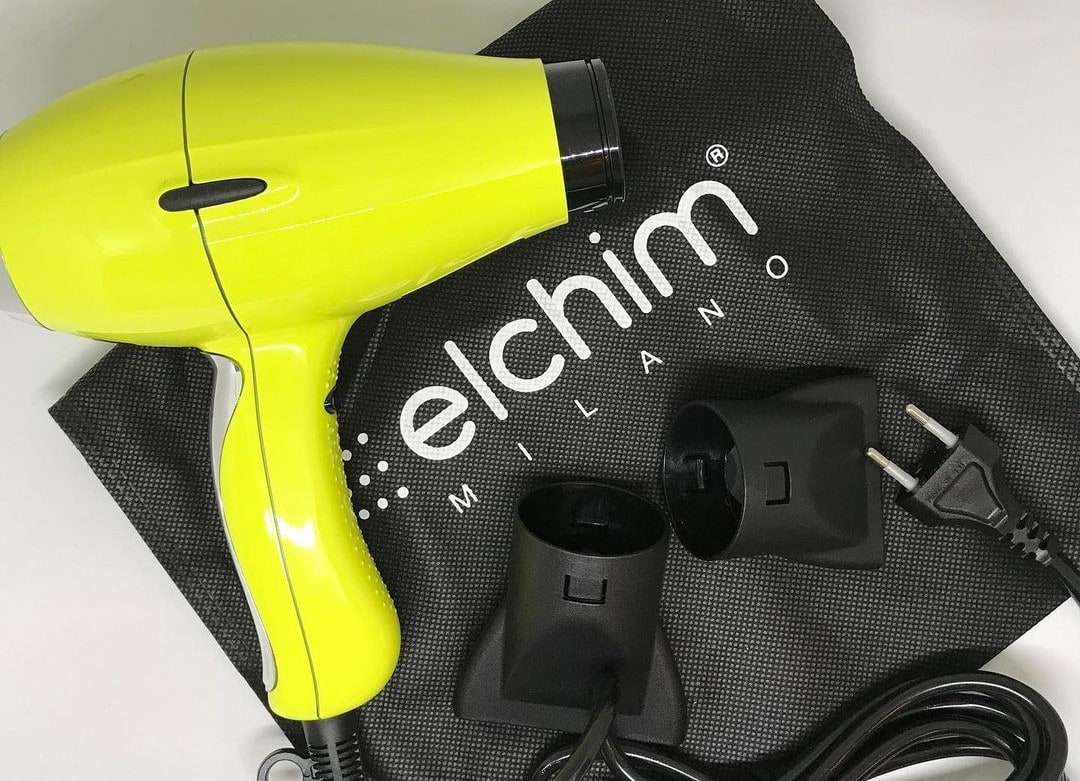 In general, testing shows that this hairdryer can dry strands up to 30% faster than conventional devices. It is also equipped with an ionizer that smoothes frizzy locks. That is why I recommend paying attention to it for owners of thick hair. And while this dryer comes at a fairly high cost, comparable to professional appliances, there aren't many heat and speed settings that you might expect. The temperature switch has three positions, and the speed button has only two.
6. TREZORO Professional Ionic Salon Hair Dryer
Thick, heavy or thin, dyed, or natural – any hair type needs proper care. Although it is believed that a hair dryer damages your hair by drying it with hot air, high-quality hair dryers will help you improve the hair quality in no time. For example, ionic hair dryers from TREZORO provides your hair with salon-like care.
This device doesn't just look stylish and pleasant – it has an ergonomic, streamlined design and silky-touch case to enhance the performance of the device. Still, the rose gold hair dryer is simply to eye-candy, so you want to get it from the shelf and use it.
In addition to a pleasant appearance, thanks to ionic technologies as well as Ceramic Tourmaline, the hair dryer maintains moisture in the hair, ensuring its healthy appearance. The engine in hair dryer is powerful (2200W) but very quiet, which will free your ears from daily stress due to constant irritating noise.
7. KIPOZI 1875W Nano Ionic Blow Dryer
What is the first thing you should pay attention to when buying a new hairdryer? I think it is the material and the number of speeds it can perform. There is nothing better than the ability to adjust a mode of heating for your hair type to the most convenient and harmless one.
The KIPOZI 1875W has everything you need for a low budget but a high-quality hair dryer: three heating modes and two speeds, accompanied by a cooling button. This seems like a basic set of modes in a quality hairdryer, but alas, cheaper dryers often do not have either a cold air mode or use only two modes, one of which is too weak or too strong.
The same model copes successfully with all tasks at any level. In addition, this hair dryer uses Advanced Nano Ionic technology, which helps to maintain the smoothness and silkiness of your locks, even if you are drying at maximum airflow. In addition, the set has two nozzles for different hairstyling, as well as a removable filter, which will extend the life and effectiveness of your device.
8. Conair 1875 Watt Turbo Hair Dryer with the Ion Disperser
The most outstanding feature of this Conair quiet hair dryer is the optional ion disperser that coats your locks with a cloud of negative ions. In its turn, this helps to reduce frizziness, static electricity, and dullness. There are also two attachments for various styles: a diffuser and a concentrator. The former suits for curly styles and the latter give you the option of pinpoint styling.
There are two heat and speed settings which isn't that much of a choice, but still. There is a cool-shot button as well. If we're talking the noise level, it's 84 decibels which isn't that low but okay. To put that into context, the VAV 1875W negative ion professional hair dryer runs at 64 decibels, and the black BIO IONIC Whisper light pro-dryer runs at 70 – 74 decibels of sound intensity.
Still, it's more than a decent hair dryer which motor isn't louder than a low office hum. With 1875 watts of power, it's capable of drying your locks pretty quickly. And the ionizing feature is pure gold. I speak as a person who is sick and tired of her very frizzy hair with plenty of flyaways.
9. Centrix Q-Zone Dryer Featuring Ceramic Tourmaline Technology
Don't expect this hair dryer to be totally noiseless – it's still a blow dryer with a motor and a fan after all. But to its credit, this Centrix dryer is much quieter than many other models such as the Revlon Quiet Pro, the Solaris Whisper Quiet, and some others. To be specific, the Centrix Q-Zone hair dryer measures 74 decibels of sound intensity on the low-speed setting and 82 decibels on the high-speed one. With such sound intensity, you can hold a normal conversation or listen to music.
Along with the two-speed modes, this hair dryer features three heat settings meaning that you can somewhat customize it to your hair type. There is a cool-shot button, too. The ceramic tourmaline technology is supposed to make your hair healthier, and the ionic technology reduces drying time. I have to admit, this Centrix hair dryer is a bit bigger than many others, but it's a fair trade-off for the quietness.
10. CONFU Lightweight Negative Ionic Hair Dryer
Technology, nozzles and power are core characteristics you need to look at when choosing a hair dryer. This version has it all at the highest level. This is a professional hair dryer for a reasonable price, which most people who care about their hair can afford. Using it, you can get the effect of the salon hairstyle without leaving your bathroom.
This hair dryer, thanks to its ionic and static temperature, helps you maintain healthy hair care by maintaining moisture and smoothing your hair. With this model, you can avoid thermal damage due to different heating settings and cooling mode. Choose the option that will take care of your hair type specifically.
What delights me in this hair dryer is its noiselessness. Created with care for professionals who work with hairdryers all day, this hairdryer is specially made with the ultra-low noise level. Thanks to this, you can dry and style your hair while your family is sleeping without disturbing them. At the same time, its power remains the same, allowing you not to spend a lot of time to make a finished look.
CONFU Hair Dryer applies a U-shaped heating wire that simplifies your hair drying process, simultaneously taking care of the speed and quality of styling, evenly distributing air heat. With striking parameters, the device itself is compact and lightweight and is well suited for travel.
In addition, this is a rather compact device that does not clutter the bathtub. It is not just a device, but a semi-professional multifunctional device for drying and styling thick hair types. Ionic air helps align hair and form beautiful waves, as well as personalize the device to the needs of your hair using different nozzles.
11. JINRI 1875W: Quiet Hair Dryer with Ionic Technology
Just like the Conair blow dryer, this one has the 1875 watts motor that lets you dry hair quickly and reduce the noise made. To tell you the truth, this isn't the quietest hair dryer. At least, it seems to be lower-pitched so it feels more comfortable than regular hair dryers.
The ergonomic handle and the lightweight body only improve the first impression. There is even a removable air filter that is easy to clean. It prevents hair from drawing into the duct and keeps the dryer working in high efficiency.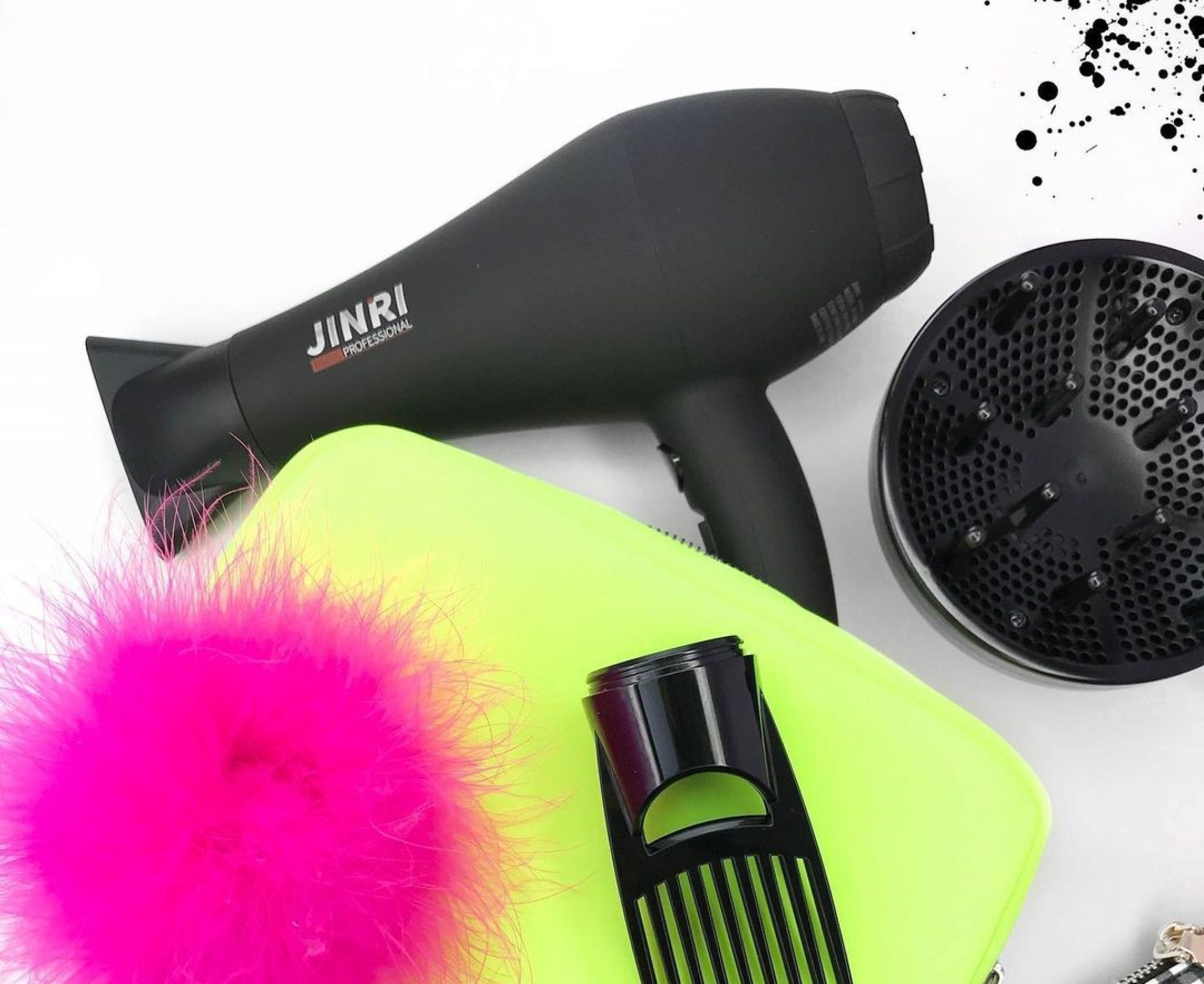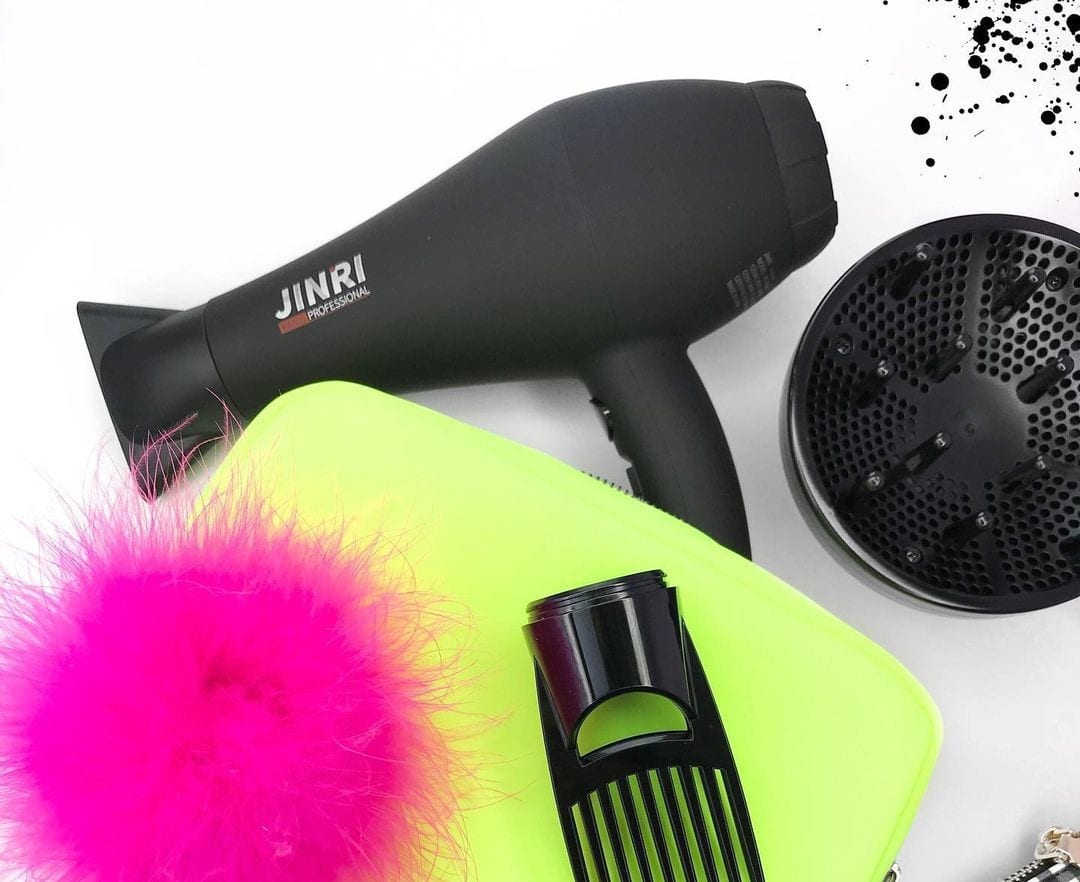 This hair dryer features the ionic generator with nano titanium grill. This provides the high concentration of negative ions to condition hair and leaves you with a smooth, shiny result. And due to the tourmaline ceramic coating, the heat is distributed evenly. 2 speed and 3 heat settings give you an opportunity to somewhat customize the tool to your hair type and style.
Plus, a concentrator nozzle and a diffuser will come in handy if you feel like trying various hairstyles. And using the cool shot feature is a great way to finish your look.
12. Revlon Lightweight Quiet Hair Dryer Featuring Triple Ceramic Coating
The manufacturer claims that this blow dryer is about 50% quieter than most of competing hair dryers. It's hard to tell for sure, but this Revlon blow dryer indeed is one of the quietest hair dryers I know of. It runs only at 70 – 74 decibels which means it's pretty quiet even on the high-speed setting. The unique fan design is claimed to make its contribution to noise control.
This hair dryer features as many as three layers of ceramic coating that provides even heat distribution and drying hair from the inside out, hence less damage. Boosted with ionic technology, this helps enhance shine, eliminate frizz, and make your hair smooth. 2 heat and 2-speed settings give you some versatility in terms of styling, and there is the air dry setting which is supposed to dry hair without heat.
The tool itself is lightweight but rather large, so it's inconvenient to take it with you. It comes with a smoothing concentrator for precise hair drying and styling. The only thing is, this attachment keeps falling off which may be really annoying. Overall, this hair dryer does the trick, and the price is reasonable.
13. MHU Professional Hair Dryer Employing the Far-Infrared Heat and Ionic Technology
As many other blow dryers on my list, this one has an 1875 watts motor that lets you dry hair faster. This hair dryer is actually quieter than regular blow dryers, so it lives up to its name. Employing far-infrared heat and ionic technology, this hair dryer helps eliminate frizz, smooth hair, and reduce the risk of damage.
Just like many other quiet hair dryers, this one has 3 heat settings and 2-speed modes. Also, there is a cool shot button to lock in your style. The package includes a concentrator and a diffuser that will come in handy if you don't want to stick to the same hairstyle every day. In a nutshell, it's a decent hair dryer that gets the job done.
14. Berta 1875W Professional Ionic Salon Hair Dryer
1875W is another great option to take care of your hair. In addition to the necessary temperature modes, the Cool Shot button for styling is added. The technology of ionization helps protect your curls during styling. In addition, the material of the hair dryer helps level your curls and fix moisture. Thus, your hair will be shiny and smooth after styling in any weather. Straighten safely any length of your hair with this dryer.
Besides, the hair dryer is quiet. The set has several classic nozzles (a hub, a diffuser, and a straightening comb), but I want to highlight a comb designed to align and straighten hair of any condition and density. You can be sure that the hair dryer is super quiet and dries incredibly quickly the hair of any thickness and structure.
I was looking for a lite version of a hairdryer for my mother when I found this option. The hair dryer itself is incredibly light, and your hands won't get tired if you have to dry your hair in sections, which takes a considerably longer amount of time.
Besides, my mother has curlier hair than mine, so nozzles, such as a comb or diffuser, do the work of the gods, aligning and styling her hair as she likes. Thus, technology allows any curls, even those that have undergone frequent dyeing, to look fresh and shiny.
Additional Products
How to Choose a Quiet Hair Dryer?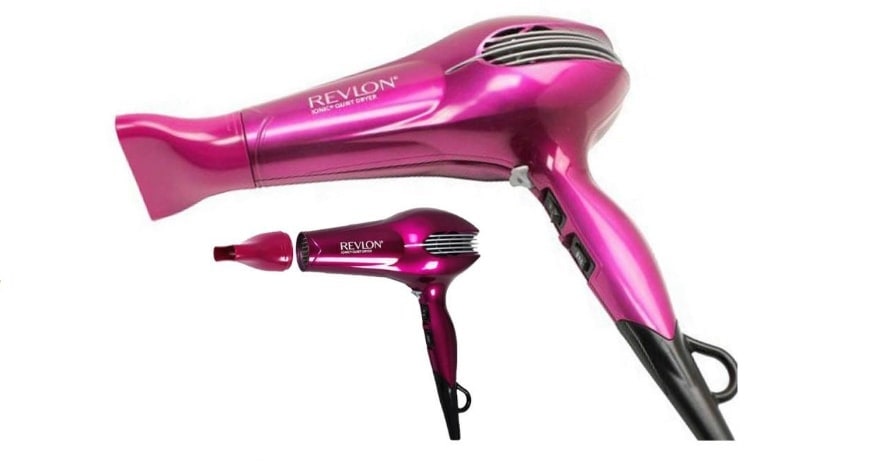 If you'd like to protect your hearing and the peace of your home-folks, you probably wonder how to choose a quiet hair dryer. Let's discuss what features to consider before purchasing one.
The noise level
Ideally, it should be something around 60 decibels of sound intensity. Many decent hair dryers run at 70-80 decibels. Yet, some models are producing even less noise. For instance, the Velecta Paramount X:Q onyx quiet blow dryer (63 decibels) or the VAV blow dryer 1875w negative ion professional hair dryer (64 decibels).
The only thing is, you may not find the exact decibel rating on every blow dryer. So far, manufacturers aren't obligated to give consumers a decibel rating of their products. At least, you can use one of the apps that allow you to measure the noise level of anything, including quiet hair dryers. That's how I found out the decibel ratings of some blow dryers I typically use.
Total wattage
It can be a good indicator which gives you an idea of the noise level of the certain blow dryer. Generally, a hair dryer with a lower wattage takes longer to dry hair completely, but in the long-term, it's safer for your hearing.  Hair dryers that fall within the range of 1400 and 1600 watts are thought to be the quietest.
However, some models that use 1875 watts are just as soft as the low-wattage blow dryers. And the Velecta Paramount XQonyx quiet blow dryer tops them all – with 2000 watts motor, it measures only about 64 decibels. Designed specifically for salon use, it will be a real catch for fellow hairdressers.
The technology employed
There are ionic, tourmaline and ceramic technologies, and most modern hair dryers use either one of them or a combination of two or even three. For example, JINRI 1875W hair dryer with ceramic tourmaline coating employs negative ion technology. This gives you smooth, shiny, and relatively healthy hair as a result.
Blow dryers with ionic technology are considered to produce the smallest amount of noise. So, if you want to get an ultra quiet hair dryer, you know what to look for.
The speed and temperature settings
Many hair dryers have two speed modes (high and low) and 2 or 3 heat settings. That gives you some versatility in terms of styling, but not so much. You probably know that it's better to dry thin or damaged hair on lower temperatures. And healthy thick hair can probably stand the higher heat. Anyway, follow the instructions of your particular blow dryer to reduce heat damage as much as possible.
As for the speed, it indicates how fast your hair gets completely dry. The higher the speed, the faster the drying. The flip side of the quick styling is that a motor working with higher speed makes more noise.
Most quiet hair dryers, just like regular ones, have a cool shot feature. It helps cool your hair and finish the look. In some models, you have to hold the button down continually, otherwise, it stops working. In others, there is no such problem.
The controls
Typically, they are placed on the handle, right where you hold a blow dryer. So, you may accidentally switch controls when using the tool. It may take some time to get used to such placement.
Configuration
Some quiet hair dryers use dual air flow that increases airflow and, therefore, the result. This feature can somewhat reduce the noise since there is a fixed space between the fan and the body.
Attachments
Many quiet hair dryers come with a couple of attachments such as a concentrator and a diffuser. The first one changes the airflow coming out of the hair dryer. As its name suggests, the concentrator focuses the airflow for more targeted drying. It can be useful for making various blowouts when you need to secure certain sections. Straightening your bangs or adding volume to the roots – with a concentrator, this becomes a lot easier.
In contrast with the concentrator, the diffuser forces the hot air coming out of the dryer to spread out through the tines. Thus, less hair is being directed in one small area. This is a gentler way of drying your hair, but it's suitable only for girls with curly locks. Due to the diffuser, curl shape is left untouched during the drying process.
The power cord
Consider the length of the cord. The longer it is, the more comfortable the styling will be. Many modern hair dryers have a long enough cord but better safe than sorry.
Quiet Hair Dryers: Q&A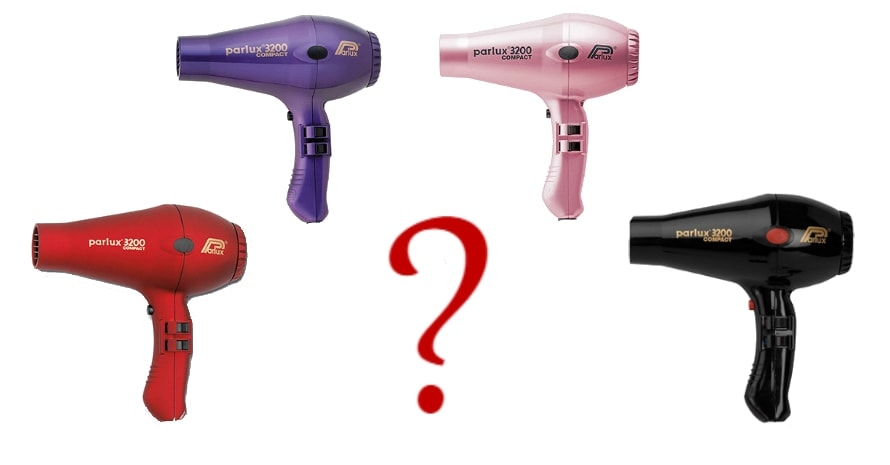 And now, I'd like to answer the most asked questions and give you a couple of tips on quiet hair dryers. Here it goes!
What is the tourmaline technology?
As you may notice, multiple styling tools use the tourmaline technology including curling irons, flat irons, straightening hair brushes and so on. Quiet hair dryers are no exception, and some models employ this technology, too.
First, what is tourmaline? It's a semi-precious stone that is used in combination with ceramic. The ceramic tourmaline coating is considered to be an excellent choice for your hair health.
The point is, tourmaline emits negatively charged ions when it's heated up. This reduces static electricity and hair frizziness caused by positive ions. Converting positive ions into negative ones is what makes your hair shiny, smooth, and silky. What's more, the negative ions emitted by tourmaline lock in moisture and make drying process faster.
The only downside of the hair dryers with tourmaline technology is their price. On the other hand, the high quality and durability always are worthy of investment. Just be sure to purchase such a tool from a reputable seller.
What is the negative ion technology and what are its benefits?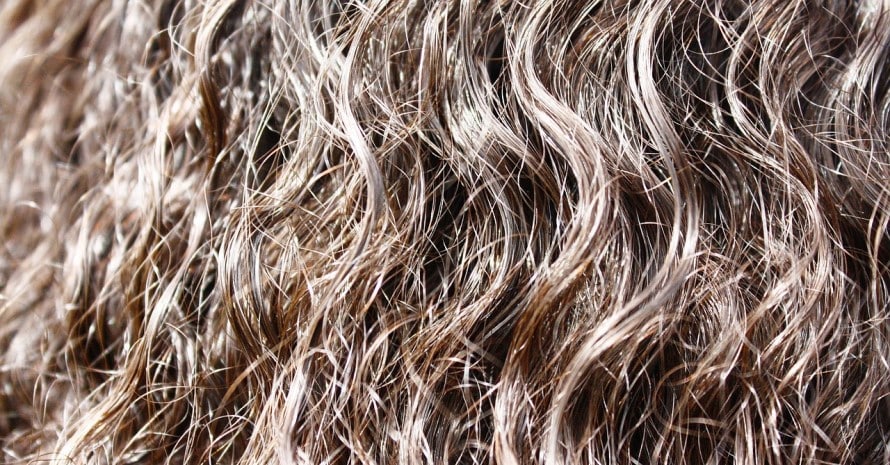 As its name suggests, the ionic technology is based on the interaction of ions with positive and negative charges. Typically, hair strands are positively charged which may cause frizziness and flyaways. Blow dryers with the ionic technology emit negative ions to neutralize positive ones. As a result, this leaves you with smooth and frizz-free hair balanced on the chemical level.
What's more, the ionic technology restores moisture balance, prevents over-drying, and improves hair strength. Ultimately, this makes your blowout stay in longer.
Both these technologies, tourmaline and ionic, can improve your hair condition. But don't put too many expectations on the styling tool alone. If your hair is already damaged, over-dried or brittle, these smart technologies wouldn't be able to improve its condition significantly. To restore hair health, you might need some actual medical treatment.
How to reduce the hearing damage caused by loud blow dryers?
I believe the answer is obvious if you recall the title of this post — to buy a quiet hair dryer. Yet, there are some other ways to reduce the noise level a bit. For example, using earplugs. I believe this does help make styling quieter but just for you. Earplugs don't protect hearing and peace of your roommate, partner, and other family members. That's a solid con.
Another way to cut down the noise is to attach a diffuser to the end of your current hair dryer. It will reduce noise but just a little. Moreover, diffusers are made for only curly hair, so if your locks are straight, that isn't a good choice for you.
One more original idea is to blow dry hair in a big room. The bigger the room is, the farther sound waves will travel without bouncing back. This may help make the sound a bit quieter near your head, but the home folks' peace of mind is in doubt again.
Finally, try to measure the sound intensity of your hair dryer. If the manufacturer hasn't indicated it on the package or in the guide, you can turn to special apps. Remember: hair dryers that measure something around 60 decibels are the safest. The tools that fall within the range of 70 and 80 decibels are also okay.
Are quiet hair dryers expensive?
Of course, they aren't cheap. But any styling tool of high quality, by definition, can't be cheap. On the bright side, there are quite a few affordable quiet hair dryers on the market.
How to use attachments? What are they for?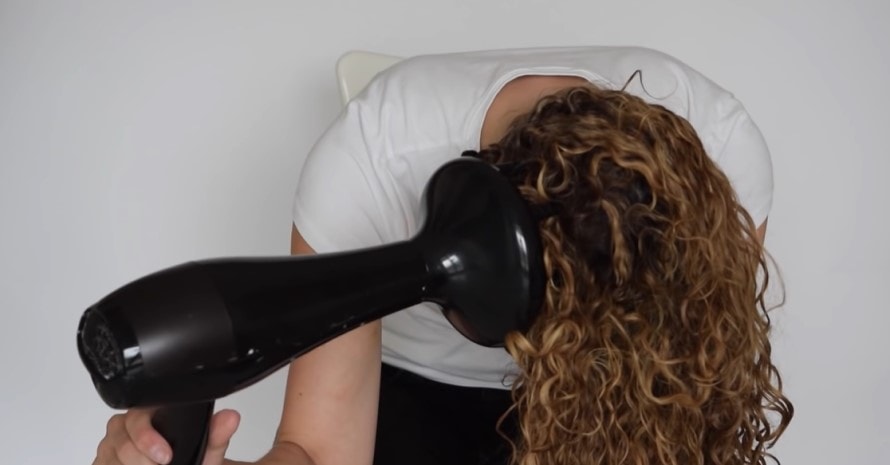 As I mentioned before, there are two basic types of them – a concentrator and a diffuser. The concentrator nozzle is used for pin-point styling when you need to secure certain strands and sections of hair. It may be straightening, curling, adding volume to the roots, and making pretty much any blowout you want.
Before using a concentrator, it's better to dry your hair partially, something like 75-80 percent dry. Drying all of your hair with just a concentrator nozzle may take longer and create unintentional hot spots.
Remember that the direct flow of hot air can cause severe damage to your hair, especially in case of prolonged exposure. Keep the distance between the strand and the concentrator nozzle (at least 2-3 centimeters). And never direct the hot air flow on your skin, including the scalp. Otherwise, you may end up with dry skin, or even burns. And no one wants that, right?
The diffuser serves the opposite goal, spreading out the hot air coming out of the blow dryer. This attachment is explicitly designed for curly hair to dry it without ruining the shape. Using the diffuser helps eliminate frizz and make the whole drying process gentler.
It's best to use the diffuser to create defined curls. Lay your curls on the diffuser and keep drying them. Set your hair dryer on the lowest heat and the slowest speed mode if it's possible. Also, you can lean over your hair and dry it upwards for the length of your locks. Just be sure that you don't burn your skin.
Don't want to use a diffuser? Then maybe the hair dryer brush will be a better option for you.
Do you have any other tips on how to choose and use quiet hair dryers?
First, don't let the hair dryer weight confuse you. Of course, having a lightweight quiet hair dryer is easy and handily. But the heavier the blow dryer is, the more decent materials it's made of. Thus, the more durable it is. There may be exceptions to this rule, but not so many.
Obviously enough, the permanent exposure to the heat isn't good for your hair. Try to reduce hair dryer usage – at least, try not to use it on a daily basis. No matter how great and high-quality your blow dryer is, it still cause some damage to your locks, scalp, and skin. Air dry is a far better option, especially in warm seasons.
When drying hair, follow the instructions to your blow dryer. And always put a heat protectant before drying, straightening, curling or any other heat-activated styling.
Hair products can be a great help. They can moisturize, condition, and nourish your hair – and that is precisely what you need if you blow dry your locks, no matter regularly or once in a blue moon. I believe you will be able to pick something from the variety of crèmes, mousses, and lotions made for different hair types and styles.
Finally, observe the safety procedures when using a blow dryer. Never use a hair dryer or any other electrical appliance near any water. Always unplug your styling devices when they're not in use. Check their cords regularly, and if there are any exposed electrical wires, don't use that tool. Have it repaired before you use the tool again.
The Bottom Line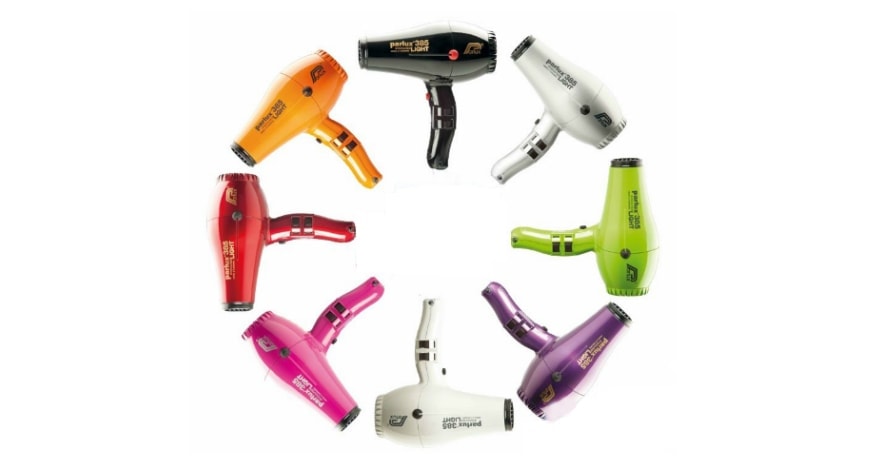 So, the quiet hair dryer is actually a thing, huh? It may not be absolutely silent, but it will definitely change your styling experience for the better. And maybe even your life! Peaceful and relaxed home-folks will only thank you for purchasing a quiet hair dryer, so will your hearing.
As you can see, quiet hair dryers have plenty of benefits. The only possible drawback may be their price, but you can still come across affordable models. And now you know what features to consider before shopping, so I hope you will find the best quiet hair dryer made just for you!
Ladies, have you ever used a silent dryer? If so, which one works the best for you? Would you consider buying such a tool? I will be glad to see your comments below!
Last update on 2022-12-11 / Affiliate links / Images from Amazon Product Advertising API