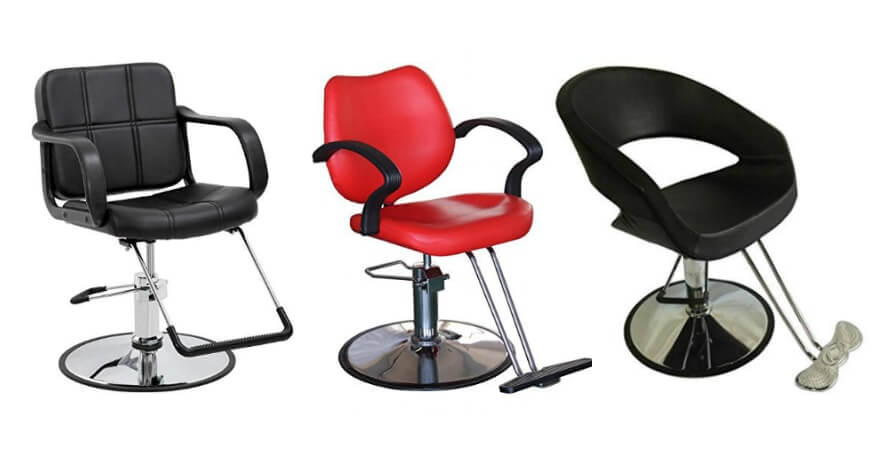 Hello, dear readers! My name is Chloe and today we'll try to figure out the best salon barber chair on the market. It would seem that such a simple thing as a salon chair doesn't need special attention when choosing equipment for a beauty salon. But in fact, this is one of the most important things which can guarantee the comfort of clients and staff.
The barber spends a huge amount of time near it, making hairstyles for clients; in turn, the client sometimes has to spend more than one hour in it, waiting for a miracle to happen. It is not difficult to understand that the chair should be ergonomic and most adapted for work; at the same time, it has to be in harmony with the general interior.
The choice today is huge and there are some points that are very important to consider since this will affect the life of the equipment and its general appearance. Without any further introductions, let's jump into the topic of how to choose the best salon chair. In this article, I will talk about the necessary criteria of chairs and trying to bring you my own top 15 of the best styling chairs for a salon.
Top 15 of Best Salon Chairs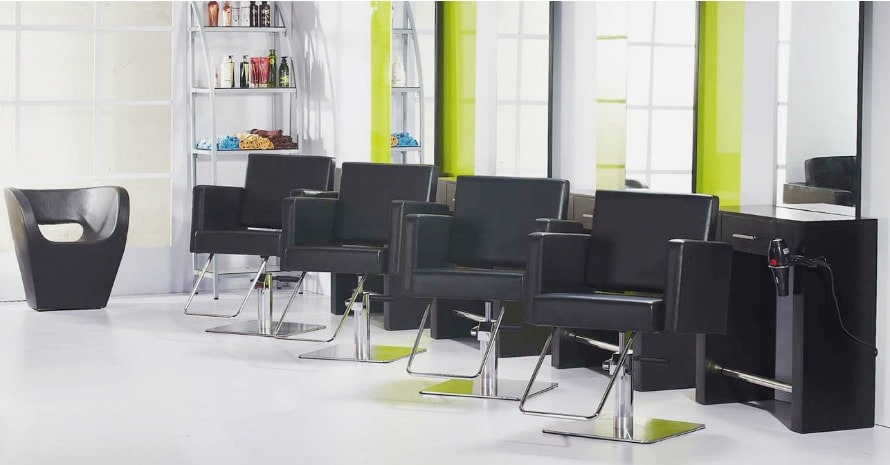 Before we start, I want to mention my logic of choosing candidates for this list. I believe that there are four key aspects at which you have to look especially close while making investments in your lovely salon:
Surface material. One of the most important factors that undoubtedly affects the quality and appearance is the upholstery material. Low-cost models usually use poor quality material, so it quickly loses its appearance.
That is why the quality and type of material should be considered with extreme carefulness. It should also be borne in mind that, like any other equipment, chairs also need to be periodically cleaned and disinfected. The best and most durable options are high-quality synthetic leather or vinyl leather.
Chair carcass. An equally important element in the design of a hairdressing salon chair is its frame. In cheaper versions, plastic is used, but it is better to choose from the models with a metal carcass. They are more expensive, but they can withstand a bigger load than plastic ones.
The frame may also have wheels that are quite convenient for transportation. But it is quite tough when your client rolls away around the place. That is why stationery options with a round or square base are selected more often.
Lifting mechanism. This small detail often has the greatest percentage of the cost of the entire chair. The most common and reliable options are pneumatic and hydraulic systems, which are very convenient to use.
There are also electric lifting mechanisms but I don't recommend them due to their expensiveness and insecure construction. And in the case of hydraulic mechanisms, there is always an option of changing broken details due to the simpleness of such systems.
Design. Feel free to argue with me, but I personally love old school design solutions when it comes to hair salon chairs. If we are talking about a men's barbershop, then you certainly have to look for classic black chairs with comfy back.
For a women beauty salon, you have a wider range of color solutions, but I prefer when the hair salon chair design reminds of old vinyl salons (which is a wide-spread trend if you know). Nonetheless, I've tried to be objective and added various types of chairs so you don't have to stick with my point of view.
Okay, now it is time to see what the salon chair market has for us.
1. JAXPETY Black Barber Beauty Salon Spa Equipment Styling Chair Child Booster Seat Cushion
This product is not actually a chair. JAXPETY created a great tool for the smallest salon customers. I'm talking about the stylish seat booster which can be put on the vast majority of barbershop chairs.
The thing is salon chairs are typically manufactured in accordance with the adult person size, so kids can't even lay their heads on the head pad. As you may assume, it is not very convenient in the process.
So if you have such issues, then JAXPETY booster is exactly what you need. It can be easily installed and cleaned afterward. This booster is made of qualitative synthetic leather that can withstand hundreds of restless small customers without tears. For the filler, the soft sponge is used. The product dimensions are: length 16.5 inches, width 13 inches, height 6.7 inches.
2. Oval Barber Chair Comfort Styling Salon Beauty Equipment
This oval salon chair is made with simplicity and style. Due to its design, it costs less than the better part of salon chairs on my list. However, it performs all the necessary functions: it has a 360-degree movement mechanism with lock, hydraulic height pump, and comfortable metal steps for your client's feet.
The saddle is reinforced with additional material layers in order to save the chair from ripping. I personally don't think that this chair is the most comfortable, but its design and price cover this disadvantage.
The seat has the following dimensions: length 18 inches, width 20 inches. The chair can withstand approx. 250 lbs of load, which is quite enough for the vast majority of barbershop's clients.

3. Danyel Beauty Professional Hydraulic Barber Chair Salon
Danyel Beauty salon chair is made in classic style. It is available in white and black colors, with a round or square base. The carcass is made of solid steel, while the seat itself is made of faux leather. The manufacturer gives a one-year warranty on the hydraulic pump used to adjust the height.
According to the customer's quotes, most part of the chairs on the market has problems with pumps after a couple of months. So, this statement about the warranty impressed me. On the other hand, there is no pullback option in the case of the Danyel Beauty salon chair, which is quite an obvious flaw.
In general, I can recommend this salon styling chair if your salon doesn't have beard services in the catalog. In all other cases (like beauty salon, hairdressing services) it should do the trick.

4. Best Choice Products 71in 3-Section Commercial Massage Bed, Spa and Salon Facial Chair
This salon chair is designed for the tattoo, facial and spa procedures. Basically, it is made of three parts so you can easily adjust the leg and back positioning of your client. I do not recommend this salon styling chair for classic barbershops due to its unsuitable design. But it should be perfect for massages and tattoo sessions. It has a removable head cushion, so your client can lay their face down and breathe freely. Armrests are removable as well.
Another great thing about this massage bed is that it has a built-in towel hanger which makes every procedure even more simple and comfortable. This product general dimensions are the following: length 71 inches, width 24 inches, height 30 inches.
The chair weight capacity is more than 500 lbs, so your client can be dressed in medieval armor and still be withstood by this perfect salon styling chair.

5. Hydraulic Pump Profession Shampoo Hair Cutting Chair
This salon hydraulic chair works just great for its money. You pay about 100 bucks for a quite simple salon stylist chair which still has a lot of useful functions. As you may assume from the name of this product, it has a hydraulic pump which gives you an option of height adjustment. To do so, put your leg on the pedal at the bottom of the chair. And it also rotates on 360 degrees, so the whole haircut process becomes much easier.
This hair cutting chair is distributed in three colors (black, red, and burgundy) in order to suit various interior designs of beauty salons. Also, the chair is provided with a round base only (in contradistinction to above mentioned Danyel Beauty salon chair). Inside the seat is 20 inches long and 19 inches wide, and you can adjust the seat height from 18.5 to 23 inches.
Let's not forget about the double-layered saddle which can withstand tearing and ripping. Finally, I love how it is easy to install this salon styling chair after you receive the package (even if you are a cute little girl like me).
6. 20″ Wide Hydraulic Barber Chair Styling Salon Beauty Equipment
As it comes from the name above the description, this barber chair has quite a wide seat (20 inches) if you compare it with other options on the market (also the seat is 19 inches long). I'm not saying that this is the strongest advantage, however, sometimes you need something bigger than the standard seat.
The seat itself is padded with high-density foam to make the comfort of your client even higher. The chair frame is made of solid metal; the pump, situated inside the construction is needed to make height adjustment. The pump is operated by the pedal near the round base of the chair.
This chair can rotate freely, however, it doesn't have a kickback option so you can't perform hair washing with its help. In other cases, this chair should be a great choice.
7. FlagBeauty Black Hydraulic Barber Styling Chair Hair Beauty Salon Equipment
FlagBeauty has some interesting chair models in their catalog. Both chairs from the above-mentioned links have similar construction: metal round base, leather seat with armrests and leg rests. The only difference is that the first one is of black color, while the second chair is red.
These hairdressing salon chairs do not have a reclining option, however, a barber can adjust height and lock in the needed position easily, as well as rotate the chair freely.
The seat is filled with comfortable high-density foam, so your client won't be tired spending time needed for the procedure. Buying FlagBeauty hydraulic chair for salon, you get a one-year warranty for both the base and pump mechanism.
8. LCL Beauty Automatic Recline Shampoo Chair with Double-Reinforced Steel Frame
This steel-framed chair is inexpensive and simple, but, actually, does its job just fine. It has a pullback feature, so you can wash your client's hair or chop his beard. The chair's frame is made of durable steel, while the surface is made of black synthetic leather. Such material is quite robust and easy to clean up.
On the other hand, it doesn't have a rotation option, due to its four-legged construction. Considering the price, it is not the toughest flaw. If you are opening a new beauty salon or a barbershop and your budget is limited, then this chair should be among your prior targets.
This chair's seat dimensions are length 19 inches, width 19 inches. High-density foam padding is used as the seat filler to bring the most comfortable experience to your clients.
9. DevLon NorthWest Salon Nail Pedicure Manicure Medical Adjustable Swivel Rolling Stool Pink
DevLon NorthWest product is distributed in a huge variety of colors (like brown, grey, red, white, turquoise), but I prefer the pink one. It just looks like a true Barbie chair from childhood meaning that each beauty salon will win having such things in its interior. This is not the best chair from this list, but its price and bold design can certainly make a difference for you.
Among other advantages, I like to mention the lightweightness of this pink salon chair, as well as its easy construction, which makes the installation process a piece of cake. All the needed fasteners and screws are included in the package so you don't have to bother buying additional tools to set the chair up.
The chair's seat is 18 inches long and 16 inches wide, while its height can be from 17 to 23 inches due to the pump adjustment option. The chair can withstand about 225 lbs of load: just enough for the better part of salon clients.
The base is made of durable metal; five roller wheels are integrated into the carcass, so you can easily slide the chair around. However, it can also slightly move while the master does the job, which is not very convenient.
10. Ainfox Shampoo Barber Backwash Chair
This is a fully completed hair washing barber chair that can be used for various shampoo procedures. And to be fair, this is one of the best shampoo chairs for salon out there. This product is distributed with everything you need to install it properly.
This salon shampoo bowl and chair comes fully equipped with all necessary hardware (such as an adjustable sprayer, comfortable neck pad, spray hose with shower nozzle, and so on). With its double-reinforced saddle, you can be sure that this chair can withstand tearing and ripping.
Ainfox hair washing chair is manufactured in black color which looks stylish and exquisite. I believe that it suits strict men barbershops and luxury women's beauty salons perfectly. Just don't forget to use proper natural shampoos, so you can make your client's hair even more beautiful.
The product dimension is 40.5 x 30 x 15 inches, while its weight capacity is about 450 lbs. The seat itself is 20 inches long and 19 inches wide. Back dimensions are quite similar: 19 inches long and 16 inches wide.
11. Modern Fashion Auto Recline Chairs Shampoo Styling Hair
This is one of the most inexpensive products on our list, and I like how it performs for this kind of money. Basically, this is a simple four-leg modern salon chair that resembles office furniture. However, it has quite a solid metal frame in which parts can be easily assembled after you get the package (all the needed screws are inside).
Inside seat dimensions are 19.3 inches long and 16 inches wide, while the seat height is 19 inches. The seat (just like the majority of products on my list) has a double-reinforced construction to prevent tearing. Legs have rubber caps on them to ensure the chair stands stable all the time.
Another advantage of this inexpensive salon chair is the pullback function: however, the back can be shifted only for 30 degrees which are not enough for some procedures. But it should do just fine in the case of hair washing, for example. So I can recommend this chair for the vast majority of hair fixing procedures.
12. BR Beauty Kate Dryer & Chair Combo
This salon chair is combined with a hairdryer, that is why I recommend it mostly for beauty salons. It costs quite a lot, due to the dryer option and the fact that it is manufactured in the USA. You get the three-year warranty for the dryer system and a one-year warranty for other parts of the chair. The chair has a wooden frame, but it stands on four legs, so there is no rotation option. Which is not the main purpose of a salon dryer chair to be fair.
The dryer system has a built-in timer. The chair is 30.5 inches long, 23.5 inches wide, while its height is 31 inches. The seat height is 18 inches. BR Beauty chair is approved by CSA and UL. For the comfort of your client, the salon hair dryer chair has removable arms.
13. LCL Beauty Extra Large Classic Style Reclining
LCL Beauty salon chair is a great accessory for every beauty salon and barbershop. It is one of the most expensive hairdressing salon chairs on my list. To be fair, for clear reasons. First of all, it has all the needed mechanisms to ease the barber's task, like rotation mechanism, height pump system, and pull back mechanism.
Secondly, there are some small additional details that I like about this reclining salon chair, such as four positions for a headrest (which can be removed entirely) and the self-rising footrest option for greater comfort of your client.
Finally, the LCL Beauty salon chair is all about the old school barber style. With its black color, this chair perfectly suits each hairdressing and beauty salon.
The manufacturer provides the following approximate measurements for its product: seat is 20 inches long and 22 inches wide, height can be adjusted from 22 inches to 27 inches, while the total chair width is 26 inches.
14. Stainless Steel Heavy Duty Hydraulic Recline Barber Chair Salon Beauty Shampoo
This classic salon chair reminds me of old barbershops. You can easily pull it back if you want to perform beard procedures or use it as a regular chair (the reclining angle is 100-130 degrees).
Its weight capacity is about 450 pounds, so you can be sure it can handle some of your large clients. It has a 360-degree rotation option and a height adjustment pump mechanism.
This vintage salon chair can be set up with ease (just follow the installation steps described in the manual). Because of its simple construction, the cleaning process can be performed with ease as well. And due to the double-reinforced saddle sticking, you can be sure in chair protection from tearing. The inside seat is 21 inches long and 18.5 inches wide, while the seat height can be adjusted from 23 to 30 inches.
15. Artist Hand Hydraulic Recline Barber Chair
This barber chair is distributed in black color only. Its surface is made of PVC leather while heavy-duty steel is used to produce the frame.
This chair has a 360-degree rotation feature with the locking mechanism for the preferred position. Another great thing about this chair is its height adjusting pump which makes the whole process much easier.
Artist Hand salon chair is easy to set up and use. It has a loading capacity of 330 lbs, so it can be used both for adults and young persons. This chair can be used in barbershops, tattoo, and beauty salons with similar success. Artist Hand chair has the following dimensions: seat size is 19 x 18 inches; the general size of the product is 33.5 x 23.6 x 39 inches; back size is 18 x 16 inches; the headrest size is 7 x 4 inches.
What is the Best Salon Chair?
Choosing the best salon chair can be a great disaster if you don't know where to look. Luckily, this is not the case if you are familiar with goods on my list. All of the above-mentioned chairs show great performance and solid quality.
If you are trying to figure out exactly which product suits you the best, you have to consider some points. First of all, if you are looking for such single-purpose things as dryers or hair washing machines, they are represented by single options in my article (BR Beauty and Ainfox chairs respectively).
If your task lies in finding the best salon barber chair for general barber procedures, you have to look at significant features of each product which I've distinguished before my Top 15 list. So, you have to look at surface material, base construction, height pump quality, etc. And then just compare how many useful functions you get for each price. Figuring out the most functional chair should be an easy task if you make these simple calculations.
FAQ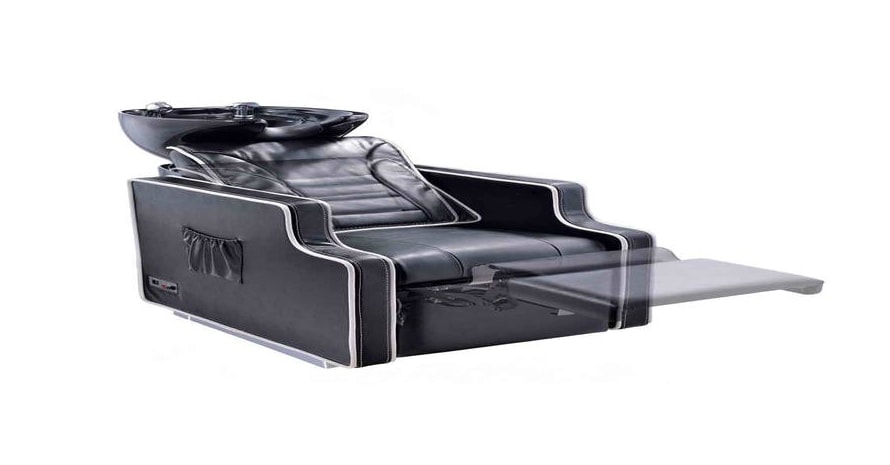 What is the best chair material?
The vast majority of chairs on my list are made of artificial leather (also called PVC leather, synthetic leather, faux leather, etc.) I believe that the best salon barber chair surface should be made of such material: it is quite inexpensive, robust, and well-looking. For the chair's carcass, some kind of steel or other durable metal should be used.
What is the average lifetime of the salon chair?
It is quite a tough question considering the fact that in each case the chair can be used with different load. However, I believe that the better part of chairs on my list can successfully perform for a couple of years without being replaced.
What things should I consider when choosing a chair?
First of all, you should consider your budget. You can see all kinds of chairs on my list, from four-legged simple chairs to large comfy classic barbershop chairs. Also, you should think of the chair's design, color, and additional functions (like reclining and rotation options). Finally, you should take into consideration some additional points like warranty terms, pump quality, product size, etc.
What is the best way to clean salon chairs?
There are a lot of ways to clean the salon chair. You can do it with simple house cleaners, however, they can cause unwanted chemical reactions with artificial leather upholstery. So, it is better to use special cleaning remedies. And don't bother searching for them: I have some good choices for you.
Salon Hair Styling Beauty and Barber Chair Cleaner
This spray is made of natural components so it doesn't leave a specific smell after the cleaning procedure. It helps to maintain color and surface smoothness to let your chair live even longer.
Rejuvenate Leather & Vinyl Cleaner
Another perfect tool to help you remove body oils, grime, dirt, and sweat from the chair's surface. Rejuvenate cleaner can be used with leather and vinyl.
Leather and Vinyl Cleaner Eco-Friendly
This cleaner is made in accordance with eco and pet-friendly non-toxic formula, which means that its compound is totally free of abrasives or harsh chemicals. In order to use it, just spray the cleaner on the surface and wipe it with a sponge or a piece of cloth.
Conclusion
Choosing the right salon chair may be a tough process, especially if you are a picky girl like me. Just go and see for yourself: there are tons of products, some of them even have a high rating. But still, this is not the reason to buy salon chairs because we all know how marketing things work nowadays.
You buy a perfect picture to get no feature eventually. And the price of salon styling chairs is quite high, so you can actually lose a lot of money before finding the right product for your needs. This is totally unaffordable for those ones who try to build the beauty business with a limited amount of money.
I believe that my top list of salon styling chairs can solve these problems for you. Buying one of these products, you can be sure of high quality and great functionality. I also would love to hear from you about your own experience with salon styling chairs and your personal favorites. Please, leave a comment below if you have some useful info to share. Thanks for your attention!
Last update on 2022-12-11 / Affiliate links / Images from Amazon Product Advertising API