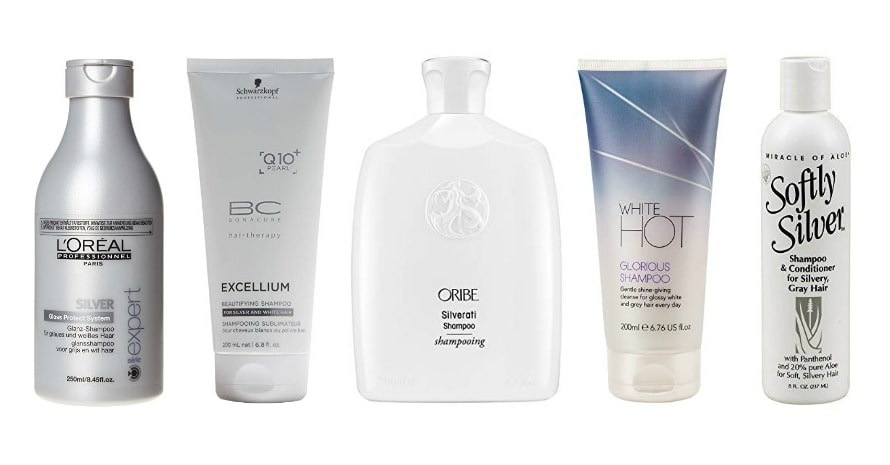 Hello! My name is Clarissa, I am a co-editor of this beauty-blog and a proud silver fox. You may think that silver hair is the first sign of getting old. It's not really true because even grey hair can look fresh and stylish. The emergence of the first gray hair should not become a cause for sadness.
Some people, especially Hollywood celebrities, consider that the noble color gives elegance and charm. Meryl Streep has put up with her age (she turned 70 in 2019), and she doesn't hide it. Her head is covered with gray hair, and her face is decorated with wrinkles, but Streep doesn't want to fake her age.
Pros
Suits both dyed and naturally gray hair
Keeps your curls smooth and moisturized
Top Pick
Pros
Suits both dyed and naturally gray hair
Best Budget Pick
Pros
Keeps your curls smooth and moisturized
Meryl agrees to dye her hair only if it is necessary for the role, but in everyday life, she prefers to remain natural. American actress and singer Jennifer Lopez admits that she began to turn gray rather early, at the age of 23.
Nevertheless, many men and women accept these changes in their appearance rather painfully. To look younger, they try to solve the problem by tearing it out or by using cosmetics.
To dye or not to dye your hair? The choice is yours, but you should always choose the right treatment to keep your hair look good. And that's why you're here, looking for the best shampoos for silver hair.
How to Choose the Best Silver Hair Shampoo?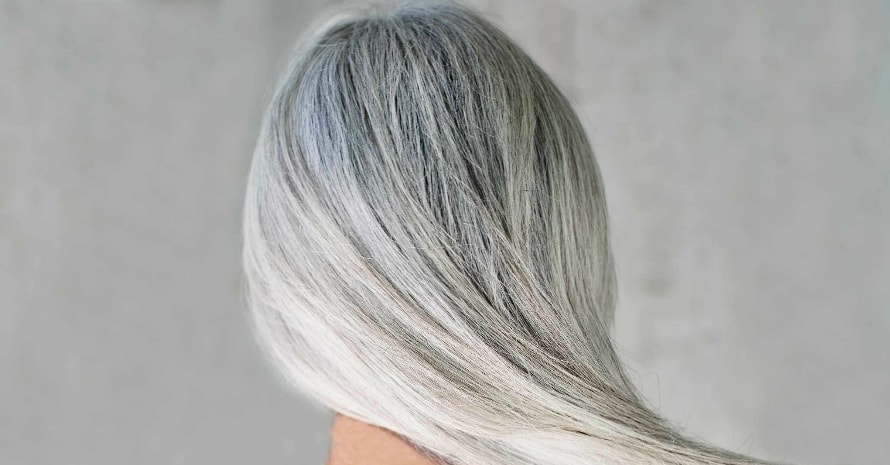 Let's accept the fact that the appearance of gray hair is regardless of gender and lifestyle. Most consider this as a sign of aging or as a result of frequent stressful situations.
To understand the reason for the silver strand's appearance and to choose the right treatment, you have to understand what melanin is. This substance is responsible for the natural pigment of your curls and the color of your eyes iris. It is also involved in tan skin tone creation.
The faster the melanin leaves the body, the more unstable the hair color becomes. The skin cells called melanocytes produce this important pigment. However, you can't return your natural hair color using a simple shampoo, but you can choose the right one to keep your silver curls looking shiny and healthy.
First, consider what type of shampoo you need. There are purple shampoos for silver hair, silver shampoos, and blue tint shampoos.
Secondly, read the information on the label. Find out for which hair this shampoo is intended for. Gray hair is usually dry, so the shampoo should contain moisturizing ingredients such as lecithin, avocado oil, spirulina, and others. This will help you avoid dull and unruly hair. Remember: a good silver hair shampoo is always moisturizing.
Purple shampoo is a magic wand for dyed blondes and silver hair owners. This cure helps to get rid of yellowness and keeps your silver curls cold-toned. The unusual shampoo color was explained by Neil Moodie, a top-rated UK stylist.
According to him, the formula of purple shampoo was developed following the table of hair color, which has existed since coloring appeared. "As when drawing or blending colors, the opposite color should be used to neutralize the color. So, purple helps to fight with copper and yellow tones, but at the same time keeps the main color light. "
If your blonde hair has lost its vibrant, fresh shade or gray strands have appeared, then a silver brightening shampoo will be an excellent way to eliminate the trouble. It gives blonde hair a delightful vivid shade thanks to the toning option.
Pigments of the violet-silver spectrum remove yellowness giving the strands a pure sheen and an incredible cold tone. Silver shampoo for gray or silver hair cleans, moisturizes, and strengthens the curls. It contains a great number of active vitamin complexes that smooth the strands and help them to recover.
Tint shampoo for gray and silver strands can help to cover your strands or just to highlight them more. Keep in mind that tint shampoos don't have anything in common with usual shampoos, because they are not intended to clean your hair, just to dye them a little.
So, now you're armed with everything you need to know about the best shampoos for silver hair, and it's time to consider the 12 mightiest products for your gray curls.
Top 12 Best Silver Hair Shampoos
Today, many beauty brands have a special collection of shampoos and balms for silver curls. Their pricing is quite is different. Some of them are pretty affordable, the price for others is extremely high. Therefore, any woman can choose the right treatment.
1. Touch of Silver Brightening Shampoo
Do you want to improve the condition of your silver curls and make them look even more attractive? This mission is possible with Pro: Voke Touch Of Silver Brightening Shampoo, which is one of the best purple shampoos for silver hair.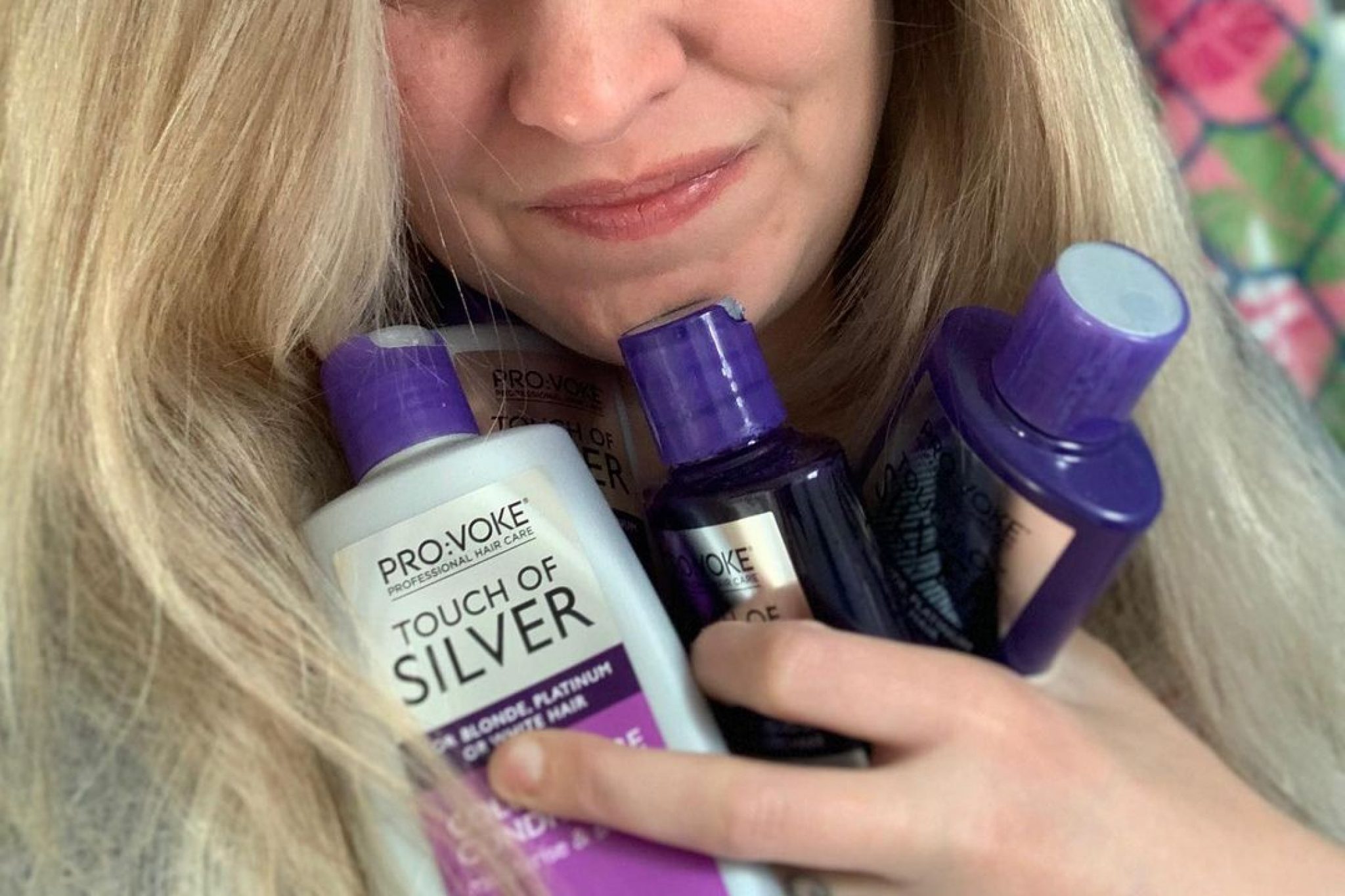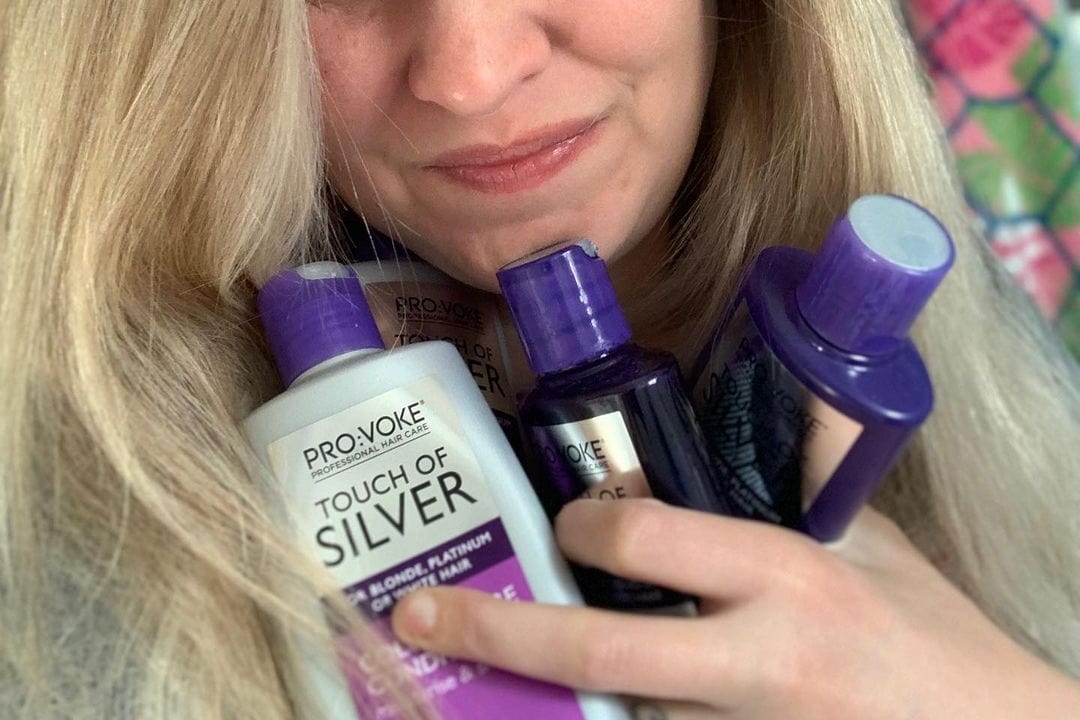 The Touch of Silver shampoo is enriched with natural ingredients. In particular, it contains grape extract: it neutralizes the yellowing effect, gives the curls shine, and provides long-lasting silver tint. This shampoo gently cleanses your strands, nourishes them with beneficial vitamins, moisturizes, and strengthens.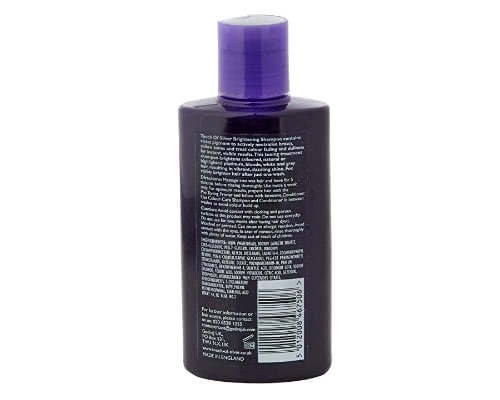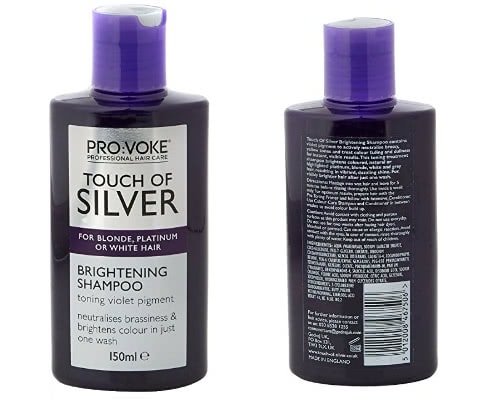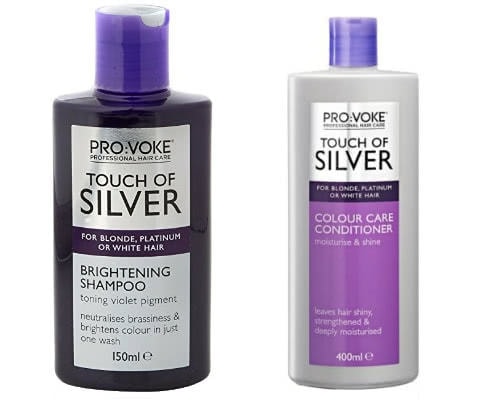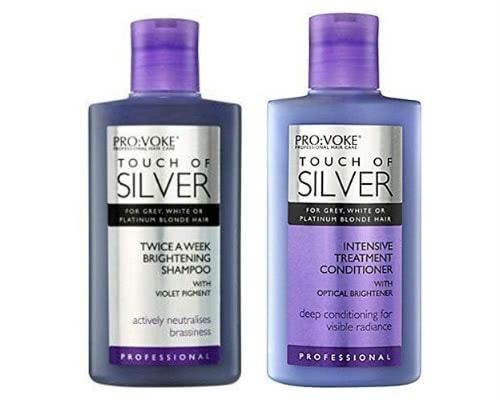 At the same time, it has a unique brightening feature. The shampoo contains a special purple pigment that enhances the saturation of the yellow shade of the strands. The product actively neutralizes the yellowness. Use it regularly with proper balsam to get the best effect for your gray strands.
Wash your hair with warm water and apply a portion of shampoo on it. Foam the product and rinse it with warm water. Warning! Use the Touch of Silver only 1 time per week! If you just dyed your hair, wait at least 2 weeks and use the shampoo.
---
PROS:
has a nice smell;
natural ingredients;
affordable price;
makes your hair soft and shiny;
suits both dyed and naturally gray hair.
---
2. L'Oreal Serie Expert Silver Shampoo for Unisex
Lightened hair needs constant tone correction to stay shiny and cold-toned. This shampoo includes special pigments and a complex of components that will easily get the yellow tone out of your hair.
Loreal silver-blonde shampoo is enriched with castor and burdock oil. These active substances are extracted from the coconuts and have a great influence on your hair. They moisturize, nourish, and protect hair from the harmful effects of the outside environment.
The ingredients create a strong barrier that protects hair from the damaging effects of styling devices and enhances the effect of sunscreens. This shampoo also has an antistatic effect.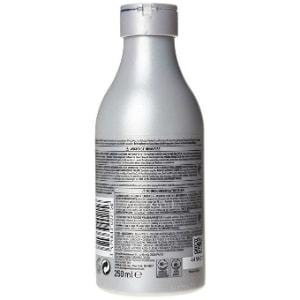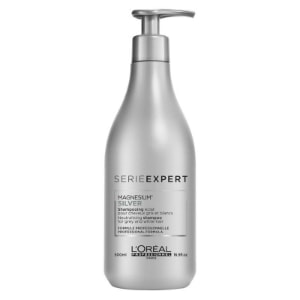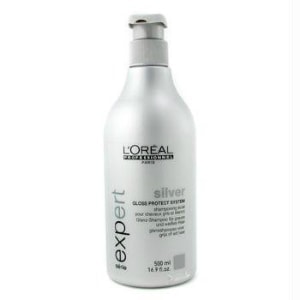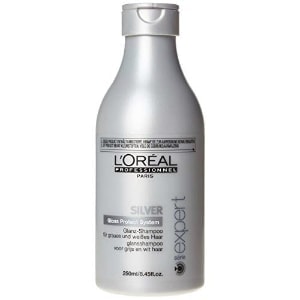 Gray and lightened hair need very gentle and special care. To preserve the softness and elasticity, as well as to get rid of non-aesthetic yellow and dull shades, the experts of the popular brand L'Oreal Professionnel developed Silver Shampoo.
The formula is also suitable for owners of natural and dyed blond hair. It cleans gently from excess sebum, sweat, and impurities without damaging the structure and without overdrying the skin. Moisturizing ingredients restore the shine and elasticity of the curls, making them silky to touch.
Apply a small amount of shampoo to wet hair. Spread smoothly, leave for 3 minutes, and rinse the foam with warm water.
---
PROS:
suitable for both men and women;
keeps your curls smooth and moisturized;
smells neutral;
provides professional treatment;
can be used both for dyed and natural light-colored hair.
CONS:
a bit pricey;
isn't sulfate-free.
---
3. Joico Color Balance Purple Shampoo Plus Conditioner
It is very important to keep your hair color-saturated and shiny, preventing its fading and discoloration. Innovative tint purple shampoo and conditioner will make your curls soft, silky, and elastic while maintaining a beautiful shade of colored strands. This duo was created by the American technologists under the Joico trademark.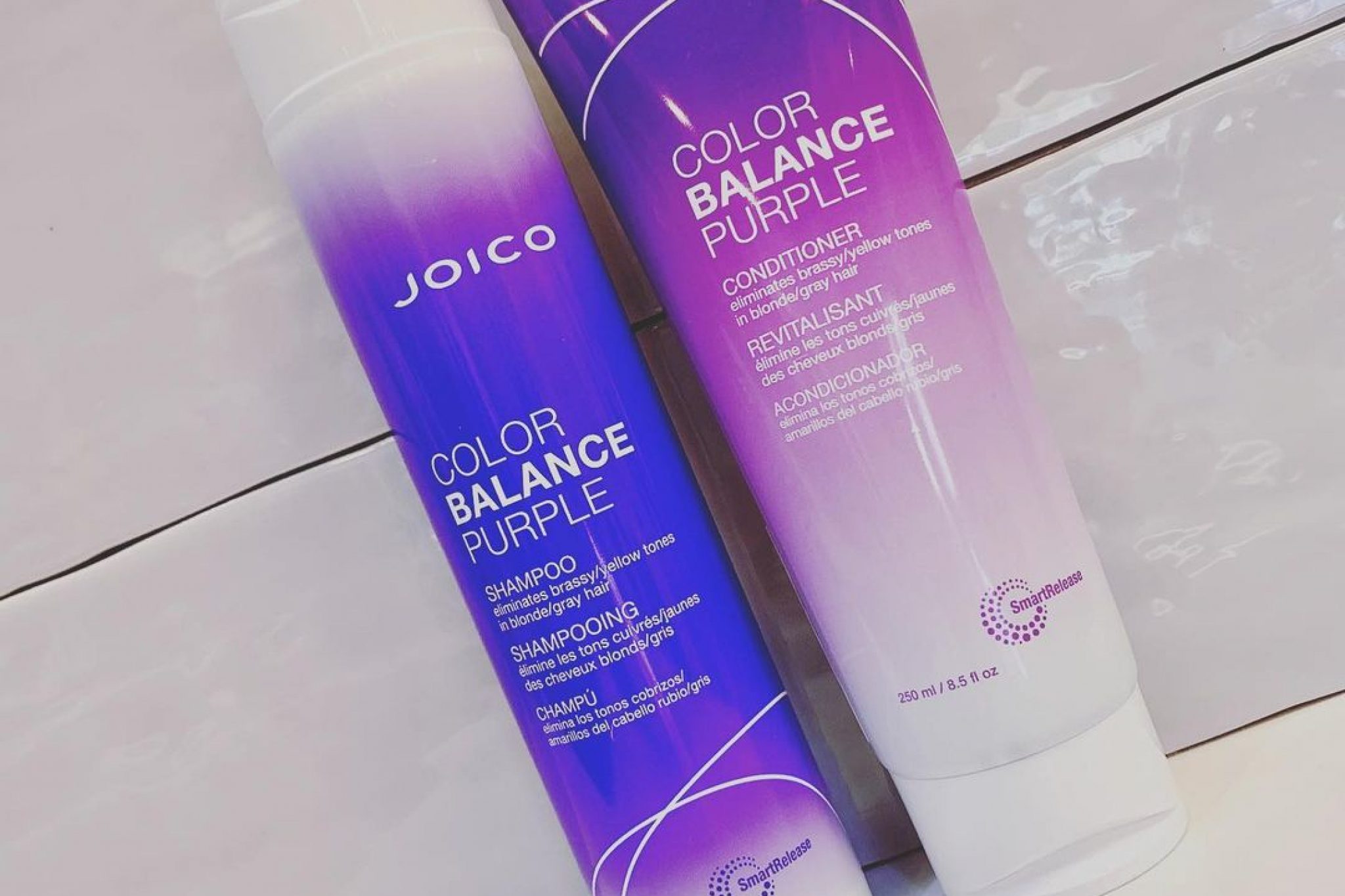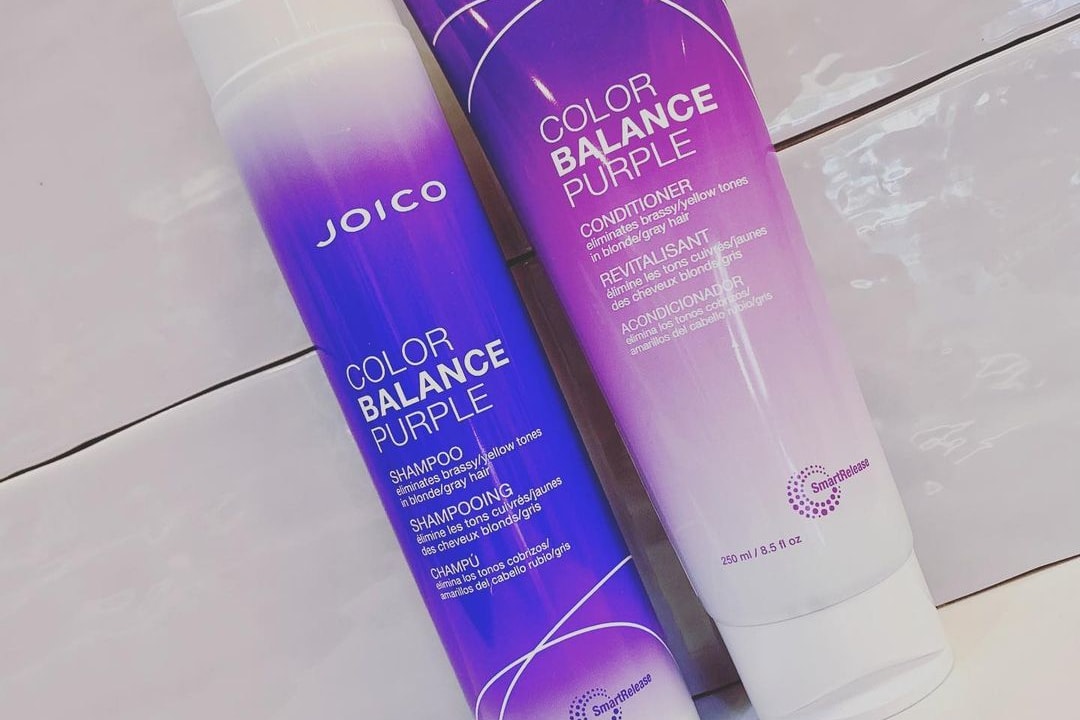 Joico shampoo removes dirt, provides the long-term preservation of brightness and saturation of the shade. It recompenses the lack of moisture and nourishes your strands with useful vitamins. It has excellent softening, firming, and regenerating features. The conditioner contains moisturizing, nutritious, and protective elements that will restore vitality and shine to your hair and will help to repair the damaged hair structure.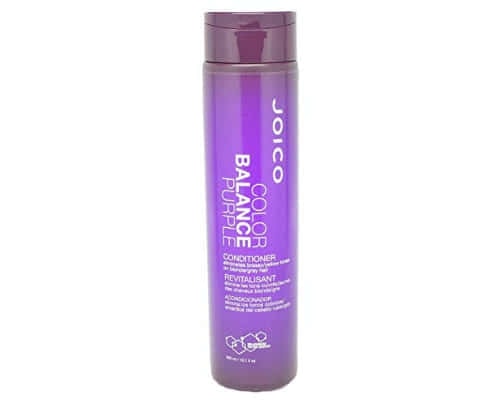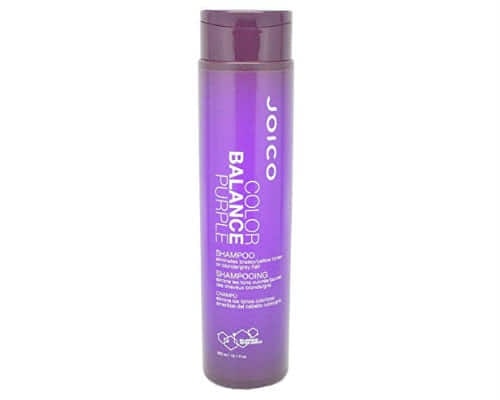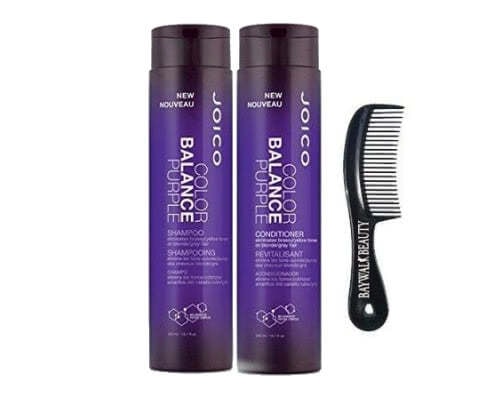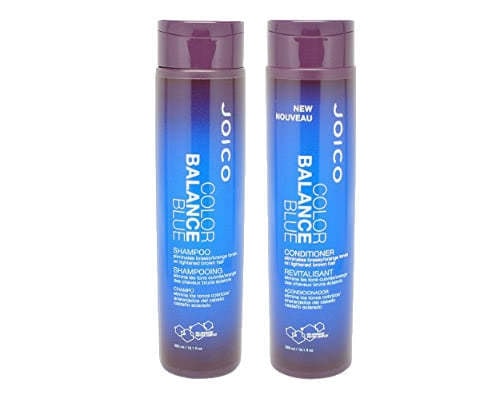 These products help to fight dryness and dullness of your hair. They provide your hair with silky smoothness and pleasant elasticity. Shampoo neutralizes static energy and prevents curls from tangling. It foams well and has a delightful floral and fruity aroma.
---
PROS:
two products for the price of one;
keeps your hair saturated and nourished;
suits both natural gray hair owners and dyed hair;
fruit smell.
CONS:
uneconomical;
includes many chemical elements.
---
4. Jhirmack Silver Brightening Ageless Purple Shampoo and Сonditioner

The experts of the Jhirmack brand have developed a unique formula that includes green tea and CoQ10 to preserve the color of blond and silver hair. It also consists of special pigments and folic acid that prevents the appearance of yellowness.


Jhirmack Silver Brightening Shampoo suits all shades of silver, gray and blonde hair to remove yellow and brassy tones. Enriched with macadamia nut oil and collagen, this shampoo strengthens and moisturizes your strands making hair nourished and radiant. Its special formula helps to protect your curls from styling damage and environmental stressors.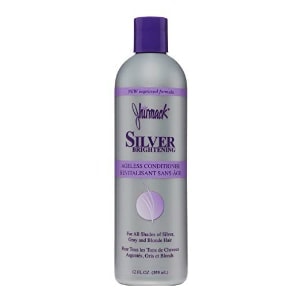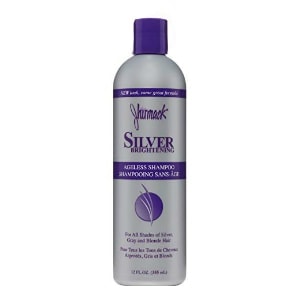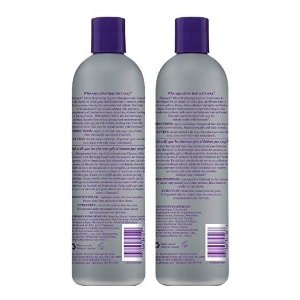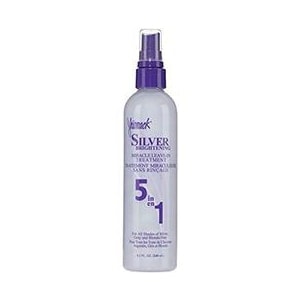 This shampoo will not only gently clean your hair, but it will also give it lightness and shine. Due to the unique formula, Jhirmack distinctions silver plus ageless shampoo helps to repair the structure of your hair by nourishing them with useful natural substances.
---
PROS:
nourishes your hair with natural ingredients;
suits for all light colors;
boosts hair texture and softness;
nice price for a complex of 2 products.
---
5. Softly Silver Shampoo/Conditioner for Silvery, Gray Hair
Silver curls are beautiful, but a little naughty. They require special care because they often lose their luster and eventually become dry and yellow. To prevent this annoying process, you have to select a proper shampoo which preserves the color and has a beneficial effect on silver strands.
The unique Softly Silver shampoo is created to combat yellowness and remove dryness. The product works both as shampoo and conditioner, so you don't have to buy them separately.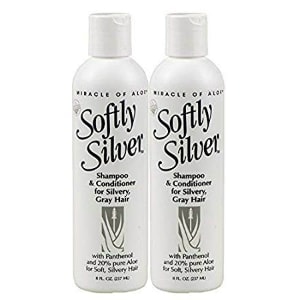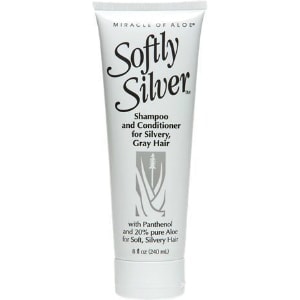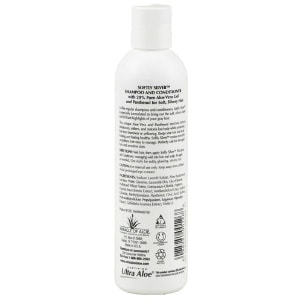 Enriched with aloe vera and panthenol, this shampoo and conditioner in-one moisturizes, softens, and nourishes your locks, making them look vibrant even if you have thinned or damaged hair.
---
PROS:
shampoo and conditioner in one product;
reduces the yellow tone;
moisturizes and softens your hair;
ideal for thin or damaged strands.
CONS:
a rather edgy smell can irritate you.
---
6. СonairPro Shiny Silver Ultra Shampoo
ConairPro products always have the highest quality and impeccable reputation. Choosing the Shiny Silver Ultra Shampoo, you will get exactly what you were looking for.
The shampoo emphasizes the cool silver shade of the hair. Dyed hair becomes shiny, moisturized, and the color remains stable and smooth. This shampoo perfectly cleans your strands, removes the unwanted yellow tint from gray hair, and gives them a beautiful shine.
The shampoo has a special formula that makes your hair shine healthily. Natural biological extracts enrich the cells with moisture, vitamins, give brightness and saturation, enhance cellular renewal, making the hair look shiny, clean, fresh, and crumbly.
Wheat proteins protect hair and add volume; provitamin B5 has the ability to penetrate the hair structure and control moisture balance.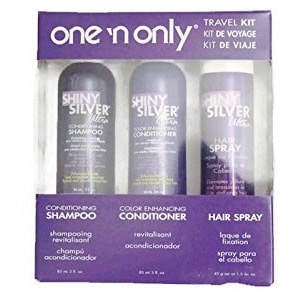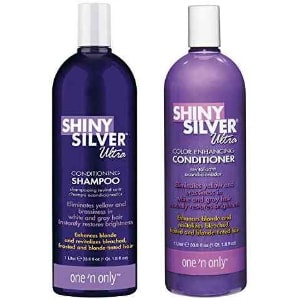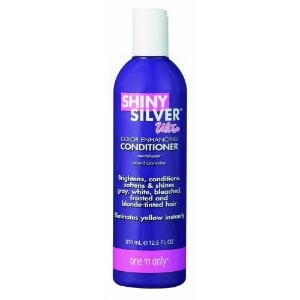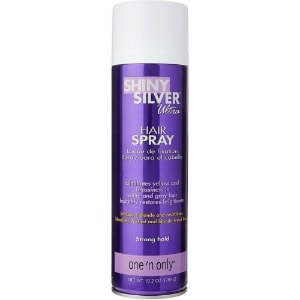 Besides proteins and provitamins, ConairPro also contains the extract of lavender, which has a powerful anti-age effect, and the extracts of grapefruit, lemon, and orange peel to soothe your hair.
The product does not contain parabens, which makes it ideal for owners of sensitive skin. The light texture makes the shampoo easy to foam and rinse well without effort.
---
PROS:
foams and washes off easily;
makes your curls soft and silky;
suitable for dyed and natural hair;
helps to keep the hair color.
CONS:
requires a conditioner of the same company.
---
7. Super Silver Shampoo
The Super Silver Shampoo by Regis is created for professional daily hair care. The product provides effective cleansing of the hair and scalp, delicate hair care, and brings the light tone with a noble platinum tint.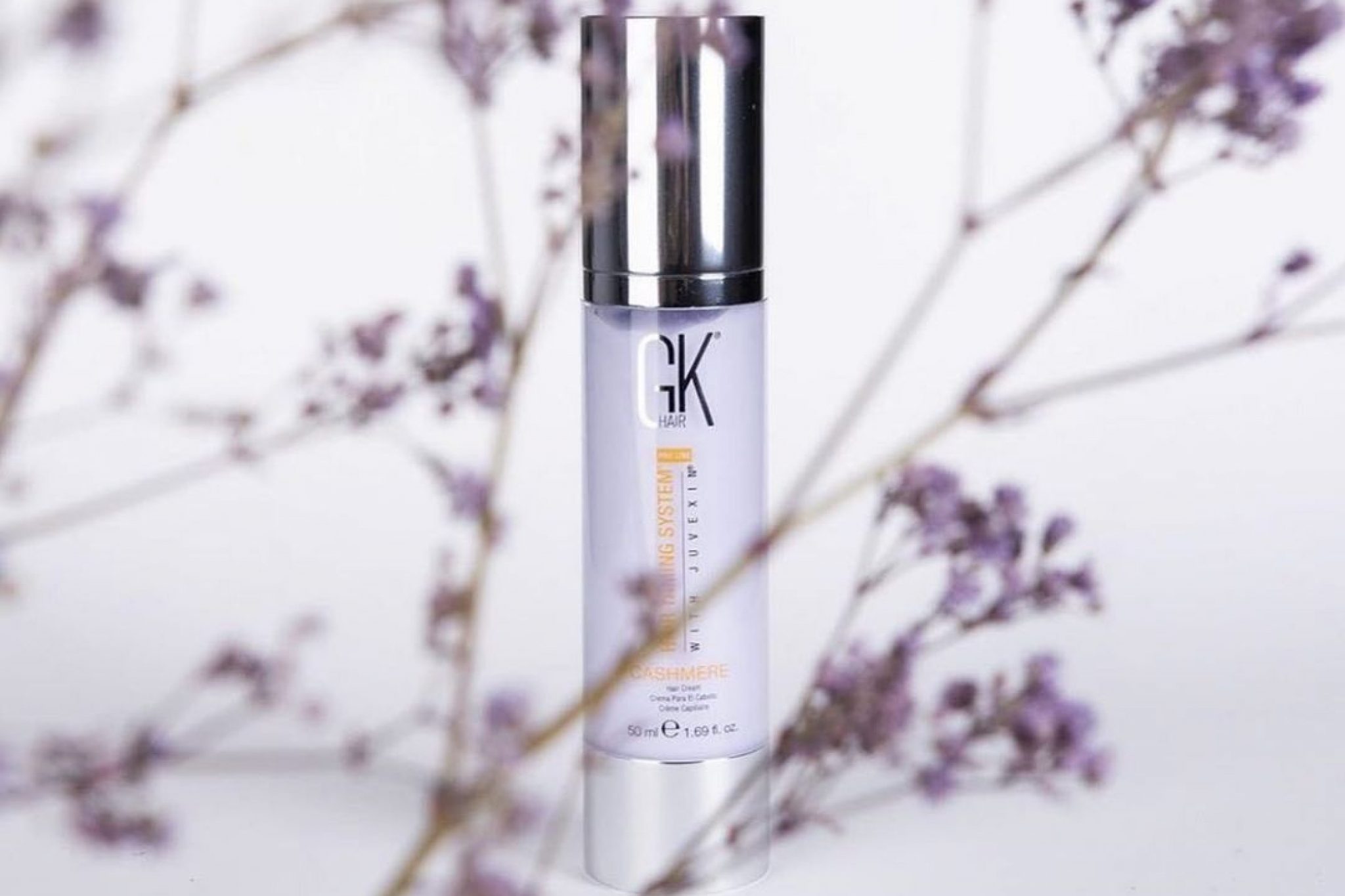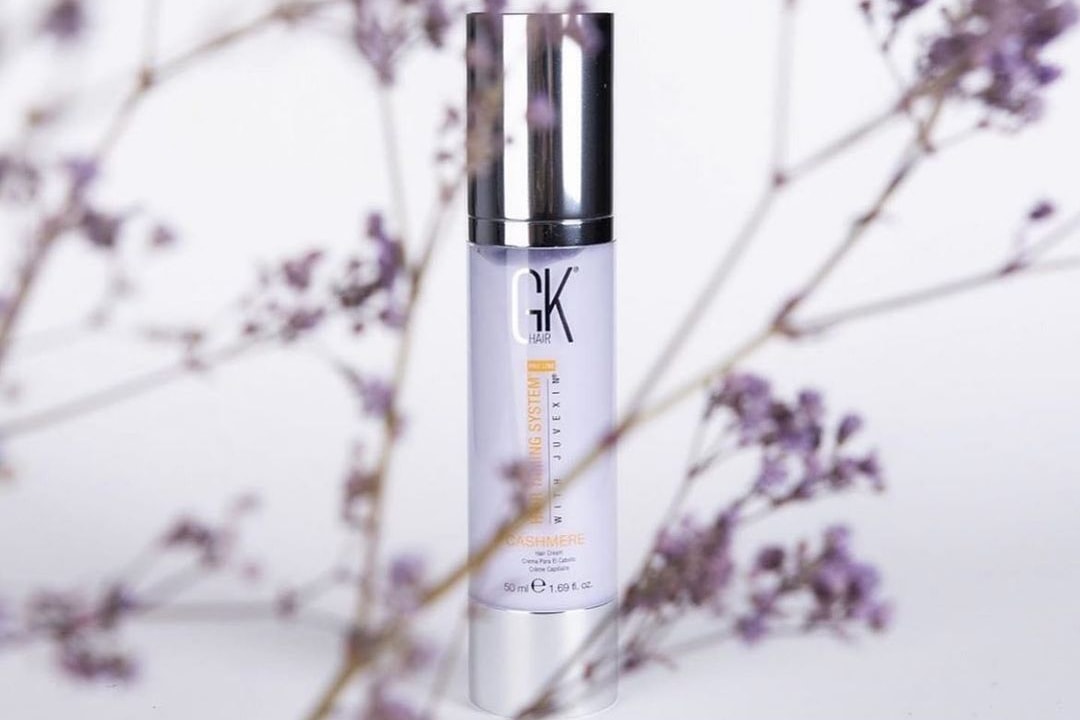 Super Silver shampoo cleanses and refreshes the scalp skin thoroughly. Also, this product cares about your hair health and gives it softness, silkiness, and elasticity. Super Silver Shampoo contains filters to protect hair from the damaging effects of ultraviolet radiation.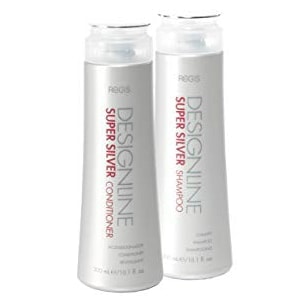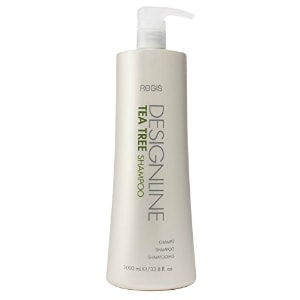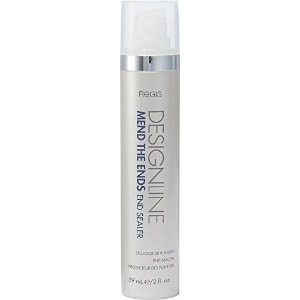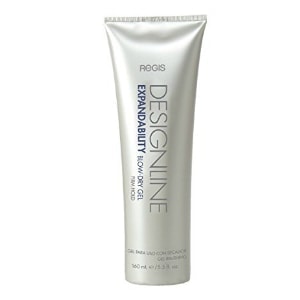 The shampoo retains the color of blond hair, protecting the pigment from destruction and the appearance of a yellowish tint. Its formula includes washing and soothing active ingredients that work very carefully.
---
PROS:
does not weigh your hair down;
has a mild cleansing effect on hair;
allows you to maintain a bright rich color after dyeing your hair;
does not dry the hair follicle.
CONS:
isn't good at skin cleansing.
---
8. Purple Shampoo for Silver, Gray and Blonde Hair
Purple shampoo for silver, gray, and blonde hair is great news for all blondes. The shampoo is designed specifically for the care of dyed and natural hair.
The shampoo enhances the bright tones of dyed hair, effectively eliminates yellowness, ennobles the shade, and makes natural hair shine healthily.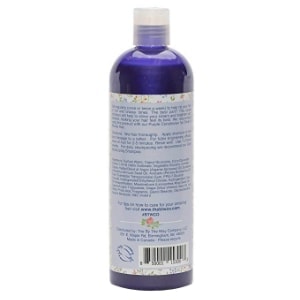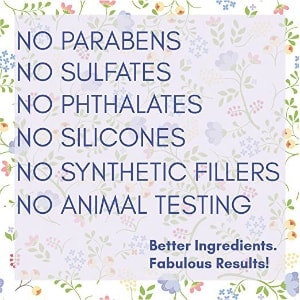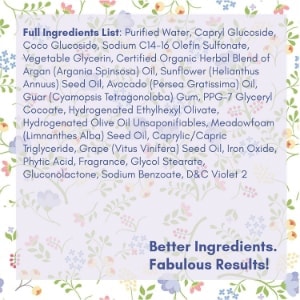 The product contains a special lighting complex. Its unique formula includes vegetable glycerin, argan oil, olive oil, grape extract, and many other useful ingredients. These elements help to preserve cold tones, give a dazzling shine to blond hair of all shades. The shampoo smoothes and nourishes the hair. It has no parabens and no sulfates.

---
PROS:
due to the natural oils contained in the shampoo, it provides your hair with natural smoothness and shines;
repairs hair structure;
designed for the daily care of all light-colored strands;
contains filters to protect hair from the damaging effects of ultraviolet radiation.
CONS:
can dry out the hair ends.
---
9. ORIBE Silverati Shampoo
The Oribe Silverati shampoo is developed by experts to add shine, provide nourishment, and eliminate unwanted yellowness of gray curls.
Oribe Silverati Shampoo for ashy and gray hair gently cleanses your strands from impurities, reduces yellowness, and makes the shade deeper and more saturated. The extract of white European fir moisturizes the hair, the vegetable protein makes it elastic, and a Mirabel plum adds the luxurious shine.
Gentle cleansing and proper care for gray or ash-colored or silver-colored curls are what Oribe Silverati Shampoo is for. It is recommended to use it together with the silver conditioner by Oribe.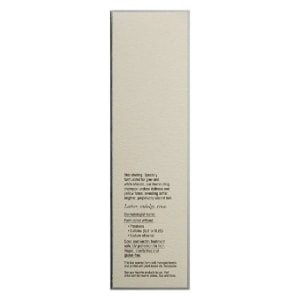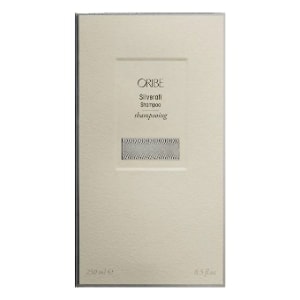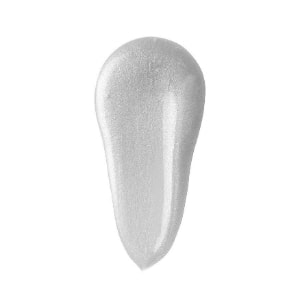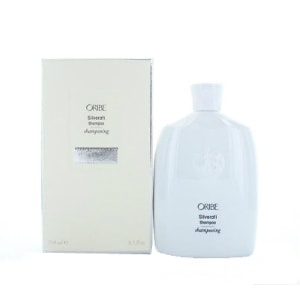 As a result of regular use, the hair becomes soft, silky, and smooth. The shampoo does not dry your locks but makes them look healthy and nice.

---
PROS:
provides your hair with softness, silkiness, and elasticity;
the composition of the shampoo is enriched with natural extracts;
gives delicate hair care and provides a noble platinum tint.
CONS:
significantly low shelf life;
rather expensive.
---
10. Redken Color Extend Graydiant Shampoo
The Color Extend shampoo made by the American brand Redken is intended to please all light-color hair owners both dyed and natural. The innovative formula is designed specifically to stabilize and preserve the color of your hair.
The shampoo contains amino ions and amino acids that gently cleanse the hair, preventing the color from washing out and yellow tint. The product strengthens hair follicles, protects the curls from loss, cross-section, and fragility.
Due to the complex of proteins, keratin, and amino acids, shampoo provides hair density, thickness, and volume. The shampoo is recommended for regular use and has a pleasant delicate aroma.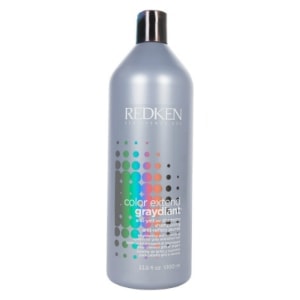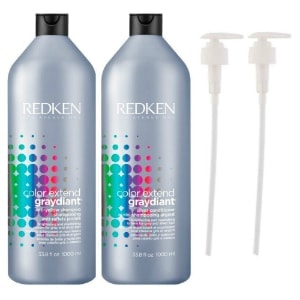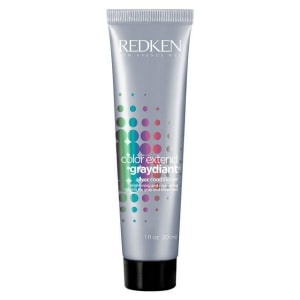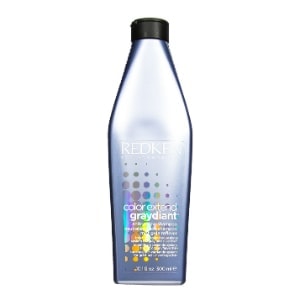 Apply Redken Color Extend Graydiant Shampoo to wet hair wearing gloves on your hands. Massage gently and leave for 3-5 minutes. Rinse thoroughly with warm water. To achieve maximum results, it is recommended to use 1-2 times a week.

---
PROS:
contains glycerin as well as UV filters;
fights hair loss, dandruff, and dry scalp skin;
neutralizes unwanted yellowish tint;
provides long-lasting conditioning effect without the slightest hint of weighting.
CONS:
a rather expensive treatment;
requires the conditioner for the best effect.
---
11. White Hot Hair Glorious Shampoo
Designed especially for blonde and silver hair owners, White Hot Brilliant Shampoo gently cleanses the hair and returns a healthy shine. It also eliminates unwanted yellowness caused by the action of pollutants and UV rays.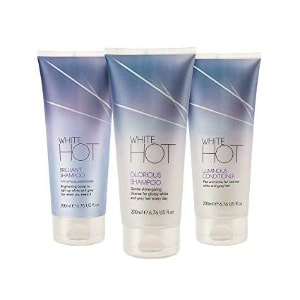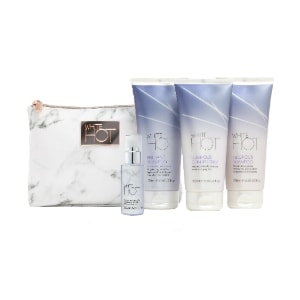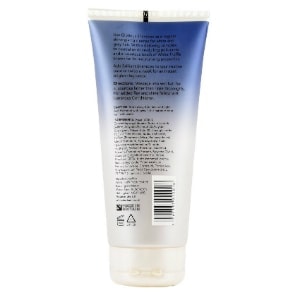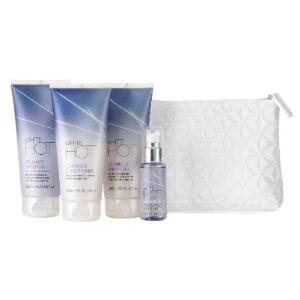 White Hot Hair shampoo contains a special bio complex that smoothes, strengthens, and restores hair. The White Hot silver hair shampoo by Glorious corrects the color and provides a delicate cleansing, and due to the content of precious oil. The marula extract makes hair smooth and silky, giving it a radiant and well-groomed appearance.

---
PROS:
does not contain ammonia and oxidizing elements;
preserves natural and dyed color;
gentle hair care;
the price will pleasantly surprise you.
CONS:
not suitable for daily use.
---
12. Schwarzkopf BC Excellium Q10+ Pearl Beautifying Shampoo for Silver and White Hair
Owners of gray and white hair will appreciate the effect of using a shampoo which was specially developed for them by the experts of the famous German brand Schwarzkopf Professional. The Q10 + PEARL Beautifying Shampoo For Silver & White Hair clean curls from dirt and excess sebum perfectly. At the same time, this shampoo intensively restores hair to make it look healthy.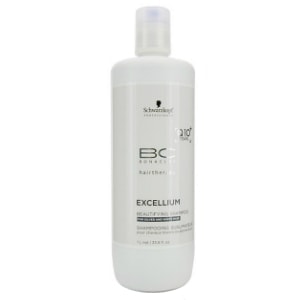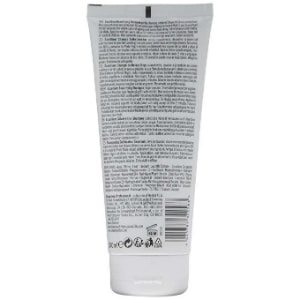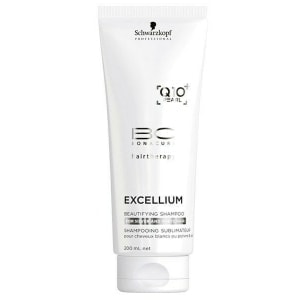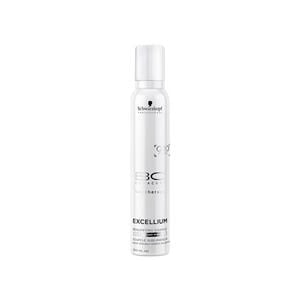 The product consists of several active ingredients, including a special Coenzyme Q10 and unique black pearl extract. These elements are saturated with useful natural minerals for moisturizing and softening your curls. Q10 + PEARL Beautifying Shampoo For Silver & White Hair helps to increase hair growth, provides them with antioxidant protection, and neutralizes unaesthetic yellow pigment.
Schwarzkopf Professional white hair shampoo makes every strand look healthy and radiant. The product helps to prevent fading and discoloration after dyeing, increases color durability and saturation. It also removes dryness and prevents hair damage. Its set of unique ingredients deeply nourish and moisturize your silver curls, so that your hair remains smooth, flexible, and shiny.

---
PROS:
does not violate the natural PH balance of the skin;
contains valuable amino acids and natural herbal ingredients;
brings volume to your hair;
saturated with antioxidants that guarantee long-lasting protection;
has a regenerating effect.
CONS:
has a rather sweet sugary smell.
---
Before you get to the store or buy silver shampoo online, you have to follow these simple rules to choose the best silver shampoo:
If you notice that your hair strands are extremely overdried, then pay attention to shampoos with moisturizing properties. These remedies remarkably protect the very tender and fragile gray curls from harmful effects and also help to restore their structure, making them look healthy. If you choose a toning shampoo, then remember that its effect can slow down the process of graying a little.
Consider shampoos with Omega-3.
Fish and natural vegetable oils and fats can deeply penetrate hair structure, helping to save the natural pigment.
Don't forget about a proper balm or conditioner.
These beauty products also protect your hair from negative external influences and make it more elastic and strong. After applying the conditioner, the hair is much easier to comb and fold.
A Quick FAQ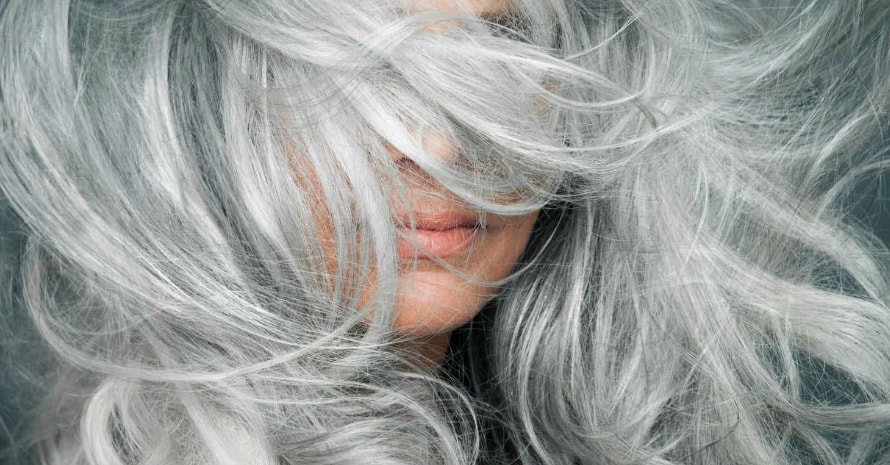 How to make a silver shampoo at home?
Well, in fact, you can't make a DIY silver shampoo, but you can easily make a brightening mask for your hair.
Take one chicken egg, one teaspoon of vinegar, and one teaspoon of glycerin. Mix all components and apply all over your hair length. To create a thermal effect, wrap a towel over your head and leave the mask for 40 minutes. Rinse hair well with warm water.
Does silver shampoo help to get rid of ginger color after dyeing?
Yes! This is probably their main goal. As a result of dying, the hair often becomes yellow. The reason for this may be the lack of professionalism of the hairdresser or the wrong tone of the hair paint. But you can easily fix it with a proper silver shampoo. The composition of the shampoo should include silver and purple pigments.
How to use silver shampoo properly?
For the best silver shampoo effect, foam the silver shampoo and leave it for up to 5 minutes maximum. The time for each brand is different and is always indicated by the manufacturer on the packaging. Also, at initial use, you may need to repeat the procedure in order to "accumulate pigment".
The Overall Summary
Of course, this is not the complete list of shampoos for color-treated and gray hair. But I believe that using these silver brightening shampoo reviews you can choose the most suitable option for yourself. I've tried to share everything I know about both shampoos for silver dyed hair and natural silver hair.
Once you go to the store or consider buying a silver toning shampoo or best purple shampoo for silver hair, take these tips into account:
to tint gray hair, use silver toning shampoo and conditioner;
for dyed hair, it is better to apply purple shampoo for silver hair;
always consider buying a proper conditioner or a balm;
do not buy shampoos and other hair care products that don't match your needs.
Write in the comments what kind of shampoo you use for gray hair to help our readers make the right choice! Also, feel free to ask questions! I will provide you with an answer as soon as I can.
Last update on 2022-12-11 / Affiliate links / Images from Amazon Product Advertising API