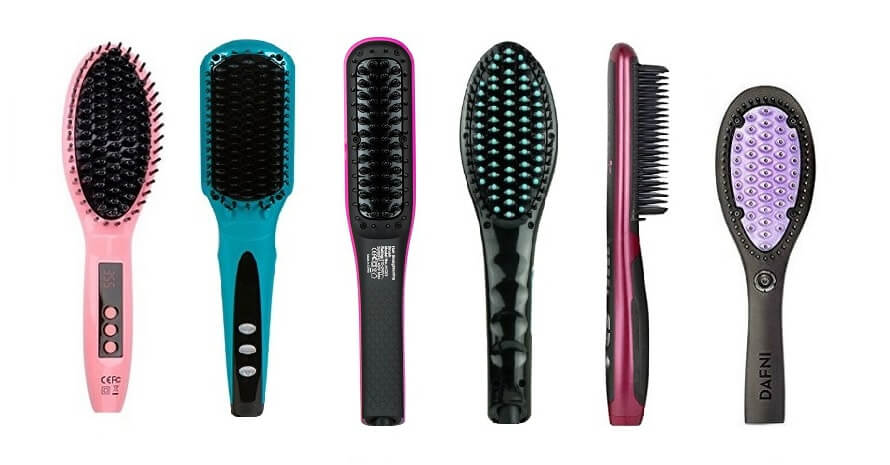 Hi there! If you are reading this, I bet you are going to purchase a hair straightening brush and looking for the best one.
Before I bought my first hair brush straightener, I couldn't understand why something so insignificant could make people so thrilled. And then I got it! That's why today I'd like to share my experience with you and tell about best electric hair brushes out of those I've tested.
I promise you will be amazed how quickly you can change your hairstyle and how little effort it takes! This device will change not only your hairstyle but also a lifestyle.
By the way, these devices have come in extremely handy in my house. After testing them I kept my favorite Tymo and GHD.
Why Are These the Best Hair Straightening Brushes?
My list of the best hair straightening brushes is based on objective features rather than my personal preferences.
I have taken into account such technical characteristics as:
Speed of heating up
Maximum temperature
Surface material
Cord
Price range and reviews
Let me explain why all these things should be considered if you're going to purchase a hair straightening brush.
First of all, there is the speed of heating up. I suppose it's obvious — the faster your brush straightener warms up, the less time you need to make a hairstyle you want. The average time of heating up is about a minute, but for some models, it takes 30 seconds or so.
The maximum temperature is also an important feature which determines whether the straightening brush fits for thick and coarse hair or not. Almost all models in my list can reach up to 450℉ which means that they work really well on thick curly locks which are hard to tame.
The brush surface can be ceramic or tourmaline. These materials are both safe and effective for straightening. They make hair smooth and silky due to a process of ionization (I will talk about it later). Other options for the brush surface are iron and plastic, but models with the iron coating were considered dangerous and withdrawn from the market. So I recommend you to choose between ceramic hair straightening brushes as they are safe and good for your locks.
Some models come with a swivel cord which allows you to rotate the straightening brush at different angles and provides better access to the roots. It's a kind of feature that is common for professional hair straightening brushes. Cordless hair straighteners are also quite handy to use at home or to take on trips as you don't even need a socket to plug it in.
Finally, there are the price and the users' opinion. Keep in mind that a decent straightening brush can't be cheap. If the price seems low for such useful tool it may be a fake. To avoid buying an imitation, pay attention to hair straightening brush reviews and purchase the tool if you're sure that you can trust the shop or the seller.
10 Best Hair Brush Straighteners: Let's Take a Closer Look
Let's get down to business and find more about 11 brush straighteners which I consider the best:
1. GHD Glide Hot Brush – Best Professional Hair Straightener
I loved the GHD Glide Hot Brush after I had styled my hair with it for the first time. This hair straightening brush will help you straighten or curl your hair on the second day after washing. Unlike usual straighteners, your hair will look naturally smooth with this item. If there are kinks of rubber ties on it, or it is too fluffy after sleep, or just doesn't look fresh after the gym, this tool will do the job perfectly.
The brush is suitable for styling hair of any length and thickness. It even can give extra volume to bangs. Thanks to its shape and the combination of short and long bristles, it can grab large strands. So you will save time and can adjust your hair faster. For best results, I recommend combing your hair with a regular brush before starting work, so as not to suffer from tangled hair.
2. Tymo Hair Straightener Brush – My Top Pick for the Money
To your attention, here is one of my most favorite products available on the current market. This brand is trusted and chosen by many women throughout the world, so I would certainly recommend it to you as well.
The first thing I want to tell about this item is that it heats up almost instantly and, respectively, you don't have to waste your time waiting. Tackle simple straightening right away and reduce the time spent on styling your strands.
The brush fully protects you from burning your fingers and scalp, so you can feel safe and comfortable while using it. This great tool will enable stunning results in just a few minutes. You can achieve an amazingly natural look with no efforts and save your hair from heat damage. In addition, this tool can help you fight with frizz and reduce hair static for a more sleek look.
Simply select the desired heating setting according to your hair condition or type and start straightening it. You can attain salon results at your own house. Moreover, with this product, you can also add shapes for your roots to get a more vivid look. You can easily comb your strands and make them look silky and smooth effortlessly.
3. Glamfields Straightening Brush
Glamfields brush is your top choice for taming the most unruly chevelure. Its straightening technology seals the hair cuticles keeping the moisture inside. With the help of one such brush, you get rid of frizz and split ends, and emphasize the beauty of your hair in every way. Glamfields brush heats up within 30 seconds while saving up energy on every of its four temperature levels.
4. Revlon One-Step Hair Dryer & Volumizer
Revlon has never failed us with their superb products, but with this brush, they've managed to do the impossible: it is simply a volumizer that works. The design is simple, and you won't need to buy a box of brushes for all hair types with it. There's just one brush made in a bit unusual oval shape that has a wholly ceramic coating and unique vents to make your drying quick and safe.
The oval design lets you get straight to the roots providing extra lift, while the round edges smoothen the hair and fix the volume. The flexible bristles will also add to your hair routine comfort as they detangle hair almost effortlessly.
The Revlon One-Step Hair Dryer & Volumizer design is stunning: it's very lightweight, and there's nothing about it that does not keep up with its functions. The brush is a part of Revlon One-Step Styling collection that is designed for active people who don't want to spend their precious time in hair salons but still care about how their hair looks.
5. USpicy Hair Straightening Brush Anti Frizz
Check out another great item that will make your hair look gorgeous. For the most affordable price, you will receive an amazing brush as well as a convenient glove that will protect your hands while using the product. Also, a small brush comes in a set; it allows you to clean the device from dirt and hairs stuck between the bristles. Therefore, you can maintain the tool safe and clean for your comfort.
It will be a piece of cake to create a professional-looking hairstyle at your house. With seven diverse temperature settings, you can choose the safe mode to achieve desired results and avoid damaging your hair. This styler will be a perfect match for any hair type, so whether you have straight, wavy, or curly hair – it will cope with each type and texture.
The brush will automatically turn off to avoid overheating, which is very convenient and energy-efficient. You will see the temperature selected on a screen, so you can fully control the overall styling process. You will be able to finish the process very fast and get straight glossy hair in no time.
6. COOLKESI Hair Straightener Brush
When it comes to styling, this manufacturer is one of the best affordable on the market. This is a very efficient styler that will enable you to get professional results that will last the whole day. If you are tired of a messy look, then this tool will certainly be a top pick for you.
You will receive a perfect set of accessories that will make the styling process even more convenient. The manufacturer offers you a bag for safe tool storage, brush to clean it up, and 2 clips to fix the hair while styling. The great thing is that you get a heatproof glove for hand protection.
The tool is very powerful, it heats up almost instantly and will be ready for use in less than a minute. There are various temperature modes, and you are free to choose the one that matches the texture of your strands. You can straighten your hair pretty fast and give additional shape to your roots to make the locks look natural and vivid.
7. One Step Hair Dryer and Effective Styler
This oval-shaped brush is an amazing solution, not just for straightening your hair. It's a pretty multifunctional tool that enables you to dry, wave, curl your hair as well as provide additional volume to hair roots.
This item is one of my best picks as for a reasonable price you will purchase a combination of everything you need to make your hair look stunning. No matter what the occasion is, don't be afraid of experiments and try out each amazing function of this outstanding styler.
There are three various temperature options that you can select from. Also, there are also 2-speed options for faster drying and styling. Negative ion technology won't overdry the hair and will enable you to protect your strands from splitting to make them silky and glossy.
The bristles of the hot air brush will easily detangle your strands to give you a more well-groomed look. With the ergonomic design and comfortable handle, you will feel comfortable using the product. It is definitely worth your attention, and you should consider this item for yourself.
8. Ionic Hair Straightener Brush by COOLKESI
I'm in love with the next product by a pretty renowned manufacturer. Its effectiveness is incomparable. You will receive a glove to protect your hand, travel bag to grab the device with you and store it safely as well as 2 convenient clips that will facilitate the overall process.
The glove is a cool accessory, and it doesn't allow you to burn your skin, which is very convenient. The brush will be an excellent match for any hair type as it has different temperature settings to achieve stunning results.
Unlike a regular straightener, this one uses a more gentle temperature mode that doesn't harm your hair but still works perfectly. Also, you will never burn your fingers or neck. This professional tool is the easiest way to strengthen your hair, add volume to it, avoid damaging your strands, and prevent split ends. Your strands will look shiny and smooth in no time and with minimum efforts.
The tool will turn off automatically for increased protection, so you have nothing to worry about, even if you forgot to turn it off yourself. The product is pretty lightweight, so it will be suitable for traveling, and you can look gorgeous even you're far away from home. A small hook will make the storage of this styler easier at your house. I can advise this styler for its convenience and high efficiency.
9. CNXUS Hair Straightener Brush
With this cool styler, you will be able to fix your strands in just a few minutes and achieve professional results without professional help. I love this brush for its speed. It needs only one minute to heat up and be ready for instant use. Anti-scald technology won't let you burn your skin, so you can feel free to use this item safely, even if you're in a rush.
The manufacturer has used negative ion technology that doesn't let your locks lose natural moist. This advancement helps to easily straighten your strands, prevent frizz, thus giving you a sleek glowing look.
The comb is made of high-quality materials that will serve you for a long time. There are different heating settings, and you can select the most desired temperature to get a flawless hairstyle. You can start taking care of your hair right away as this tool needs only one single minute to heat up. It's great when your lifestyle is hectic, and you still want to look great.
The brush is very lightweight, and it also has a convenient swiveling cord to protect your styler from breakdowns. It will be perfect for home use as well as for taking it with you on trips. I highly recommend it as it's also very affordable and will be a great investment in your stunning appearance.
10. Ralthy Hair Straightener Brush
The last but certainly not the least item on my list of top natural hair styling tools is this amazing brush that will grant you stunning results. This is everything you might want from a styler that will give you salon results at home. The first thing to say about this item is its perfect modern design which I love the most.
The model is very lightweight and has a very comfortable handle that will give you maximum control during the process. If you want to get great results faster, my recommendation to you is to use the item every day and take it with you on trips.
The bristle design allows minimizing the damage to your strands. The temperature is adjustable which makes this brush suitable for any woman with any hair condition, length, and texture. Keep in mind that this amazing styler has a memory function, so you don't have to select the desired temperature as the tool will do it for you.
The size of this tool is compact enough for you to grab it everywhere for quick and easy styling. It will take only a few minutes to finish your flawless look. This item will be suitable not just for women but for the whole family. It's perfect to style kid's delicate hair and to take care of a man's beard.
11. Belifu Hair Straightening Brush
This brand creates amazing products for styling, and this great brush is one of their top products being sold now. The manufacturer has applied the most innovative ion technology in combination with ceramic coating which allows you to get a stunning silky and lustrous look.
This item will be perfect for everyday use as it will minimize the damage temperature usually causes to hair. Also, you will get a great silicone bag that makes it possible for you to store the brush right after using it as you don't have to wait until it cools down.
This tool performs its functions in the best way, and you will get straight sleek and glowing strands with no efforts at all. This is the best item you can get for such a great price. There are various heat settings, so you can experiment and come up with the one that is the safest and the most effective one for your hair type and lengths. A convenient hook will help you save space and store it wherever you want.
This product is definitely worth purchasing for home use. From now on, with this powerful tool, you can create stunning hairstyles at any time and let your hair stay healthy, shiny, and well-groomed.
Good Hair Straightening Irons With Brush
Down below, you will find the great straightening irons with brush that I can easily recommend to anyone. Read carefully each description as well as the pros and cons list in order to pick the best matching hair styler.
How to Choose the Right Straightening Brush For my Hair Type?
As you have probably noticed from the hair straightening brushes reviews, many of them work for all types of hair pretty well. However, I'd like to give you some advice how to choose the best straightening brush depending on the type and the state of your locks.
First of all, you need to select the right level of heat:
If you have thin hair, 210-350°F will be enough;
For really thick and coarse one you will need a higher temperature of 250°-390°F;
If your locks are normal, set the heat on the medium level — something between 230-375°F;
Afro-American hair needs an electric hair brush that can reach a really high level of heat.
The second feature is the length. The longer locks are, the better the brush straightener works. Electric hair brushes don't work well for short hair because of their oval shape. But there's still a solution if you want to make your short hair straight with a brush straightener! The best straightener for short hair should be slim and rectangular-shaped. It reaches to the very roots and straightens each strand more efficiency due to its shape.
There are way more options for long hair. You can use almost any electric brush, but models with large heated plates are better for you. The only problem is that straightening may take a lot of time. But the final look is totally worth it especially if you've found a hair straightener brush which can tame your unruly locks.
For those who have thick or dense hair, I would recommend to section it out. The best hair straightener for thick hair should heat up to 400-450°F. It's also a good option if a brush has sturdy tips so that they won't fall off during your very first time using the tool.
The best straightener for thick curly, frizzy and wavy hair should also maintain a high level of heat to straighten your locks properly. The more bristles it has, the better and faster it works. But keep in mind that if there are too much of bristles, they might pull some hair out so be careful when using the tool.
Finally, I'd like to talk about making black hair straight. If you have natural black hair, it's probably quite thick and may be curly. So, the professional straightening brush for black hair should be strong enough to make it straight — it should maintain the right temperature, have sturdy heated plates and bristles. Such tool will definitely work for the locks that are hard to manage.
I hope my advice could help you to find the best hair straightener that will make your look complete. You will probably need to try more than one before finding the right brush for your wild locks but remember that there is the perfect one for you anyway!
FAQ and Tips for Using Electric Hair Brushes
How to straighten my hair as fast as possible?
There are three main ways to straighten it:
You can use a blow dryer,
A flat iron or
A straightening brush (which is the best way to make your unruly locks straight, glossy and shiny).
The brush straightener takes less time and energy than a flat iron, or a hair dryer does. The brush will also keep your hair healthy and won't burn it. So, using the brush straightener is the fastest, easiest and healthiest way to straighten your locks.
What are brush straighteners made of?
The brush is usually made of metal, plastic or the fusion of synthetic materials. The best surface material is considered to be tourmaline or ceramic because a ceramic straightening brush reduces the static electricity. And ceramic, silicon or rubber tips will prevent your skin from burning.
Can I use my electric hair brush in other countries besides the USA?
It depends on whether your brush features 110v to 240v universal voltage or not. Some electric brushes are dual-voltage, this fact allows you to use it outside the USA, but most of these tools feature only 110v. To use them in Europe or other countries of the world you need a transformer. Also, you might need a plug-in adaptor for the power socket in case that your straightening brush doesn't fit it.
So, although you might need some extra tools for your electric hair brush to work properly, you can use it outside the USA. And if you have dual voltage smart electric hair straightener which fits the power socket, there would be no problem at all!
What's the difference between a flat iron and an electric straightening brush?
There are several differences between these tools:
A brush straightens your locks several times faster than a straightening iron;
After using an electric hair brush, your hairstyle will keep the volume;
Some heated hair brushes are good for your hair — they can seal the cuticles and reduce split ends;
A brush straightener maintains the lower temperature than a flat iron, so the brush doesn't damage hair so much;
Such brushes usually have special tips so you can't get accidentally burned while using it;
A straightening brush is easy to use and to carry around so you can take one wherever you go.
Read a detailed flat iron and brush straightener comparison.
How to use a straightening brush?
This brush is super easy to use. Here are 7 steps to straighten your unruly locks:
Before using a brush hair straightener, you have to wash your hair and let it air dry.
Comb it properly when it's fully dry and be sure that it doesn't have any tangles.
Put some heat protectant on your locks so that it won't be damaged by the heat.
Section it into small strands.
Plug the straightening brush in and select the required temperature.
Wait till the tool is heated enough.
Glide through the first strand slowly and repeat this 2-3 times.
Continue to do the same thing with the rest strands until your hairstyle is perfect!
As you can see, using the brush is pretty easy. It takes less time and effort as you get used to applying it.
Does this brush work for my hair type?
Most of the devices are suitable for all types of hair. You just need to adjust the temperature carefully — lower for the fine hair and higher for the coarse and thick hair. The brush works great for the curly, wavy and frizzy locks. In fact, there are so many brushes that are good at straightening any hair type that it's hard to choose the best hair straightener for curly hair or the fine one.
The straightening hair brush is also suitable for the hair that is slightly wavy or almost straight but keep in mind that in this case, the final outcome may be not so impressive. By the way, if you have really thick and dense locks which are pretty hardtop manage I highly recommend you to use some oil for the better result.
What's the purpose of the ionization?
Some straightening brushes come with an ionizing function which makes your locks healthier! This technology closes the cuticles, reduces split ends and protects hair from different kinds of bacteria.
Ionization also reduces static electricity contained in your locks after combing it with a regular brush. As a result, it gives you shiny and soft hair without using any extra straightening products. So, straightening brushes with the ionizing function allow you to create as many hairstyles as you can imagine without worrying about the damaging your hair.
Can I use a straightening brush for short hair?
You definitely can, but keep in mind that this tool doesn't work as good on short locks as it does on medium-length or long ones. Straightening brushes usually are oval-shaped and such shape doesn't fit for short hair very well. I would recommend using a CHI iron for straightening short locks as it gets the job done.
Now you know that a brush straightener is really a thing!
So, I hope that you like this review and it was helpful — I've tried my best to tell you all I know about electric brushes that straighten hair. There are so many brands on the market that I can imagine how hard choosing the right one can be. It's totally up to you, and I won't advertise any particular brand. Let me just give you some final recommendations about using a brush straightener:
Let your locks fully dry before straightening. Some sellers claim that you can apply their brush straightener on wet or almost dry hair either, but I wouldn't recommend doing this. Because it is not so good for hair and it also might get pulled out or tangled. And this is not what you want from a hairbrush straightener, right?
Don't put any products on your locks before straightening. The only exception is thermal protection spray or argan oil which you definitely should use before every time you need to straighten your hair.
Comb your locks with a regular brush properly and make sure that you don't have any tangles or knots.
Section it out in small strands and glide through each of them slowly. Repeat this 3-4 times for each section for the better result.
Hold it tight to the surface of the hairbrush straightener so that heated plates work more efficiently.
Keep in mind that the bristles and the body of a hair straightening brush are hot when it's on. One quick touch won't probably scald your skin, but the long exposure to the heat might cause a burn so be careful!
Consider purchasing an electric hair brush with ceramic or tourmaline heated plates as this technology is the best for your hair's health and appearance.
So, a straightening brush is an easy and fast way to make your locks straight and beautiful. It is better than a flat iron because a hair straightener doesn't damage it so much and don't lessen its volume. It's a perfect device to take traveling due to its small weight and size. I can go on, and on but I bet you get the idea 🙂
Ladies, and what about you? Have you ever used a hair straightening brush? If so, do you like it or not and why? If you haven't had a straightening brush yet, would you try to use one?
Feel free to leave your comments below!
Last update on 2022-12-11 / Affiliate links / Images from Amazon Product Advertising API