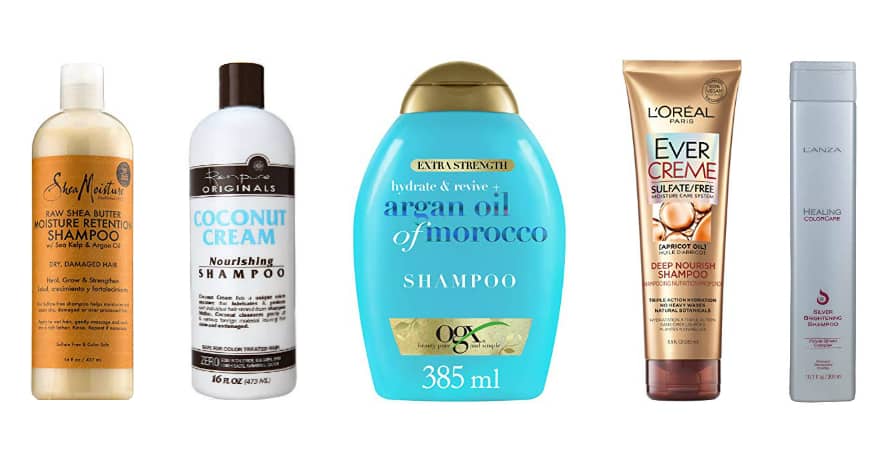 My name is Clarissa, a co-author and blog editor assistant. As a person with gray hair, I can attest to the fact that maintaining such type of hair can sometimes be a daunting task. Nevertheless, it is still possible to wear your gorgeous silver hair with pride by choosing the right sulfate-free purple shampoo for grey hair.
Keeping your beautiful grey hair shiny, sophisticated as well as silky, it is wise to opt for sulfate-free shampoos that nourish, eradicate brassy undertones, protect hair against harsh environmental conditions as well as strengthen weakened or damaged hair effectively.
With age, our hair follicles start producing less melanin, triggering gray hair. As a result, our hair becomes dry, coarse and texture also changes. In such instances, consider switching up your hair care products as your hair changes naturally. For desirable results, go for the best sulfate free purple shampoo for grey hair available.
Pros
Delivers extraordinary health and shine
Top Pick
Pros
Delivers extraordinary health and shine
Look for a sulfate-free shampoo and conditioner that will help maintain vibrancy and clarity while protecting your silver tresses against the yellowing effects of sun exposure. Using the right shampoo regularly is the easiest way of neutralizing your grey hair color. It does this by depositing small amounts of toner to the hair progressively leaving it looking well-nourished and healthy.
Top 10 Best Sulfate-Free Shampoos for Gray Hair
Looking for a sulfate-free shampoo that cares for overall health and color of your grey hair? Here is a list of 10 shampoos to choose from.
1. L'ANZA Healing Color Care Silver Brightening Shampoo – My Top Pick
L'ANZA has a reputation for being the only brand that provides hair healing care products. Being one of their best shampoo free sulfate hair care goods, this award-winning product produces keratin and protein replenishment for hair, protection, sealing, minimizes warm tones in all kinds of hair including gray, blonde, color-treated, silver and white.
This 10.1 oz silver brightening shampoo is a top-notch sodium laurel sulfate-free product that promotes enhanced sparkling in grey, cool red, golden, brunette, dyed, white and silver hair.
Ensure hair is damp enough before applying and massaging into a rich lather. Wait for 1-3 minutes then rinse hair thoroughly. For damaged, porous, relaxed/permed, processed or bleached hair, conducting a strand test for toning results is high recommendable. Follow with conditioner after rinsing thoroughly.
It's good at minimizing and regulating unwanted warmth, eradicating brassiness with its lavender and organic viola toning components, enhancing and protecting hair color for longer through sunscreens, UV damaging, and its flower shield complex protectors. This sulfate-free shampoo is incredibly tender on your hair, and it features natural Gugo Bark for a luxurious, creamy, and rich lather.
---
PROS:
has healing properties;
gives glossy hair shine.
CONS:
allergies for sensitive individuals.
---
2. L'Oreal Sulfate-Free Shampoo Deep Nourish
This is among the best sulfate-free shampoo brands for dry hair in the market. The loreal sulfate-free shampoo is highly effective, affordable, and easily available in most sulfates free shampoo bars and drugstores.
It's a 100% sodium lauryl sulfate-free shampoo that packs in moisture and nourishment into your gray, silver or blonde hair. The main ingredient is apricot oil that has numerous benefits for dry, colored hair. The shampoo is particularly good for coarse hair that has been through the wringer with exposure to harsh chemicals because it provides a lot of nourishment to return it to the previous state.
It can also be used on hair that has just had keratin treatment as it works well to lock in keratin and soothe the scalp. It is so gentle that it can be used for a daily wash. The lovely scent it has comes as a bonus that leaves your hair smelling heavenly for days.
The best way to use this deep nourish shampoo is by wetting your hair, lathering generously, and washing through at least twice. You can then apply the matching L'Oreal conditioner and leave it on for at least 15 minutes then rinse it off. You can rinse slightly and leave in some of the conditioners for added moisture.
---
PROS:
amazing fragrance;
surfactant-free;
deeply nourishes.
---
3. Sulfate Free Purple Shampoo for Grey Hair by BTW Co.
Most purple shampoos have a reputation for being dry and causing hair to remain too brittle after everyday use. Well, BTW Co has changed the game with this shampoo. It is one of the best shampoos sulfate free thanks to loads of moisture it adds to hair.
Anyone who cannot stand strong scents would be grateful to have a shampoo that has only a mild vanilla and sandalwood scent. This aroma is so mild that you will not have to walk around literally smelling like a bar of soap after every hair wash.
Not only does this shampoo work on gray but also silver and blonde hair. These do not have to be natural hair as it can also work on dyed one. The shampoo removes all brittleness and the harsh dark color from your hair, leaving it shiny with a bouncy feel to it.
It works even better for hair with curls by making them last longer. It is quite impressive that this shampoo does all this despite being chemical-free. It does not contain any phthalates, silicone, synthetic filters, or sulfate.
It is advised that you shampoo your hair at least twice a week. The simple procedure is to wet your hair, apply enough of this purple shampoo to create a good lather. Massage it into the hair from root to tips. You must do this gently. Rinse thoroughly to avoid residue.
---
PROS:
mild essential oils-based fragrance;
free of chemicals;
does not weigh down.
CONS:
non-effective on dandruff.
---
4. Daily Moisturizing Sulfate Free Dandruff Shampoo for All Hair Types
The By The Way Company has a reputation for producing incredible hair care products. Like all their goods, the Daily Moisturizing Shampoo for all hair types is relatively affordable, reliable, and highly effective.
This sulfate and paraben-free shampoo contain a vast wealth of natural ingredients and components for astounding results. Its exceptional moisture makes it fantastic for all hair types, more so, the color-treated, dry, or silver hair. It is tender for daily use, Leaping Bunny Approved with No Animal Testing, keeps hair soft, clean, and perfect for conditioning.
Daily Moisturizing Shampoo has a mild-fragrance making it ideal for those with strong perfume sensitivities and is safe for all types of hair. Using this shampoo daily is, without a doubt, the fastest technique of moisturizing, cleansing, managing, and nourishing your gray hair.
Make sure your hair is wet before applying shampoo. Massage softly until it is lathered well before rinsing thoroughly. For optimal effects, I recommend using daily moisturizing shampoo together with a daily moisturizing conditioner.
---
PROS:
pleasant fragrance;
light;
made in a cruelty-free environment.
---
5. OGX Renewing + Argan Oil of Morocco Sulfate Free Shampoo
Are you looking for the best sulfate-free shampoo in the market? Look no further. Indulging your gray hair with OGX Renewing + Argan Oil of Morocco Shampoo is the easiest way of restoring, moisturizing, and nourishing your hair.
It is best known for its effectiveness in penetrating, moisturizing, restoring, and strengthening hair. OGX Moroccan Argan Oil Shampoo is also credited for protecting the hair from perilous UV damage. It contains a vast wealth of antioxidants and natural vitamin E for optimal hair cells' structure renewing.
This eco-friendly sulfate-free shampoo is usually packed in a blue bottle with a golden pump dispenser for easy use. Using this excellent blend of Moroccan argan oil daily will undoubtedly restore the lush softness and shining that you've craved for long while strengthening your hair effectively.
Argan oil has a reputation for creating silky perfection, lathering well, and deep hair cleansing, controlling breakage, locking in moisture, increasing hair volume, reducing hair loss, and making hair smoother.
This refreshing sulfate-free restorative Moroccan argan oil shampoo is ideal for straight, damaged, curly, frizzy, color-treated, textured/course, and thick dry hair.
Apply shampoo on wet hair generously. Massage gently to lather well. Rinse your hair well while avoiding direct contact with eyes. Follow shampooing with the OGX conditioner for best results.
---
PROS:
sulfate and paraben-free;
has natural ingredients;
does not weigh hair down.
CONS:
expensive;
may cause an allergic reaction in people with a nut allergy;
does not deal with dandruff.
---
6. Renpure Coconut Cream Best Sulfate Free Shampoo
Renpure Coconut Cream Nourishing Shampoo is a US-made product great for lubricating and protecting hair from damaging. It is highly recommendable for individuals searching for quality shampoo for dry or curly hair. Unlike other premium sodium lauryl sulfate-free shampoo hair care products, this Renpure brand is affordable, dependable, and readily available.
Renpure Coconut Cream Nourishing shampoo & conditioner set has an extraordinary microstructure and multiple plant-based ingredients that make it highly effective in cleansing hair and nourishing leaving it undamaged and healthier.
The set comprises one 16FL OZ bottle of Shampoo and one 16FL OZ bottle of conditioner. Both are sulfates, sodium chloride, parabens, harsh salts, and gluten-free, making the set safe for nourishing and color-treated hair.
Start by wetting hair thoroughly then apply shampoo on wet hair generously. Massage gently into a lather from the scalp to hair ends. Rinse your hair correctly and repeat the process until satisfied. Follow up with Renpure Coconut Cream Nourishing conditioner for unique shining, extra color retention, and moisture.
---
PROS:
sulfate-free;
results are seen fast.
CONS:
expensive;
can cause itching or irritation for mild skin.
---
7. Puracy Natural Daily Shampoo for Colored Hair Sulfate Free
This is a plant & mineral-based hair product by Puracy usable by both genders. The brand is a famous and trustworthy one worldwide due to its safety, effectiveness, and incredible ingredients.
Using this shampoo daily will lead to exceptional results. The product was formulated by highly-qualified scientists and tried by experienced beauty specialists.
It works excellently in increasing moisturization, hair strengthening & restoration, and protecting the scalp. It contains vitamins B5&E, beet sugar extract hydrate, and olive oil-based squalene for rich and healthier hair.
This USA developed sodium Laureth sulfate-free shampoo that does not contain harsh chemicals such as quats, parabens, salicylates, phosphates, perfumes, dyes, and animal by-products making it 100% safe and satisfaction guaranteed. Its well-balanced mixture of pleasant emollients, essential oils and cleansers make the product perfect for color-treated, normal, dry and oily hair.
Apply while hair is wet, and rub gently for effective lathering into it. Rinse hair thoroughly. Use it for a minimum of 2 weeks for desirable results.
---
PROS:
free of harsh chemicals;
has a soft texture.
---
8. SheaMoisture Raw Shea Butter Sulfate Free Shampoo for Grey Hair
SheaMoisture Raw Shea Butter Shampoo is a highly rated hair care product that moisturizes, restores, nourishes, and smoothen tresses.
The shampoo contains certified organic Shea butter to keep the scalp well-hydrated and nourished. Just like most sulfate-free shampoos for grey hair, it's excellent in restoring damaged and dry hair mainly due to its all-natural sea kelp. It's loaded with argan oil, which is wealthy in vitamin E to keep hair shiny and bouncy.
Daily use of SheaMoisture moisturizes, detangles, repairs, and smoothes hair cuticle while enhancing hair elasticity. This natural organic hair product is paraben-free, sulfate-free has never been tested on animals, and it works well for most hair types.
Ensure that your hair is wet, apply generously then gently massage for rich lathering from root to hair ends. Rinse hair meticulously. Repeat if required, wait for 3-15 minutes before rinsing for deeper conditioning.

---
PROS:
sulfate-free;
hydrates hair;
leaves hair silky smooth.
---
9. WOW Apple Cider Vinegar Shampoo & Hair Conditioner Set
WOW, Apple Cider Vinegar Shampoo & Hair Conditioner is a high sulfate free dandruff shampoo that's very common in high-end salons and drugstores. It's perfect for repairing damaged hair, clarifying healthy hair, strengthening hair and slowing down hair loss.
The WOW Apple Cider Vinegar Shampoo & Hair Conditioner has a vast wealth of essential oils including avocado oil and virgin coconut oil making it perfect for individuals looking to rejuvenate damaged, thin, weak hair and dry scalp. It also contains apple cider vinegar for deeper hair cleansing leading to healthier hair.
Additional ingredients found in this hair care product include vitamins B5&E, almond oil, saw palmetto extract, and essential keratin proteins for maximum moisturizing, softening, and hair strands strengthening.
This product is highly effective in increasing hair volume, frizz taming, reducing split ends, breakage or hair thinning, dandruff control, restoring vitality. It does this by absorbing all the essential vitamins and nutrients into the hair. Both the WOW Coconut Avocado Hair Conditioner and WOW Apple Cider Vinegar Shampoo sets are excellent for all sorts of hair including wavy, curly, and straight hair.
Apply on thoroughly wet hair. Rub gently for proper lathering from the scalp to the end of hair threads. Rinse extensively then follow with conditioner for better results.

---
PROS:
adds volume;
safe for kids.
CONS:
hair shedding if poorly applied.
---
10. Royal Locks Conditioner and Hydrating Shampoo Set for Curly Hair
Do you want a good shampoo curly hair sulfate free that will work on your curls? We all know what pain curly hair can be when it is not well hydrated. The coarseness and tangles are too much to deal with at times. Thankfully, this set comes with enough hydration to last for days. It is undoubtedly one of the best sulfate-free shampoo solutions in the market.
It contains natural macadamia nut oil, argan oil, and keratins which can be beneficial to your hair. This set not only hydrates your hair but also refreshes your scalp to get rid of dandruff and any flakes that may remain after you have used oils for days. Imagine how fresh your scalp would feel after a wash with these!
All you have to do is wet your hair, apply generous amounts of the shampoo to lather and clean your hair. Be careful not to wash too much as you will strip your hair of essential oils. Once done, apply the curl quench conditioner for bouncy and shiny curls.

---
PROS:
gentle enough to be used daily;
paraben and sulfate-free.
CONS:
may cause scalp pustules.
---
FAQs On Best Shampoos Sulfate-Free
What's a sulfate?
Simply put, they are cleansers, included in most beauty products, especially washes, masks, and shampoos. While they certainly do a good job cleaning off dirt, they can strip your scalp and hair of essential oils and keratin leaving it brittle and impossible to manage on a daily basis.
Why should I use only sulfate-free shampoos?
Of course, you can apply all types of shampoos both with and without chemicals. Thus, you have to realize that such products can cause some damage to your hair. Shampoos that do not contain sulfate also reduce the chances of having an irritated scalp while maintaining your chosen hair color. They are also eco-friendly. Such shampoos are among the best products for gray hair.
How to choose the best sulfate-free shampoos for my dull, coarse gray hair?
For coarse and dull gray hair you will want a sodium Laureth sulfate-free shampoo or sodium lauryl sulfate-free shampoo. Generally, most shampoos that are free of chemicals will work well. However, you should use one that packs in lots of moisture in order to get rid of the coarseness. Once gray hair is moisturized, it becomes shiny.
What is paraben?
Parabens are a group of chemicals commonly used as preservatives in most cosmetic products to prevent mold and harmful bacteria growth. Since parabens are inexpensive and practical, they're found in approximately 85% of all cosmetics globally.
Are there parabens in sulfate-free shampoos?
Yes, you'll find different types of parabens, including ethylparaben, ethylparaben, propylparaben, butylparaben, and methylparaben in hair care products. Nevertheless, hair care gurus recommend using parabens and sulfate-free shampoos and products for your hair such as L'Oreal sulfate-free shampoo and shampoo for colored hair sulfate free for your convenience.
How much do sulfate-free shampoo for grey hair cost?
The cost of sulfate-free shampoo for gray hair depends on various factors such as quality, quantity, brand, and market trends.
My Final Take on Choosing Sulfate-Free Shampoos
Overall, most sulfate-free shampoos are significantly expensive compared to their conventional sulfate-based counterparts. All in all, experts tested and approved best shampoos sulfate-free hair care solutions are worthwhile considering their many benefits such as effectiveness, vitality, customized pigments, amino acids, and other precious natural ingredients.
Have you ever used sulfate-free shampoo? Did it help to reinvigorate, nourish, moisturize, and protect your gray hair? What was your personal experience?
Last update on 2022-12-11 / Affiliate links / Images from Amazon Product Advertising API