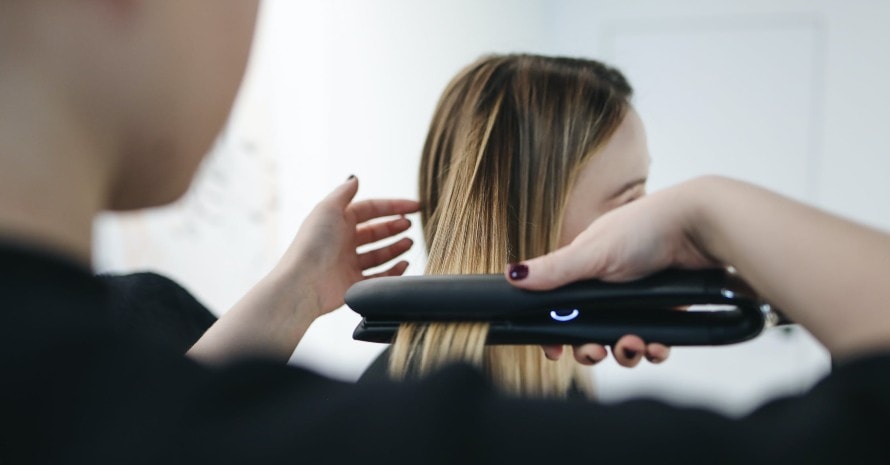 If you dream about healthy, silky, and straight hair like your favorite actresses have, you need to use only the best tools. Using titanium flat iron helps you look fabulous no matter where you go. Besides, glossy straight hair looks gorgeous with any outfit you choose.
It does not matter whether your hair is naturally straight or curly; you can use this tool to reach the effect you want. Nowadays, there are too many offers from well-known and legendary developers.
That is why it is so hard for many users to find the best titanium flat iron for their hair type. I offer you my personal top of amazing titanium hair straighteners, which I checked myself.
Extra volume of your hair
Premium Pick
Extra volume of your hair
7 Best Titanium Flat Irons: Reviewed
Neuro Smooth Flat Iron – Top pick
BaBylissPro Nano Straightener – Runner up
Sam Villa TEXTUR Professional Iron – Premium pick
Infinitipro Titanium Iron by Conair
Brazilian Blowout Prodigital Straightener
FHI Heat Platform Tourmaline Pro Styler
Kipozi Professional Hair Straightener
This list contains my favorite flat irons. I have done detailed reviews for each of them. Check out the features you need for your ideal iron. Pay attention to the possible cons.
1. Neuro Smooth Flat Iron – Best Titanium Hair Straightener with Fast Heating
This titanium flat iron is battery powered and compact, which makes it a must-have in all your travels. It weighs just 1 pound, so you will not feel any heaviness in your arms styling your hair. Cushioned plates have beveled edges for advanced hairdos.
The straightener quickly reaches 450F, its maximum temperature. It took only 25 seconds for me to heat it to the highest. 450F is more than enough, even for the thickest hair. I recommend starting with cooler temperatures. It works well for both straight hair and waves.
Basic features:
Power and temperature conditions: cordless, powered with batteries. It reaches 450F maximum.
Coverage: titanium plates.
Dimensions: 12.65 inches x 2.25 inches x 4.75 inches.
Weight: 1 pound.
Neuro brand is a part of John Paul Mitchell Systems, an American-based company that develops beauty products for salons and private customers for an affordable price. It was founded in Beverly Hills in 1980 and quickly became known internationally.
They offer high-quality iron with adjustable temperature, speed heating, and isotherm plates of titanium. There is a SmartSense microchip inside the iron that keeps the temperature you need.
You will need to switch the batteries from time to time. There is a LED light that indicates when the iron reaches the temperature you need.
PROS:
Compact size.
Battery powered.
Cushioned titanium plates.
Quickly heats up to 450F.
High-quality product.
CONS:
Price is still affordable, but more expensive than other products on the list.
2. BaBylissPro Nano Straightener – Ultra-Thin Flat Iron With Titanium Plates
This tool works great for everyone who wants to change hairstyles from time to time. Due to the ultra-thin plates, it is simple to make locks, as well as straighten them. However, owners of long and thick hair may find it a little bit tiring to style the entire head strand by strand.
The lightweight and thin tool prevents you from getting tired during the procedure. Nano titanium plates protect the hair from over-drying. The tool can be heated up to 450F.
Basic features:
Power and temperature conditions: this is a corded iron with universal dual voltage. It heats up to 450F.
Coverage: nano titanium plates.
Dimensions: you may choose the width of plates of 1 inch, 1 ½ inch, and 2 inches. The plates are 5 inches long.
Weight: 16 ounces.
BaBylissPro company is well-known around the world for its beauty products. This brand is a part of Conair Corporation, American-based hair and beauty tools developers. They have worked since 1959. This iron has 5 inches long plates and a reliable handle with a comfortable grip.
There are 50 different heat settings, which I recommend to use from the beginning. Don't start with the highest temperatures. Plates are durable and covered with an anti-corrosion layer.
PROS:
Ultra-thin plates.
Nano titanium plates.
It heats up to 450F.
There are 50 changeable heat settings.
Affordable price.
CONS:
This is a corded flat iron, so you need to find an electric outlet.
Works better for thin and short hair due to its ultra-thin width.
3. Sam Villa TEXTUR – Titanium Plate Straightener with Temperature Control
This iron is designed with rounded grooves on each plate to add volume to your hair up to 3 times. It is perfect for thin locks. Temperature control is located at the end of the handle. You have to spin it to adjust the temperature. The main disadvantage, if you ask me, is that there are no degrees pointed, only names low, color-treated, and high.
Low means 375F, Color-treated is 392F, and high is 410F. You will find it in the instructions, but I still want to clarify this information. So, the highest temperature is 410F, which is less than in some other irons on the list but still enough even for the thickest hair.
Basic features:
Power and temperature conditions: 410F maximum. There are 3 heat settings. The tool is corded.
Coverage: nano titanium.
Dimensions: 14.75 inches x 5.5 inches x 1.63 inches.
Weight: 1.15 pounds.
Sam Villa is a hair product designer. He is a professional hairdresser himself. His company has been producing bestselling tools for hair styling. If you want to create a volume with this tool, you need to open the iron and shut it while moving it from the roots to the ends.
After 1 hour of work, this iron automatically shuts off. For your convenience, there is also a LED indicator of temperature, so all you need is to check whether the light is on or off to see if the iron is heated enough. This is a corded instrument, and you will need an electric outlet to use it.
PROS:
Extra volume of your hair.
Comfortable grip.
LED temperature indicator.
Versatile hairstyles.
Well-known developer.
CONS:
Price is affordable but higher than for similar tools.
4. Infinitipro by Conair – Titanium Plate Flat Iron with Floating Plates
Check out its glowing rainbow plates from the inside. This flat iron looks outstanding. Well, Conair is called the leader of the hair beauty market for a reason. Its plates are 1 inch long, floating, and ideal for waves and straight hair.
The mix of titanium and ceramic materials protects the hair from frizz, static, over-drying, and overheating. It heats up in 30 seconds. This tool has 6 different heat settings with the highest 450F, which works perfectly for thick long hair.
Basic features:
Power and temperature conditions: corded instrument with dual voltage. It heats up to 450F in 30 seconds. Offers 6 temperature modes.
Coverage: a mix of ceramic and platinum.
Dimensions: 2.38 inches x 5.25 inches x 13.88 inches.
Weight: 1.03 pounds.
Conair is a well-known American based hair beauty products developer. They have existed since 1959, providing professional tools for affordable prices. The Ionic generator in this tool provides shine to the hair. The handle has a reliable grip and is lightweight.
Heat settings, as well as on and off switches, are on the left side of the handle. I don't recommend you heat it till the limit as it is too powerful and may damage your hair. Apply heat protective measures before you use it.
PROS:
There are 6 temperature modes.
Mix of ceramic and titanium.
Heats in 30 seconds.
Simple to control.
Incredibly affordable price.
CONS:
The tool is corded, so you need to find an electric outlet to use it;
5. Brazilian Blowout Prodigital Straightener – Professional Titanium Flat Iron with Cord
The flat iron looks like a professional tool, and it acts like one. It has 450F degrees of maximum temperature. Titanium plates offer even heating and long-lasting effects. There is a dual voltage of 110-120V, so if you need to travel abroad, take the iron with you.
This straightener does not require wet hair; you can work with dry locks, separating them into 2 inches sections and sliding from roots to ends. It has a temperature screen inside the plates, which is not really convenient, as you have to open the plates to see the temperature. Still, it is illuminated, and you may see it from a distance.
Basic features:
Power and temperature conditions: corded flat iron with dual voltage; reaches up to the 400-450F maximum.
Coverage: titanium.
Dimensions: 2.7 inches x 12.5 inches x 1.46 inches.
Weight: 1.46 pounds.
Brazilian Blowout offers smooth professional hair treatments. The company is American-based and famous around the world. This instrument weighs 1.46 pounds, which may be problematic to hold if you have long and thick hair, so you can simply make breaks in your styling work.
The handle is comfortable. Developers offer a lifetime warranty but for professional salons that buy directly from distributors. However, this iron serves me 4 years already.
PROS:
Titanium plates of high quality.
Anti-frizz effect.
Temperature screen.
Dual voltage.
Heats up to 450F.
CONS:
Price is affordable but more expensive than for other products on the list;
Temperature screen is located inside the tool.
6. FHI Heat Platform Pro Styler – Ceramic and Titanium-Plated Hair Straighteners
This tool offers a 450F maximum temperature that can be adjusted from the inside of the plates. It suits perfectly for those who want curls and waves, as well as straight hair. Red plates of ceramic and tourmaline coating make the whole instrument more durable and keep the heat temperature high for a longer time. The tool is corded. It has a 12 ft cord that is rotating.
Basic features:
Power and temperature conditions: corded instrument with 12 ft cord; heats up to 450F.
Coverage: ceramic, tourmaline.
Dimensions: 12.5 inches x 4 inches x 3.5 inches.
Weight: 1 pound.
FHI Heat is a bestselling US-based brand. They offer versatile hair products for an affordable price. This tool is not only simple in use but takes care of your hair. Negative ions from the iron seal the required moisture inside the hair. So your hair looks smooth and healthy after the procedure. The minimal temperature is 140F, while the maximum is 450F.
PROS:
Ceramic and tourmaline coating;
Lightweight.
Simple to hold.
Long cord.
Affordable price.
CONS:
Uncomfortable position of temperature switch.
Titanium Hair Straightener Buyer's Guide
Hopefully, these titanium flat iron reviews were detailed enough and helped you to make your choice. However, I recommend you not rush with the decision before you get familiar with the peculiarities of these tools and their main benefits. Read all the information on the titanium flat iron before you order one of them.
7. Kipozi Professional – Cheap Titanium Flat Iron with Temperature Indicator
The straightener is lovely, compact, and comfortable to hold. I appreciate the temperature screen on the handle that is visible from afar. The iron is corded and requires electricity for its work. However, due to the dual voltage, it can be brought anywhere you go abroad.
Plates are 1.75 inches wide, which helps to style more hair at the same time. The handle is made of high-quality plastic. Titanium plates guarantee even instant heating. On the back of the handle, there is a temperature setting.
Basic features:
Power and temperature conditions: corded flat iron. It heats up to 450F. There is a dual voltage.
Coverage: titanium plates and a plastic handle.
Dimensions: 13.5 inches x 4.21 inches x 2.44 inches.
Weight: 1.61 pounds.
Kipozi is an Asian-based beauty company. They have produced hair products since 2016. The company offers this flat iron for an affordable price. There are 3 main modes: 250F for fragile hair, 350F for colored and damaged hair, and 450F for healthy hair.
Even if your hair is healthy, I recommend staying at 350F. The highest temperature is 450F, and the lowest is 170F. Titanium floating plates are 1.75 inches wide. After 60 minutes of no use, it shuts off automatically.
PROS:
Temperature screen on the handle.
High-quality materials.
Automatic shut off.
Dual voltage.
Affordable price.
CONS:
This is not a US-based company.
What is titanium flat iron?
Before you buy the iron, you have to understand what titanium is and why it is beneficial for your hair. Well, titanium is an element, the metal that was actually found in the rock of volcanic origin. Sustainable to high temperatures, this element is also durable and everlasting.
It is exactly what you need in titanium hair irons. Besides, titanium emits negative ions so vital for the moisture inside the hair. Ions seal the moisture inside even when you use the iron at its high temperatures. Similar effects offer a mix of ceramic and tourmaline. The main attractions of the iron with titanium plates:
Negative ions reduce frizz and keep hair healthy.
Easily hold high temperatures.
Can quickly heat up to the highest temperatures.
These plates are strong and durable.
Scratch-resistant.
The heat is evenly distributed.
How to choose the best titanium flat iron?
You may follow my titanium flat iron comparison above to check out all the features that these tools can offer. If you are not sure which one to choose, let's find out which services that tool provides are considered to be helpful.
Don't worry if you can't find all the benefits you want in one tool; you can always buy several.
Main features
Some of them can be found in ceramic irons as well. However, others are specific. Think about how often you will use the tool and where. The main services titanium iron provides:
Adjustable temperature. The 450F temperature is great, but you don't always have to use it. Start with the lowest options. Perhaps, 350F will be more than enough for you. On average, 450F is ideal for coarse hair only, and thin hair is better to style with the lowest mode.
The shape of plates and size. The width of the plates and their length are incredibly important for users. Rounded cushioned plates offer a diversity of styles, from wavy to curly. Straight plates reach the straight hair effect easily. The longer and thicker hair you have, the longer and wider plates you need.
Extra features. The temperature screen is a pleasant bonus for you. It is not a necessity, but you will easily see the temperature your iron reaches. Another bonus is a LED light indicator that reveals whether the tool is ready for work. Automatic shut-off after some time of no use is also a great bonus that may protect you in the future.
Dual voltage cord. If you use a corded straightener, you need to make sure that you can take it on travels with you. Check out whether it is good for worldwide use.
Titanium technology types
Don't get confused. They are all titanium, with a few differences. Save this information somewhere so you can check it by reading the description on the box:
Nano Titanium. Greatly conducts heat and spreads it evenly on the plates. Emits negative ions on your hair.
Mirror Titanium. This one is rare. It works splendidly for thick and long hair with curls. It prevents the hair from overheating even if you use the iron at the highest temperature.
Titanium and Tourmaline mix. These elements look alike. They have similar qualities, which double the effect. Tourmaline is a mineral that keeps your hair smooth and anti-frizz while you are trying to straighten your hair.
Ceramic and Titanium. Ceramic is beneficial for thin hair, but breakable; titanium is durable. Together they protect any type of hair and are reliable. Plates from ceramic heat both from outside and inside.
Isotherm Titanium. It spreads the heat evenly on the plates. This prevents the hair from any damage.
Which is better titanium or ceramic flat iron?
This question is so frequently asked that I can't leave it unnoticed. Both of the irons have their advantages. Check out their main differences and similarities:
Both of them have different heating levels. Titanium heats faster, but ceramic heats from the inside at first and then switches to the outside.
Ceramic does not contain as many negative ions as titanium.
Ceramic irons usually are cheaper than those from titanium. But it also depends on the features a developer offer and the company itself.
Titanium is a little bit more durable than ceramic and resistant to scratches.
Ceramic works well with straight and thin hair, while titanium suits great curly, unruly hair.
Titanium Hair Straightener FAQ
These are the most popular questions on the Internet, and I decided to answer them for you. If you do not agree with me at a certain point, you may express your opinion in the comments below.
How to clean titanium flat iron plates?
Follow these brief step-by-step instructions for cleaning flat iron:
Heat the iron just a little.
Unplug or turn off the iron before you start cleaning.
Dampen the towel slightly with water. It must be warm, not cold.
Rub the plates one by one until there is no buildup. Do not scrub them.
Clean off the handle and every corner of the tool. You may use the cotton swab for this.
Let it dry before use.
Do titanium plates damage hair?
All the tools that heat your hair ruin it. However, there is a difference in the amount of this damage. Titanium eliminates negative ions that seal the moisture in your hair and do not let it over dry. Yet, high temperatures can still cause damage, so you always need to use protective remedies before you heat up the iron. Don't forget about the health of your hair. Make weekly masks.
Is ceramic or titanium flat iron better for hair?
It depends on your type of hair, its structure, and its length. The ceramic flat iron heats up longer than titanium, but for thin and straight hair, it may be more beneficial. However, titanium straighteners spread the negative ions around your locks, sealing the moisture to keep them healthy.
Besides, titanium straighteners work faster than ceramic ones. Trust the person who learned the science of curls; you may require both irons.
Best Titanium Flat Iron for Your Healthy Strands
You may have noticed how often I repeat that you need to rely on your own preferences and tastes. This is because your hair is unique, as well as your daily routine. A corded flat iron may be unsuitable and not convenient for travelers and busy business women who carry the tool in their bags.
However, this type of iron is beneficial for those who do not want to take care of batteries each time. High temperature works well on thick hair, while thin locks do not need it. If you have already used one or several straighteners from the list, share your thoughts about them. How did you like them? Were they helpful?
Last update on 2022-12-11 / Affiliate links / Images from Amazon Product Advertising API