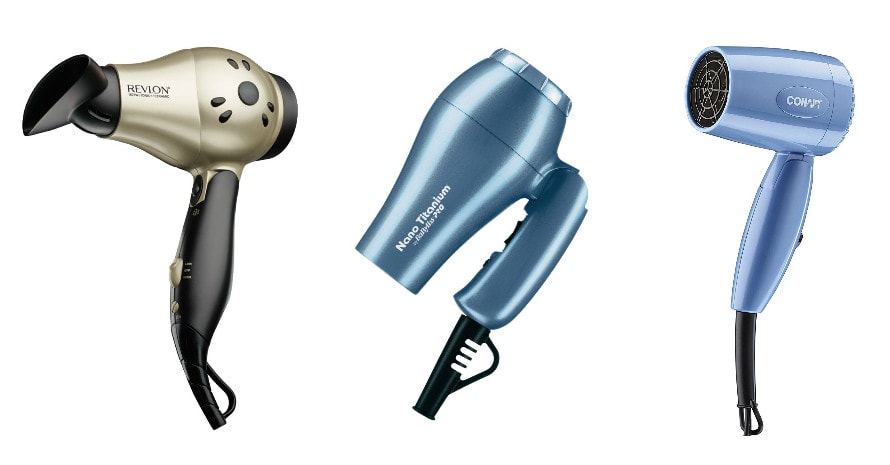 Many clients often ask me what care products to take on the road to Europe so that their hair would look just as stylish as salon-made. I get asked what tools it is essential to pack when traveling, is it worth taking dual voltage travel hair dryers, and whether they harm your hair.
Among many reasons, I often spend time on the road. Therefore, I cannot but give sufficient attention to the question of how to choose the best mini hair dryer for styling. I'm Monica, a professional hairstylist, and my mission is to make sure that your hair is healthy and looks gorgeous not only every day but on the long-period road.
Pros
Has a great concentrator nozzle
Has a compact size with a removable rear filter and a nozzle hub
Best Budget Pick
Pros
Has a great concentrator nozzle
Top Pick
Pros
Has a compact size with a removable rear filter and a nozzle hub
If you travel to Europe often, it is worth purchasing a compact hairdryer. Thus, it will take up little space and provide all the functions of a household analog. Its main advantages are compactness, low weight, and low price.
A travel hairdryer can easily fit in your luggage. Therefore, it is completely logical that compactness is an important criterion for its professional suitability. It should weigh a little and take up a minimum of space. For this purpose, manufacturers reduce the dimensions of such devices and make a folding handle.
Travel hair dryers are equipped with low power of up to 1500 watts and most often have one nozzle.
Another important feature for choosing a hairdryer is the availability of voltage changes. This function is relevant if you intend to travel, for example, to Europe. In most European countries, sockets provide 230 V. And in some territories, for example, in the North and partly in South America, this figure is 110 V.
Keep in mind that the travel-sized hairdryer will not have professional performance and effect. There is a great difference between the full-sized and travel-sized items. You can harm your hair seriously if you select a cheap and low-quality hairdryer.
Thus, pay attention to the coating material of the heating element if you want to avoid overheating and harming your hair. The coating material and temperature regimes are the characteristics that make the best compact hair dryer stand out.
Don't forget that tourmaline-coated heating element dries much faster, additionally making the hair shiny and smooth. Hairdryers with this coating usually come with temperature control, with which you can choose the right temperature for your hair.
8 Best Travel Dual Voltage Hair Dryers Reviewed
Below, you can read about the top-rated and personally tested best travel hair dryer options available on the market. I have picked these items based on their exceptional performance and usability on trips.
1. Revlon 1875W – The Best International Travel Hair Dryer
This high-quality dryer can be used frequently, so you can pack it both in your gym bag or travel suitcase. It has everything that is necessary for a good hairdryer, including the ion technology to safely align hair and a ceramic coating that will protect the hair from excessively hot air. There are also two heating and speed modes, and a cold mode for stylish styling.
This hair dryer also supports dual voltage, so it is ideal for traveling close and distant. Please note that for countries that need to be configured with a 250-volt power supply, you will have to use an adapter. Also, the hairdryer switch should remain low, so be careful and check the availability of voltage in the country you are going to.
A folding handle allows you to save space in your luggage. The item is pretty lightweight and easy to carry around, so I always go with it when there is a need to save up space in my bag.
What I personally like is the smoothing concentrator of airflow of this device that prevents my hair from tangling, and I can do light but beautiful styling. During the period when my main hair dryer broke down, I used this road hairdryer at home for a couple of weeks. I can say that, surprisingly, it coped with its task pretty well.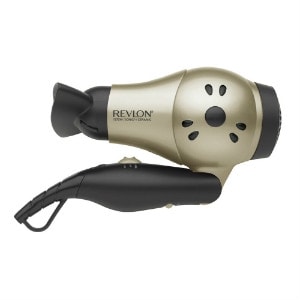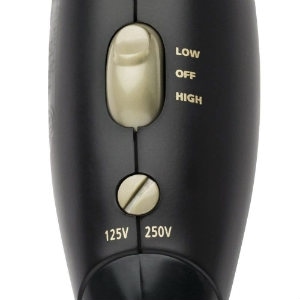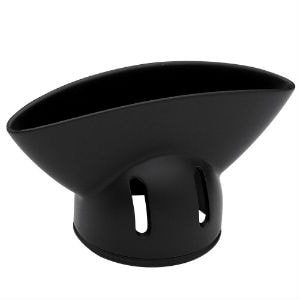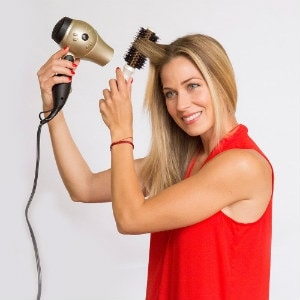 The tool is ceramic-based and dries hair quickly. It also has all those modes of full-size hair dryers, although they are limited in quantity. The item works at a high and low speed and can generate cold air.
It has a smallholder and weight, which allows easy operation. So, I advise you this tool if your hair is not very long and you are planning to go on long trips.
---
PROS:
a dual voltage feature;
has a great concentrator nozzle;
folding and lightweight;
fitted with a ceramic coating.
CONS:
has two heat speeds only.
---
2. BaByliss Pro Nano Titanium BABNT053T– The Best Dual Voltage Hair Dryer

If you are looking for professional yet compact styling products, you have probably heard about BaByliss Pro, which is a well-known brand in the niche of professional styling tools. This compact version of the BaByliss Pro 1000 W Nano Titanium hairdryer is specially designed for travelers who want to style their hair quickly and not to lose their beautiful appearances even on long trips.

The item has a folding handle that reduces the size of the hairdryer by half. Thus, it takes up very little space in your luggage. It also has a removable rear filter and a nozzle hub.


This best travel size hairdryer has a powerful 1000-watt engine and a natural ionic sheen, and it will dry your hair quickly and safely. The dryer is really ultra-light, compact, and powerful. It is suitable for work all over the world, as it has a voltage switching button from 110 V to 250 V.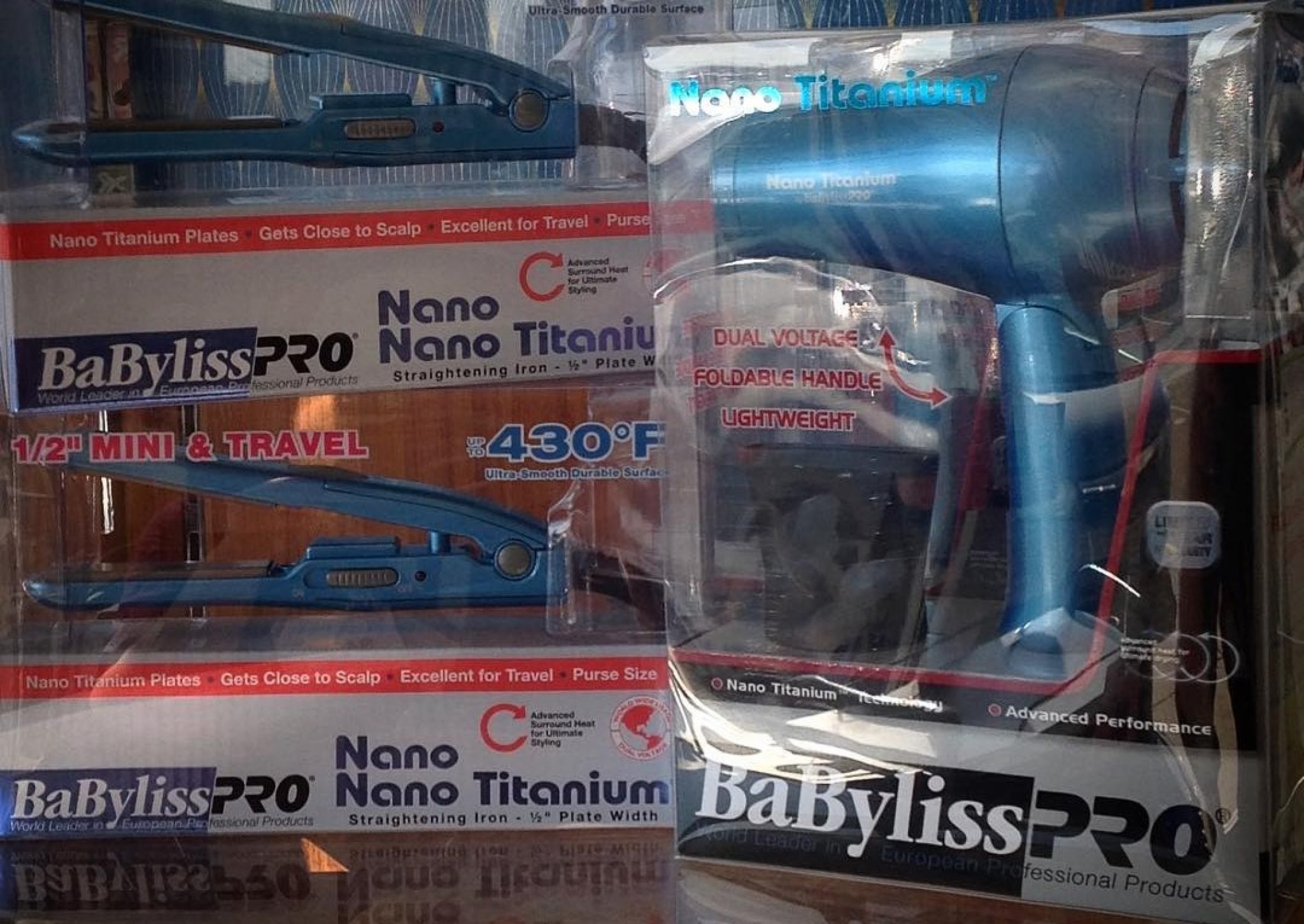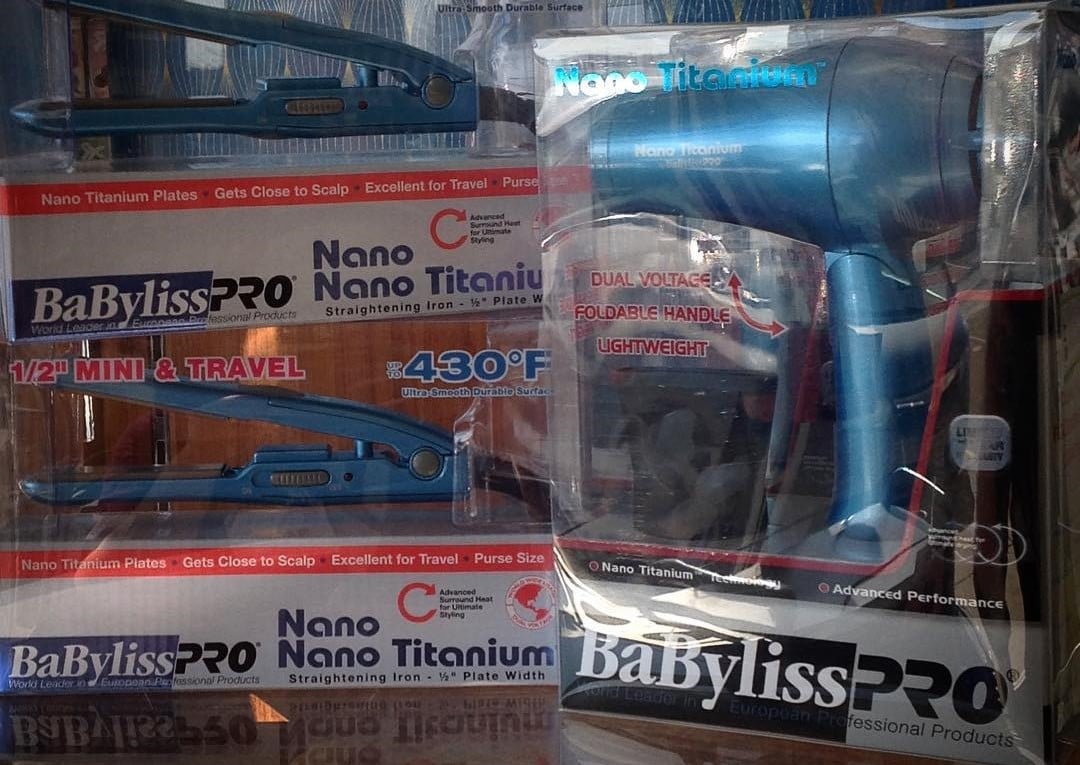 The Nano-Titanium travel dryer has all the features of the large BaByliss Pro. I use full-size BaByliss Pro hair dryer at work. Therefore, I could not resist this small one and bought myself a mini tool to test it.
Indeed, it has a lot of advantages. If you do not trust your hair with hotel hairdryers, this small and compact version is really for you.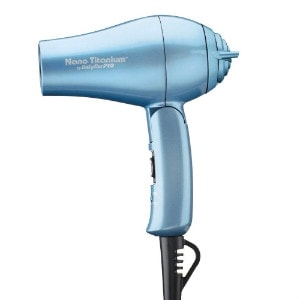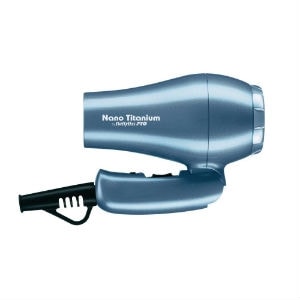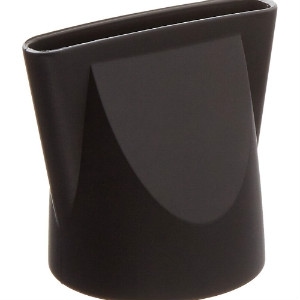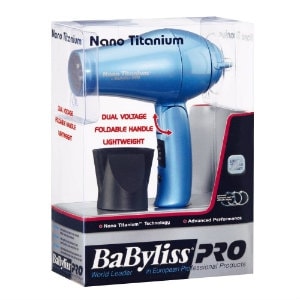 Half a pound in weight, very small, almost a toy-like dryer will take up minimal space in your luggage. However, I want to point out right away that, unfortunately, this travel hair dryer does not have a regime of cold air.
Therefore, although it will dry your hair quickly, it is not so gentle for hair, especially long hair, on the way. Thus, if you want to keep your hair soft, you need to use additional care oils.
---
PROS:
has a compact size with a removable rear filter and a nozzle hub;
anionic tool;
supports dual voltage;
fitted with a ceramic coating.
CONS:
doesn't have a cold blow button.
---
3. T3 Featherweight – Dual Voltage Travel Hair Dryer Reviews Leader

T3 manufacturer guarantees the weight of the device like a feather, still being a professional hairdryer. The item has a max punch for quick and efficient styling, as well as special T3 SoftAir technology, which allows the hairdryer to generate powerful air flows and volumes and dry hair fast.


Also, the air is ionized, and the produced negative ions retain moisture, seal the cuticle, and allow your hair to look radiant and healthy.

The hairdryer power of 1200 W is quite high for its size, and the revolutionary T3 method concentrates the airflow, power, and speed of hair drying. Like any good travel dryer, it has a double voltage switch from 125 to 250 V. This model is compact and fitted with a foldable handle so that it won't take much space in your bag.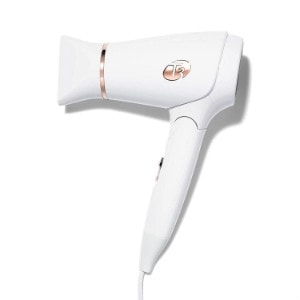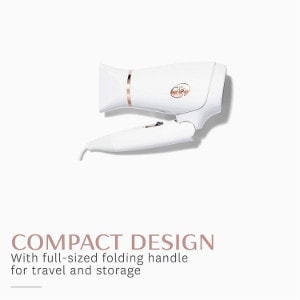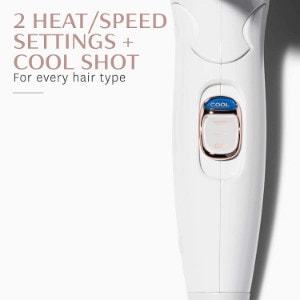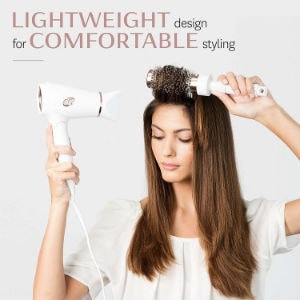 T3 SoftAir technology really simplifies and improves the hair drying process. So, this T3 tool allows not only to simplify drying with the help of intense airflows but also to protect the hair from damage by hot air. This makes the model the best portable hairdryer.
---
PROS:
has a double voltage switch;
compact;
an amazing SoftAir technology;
stylish design.
CONS:
generates not the hottest air compared to other similar items.
---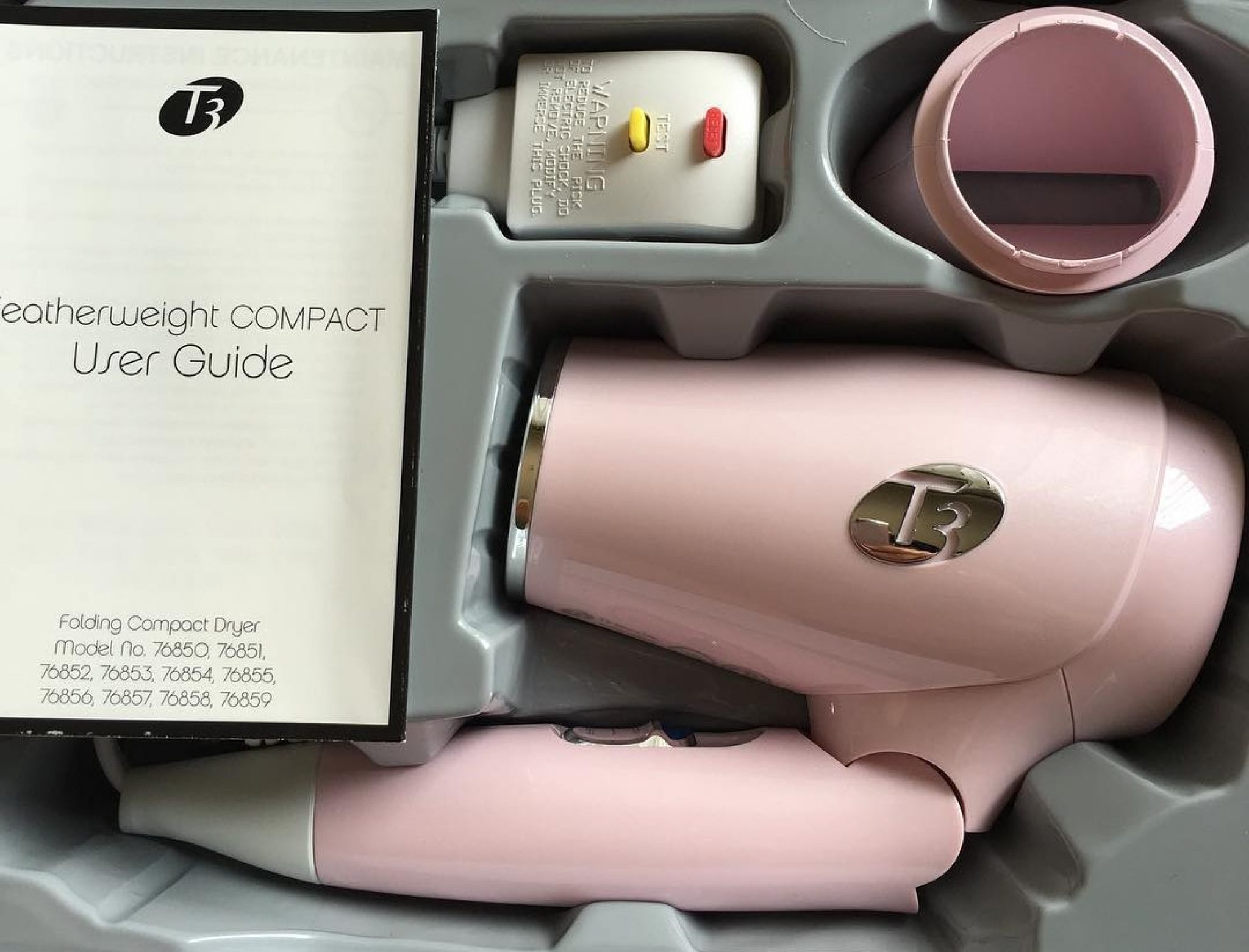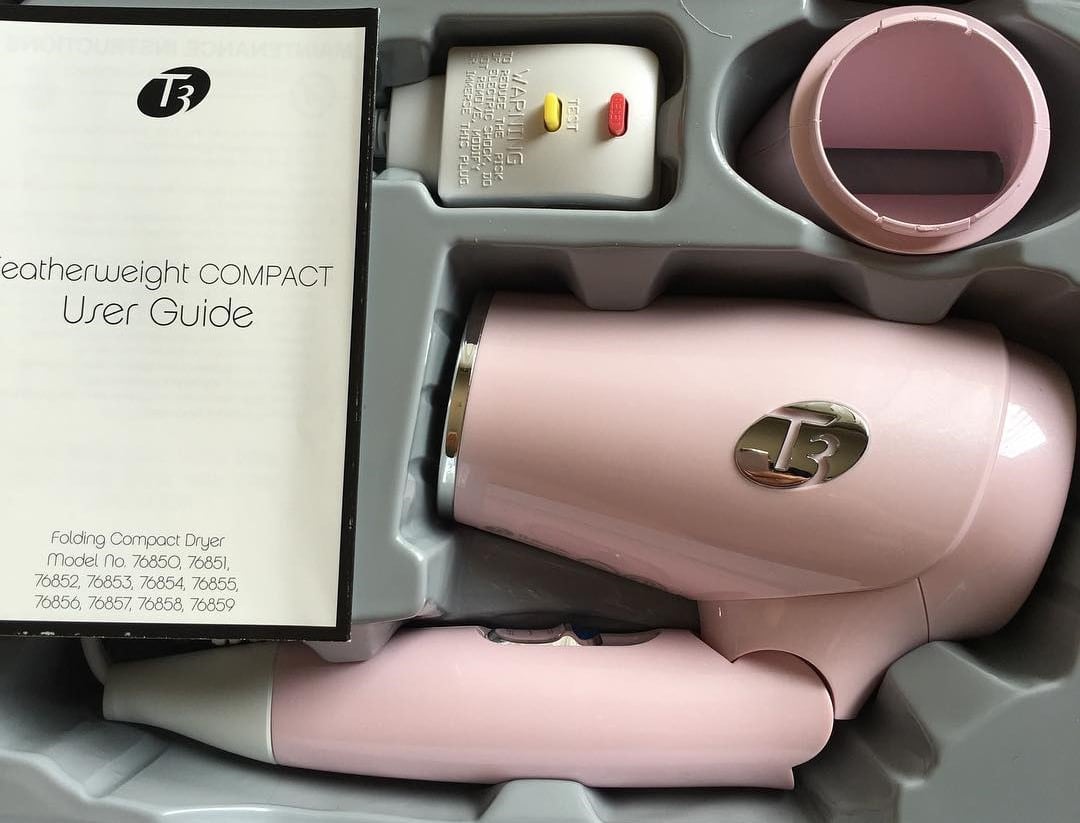 4. Conair 1600 Watt Compact Hair Dryer – One of The Top Folding Hair Dryers
The 1600W Conair dryer is the best travel choice. This tool is a perfect complement to your luggage and a super device that will simplify your life. This lightweight dryer with a foldable handle weighing no more than one pound will become an invisible, but indispensable detail in your busy schedule.
The hairdryer also has settings for heating speed, so you can choose a more comfortable and suitable option for your hair type. A folding handle helps you save space in your luggage, and double voltage switching makes it easy to adapt to different sockets around the world. The foldable hand reduces its size, and a 5-foot cord allows you to use it conveniently.
This hair dryer is powerful enough for its size. 1600 watts will allow you to dry your hair quickly, as well as styling it. As I have mentioned, this item is powered by double voltage, making it a great companion for worldwide use and convenience on the go.
This was the first hairdryer which I took with me on a trip, so I doubted and checked the characteristics for a long time before choosing it. The item survived a trip to Europe with me, and now I often recommend it when people ask me for advice. It is really compact and tiny, but quite powerful. I like how it was designed, and that it is quiet.
What is convenient about this hairdryer is how it folds up so that you have no power problems on the go. It dries hair quickly without damaging it and helps to make easy styling.
---
PROS:
has a dual voltage feature;
weighs one pound only;
works for all hairstyles;
folding.
CONS:
doesn't blow air hard, which may be uncomfortable for drying thick hair.
---
5. Hot Tools Ionic Travel Dryer HT1044 – Great Travel Hair Dryer with Dual Voltage
This Hot Tools ionic hairdryer is another amazing compact tool to pack for a trip. It supports universal dual voltage allowing plugging anywhere. By working at 1875W, this product comes as a powerful solution. Moreover, the model won't harm your hair being as it is an ionic tool that allows for even healthier, shining hair after drying.
The tool features useful attachments, including a finger diffuser for styling your hair, adding volume to it, creating light curls, and supporting a naturally curly hairstyle. Another attachment is a concentrator nozzle that allows an efficient airflow for straightening hair and making it shiny as if you have used a combo of hair styling equipment.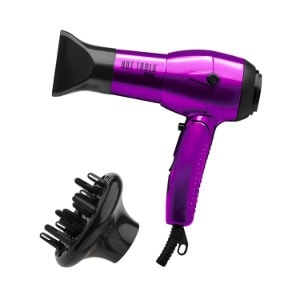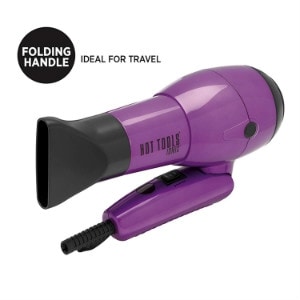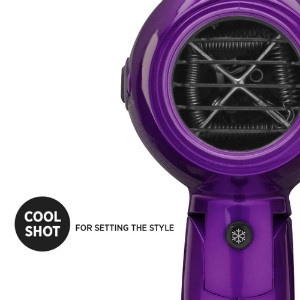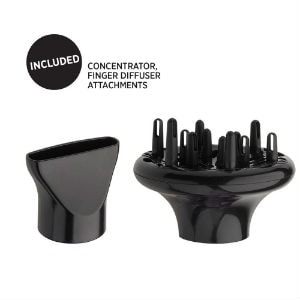 The Hot Tools ionic hairdryer is foldable and weighs 1.6 pounds only, making it a great tool to pack with you on a trip. What I like about this awesome travel hair dryer with a diffuser is that it is fitted with a cool shot button for drying and styling your hair with no damage to it. Thanks to Direct Ion technology, this tool will gently dry your hair and create a stylish look during your trip. I advise this item as one of the best hair dryers for travel.
---
PROS:
universal dual voltage;
direct Ion technology;
two speeds;
features two attachments;
lightweight and foldable.
CONS:
its cord may be too long;
pretty loud.
---
6. Chi Tech Ceramic Hair Dryer – Best Travel Hair Dryer for Curly Hair
This Chi Tech Ceramic 1400 Watts hair dryer is perfect for managing shiny, frizz-free hair on your trip. It has a compact design and is fitted with a handle for comfortable use and storage. This Chi Tech item is a nice small hair dryer for travel to note.
The item features adjustable heat settings and different speeds for the best airflow control. Thanks to ceramic technology, it generates ions for protecting hair from frizzing and adding a shining look.
The model comes with two standard attachments, namely the concentrator nozzle and the unique hair comb for curly hair. With the first item, you can quickly dry your hair section by section and get a shiny look. With the hair comb, you can brush and smooth your hair during the drying process. So, this blow dryer is perfect for creating different hairstyles within a short time.
Whether you have a thick, thin, curly, or straight hair, take this item with you on a trip and enjoy your occasion. However, I want to emphasize its delicate effectiveness in drying curly hair and making it look shiny and healthy.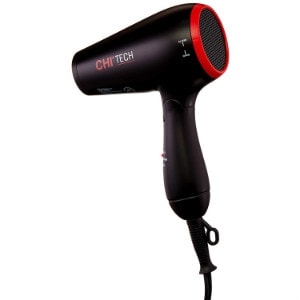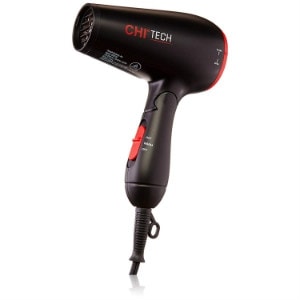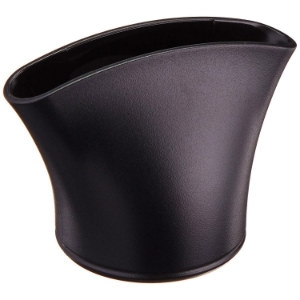 I have taken this CHI hairdryer on a few trips with me, and so far, it provided great performance and made my hair look stunning. This hair dryer has a voltage toggle capability, so you won't have to worry about plugging it in in other countries and can consider it one of the best dual voltage travel hair dryer options.
Moreover, the tool is fitted with a fast and quiet 1500W DC motor, so it is quite powerful. I would pick this model as the best lightweight travel hair dryer to pack with you on a trip.
---
PROS:
a ceramic technology;
compact;
has a voltage toggle capability;
works for all hair types, especially curly ones.
CONS:
the cord is not of the best quality.
---
7. Trezoro Professional Ionic Ceramic Blow Dryer – Best Ionic Travel Hair Dryer
I find this item extremely useful for packing on a trip because of the unique rotating shaft. It makes the handle and body of the tool even more compact compared to similar models available. However, despite being small, this Trezoro travel hair dryer performs perfectly.
This item is powerful but not too noisy or screechy. What I like about this blow dryer is that it doesn't make your hair frizzy and allows it to look healthy and shiny. I have taken this item with me for a trip, and the tool never failed to get its job done. The tool features a professional 1500W DC motor, US ALCI safety plug, and Intelligent Constant Temperature Technology, so it won't cause damage to your hair and dry it effectively.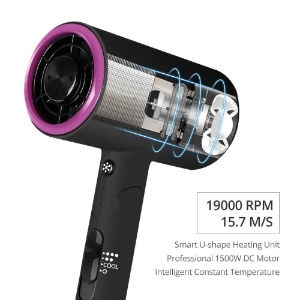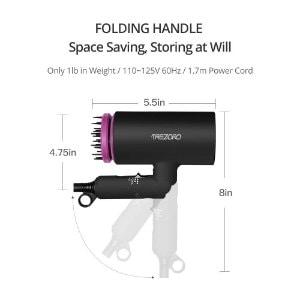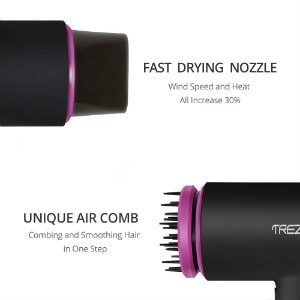 Moreover, this blow dryer has twenty airflow channels and three-speed options, making it one of the most top-rated ionic hair dryers nowadays. Also, I want to mention the in-built ionic generator and ceramic tourmaline covering added for enhanced hair care.
I profoundly recommend this product to everyone because the Trezoro Professional Ionic blow dryer is great for all types of hair.
---
PROS:
ionic technology;
fitted with a comb attachment;
ceramic tourmaline covering;
has a U-shape heating part;
CONS:
won't work for European sockets, so you will need to purchase a transformer in case of traveling to this region.
---
8. Andis Fold-N-Go 80020 – The Best Travel Blow Dryer with Nanoceramics
This device is well-equipped with a number of helpful features. The ionizing technique and polymer material will reduce frizzy hair, and three heating speeds will help to make perfect styling. At the same time, it is very convenient to store as it is pretty compact.
The nanoceramic technology used in this dryer will help to maintain the smoothness and silkiness of your hair without damaging it. What is more, the tool dries hair much faster compared to similar models, allowing you to create a brilliant look.
For its small size, it has a really impressive power of 1875 watts, which allows you to dry and style your hair quickly. Unfortunately, this model can operate on 110V only. If you want to plug it in areas where 220-240V is needed, you have to purchase a voltage transformer additionally.
This portable device with ceramic technology combines the professional qualities of a hairdryer and compactness. It has a folding design that will allow you to put it in a bag of any size and travel with it at any distance. The kit also includes a concentrator that controls the flow and direction of air.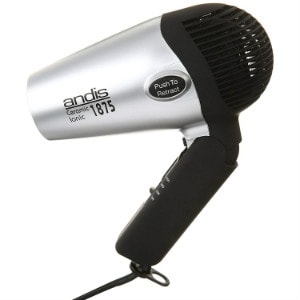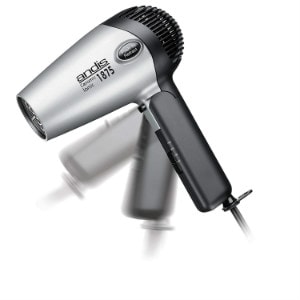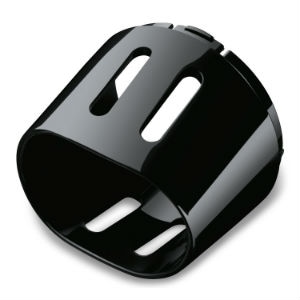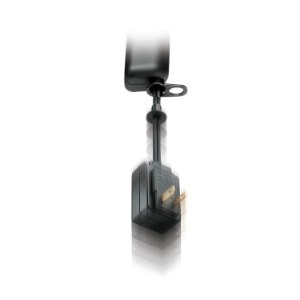 This hair dryer is just a godsend, and I can claim it the best hair dryer for European travel once you get a transformer. For its characteristics, the price is good and reasonable. This item will save your time for drying hair, and with the help of temperature control, it does much less harm to hair.
This product is ideal if you have colored hair and a sensitive scalp because the cool air stream will not irritate the skin. The retractable cord function is also very convenient because you do not need to pack a hairdryer every time.
---
PROS:
retractable cord and folding handle;
a nanoceramic technology;
compact;
has three heating speeds for air control;
suitable for all hair types.
CONS:
Works at 110V only, so you may need a transformer.
---
Best Dual Voltage Hair Dryer for Travel: Choosing the Right Item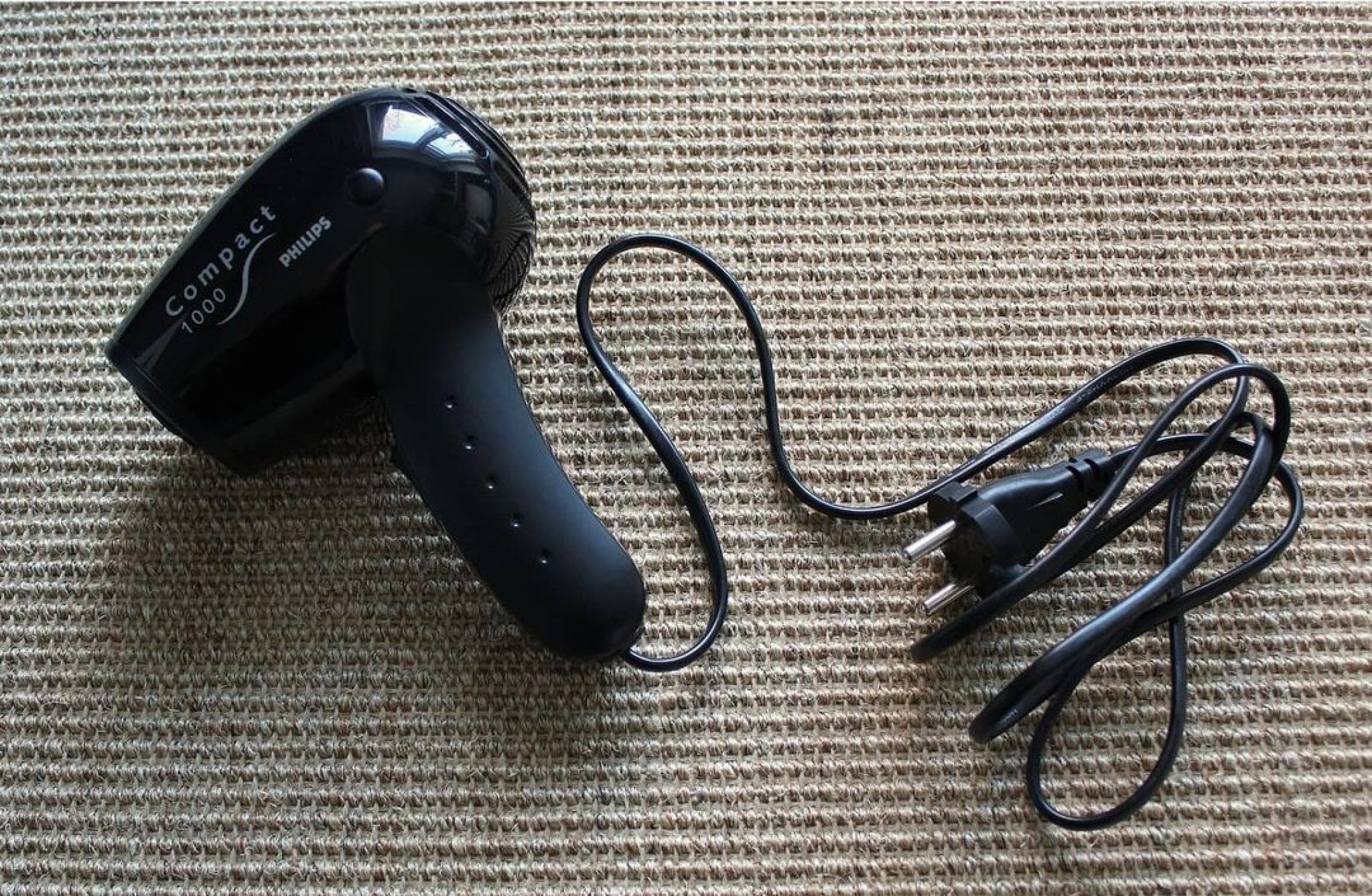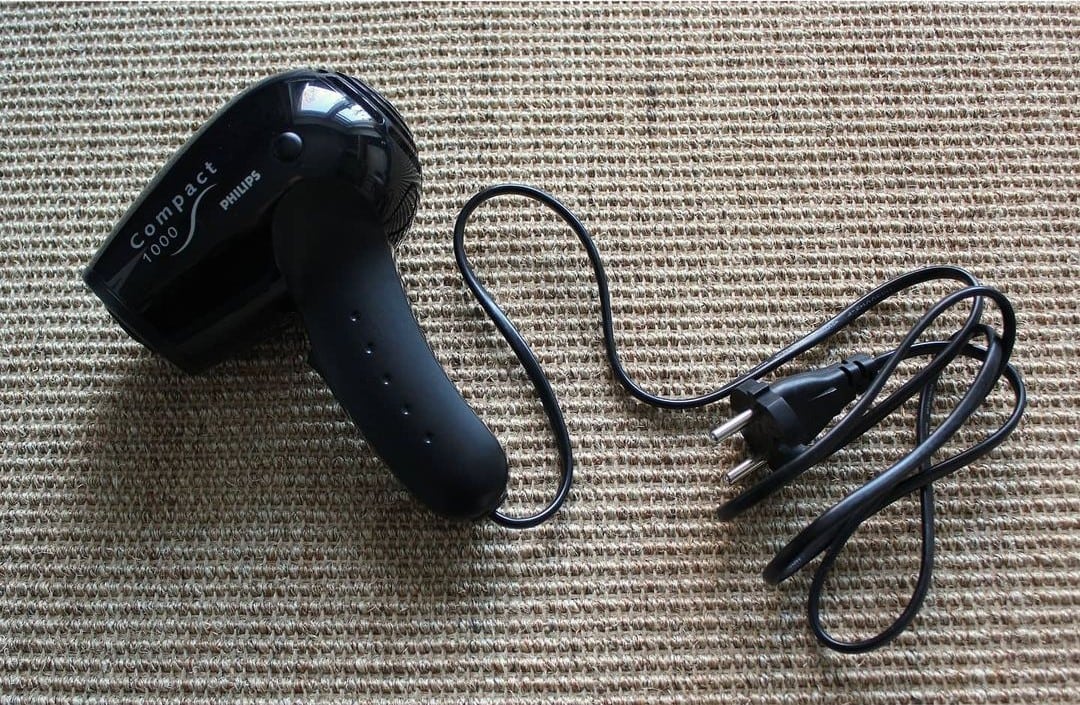 It is easy to get lost in a variety of products and purchase the first device that comes across. However, I hope that after reading this review on the most useful travel-size hair dryers, you have picked a good item. Also, be sure to pay attention to the characteristics of the tool when searching for a hairdryer.
First of all, you need to remember that even though small hairdryers save space in your luggage, they dramatically lose power. Therefore, pay attention to other indicators, not just size.
Unfortunately, not all items can work on European voltage. It is sad when the many promised functions do not work in another country, and all the benefits of a travel-size hair dryer disappear. Thus, it is ideal if the dryer has a double voltage as well as several speed and heating settings.
Technology and material matter. Ionic and non-ionic dryers are responsible for volume and eliminating curls. All the same, you need to look for such as either airflow or temperature control.
The promised weight may appear heavier, so check reviews before making a purchase.
A high price does not guarantee the best quality. Always check compliance with price, quality, and customer reviews, so you could surely be pleased with the result.
You can't do without a hairdryer if you travel often. This item takes up a little space, but, at the same time, it is equipped with all the functions of a household analog. Its main advantages are compactness, low weight, and low price. Choose the one that will last you a long time and make you look beautiful in all your travel photos.
Make sure to check out my review of the best travel size hair products.
By the way, which care products or devices are a must in your luggage when you take the road? Have you used any of the hairdryers mentioned here? Let me know in the comments!
Last update on 2022-12-11 / Affiliate links / Images from Amazon Product Advertising API