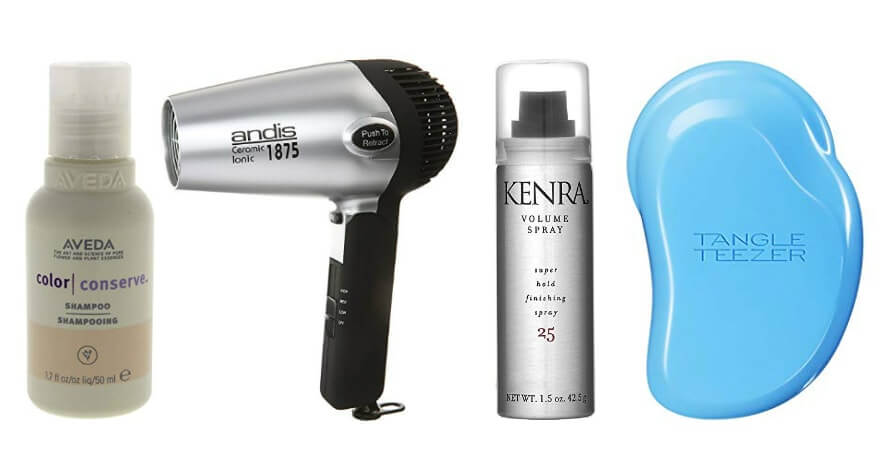 Is it possible to maintain your hair care routine while on vacation or a business trip? Quite so, especially if you have some travel size hair products at your disposal. These are not only shampoos and hair sprays in that cute tiny bottles but also compact flat irons and hair dryers.
I'm Monica, and today I'm going to present to you some of my favorite hair products for traveling. In my top-list, there are not only shampoos and styling products but also hairdryers, cordless straightening irons, and various travel size hair brushes.
I hope that my newest post will help you to find the best products for your holidays or a business trip. No matter where you are, your tresses can stay beautiful and gorgeous! With a little help of travel hair products, it's far easier to achieve 🙂
Wondering what the best travel hair dryer is? Want to pick the best travel hair straightener that fits into your suitcase? Looking for travel size hair brushes to maintain your hair routine while far from home? Here are 12 delightful hair products to take with you.
Travel Size Hair Products for Cleaning, Styling, and Protecting Your Locks
When it comes to choosing hair products for traveling, it may seem that the key factor is the size of a bottle. But you should also pay close attention to the ingredients and find out what results to expect from this particular shampoo, conditioner, or styling spray. Here are my favorite travel-size hair products that will care for your tresses on vacation or a business trip.
1. Aveda Color Conserve Shampoo – Ultimate Color Protection
To treat your precious tresses on a vacation, check out this Aveda shampoo. It protects color-treated hair against the damaging effects of sun, water, and environmental factors. Also, it helps to keep hair color vibrant longer and adds a bit of body. The product contains natural ingredients, and it will give you manageable and silky hair. This shampoo comes in three different sizes, and the travel-sized one is 1.7 fl oz.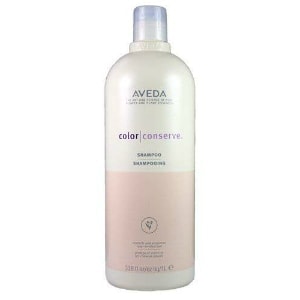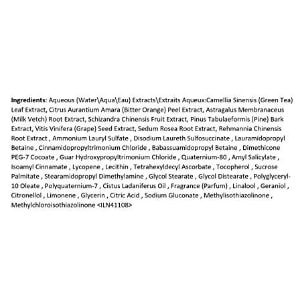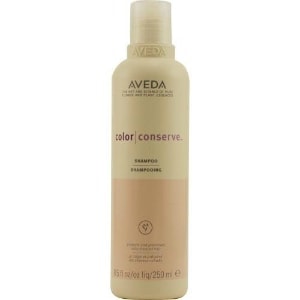 ---
PROS:
protects hair from sun, water, and environmental stresses;
keeps the color vibrant and rich;
contains natural ingredients;
nice fragrance.
---
2. Kenra Volume Spray for a Strong Hold and Humidity Resistance
As Kenra claims, this hairspray provides 120-hours hold, humidity resistance for 20 hours, and wind resistance for up to 25 mph. In my experience, it does protect hair in windy, rainy, and humid weather. This hairspray leaves hair looking natural, adding a bit of volume and shine.
It's more of a finishing spray meaning that it has a slightly crisp finish. But you can comb your fingers through it if needed to get a more natural look. The spray isn't a good option for fine, thin hair as it may leave it flat. And the nozzle gets clogged easily. Other than that, I'm satisfied with this Kenra spray.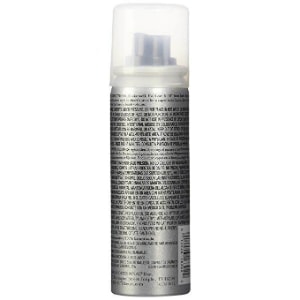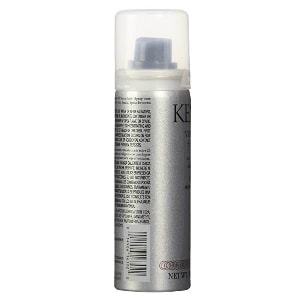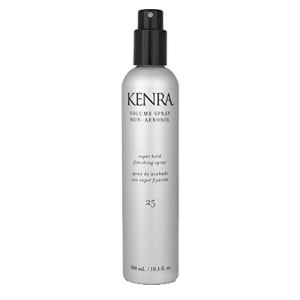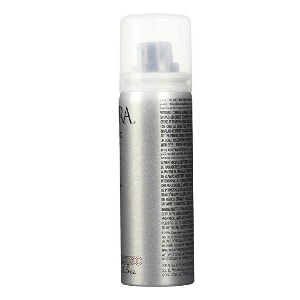 ---
PROS:
strong hold;
humidity and wind resistance;
adds shine and volume;
contains panthenol;
reasonably priced.
CONS:
too strong fragrance;
no good for fine hair;
nozzle gets clogged easily.
---
3. Define Your Curls with LuxeOrganics Travel Shampoo and Conditioner Set
This duo works pretty much for any hair type, even fine, frizzy, dry, and brittle one. If you're the one to have curls, this set makes them more defined. Also, it can help with dry, itchy scalp and even dandruff.
The UV absorber protects your hair and prevents color fading, so these shampoo and conditioner are safe for color-treated hair. The products are sulfate-free and paraben-free. Instead, they contain argan oil and vitamin B5 that help to make your locks strong, shiny, and full without weighing them down. As a result, you will get soft, smooth, and frizz-free tresses that are easy-to-manage.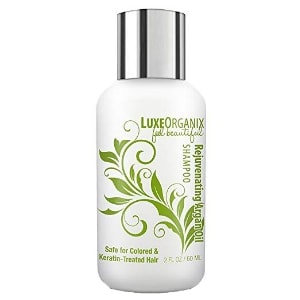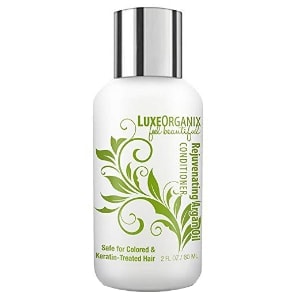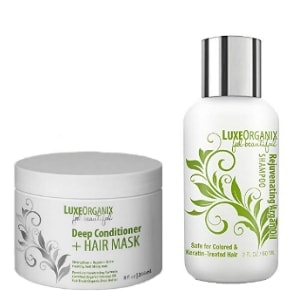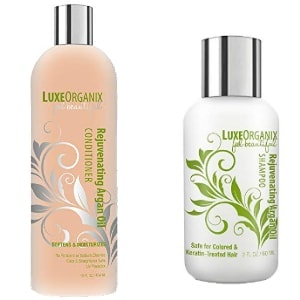 ---
PROS:
relieves irritated scalp and dandruff;
enhance natural curls;
safe for colored and keratin-treated hair;
free of sulfates and parabens;
cruelty-free.
---
4. Take Care of Your Skin and Hair with ACURE Essentials Travel Size Kit
This travel pack includes as many as four different beauty products. Along with an ultra-hydrating shampoo and conditioner with argan oil, there is a day cream and a brightening facial scrub. Keep in mind that the packaging may vary, so make sure to clarify which products you will get.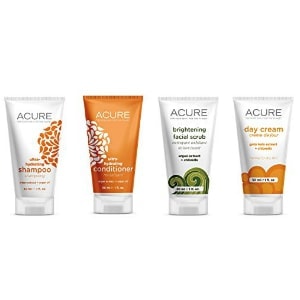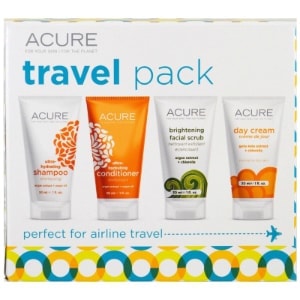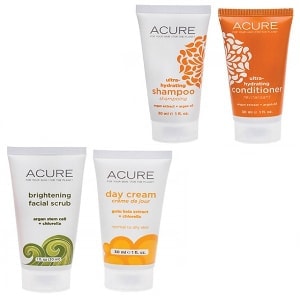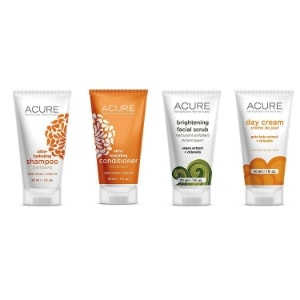 The set is perfect for travel since it includes 1 oz of each item. All products are vegan, gluten-free, and cruelty-free. Also, they are free of paraben, silicone, sulfate, and synthetic fragrance.
ACURE seems to really care about their customers: they use natural and organic ingredients as well as pure essential oils to deliver cutting-edge formulas for your beauty and confidence.

---
PROS:
four products for your hair and skin;
shampoo and conditioner contain argan extract and oil;
free of sulfate, silicone, paraben;
not tested on animals;
affordable.
---
Travelling Hair Straighteners for Polished Styles
These compact and lightweight best travel flat irons will help you to create this bone straight look even when you're far from home.
5. BaBylissPRO Nano Titanium Mini Straightening Iron – Best Travel Size Hair Straightener
This flat iron features 1-inch titanium-ceramic plates that let you easily get to the roots, as well as work to the hair, ends for smooth straightening. The tool works better for short or medium-length hair, and straightening long tresses with it will take much more time.
It gets hot pretty fast and can reach the temperature up to 430°F. Keep in mind that this flat iron gets rather hot, including the handle, so it may get uncomfortable to hold. Using a protective glove would be a great solution.
On the bright side, this travel hair straightener features dual voltage for worldwide usage, not to mention that it's compact and lightweight. If you need a straightener for traveling purposes, this BaByliss travel hair straightener is totally worth it.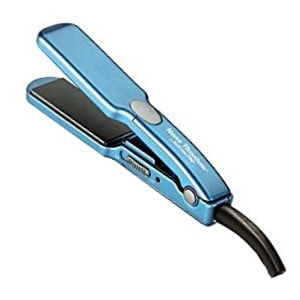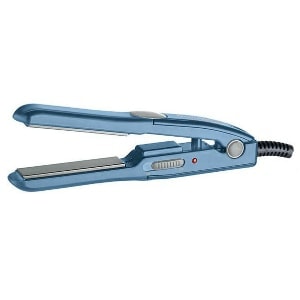 ---
PROS:
titanium-ceramic plates;
great for short and medium-length hair;
fast heat-up;
dual voltage travel hair straightener;
very compact and lightweight.
CONS:
handle gets pretty hot, so you may need a protective glove.
---
6. Cordless Hair Straightener in Travel Size: Conair MiniPRO Ceramic Flat Iron
How do you feel about taking a cordless straightening iron on vacation? This Conair travel mini hair straightener is powered by a replaceable butane cartridge, and there are refill cartridges available.
Just make sure to pack it properly, so that you won't have any troubles at the airport. Obviously, there are some safety issues, so be especially careful with this tool and follow the directions.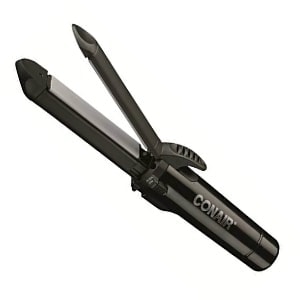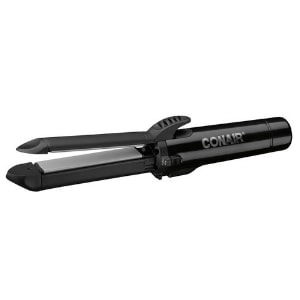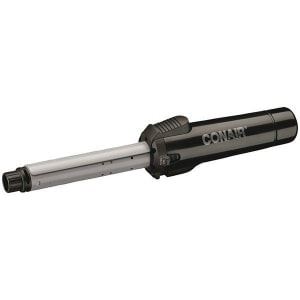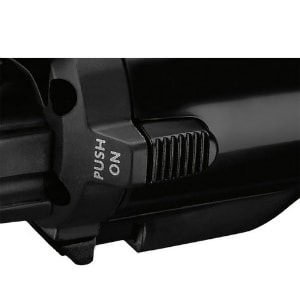 The flat iron features 3/4-inch plates that are too small to straighten all your hair quickly. On the other hand, it's great for touch-ups. The ceramic technology helps to reduce static and protect hair from heat damage.
This Conair travel size hair straightener heats up to 419°F, but some people complain that the heat level is not enough to straighten hair properly. All in all, it's not a flat iron you would use every day, but it's one of the best travel size hair straighteners.

---
PROS:
cordless travel hair straightener powered by a replaceable butane cartridge;
compact and lightweight;
heats up in about 2 minutes;
ceramic technology;
reasonably priced.
CONS:
safety issues;
doesn't get very hot;
too small plates.
---
Easy to Use and Store: Travel Size Hair Brushes
Whether you need travel round brush to complement a blow dryer or just a teeny-tiny pop-up brush to fit into your purse – check out these products.
7. Osensia Round Brush for Blow Drying

Use this extra-small round hairbrush to create curls, waves, and extra volume. It features a hollow, multi-hole 1-inch barrel (about 1.5-inches with the bristles) that lets the airflow through it which results in faster drying and cooling time.


The anti-static and antibacterial nylon bristles are infused with ionic minerals for extra shine, and they also withstand high heat (up to 428°F). They massage your scalp and prevent hair breakage. The ergonomic, anti-slip handle is rather comfortable to hold.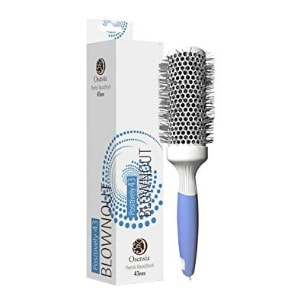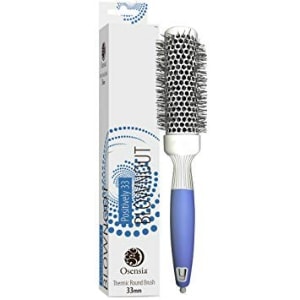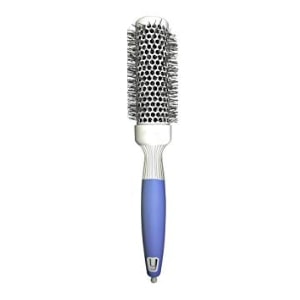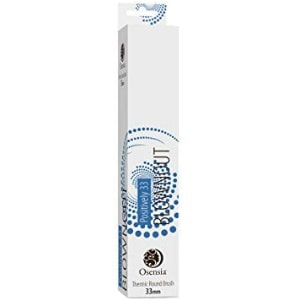 This travel hairbrush is recommended for short to medium hair which is normal or thick. There are no seams for your hair to get caught in. The brush heats up as you blow-dry, so you don't have to use a curling iron to smooth or flip your hair.

---
PROS:
small travel hairbrush with 1-inch barrel;
anti-static bristles infused with ionic minerals;
can withstand the heat level up to 428°F;
anti-slip handle;
affordable.
CONS:
the bristles may hurt your scalp;
poor quality.
---
8. LOUISE MAELYS Mini Pocket Hair Comb with Mirror
Neat and simple pop-up hairbrush for using on vacation, on the go, and at work. It's so compact that it fits well in a pocket, a purse, or a clutch bag.
The diameter is about 3 inches, and the depth is only 1 inch. It comes in four different colors so you can choose the one you like the most. The brush seems to be made with plastic, and the plastic joint looks sturdy.
The bristles feel comfortable on your hair, massaging your scalp a bit. With time, some of the prongs get loose and look like they're going to push out of their position.
You can try and put them back in place, but this may become an issue one day. Then again, it's a common issue for many pop-up brushes.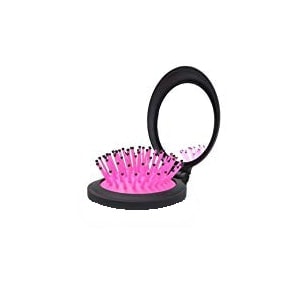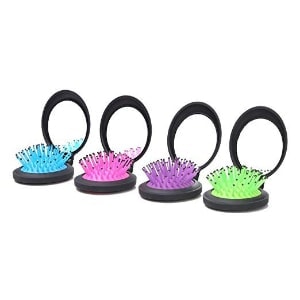 ---
PROS:
folding travel hairbrush with a mirror;
compact and convenient design;
very slim;
affordable.
CONS:
some bristles are likely to fall out eventually.
---
9. Tangle Teezer The Original Detangling Hair Brush in Colorful Design
As the name suggests, this brush is meant to free your hair of tangles and knots. You can use it on both wet and dry hair, combing through tangles right after the shower or later. The long teeth aim at detangling while short ones are designed for smoothing the hair cuticle.
According to the advertisement, the brush should reduce breakage and add extra shine to your tresses, and it seems to do the trick. The brush works like a charm even on thick and kinky African-American hair. Finally, it fits nicely in your palm and features a creative, colorful design. Undoubtedly, this is one of the best travel hairbrushes.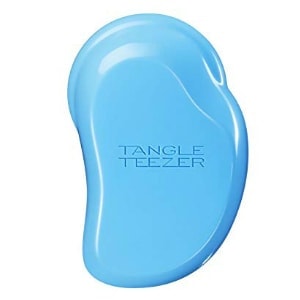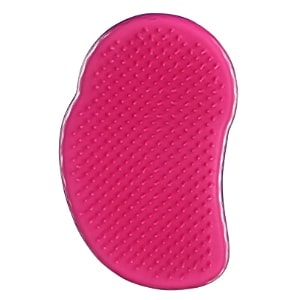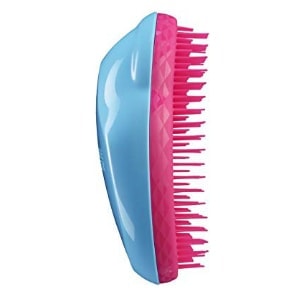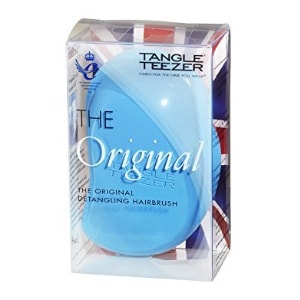 ---
PROS:
you can use it to detangle both wet and dry hair;
two-tiered system detangles and smoothes hair all at once;
ergonomic palm-shaped design;
designed to reduce breakage and damage;
different colors available.
CONS:
prickly teeth feel harsh on your scalp, so avoid brushing it with this brush;
in rare cases, may cause breakage and tangle hair.
---
Travel Hair Dryers: Convenient Design and Lightweightness
If we're talking electrical styling tools for traveling, make sure that they have a dual-voltage feature. And keep in mind that you will probably need an adapter for your blow dryer to fit into a socket. Compact and lightweight design is another feature to look for.
10. T3 Featherweight Compact Folding Hair Dryer
To be honest, this travel hair dryer will cost you a fortune. And the benefits are disputable. On the one hand, this mini travel hair dryer features a compact design with a full-sized folding handle for easy storage. On the other hand, the airflow doesn't get as hot as the full-sized dryers.
However, this can be seen as an advantage since less heat causes less damage to hair. As many other blow dryers, this T3 travel hair dryer has two heat/speed settings and a cool shot button to finish your look.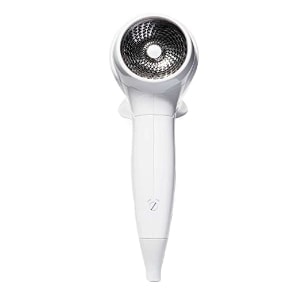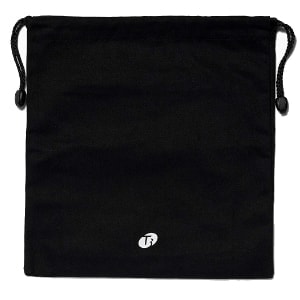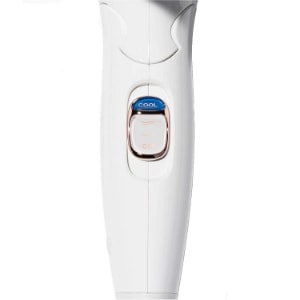 The T3 SoftAir technology is meant for fast drying, giving you smooth and frizz-free locks. This hair dryer emits ion-enriched air to seal the cuticle, lock in moisture, and enhance the shine.
The tool is compatible with the SoftTouch compact diffuser; however, the diffuser doesn't fit tightly and can come off easily. Plus, hair gets sucked into the filter, even if it's not very close. To me, this is the most frustrating flaw of this travel hairdryer.

---
PROS:
folding handle for easy storage;
two speed/heat settings plus the cool shot feature;
SoftAir technology helps to smooth your hair, eliminate frizz, and add shine;
dual-voltage;
scratch-resistance surface.
CONS:
overpriced;
hair gets sucked into the filter.
---
11. Best Travel Hair Dryer – BaByliss PRO Nano Titanium Travel Dryer
Don't let this compact hair dryer fool you – despite the size, it's rather powerful for a travel-sized tool. The tool employs the BaByliss Nano Titanium technology, and it gets very hot.
The last feature is ambivalent since some people like to blow dry their hair with cool air while others prefer hotter settings. There are two speed/heat settings and no cool-shot feature.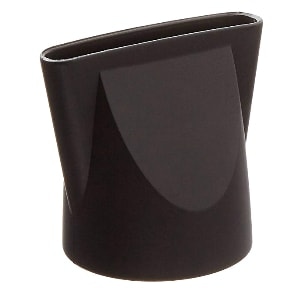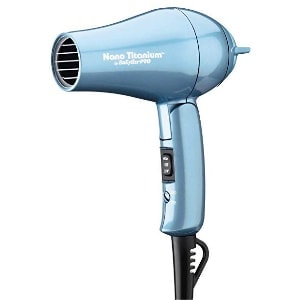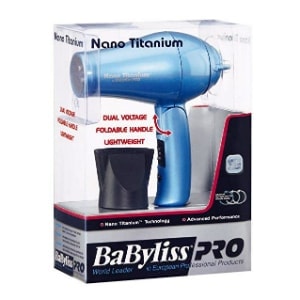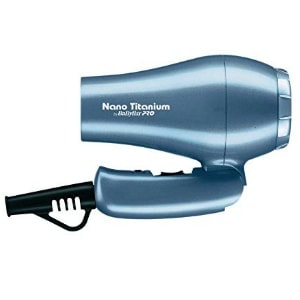 It takes more time to properly dry your hair than regular-sized blow dryers, so I'd recommend this tool for thin to medium locks. For really thick hair, it won't be very quick styling.
On the bright side, this travel hair dryer has a folding handle and a removable rear filter/stand for easy cleaning. Also, it's dual-voltage which makes it an excellent option for traveling. Just don't forget to get an adapter.

---
PROS:
lightweight and compact travel hairdryer;
foldable handle and removable filter;
two heat/speed settings;
dual-voltage;
comes with a concentrator nozzle.
CONS:
pulls in hair, so be careful when styling.
---
12. Powerful Travel Hair Dryer – Andis Fold-N-Go Ionic Blowdryer
One more travel hair dryer that gets the job done. Featuring ceramic and tourmaline ionic technologies, it's meant to leave you with smooth, silky, and shiny tresses.
There are three heat/airspeed settings, plus a cool shot button for locking in your style. Not only does this tool has a foldable handle, but also the cord is retractable which is super convenient.
However, it doesn't always fully retract, but I guess it's a minor flaw. This hair dryer isn't very compact and lightweight, especially compared to regular-sized hair dryers. And it's not dual-voltage, so it may be useless abroad. On the bright side, it's quite powerful (1875W) and comes with a concentrator nozzle.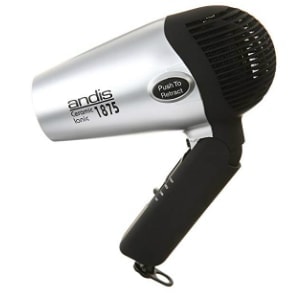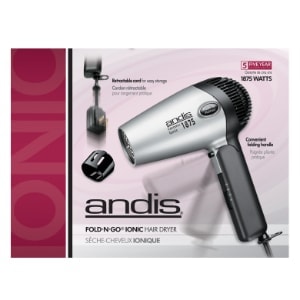 ---
PROS:
ceramic and tourmaline ionic technology;
three heat/speed settings;
cool-shot button;
folding handle and retractable cord;
reasonably priced.
CONS:
the cord doesn't always fully retract;
not so compact and lightweight.
---
Travel Size Hair Products – Great Help on Holidays or Business Trips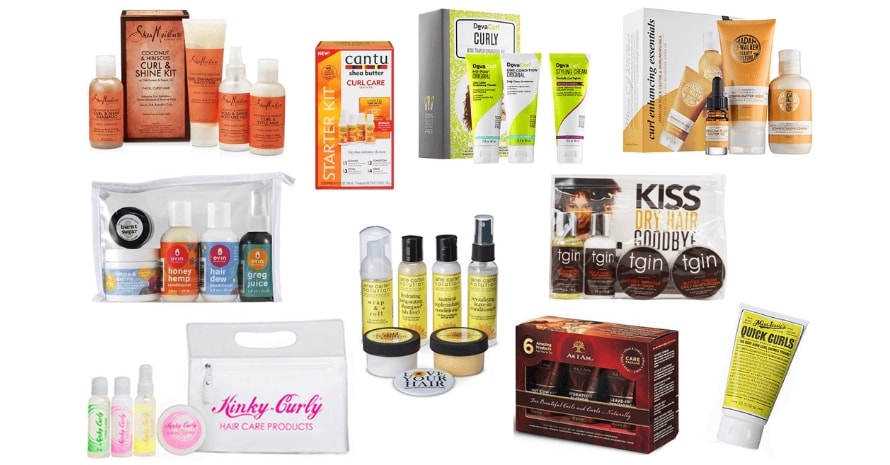 So, now you have some options to choose from, right? Explore a huge variety of travel size hair care products bearing in mind the key factors: the size, the ingredients, and the results they promise. If you like some particular brand, look for the travel size version of your favorite products. You never know what else they can come up with 🙂
Travel-size shampoos and conditioners, cordless flat irons, and hair dryers with a folding handle save lots of space in your suitcase when letting you maintain your hair care routine. When choosing electrical styling tools, check out whether they feature dual voltage. As for other features, it's pretty much up to you. The price range varies significantly, and different products have their advantages and disadvantages.
Ladies, what travel size straightener do you like the most? What is the best travel hair dryer for you? Do these compact products really help you to save space in a suitcase?
Feel free to leave your comments and questions below!
Last update on 2022-12-11 / Affiliate links / Images from Amazon Product Advertising API