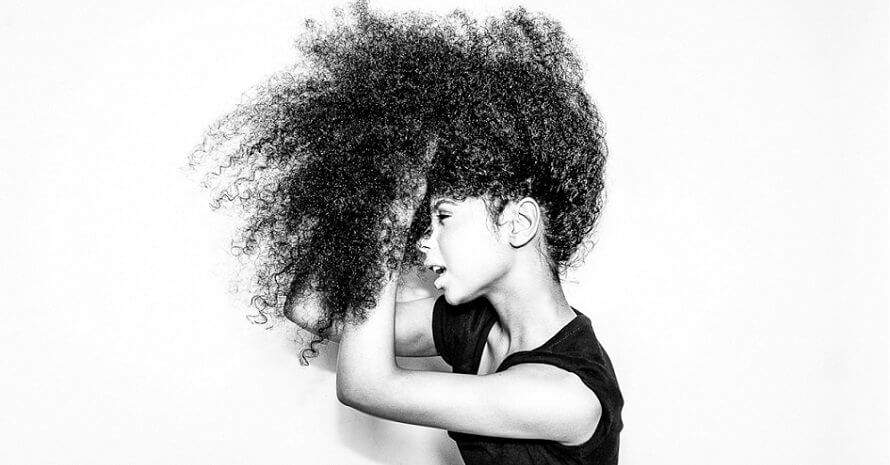 Girls with straight locks often dream about curls. And as for women with curls, they would be happy to make their big, thick hair look straight, smooth and shiny. But this is a real problem for those who have afro-textured hair.
Pros
Smoothens your tresses like a pro
Allows you to style the hard-to-reach strands
Versatile — can be utilized for both personal and professional use
Top Pick
Pros
Smoothens your tresses like a pro
Runner Up
Pros
Allows you to style the hard-to-reach strands
Budget Option
Pros
Versatile — can be utilized for both personal and professional use
These tight curls are very difficult to tame. And if you want to straighten African American hair, you may face some daunting challenges while trying to choose a straightening brush for black hair that will make your dreams come true.
Best Straightening Brushes for African American Hair
If you aim to make your locks look perfectly sleek and straight, you will have to use the hottest temperature of the device you purchase. Therefore, be sure to use a straightening brush with superior protection properties. And do not forget about hair care products! Here are the best picks for you!
1. ghd Glide Hot Brush – Professional Straightening Brush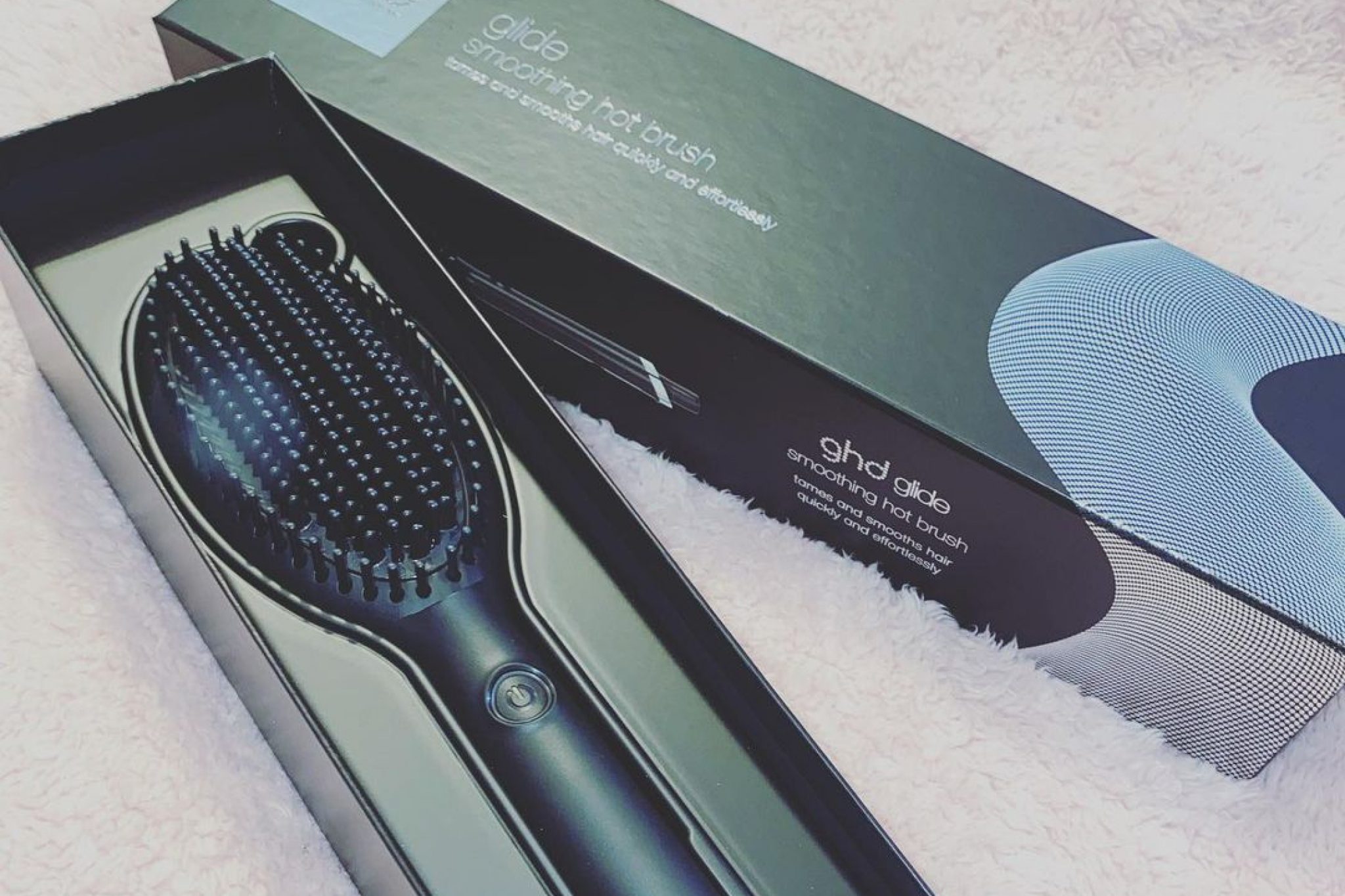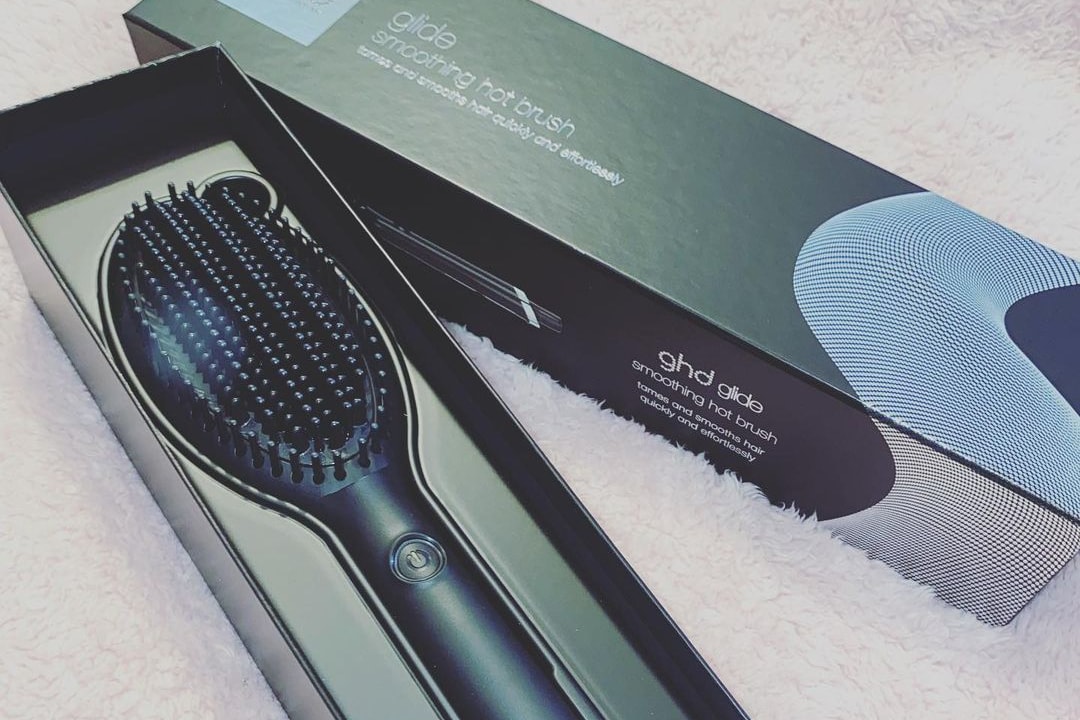 Equipped with top-notch ceramic teeth that heat up to 365ºF, this brush tames frizz in a less damaging way as you effortlessly glide it through your tresses. Women love it because of its ability to seamlessly straighten hair with just one stroke.
Furthermore, ghd Glide comes with an anti-static ionizer that emits negative ions, which excel in giving your tresses that perfect sleek and shiny finish.
On an additional plus side, this straightening tool works on all types of tresses. If you have coarse, thick, frizz-prone hair, just remember to straighten it with ghd Glide in smaller sections for maximum effect.
Overall, the brush might become your new secret weapon for the days when you need to refresh your day-old blow dry. If you're a busy woman who wants to look effortlessly fabulous in the morning, ghd Glide might be your best bet.
No doubt, this hot brush is not the cheapest on the scene. But the way this baby works definitely lives up to the hype and makes it a great value.
PROS:
smoothens your tresses like a pro;
heats up really fast and is a breeze to use;
feels a lot healthier on your hair than a flat iron;
gives you that salon straightening finish;
retains the volume and makes your hair soft, silky, and gorgeous.
CONS:
it won't replace your normal straightener, but that's just natural;
a bit on the expensive side, but 100% worth it.
2. Moroccanoil Smooth Style Brush – A Runner Up
You can get healthy-looking hair in a few minutes with the Moroccanoil device. It combines the benefits of the flat iron and gentle usage of a paddle brush. Thanks to the ceramic cool tip, the tool minimizes thermal exposure.
Also, this brush solves the problem of the hard-to-reach strands – it has beveled edges that allow you to make smooth movements. The ionic technology reduces the static perfectly.
Moroccanoil brush has a convenient 9-foot swivel cord. It protects your fingers and hands from the heat. By the way, you can select the desired temperature from a range up to 430°F. The brush has an auto heat recovery to keep a stable temperature all the time.
You may use the tool after only 60 seconds of heating. And the brush will shut off after an hour of non-usage, so you don't need to worry about keeping it turning off in mind.
This item is ideal for traveling. It has a worldwide voltage – you only need an adapter, and you can use it wherever you like. Besides, the kit includes a heat-resistant pouch.
PROS:
has a well-built design that reduces thermal exposure;
allows you to style the hard-to-reach strands;
you may choose the desired temperature.
CONS:
works with smaller strands.
3. Tymo Hair Straightener Brush – Great Alternative for the Money
This straightening model is an improved ionic brush that works perfectly for any hair type. With sixteen levels of heat, you can achieve frizz-free, glossy, silky hair. Also, it has an exclusive air sandwich design style on its bristles.
So, your hairstyle will not only last longer, but you will also maintain healthy hair. It has purple bristles that offer flexible heat for fixing your hair without too much damage and heat.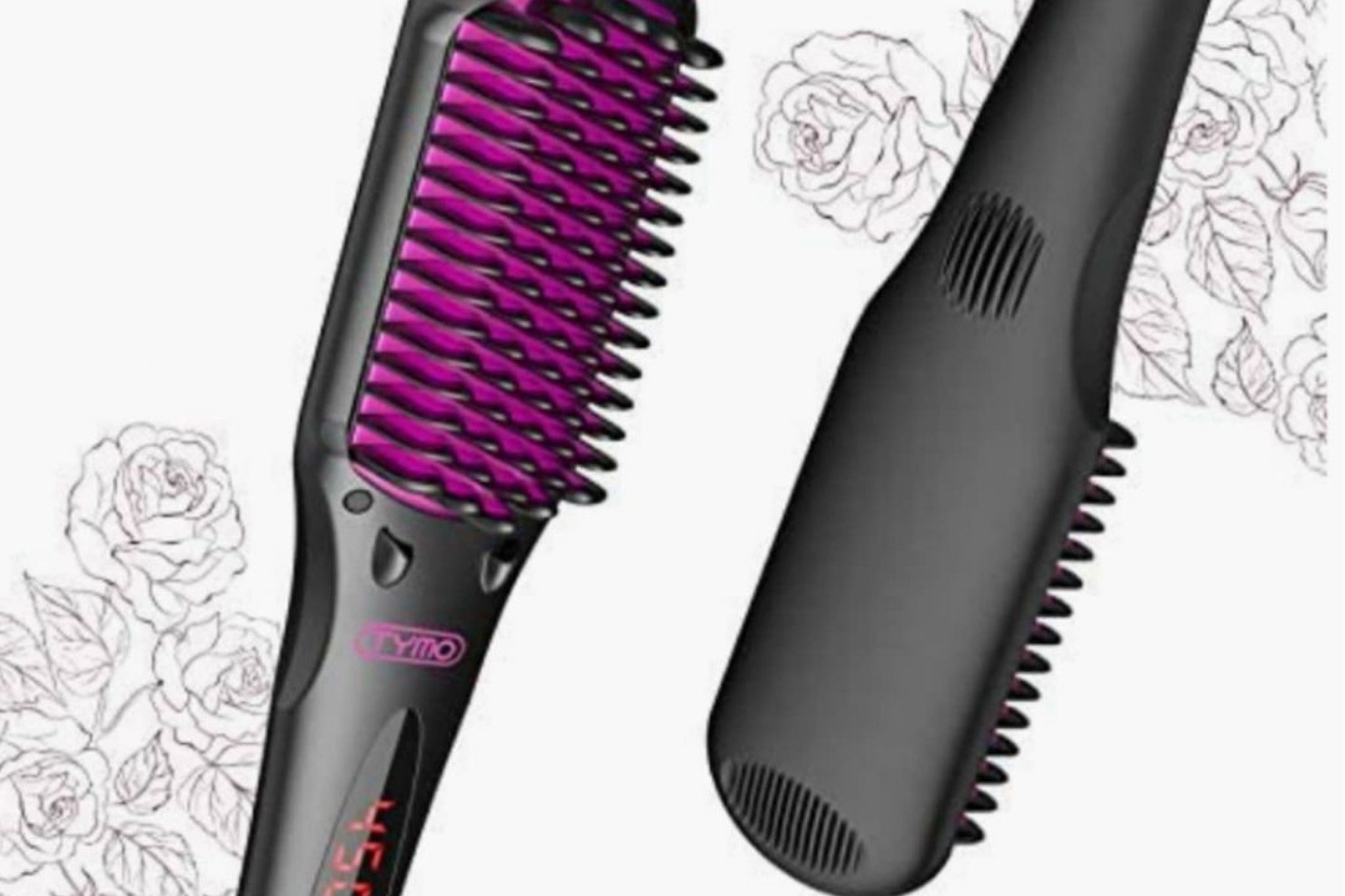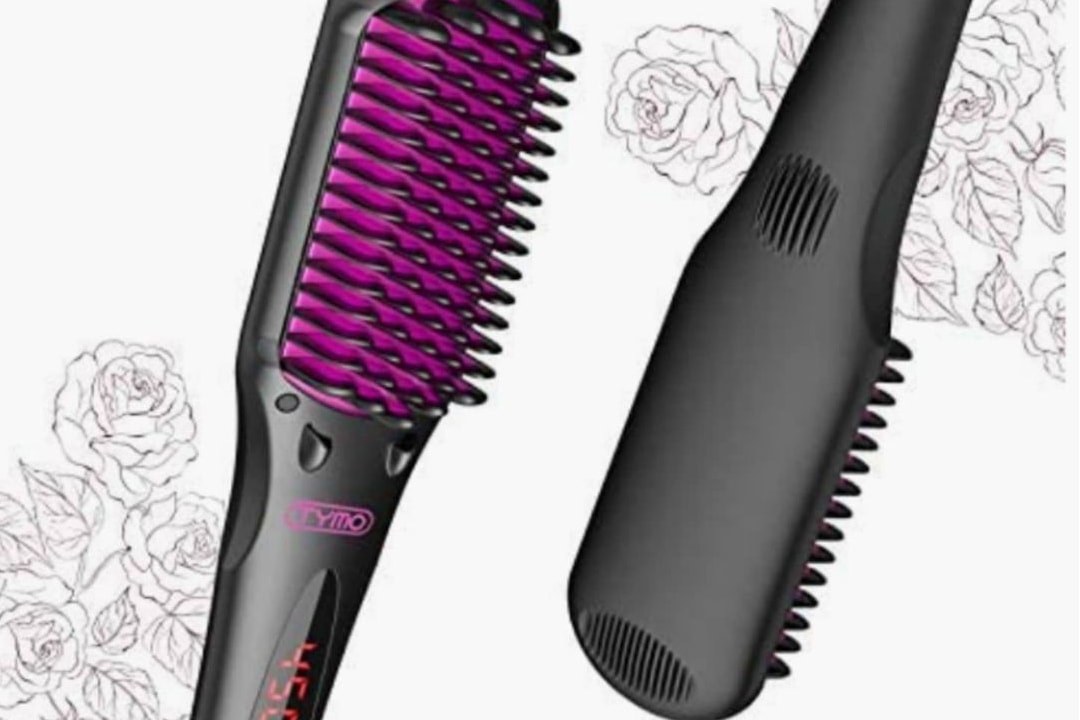 Additionally, the brush has black teeth that were created for preventing your scalp from scalding as well as cooling down your hair. They help ensure great styling that will last. Expect to rejuvenate your glossy hair with this unit, which also comes with an ionic generator that will repair your dry, ruined split ends.
The comb has also been designed with a broader space that greatly reduces hair destruction and breakage by lowering the excess agitation to the hair. You no longer have to stress over a flat burnt appearance or a dull-looking style.
Do you find yourself spending so much time uncurling your hair? Well, say bye to that too! With this item, expect to save more time since it has a thirty seconds speedier metallic ceramic heating. It is effective in providing rapid and uniform heat, distributed across your hair, turning wavy hair straight in no time.
Besides, there's no need to keep resetting the heat to the initial setting. The brush comes with a unique memory mode, remembering your prior heat settings, so it's a time-saver. That's why it is the ideal comb for a busy morning when you are in a hurry.
With 16 heat modes ranging between 170℉-450℉, this item has a number of uses and is suitable for any kind of hair. So, you can easily find the ideal setting to fix your hair with this professional model.
It can be a good option for adults and kids and can be used at a salon, while traveling, or at home since it comes with international voltage. It means you can bring it to any country within a voltage range of 100-240V.
Finally, this model is secure to use since it won't hurt or shock you. Uncurl your hair from whatever angle, since this brush comes with a synthetic frame that isn't susceptible to fire or heat. Besides, another safety measure is that the device will instantly go off if not utilized for an hour. So, it won't cause any damage to your house even if you leave it on.
PROS:
works on any hair;
versatile- can be utilized for both personal and professional use;
simple to use;
does not burn scalp;
shuts itself off;
gets hot and uncurls hair fast.
CONS:
it shouldn't be used on wet hair.
4. Rifny Hair Straightening Comb
This straightener is a great tool that only takes half a minute to reach a temperature of 350℉. The comb's teeth are 3.5 inches long, letting you rapidly fix your desired hairstyle. So, you will need only a few minutes to achieve healthy glossy hair, and maintain a beautiful hairstyle for a whole day.
This S10 straightening unit makes use of ceramic tech that will protect your scalp from getting scalded. It has also been created with a sensor for balancing heat, allowing it to uniformly generate and adjust the heat.
Also, the brush is safe to use and cannot clip your mane and hurt you while hot. With most iron straighteners, it is easy to burn your skin. However, this item has a U-grooved anti-burning body on two sides, as well as a safe gap of 0.2 inches away from the hot ceramic chip, protecting you from all points.
It is made of nylon that is retardant to heat and flames. You can be sure that your brush will not burn, melt, or generate a toxic smell while using it at the maximum heat for a long time.
There are three heating settings of 350℉, 390℉, and 450℉. So, there is a heat control to handle any hair type. That's why this model can be a good option to achieve a naturally smooth and straight look.
Finally, the brush is travel-friendly. Due to its simple design and a 360° cable, you can style your mane at home without getting tired. You can carry this unit anywhere since it meets the global average 110-240V. However, you'll need to take a plug with you. Also, it is a safe option that will instantly shut itself off after 60 minutes of not being used.
PROS:
heats up fast;
comes with several settings for any hair type;
travel-friendly;
safe to use.
CONS:
isn't as effective on long hair.
5. Glamfields Electrical Hair Brush
This ionic unit is an upgrade that will not only get hot fast but can also uncurl your hair quickly and save you time. It makes use of metallic-ceramic tech that enhances the whole experience. The brush is also wide and has a dense comb, considerably reducing the time used for fixing your hair.
This item generates abundant negative ions that help in getting rid of knots, frizz, and badly split ends. You can benefit from using this item because it will massage your scalp, stimulating the follicles with its soft bristles. So, you'll achieve a simple-to-manage, glossy, and beautiful mane.
The product comes with an auto heat lock as well as an auto powering off feature for high efficiency and security all through. Being able to lock the heat ensures that there isn't a sudden rise in heat, harming the hair. Also, it will instantly shut itself off after half an hour of no use, preventing wastage. It also ensures safety and gives the device a longer life. Besides, you'll get an extra heat-retardant glove, preventing any burns.
It is also simple to use and clean. However, you shouldn't try to clean it with water. You should only apply alcohol on the cleaning brush this unit comes with. Also, always make sure to leave the item out in the open for a while after using it because it generates residual heat. The package comes with a cloth bag, a brush, another one for cleaning, and an instruction manual.
PROS:
simple to use;
straightforward to clean;
heats fast;
anti-scalding;
instant shut-off;
auto heat lock.
6. MiroPure African American Hair Straightening Brush
You can choose the MiroRuro straightening brush for black hair in two different colors – golden pink or matte black. The brush looks sleek, modern and attractive. Since it has 16 temperature levels, it is suitable for all hair types. The straightener heats up quickly and distributes the warmth evenly thanks to its ceramic heating element. Its rectangular head and dense crescent-shaped bristles make it easier to reach the roots of the hair. The brush has a temperature lock function, and it can be shut off automatically.
This brush is the fastest straightening styler you can get. It'll take only 30 seconds for it to heat up and about five minutes to work all of your shoulder-length hair. And it takes less than ten minutes for styling longer and thicker hair. It's also one of a few brushes with exclusive anti-static technology that won't let your hair frizz even in a dry climate. I always recommend this brush to my African American friends who want their hair to have a smooth and lustrous look without putting much effort into styling it.
Its main characteristics are:
a built-in ionizer
6 feet swivel cord
LED screen
3 control buttons
dual-voltage
16 settings (from 150°C/302°F to 230°C/446°F)
a ceramic heater
a storage case and a heat-resistant glove are included
heating up time from 30 to 60 seconds
exclusive anti-static technology
amazing level of heat protection
temperature lock and auto shut-off
adjustable heat level
suits all hair types.
Don't be scared by the power of MiroPure brush! This device has an exclusive double ionic technology to seal your hair cuticles and prevent it from losing moisture and burning. While its bristles work for untangling the thickest locks, they also provide massaging effect for your scalp to activate growth in hair follicles.
7. Belifu's Ionic Hair Straightener Brush
This model from Belifu makes use of ion and ceramic tech to achieve smooth, lustrous, and healthy hair. This device will also make your hair healthy from the root to the tip and decrease damage and frizz. Besides, you will get an additional mat pouch to store your device safely. So, there's no need to wait for it to cool down.
The mat will prevent fragile surfaces from getting damaged by any hot hair tool. This double voltage model comes with an exclusive wave texture construction that keeps it from sliding as it grips on the brush's surface.
Besides, it is perfect for traveling since you can safely use the pouch to wrap around all your styling equipment. The brush can heat within half a minute, is anti-scalding, and will instantly shut off if not used. You won't burn yourself while fixing your hair since the item has some form of barricade between the heat origin and the bristle's tip. It acts as a boundary between the heat and your very sensitive scalp.
The brush is safe, and it will instantly go off after half an hour if not in use. This way, it can prevent excess heating or damage and save energy as well. Also, it is simple to use because it comes with a 360° cable, letting you rotate this model at several angles and allowing you to get to the roots easily. So, you only need to swipe your brush a couple of times to get sleeker and glossy hair.
The comb can work on all hair textures, lengths, and strengths since it comes with several temp controls. Settings are ranging from 300°F-450°F. That's why this unit can work as a traditional iron, blow dryer, and round brush all at once.
There is a gap cleaner piece in the package, so you can use it to clean the device since it will eventually collect oil, dirt, and loose hair. It also comes with a heat retardant glove, which will prevent you from getting burns.
PROS:
safe to use
straightforward to use
simple to clean and maintain
travel-friendly.
CONS:
may not work effectively for long wavy hair.
8. InStyler Ceramic Hair Brush
This straightening unit will help you achieve straight, glossy, and frizz-free hair two times faster than you would need a traditional iron. It has ionic bristles supported by hot ceramic plates. They will split and uncurl your hair while gliding down your mane.
Powerful instant heat is spread uniformly across the device's surface. That way, you get super straight and glossy hair. The brush is a good option for professionals because it uses ceramic tech, ensuring that you get superior results by passing it fewer times while fixing your hair fast. It will work on any hair texture or type since it comes with seven distinct temperature controls.
Unlike a traditional iron, the item will not flatten or crease your hair while styling. The brush is sturdy and gets hot instantly within half a minute. It uniformly spreads the heat across the entire device's surface, delivering lustrous and incredible-looking hair.
This brush also features automated heat control and ionic bristles. They allow you to begin from the root while preventing the heated surface from actually scalding your scalp. It is also simple to use. Just make passes through your hair while brushing away frizz to achieve a lustrous and smooth look.
PROS:
heats up fast
ideal for professional use
will work on several hair types as it comes with various settings
automated temperature control.
9. Kingdomcares Ionic Professional Straightener
This ionic unit will not only save you time but also money. It will uncurl your hair in a short time, providing a professional result, so you don't need to go to the salon now and then. Just get this straightener for a morning quick fix. It takes less than a minute to get heated to 365℉ since it makes use of ceramic heating technology and straightens with 110V.
The item is manufactured from anti-scald materials and makes use of technology that assures your safety. The surface of the brush will maintain constant heat to prevent you from scalding your skin. This powerful unit comes with ceramic tech that will uncurl your hair in big portions at once, making it frizz-free, lustrous, and smooth. It is straightforward to operate, with only one button to access all features.
It will heat effectively and evenly, producing a professional look quickly. You can utilize it at home or take it on a trip. It comes with a display that lets you check and adjust temperatures as you wish, as well as a rotating cable, allowing you to hold this unit at whatever angle. So, you can get the best look while not getting extremely tired.
PROS:
time-saving
straightforward to use
heats fast
several safety features
travel-friendly.
CONS:
may be less effective for thick hair.
10. Abox Electric Ionic Straightening Comb
This ceramic hair brush gets hot within half a minute and will let you achieve greatly smooth hair in only five minutes. So, with this model, you will hasten your preparation time. It has 60 pieces of bristles, ensuring that every strand gets wholly caught in between the gaps to become straightened.
It also has an inbuilt ion generator that generates abundant -ve ions to lower frizz and enhance gloss of your black hair, giving it a shiny look.
Its broad temperature range is from 320°F-450°F, meaning it can suit every kind of hair. This simple-to-use model is straightforward to power on or alter the heat to your preferred setting. Just check the LED display indicating the degree level and set your preferred heat; this way you won't ruin your hair.
It also has an auto locks heat tech maintaining the temperature level. Your hair won't overheat or get damaged, and it will no longer have a flat burnt appearance since the ions incorporate gloss to it, enabling the unit to pull effortlessly through the hair, preventing breakage or pulling out.
This unit won't cause any scalding because its external circle has rubberized bristle tips, and bristles are manufactured from plastic, protecting your scalp from any burns. Besides, it will shut itself off instantly if not used for half an hour.
The bristles will easily access your roots because of the device's shape, and the bristle's ends will massage your scalp, stimulating the follicles. Besides, this is a simple-to-carry-and-use unit since it has a double voltage of 100 to 240V, a round swivel cable, and can be easily stored in its storage case. So, it is perfect for traveling.
PROS:
heats up instantly
works on any hair
safe for usage
ideal for traveling.
CONS:
takes much longer to dry wet hair.
11. Etereauty Ionic Hair Straightening Brush
This item features ceramic tech that allows it to get hot within half a minute and straighten your hair rapidly, making it suitable for quick mornings. Also, you can expect to get healthy, lustrous hair with this device's anion generator tech because it seals the cuticles and locks in moisture. In this way, it reduces knots, frizz as well as damaged ends. Besides, this device will massage your scalp, stimulating your follicles for healthier hair.
The best thing is that this model will work for any hair texture, length, etc. There are 15 different heat settings to choose from. So, you can alter the heat from 170℉-450℉ to your desired setting. Whatever your hair type, the brush will work perfectly.
There are several safety features, including non-scalding, as well as auto shut-off. This comb will instantly go off if you don't use it for an hour. Besides, the tips have been insulated to prevent any scalds to your skin or scalp. It is equipped with a swivel power rod that you can simply rotate while styling your hair and easily access every part of your hair.
So, you can use the item with one arm without applying excessive pressure to your wrist. Finally, this brush is light and carriable, so you can take it while on a trip to any place to achieve a great look in a couple of minutes.
PROS:
heats up fast;
simple to travel with;
instantly shuts off;
non-scalding;
works for any hair.
CONS:
has no negative ion generator.
Review of Other Straightening Brushes
Head Kandy Straightening Brush
Head Kandy straightening brush is a number one smoothing and detangling solution for many stylists who work with African American hair. It uses tourmaline technology to make your hair look sleek and silky while protecting it from overdrying. This device is a bit pricey, but you forget how much money you've spent on it when your hair shines like after the expensive salon treatment. It can be used on hair of all types and textures leaving it straight or naturally wavy.
Its main advantages are:
tourmaline ceramic heating surface
three temperature levels for different hair types
unique Afrotexture mode with up to 450°F heating
special detangling technology
heating up takes only 60 seconds
long swivel cord for convenient use
comes in diverse colors
anti-scald technology keeps you from burning your scalp.
The best way of using Head Kandy is on dry and previously brushed hair. You can also add some straightening products to make your styling last longer. Head Kandy released their own product, Third Wheel Heat Protectant Spray, to work exclusively with this brush. There's an expanded Head Kandy review if you still have doubts on whether to buy it or not.
MILUSH 3D Ionic Brush
A perfect brush for someone who prefers high quality for a modest price. It won't do wonders to your hair, but it does an excellent job in eliminating frizzes and making your chevelure generally straighter. The surface of MILUSH brush is made of ceramics while its 3D contact area makes sure the heat damage to your hair is minimal. I'd recommend this brush for ladies with African American hair who want to create light beach waves instead of making their locks look unnaturally straight.
Among its advantages are:
the whole heating up process takes less than one minute
lightweight and perfect for travelers
one year warranty from MILUSH company
moderate price
it takes you less than 10 minutes to brush all your locks
unique 3D surface for maximum hair and scalp protection
neat and charming design.
Compared to other brushes, MILUSH is fast at styling and very lightweight to hold. It doesn't require a lot of time to make a decent wavy hairstyle for a party, and you won't need any additional devices. My special tip for styling black thick hair with this brush: divide your previously dried hair into sections and stretch each lock you brush with your hand.
Revlon One-Step Dryer And Styler
Revlon One-Step is a truly powerful tool that can make thick black hair visibly straighter without harming it. There's 1100 Watt of power to straighten your hair with as little effort as possible. You can use it on wet hair to quicken the drying process, or you can take hair straightening to a whole new level of detangling the tiniest of curls and coils.
Let's take a closer look at its characteristics:
flexible bristles for maximum untangling
high, low and cool modes for different hair types and ways of styling
convenient mode switcher
two-in-one device lets you dry and style your hair simultaneously
long and tangle-free swivel cord
special ionic technology for protecting your hair while styling it
large paddle designed for fast styling
weights very little for your maximum comfort.
Although a cutting edge ionic technology is used in this brush, I'd advise you to apply some argan oil on your hair ends to protect them from overdrying and occasional burns, especially if you have thick and coily African American hair that requires high mode styling. With this tool, you can prepare your hair for the flat iron straightening session, or, if you divide your hair locks into smaller parts, use it as a straightener on its own.
FemJolie Straightening Brush for Black Hair
The FemJolie hair straightening brush will straighten and detangle your hair, as well as massage your scalp. It also releases negative ions which have a beneficial effect on different types of hair: they promote the efficient distribution of moisture in the hair shaft, protect your locks from overdrying and neutralize the positively charged ions that cause static electricity. The brush is available in three colors: black, white and red.
Its main advantages are:
ceramic heating surface
the highest temperature is 450°F (230°C)
dual-voltage
features automatic shut-off
it is not expensive
suitable for all hair types
compact and lightweight
it has a 6 feet long rotating cord and a hanging hook
anti-scald design.
The new technology of the brush will remove static electricity and provide an anti-frizz hairstyle. The tool heats up quickly (it takes less than 3 minutes). It shuts off automatically. It possesses an LCD, which is easy to read and adjust and looks quite modern and stylish. Its body and bristles are made of biodegradable plastic.
Magictec Brush for Black Hair
First of all, the Magictec brush straightener can be considered as the best straightening brush for black hair. It looks stylish thanks to the elegant combination of white and gold. The tool heats up to its maximum temperature within no more than 2-3 minutes and shuts off after 60 minutes of non-use.
Unlike most heated hair brushes, this brush has only one button. You have to hold your thumb on this button for about a few seconds to turn the device on or off. And press this golden power button faster to choose the appropriate settings. The brush has a built-in ionizer, which means that it will eliminate frizz and promote healthy hair.
Main characteristics:
lightweight
an LED display
it generates negative ions
unfortunately, it is not dual-voltage (you will need an adapter)
a ceramic heating element
adjustable temperature (330-430°F)
scald protection.
Gisala Straightening Brush for Black Hair
If you look at Gisala brush, you`ll see that it is different from most brushes for black hair. Thanks to its original anti-scald design, it will straighten your hair from the very roots. The bristles of this matte black straightener are crescent-shaped. It heats up to the highest temperature in less than a minute. And a built-in ionic generator will keep your locks healthy and shiny. It shuts off after 30 minutes of non-use.
Properties:
a ceramic plate
it weighs only 380 g
generates negative ions
dual-voltage
it has a rotating cord
features  5 temperature settings (300-450°F)
2 gloves for more safety and hair clips are included in the kit.
BearMoo Straightening Brush For Black Natural Hair
The BearMoo brush is all black, which looks stylish. The head of the brush is rectangular and has rounded edges. The straightener is rather small, lightweight, and compact. It reaches the highest heating temperature in 30 seconds. Unfortunately, the brush has no hanging hook, but we think that`s not a problem. After all, it has 7 adjustable temperature modes. The soft crescent-shaped bristles will gently brush your hair without pulling it out.
The last two brushes are similar to  Head Kandy 2.0. So you can choose any of them (read Headkandy straightening brush review)
Its main advantages are:
double anion spray
a rotating cord
an easy to read LED screen
the brush is dual-voltage
its temperature ranges from 290°F to 450°F
a ceramic heater
a storage case is included.
The Bottom Line
As you can see, these 9 straightening brushes are hot enough to straighten even the thickest and curliest locks of African American women. Moreover, they provide the best hair care qualities so as not to damage your hair and make it look healthy.
But if you still think that flat irons fit your hair type best, I recommend starting examining these tools from CHI flat iron reviews.
Feel free to choose any straightener you like and start experimenting!

Last update on 2022-12-11 / Affiliate links / Images from Amazon Product Advertising API