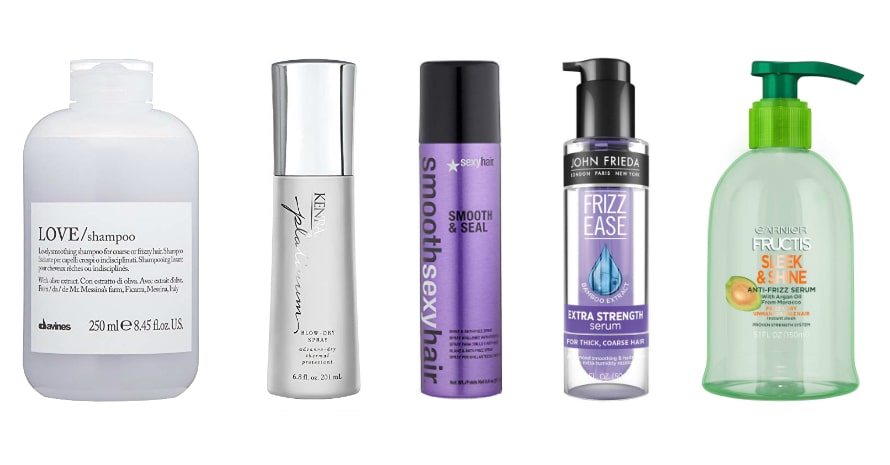 Among all the problems that women face, the issue of dealing with frizzy hair is the most disturbing. It can cause you to lose concentration on a project to the extent that you may feel like losing your mind. Now, imagine having gray hair that then becomes frizzy at the most crucial moment of the day.
People already pay attention to your gray hair because it is different. How much will they notice you, when you have frizzy gray hair? You will make heads to turn in your direction every day if you do not find a solution immediately.
My name is Clarissa, and just like you or someone you know, I have gray hair. I have dealt with the issue of frizz for a long time until I discovered products to help me not lose my mind.
With these items, I can keep my hair smooth and shiny, and it no longer distracts me when I am working on a project. Since I have discovered the secret products, I want to share them with you and others who may be facing the same problem.
These 10 Products Will Perfectly Reduce Frizz in Gray Hair
I will review ten of the best products that I have found, and I am sure that among them, there is one or more that will also work out for you.
1. Kenra Platinum Blow-Dry Spray – Best for Reducing Hair Frizz
Kenra blow-dry spray is very efficient for reducing frizz on gray hair. It is best used before you blow-dry your hair because it helps in protecting it from being damaged by heat. After washing your hair, apply this product when you are ready to dry it. Do not apply it and then go to do other things before drying out your hair because it will not work efficiently.
The spray helps in reducing blow-dry time by almost half. Therefore, if you are used to drying your hair for ten minutes, once you use this spray, it may take only five minutes.
If you used to get late to go to work because it took eons to dry your hair, thanks to this Kenra spray, you would no longer run late for work.
It reduces frizz by resisting humidity. Therefore, with this spray on, your hair will be smooth. It also makes it shiny, hence enabling you to feel confident and look good.
---
---
2. SEXYHAIR Smooth & Seal – Hair Spray to Reduce Frizz
If you think about a product that is beautiful inside and even outside, Sexy Hair Smooth and Seal is the best for you. It is packed in a purple bottle with a black lid that is very beautiful and convenient for sliding into a pouch, handbag or even backpack.
The coconut oil ingredient enables this product to minimize frizzy hair by moisturizing and maintaining it in that condition for the whole day. It also adds shininess to gray hair, hence making you look good and classy. The shine also makes you look confident, focused, and above all, beautiful.
---
---
3. Davines OI Shampoo – Best Shampoo to Reduce Frizz
Davines is for people who have been looking to reduce freeze in curly gray hair. Unlike some of the hair sprays above that are used after rinsing the hair, OI shampoo is used during the washing process. Once you apply and massage the hair gently, you should rinse it and repeat the process until your head is totally clean.
---
---
4. Garnier Fructis Sleek & Shine Anti-Frizz Serum
Fructis Sleek and Shine is a product of Garnier. The company has been in operation since 1904, and with the experience, the firm can blend natural ingredients using unique recipes to produce healthy and long-lasting hair products.
Garnier has used Moroccan argan oil to make Fructis Sleek and Shine. The oil is known for being the best in the market, and it is rich in vitamins that strengthen the hair.
The argan oil helps Fructis in resisting humidity levels of up to 97%. It makes hair smooth and maintains it that way up to three days. Since most people wash their hair between two to three days, then it means this product can last from one wash to the other.
Therefore, you will look good in it twenty-four hours and leave people wondering whether you have a secret of looking sharp every day.
---
---
5. Kusco Murphy Lavender Hair Creme
If you are a big fan of lavender, then you want to hear more about this product. Kusco Murphy, a company that specializes in the production of healthy hair care products, produces it. The organization operates on the philosophy that hair care is about simplicity that involves washing, rinsing, and drying.
The hair crème is suitable for both wet and dry hair, meaning that you may use it any time, unlike other products that need to be used after washing when the hair is wet.
To use it, dry your hair and then apply a sufficient amount of crème that will moisturize your hair. It prevents hair strands from rising in different directions by maintaining the style that you put on.
---
---
6. Dollylocks 8oz Nag Champa Dreadlock Tightening Spray
Dollylocks is a great product that focuses on a special segment of the population that is made up for people with dreadlocks. I love the company that makes this product because it is clear that they care about men and women with frizz dreadlocks.
Since you may also experience frizz even with your dreadlocks on, Dollylocks may help you in dealing with those flyaway hairs. With this spray, you may be able to keep your locks tight and moisturized.
It is like a deep conditioner that nourishes dreadlocks so that they may look healthy and not dry because this would cause itching.
---
---
7. Silicone-Free Styling Cream for All Hair Types
I believe people who make things or give stories from their experiences more than the ones who tell you something they have heard from someone else. Nothing beats experience, and as they say, it is the best teacher.
Silicone-free styling cream is one of those products that you have to believe because it is made out of the experience. The product is manufactured by a company known as 'By the Way,' which was started by a woman who grew gray hair in her early thirties. Using her experience, she developed ingredients that helped to keep the hair together while maintaining its good health and repairing damages.
The cream is rich with vitamin B5 that is good for restoring the health of gray hair. It also contains essential oils that help in keeping hair moist, shiny, and voluminous.
---
---
8. Herstyler Hair Repair Serum – Argan Oil Serum – Great Anti-frizz for Gray Hair
Don't you love products that can be used by anyone? Imagine how much time you would save shopping for different serums for you. Now you can save both time and money by using Herstyler argan oil hair serum.
The serum works instantly by moistening hair and keeping it together. All its ingredients are natural. Hence, they are good for gray hair. These include argan oil and aloe vera, which is efficient at repairing damaged hair.
Whether you have colored your hair or not, Herstyler repair serum will work efficiently as it is friendly to the color. The aloe vera in the serum is also efficient at smoothening hair just as it does to the skin.
It also detangles hair making it easy to comb and blow-dry. It also shortens the time it takes to dry the hair. Hence, it is efficient for working men and women because it saves time for preparing to go to work.
It is not greasy, and to apply it, you need only two to three drops of the liquid. Massage the serum into your hair using your hands so that it can do the job efficiently.

---
---
9. John Frieda Frizz Ease Extra Strength Serum
Do you feel as if your hair is wild and have often contemplated giving up because it is hard to manage? John Frieda, the company that makes this serum must have been thinking about you when making this product.
The product is a six in one because it helps in eliminating frizz, resisting humidity, preventing damage during straightening, hydrating and managing flyaway in hair. Therefore, instead of buying a separate product to carry out different functions, it is more economical and realistic to use this John Frieda serum.
It has bamboo extract, which is a natural anti-oxidant that helps in cleansing toxins from the hair. It also contributes to thickening hair and the ingredients in the serum act as a hair mask to reduce frizz.
It is packed in a bottle that measures 1.3*6.9*2.6 inches with a 0.16 weight making it the lightest serum among those that I have reviewed so far.

---
---
10. Pure Original 100% Pure Fractionated Coconut Oil (4.2/55)
Coconut oil is one of the best products that you can use on your hair because it is an essential oil. This pure original coconut oil is even better because it is purely extracted from natural coconuts with no additives added to it.
It stays in a liquid state, and it is clear. Hence, does not stain clothes and beddings when you go to sleep. To use it, apply sufficient amount on your hair and then deeply massage your scalp to allow the oil to blend into the hair.
The oil can be used for various uses apart from applying on hair. For example, it can be used as a lip balm, shaving cream, and treatment of sunburns.

---
---
Out of Stock Products That Are Efficient for Frizzy Hair
The below product functions as efficiently as the rest. However, it is out of stock, and I believe that it will be back as soon as possible.
Silicone-Free Serum for All Hair Types (4.5/18) – Best Product to Reduce Frizz
The silicone-free serum is a product of a company that makes unique products for all types of hair. It is free of silicone, which is unfavorable for natural hair. Since most products contain this ingredient, this serum is a gem for both men and women who care about the health of their hair.
It contains cocoa butter, which is very efficient in enabling hair to be moist for a long time. The serum is also very light such that you may not notice when you apply it because the weight of your head will not change.
It repairs hair that has been damaged and prevents hair cuticles from being weakened by heat.
By the Way, makes great natural products, and we hope that this serum will be back in stock as soon as possible.

---
---
Also Read: Best Straightening Shampoo
Common Questions You Need to Ask Before Buying These Products
Why is gray hair frizzy?
As one is already aging, the color of the hair turns from black or brown to gray. Genetic and hormonal changes lead to this change in color. This is also responsible for reducing oil in the hair. The loss of natural oil that is usually present in the hair makes it dry out, become prone to breakage, and frizzy.
Is there any difference in frizzy hair treatment in summer and winter?
For most people, there is a difference in how they should treat frizzy hair during winter and summer. When it is winter, the air outside is cool and dry. Your hair can easily dry out during such weather. Therefore, you need to deep condition it, pre-poo and use protective hairstyles to prevent it from getting damaged by the harsh conditions outside.
However, during summer, the weather is warm, hence more humid because of evaporation. Since you sweat more when it is warm, it means that the frequency of washing the hair increases. You may air dry hair more during summer because it dries out quickly, unlike when it is cold. Summer hair products may be different. Frizz hair products that are suitable for air-drying may be more useful during summer.
Is there a specific formula of how to reduce frizz?
There is no specific formula. The products you use and how you use them depends on the type of hair you have, and the recommendations from the manufacturer. Some people may prefer using oil, while others may be satisfied with a frizz shampoo. For others, using shampoo, conditioner, and oil that reduce frizz is the order of their regimen.
Should I be worried about my hair being frizzy?
No, this is something that most people experience. Despite the differences in hair, it is hard not to experience frizz at one point in life. Therefore, instead of worrying, be proactive, and start taking care of it using the best products in the market.
What Should You Do Now?
Frizzy hair is common with individuals who have gray hair because of the changes they experience that reduce natural oil, which is a great moisturizer. To take care of such hair, it is essential to use hair care products that are rich with essential oils, vitamins, and other ingredients that promote healing, smoothness, and shininess.
Hair sprays, oils, serum, and shampoo that I have reviewed above are good for gray hair. Since I have gray hair, I have tried some of the products, and they worked out for me. I still use some of these best products to reduce frizz because I don't want my hair to lose its luster.
I would advise you to start taking care of your hair now so that it stays healthy and makes you look good.
Start by trying a shampoo or spray and watch the results. If the product pleases you, continue using it. Have you used any serum, shampoo, or oil from the above products that I have reviewed? What were the results? Do you plan to continue using it in the future? Let us know in the comments section below.
Last update on 2022-12-11 / Affiliate links / Images from Amazon Product Advertising API