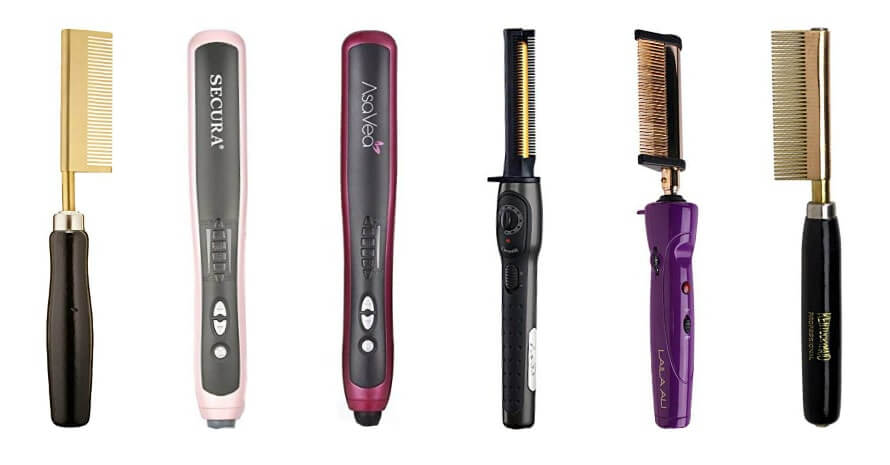 Hi, I'm Monica, the founder of this blog and its most passionate author! The topic of today's article may not be known to everyone, but I think many of you will be glad to find out. Hot combs are considered to be the most effective tool for quick and easy hair straightening.
Product
Top Pick
Good Value
Premium Choice
Pros
The best choice for beginners
Old-fashioned styling experience
Top Pick
Product
Pros
The best choice for beginners
Good Value
Product
Pros
Old-fashioned styling experience
Premium Choice
Product
Hot comb inventor Annie Malone, founder of Poro College in Missouri, owner of a cosmetic firm, and the first African American female millionaire patented it at the beginning of the XXth century.
During the 1920s this instrument became the top hairstyling choice in the African American community for its ability to tame thick hair and to straighten coils. Today these tools are used by people of different skin colors and hair structures. Let's find out why.
Some people think it's a strictly professional tool, but the new generation of electric hot combs are easy to use at home. And if you know the basics of how to use an electric hot comb, it will shortly become your bad hair day savior.
Read the rest of the article to learn what this tool is about, how to use a hot comb on African American hair, and how to straighten hair with a hot comb with minimum damage.
I will also consult you on how to use this tool on different types of hair and where to buy a hot comb (spoiler: Amazon will do fine). But first, let's name the best electric hot combs.
Top 9 Best Hot Combs on the Market
1. Andis High Heat Press Comb – Best Hot Comb Overall
From Andis hot comb reviews you probably know that this brand is one of the oldest hot combs manufacturers on the market. Andis have made this electric ceramic hot comb to make your hair routine more comfortable than ever. This professional comb is made with high-quality ceramic to make your hair sleek and smooth after just a few brushes.
It's a wide-tooth comb, and at first, it seems like it wouldn't handle the coarse and unruly hair as regular black hair hot combs do. So I asked my African American friend to help me with an experiment, and it worked amazingly well! The teeth won't let your hair tangle and curl on, gently straightening and smoothening it.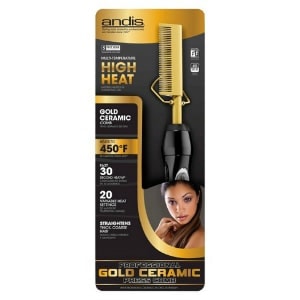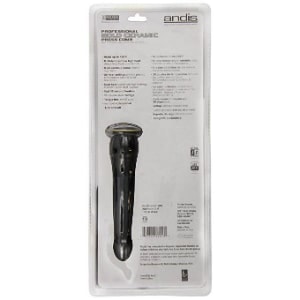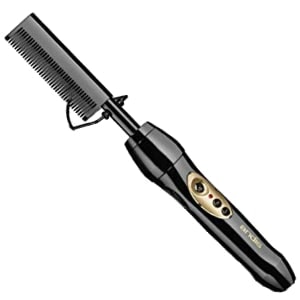 If you want to learn how to use a hot comb on relaxed hair, Andis is the right choice for beginners. There are more than 20 different heat settings so you can experiment with all of them to find the perfect one for your type of hair.
There's also a convenient tangle-free swivel cord, which is an ideal upgrade for this comb. If you use appropriate heat settings, you won't damage your hair.
Don't use the settings you've used before relaxing your locks. If you want to learn how to use a hot comb on short hair, the Andis tool will also work fine thanks to its small size and convenient handle.
There's also an auto-off feature, very much needed for beginner hairdressers. Andis is very similar to the electric hot comb UK tool by Wahl, but this one is a bit cheaper.
---
PROS:
suits any type of hair;
the best choice for beginners;
heats up quickly;
auto-off feature and convenient swivel cord.
CONS:
a bit pricey;
the power button is placed inconveniently, so it may accidentally turn off during usage.
---
2. Gold N Hot Professional Pressing Comb Stove Iron
Yes, this is pretty much how the first hot combs for black hair looked like. Gold N Hot has made an old fashioned hot comb that must be heated up with fire. Hold it above your stove for several minutes, then wait half a minute until it's safe to use on your hair, and comb it thoroughly.
The handle is heat-resistant, but you must be careful not to touch the teeth while they're still red-hot. Many hairstyle brands produce cheap combs like this, but I find the Gold N Hot version the most efficient because of its wedge-shaped steel teeth. Hot-pressing hair with a comb is, in fact, all about the teeth shape and quality.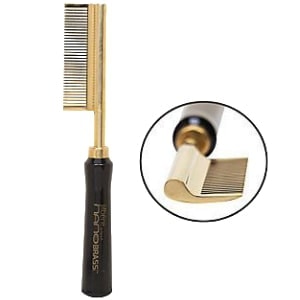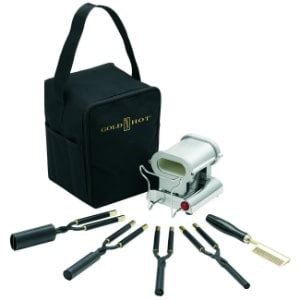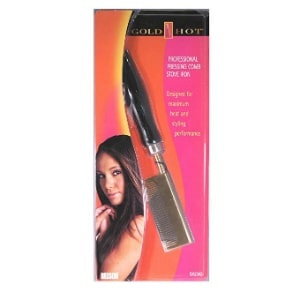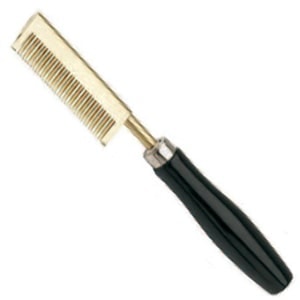 You've probably heard about Gold N Hot professional ceramic hot comb, which is a blast, but they're pretty good at making non-electronic hot combs too. If you want to learn how to hot comb your own hair without spending a lot of money on salon procedures and equipment, this one is right for you. It may not be the best hot comb straightener, but it does its job pretty well. Besides, some people find combing natural hair with non-electric equipment a bit safer.
---
PROS:
cheap;
good-quality teeth;
old-fashioned styling experience.
CONS:
needs a little practice;
not as efficient as electric hot combs.
---
3. Basic Electric Hot Comb: Conair Hype Hair Ultra-Hot Hot Comb
If you want to switch from regular comb to electric hot iron comb, Conair hot comb is a good choice. It doesn't cost as much as ceramic cobs but makes the whole process of straightening hair with hot comb easier. Conair took the basic model, replaced all the wooden parts with plastic, and added 30 heat settings and a heat recovery system.
As a result, we get one of the handiest electric hot combs for black hair. A set of 15 high-heat modes help you to hot comb African American hair of coarse type. And with Turbo Heat Feature you can make your hair styling even faster, just be sure to use enough heat protection on your hair.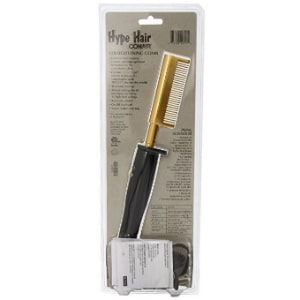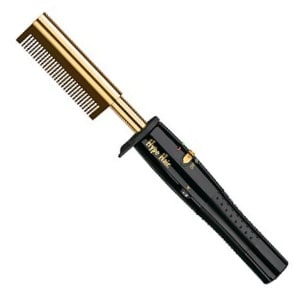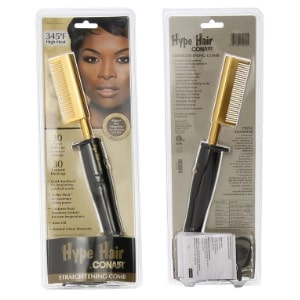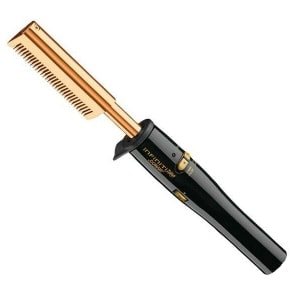 If you choose among cheaper items, always favor the manufacturer that is well-known. Conair makes products for all types of hair, and they've managed to design this comb that covers all the basics keeping the price moderate. You can forget about the hot comb hair salon procedures with this one.
---
PROS:
the full hot comb kit for a moderate price;
30 heat settings with 15 high-heat modes;
Turbo mode for fast styling;
Lightweight and handy.
CONS:
off/on buttons are easy to confuse;
turbo mode may not be safe for your hair.
---
4. Kentucky Maid SPKM 27 Hot Straightening Comb
Another classic from Kentucky Maid. The way of use is the same for all the old-fashioned tools: heat it over an open fire, wait about 30 seconds, and comb your chevelure starting with the roots. It may take a little bit of practice to use it properly and not let the comb cool down. This was the only tool your grandmother could use to hot comb hair. You can ask her for advice if you like.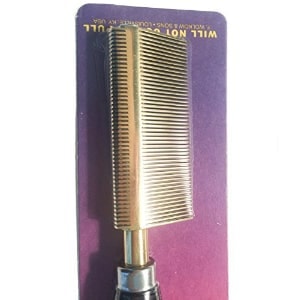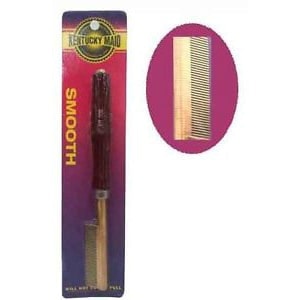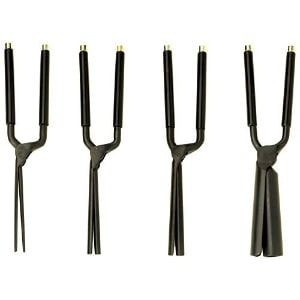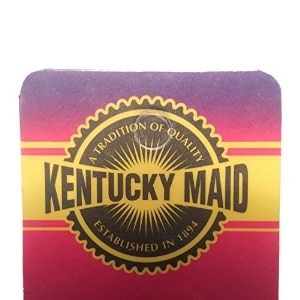 Kentucky Maid is a respected brand that is mostly known for making hot combs for black hair. The teeth on this one will suit hair of moderate thickness, but we wouldn't recommend you to work the coarse hair with it. The hot comb with metal teeth is not good for fine hair either: better find yourself a ceramic hot comb.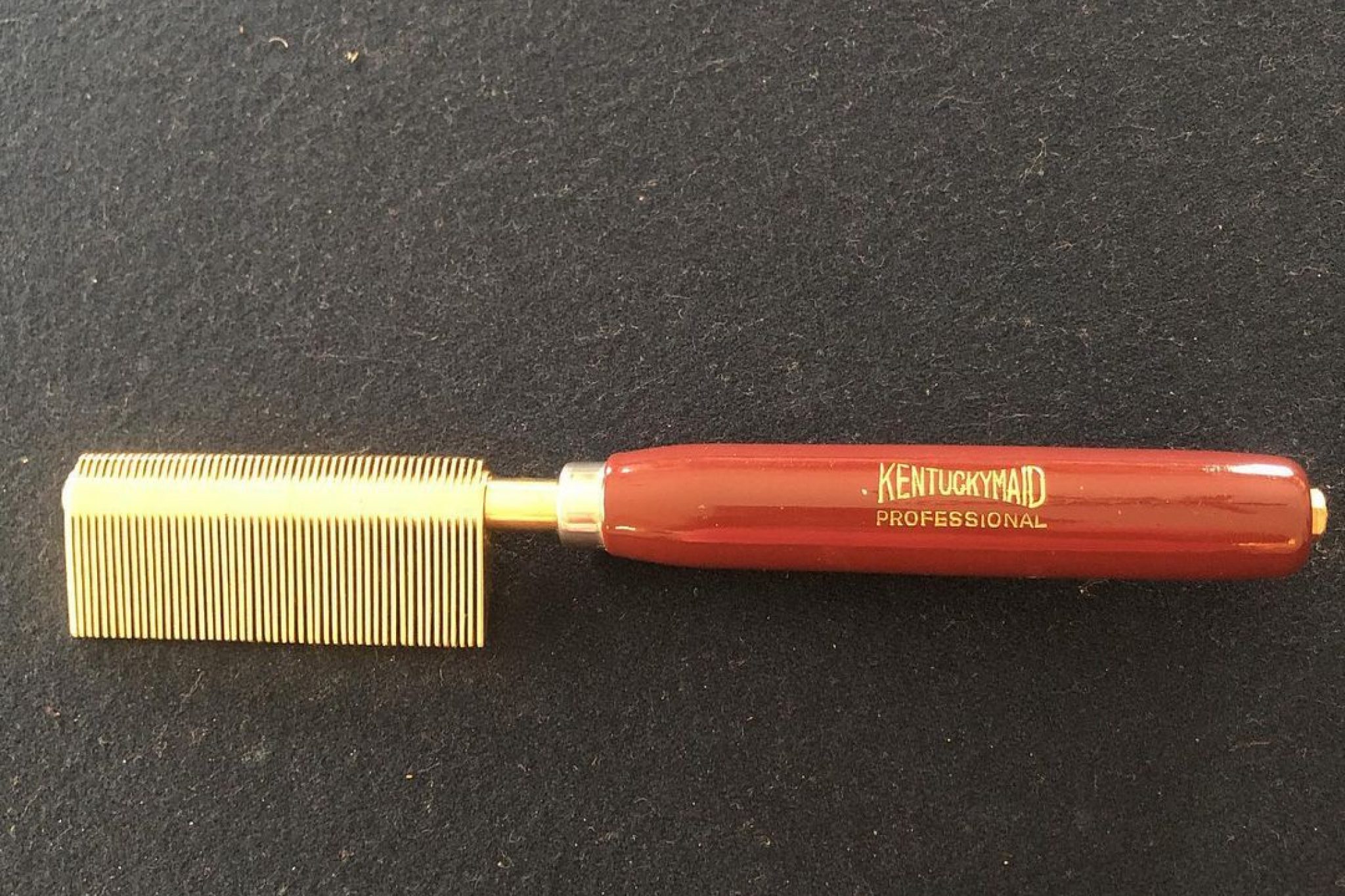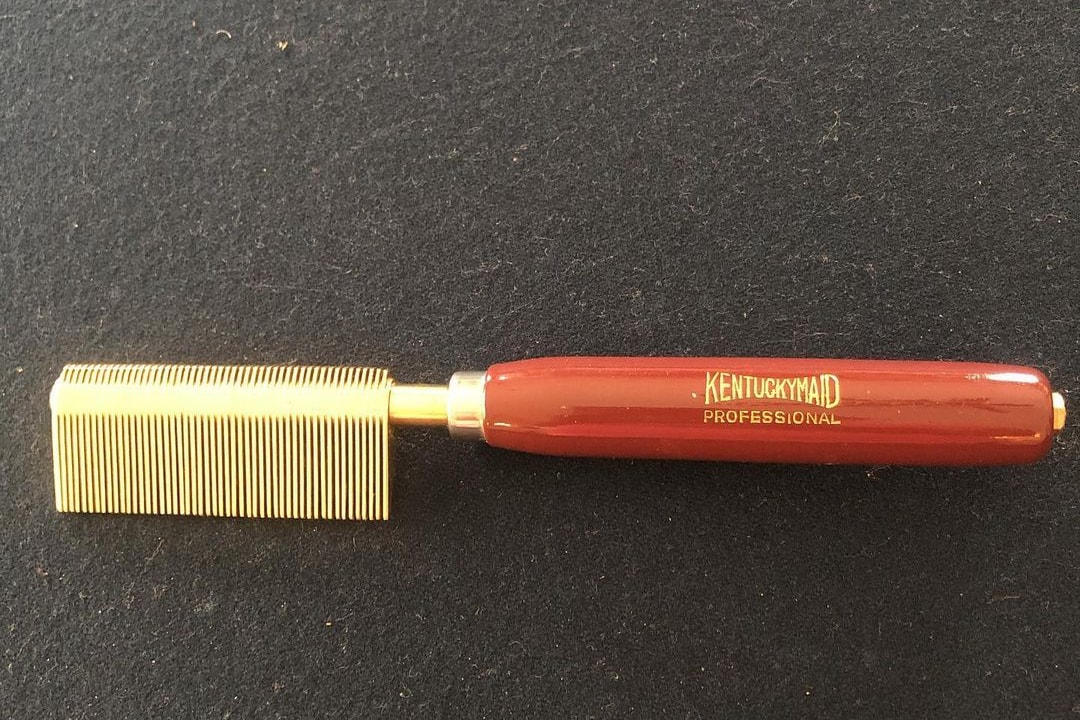 The result is not so evident as the one you get using an electric hot comb or flat iron, but sometimes pressing natural hair with a tool like this is a much more handy procedure than expensive salon treatments.
---
PROS:
price/quality ratio;
perfect for straightening natural hair of moderate thickness;
quite handy;
looks great.
CONS:
will not work on super coarse hair;
requires a bit of practice.
---
5. Secura Hot Hair Straightener Comb
Probably the safest among electric hot combs, Secura is made of high-quality ceramic with PTC components that not just let it heat up quickly but also protect your hair from damage. There are six heat settings designed to fit all hair types that need straightening.
There's also a LED temperature indicator, so you just have to plug it in and wait from 40 to 80 seconds depending on the mode you choose. Does it take noticeably less time than a hot comb? Hair salon procedure, and, as a result, your hair not only gets straightened, it also becomes smooth and sleek.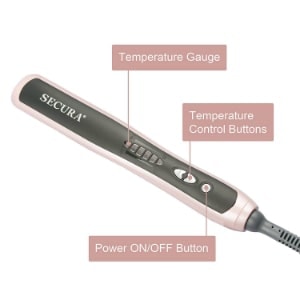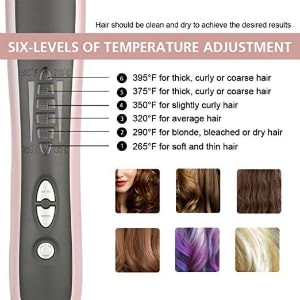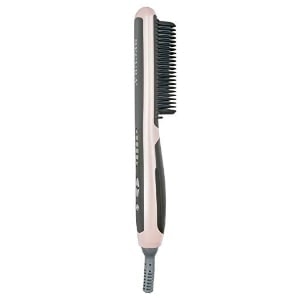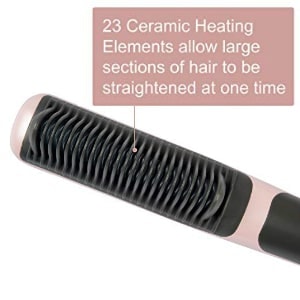 The comb made by Secure is undoubtedly one of the best electric hot combs for natural hair. By holding it differently and changing directions, you can not just straighten your hair, but also add volume and curl up the ends. A swivel cord lets you move the comb the way you like. Just remember to take small portions of hair and always use a heat protecting spray.
---
PROS:
safe PTC ceramic technology;
suits coarse and fine hair;
adds volume and gloss;
six heating modes for all types of hair;
LED indicator and swivel cord make hair straightening easy.
CONS:
to straighten thick hair you may have to comb it several times.
---
6. Herstyler Hot Straightening Comb For Hair
You cannot hot comb hair with this one, because technically it's just a comb without the hot part. I decided to include it in the top list because it uses the same principle to untangle thick and unruly hair and eliminate the frizz. You can comb your hair with it before using hot tools: straightening comb, blow dryer, or flat iron.
Among its many great features are static-free bristles that smooth your hair by minimizing frizzes and split ends. It is also small in size and lightweight — a perfect travel combo. The plastic handle can stand the heat of up to 400°F, so you can fix the hair with it while blow-drying.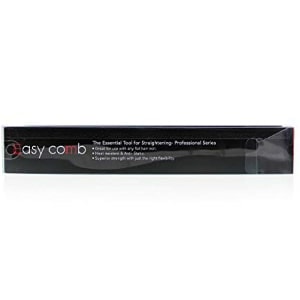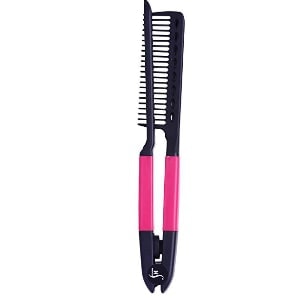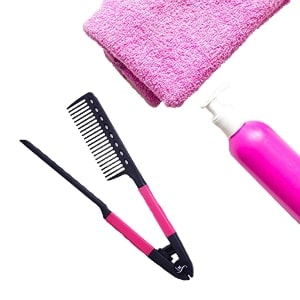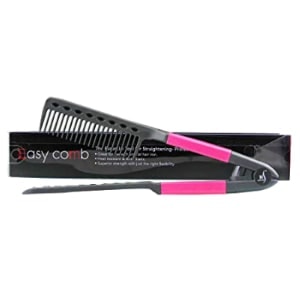 Is it good to hot comb your hair? That's a question I cannot answer unambiguously as no matter how much heat protecting spray you apply and what type of surface you choose for your electric hot combs, the damage is still there.
But I can guarantee that Herstyler Comb is perfectly safe to use. Although it won't uncoil your hair, it will make it much more manageable and glossy-looking.
---
PROS:
absolutely safe for your hair;
great preparation tool;
eliminates frizz and split ends;
can stand the heat of up to 400°F.
CONS:
doesn't straighten coarse hair on its own.
---
7. Silky Smooth Electric Hot Comb: AsaVea Hair Straightening Brush 2
You probably know Asavea as a hot brush brand, but they also have made this great styling comb. This one is a little bit updated version of electric hot comb: instead of regular teeth, it has a smooth-looking wave.
The design solution protects your scalp from scalds. Besides, it looks really nice. The tool heats up to 365°F in less than a minute and maintains the temperature level throughout your styling process.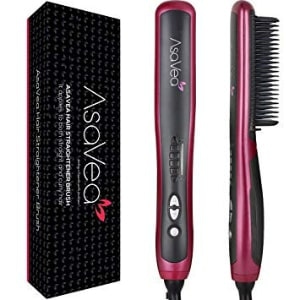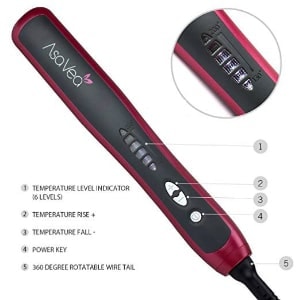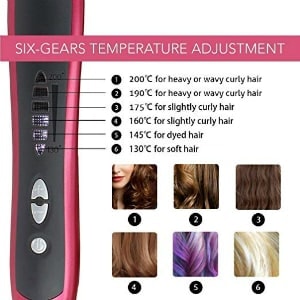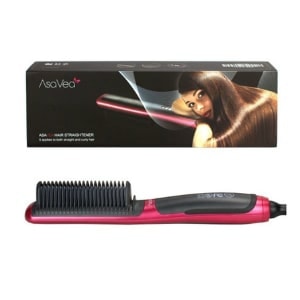 There are a six-level temperature design and a swivel cord that make this straightening hot comb one of the most convenient tools on the market right now. I'd recommend blow-drying your hair with a round brush and argan or coconut oil to prepare it for a straightening procedure.
Then it'll work particularly well, leaving your hair looking like after the hot comb hair salon procedure. As for additional features, there's a LED indicator, six pretty-looking buttons for every mode, and two-color schemes for you to choose from. Using a tool so thoroughly designed is a pleasure indeed.
---
PROS:
protects your head from scalds;
suits for straightening hair of any type;
convenient handle, swivel cord, and control buttons;
pretty effective for straightening.
CONS:
plastic details are not particularly good for your hair.
---
8. Laila Ali Gold Plated Heated Styling Comb
If you still wonder how to hot comb black hair, try Laila Ali golden device. The teeth of this comb shine like they're covered with gold, but it's not merely a luxury product. The coverage lets the heat distribute evenly, eliminating the hot spots and noticeably reducing the scalding risks.
The teeth are set quite far apart and ready to meet the coarse and unmanageable hair, which makes Laila Ali one of the best electric hot combs for black hair. For those who want to learn how to straighten black hair, the tool by Laila Ali is a great one to start with.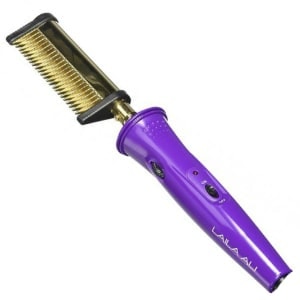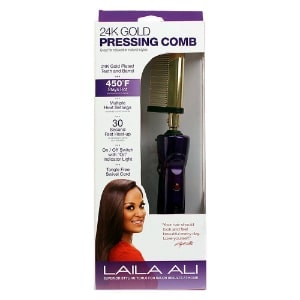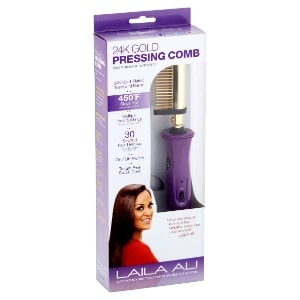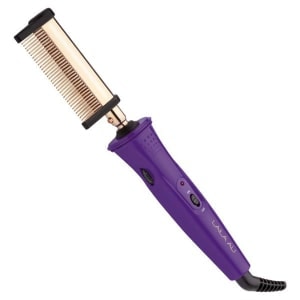 The list of features is pretty standard for a high-quality electric hot comb for natural hair: there's a 30 seconds heat up, a long swivel cord, and a safety stand.
Maximum heating up temperature is 450° F. And with such smooth coverage, it's easy to start from the roots, making them straight and untangled as well. Start the hot comb hair salon at your home with Laila Ali.
---
PROS:
great hot comb for natural hair;
golden teeth coverage protects you from scalds and burns;
heats up fast;
a safety stand and a long cord make it great for beginners;
straightens the roots.
CONS:
the teeth may be too widely spaced to work for fine and thin hair.
---
9. Red by Kiss 1/2″ Ceramic Tourmaline Root/Edge Straightener
Probably, my top pick straightening comb with an updated design and maximum safety. The tourmaline ceramic barrel is only 1/2″ wide and has two rows of teeth to provide maximum straightening right from the roots and to the very ends of your hair.
The tourmaline ceramic electric hot comb technology you're probably familiar with is used for protecting your hair and making it smoother by sealing up the hair cuticles with negative ions to keep the moisture in.
This relatively small hot comb can grab and straighten large locks and works well with every type of hair there is. It reduces frizz and adds volume on fine curly hair, provides shine to tired and damaged hair, and works very well as a black natural hair hot comb straightener. Let's just say: in a battle 'hot combs vs flat iron' it would win.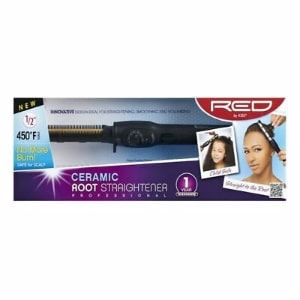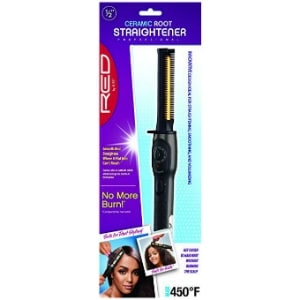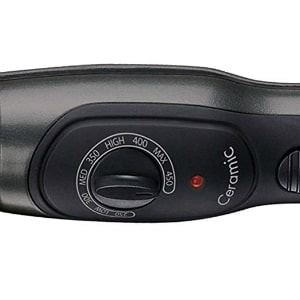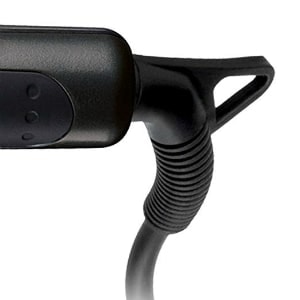 Additional features include safety stand, 450°F maximum heat up with modes for different types of hair, and a swivel cord. Two rows of teeth lock the heating element making skin burns impossible. Your children can learn how to use a hot comb straightener with this tool.
---
PROS:
provides meticulous roots to ends straightening with two rows of teeth;
the safest tool on the list;
ceramic tourmaline technology;
heat modes for every hair type;
a safety stand and swivel cord for maximum comfort.
CONS:
the plastic barrel can get really hot, be careful with it.
---
Best Hot Combs For Natural Hair – Find Yours (Q&A)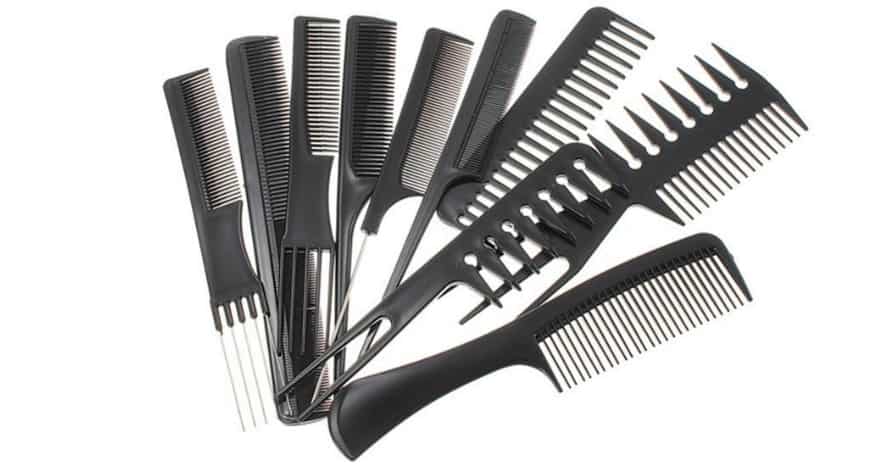 Hope you've learned the basics of what is hot comb from this article and the list of great picks from me and Chloe. Some other great options like a tremendous hot comb Sally's have made, electric Afro Pick hot comb, hot comb UK classic from Wahl or such a useful feature as a Hot n Silky blow dryer comb attachment hasn't made it to the list, but I will gladly discuss them with you in the comments below. Here I've collected the most frequent questions considering these tools and answered them.
Who made the hot comb?
The answer is not so simple here. At the beginning of the article, I've already told you that Annie Malone is considered the inventor of the hot comb as she was the first person to patent it as her invention. There is, however, a story about French hairdresser Marcel Grateu that found out how to straighten natural hair with a hot comb to make it smoother in 1872. He didn't patent his invention though.
How this tool is different from the flat iron?
First of all, you can choose a plugin hot comb or the one that needs fire to heat up, and flat irons are mostly electronic. Black hair hot combs are great for untangling your locks and making them more manageable, but if your hair is very curly, it's unlikely that they will leave it straight. Flat irons of different types work better for straightening, but for the thickest hair, it's the combination of the two that makes the perfect hairstyle.
What are the downfalls of using this tool? Is hot comb good for natural hair?
Old-fashioned combs are used by people who consider them a safer option for styling natural hair than a flat iron. The main con of using them is the absence of temperature control that can get your hair damaged and your scalp burned. However, if you know how to press hair with a hot comb, you will know the right temperature and use heat protecting products before every procedure. And with the best electric hot combs from our list and a hair mask that suits you, you minimize hair damage risk.
How to clean these combs?
Knowing how to clean a hot comb is essential for its best efficiency. You must apply heavy heat protecting oils carefully not to let them get on the comb because it may fry your hair. Better wait a few minutes after applying the oil, and hot press your hair only after it absorbed the oil.
Still, some hair is left on the comb if you use it regularly, and the best way to clean it is with the regular cleaner you use for your stove and other metal surfaces. Just heat the comb and spray the cleaning substance on it. If you prefer eco-friendly ways of cleaning, warm vinegar also works okay, but it may take a little bit longer. The old-fashioned comb can be put into the warm vinegar for a few minutes.
What should I do if I get scalds from hot combing my hair?
Knowing how to use hot comb is essential to not get burned. Still, if you've burned the skin on your head, don't panic. The minor burns are easy to treat: first of all, soak a towel in cold water and put it on the injury for several minutes.
After that apply aloe juice or other soothing substance that won't let the damaged skin get too dry. If you feel like your burn is more severe than that, take a painkiller and go to the doctor to monitor your burn. There are safety silicone 'glam ears' made to protect your ears while performing/doing hairstyle procedures that deal with the heat.
Can you use a hot comb on relaxed hair?
Sure, it's probably the best way to keep your hair straight between salon procedures. The comb easily untangles appearing frizzes and deals with the roots. To learn all the tricks of how to straighten African American hair with a hot comb, read some instructions, or consult your salon professional.
Is it true that alopecia is caused by this tool?
The sickness we call hot comb alopecia goes by a scientific name Central centrifugal cicatricial alopecia. It was first discovered in the middle of the 20th century among black women that used to style natural hair with old fashioned combs and petrolatum.
Materials used in those combs are no longer in use, and it's much safer to use this kind of equipment today. There are many means of hot comb alopecia treatment starting from antibiotics and ending with hormone therapy. Alopecia of this type is treatable on the first stages, so please consult your physician as soon as you find its early signs.
A Wonderful Tool to Add to Your Styling Kit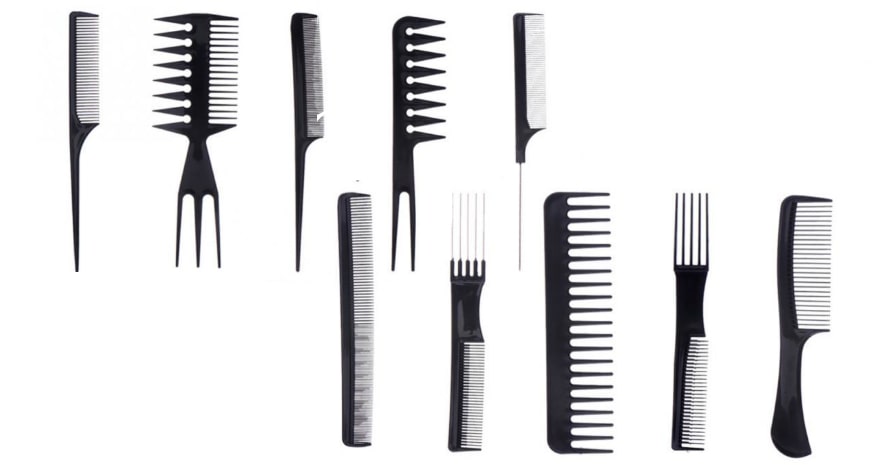 This old-time invention has been in and out of fashion for a century now, and it seems like its popularity peak is coming soon. Let's get you ready for it! You must know your hair type, as well as its strong and weak points to choose the styling tool that suits you most.
Whether its an electrical hot comb or an old school granny's choice, with a little bit of practice and products for straightening and heat protection you can get beautiful results. The black hair hot combs are the most used, but the market is filled with products that can hot comb short hair, fine and frizzy hair, relaxed and chemically treated hair, and the results will still be great. Hope after reading this article you now know that hot combing is an easy procedure available at home.
Do you have any tips on how hot comb natural hair, how to protect your hair from heat, or how hot comb black hair? Maybe you know where to buy a hot comb of high quality. Please share your knowledge with us! If you still have questions on how to hot comb your hair or where to buy hot combs, please feel free to address me in the comments.
Last update on 2022-12-11 / Affiliate links / Images from Amazon Product Advertising API