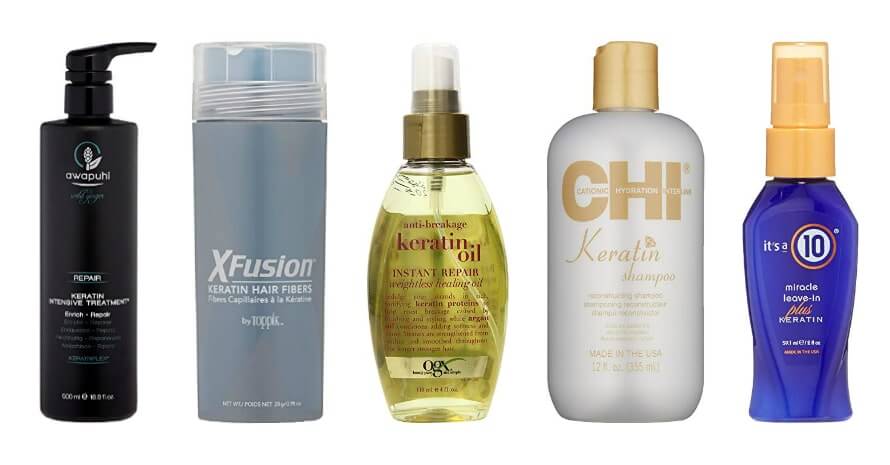 Keratin treatment is a top salon procedure, and some of us have already made it a part of our daily hair routine. You've probably come across a bunch of articles and Internet talks on Keratin damaging/curing effects and were left wondering whether it's safe to use products with Keratin at all. Let's find out!
Pros
Best non-salon treatment for African American hair
Best Premium Pick
Pros
Best non-salon treatment for African American hair
So What Do We Know About Keratin?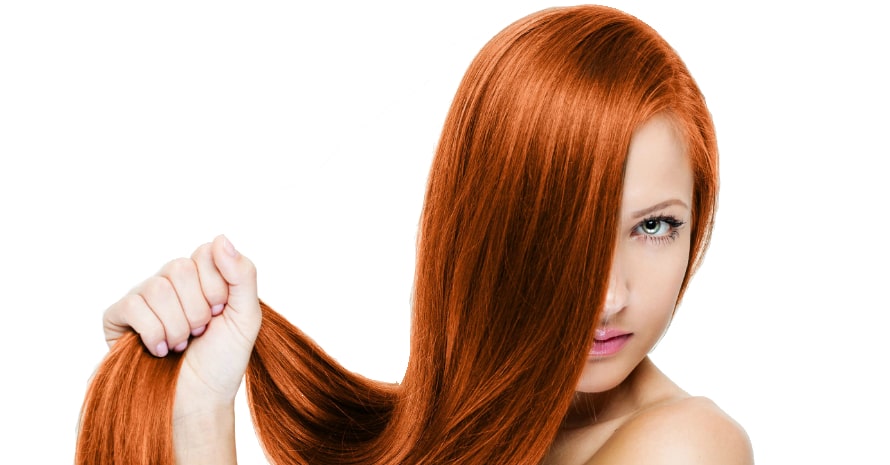 Good day everyone! I am Chloe, a hair expert and a co-author of this blog. Today I'm going to bust all the myths, dot all the I's and cross all the T's on Keratin as part of your hair routine and treatment. From this article, you'll learn about such Keratin hair products as shampoos, masks, styling sprays, and salon treatment kits. Below you'll find a list of hair treatment products from diverse brands that will suit any budget and hair structure there is.
I will also provide some scientifically grounded information on all the pros and cons of using hair products with Keratin, as well as Keratin-based health supplements.
Youtube is dizzy with video lessons and reviews on the range of hair products and Keratin-based recipes: Keratin treatments for natural hair, for black, dyed or chemically treated hair, Keratin usage for smoothing or straightening effect, and so on, and so on… I've even managed to find a video on Keratin dog grooming once! It was cute but, unfortunately, this blog is dedicated to human hair only.
So basically, Keratin suits every hair type and deals with a lot of damaging effects, but as with any other ingredient, you must clearly realize what is it you need it for. Stay with me to learn more about Keratin tricks from this article.
What Makes Keratin So Special?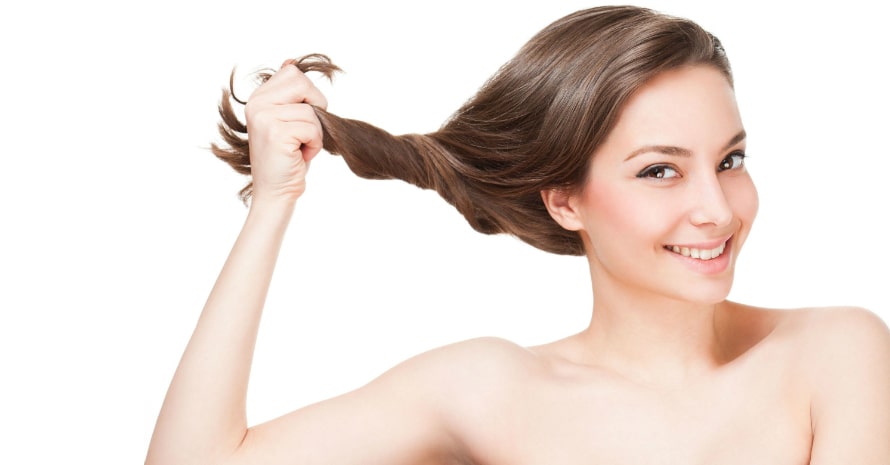 Keratin is a fibrous structural element that makes up hair, nails, and the greater part of human skin, as well as animal claws, horns, and hooves. First precedents of Keratin usage were registered in China during the Middle Ages: a Chinese herbalist used human hair for treating wounds. Since then science has learned a lot about this protein and managed to extract it from many different structures.
First Keratin hair products appeared during the 1980s, when Keratin proved to keep its effects when reacting with other materials, first of all, silicones. The boom of Keratin fiber hair products had started at the beginning of the 2000s, when every salon offered the best straightening and smoothing effect by using Keratin products for hair that is curly, fine or damaged.
A lot has changed since then: salon straightening procedures are made with flat hot irons to seal proteins into your hair. As a result, your natural hair structure breaks down. Besides, early salon treatments contained Keratins mixed with formaldehyde, which is a hazardous chemical and a potential carcinogen. Even Hollywood stars have suffered severe hair damage from this product in the past few years.
Today's hairdressers try to make the salon treatment safer, while cosmetic concerns produce Keratin-based products for straightening hair at home. Keratin is the key element for building hair structure and protecting your external and internal organs. It works by causing the overlapping cells of your hair to smooth forming sleek hair strands. Eventually, your hair, which is itself Keratin, absorbs more Keratin to look healthy and glossy.
On the hair product market today you may find shampoos, conditioners, masks, and serums with Keratin. Their main purpose is to cure hair damaged by driers and dye. Some of these products have the word 'Keratin' in their names, but even if they don't, it's easy to identify them by finding 'Keratin hydrolysates' in their ingredient lists.
Look for Keratin products without formaldehyde. Another popular purchase is Keratin supplement in capsules or powder. Those are dietary supplements, and like with any supplements you should be careful when using them, as too much protein in your body is not really healthy.
Test results from laboratory researches, as well as consumers' opinion, indicate that after using products with Keratin hair gets much thicker, more glowing, and easier to style. Still, some of those effects have not been scientifically grounded, and they may have consequences we don't know much about.
If your hair is severely damaged, don't try to find the final answer for its treatment in Keratin. Always keep in mind that the final result highly depends on the structure of your hair, it's the natural thickness and basic health level.
Keratin Hair Products Reviews
Check out the list of Keratin-based products for any type of hair made exclusively by our hair experts. Don't hesitate to ask for additional info and help on any of them.
1. Best Addition to Salon Keratin Products for Straightening Hair: It's a 10 Haircare Miracle Leave-In Plus Keratin
It's a 10 Haircare is a professional brand that makes quality products for people who know exactly what they need for their hair. And this conditioner is the most popular miracle 10 hair product with Keratin. It has an accumulative effect, but the result will be seen right after the first use. The mixture of Panthenol, Sunflower Seed, and Tea Leaf extracts and Silk Amino Acids make it one of the most effective Keratin hair straightening products, as well as the wonderful heat protector.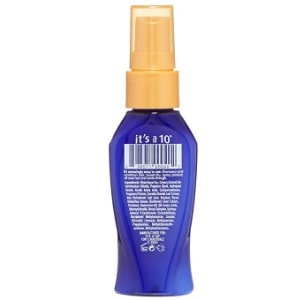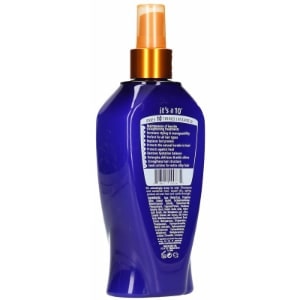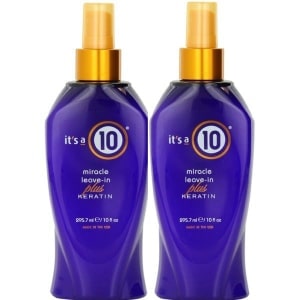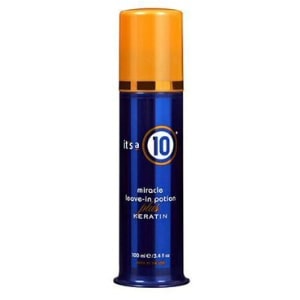 Apply the product on your wet hair after the shower to let the Keratin soak into your hair structure to rebuild and strengthen it. Use a hair straightener or a hot brush to improve the results. Thanks to its lightness, It's a 10 can be used even on heavy, thick and oily hair. Don't count on it straightening your curly or wavy hair on its own: it's only a conditioner, not a salon treatment. But it will definitely make it softer and much more resilient.
Still, It's a 10 Conditioner is your best choice for maintaining your salon-straightened hair. Keeping your hair beautiful and smooth, it will be a great addition to other Keratin hair straightening products you use.
---
PROS:
light and easy to apply;
perfect for maintaining salon straightened hair;
rebuilds and protects hair natural structure from heat and dye;
gives softness to curly hair;
accumulative effect.
CONS:
does not straighten curls on its own.
---
2. Keratin Hair Product for Color Boost Up: Peter Coppola Just Blow Blowout Spray
Coppola hair products with Keratin are often said to be the most efficient compared to other professional brands. Just Blow Spray is paraben, gluten, and lanolin free, which means it is one of the top products for people with allergies.
Thanks to its rich formula it brings your damaged and tired hair to life in just a few applications. Here you'll find a list of this blowout spray wonderful effects.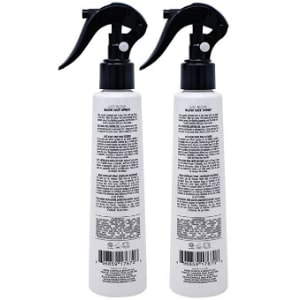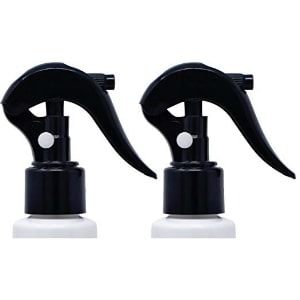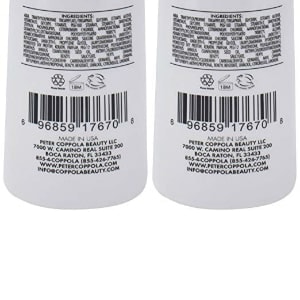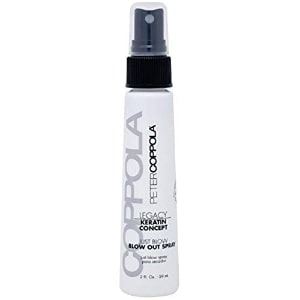 It takes a lot less time to blow dry your hair, as Peter Coppola blowout spray gets deep into your hair structure, seriously boosting up your hair Keratin level. As a result, even the thickest and curliest hair becomes much more manageable.
Besides, this Keratin hair product is a must-have if you use dryers and other heating tools frequently. Simply spray it on damp hair before drying or any other heating routine and you will notice the flawless color-protecting effect right away.
Coppola Blowout spray is one of the most efficient Keratin hair color products. Its formula is heat-activated, so while closing the hair cuticula, it boosts up your color making it lustrous and vibrant. It is also effective for reducing the coarse hair volume and frizz. It's recommended to evenly apply this spray from roots to ends to let it penetrate the hair shaft deeply.
---
PROS:
allergy-free formula;
keeps the color vibrant and shiny;
quick and protected blow-dry;
deep-penetrating restoration formula.
---
3. Basic Kit of Best Keratin Hair Products: Keratin Complex Care Duo – Shampoo and Conditioner 13.5 ounces/each
This haircare duo is the essential kit you can start your Keratin routine with. Created for Keratin and dye treated hair, this duo provides amazing smoothening and softening effect to any type of hair there is.
The shampoo gently cleanses your hair adding a curing impact where it has been damaged and preparing it for more in-depth treatment. At the same time, the conditioner hydrates the follicles and evenly locks the moisture leaving your hair soft and well-protected.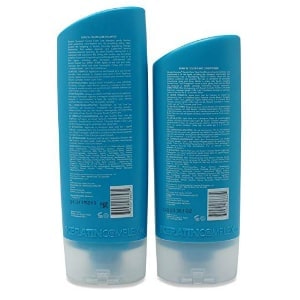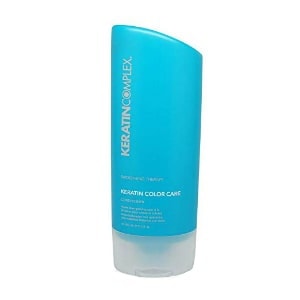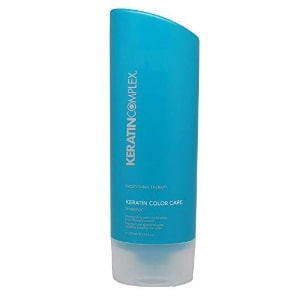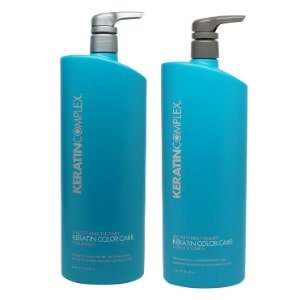 You can use this complex regularly or alternate it with your basic shampoo — that depends on the scale of your hair damage from salon procedures and the effect you want to achieve.
The price is above average, and it would be nice to enlarge that tiny conditioner bottle. Nevertheless, Keratin Complex duo makes a wonderful combination of Keratin hair care products. If you're looking for effective shampoo/conditioner duo, this is one of the best.
These two products can easily replace half of your styling routine. The effect is seen best on fine and frizzy hair which gains volume and brightness after a few cleanses. It upgrades the natural hair Keratin level up to a half and makes your hair grow faster and feel thicker.
---
PROS:
great product to start with;
suits every hair type and damage scale;
easily replace Keratin hair styling products;
gentle cleansing alongside deeper treatment.
CONS:
high price compared to other shampoos/conditioner complexes;
there definitely should be more conditioner.
---
4. Your Top Choice of L'Oreal Keratin Hair Products: L'Oreal Professional Serie
L'Oreal has designed a whole Keratin based professional line, but this product has proved to be the ultimate anti-frizz remedy. Its formula is enriched with Keratinoil complex of wheat proteins and amino acids with added natural oils so that it could soften your hair and leave it sleek even in the most humid climate conditions.
Serum Keratins act instantly by building into the hair natural structure. In just a few moments you see the result: smooth and manageable hair that can withstand any damaging climate conditions. It is also a great product if you use heating straighteners often, just don't forget to thoroughly wash your scalp, as the serum tends to block hair follicles.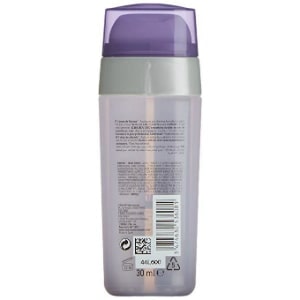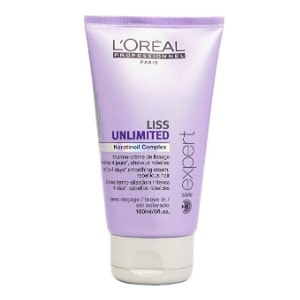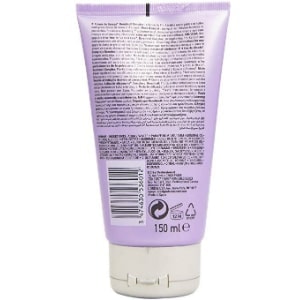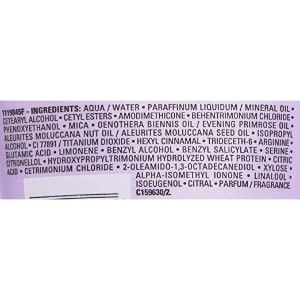 I'd recommend it to those who have thick hard-to-style locks. With its ability to eliminate frizzes and split ends, it can become one of the top Keratin hair products for African American hair, but will also be of great help for heavy and curly hair of European type. If you have fine hair, take a smaller amount to not add weight to it.
As with other Keratin hair serum products, the best way of applying L'Oreal Complex Serum is on the damp hair, but you can always add small touches when it's dry. Keratinoil complex gets deep into the structure no matter which way you choose to spray it.
---
PROS:
gentle and effective Keratinoil formula;
the most effective of Keratin L'Oreal hair products;
total frizz control;
great for humid air;
straightens the heaviest and curliest of hairs.
CONS:
may leave fine hair a little bit heavy;
your hair would require regular and thorough root washing.
---
5. Everybody's Favourite Shampoo by CHI Keratin Hair Products
CHI Keratin Shampoo is probably the first product any salon master recommends after Keratin straightening procedure. And they're right! If you have a list of straightening products to buy, CHI Shampoo has to be added to it immediately.
It is the gentlest means of cleansing your hair follicles and fibers and the most efficient shampoo for replenishing natural Keratin level. As a bonus, you get amazing protection from chemicals in dye and salon treatments, as well as from damaging environmental factors.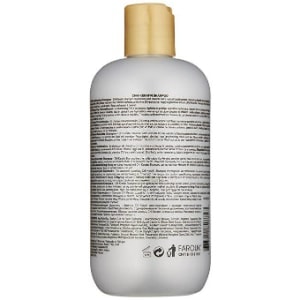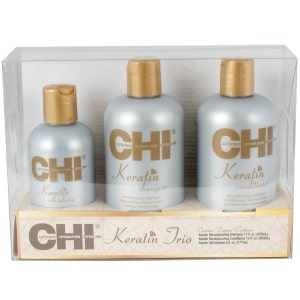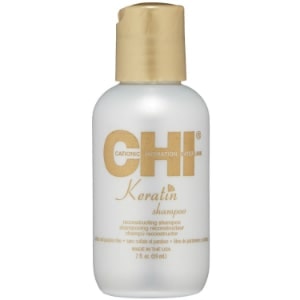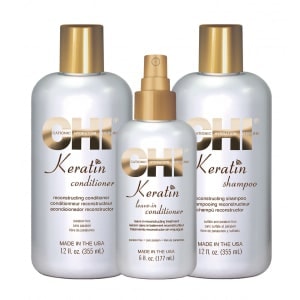 The straightening effect from this shampoo is seen best on previously Keratin treated locks. If you follow its usage with Keratin Conditioner, your wavy, and even curly hair will get noticeably straightened, and if you use some other CHI Keratin products, the effect will be even more visible. Still, try not to expect miracles from basic products.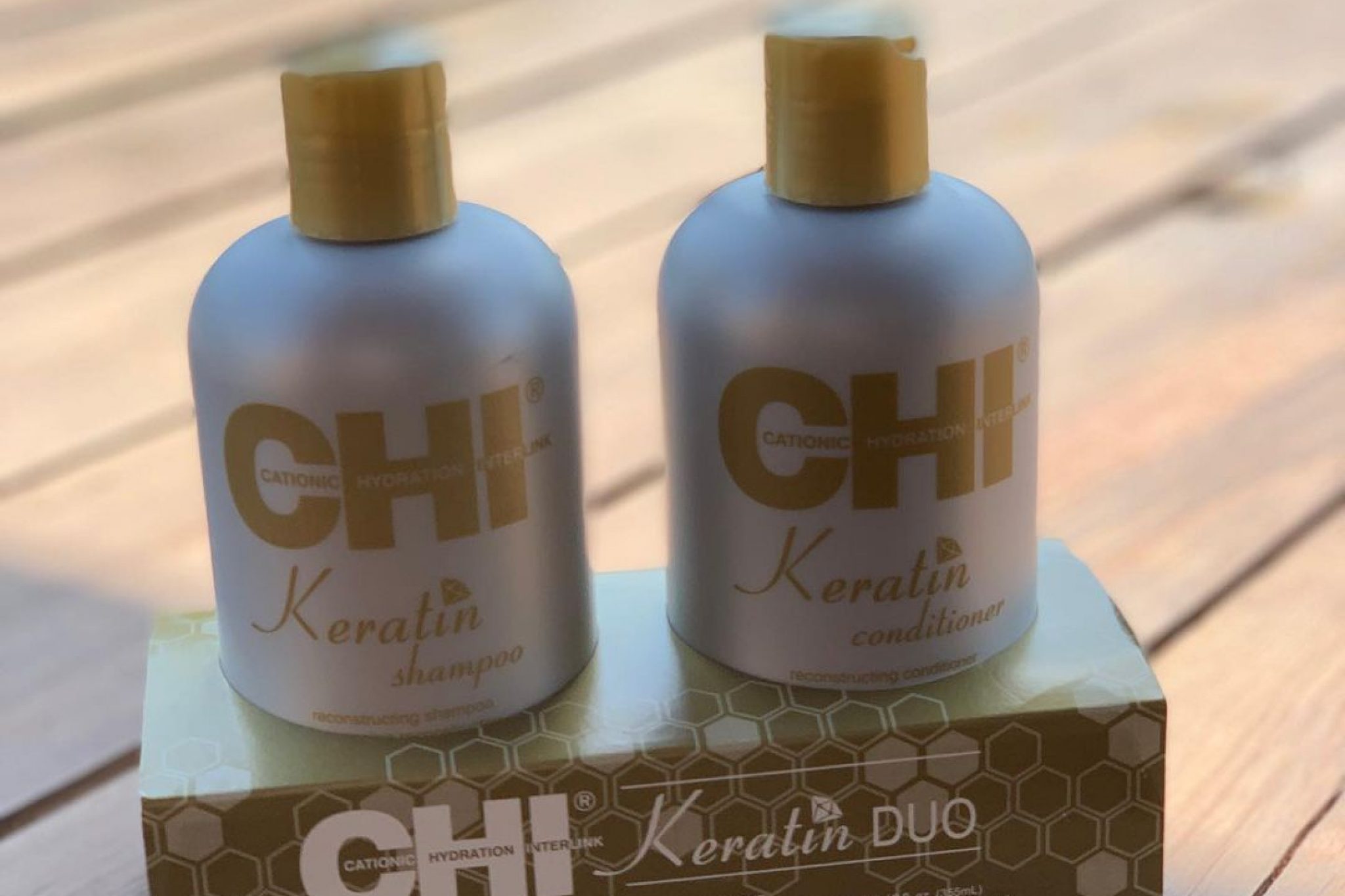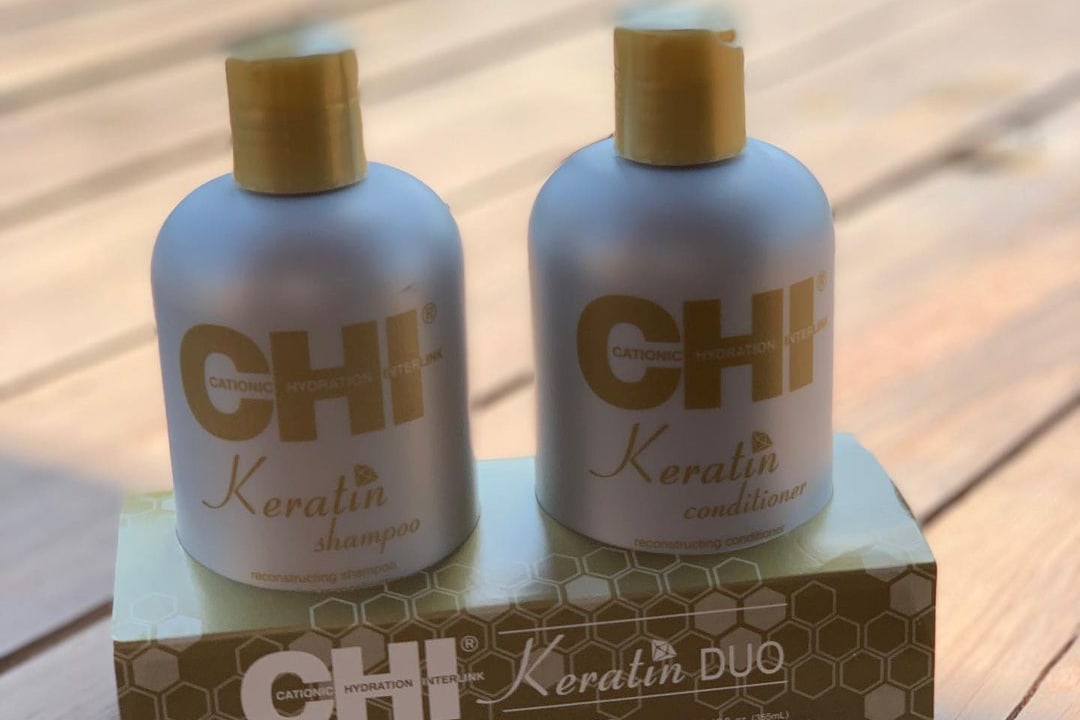 CHI shampoo can be placed among the most efficient Keratin hair growth products. It reconstructs your hair to the point when it becomes stronger and can spare some more Keratin on the growing process. CHI works just as well on fine, frizzy, and thick hair, never too oily or too dry, and, unlike many natural oil-based shampoos, it lathers up perfectly. If your hair is damaged and thin, a Keratin-based shampoo is a must.
---
PROS:
replenishes hair Keratin level;
perfect for any hair type;
provides hair growth;
lathers up well;
can be used alone or in combination with other CHI products.
CONS:
contains Sodium C14-16 Olefin Sulfonate that may cause skin irritation.
---
Check also my CHI hair dryers review
6. Best Keratin Hair Products With Natural Oils: OGX Weightless Healing Oil
If you follow the latest haircare trends, you've probably been reading a great deal of Organix Keratin hair products reviews. It's not easy to choose just one of them, but since this oil is not only weightless but also healing, I've decided to dwell on it.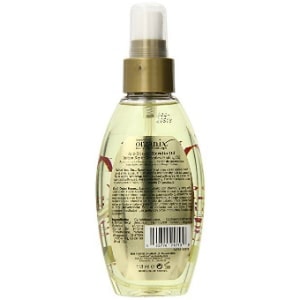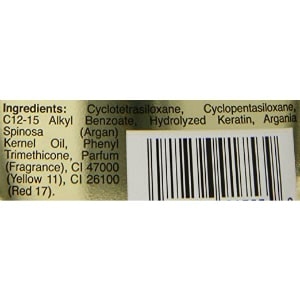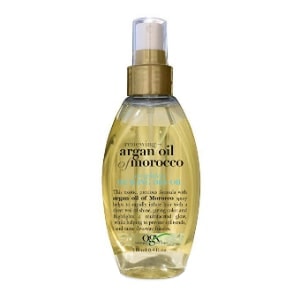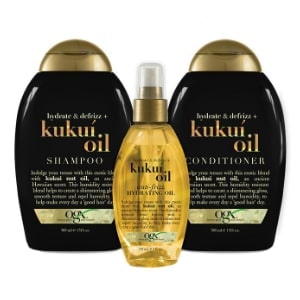 OGX are famous for their natural ingredients sourced from Morocco and other southern countries rich with natural remedies. Keratin foundation of this oil has an argan base and is enriched with antioxidants and E vitamin.
Argan oil has served as the first beauty means in the Arabic world for centuries, and its ability in nurturing natural black and heavy hair is doubtless. However, creators of this oil have managed to lighten the formula so that it would suit any hair type.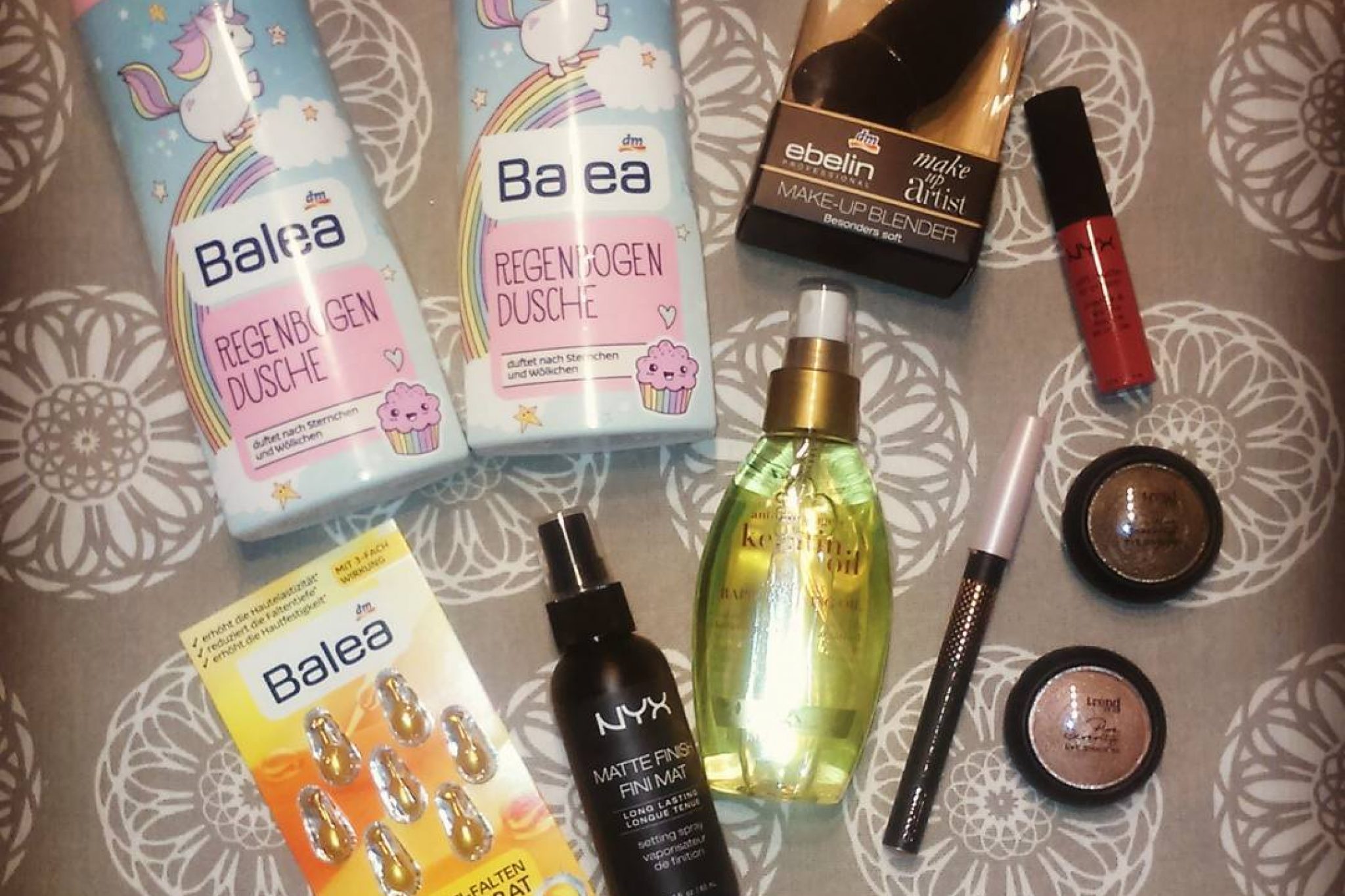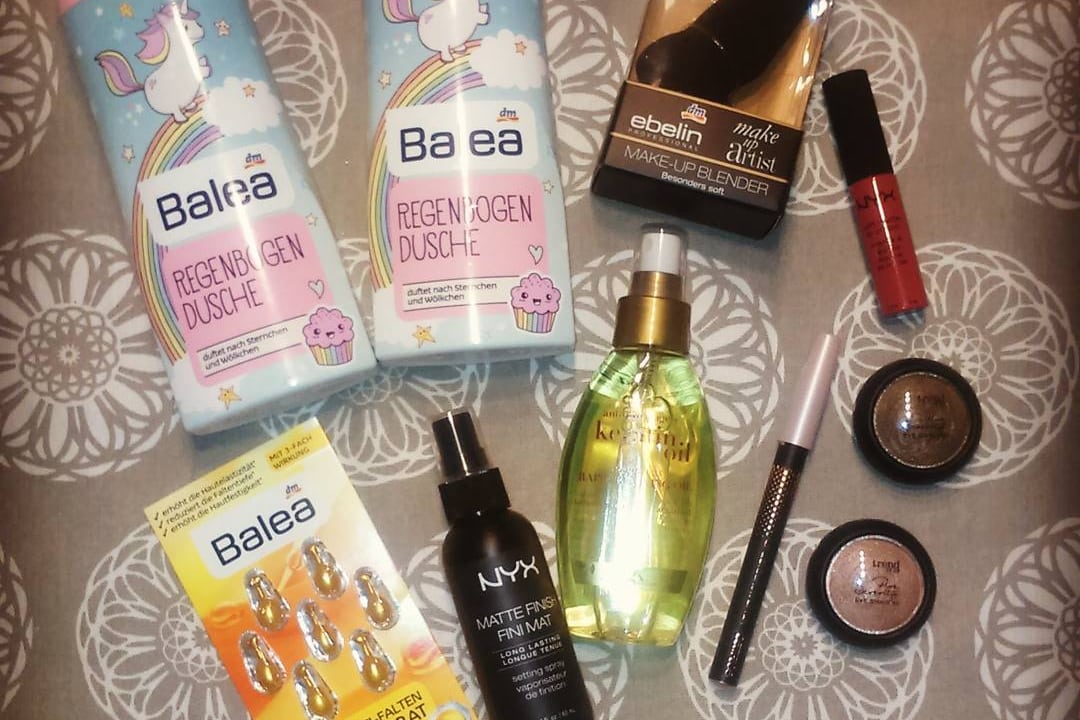 You can apply it to the roots and cuticles before washing your hair, using it as a restoring hair mask or as heating protection during blow drying and other heat treatments.
OGX oil acts lightly, and it requires just a couple of sprayings for it to get deep into your hair structure. The oil reduces the chemical and environmental damage, glues split ends together and tames frizzes.
---
PROS:
suits every hair type;
great and light moisturizer;
one of the best Keratin treatments for black hair;
natural-based formula;
can be used as a healing mask or heat protection.
CONS:
not enough for straightening when used alone.
---
7. Best Keratin Hair Care Products Sold In One Piece: Moroccan Keratin Most Effective Brazilian Keratin Hair Treatment SET
You've probably met this treatment complex on the Internet by the name of Brazilian Keratin hair products. You can use it by yourself at home to get the fascinating straightening and strengthening effects on your hair. One set consists of a cleansing shampoo that will get you ready for the procedure, a Moroccan Keratin hair treatment, and an SLS-free shampoo for your hair type that will keep the treatment effect and prolong it.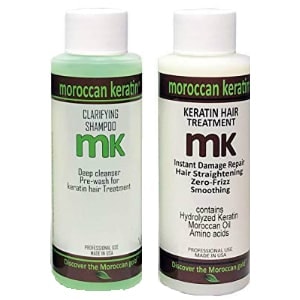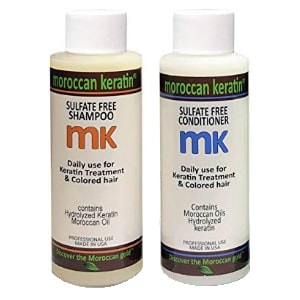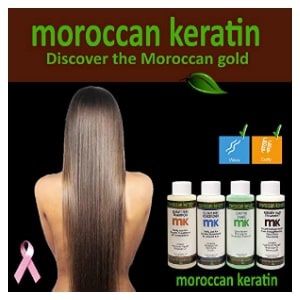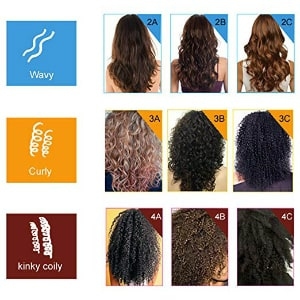 There are treatment kits for three types of hair: curly, kinky coily, and wavy, each of them working perfectly fine and leaving your hair straight for 4 to 7 months. Moroccan sets are reported to be the most efficient Keratin hair products for African American women and men.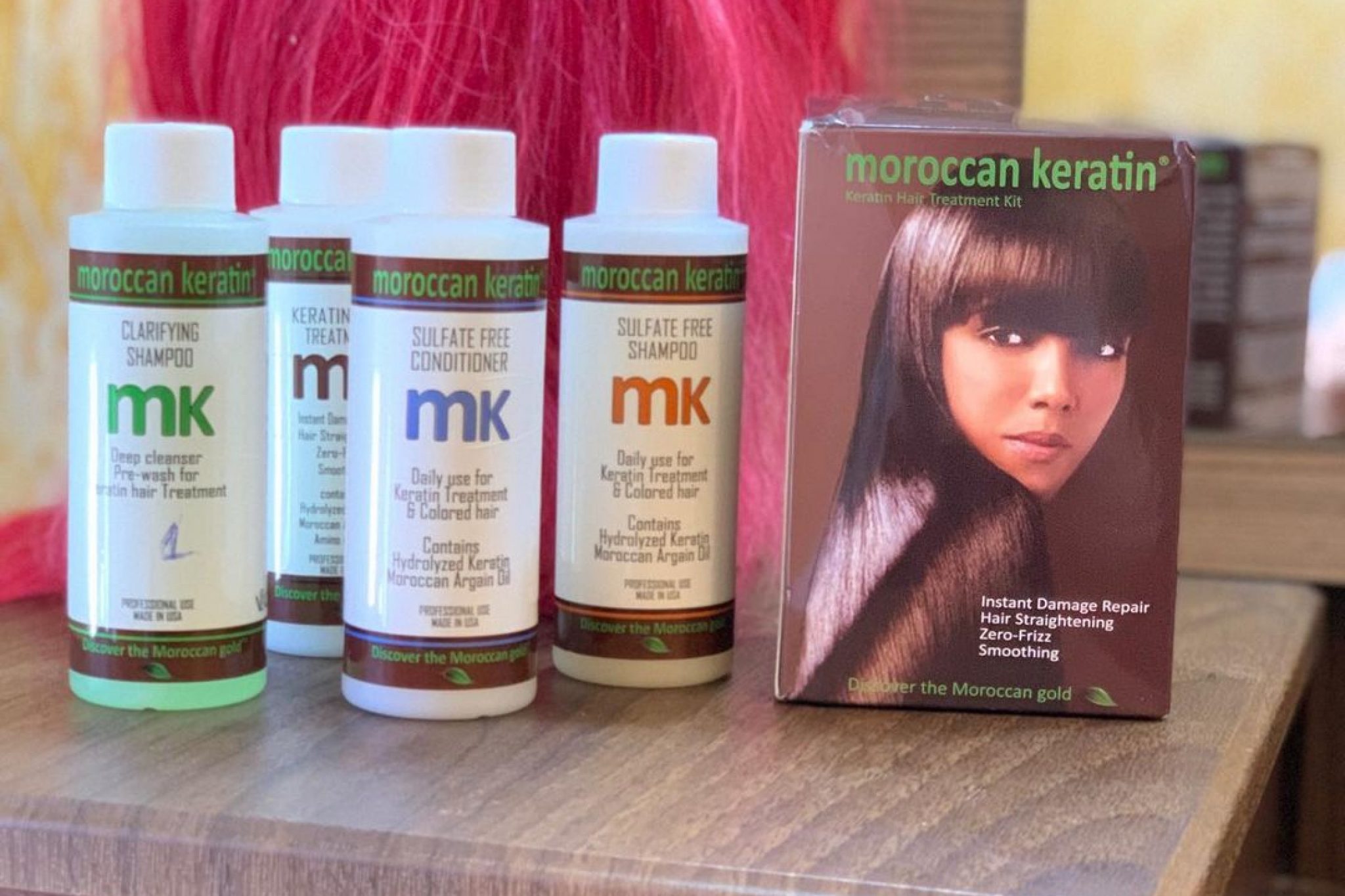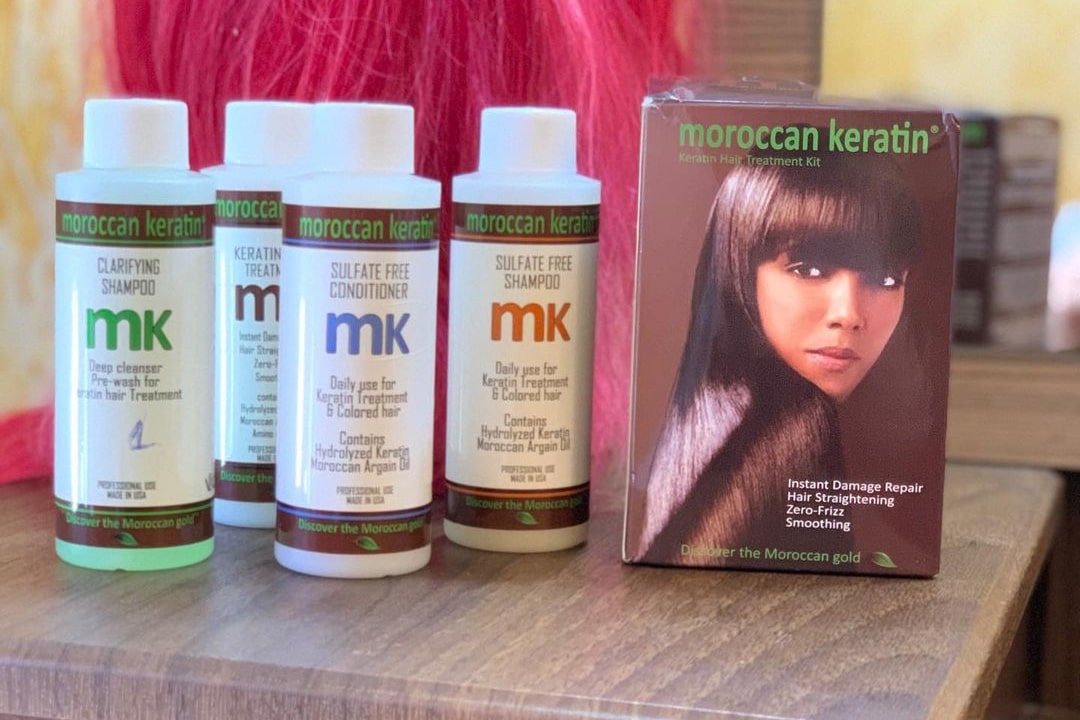 Rinse your hair with cleansing shampoo before applying the treatment, then divide it into even sections and dry with a flat iron.
Your hair may seem tired at first, but it will regain its strength with the help of restoring moisturizing shampoo and conditioner. You can also add more styling and restoring products to your after-treatment hair routine. Your hair will look noticeably softer and more flexible after the first couple of weeks.
Before using this treatment at home consult your physician as it contains dangerous chemical elements. If you're allowed to use it, make sure that at last 6 months has passed since your last chemical hair treatment. If you're not ready for Brazilian treatment yet, look for gentler hair straightening products.
---
PROS:
the most effective straightening procedure available at home;
great price/quality ratio;
treatment kits for three hair types;
best non-salon treatment for African American hair.
CONS:
contains SLS;
requires consulting your physician.
---
8. RUSK Deepshine Smooth Keratin Treatment
RUSK won the consumers' trust a long time ago, but until the release of this treatment, it was perceived as a strictly professional salon brand. Deepshine Keratin Treatment is a deep-penetrating product designed to restructure your hair with the help of Keratin.
While moisture level is replenished on the inside, the hair surface gets smoother, and the color shines vibrantly. The description says it's meant for normal hair, but in fact, it goes with any type of hair there is.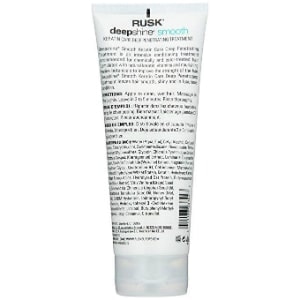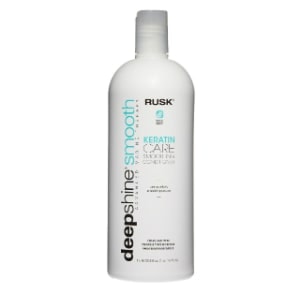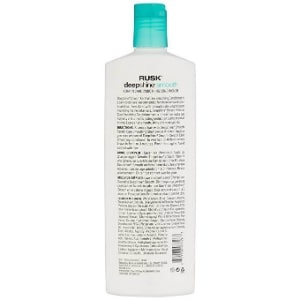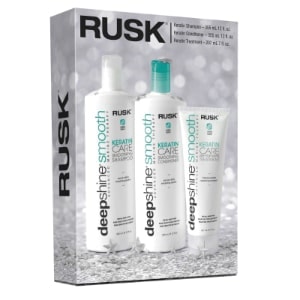 This treatment acts as a conditioner. Just apply it on the wet clean hair while gently massaging your scalp and leave for 5 minutes, then thoroughly rinse. The effect will be seen right after the first usage. The formula here is sodium chloride-free, so this product won't wash the color out; and I always recommend it among other products for black hair, as it makes the dark color deeper and adds shine. It is also completely safe to use on chemically treated hair and is highly recommended for restoring your hair after a salon keratin treatment.
Light and quickly acting yet deeply nourishing, RUSK Deepshine Treatment is evidently one of the best Keratin hair products.

---
PROS:
perfect for every type of hair;
easy and quick to apply;
protects color and deepens dark tints;
visible straightening effect;
doesn't contain sodium chloride.
---
9. Best Choice In Brazilian Keratin Hair Care Products
Brazilian Keratin Hair Treatment is a small bottle that seems to be one of the most effective hair straightening products with Keratin. Think of it as a salon procedure transferred to your home.
Even the curliest of your locks straighten to the point when you forget they weren't as smooth and silky all the time. And the final result lasts from four to six months. One bottle contains active chemical ingredients to affect your hair with maximum efficiency, as well as the complex of natural oils that brings moisture and helps to restore hair right after the procedure.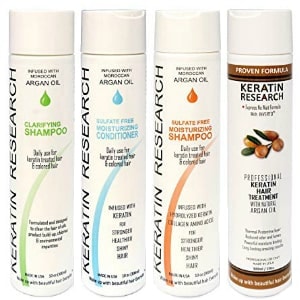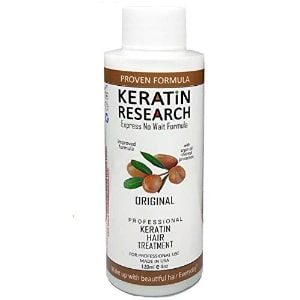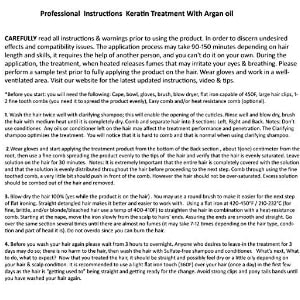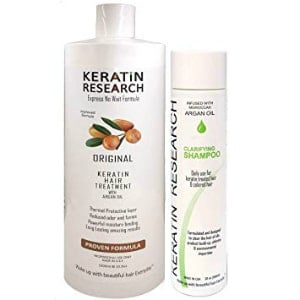 This product is based on the express formula, which makes Keratin treatment a quicker procedure. Give it to your salon master instead of your regular means of straightening treatment or use at home. Just remember that you will need help to apply the product on your hair evenly and to work up every lock.
It may take up to four hours, so prepare everything you may need for the procedure in advance, choose a comfortable seat and make sure there is access to the fresh air, as breathing the chemical fume from the product may irritate your mucous membranes.

---
PROS:
effective Keratin straightening;
works on thick and curly hair;
contains natural oils to restore your hair immediately.
CONS:
contains dangerous chemicals;
you will need an assistant for the procedure.
---
10. Favorite Keratin Products For Fine Hair: Vitamins Keratin Hair Mask Deep Conditioner
Vitamins brand has been a top choice for professional hairstylists for more than 70 years. They offer treatment for every hair problem but for this review I've chosen the one that proved to be effective with dull and severely damaged hair.
I don't recommend Keratin hair mask products often, because I know that many people don't have time to spend it with a towel wrapped around their head for three hours. But in this case, it takes no more than fifteen minutes, and each of them is worth the result.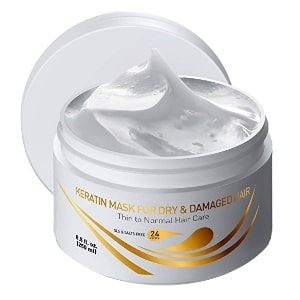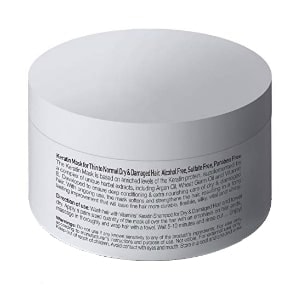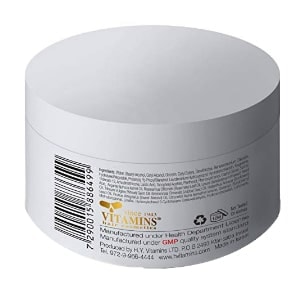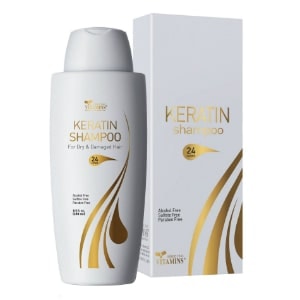 Vitamins mask contains the best quality Keratin, Moroccan Argan Oil, and E Vitamin. It brings moisture to the roots while dealing with split ends and frizzes and adding volume. The effect is seen best on dull, frizzy, and thin hair. The secret of Vitamin efficiency is that the result can be also seen on every other type of hair, no matter how well or poorly treated it is.
It restores original color, and by itself makes up for several styling products. A must-have if you often hot brush or straighten your hair and make curly stylings.

---
PROS:
best quality ingredients;
a perfect treatment for thin and damaged hair;
the result is seen on fine hair after the first use;
takes no more than 15 minutes of your time;
great pre-styling product.
---
11. Healthy Styling With One of the Best Hair Products With Keratin: CHI Keratin Mist
Perhaps this review won't be any different from other straightening product reviews if I tell you that CHI Mist is one of the best hair products with Keratin. There's nothing new about telling you that this is a really effective straightening product either, but I'll try to prove my point.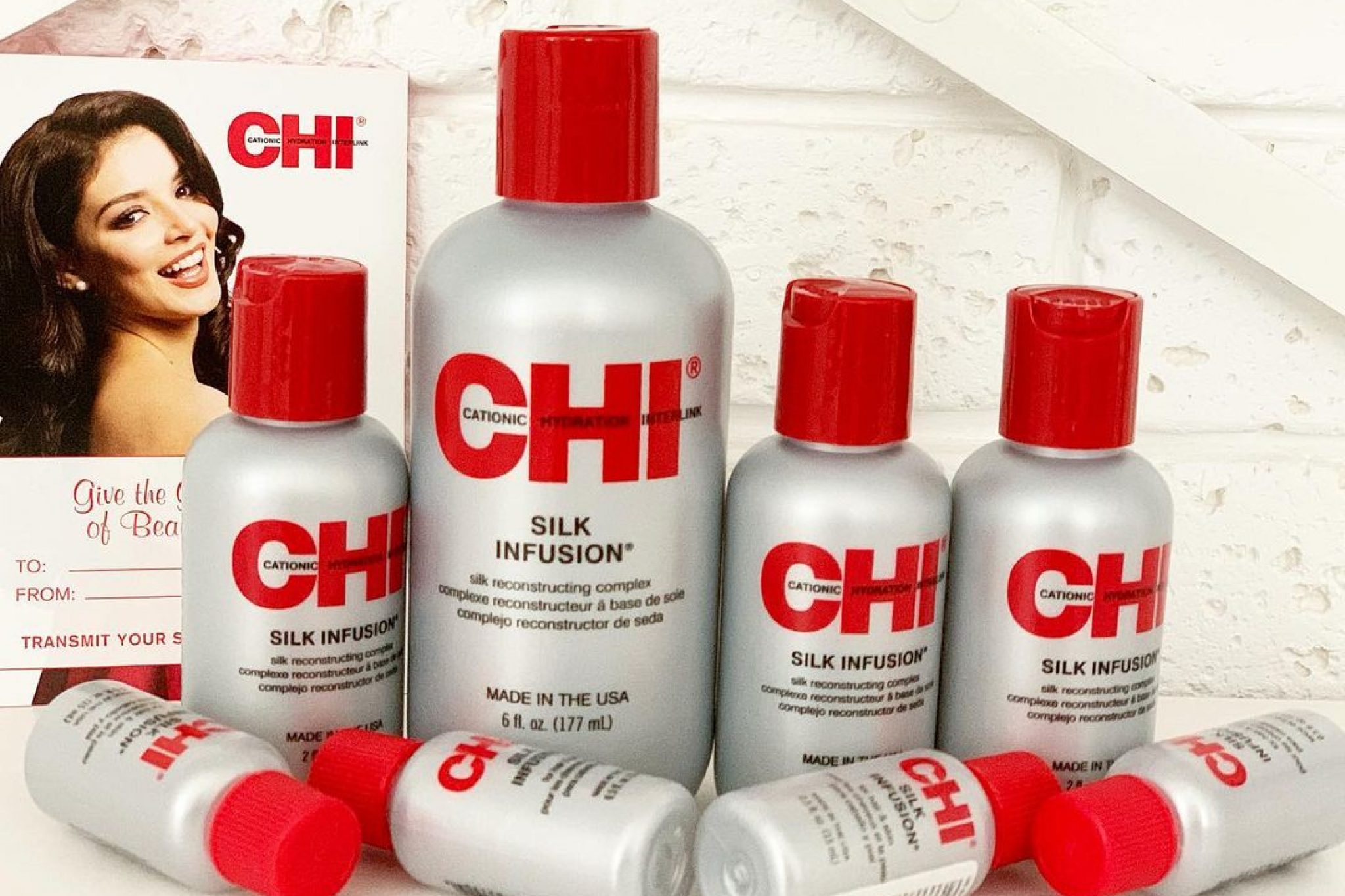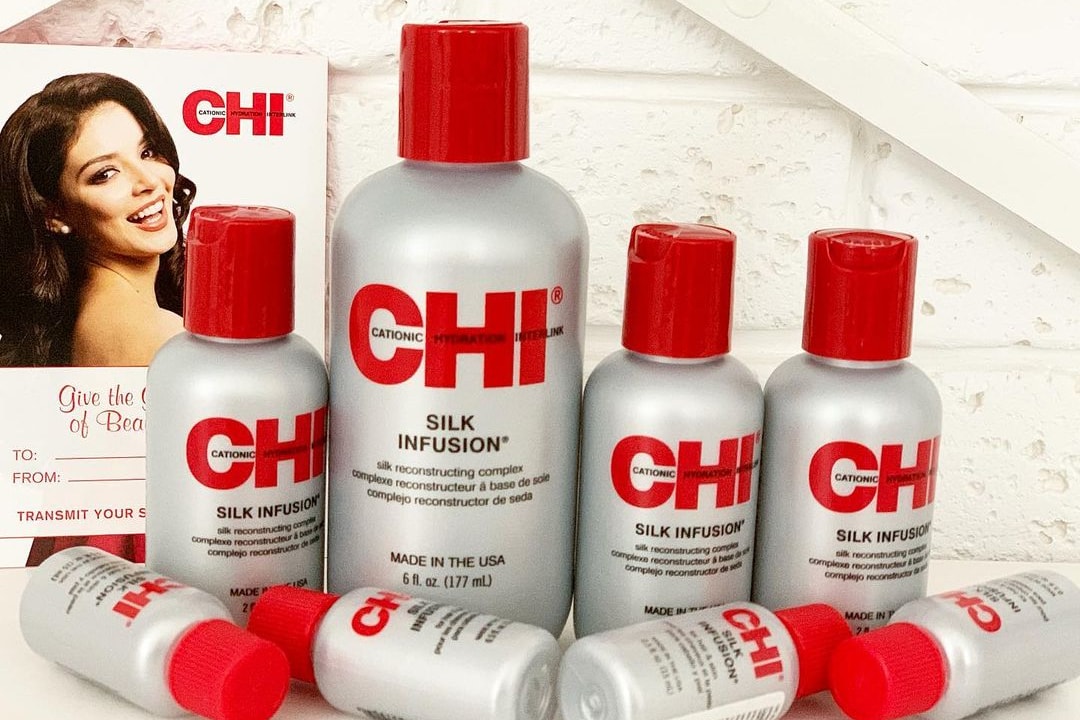 If you've already become acquainted with CHI hair products, Keratin mist will serve as a great addition to Keratin shampoo and conditioner. On its own, it will bring maximum protection to your hair during blow-drying and styling.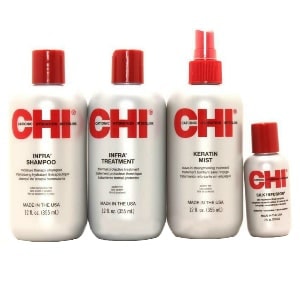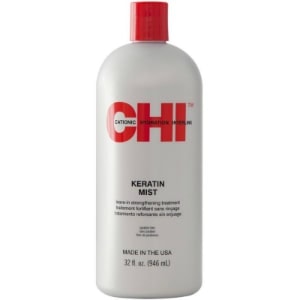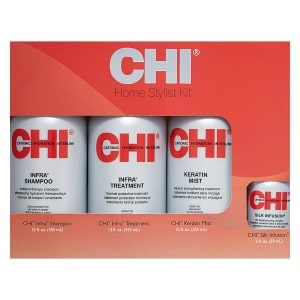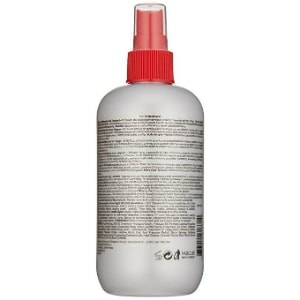 CHI Mist was released as a part of a new brand line of products that contain Cationic Hydration Interlink technology. Thus, spraying CHI Mist not only moisturizes your hair but creates interlinks that lock moisture and strengthen the inner hair structure. As a result, the porosity of hair shafts gets even making them more manageable.
With CHI Mist your hair can easily stand manipulations with heat and different stylings. It also develops wonderful style memory so that stylings last longer even on unruly and heavy hair.

---
PROS:
cutting-edge technology serves the beauty and health of your hair;
works great both in combination with other CHI products and on its own;
protects and straightens your hair;
style memory.
CONS:
more a styling tool than a full hair treatment.
---
12. Game-Changing Keratin Products For Curly Hair: DAILY KERATIN by Keratin Express
This is a healthy alternative to many Keratin straightening treatments at your local salon. Effective Keratin hair products formaldehyde-free are not so easy to find. And DAILY KERATIN is exactly one of those rare finds.
With its help, you can prolong the straight days of your hair after salon treatment, but it is also quite effective on its own. Thanks to its formula you get frizz-free sleek hair that repels humidity and keeps lively color.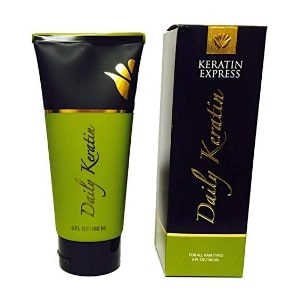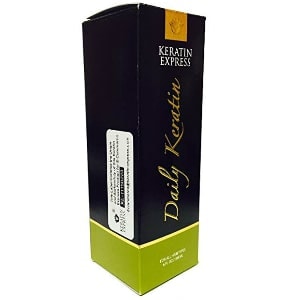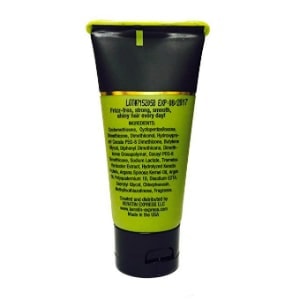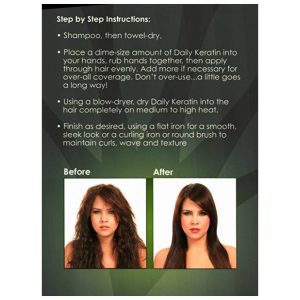 Keratin Express specializes in Keratin hair products for curly hair. DAILY KERATIN can be used after every hair cleansing: shampoo your hair, towel it until dry, and then apply a small amount of the substance evenly on your hair from roots to ends.
Then you only need to blow dry your hair on medium heat regime. You can finish your styling with a curler or a flat iron to lock it up and add some curls.
As a nice bonus, you get rid of split ends and occasional frizz. Some people prefer Simply Smooth Keratin hair products to Keratin Express. Those are also good, but I've chosen this one because of its quality/price ratio. One pack can last for up to six months, depending on how coarse and curly your chevelure is.

---
PROS:
effective formaldehyde-free formula;
easy to use;
can be used to maintain salon keratin treatment effect or on its own;
eliminates split-ends and frizz;
one pack lasts up to six months.
CONS:
the strong scent may seem irritating.
---
13. Still, Looking for Keratin Products For Damaged Hair? Stop Looking: L'ANZA Keratin Healing Oil Hair Treatment(not available)
Try this instead:
Probably the only product with the word 'healing' in it in this selection. And it's true. The formula is rich with Keratin proteins and Phyto complex that replenish the natural Keratin level, provide moisture and restore damaged areas of the hair shaft.
It is used as a serum after washing your hair with shampoo and conditioner (or just shampoo) and before styling. While protecting your hair from overheat, it boosts up its elasticity and natural glow.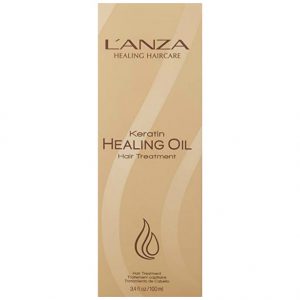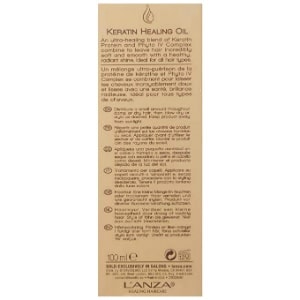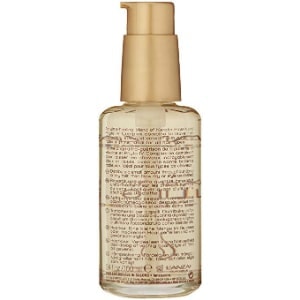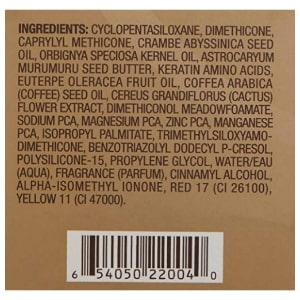 L'ANZA is a professional line that cares about your hair health and tries to deal with it consciously. Their products are cruelty-free and don't contain sulfates, parabens, sodium, or gluten. A perfect choice for people with allergies.
This particular oil is widely recognized as a top means in Keratin products for frizzy hair. Nevertheless, people with fine and slippery hair can use it too. To not add heaviness to your hair, use one pump instead of two and concentrate on the ends.

---
PROS:
all-natural allergy-free composition;
one of the most efficient Keratin hair repair products;
perfect for eliminating frizzes;
natural glow booster.
CONS:
use carefully on fine hair to keep it from getting heavy.
---
14. Keratin Hair Smoothening Products: Paul Mitchell Awapuhi Wild Ginger Keratin Intensive Treatment
Paul Mitchell team has managed to make a unique product with Triple Keratin formula, an exclusive blend of proteins. This treatment delivers shine and glow in the most intensive way and very soon becomes your number one tool against hair damage and moisture loss. Such additive as Awapuhi extract brings more shine from the inside. It will work best on coarse and thick hair.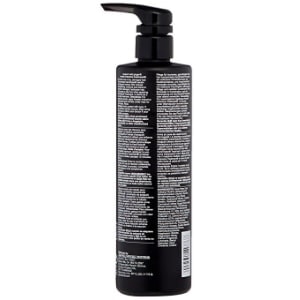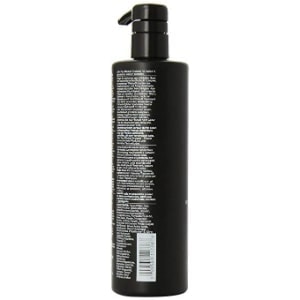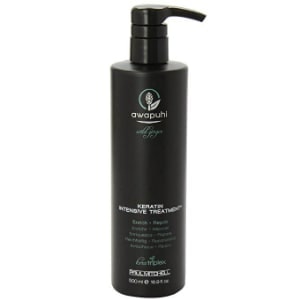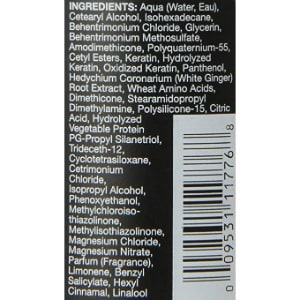 The treatment has an intensive effect on hair and is recommended to use once a week as a conditioner. After cleansing applies a small amount of it on damp hair and leaves for 3 to 5 minutes. Several minutes are enough for it to bring your tired hair back to life.
Just be careful with the amount and try not to use it more than once a week. The formula is so rich that it may weigh your hair down and add grease to it. Think of it as one of your Keratin hair SPA products — total relaxation and revitalization.
Another great thing about Awapuhi Wild Ginger Intensive Treatment is its splendid floral smell with a hint of ginger. Paul Mitchell brand has refused to conduct animal testing and their products are suitable for vegans.

---
PROS:
a luxurious product for a moderate price;
probably the most intensive treatment there is;
exclusive triple Keratin formula gets to the core of lackluster hair;
magnificent smell;
cruelty-free.
CONS:
may weigh your hair down.
---
15. One of the Top Keratin Products For Black Hair With Alopecia: XFusion Keratin Hair Fibers, Auburn
Keratin Hair Fibers will work well with many hair colors as there are nine shades to choose from. Still, it's essential that it looks natural on darker hair. The fibers are made of Keratin proteins that mix up with your hair and make it look thicker and healthier.
It is often prescribed to people with alopecia to make them feel comfortable while medical treatment. You may also use it if your natural hair is fine and thin. It will as well serve as a great cover-up for your gray hairs between dyeing. Additional hair fibers will stay on your head regardless of weather conditions and your love of hats.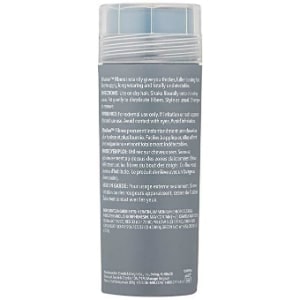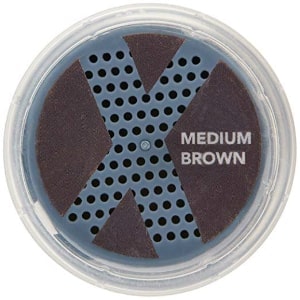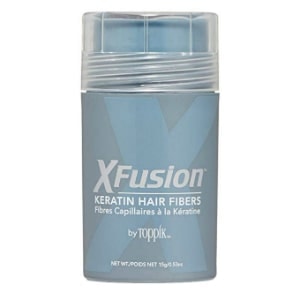 Apply XFusion Keratin Fibers on the clean dry hair, holding the bottle about 5 inches from your head. You may need additional spray applicators that can be bought from XFusion too. Then pat your hair up to blend the fibers in. Unfortunately, the product looks more natural when applying from the distance, so your bathroom may need a thorough cleaning after every use.
There's another, non-spraying way of use: simply tap the applicator directly on your scalp in the areas you need to fill up. The second way will suit more to masking regrown grey hair.

---
PROS:
adds thickness and masks grey locks;
great for people with alopecia;
available in nine shades;
fibers stay with you until the next cleansing.
CONS:
applying can be a little bit messy.
---
What Else You Should Know About Keratin: FAQ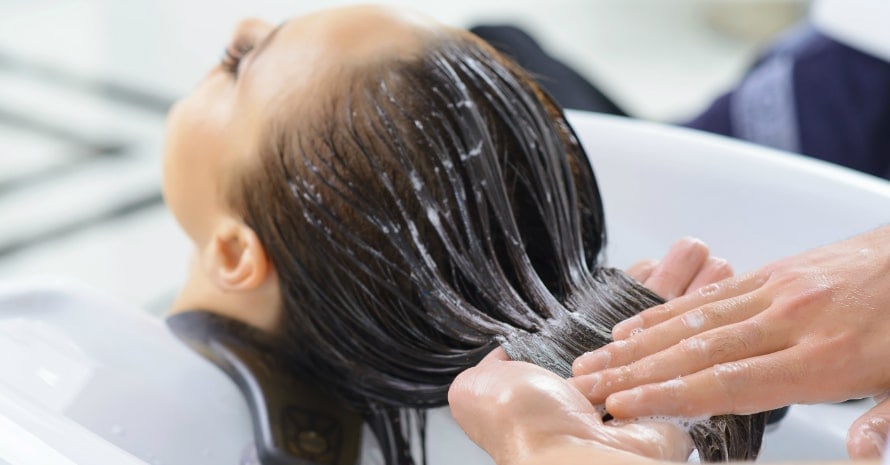 What's the difference between Keratin treatment procedure and Keratin hair products?
Salon Keratin treatment is a procedure that alters your hair structure for several months. Its formula is Keratin-based, but its effect is equal to chemical hair treatment and is in many ways damaging. There are products for Keratin treatment available for home use, but you must be careful with them and take all the precautions.
On the other hand, there is a wide range of products with Keratin that serve to heal your hair, reduce the damage from chemical treatments (as well as from salon Keratin treatment), boost the color up, and prepare it for styling.
Can I use the Keratin shampoo conditioner every day?
That depends on the formula of the product you use. If you have a conditioner for damaged and tired hair, like Paul Mitchell Awapuhi Wild Ginger Keratin Intensive Treatment, everyday use will add weight to your hair and make it greasy. There are, however, products designed for regular use, like Keratin Complex Keratin Color Care Duo. They work great when used daily but you can alternate them with other shampoos and treatments.
Will my hair get used to Keratin shampoos if I use them for a long time?
With Keratin you get a very little accumulative effect because your hair is ready to absorb no more than a certain amount of Keratin it needs. Some products have additional ingredients to help Keratin molecules get deeper into the structure or stay in your hair longer but they will merely affect your hair's 'decision' as to whether to let the additional Keratin in.
The prolongation of any shampoo use won't affect it either. The effect from the first couple of uses will most likely stay with you for the rest of the time. If you have allergic reactions to a particular Keratin shampoo or your scalp gets dry, don't try to get used to it and exclude it from your hair routine. Always choose formaldehyde-free and SLS-free products, especially if you use them regularly.
What are the best Keratin hair straightening products UK brands can offer?
There's a wide choice of great British brands that offer careful treatment of African American hair. Some of them are based on holistic principles, like Almocado, some are user-friendly communities for beginners, like Big Hair + Beauty. When it comes to Keratin hair products, UK brands are the most rational and caring ones.
Let Keratin Into Your Hair Life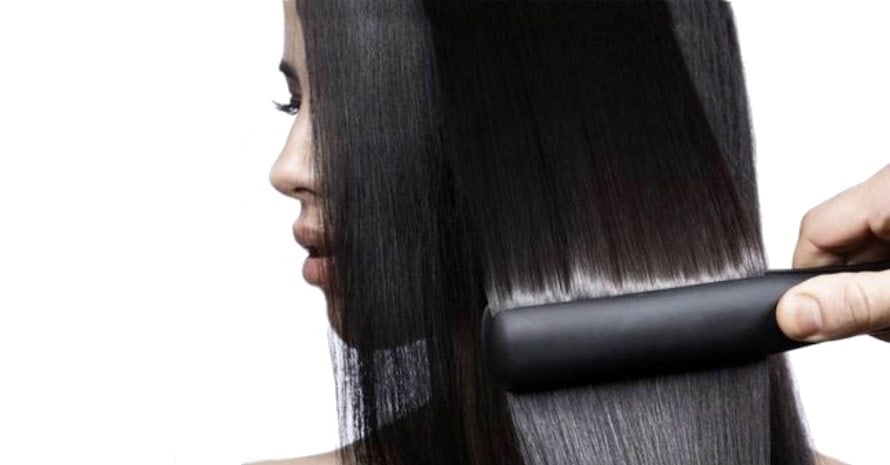 I've told you pretty much everything I know about Keratin and have tried to introduce you to the Keratin-based products for any hair type there is.
Now you know all the pros and cons of salon Keratin treatment and can choose the straightening product based on your knowledge of dangerous ingredients and possible risks for your hair. Or, perhaps, by the end of this article you'll decide to straighten your hair at home.
Besides Keratin Treatment, there's a great deal of products intended to enrich your hair with Keratin by altering its structure, locking moisture in, and rebuilding the damaged areas.
You can turn your bathroom into a SPA salon with revitalizing hair masks, add glow and shine with styling sprays or use it on a regular basis in your shampoo. Keratin fiber products can also become your saviors if you face alopecia and greying roots. I'd recommend you to start with a hair mask or a basic shampoo/conditioner combination to see how it goes.
Have you ever tried Keratin treatment at the salon? Do you use Keratin-based products to straighten your hair or to make your natural curls soft and glossy? What is your favorite product with Keratin? Please share your Keratin experience with us!
Last update on 2022-12-11 / Affiliate links / Images from Amazon Product Advertising API