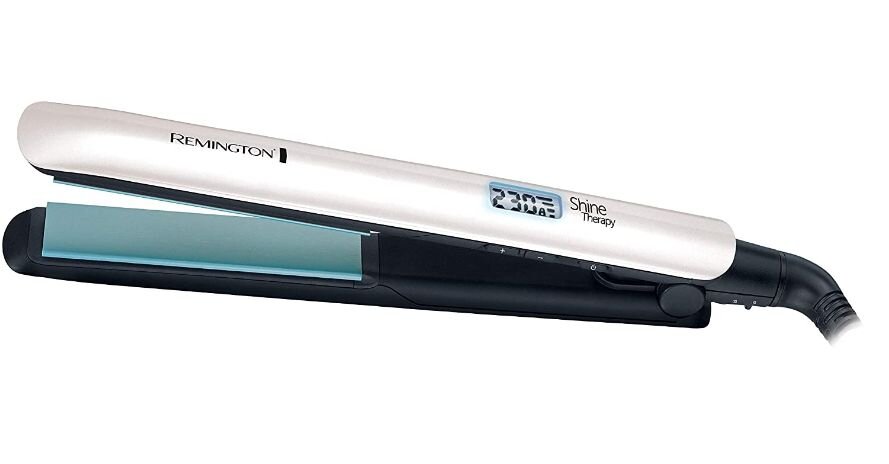 In the beauty arsenal of most women, you surely can find a flat iron for hair straightening. Especially, if their hair is as wavy as mine.
Now, my hair is:
medium length
thick
wavy, porous, and fluffy
dyed
with dry and split ends
with greasy roots ( indeed, I can wash my hair every day, but I will go crazy, as it takes long enough to dry it, and I don't always have this time).
After many years of using, the ceramic plates surface of my old flat iron has been slightly damaged. So, I've decided to buy a new one. What I had not in my old flat iron and wanted to see in the new straightener:
locker
temperature display
small weight.
After I went through tons of flat iron reviews, I've decided to buy Remington frizz therapy flat iron.
Main Features and Characteristics
country of origin: China
warranty: 5 years
temperature settings: 9 modes
temperature diapason: 150-230° C
heat-up: 15 seconds
on/off indicator: Yes
temperature display: Yes
auto Shutoff: Yes
length of the power cord: 1.8 m
heat resistant poach: included
weight: 368 g.
Description of the Manufacturer
Remington straighteners of this series have the unique technology, which helps to preserve hair and prevent the harmful effect of high temperature.
Ceramic coated plates are infused with natural Moroccan Argan Oil and Vitamin E that when heated evenly emit shine enhancing Micro Conditioners through the plates.
Thus, throughout the lifetime of the device, your hair is protected against overheating and emits a beautiful, natural shine.
There is a temperature lock function and plate lock function, as well as a rotating cord provided for your convenience.
Appearance:
it was packed into a box (I hardly can remember, where it is)
it's made of white plastic and has a black backside
there is an on/off button and temperature adjusting buttons on the side
also, there is a temperature display, it flashes while the plates heat up
the straightener has thin, floating, ceramic plates of the same color as a case
a cord is attached reliably and can rotate around its axis
the cord itself is not that thick, and exactly thinner than its predecessor's cord
it has the US plug
and, what is important, there is a locker for plates
there was a heat-resistant poach in the set.
You can put the hot straightener in it and nothing will happen. Also, you can use it as an underlay when do styling; the main thing is not to allow the flat iron to fall onto another surface.
How to Use Remington Shiny Therapy
When I brought my purchase home and got it out of the box, I smelled a quite clear chemical smell, which made me wary. I was not pleased with the packaging itself (but it is on account of the shop). I took the box from the shop-window but did not open it in the shop. And only at home, I found that plastic bags covering the straightener were torn, and a scratch flaunted on the case:
After many positive reviews I read, I did not want to return my flat iron as it was the last one in the shop. But the first impression was spoiled. Now, I was more sceptical about my purchase.
After years of use of one type of straighteners, it is not easy to adapt to the new one.
What I did not like right away was the cord that was not as long as I wanted. I can't say it was "short", as there are much even shorter.
So, after having switched the device into the socket, it is also necessary to press the power button. And the temperature on the display lights up. What surprised me, it's not the minimal possible temperature, but 190 C. I use lower temperatures to straighten my hair, so I always have to reduce it after turning the device on.
I can't say it bothers me so much, but if I forget to do, I have to wait for the plates to cool. And it takes time. And it seems to me, it's longer than heat up time, because this straightener heats up in a matter of seconds, compared to my other flat irons.
Let's go further, the ironing is not that light, and you have to adapt to this. The shape is flatter than I had before. So far, I never dropped it, but I'm afraid to do because I usually straighten my hair in the bathroom, and there's a tile floor… well, you know.
It's said a lot about floating plates. I mean that it's cool. Honestly, I don't like them at all. I have two problems:
With my type of hair, it is difficult to regulate the pressure.
Sometimes some hairs are caught with the plates, and it's painful!
The plates are wider than it was on my old kind device. For straightening hair along the length, it's a plus, but I don't do that often. What I do, I straighten my bang every day. And it was not easy at the beginning. So, sometimes I went back to my "old man". But, finally, I have overcome and get used to it. Now, everything is OK.
All in all, it straightens hair along its length good.
I can't say anything about the shine therapy declared by the manufacturer because now I straighten my hair along the entire length rarely. But if any effect is, it seems to me that it is more likely to make the dirty hair faster. After a few procedures, the ends of my hair are still not dry and split. Although, I believe that frequent use will unequivocally and inevitably lead to this, despite any ceramics. This is the effect of high temperatures!
In any case, after the daily straightening of the bang for two months, almost nothing bad has happened to it. Maybe, the ends have become a bit dryer. But I cut my bang every 1.5 months, while the other hair stays intact. I am not sure it will work the same if I iron all my hair regularly.
It took not one month for the chemical smell to disappear.
PROS:
there is a temperature display
ceramic coating on the plates
cute design
plate locker
rotating cord.
CONS:
for me, floating plates can cause problems – they pinch my hair!
I wish the cord were longer
preset temperature is not the minimal possible
chemical smell at the beginning.
Conclusion
Still, I am annoyed that when straightening hair they are pinched by plates, this both causes discomfort and increases the time of the procedure. Also, the short cord still bothers me. For all this, I reduce the rating for one star.
Last update on 2022-12-11 / Affiliate links / Images from Amazon Product Advertising API