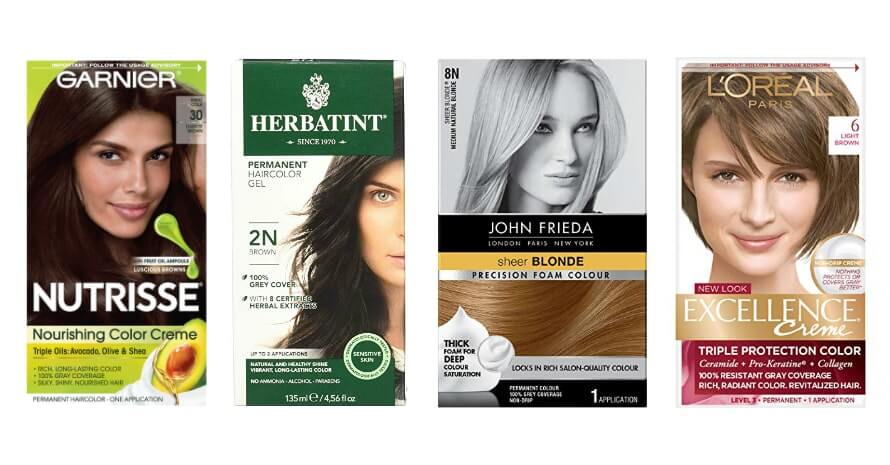 There are lots of myths about gray hair. Some of them tell us that gray hair is impossible to dye, others say that it is a useless procedure with a short-term effect in the end. In truth, there is a great number of options for people with gray hair.
My name is Clarissa, I am an author on this blog, expert in gray hair care and a silver fox myself. For this article, I've gathered 10 best dyes for gray hair. They vary by their developers, qualities, and prices. All of them are popular among professional hairstylists.
And since gray hair needs extra care I listed here only the dyes that are less damaging. Below we are going to talk about the best colors of gray hair dyes and why it is ok to see Ammonium Hydroxide among dye components. I also will mention the pros and cons of each dye on the list.
If you have any questions or something to add to the description, please share your thoughts in the comments below. My advice is to check all of these dyes, chose one or two with the most beneficial effect for your hair, and try it on your hair. I am eager to hear about your experience with the best hair dye gray coverage.
Top-10 Ways of Making Your Gray Dyed Hair Fantastic
There is a chance that some of the dyes listed below are already well-known to you. Some of them are made from natural ingredients only, others contain chemicals to make the effect permanent. If you decided to dye your gray hair, I am going to help you with that.
1. The Henna Guys 100% Pure and Natural Henna Powder for Hair Dye – Effective Hair Dye That Covers Gray Hair
The first in the list is a dye with henna powder in it. This is a purely organic option which is also a remedy for damaged hair. There are no chemicals, metals, or pesticides in henna hair dye for gray hair. Naturally, it is used for red and brown hair, but in a mix, with other natural ingredients, the color varies.








If you are allergic to chemical components, henna hair dye cover gray is the best opportunity for you. According to the Henna Guys developers, they grow henna themselves, without any pesticides or chemicals. They don't test their cosmetics on animals. Henna is used not only for dyeing hair but as a hair mask. So if you don't want to dye it, just pick henna without colorant in it.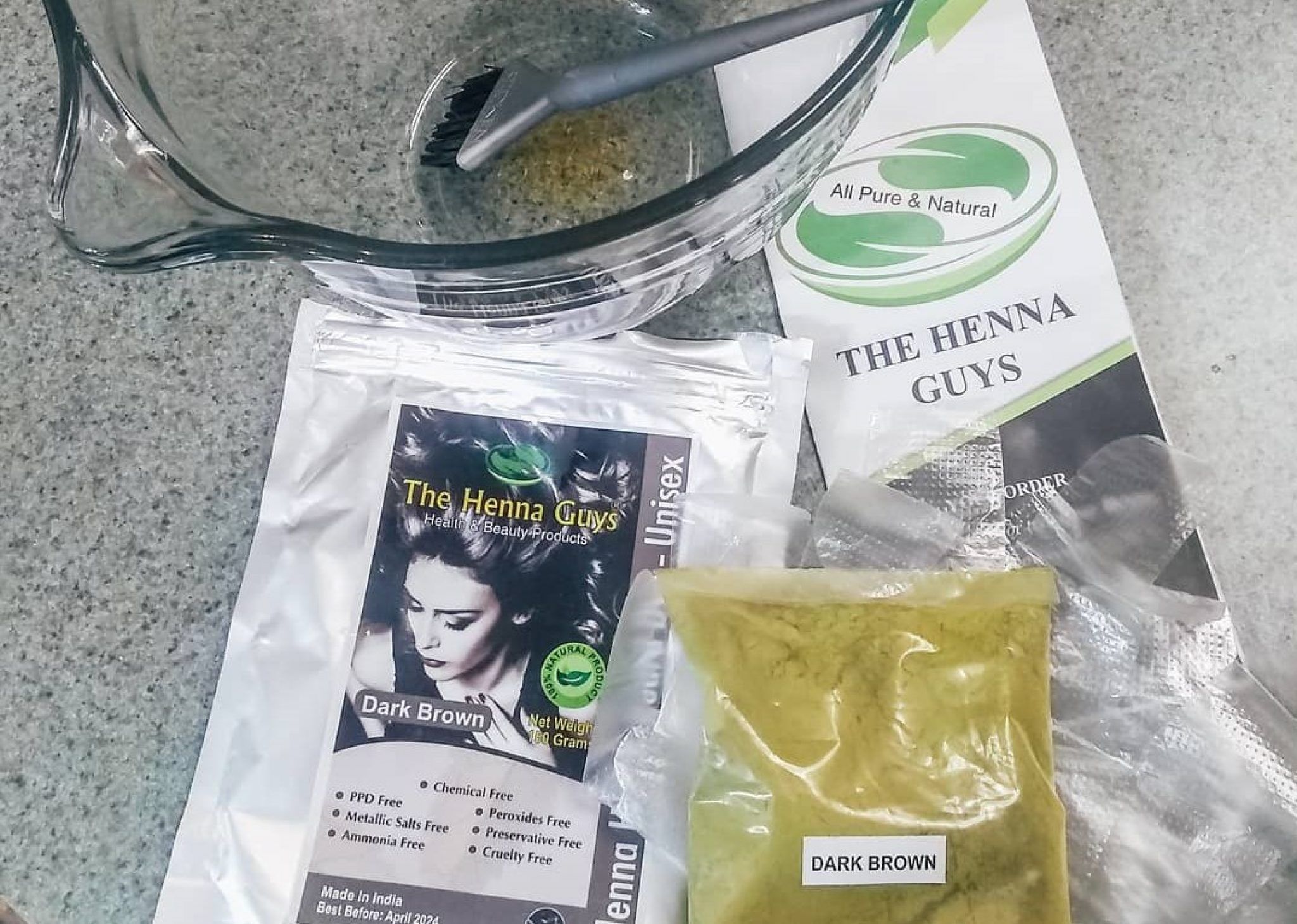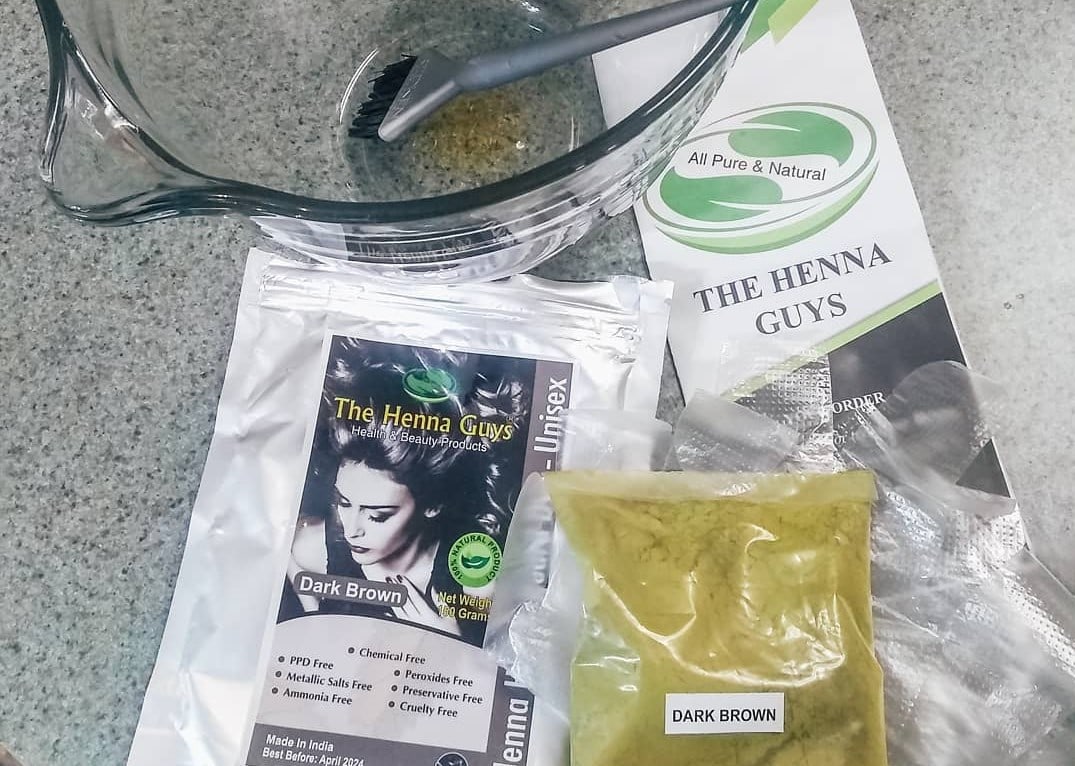 Beware! Henna dye is not as strong as dyes with chemicals or metals. Choosing henna, make sure you will be able to dye your hair twice more often. You will also need to hold the dye longer than usual, up to 45 minutes, before washing it out.
---
PROS:
only natural ingredients;
wasn't tested on animals;
no allergies;
inexpensive;
ammonia-free.
CONS:
it takes longer to dye the hair.
---
2. John Frieda Precision Foam Color, Medium Natural Blonde 8N – the Best Type of Hair Dye to Cover Gray at Home
John Frieda company has created the easiest way to dye your hair at home. Now you can forget about trying to reach the hair on the back of your head with a special brush. You will have to spread the special foam across your hair, and wait for 30 minutes. The easiest way for hair dye cover gray without putting much effort.








This dye was made for any hair, including gray. To dye gray hair completely, you will have to wait an extra 10 minutes. Instead of 20 minutes, wait for 30 minutes before washing the dye. Use special after-color conditioner, which you will find in the pack. It protects the hair and locks the color in.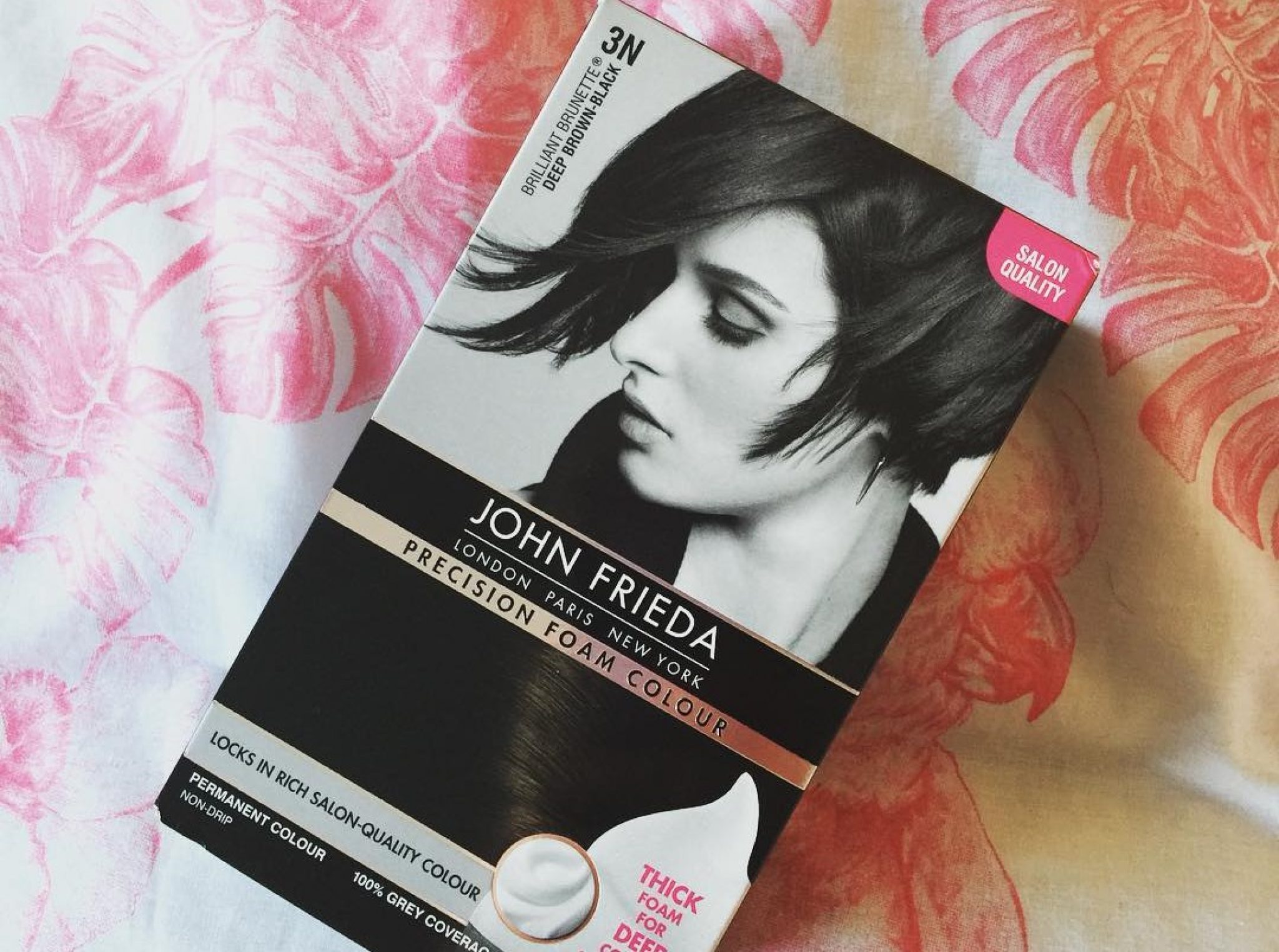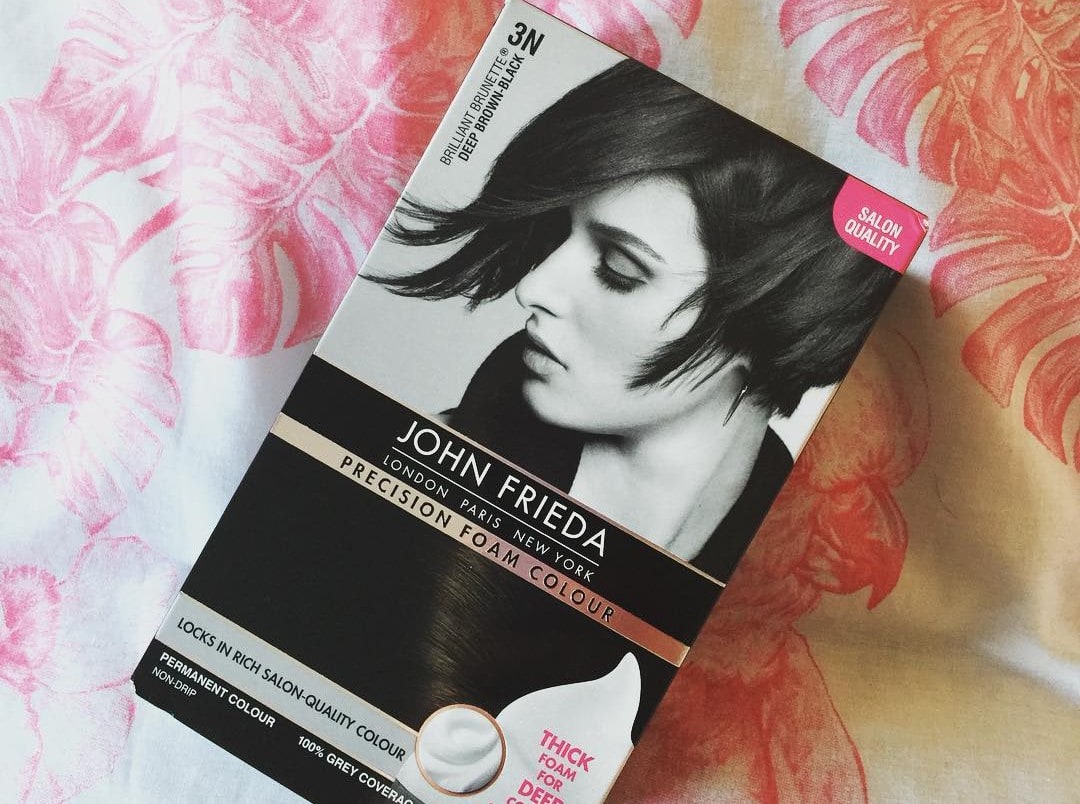 If you are allergic to some products, better make a pre-test, putting a drop of the dye on your skin. Do it 48 hours before dyeing your hair. Wait for several minutes and wash the dye. If you have an allergy on one of the components, you will notice it on your skin. This dye contains Ammonium for a permanent effect.
---
PROS:
easy to use;
permanent effect;
does not take much time;
doesn't cost much.
---
3. Revlon Colorsilk Beautiful Color, Dark Soft Brown – an Expert in Dyeing Resistant Gray Hair
Revlon Colorsilk Beautiful Color combines the long-lasting effect and affordable price. It takes care of your hair, making it rich in color and silky. The color looks multidimensional with the extra UV Defense. Revlon is a trustable cosmetic making company with a good reputation across the world.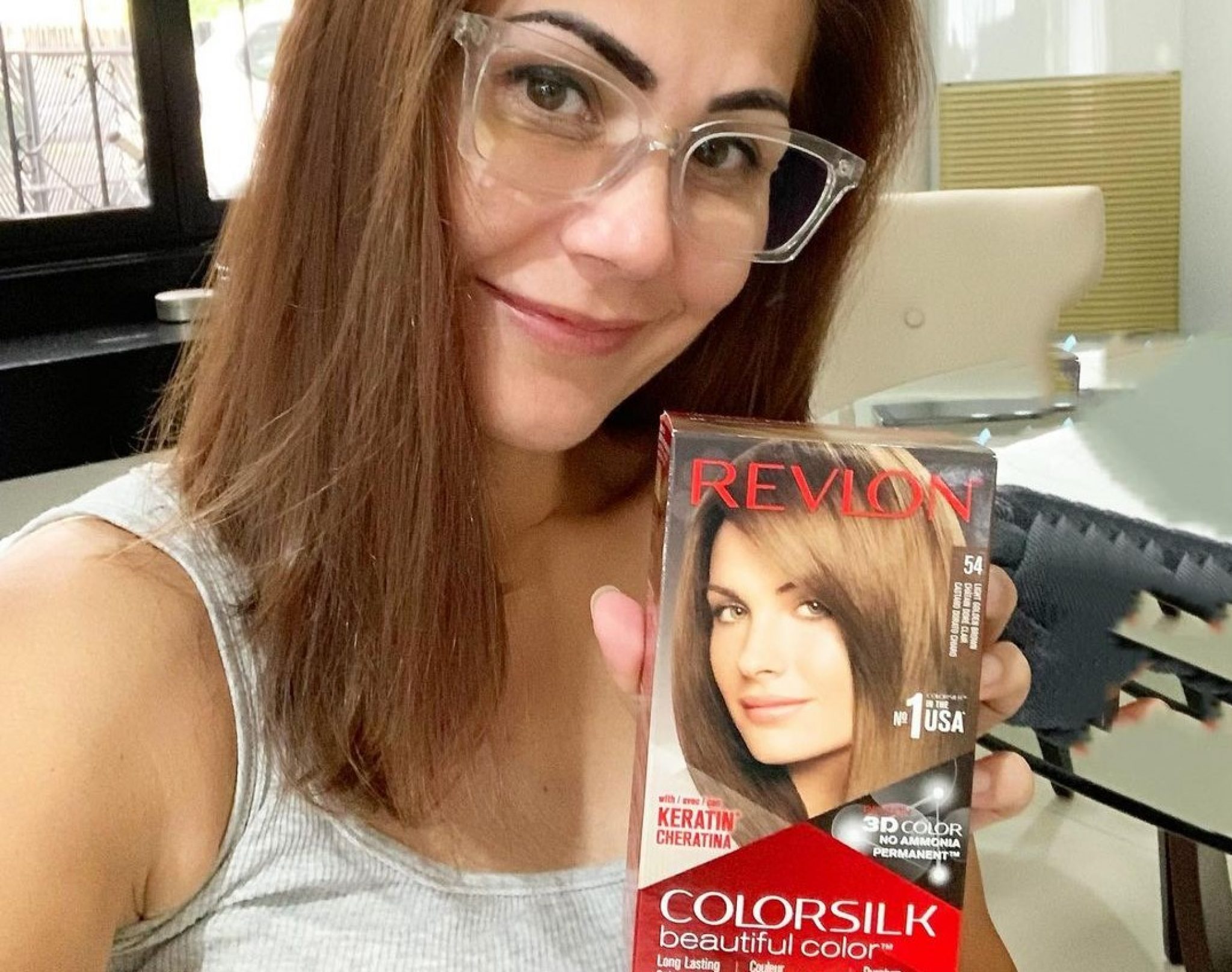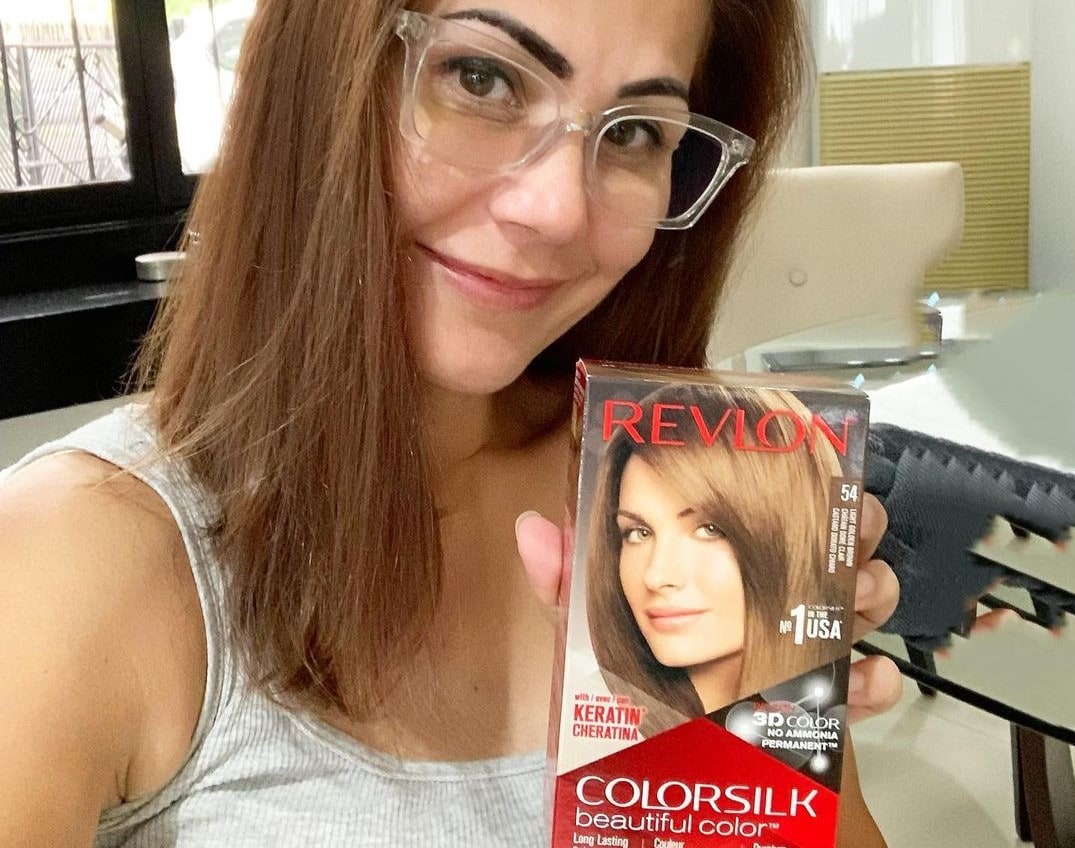 The formula in the dye is Ammonia-free. The hair is fed with additional silk proteins, to avoid possible damage from the dye. If you don't want a dark brown color on your hair, choose one of 41 shades offered in a palette. They even have deep burgundy and
natural blue-black hair color.
While Revlon positions its dyes as the best over the counter hair dye to cover gray, I strongly recommend you to start dyeing your gray locks first. You also need to check possible allergies to other components of the dye. If it does not contain ammonia, there may be other chemicals to guarantee the long-term effect.








Read the instructions before you buying it. If you have long hair, you may need to order the second pack. There is an offer for three packs in the store. It is convenient and cheaper than buying separately. Don't forget to use gloves to cover your hands while dyeing the hair.
---
PROS:
long-lasting effect;
does not cost much;
covers gray hair while protecting it from the damage;
ammonia-free.
CONS:
you will have to spend more time covering all gray hair.
---
4. Schwarzkopf Ultime Hair Color Cream, Cinnamon Brown – gray hair coverage dye No 1
Schwarzkopf is a big name in the hair dyeing industry. And the color palette looks amazingly luxurious like it just came from the fashion show. The color intensity is guaranteed by a special formula. Besides, it does not fade for 9 weeks, according to the developers.
No matter what color you will choose, Schwarzkopf's main goal is to let your hair shine like a diamond and still keep its health and strength. Always use a special conditioner after the dyeing.
It is also packed with a bottle of developer lotion, color cream, leaflet, and gloves in a box. If you know that your gray hair may be resistant to dyeing, follow the instructions from the leaflet and wait for 30 minutes until washing. Don't wash your hair 24 hours before dying.








If you don't want to dye your hair cinnamon brown, which will look great on gray hair, you can choose one of the five ranges of color, including Copper, Brunette, Black, Blond, and Red. In total there are 22 shades you can choose from. Use two boxes if your hair is long. It has a pleasant aroma and creamy texture. On average, the effect lasts 6 weeks or so. After that, you will have to cover your gray hair again.
---
PROS:
variety of colors in the palette;
long-lasting effect;
pleasant smell;
covers gray hair.
---
5. L'Oreal Paris Couleur Experte Color + Highlights in a Flash, Medium Blonde – Incredible Hair Dye Loreal for Gray Coverage
L'oreal Paris Couleur Experte color is a nice way to do professional-looking highlights at home. Another point goes for the long-term effect of the dye. You may forget about dyeing for over a month and a half.
There is an almost professional kit in the box. Besides the dye, you receive a special tool for your finger that will help you to make even highlights. After you will put the dye on your hair, use Control Touch FingerTip to separate several strands that you want to highlight. Spread the dye on them.
Wait for 30-35 minutes, depending on the color you want, the intensity of gray hair, and other obstacles. You will find everything in a leaflet. Use hair conditioner from the box and wash it carefully.








Warning! The dye contains persulfates in its bleaches. You can't combine it with perming. It is also important to check whether you have an allergic reaction to the dye or not, by testing it 48 hours before dyeing your hair at home.
There is a Blue HI-Visibility formula that allows you to see your highlights and the future outcome.
---
PROS:
nice scent;
extra features;
easy to use;
resistant color for up to 6 weeks.
---
6. Schwarzkopf Keratin Color Anti-Age Hair Color Cream, 6.0 Delicate Praline – Best Box Hair Dye for Gray Coverage
If you want to find a perfect hair dye for gray resistant hair, Keratin Color is for you. And Schwarzkopf does it with a style, as usual. From gray, your hair will turn into shining praline, evenly covered and resistant. The pre-color serum protects it from damage, and Keratin makes your hair silky and luminous.








One box will not be enough for long hair. Start with the most problematic zones and don't stop until you dye your hair. Wait for the time that is recommended for gray hair in a leaflet, wash it up carefully with conditioner. It is necessary to use protective hair masks a few days after the hair dyeing. Since the dye contains Ammonia, make sure you don't have an allergy.
The company has used ammonia control technology to decrease the odor. There is 100 percent gray coverage, promised by developers. And while you change the color of your gray hair, the dye takes care of it with protection technology. According to the manufacturer, your hair will be 80 percent less damaged compared to other dyes. I recommend you to buy two boxes pack, as it will cost you cheaper.
---
PROS:
low Ammonia level;
keratin care system;
100% covering gray;
intense colors.
---
7. L'Oréal Paris Excellence Créme Permanent Hair Color, 6 Light Brown – top Cover Gray Hair Dye
Dyeing gray hair light brown is not always the easiest task to do. That is why some women prefer not to take risks, no matter how much they want to try something new. This color is always in trend. And Loreal makes dyed gray hair maintenance fun and easy.
Your gray hair will be under triple protection. Even if you have really stubborn gray hair, it will be dyed in the half of an hour. There is a special conditioner to use after the dyeing procedure. It will protect your hair from damage and increase the effectiveness of the dye.








If you want to try something other than Crème Color, there are 38 various shades in the palette from the Jet Black to Ash Blonde. Pro-Keratine, Ceramide, and collagen protect your hair even after coloring. Before you start dyeing your hair, you need to find out whether you don't have allergies on dye components.
Make a test 48 hours earlier of the planned dyeing procedure. If you use bleach, don't combine them with perming. Always read the instruction before using the product. Check the color on the box before buying it, and if you don't know which to choose, go for a lighter tone.
---
PROS:
pleasant scent;
takes care of the hair;
covers gray completely;
is not expensive.
---
8. Natural Best Hair Dye for Gray Hair Jet Black Henna Hair Color/Dye 200 Grams
In case you were wondering "does henna hair dye cover gray?", the answer is Yes. The Henna Guys, a company that is famous for its natural, pesticide-free henna, offers you black dye from 100 percent organic components. It does not only dye the hair, but it also feeds it and makes it stronger.
Henna is an old fashion way to dye your hair that still works. It was used by ancient civilizations thousands of years ago, and since then it is still the best way to dye your hair without chemicals. If you have allergies on dye components, but don't want to leave your hair gray, try Black Henna.






One pack contains pure henna and indigo powder. Henna naturally gives a red color, while indigo powder is black. Still, I have to warn you that you will need to use henna a few times to reach the desired color. It is very possible that you will need 2 or 3 packs of henna, which is ok because it is not expensive and does not damage your hair at all.
And once you become an experienced user, you may try to experiment with colors, by adding or cutting the number of other colors in henna. Mixing henna with other natural powders, like indigo powder or cocoa, may give you up to 70 different shades.

---
PROS:
only natural ingredients;
no scent;
covers gray;
inexpensive;
no chemicals.
CONS:
does not last as long as dyes with chemicals.
---
9. Garnier Nutrisse Nourishing Hair Color Creme, 30 Darkest Brown Takes Care of your dyed Gray Hair
How to dye gray hair brown? Take Garnier Nutrisse Nourishing Hair Color Crème, pick No 30 Darkest Brown, spread the crème on your hair and wait for up to 30 minutes. The time depends on the color you want and your hair type. Color is long-lasting, no matter if your hair is completely gray or just partly.
Nutrisse palette has 45 various colors. It is basically up to you which color you want. Inside the formula of the dye, there are three natural oils: shea, olive, and avocado. Besides, this line of hair dyes includes grape seed oil. The dyes are inexpensive, and I recommend you to calculate how many boxes you will need. If you have long hair, one box is not enough. Thanks to the creamy formula, dyeing hair is an easy procedure even if you dye your gray hair at home.








Before you start dying, make sure that you are not allergic to any component of the dye. Check it 48 hours before the procedure. This dye also contains chemicals to make the color permanent.

---
PROS:
deep color;
contains nutritious oils;
covers gray hair;
permanent effect for up to 2 months.
---
10. Herbatint Permanent Herbal Hair Color Gel, 2N Brown – Best Dye for Gray Hair Coverage
Herbatint Permanent Herbal hair color gel does not contain any Ammonia but has a long-lasting effect. It was mainly reached by a combination of various herbs, including cinchona, rosemary, and walnut husk. This gray hair natural dye will look amazing on any type of hair.
Herbatint dyes are the lifesavers for women with allergies on Ammonia. It still uses a small number of chemical components, so you need to check the ingredients before you buy the dye. Herbatint may have a longer resistant effect than henna, because of the pharmaceutical ingredient added in the formula.








In the pack, you will find one hair color gel, one glycol developer, shampoo or royal crème, gloves, and leaflet. Read the leaflet even if you have used a similar dye before. Follow the instructions and wait for the exact amount of time that was suggested to you, so you would receive the natural color.

---
PROS:
natural ingredients;
not expensive;
covers the gray hair;
long-lasting effect.
---
FAQ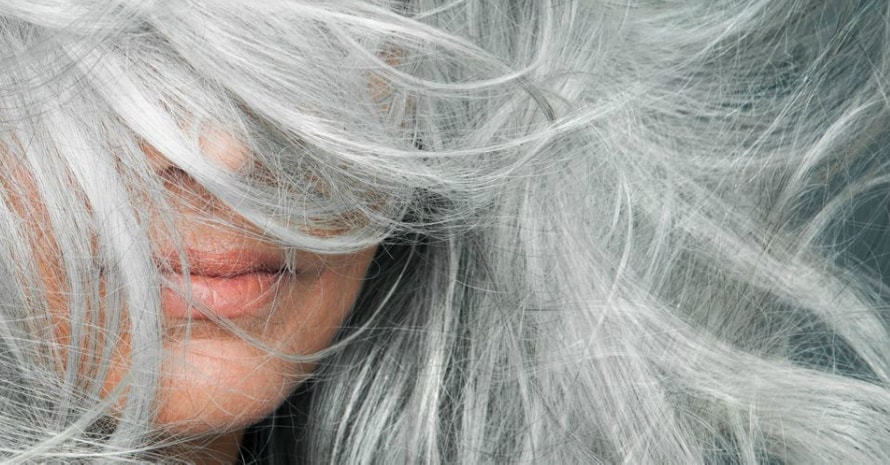 I gathered here the most popular questions about dyed gray hair. If you have other questions that concern you, ask them in the comments. Here, I am going to give detailed and honest answers and help you to choose the most suitable cover gray hair dye for you.
How does Ammonia damage hair? Why is it added in many dyes?
Let's find out what Ammonia is, in the first place. Ammonia is a gas that readily dissolves in water, forming alkaline ammonium hydroxide. The pH of this substance is 11.5, which allows it forcibly open the cuticles of the hair and to insert the color pigment inside the hair. After that, Ammonia quickly evaporates.
Ammonia dye, as a rule, has a long-lasting effect on the hair and is often included in many hair dye colors for gray hair. However, ammonium dyes have one main problem – they penetrate deep into the hair and change its structure. Meanwhile, Ammonia-free dye works the same way, but simply uses a different alkaline ingredient. The role of Ammonia in such dyes performs ethanolamine, which also changes the hair structure, but may not cause an allergic reaction.
How long does the dye last on gray hair? How often should I dye my hair to cover gray?
It actually depends on many factors like the type of your hair, the speed of your hair growth, the dye quality. The longer is the effect of the dye, the longer you can postpone the next procedure, but don't delay it for too long as your hair grows as well. Gray roots are not compatible with brown hair ends.
Can gray hair be dyed blonde?
Yes, there are several reviews best hair dye for gray hair that offers light colors above. Pick one of them. Remember that if you want to lighten your hair, you may probably need bleaching at first. The procedure is damaging for hair, so you need to take extra care of it after. For example, use repairing masks and special shampoos.
Gray Hair Dyeing Specifics
More often we see young women with gray hair. After 30 years, many women begin to notice gray hair. Sometimes it even happens in the teenage period or a few years after. By the age of 40, over 70 percent of women have gray hair. The first desire we have is to hide gray hair or at least make it less noticeable. But the coloring of gray hair has some nuances that you need to know if you want the color to be even and beautiful. I've mentioned them in descriptions to each of the dyes.
For those who are afraid that the persistent Ammonia dye for gray hair will damage the hair structure, there is an excellent alternative – henna. It is made from dried and powdered leaves of plants containing a lot of coloring pigment.
If you follow all the rules, the dye will cover your hair perfectly, and you will get an even and beautiful tone. But only you can choose the color you want. I can only recommend different options. You may have your own tips on dyeing gray hair or best hair dyes you have already tried yourself. Share your opinion in the comments below.
Last update on 2022-12-11 / Affiliate links / Images from Amazon Product Advertising API