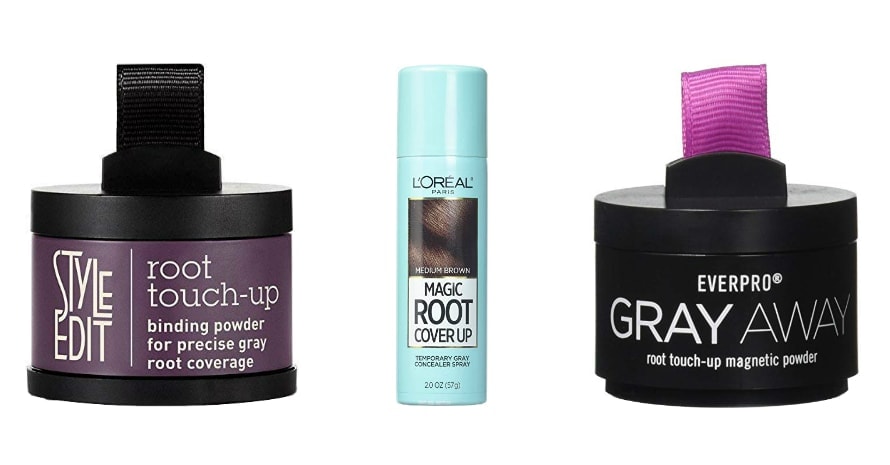 Thanks to modern world's achievements in the beauty industry, you can dye your gray hair any possible color. If you still have not found your dye, this article is for you. My name is Clarissa, I am an expert in gray hair and its treatment. This is my personal list of top products available for any budget that will help you to cover gray roots.

Pros
Effect lasts for several days
Does not contain parabens
Amazon Besteller
Pros
Effect lasts for several days
Best Premium Pick
Pros
Does not contain parabens
We will talk about sprays, concealers, and powders. I am going to teach you how to use them at home without help from professional hairstylists. Read the description of every product, check its pros and cons. I advise you to try at least several products from the list and compare them. If you will not find your favorite gray root cover-up, name it in the comments below. Don't hesitate to ask questions if you have them. I am planning to mention all possible features of the products but if I forget something, you can always remind me.
Gray hair needs special treatment. It is harder to dye it blonde, and especially to cover gray roots. In the meantime, the modern hair care industry is well developed and offers various products for you. Despite the difference in hair structure, amount of gray hair, and its shade, you most likely will find the perfect cover here.
Invalid table id.
Top 10 Products to Cover Gray Roots
Here are the best of the best gray roots covers gathered by me. I gladly share my personal experience with you. I am going to give my own recommendations on how to cover gray roots in-between hair coloring. Some of these products were tested by me, some of them were by my friends. All of them are recommended by hairstylists and worthy of your attention. Let's take a look!
1. Style Edit Root Concealer Touch Up Spray — the Best Way to Cover Gray Roots
Spray this concealer on the roots, and you will notice the effect immediately. This gray roots cover spray is one of the easiest to apply by yourself, at home. You need to attach the nose to the bottle and press it 6 inches away from hair. That's all. Diffuse it on gray roots. Wait for a few seconds and brush your hair. The effect lasts for several days.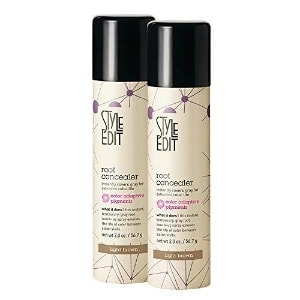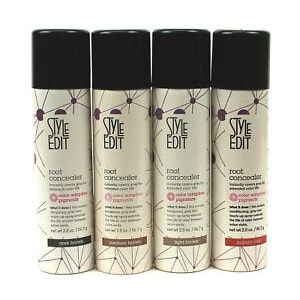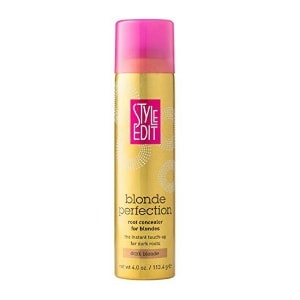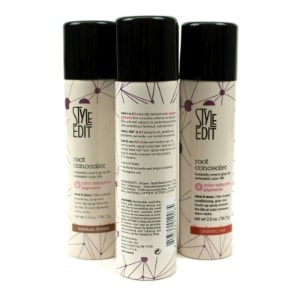 The spray is water-resistant and inexpensive. You may buy one pack, but if you are going to use it from time to time, I would recommend buying two or three packs for future use. There are eight colors available: light, medium and dark blonde, light, medium, and dark brown, black, and auburn. I recommend you to pick color similar to your dye, so your roots would look natural.
The color sticks to the hair immediately. It is not murky. After a few hair washes, the spray will come off. You will have to repeat the procedure. This concealer is adjustable to any type of hair. Pigments of the dye soak into the hair and look natural. This spray was made by the USA standards with local ingredients and does not contain peroxide, parabens, or petrolatum.

---
PROS:
can be applied in 3 seconds;
the effect lasts for several days;
looks natural;
made by the USA standards.
---
2. Joan Rivers Great Hair Day Fill-In Powder Blonde 2-Pack — Cover Gray Roots Between Salon Visits
It may definitely be one of the funky ways to cover gray roots. We used to think of powder as something to cover problematic areas on the skin. And this powder, made by Joan Rivers, works similarly. You will search for problematic gray areas on your hair and cover them using a brush. By the way, the brush and mirror come in the pack.
This is definitely not the cure for a completely gray head. But if you need to cover gray roots temporarily and fractionally, you will love this powder. There are 2 sets in a pack, 0.48 oz. each. Powder brings a thick hair effect. It is fixed on the scalp until the hair wash. Then I recommend you to apply powder again.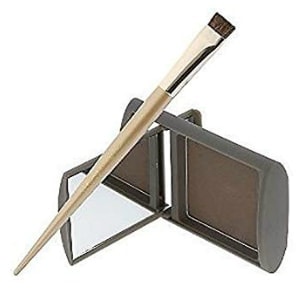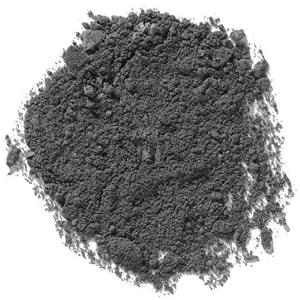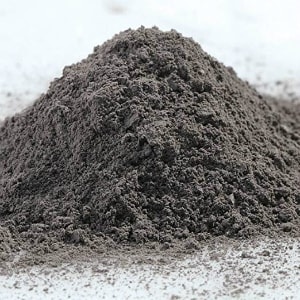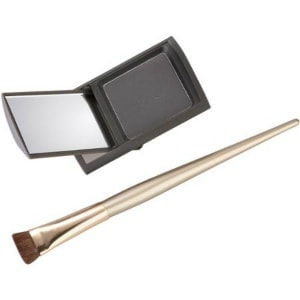 The formula of the powder includes ProcapilTM which strengthens your hair and protects your roots from damage. Besides, it does not leave any stains on the fabric or hands. Remember to apply it on completely dry hair only. Consider the color of your hair before ordering this powder. It has to match or slightly differ by half a tone.

---
PROS:
strengthens your hair;
does not leave stains;
long term effect;
does not cost much.
CONS:
you will have to reapply it after washing.
---
Coverage is one of the simplest ways to cover gray roots at home. It works on a temporal basis but looks natural on your hair. To cover your gray color, use a specially made brush that is included in the pack. The effect lasts until you wash it off with a blue shampoo.
The concealer is easy and quick to spread. And water-resistant formula allows you to walk in the rain and still keep the cover on your roots. I recommend it for permanent use. It is not as harmful to your hair as many dyes, and it is washable, so you can always pick another color or leave your hair gray. There are minerals in the concealer formula which strengthen your hair.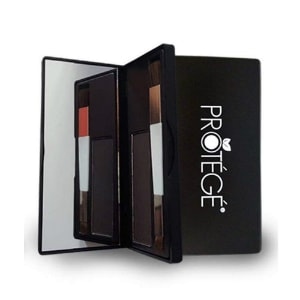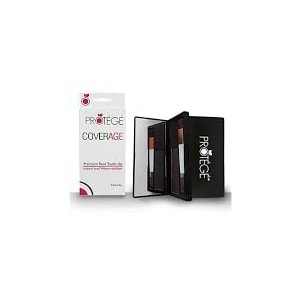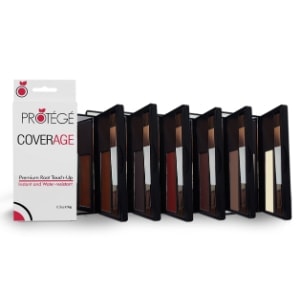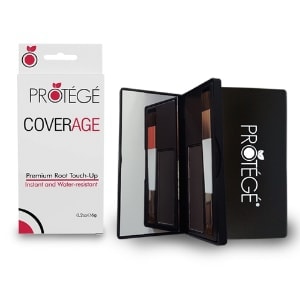 One pack includes two powers, a make up mirror, and a brush. The brush was also made to evenly spread the concealer so nothing is spilled out. It is a money-saving proposition. But if you do not like the result, the company returns your money. I also advise you to use a small amount of hair spray, so it will fixate the concealer on your hair for a longer period.

---
PROS:
water-resistant;
easy to use;
money saver;
strengthen your hair.
CONS:
for permanent effect use hair dye.
---
4. Style Edit Root Touch Up — Amazing For Covering Gray Roots on Highlighted Hair
This gray root touch up does magic with the hair. It may look small and even primitive in its work, but it covers gray roots in no time. There are various colors in the palette, including black, several types of brown, and blonde. If your hair is dyed light blonde, I recommend you to use a medium blonde for roots.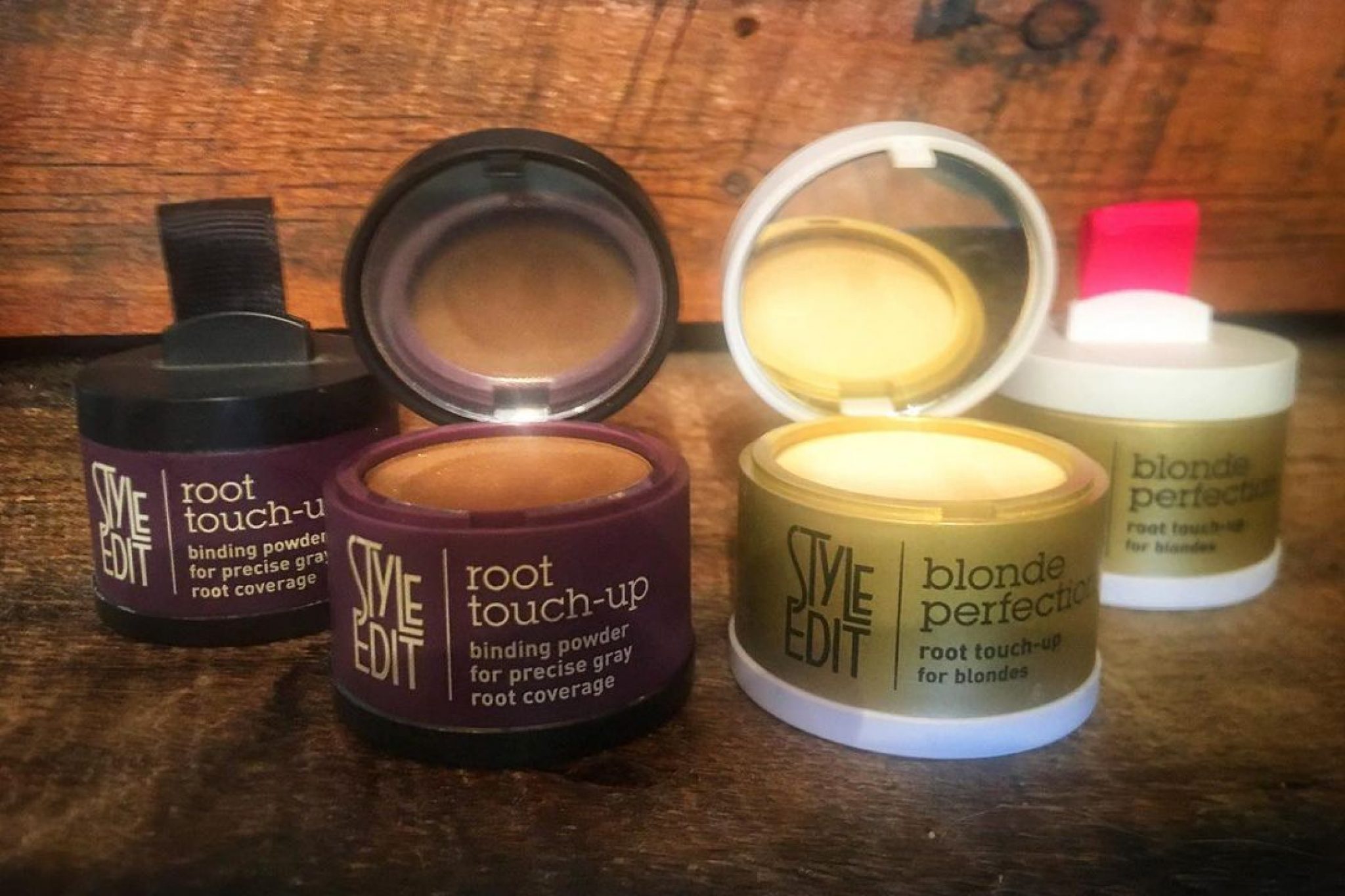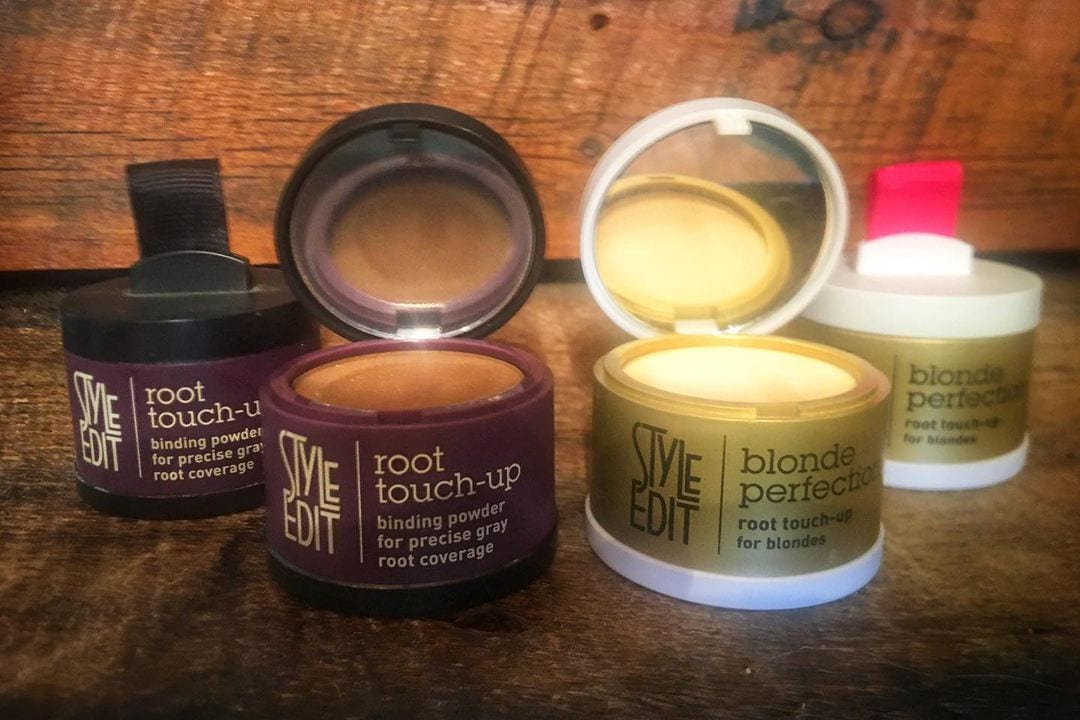 The package includes a bottle with powder and sponge. Use the sponge to apply concealer. It takes only several minutes. Don't forget to cover your temples first. There is a color binding complex in concealer which fixates the cover up to 5 days. It is water-resistant but I recommend you to refresh the color after each washing. But don't worry, this product will not run away from sweat or rain. The only shampoo can wash it.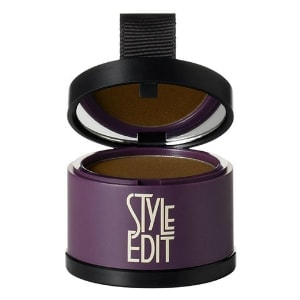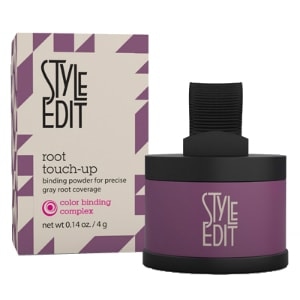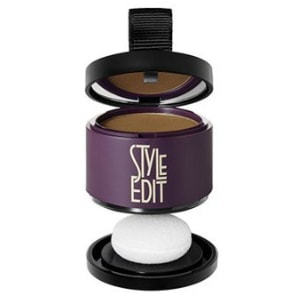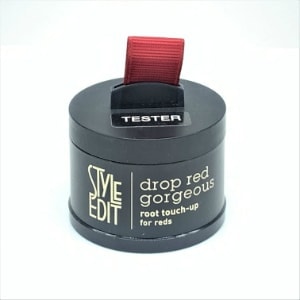 The concealer was not tested on animals, does not contain peroxide, mineral oil, or parabens. It was made in accordance with the USA standards and recommended by hairstylists. The color dries in seconds.

---
PROS:
easy to apply at home;
does not contain parabens;
inexpensive;
water-resistant.
CONS:
needs extra layers to cover intense gray hair.
---
5. Cover Your Gray Fill-In Powder – Dark Brown — Perfect for Covering Gray Roots at Home
The powder was made for gray hair and bald spots. It masks thinning places and covers gray in less than a minute. The powder is perfect for home use, because of brush applicator and a small mirror in the pack. With this brush, you will not spill out the product.
The powder includes Procapil in its formula, which is a botanical natural ingredient. With these ingredients, Cover Your Gray Fill Powder prevents further hair loss and takes care of thin hair. Besides, it is sweat and rainproof as well.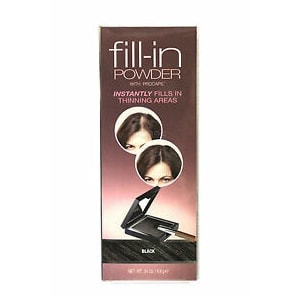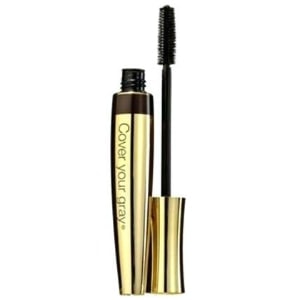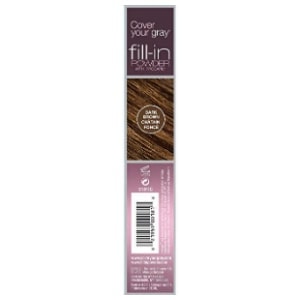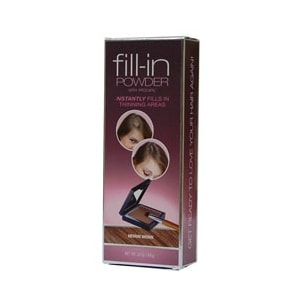 This powder works great on different hair types without problems. But if your gray color is intense, I advise you to apply the substance several times. Order several packs if you are going to use it from time to time.
There are four colors in a palette. Pick the color of the roots close to the rest of your hair or a tone darker. If you don't want an intense color on the hair, stop ¼ inch afore the hairline.

---
PROS:
takes a few seconds to apply;
saves your money;
prevents hair loss;
works well on all hair types.
CONS:
does not guarantee a permanent effect.
---
6. Cover gray roots with Everpro Gray Away Temporary Root Concealer
This concealer has special technology of self-adjusting color. It looks natural on any hair, no matter its type. And the applicator on the bottle makes it easier to spray the product. You can do it at home, saving money on hair salons.
As the spray bottle says, the effect is temporal. This also means that it is less harmful to your hair. It does not contain ammonia, parabens, peroxide, and other strong harmful chemicals that can damage your hair. The concealer can be easily washed with shampoo, but it is resistant to rain and sweat.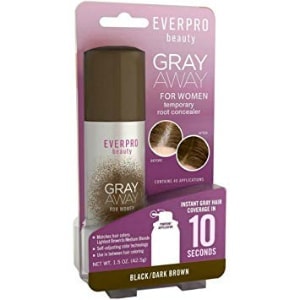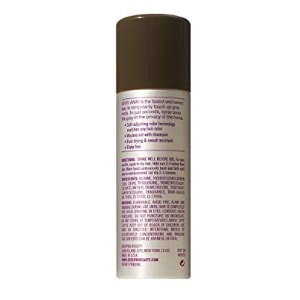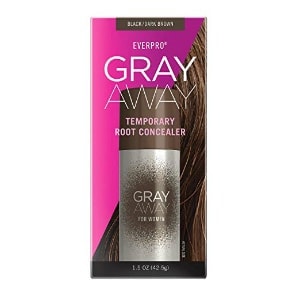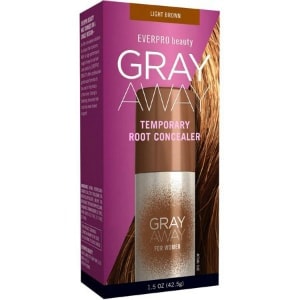 Shake the bottle before use. Put the applicator on. Pick the area with gray roots you need to cover. Remember! Your hair must be completely dry for a longer effect. Hold the bottle 3 inches from the head. The concealer needs 3 minutes to dry up. If you have intense gray hair, apply several layers of the product. Don't worry, you will not damage your hair. I recommend you to buy several bottles of concealer in advance.

---
PROS:
it takes 3 seconds to apply;
does not contain harsh chemicals;
money-saving;
water-resistant.
---
7. Cover up Gray Roots Between Hair Colorings With Everpro Gray Away Root Touch Up Magnetic Powder
Everpro powder helps to cover gray roots between salon visits no matter your hair type or of gray hair color intensity. If you want to get rid of the grey color quickly, you will like this powder. It is not murky and does not leave any spots.
To cover your roots, remove specially made hair sponge from underneath the box with powder. Open the box with powder and put it onto the sponge. Start with the gray roots on your scalp. Spread the substance in several layers if you need it. Move from scalp to the sides.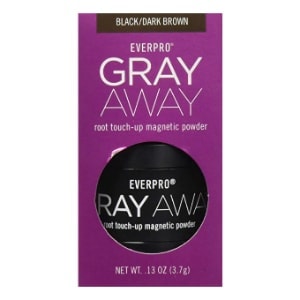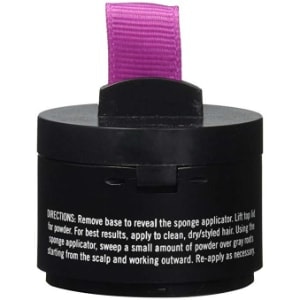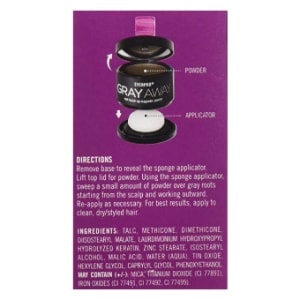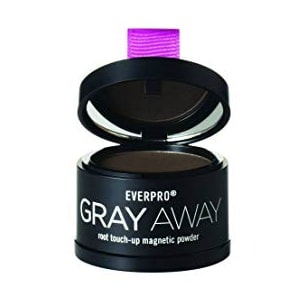 For a better effect, I recommend applying the powder on dry hair only. The binding formula allows the powder to stay your hair longer. You can wash it with shampoo once you need it.
After each washing, I recommend to re-apply the powder. Forget about dusting or flyaways. But once you decide to dye your hair, you will need to wash out all the powder from it. Besides, you will have to avoid the contact of the powder with your eyes.

---
PROS:
does not leave spots;
easy to wash with shampoo;
can be applied in several seconds;
looks natural on hair.
CONS:
does not have permanent effects.
---
8. COLOR WOW Root Cover Up — One of the Best Ways to Cover Gray Hair Roots
If you don't know how to cover gray roots without dying it, Color WOW will help you. This is an easy to use concealer with 8 basic colors to hide gray hair. Packed in a stylish box, Color WOW contains concealer, a small mirror that allows you to apply the color anywhere you are, and a brush with small and wide ends.
While concealer itself was made for covering gray roots, many women use it to make temporal highlights, underline the hairline or hide the gaps, and to color the eyebrows. If you are always busy and have minimum time to cover your gray roots, touch up is what you need. It takes seconds to apply concealer with a wide end of the brush on your roots.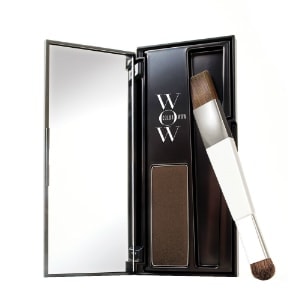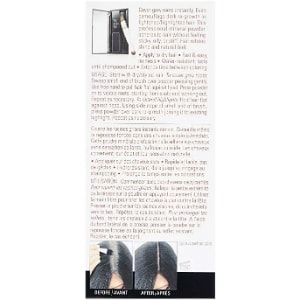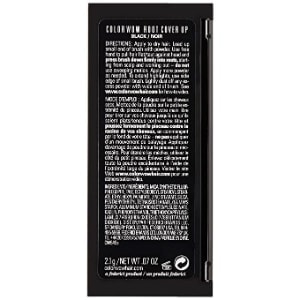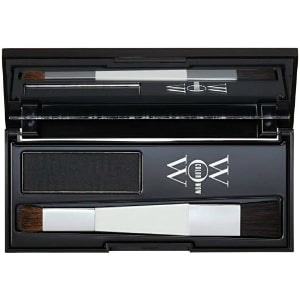 This concealer is popular among many beauty experts. It has multiple awards, including five awards from Allure. Its formula does not include peroxide and does not do much damage to the hair. Numerous reflective particles in concealer make the color look dimensional.
And water-resistant technology not only protects your roots from sweat or rain but from swimming as well. You can always wash it with shampoo if you need it. Please, apply the concealer to dry hair only.

---
PROS:
contains special brush;
no peroxide in the formula;
reliably fixated on the hair;
money-saver.
CONS:
one pack is not enough for weekly use.
---
9. L'Oreal Paris Hair Color Root Cover Up Temporary Gray Concealer Spray — Best Root Cover up for Gray Hair
This is pure magic. And this is exactly what L'Oreal wrote on the bottle of concealer. How does the magic works? How to cover gray roots with the spray? It is easy. All you need is just to shake the bottle and press the button. Three seconds later, your gray roots will be gone.
This particular spray offers you a medium brown color. But you can always pick another shade from the palette. It does not matter which hair type or texture you have. Concealer will stick to your hair and hold tightly until you wash it out with shampoo.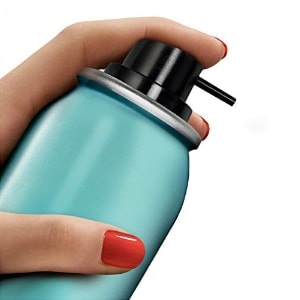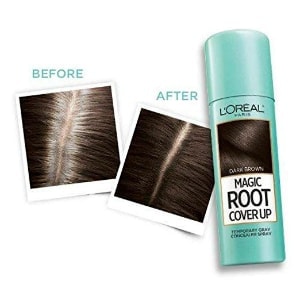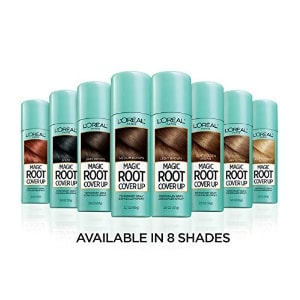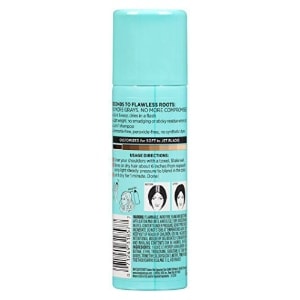 Concealer is free from peroxide and ammonia. Apply this gray root cover-up spray after you wash and dry your hair. Make sure your hair is not wet. While this product does not contain harsh chemicals, I still recommend you to wash it out from time to time and use restoring masks after. The cover is not sticky at all and does not leave stains on your clothes or body.

---
PROS:
looks natural;
does not contain harmful chemicals;
does not cost much;
water-resistant.
---
10. Mineral Fusion Gray Root Concealer — Best Hair Color for Covering Stubborn Gray Roots
Mineral Fusion Concealer is perfect for daily use. It looks small and lightweight, but it is a powerful tool against the gray roots. If you prefer to cover your gray roots in-between dyes, this concealer is what you need.
If you are looking for the best product to cover gray roots on a mineral basis, you have found it. The formula of this concealer does not contain sulfates, parabens, and glutens. Shea moisture in concealer strengthens your hair, makes it healthy. It also gives a natural look to your dyed hair.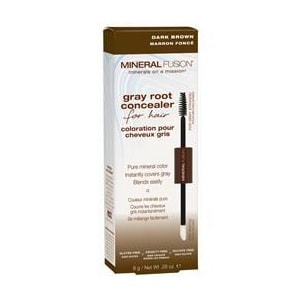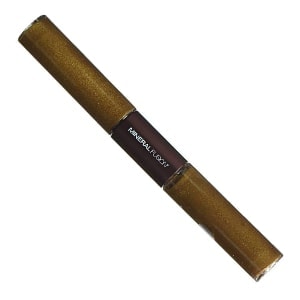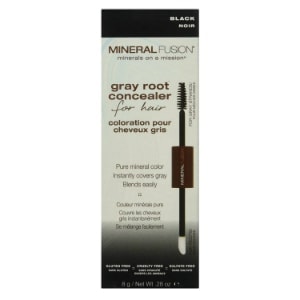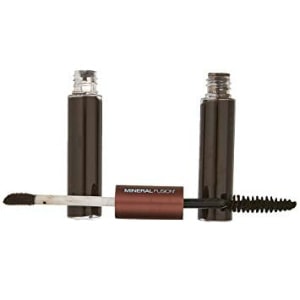 Despite the fact that this concealer is one hundred percent vegan, the product is water-resistant and can handle the rainy weather or your sweat. It is washable with a shampoo. I advise you to refresh the color with it after the shower. But if you believe that your gray hair is still covered, you don't have to do it. This product saves money on hair salons. You can extend the time between new colorings with it.
This concealer contains such natural ingredients as beeswax, water, Argan oil, green tea, oregano, Vitamin B5, aloe leaf juice, rose flower, and so on. Cover your gray hair starting from the root to the tip of it. You have to wait for 2 minutes until the color dries up. After that, brush the hair with your fingers to even color. That's all. For permanent use, buy not one but several packs of concealer.

---
PROS:
natural ingredient;
doesn't cost much;
water-resistant;
heals damaged hair.
CONS:
you are going to need more packs of concealer for permanent use.
---
Choosing the Best Gray Roots Cover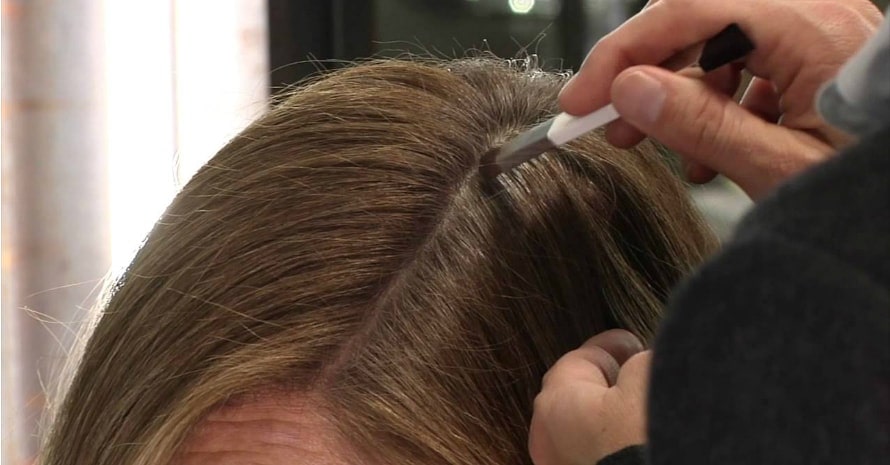 We don't always have enough time or money, or even desire to go to the beauty salon, once our gray roots become visible after the previous dyeing. Besides, you can't dye your hair more often than once a month. I recommend waiting for 2 months or at least a month and a half. It is not a secret that any dye covers your gray hair so well because it contains chemicals. Even with the small number of such ingredients, it is a stress to your hair. What can you do in this case? Use temporal gray roots cover-up before coloring gray hair with a dye.
The spray is contained in a small bottle with a button, which ensures quick and convenient spraying onto the hair roots. It works fast and simply. All you need is to find the right shade. It rarely contains ammonia and holds tightly on the hair.
Mineral powder for gray hair is another fashionable device for those who did not have time to visit the salon. Usually, it is packed in small plastic packaging, similar to a blush. Inside the pack, there is a powder, a mirror, and a double-sided brush. Mineral particles cover hair and make them stronger. The properly selected shade will give you an excellent result. Due to the dry substance, the powder instantly covers the roots without making them glued or greasy. It stays on your roots during the day, even if you wear a hat; you can only wash it off with shampoo.
This product is rather thick and can be applied to the hair roots with a sponge. You have to evenly spread the color on your hair while brushing it with a round brush. The product dries out longer than other covers, because of the consistency. With a poorly picked concealer, an impression of glued or greasy hair may appear. It is recommended to comb the hair carefully for several minutes after you apply concealer.
Popular Questions on Best Way to Cover Gray Roots Between Colorings
What cover is suitable for my hair type?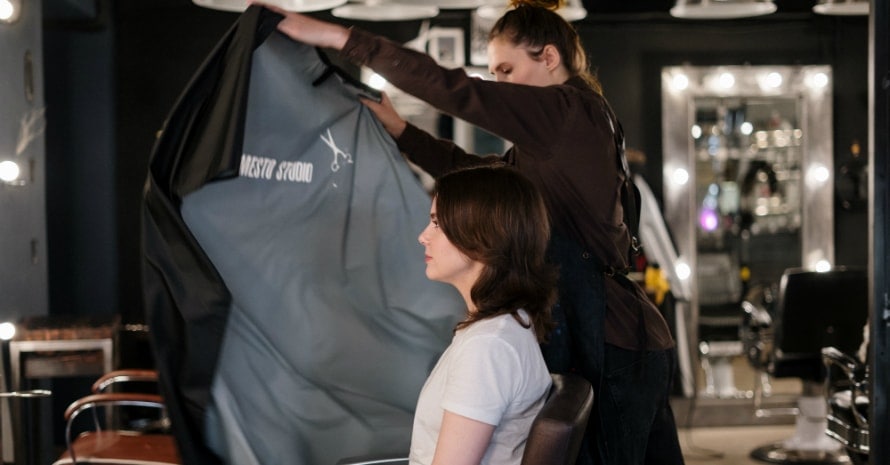 All of the products mentioned above are suitable for covering gray hair roots, no matter which type of hair you have. You need to pick the color properly. I recommend:
dark blond for covering gray hair on blond hair;
light brown for light brown hair;
brown for iridescent dark brown, chocolate tones;
black for the darkest hair shades.
Does the cover-up cause hair damage?
Almost all gray hair covers contain a small number of chemicals. This way the color holds onto the hair. It is impossible to prevent cover gray root side effects, but you can always lower them down. Use repair hair masks, oils, and shampoos. Never forget about heat protection. Since the effect of gray hair covers is temporal, try to give your head a rest from time to time.
How to cover up gray roots naturally without dye?
The first thing that comes to mind is henna and other organic dyes. They will cover your gray roots, but you will have to dye your hair often. Since henna does not contain chemicals or any other harmful substances and strengthens it with each new session, you don't need to worry about side effects. But not many of us have enough time to dye their hair once in two-three weeks.
If you are into natural remedies, I recommend you to use chamomile, walnuts or rhubarb for dying your hair. They can't dye it significantly but will lighten it up and bring new shades. These ingredients are natural hair strengtheners as well.
You may try new hairstyles to cover gray roots. If you don't want to cut your hair, just change parting to hide gray hair. You can try wigs or hair extensions. Modern wigs look natural. I believe that there is another way. This way is embracing your gray hair and loving it without using root cover-up for gray hair. You can create numerous original haircuts with it.
Dyes or Gray Root Cover Up Products
The first thing you need to do is to decide if you really want to get rid of gray hair. We always want to look gorgeous. And if you need to cover the gray roots for this, do it. You can pick one of the cover-ups from the list. Each of them I checked myself. They all are highly recommended by hairstylists and popular among our readers!
Depending on the type of your hair, roots can become visible after 1-2 weeks of dyeing. It is too soon to run into the hair salon for another coloring. And if your gray roots start to gleam treacherously, the best way to deal with the problem is to use the cover-up. It is your choice which one will it be: a spray, a powder, a concealer, or possibly something else.
Choose one of the products from the list. Try one or several of the most popular cover-ups and tell me about your choice in the comments below. I believe you may have some stories to share with other readers, be it tricks on covering gray roots or some personal observations. And if you have any questions, don't hesitate to ask me.
Last update on 2022-12-11 / Affiliate links / Images from Amazon Product Advertising API