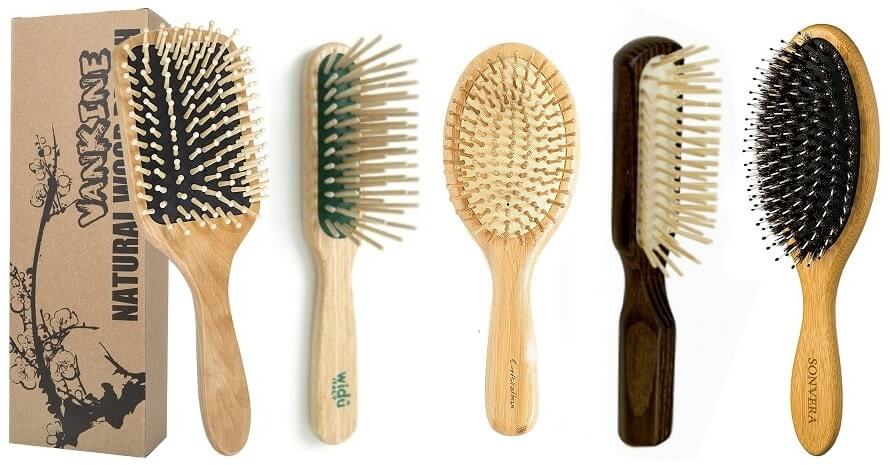 You may use hair dryers and stylers, or not, but there's something you cannot dispense with – a hairbrush. Since it is used several times a day, it's crucial to find a model that would be both functional and friendly for your hair. A wooden brush is a tried-and-true option that would be perfect for everyone!
Pros
Made of 100% bamboo, safe and convenient design
It is a 100% natural brush that protects hair and covers it with natural oils
Has a special coating of bristles
Top Pick
Pros
Made of 100% bamboo, safe and convenient design
Best Budget Pick
Pros
It is a 100% natural brush that protects hair and covers it with natural oils
Best Premium Pick
Pros
Has a special coating of bristles
Why using wooden hairbrushes is the right choice?
In fact, a wooden brush is a pure benefit for your hair: there is no healthier alternative on the market. What are the main advantages of wooden brushes for hair?
Unlike metal and plastic bristles, it produces less static. When your hair is electrified, you have these hateful fly-aways that cannot be smoothed down, frizz and constant tangling. With a wood hair brush, your hair lies still.
Delicate detangling. Even the smallest sharp corners and edges of plastic bristles can pull and tear hair strands, while wood bristle hair brush will be far gentler. Bristles with round ends are perfect and safe.
When you pass through your hair with a wooden brush, it spreads natural oil (sebum) over the strands so that you could enjoy a healthy, shiny and sleek look. This way, you protect your hair and prevent it from drying and breaking.
Massage made by rounded ends of bristles stimulates blood flow to the scalp and boosts hair growth. Besides, with more blood hair follicles get more nutrition, and produce more sebum. It means you have healthier and optimally moisturized hair.
Environmental friendliness. Bamboo hair brushes have antibacterial and antifungal properties, which protects hair from falling and diseases. Besides, it is fully recyclable, and bamboo is the most convenient material – it grows faster than any other tree.
Best Wooden Hair Brushes Reviewed
Cristalbox Bamboo Hair Brush
Widu Wooden Bristle Hair Brush
Burstenhaus Redecker Maple Wood Brush
BESTOOL Boar Bristle Hair Brush
NATURAL BEECH Wooden Bristle Hairbrush
A 100% natural solution is offered by Cristalbox. The manufacturer puts focus on convenience and safety: it is rounded at every edge, and the handle doesn't slip in hands. A truly well-thought-out design! The bristles of this bamboo comb are moderately long, dust-proof and rounded, which makes them perfect for scalp massage.
The material is anti-static, so you avoid frizz, tangling and split ends. Cristalbox brush is suitable even for knotting, curly and frizzy hair – it will solve these problems in a touch!
The brush also distributes natural oil along the entire length of hair making them healthy and shiny. That prevents dandruff and damage of scalp. As a small bonus, manufacturer offers a 12-month guarantee.
PROS:
Made of 100% bamboo, safe and convenient design.
2. Widu Wooden Bristle Hair Brush
This wooden handled hair brush is perfect for daily use: it's simple but handy. Being made in Italy from ash wood it's long-lasting and reliable. However, if somehow you break some bristles – there are a few bristles for replacement coming in the set! Widu anti static hairbrush reduces frizz and makes combing easy and safe.
Since it distributes natural sebum from roots to tips, it protects the structure of hair and prevents breaking and thinning.
The only disadvantage is that the bristles are straight, so this model is not the best option for massage. However, some users love this shape of bristles more – it eases combing.
PROS:
Purely natural and very long-lasting (may truly serve for a decade and more);
Highest quality design.
CONS:
Quality comes at the price of higher cost (about $35);
Bristles don't have rounded tips.
3. Burstenhaus Redecker Maple Wood Brush
Unlike the above-mentioned light wooden brushes, this one is made of maple by German masters. Its bristles have a special waxy coating for easy and safe combing and protection of hair: such model is perfect for daily care.
Made of oiled thermowood, it's resistant to water and moisture, so this brush is more durable than its analogs. Users will also fall in love with a stylish dark coloring of this model and its smoky scent.
PROS:
It's one of the most long-lasting and high-quality wood bristle hair brushes;
Has a special coating of bristles.
CONS:
A bit heavier than the other models.
4. BESTOOL Boar Bristle Hair Brush
If you have thick middle-length hair, this can be the best wooden hairbrush for you. It combs hair very delicately and precisely while distributing natural oils from roots to tips, which allows covering the entire strand instead of leaving oil on the roots. Although boar brushes are rarely applied now, you will quickly get used to it and evaluate its advantages.
BESTOOL wooden hair brush weight 3.52 ounces, and lies perfectly in the palm. It has anti-static properties, reduces frizz and prevents hair breaking while retaining their elasticity. Boar bristles also contain keratin which helps to seal split ends.
PROS:
It is a 100% natural brush that protects hair and covers it with natural oils.
CONS:
Fine boar bristles are not suitable for thick and long hair – they tend to tangle a bit.
5. NATURAL BEECH Wooden Bristle Hairbrush
Looking for a cheap and chic solution? This wood bristle hairbrush has everything you need, nothing you don't. Its long wooden rounded bristles can easily comb through very thick strands without pulling and breaking them. Proper massage of your scalp is guaranteed!
This wooden paddle hair brush is literally suitable for everyone: it detangles even curly hair, and works well regardless of their length. Since it's made of absolutely natural materials, it can also be used by children.
However, the model is rather big for them. To top it off, the model is very durable and long-lasting: it's not so easy to break its bristles!
PROS:
The best quality/price ratio;
A safe and robust hairbrush that is equally suitable for every hair type.
CONS:
There's nothing to find fault with if you don't need a brush with intricate design.
Now you know that there are numerous wooden hairbrush benefits: it's the best choice for those who care about hair and want to keep it healthy. What is your favorite wooden brush? Leave your comments below.
Last update on 2022-12-11 / Affiliate links / Images from Amazon Product Advertising API