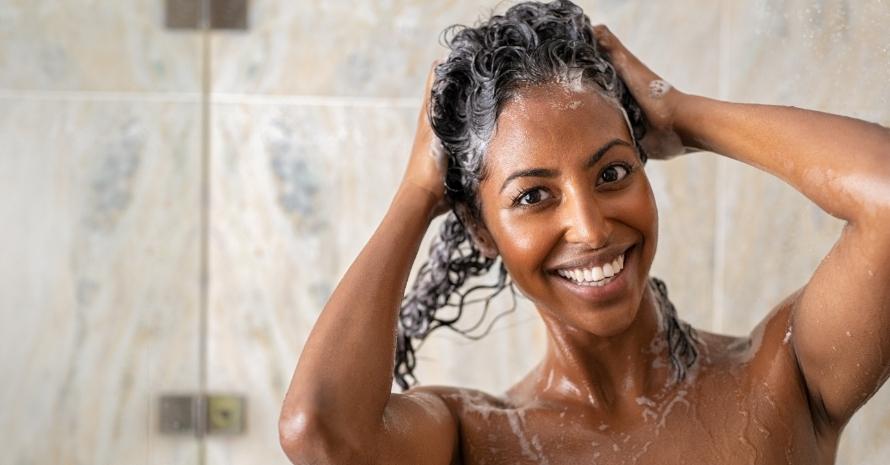 Purple shampoo is an indispensable product in the daily care of people with blond highlights. It can get rid of the unpleasant yellowish color and even out hair tone. Unlike a dye, it is very easy to use, which is why it has earned such popularity.
What about brunettes who also want to improve the appearance of their hair? The question is: Can you use purple shampoo on black hair? In this article, you will find out whether the use of purple toner for black locks is effective and which results you can achieve with it.
Does Purple Shampoo Work on Black Hair?
Purple shampoo is designed for light, colored hair.
Its task is to neutralize yellowness and improve the tone of your locks.
Shampoo works on black hair but not as effectively as on other types.
It will not lighten, darken, or dramatically change the color.
Instead, it helps to get rid of the brassy hue that appears because of the sun.
Will it work on black hair?
First, I should note that the purpose of toning shampoo is to neutralize unwanted yellow or reddish hues. Usually, the use of this toner is recommended for colored blondes. If you dyed your hair gray, the use of purple shampoo can give it a purple color and slightly change your look.
If you have natural dark or dyed black hair, and it has a brassy hue, then this tinting product will partially correct the situation. However, do not expect drastic changes from it.
The most important question is what does purple shampoo do to black hair? First, it will not make your hair darker, because black is already dark. Neither will it help to lighten it, because it requires special bleaching components, regardless of whether your hair is naturally black or dyed.
Also, this type of toner will not add purple pigments to your black color or make it brighter if you do not have highlights. So this type of toner will not exactly color your dark hair and dramatically change its shade, but it can help you get rid of brassy and reddish undertones.
How to use purple shampoo on black hair
It is not enough to choose a quality product; the right routine and sequence of actions are also very important in achieving the desired result. Here's what you need to do to make this procedure as safe and enjoyable as possible while using purple shampoo for black hair.
1. Run the hair underwater
It is always better to use warm water. It will help remove all the dirt and oil that has accumulated on the surface during the day and will open the cuticle so that the toner can easily penetrate the locks. The main thing is not to apply toning shampoo to dry hair.
2. Apply shampoo
Squeeze a little bit of toner and apply it to your strands. If you have areas where the strands have a more reddish tinge, you should apply more product. Remember, this is not a regular cleaner that you use to wash your hair with. Its task is to work with tone. Leave it for about 10-20 minutes. The darker the color, the longer you are supposed to wait.
3. Rinse off the shampoo
After the required time has passed, wash the shampoo with warm water as well. Be careful that the remnants of toner do not remain on individual strands. After washing, you can also apply a purple conditioner, it will help consolidate the result. However, this step is optional, and it is up to you.
4. Use a moisturizing mask
If you have dyed black hair, like me, it is better to apply a moisturizing hair mask. This step will help prevent the locks from drying out from the purple shampoo, making them soft and silky.
Tips on whether to use purple shampoo or not
The answer to whether you need to use purple shampoo directly depends on the color, hair type, and the goal you want to achieve. If your hair is light, this product is definitely for you. The darker the color, the less noticeable the result.
The structure also matters as purple shampoo is best for hair with high porosity. My locks are quite thick, so I can easily use a tinting shampoo. But if you have weak hair, it is better to wait until it recovers. Also, if your goal is to change the color, then your choice should fall on a dye, not shampoo.
FAQ on Purple and Blue Shampoo on Black Hair
Here I'd like to discuss the most common questions you might have about applying the purple shampoo to black strands. Read on to educate yourself.
What does blue shampoo do to black hair?
Basically, the same as purple shampoo. It is designed to neutralize the opposite shade. That is, if purple neutralizes yellowness, blue best neutralizes the shade of orange. Blue shampoo should be used if your black hair has an orange undertone that you want to get rid of. This is how complementary colors work.
Does purple shampoo make hair ashy?
The shampoo itself is not able to make the color of your strands ashy, even if you have very light hair color. However, if you dye your hair in this shade, the toning shampoo will help maintain this color and avoid fading.
Will purple shampoo darken my highlights?
Purple is a cool color, so compared to warm yellow, you might feel that your locks have become darker. However, the purple shampoo will not make your highlights darker because it is not a dye.
It does not have the ability to penetrate the hair structure deep enough to change its color. Instead, it will neutralize unwanted shade on your highlights.
Can toning shampoo damage your hair?
In general, purple or any other toning shampoo is not supposed to damage the locks. However, if used too often, it can cause breakage and make your hair dry. So keep in mind that purple shampoo cannot replace a regular cleanser and should be used no more than 3 times a week.
Use Purple Shampoo Safely and Beneficially
The purple shampoo has long been popular among people who regularly dye their hair. However, not all people find this toner necessary or even useful in their care routine. If your black hair does not have brassy or reddish shades, then using this toner will not do any good.
However, if necessary, use it according to the instructions and do not replace your regular cleanser with purple. Thus your strands will have a beautiful tone and will not be damaged.
Does your color fade in the summer? Which shampoo will you use for your hair, purple or blue? Please, share your thoughts in the comments.
Also read: