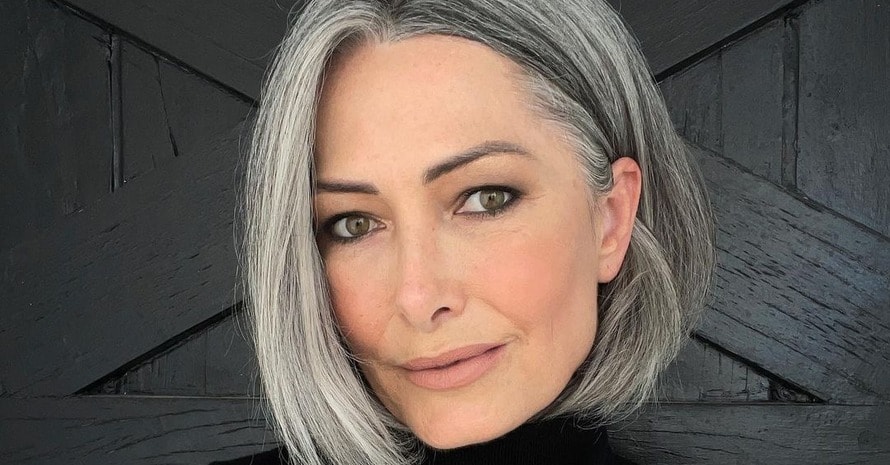 Though hair graying with age is natural, it might be hard to accept your new hair color. Women often employ various measures to hide their silver hair, synthetic hair dyes being among them.
However, chemical solutions can harm your strands, provoke dryness and coarseness, and enhance frizz. Once started, hair dyeing becomes a regular procedure, which can result in a snowball of problems accompanying your new hair shade.
Here I'd like to provide you with actionable solutions on how to cover gray hair without dye, using more gentle, caring, and natural methods. Read on to make your hair healthier.
Guide on How to Get Rid of Gray Hair Without Dying It
Since chemical dyers can cause hair breakage and even loss, it's not excessive to find out alternatives at your fingertips.
To eliminate the risk of harming your salt-and-pepper strands, you can cover them with a temporary powder, root concealer, hair mascara, touch-up pencil, makeup products, use an airbrush technique, or change your hairstyle.
How to cover gray hair without dyes
If you earned a decent share of grays, you might want to tone or camouflage your silver locks. The most healthy solution would be to accept your new hair color and rock your salt-and-pepper strands with style.
However, not all women are ready for such a transition, making gray coverage an important part of their hair routine. Since regular permanent coloring can be harmful to strands, it's better to adhere to non-damaging, temporary methods to fix gray hair roots.
The solutions I provide here are affordable and safe, so don't hesitate to find your favorite option in this diversity.
1. Temporary powders
Various temporary powders are designed specifically to hide silver roots. It is a non-messy treatment you can use in a blink to cover your gray roots. There are different shades on the market, so you can easily choose the closest one to your natural hair.
Since these products are water- and sweat-resistant, they last until you wash your strands. Temporary powders are portable, so you can carry them in your purse for the touch-up whenever you need them.
2. Root concealer
Another effective solution to cover up gray hair without dye is to use a root concealer. Usually, these products come in the form of spray and are available in numerous beauty- and drug stores.
The assortment of shades on the market allows you to choose one that suits your hair tone. These touch-up sprays hide gray hair roots until you wash your mane with shampoo.
3. Airbrush
Make the best of the advanced airbrush technique to use minimal product amount and get a smooth look. This method provides you with a remarkable advantage that can hardly be found when using other solutions: you can save a decent amount of product.
The essence is quite straightforward: you have to put a liquid product into an air gun and spray it on the roots.
4. Hair mascara
Brush-in hair color or a hair mascara can be helpful if you have small areas of gray strands. You can also use it with a spray to cover gray hair at the temples and along the hairline. This will make your hair look very natural. It's also great for enhancing your eyebrow color.
5. Touch-up pencils and sticks
A color stick or pencil is another temporary concealing solution for covering gray roots. These sticks are compact and provide you with high precision of application.
However, they do not last very long, even to the next washing session. Consider them as a kind of makeup that can flake till the end of the day.
Typically, choosing a lighter hair shade will make it look more natural when applying temporary root concealers. Remember that any touch-up pencil or stick can't be used on wet hair; it isn't effective.
6. Makeup products
Here is one extra tip proved by many clients of mine: in a situation of emergency, you can apply products you use for makeup to cover your gray hair.
Moreover, if you experiment a little, you might find out that you don't need to purchase any additional solutions. I mean applying an eye powder, eye shadow, mascara, or liquid liner that matches your hair color to conceal silver roots.
A high-quality product doesn't create a sticky effect but comes out after you wash your hair.
7. Change your hairstyle
It might come as a surprise, but you can hide gray hair without dye by altering your usual hairstyle or getting a new haircut. It will eliminate the need to apply any covering products and refresh your overall look.
Numerous styling options can come in handy to make your gray roots unnoticeable: a topknot, a high ponytail, braiding your hair, changing the position of your hair part, and using hair accessories (bobby pins, headbands, etc.).
These measures will help you shift the focus from your gray roots.
8. Use natural hair dye for grey hair
If you want a more durable solution, you can dye your hair using natural, free from chemicals products, which won't damage your hair in the long run.
Though these treatments might be less effective compared to synthetic ones, it is a harmless temporary option to consider. I advise opting for herbal natural hair dyes, which can contribute to your hair health, enhance its growth, and promote further hair repigmentation.
Since this method is highly beneficial to your hair health, not to mention its capacity to cover gray roots and save time on reapplying temporary products, let's view the top options of how to cover grey hair naturally:
Henna. This popular natural dye supplies your strands with color, strengthens, and conditions them, preventing brittleness and hair loss. By adding other ingredients such as oils, shikakai, brahmi, and bhringraj to the henna powder mix, your hair will get extra benefits.
Amla powder. This natural remedy provides the hair follicles with antioxidants and vitamin C, which can help them preserve melanin and slow down the process of graying.
Hibiscus flowers. If your natural hair color is crimson or red, and you don't have too many gray strands to cover, you can use a hibiscus flower to dye your hair. This treatment will also make your hair more luminous.
Sage. This herb is the most suitable for brunettes that have their hair graying with age. You can vary the color intensity by boiling this evergreen herb for a longer time (the usual recommended time is 30 minutes). It can help you prevent hair loss, regain its shine, and stimulate hair follicles to promote hair growth.
However, applying ready-to-use solutions you can purchase in the store is easier. Products like root concealers, touch-up sprays, and airbrushes instruct you to wash and dry your silver mane, and then you can apply the chosen treatment according to the instructions.
FAQ About Best Way to Cover Gray Hair
Whether you want to camouflage those random gray strands or cover gray roots between coloring sessions, there is always more to know.
What is the easiest way to cover gray hair?
The easiest way is to choose a new hairstyle, but only if you do not have too many gray strands to cover. Root sprays and airbrushes provide the most uniform coverage, while natural dyes like henna don't require reapplication of the product each time after you wash your hair.
How do I cover gray hair at my hairline?
It is better to conceal gray roots while you can for them not to appear too noticeable. This is where temporary powders and root concealers can come indispensable.
However, you should reapply them according to the manufacturer's instructions each time you shampoo your hair. For a smoother coverage, use the airbrush technique. If you don't have too many gray patches on your head, you can conceal them with hair mascara.
What does toner do to natural gray hair?
The toner's principle of work is based on enhancing the hair color, giving it a more "toned" look. It works best on pre-lightened hair. Luckily, it is when your gray hair is beneficial: it's already lightened, and pigments can easily penetrate your strands.
You can play with the ways of using a toner to cover up your white hair such as completely replacing the color, blending in the shades to match your natural color, etc.
Smooth Hair Color Without Harm
If you are concerned about your gray hair health, using chemicals might be the last point on your to-do list. To even your hair shade, avoid the constant maintenance, high price, and synthetic ingredients in modern dyes, you can stick with alternative techniques.
The remedies I've provided here can be applied at home. Choose the one that resonates with you the most, and take your salt-and-pepper look to the smooth side.
Do you have plenty of grays in your strands or just a few random "guests" you'd like to camouflage? Which treatment seems the most convenient to you? I'll greatly appreciate any comment or feedback of yours.
Also read: