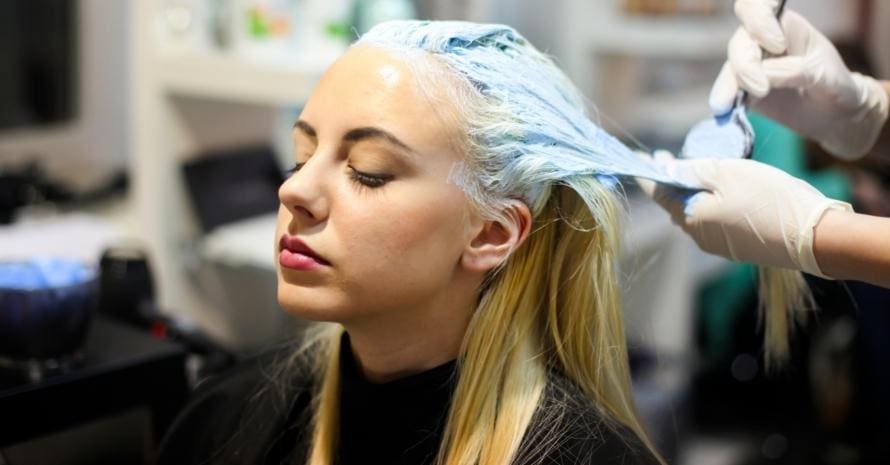 The result of coloring often differs from what is expected, and instead of the desired shade, the hair becomes a few tones darker. Then you start looking for the solution, how to correct the situation, how to lighten too dark hair color and cause as little damage as you can.
That is why in this article, I will tell you about types of dyes, how they affect the structure of your locks, and, of course, share tips on how to lighten hair dyed too dark and maintain proper color of your strands.
How to Lighten Dyed Hair Guide
Intervene in the dying process immediately if you dyed hair too dark.
Wash your hair with hot water and non-color-safe clarifying shampoo.
Rinse your locks with chamomile tea and apply vitamin C.
Make an olive oil, cinnamon and honey mask every week.
Before recoloring again, give your hair time to recover and heal.
How hair dye works
Types of dyes differ in composition and the lasting effect. They can be divided into 3 main types:
Semi-Permanent
One of the most gentle dyes. It does not contain ammonia or hydrogen peroxide, so this type of dye will not lighten hair or cover gray strands.
However, it is perfect for experimenting with bright shades, refreshing the color, adding shine, softening hair, or removing yellowness. Ideal for home use, as it does not need to be mixed with a developer.
Demi-Permanent
Does not contain ammonia but is mixed with a low-percentage developer, approximately will be washed out after about 24-28 shampoos. The dye does not penetrate directly into the shaft, only into the outer layer of the cuticle.
Applied to dry locks before using the shampoo, it works by depositing pigment on the surface of the hair and does not lighten your natural color but lasts much longer than the previous type of dye
Permanent
Used to achieve drastic changes in color. For example, to dye black hair blonde or if you have dyed hair too dark. It is the longest-lasting type of dye that can color gray hair or significantly lighten it. This dye penetrates the cuticle, expanding to a size that changes the structure, so it can no longer be washed off.
This type of dye contains oxidizing dyes, ammonia, and hydrogen peroxide. If you use it too often, it might damage the structure of the locks, but its components can soften the effect of the dye.
Causes of hair dye becoming too dark
Sometimes the dye becomes too dark during the coloring process. The first reason may be that you have chosen the wrong color. You need to look not only at the picture on the box but also at the tone of the dye; it may be too dark for your hair.
This usually applies to permanent or demi-permanent dyes and occurs after the dye has been mixed with the developer. Then the question immediately arises how to lighten hair dye. This happens even more often when the dye has already been applied to the hair.
Also, one of the reasons for darker tone may be that you left it on your strands for a longer period of time than required by the instructions.
Whatever the reason for the darkening of the dye, you should immediately intervene in the dyeing process and apply methods that will help lighten the hair. After all, the sooner you react to this situation, the better the end result will be.
How to lighten hair dyed too dark
There are many ways to deal with this problem. The easiest and safest way is to use the services of a salon and do professional dye removal.
Of course, if you have this problem after coloring in the salon, you better not go to the same hairdresser to lighten colored hair that is too dark. However, professional hair lightening is not always suitable for everyone.
From my experience of coloring gray hair, I can say that coloring affects its structure. And when I faced a similar problem, I did not want to resort to chemical bleaches and dyes again.
That's why I used natural lightening methods for myself. At home, the best option is to use masks based on vegetable oils. Olive, flaxseed and castor oils are suitable for this purpose.
Such masks will help the paint to wash off faster, as well as promote hair growth and improve its appearance. According to research, mineral and vegetable oils have a moisturizing effect and can protect hair from damage.
Tips on maintaining proper hair color and avoiding It becoming too dark
To retain the original appearance of colored hair for as long as possible, it is necessary to use comprehensive care. Namely, use a special shampoo for colored hair, use balm, minimize the use of iron, and protect it from the heat.
You can use natural ingredients to keep your locks from getting darker. For example, you might rinse with chamomile decoction. Personally, I often use it in my daily gray hair care.
Masks with the use of vitamin C will also be useful, as it has the ability to lighten strands, as well as help them get a shiny and healthy look.
FAQ on How to Lighten Dark Hair Dye
How can I make my dark hair dye fade faster?
If you use a tonic, the easiest way to fade the color is to wash your hair more often. However, if a permanent dye has been used, it is worth washing your hair with a clarifying shampoo.
In order not to damage your locks with frequent washing, moisturize it with a conditioner. Some of the natural bleaches include sun and salt water.
Does baking soda remove hair dye?
This is one of the natural ways to remove the dye. You can make a paste at home using baking soda and water in equal proportions.
Apply this paste to your hair and massage it well, leave on for 15 minutes. Then rinse with hot water. Note that it may take several procedures to achieve the desired result.
Does dish soap remove hair color?
Dish soap can actually partially remove new color because it contains more aggressive ingredients than shampoo. But it will be most effective immediately after dyeing, so you need to act quickly.
While the dye has not yet had time to properly adhere to the hair, soap can strip some color away and help bleach it. Works great with hair color too dark. However, it is important not to use this method too often so as not to cause damage to your hair.
Dyed Hair Too Dark Is Not a Problem With Right Methods
Don't panic if the color turns out to be too dark. The best solution is to immediately wash off the color with a special shampoo, using soda paste. Keep in mind that soda might not be right for everyone.
If you have sensitive skin, it can irritate it or make your ends dry and frizzy. If you are able to wait a little longer to cause less damage to the locks, you should add to the usual care masks with oil, rinsing with chamomile tea. Then you might not only lighten your hair but also make it healthier and more well-groomed.
Which of the methods would you use? Please, share your personal tips and results in the comments below.
Also read: