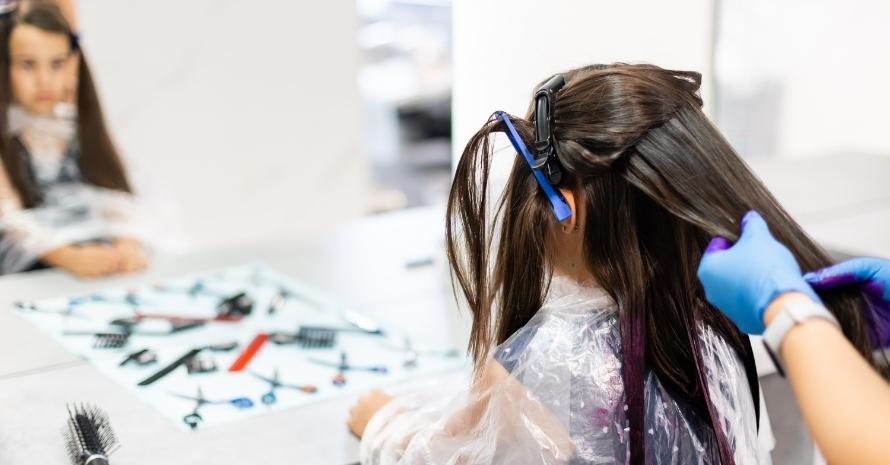 Can you bleach your hair twice in one day? Here I will explain this issue in plain language. Bleaching gives a lot of room for bold experiments, but what to do if there is no result after the first procedure?
How does bleaching work in general, and what to do with your curls afterward? I'll tell you about all this. Make yourself comfortable, we are going to the fascinating world of coloristics.
Guide on Bleaching Your Hair Twice in One Day
You can bleach your curls twice in a row, but they will greatly suffer.
Stick to the average interval between treatments (from 3 to 8 weeks), depending on the type of dye, hair color, and growth rate.
Use special care for bleached hair such as special cosmetics, accessories, balms, and thermal protection.
How does bleaching work
Bleaching eliminates artificial or natural pigments in your hair. As a result, you can completely discolor both natural and dyed chevelure. It can gain a yellowish tint immediately after bleaching due to the fresh lightening background.
Potential unpleasant side effects
To remove the hair color, the bleaching agent lifts the cuticles. Then the solution deeply penetrates the strand and oxidizes natural or artificial pigments with oxygen released from hydrogen peroxide. Pigments lose their tint, become dissolvable in water, and are partially washed out. Keratin chains are also destroyed by oxygen. Thus your mane lightens after bleaching.
Below, I will examine the most common side effects you can face after the bleaching session:
Hydrogen peroxide can burn the protective scales of your hair since its potent formula opens them up. The cuticles won't manage to close even in the acidic environment that promotes closure;
The hair can become difficult to comb, and the ends start to split. The reason lies in the lack of a protective layer. It is mandatory to use balms that perform the protective function instead of scales and fill the space between them. To help your locks recover after bleaching, apply balms with protective and nourishing functions;
The wrong bleaching technology causes strong alkaline compounds to penetrate into the roots and weaken them. It is only enhanced by the insufficient amount of natural oils on the scalp.
The oxidizing agent doesn't affect the skin or hair by itself; it must be properly mixed and applied according to the manufacturer's recommendations.
The effect you get is individual since every person has their set of pigments. One bleaching session usually works only if your locks are blond or light brown.
Darker hair requires several bleaching procedures. The higher the percentage of an oxidizing agent, the more intense the effect you will get. Due to this feature, powders and pastes can harm the scalp.
A common myth is that bleaching products are so strong that they can adversely affect the hair follicles and cause their loss. You should understand that the active substances work only on the hair shaft and cannot promote loss. I don't recommend you bleach severely damaged hair. Though it won't fall out, the strands are prone to breakage.
How often can you bleach your hair?
When re-bleaching the chevelure, take into account that it negatively affects the hair structure, regardless of the chosen shade. Before bleaching the hair the second time, consider the timeframe provided below.
Twice in one day
The question "is it okay to bleach your hair twice?" typically arises when you want to lighten black tresses at home. Bleaching the hair twice or more times in a row is possible, but it will greatly worsen its condition.
You can go from dark to light and save your curls by applying protective measures. Thus you won't burn the curls and can even preserve their original state.
The next day
How many times can you bleach your hair in a row? In case bleaching goes wrong, you can carry out the manipulation that very day, but it will affect the quality of the locks.
How often can you bleach your hair?
The period after which you can re-lighten the hair depends on the purpose of the manipulation:
if you opt for highlighting to refresh and maintain the color saturation of your strands, you need to visit a specialist once a month;
lighten the entire mane no earlier than 6-8 weeks after the previous procedure;
when bleaching the roots, stick to the schedule and carry out the procedure every 14 days.
Haircare when bleaching
You need to regularly nourish and moisturize the curls with oils and professional masks after the procedure. Bleached hair needs special care because:
alkali damages the cuticles and burns the skin;
natural pigment loses its color;
the hair becomes light and more porous;
the keratin structure is changed.
All these factors can negatively affect the quality of your hair. It's rather unpleasant, but there is a way out.
The solution to the discomfort problem is proper care. Here I provide several tips to help you.
Find specialized cosmetics
Proper cosmetic care for home-bleached or lightened hair is based on specific products. Is your favorite mask recommended for all hair types? Save it for later; now you should use only treatments for the blond.
Wash and comb your strands gently
Get a decent sulfate-free shampoo, rinse it off only with lukewarm water, and do not rub your strands with a towel. Be careful when combing them.
Use thermal protection
Curling irons, stylers, and blow dryers accelerate the color transformation and damage your curls. If romantic curls or mirror-smooth strands are an essential part of your look, arm yourself with reliable hair protection.
Don't forget about color correction
If you wonder whether you can take care of your hair without sacrificing the blonde, I can assure you it is possible. Use tinting products periodically, for example, once a week.
FAQ About Bleaching Hair Twice
There are a few other questions about bleaching that clients often ask me. I will try to answer them further.
Can I bleach my hair twice in a row?
Yes, double bleaching the hair is possible but only when you use hair protection in advance and carry out the procedure correctly. However, it damages the hair, and I highly recommend that you restrain yourself from doing it.
Does bleaching twice make it lighter?
Yes, each lightening session works up to 8 tones. Girls with dark hair often carry out more than one procedure to obtain the desired blond.
How many times can you bleach your hair before it falls out?
The question is ambiguous. As I have already mentioned, the hair does not fall out but breaks. It all depends on the correctly performed procedure and care.
Bleach Your Locks With Right Intervals
If you decide to go blonde and are in doubt about bleaching, I advise you to address a professional and perform the procedure in several stages. Brunettes can't achieve that gorgeous blond look after the first time without harming their locks.
Before you bleach your curls a second time, you need to thoroughly assess their condition. The average interval between the procedures is 6-8 weeks. Proper care will help you keep your hair healthy.
What inspired you to go blonde? How often do you intend to bleach your chevelure? Please, leave your comments below this article.
Also read: