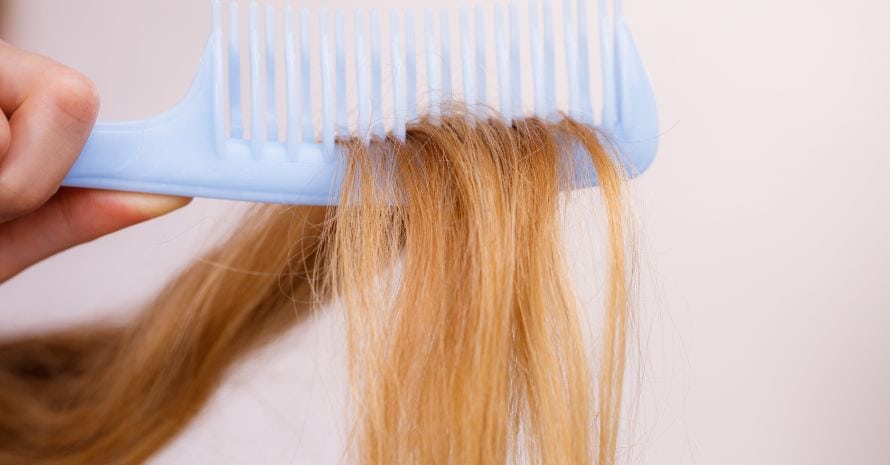 Your hair is exposed daily to the harmful effects of the external environment, as well as hot styling tools. You may also dye your strands too often or use poor-quality aggressive products. All these factors destroy the protein in the hair, making it weak and dull. Products containing keratin help to repair damaged hair cuticles.
However, excess protein is also harmful and makes your locks lifeless. Incorrect and too frequent use of keratin-containing products leads to buildup on strands. Read this article to learn how to fix protein overload in hair.
How to Treat Protein Overload in Hair
Stop using products with protein.
Use a clarifying shampoo and rinse your hair with apple cider vinegar 1-2 times a week.
Apply moisturizing masks and conditioners.
Do not use a hair dryer and hair straightener.
Don't color your hair while you are treating protein overload (from 4 to 6 weeks).
Protein Removal Guide
Getting rid of keratin accumulations is a fairly simple process. For successful treatment, you need to understand the causes of this problem and properly organize hair care. Keeping your strands healthy requires a balance between protein saturation and hydration.
What is protein overload?
All hair types need protein replenishment. The main building block of strands is keratin. Under adverse factors, the strand's cuticle is damaged, and the core becomes unprotected. This leads to weakness and dryness of the hair.
Caring products containing keratin and other ingredients that mimic protein restore the structure of the cuticle. The essence of this treatment is that keratin strengthens the bonds between hair molecules.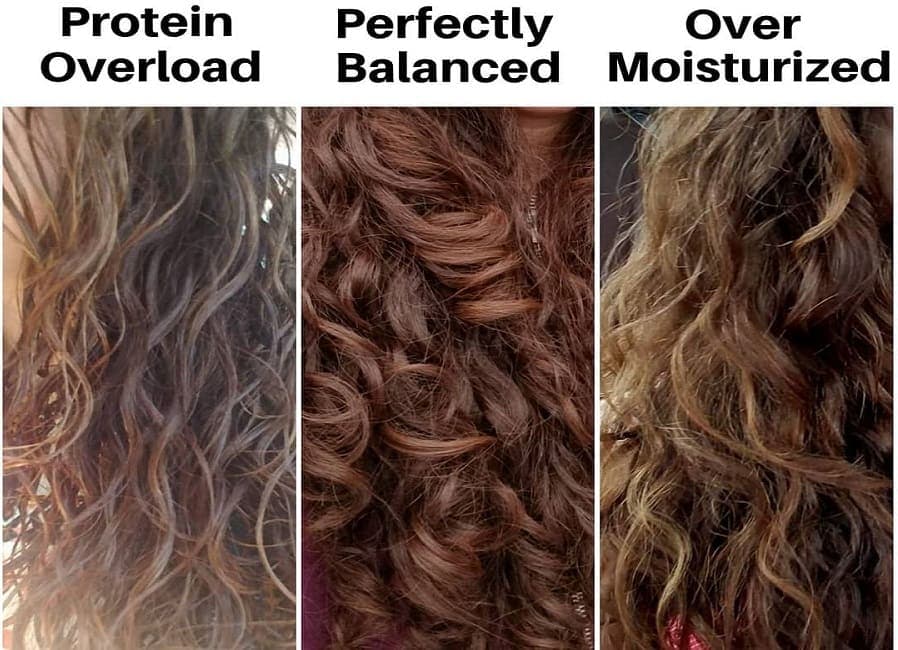 Proper care makes curls elastic and strong. You have probably heard that keratin treatments are a magical way to give you dream hair. However, all good things can become harmful if misused. So, is too much protein bad for your hair? Yes, an overload of keratin is just as harmful as a lack of it.
The protein accumulates on the strand's surface, leading to their weight and faster wear. Also, a too large and uneven protective layer on the strand does not allow moisture to pass through it. That is why overload is, to some extent, synonymous with lack of moisture.
What causes protein overload?
Excessive use of keratin in-salon treatments and uncontrolled application of protein products can lead to overload. You can consciously buy products designed to strengthen your hair.
Often overload happens because you select a keratin series from products of one brand, and because of this, there is a rapid buildup of protein. But sometimes you don't even know that your shampoo and conditioner contain it. In this case, pay attention to the composition of your care products.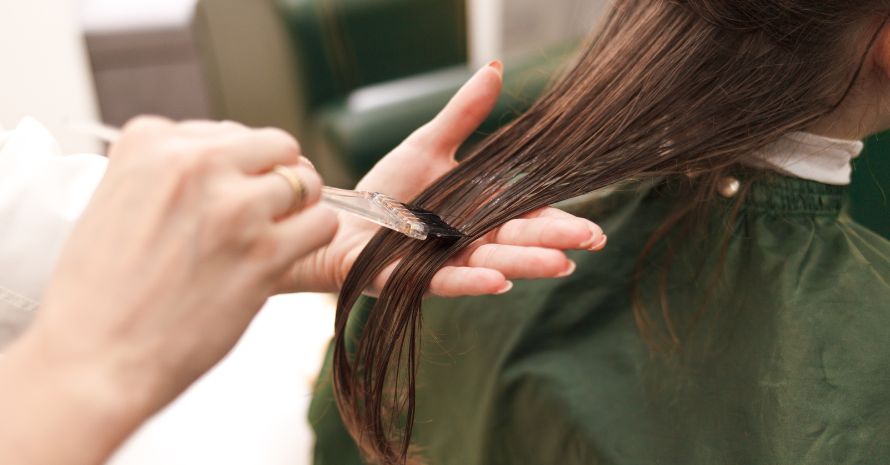 If you think you have too much keratin in hair, avoid products that contain the following names of the first 5 ingredients:
Keratin
Arginine
Serine
Threonine
Hydrolyzed collagen
Biotin
Cocodimonium hydroxypropyl hydrolyzed casein
Silk protein
Soy protein
Wheat protein
Quinoa protein
Rice protein
Amino acids
Coconut oil
Keep in mind that the condition and type of hair also matter. Girls with curls are more at risk of overload. If you have smooth hair, it means that it has low porosity. The cuticles of the strands are located tightly together, which makes it difficult for moisture to enter and also increases the risk of protein accumulation.
Eating foods containing protein does not lead to overload. This trouble only happens due to external influences of cosmetics.
Signs of protein accumulation
What does protein overload on hair look like? In general, it looks like strands are damaged by aggressive chemical or heat treatment. That is why you should rule out other causes, such as recent hair bleaching, before thinking about how to remove protein from hair.
Severe hair loss and other problems can indicate diseases, so listen to your body. Perhaps, in addition to deteriorating hair quality, you are experiencing general malaise. In this case, it is better to seek advice not from a stylist but a doctor.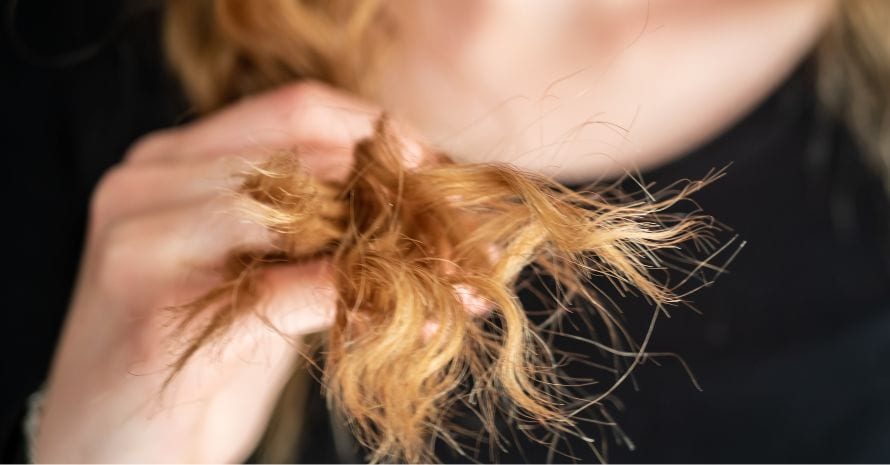 Protein overload hair symptoms:
Split ends
Sluggish and weak strands
Breakage and loss of elasticity
Lack of healthy shine
More intense hair loss
The curls are dry and harsh to the touch
Change in hair texture
How to tell if your hair has too much protein? You notice most or even all of the symptoms on the list. Strands began to look and feel like straw. You have not dyed your hair lately and have no health problems but have been actively using hair products containing keratin.
What to do if your hair is in protein overload
Your hair is overloaded, so don't make it worse by continuing to use protein products. Depending on how damaged your strands are, you will need to get rid of keratin accumulations from several weeks to several months. At this time, give your hair a rest: minimize using hair dryers or curling irons, and do not color your hair.
Don't throw away protein-containing products. After treating overload, you can gradually introduce these products into your care. Adjust the schedule for applying hair care products to the strands and, if possible, consult with a professional. You will still need to replenish the keratin in the cuticles. However, the main principle in care is a balance between protein care and moisturizing.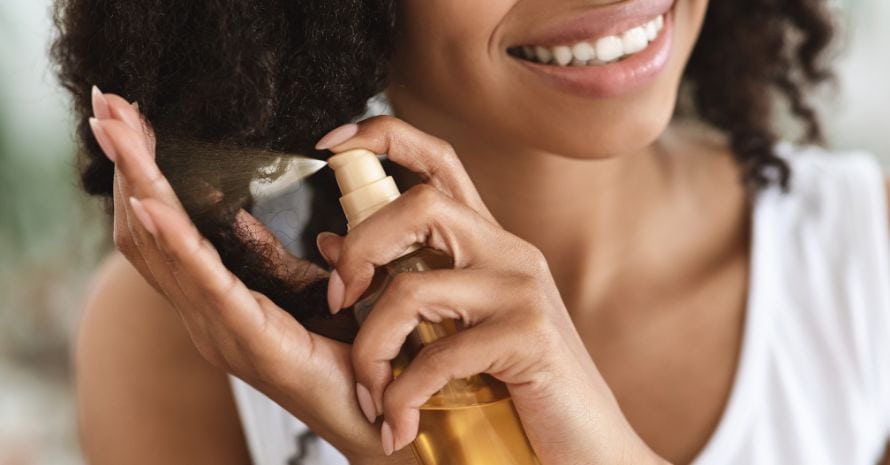 In the future, do not apply several products containing protein at the same time. Alternate them with moisturizers and apply them sparingly. Do not use protein care more often than indicated in the instructions. The best solution is to reduce the application of these products to a minimum. Salon procedures using keratin for damaged hair should be done no more than once every 4–6 weeks. After removing the accumulations, try to make them even less often.
Minimize mechanical stress on the strands
Since your dehydrated strands break easily, you should not only apply the right hair care products to them but also minimize friction and kinking. It's simple: the more you pull and rub your hair, the more easily and quickly it falls out and breaks. Until you restore the balance of moisture and protein, you should be careful:
Try to wear your hair loose; ties and hairpins injure already weak strands.
Before going to bed, it is better to collect hair in a loose braid and cover your head with a silk scarf to avoid tangles.
Dry hair is too tangled and torn, so comb the curls after shampooing. Apply a small amount of leave-in conditioner or oil to towel-dried strands. Then gently comb, starting from the roots and moving to the ends.
Do not use metal and wooden combs.
Apply all care products slowly and gently, do not rub them too hard.
If you have a habit of touching your hair or twisting it around your fingers, you should stop doing this to avoid injuring strands devoid of moisture.
How to get rid of protein buildup in hair
You need to organize the right care to see the difference before and after protein overload in hair.
Clear all accumulations
Remove all excess deposits, including keratin and sebum buildup, to create a clean sheet and reduce overload symptoms. To do this, you will need a clarifying shampoo.
Choose a product that suits your hair type. They come in different options: for curly or straight hair, oily or dry, and so on.
Clarifying shampoos are quite aggressive because they remove not only unnecessary residues but also natural oils necessary for the health of the scalp and hair. Therefore, use them 1–2 times a week.
Before using the shampoo, you can put your hair in warm water for 10–20 minutes.
Alternate clarifying shampoo with sulfate-free and protein-free ones.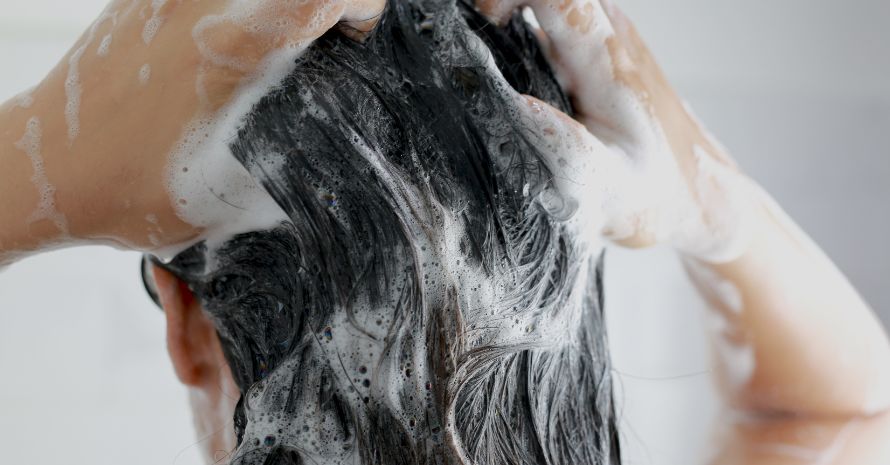 Apple cider vinegar is an excellent natural remedy for removing buildup from the scalp and strands. It stabilizes the pH level and adds shine to the hair. Do these rinses after washing your hair 1–2 times a week:
Mix 2 cups of cool water with half a cup of apple cider vinegar.
Pour this mixture into a spray bottle.
Thoroughly saturate all strands and leave for 5–10 minutes.
Rinse your strands with cool water.
After removing the protein accumulation on the hair, you can rinse with vinegar 2–3 times a month.
Essential lavender, peppermint, and clary sage oils can remove protein deposits from the scalp and strands. They also promote hair growth and give elasticity to curls. These oils cannot be used alone as they can cause irritation, so dilute with any base oil before applying, for example:
Jojoba oil
Apricot kernel oil
Olive oil
Grape seed oil
Black cumin oil
Argan oil
Marula oil
Sweet almond oil
Remember that using coconut oil and products containing it will only worsen your hair, as this oil mimics protein when applied to the cuticles.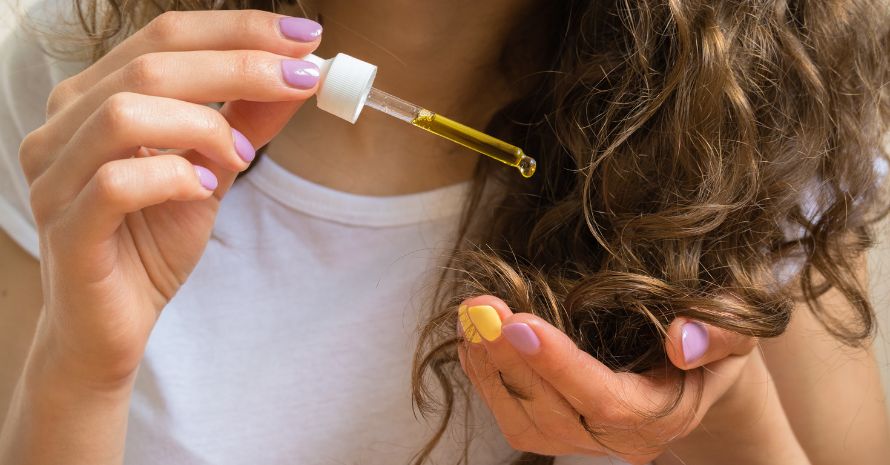 2. Moisturize your hair
If your hair is damaged and you use deep cleansing products, your dehydrated strands need to be moisturized. After every hair wash, use a protein-free conditioner or hair mask. These cosmetic products will gradually smooth and repair the outer cuticle.
For protein-overloaded strands, choose options that contain aloe vera, honey, and vitamin E. Aloe vera is considered one of the best remedies for damaged hair. It is gentle on the strands, restoring pH levels and providing deep hydration.
Apply leave-in conditioner, serum, or oil to damp, clean hair to seal in moisture.
3. Cut split ends
You wanted to strengthen your hair with keratin and make it healthy and shiny. However, excessive accumulation of protein led to unpleasant consequences. If your strands were too overloaded, you should go to the salon for a haircut. The fact is that the ends accumulate a large amount of keratin and begin to break and fluff.
Split ends cannot be glued together, no matter what marketers say. That is why, even with proper care, the ends will look messy. The split strand will continue to delaminate, and soon you can see a lot of harsh hairs sticking out along the entire length.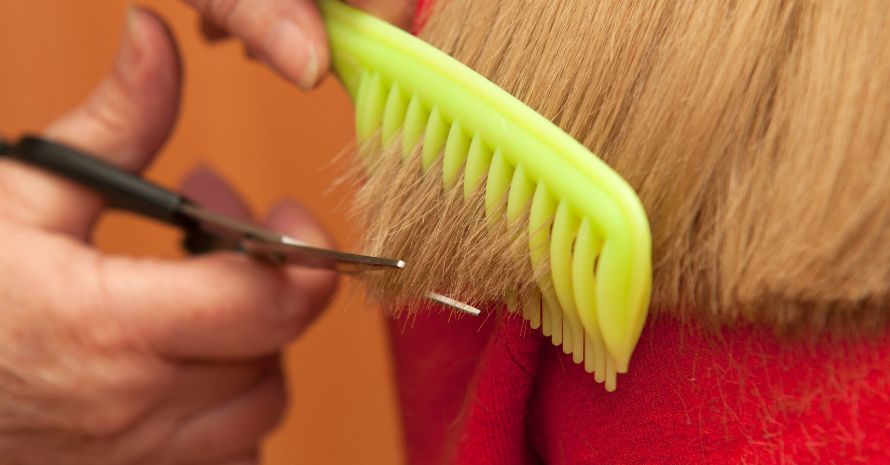 FAQ About Protein Buildup on Hair
Read the answers to important questions to have healthy, shiny hair.
What protein makes up hair?
Strands are 95% made up of a protein called keratin. It is the basis for the formation of nails and epidermis. There are over 50 types of keratin present in your body.
How to know if hair needs protein or moisture?
If your hair is weak and dry, but the strand breaks when stretched, this indicates a lack of moisture. When a strand feels limp and dull but doesn't break, you need protein.
How long does it take to remove protein overload in hair?
Depending on the level of protein accumulation in your strands, it will take you an average of 4 to 6 weeks to restore shine and elasticity to your hair.
Difference between overload or too little protein in hair?
The symptoms of protein deficiency and excess protein are similar. However, the hair is weaker and thinner if it lacks keratin. Excess leads to the weighting of the strands and makes them dry. If you are using products containing keratin, most likely, you have an overload.
Return Shine and Elasticity to Your Strands
As you already understood, good things in large quantities can become harmful. Therefore, it is important to analyze the composition of hair care products, pay attention to the condition of the strands and carefully control the use of certain products.
Fortunately, protein overload in the hair is easily reversible and not a tragedy. Follow the tips in this article, and soon, your curls will acquire a healthy shine, elasticity, and strength.
Do you pay attention to the composition of care products? Share your experience in the comments.