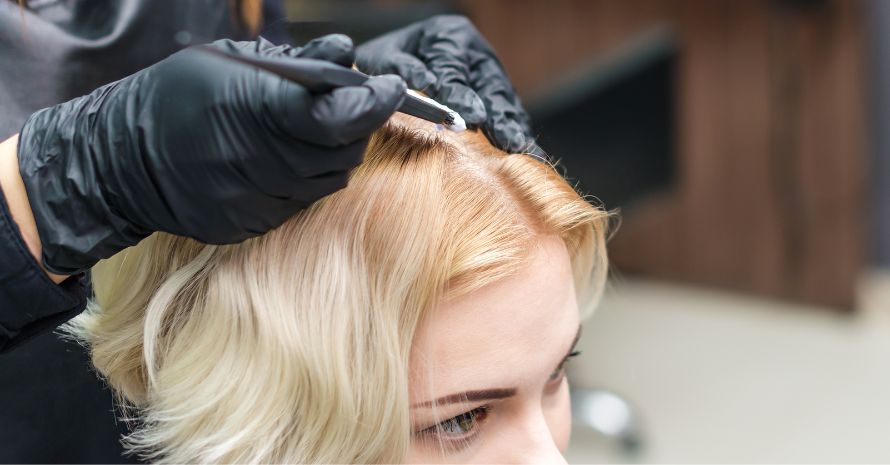 Going from brunette to blonde is not an easy process, even for an experienced stylist. If you go to a salon, it may take several visits to get the color you want. To properly bleach your hair and achieve a beautiful platinum shade, you need to know all the subtleties and follow the sequence of actions.
That is why often home bleaching procedures lead to an undesirable result: yellow, orange, or even fiery red spots. Cheer up, you can correct this in many ways. Read my article, and you will learn how to fix orange hair after bleaching.
4 Ways to Remove Orange From Hair
Repeat the bleaching at least 2 weeks after the first. Until the next procedure, regularly moisturize your strands, and do not use a hair dryer.
Tone out orange highlights with blue toner.
Use home remedies to lighten hair and neutralize orange. The best options are apple cider vinegar or lemon juice.
Dye your hair a darker shade with cool undertones.
Color Correcting Guide
Many will offer to seek help from a stylist. However, if you are reading this article, you do not want to do it for some reason. Read the stylists' advice on eliminating unwanted orange undertones and the reasons for their appearance to avoid this situation in the future. You have several ways to bring curls back to normal because this problem is quite common.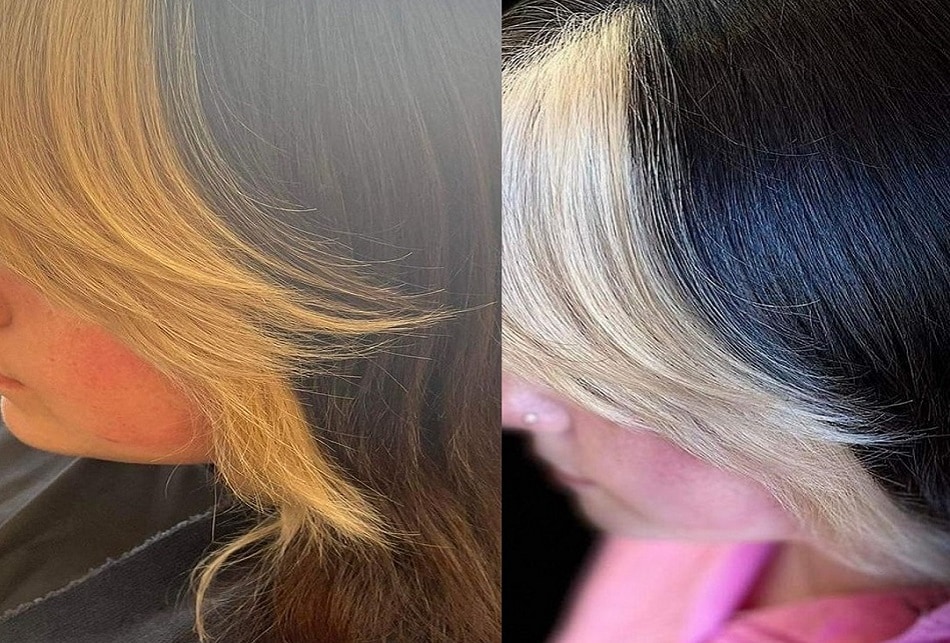 Why does hair turn orange after bleaching?
Hair bleaching is a procedure when chemicals break down the pigment in your strands and make them blonde. Hair combines pigments (unique to each individual) and keratin proteins. If you're wondering, "How to neutralize red tones in hair at home?" chances are you're a natural brunette.
The fact is that black and brown strands contain a large amount of red and orange pigments. These are the largest molecules that are difficult to remove. Cold pigments are smaller and are destroyed first, which is why it is easier to bleach light brown hair than black.
Accordingly, the orange color is a residual pigment that bleach could not remove. There can be many reasons for this. Perhaps, you did not follow the sequence of actions stated in the instructions. For example, you kept the bleach on your hair for less than the allotted time.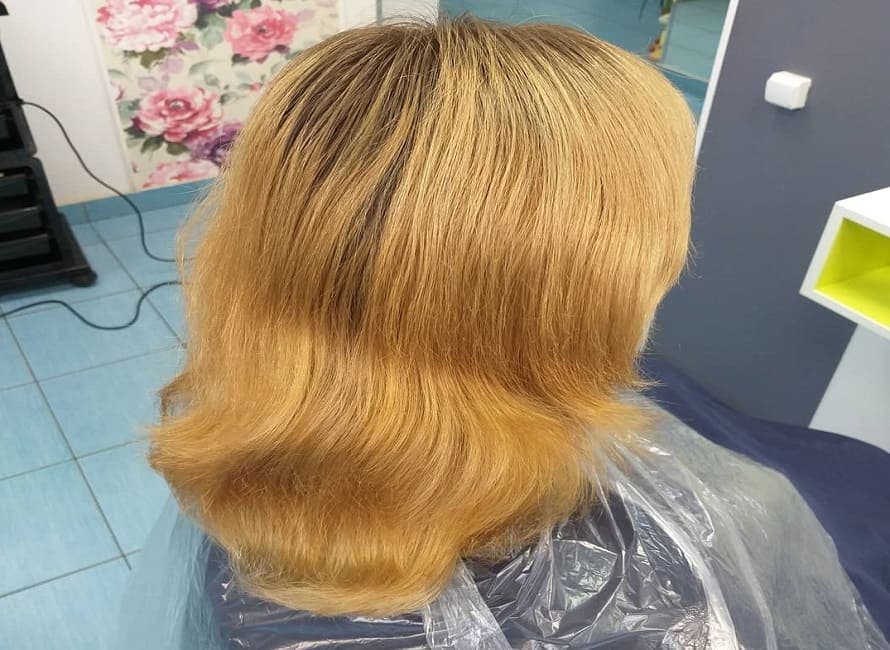 But patchy orange hair after bleaching can be a problem not only for brunettes but also for blondes. The natural or dyed hair blonde turned orange is the high amount of minerals and chemicals in the strands. It could be because you frequented a pool with a lot of chlorine or swam in salty sea water shortly before the bleaching. The buildup of sulfates on your strands can also lead to looking for ways to neutralize an unexpected hue.
How to fix orange hair
You can choose one of the ways to fix orange strands. Decide on a method that will minimize damage to your hair.
1. Re-bleaching
This way may be the most effective of all. When you see your fiery strands after the first bleaching, you will want to get rid of orange hair as soon as possible. No matter how healthy and elastic your hair is, you should not do a second procedure on the same day or the next.
Even if your strands don't look too damaged or broom-like, regular exposure to chemicals can change your hairstyle beyond recognition. Hair loss, brittleness, frizziness, dryness, and scalp irritation are definitely not what you dream about.
Schedule a second procedure no earlier than 2 weeks after the first. This is the minimum period during which your hair should recover. Apply argan, castor, or coconut oil to your hair every day. Use mild, sulfate-free shampoos and moisturizing hair masks at least twice a week. Minimize or eliminate the use of hair dryers and styling curlers.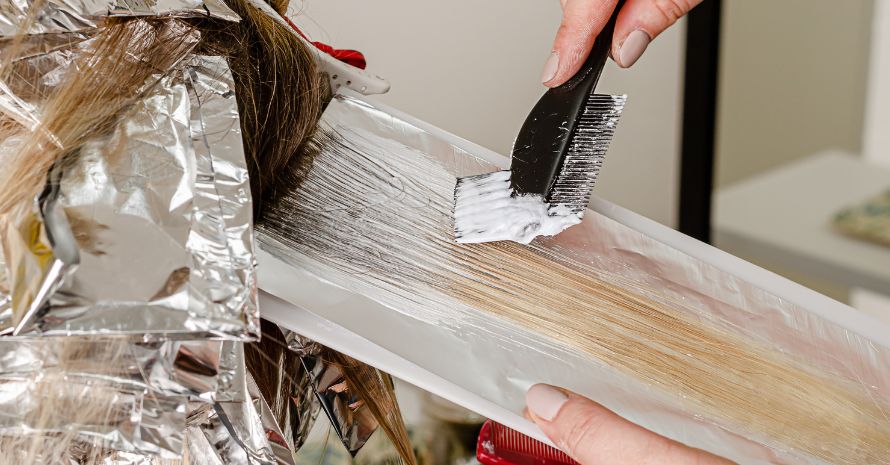 Here is a small list of remedies to restore hair health in a short time:
Olive oil;
Almond oil;
Leave-in hair conditioner;
Homemade or store-bought hair masks with avocado, egg white, and honey.
The obvious disadvantage of this method is that you have to wait at least 2 weeks for the next bleaching, and all this time, you will have orange curls. Be patient and continue your path to blonde when you are sure your hair will withstand the harmful effects of bleach.
Do not increase the concentration of the agent to achieve a quick result! It can lead to burning your strands. A very short haircut may be the only solution after the procedure.
2. Use a toner
Toner is a semi-permanent hair dye that, when used correctly, does not color the strands but neutralizes the unwanted shade. What color cancels out orange? To answer this question, take a look at the color wheel. Find the shade that is most similar to the one you got after bleaching.
Draw a straight diagonal line from it to find the opposite color. If the color of your strands is closer to yellow, you will need a purple toner and shampoo. For orange hair, choose blue. If you find that your hair has turned pink or red after bleaching, you should pay attention to green toners.
Toner and toning shampoo do not color the hair but neutralize the color to which the dye is applied. Please note that this product will not lighten your hair; it will make your tone more neutral. So if you are aiming for a blonde, you will need to repeat the bleaching procedure.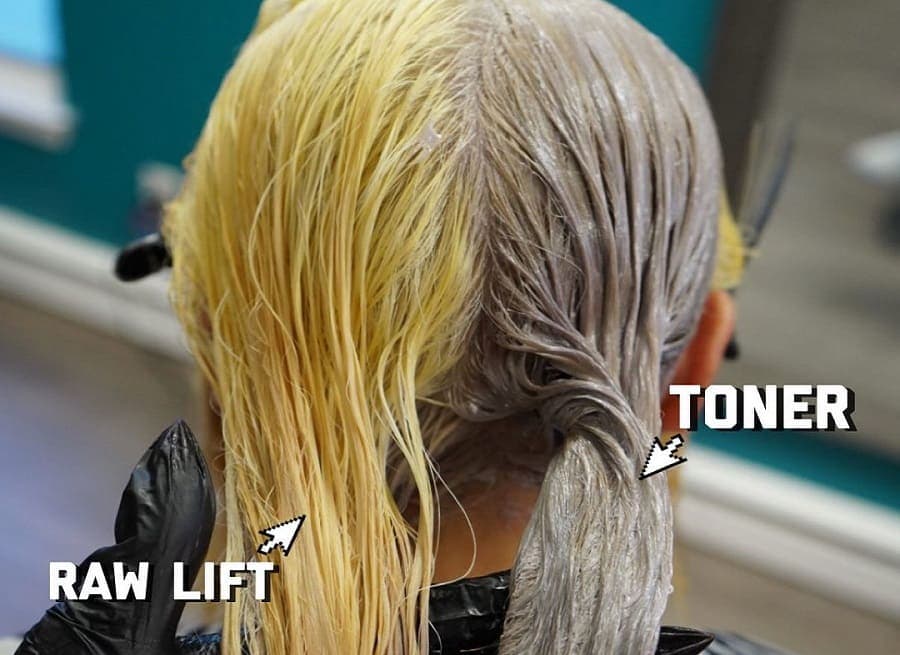 How to tone orange highlights?
Buy a toner to neutralize orange pigment.
Mix 2 parts toner and one part peroxide in a plastic or glass bowl.
You can use pure toner according to the instructions if you have no peroxide. However, the addition of this ingredient increases its effectiveness.
Get a clean hair color brush.
Apply the mixture to all of your hair or just to areas that have taken on an unpleasant orange tint.
Work quickly. You should process all the hair without interruption.
Leave the mixture on your head for the time indicated in the instructions. Typically, toners need to be left on the hair for up to 20 minutes. Too long exposure can give your strands a blue tint.
Wash off the toner with shampoo.
You can repeat the toning procedure if you are not satisfied with the result.
Blue shampoos are also products for toning. They also cleanse the hair and are easy to use. You can use shampoo to neutralize orange undertones in your hair. Apply it 1-2 times a week for best results.
You should not replace your regular shampoo with blue, as it tends to dry your hair slightly. If you're going to repeat bleaching and reach a yellow undertone in your hair, you'll need a purple shampoo and toner to neutralize that highlight and maintain a beautiful blonde.
3. Homemade vinegar neutralizer
You can use homemade products for correcting orange hair after bleaching. Be patient because they will not give an instant effect, unlike shampoos and toners. However, such mixtures are safe for hair, and you can use them daily.
To make a toner, prepare 1 cup of water and pour it into a spray bottle or other suitable container.
Add 2 tablespoons of apple cider vinegar and a few drops of blue food coloring.
Mix thoroughly.
Wash your hair the usual way and apply this mixture, leaving it on the strands for up to 30 minutes.
Then rinse your hair with warm water.
You can also add a few drops of blue food coloring to your mild sulfate-free shampoo. Do not add directly to the bottle. Prepare a homemade toning shampoo from the amount that you use at a time to wash your hair.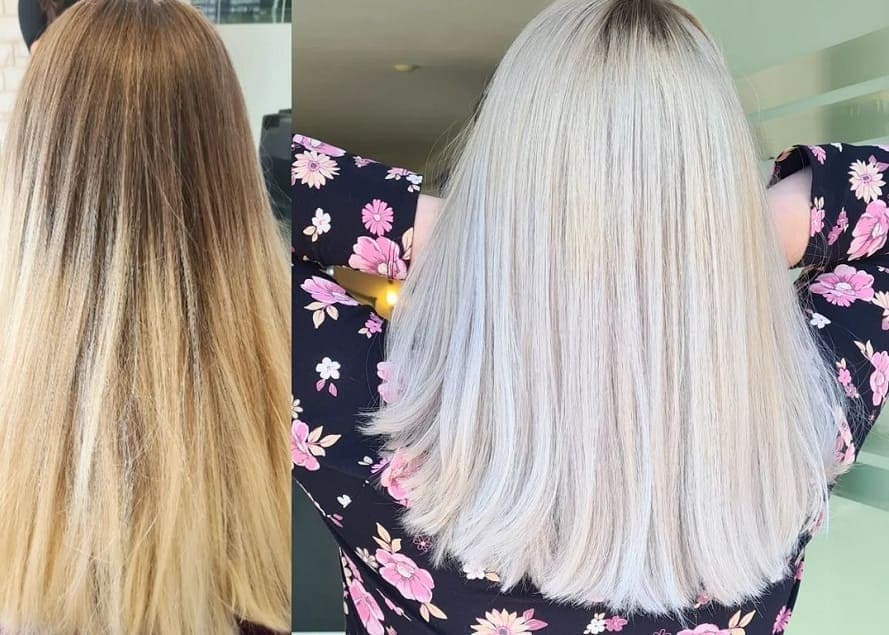 4. Lemon juice
This natural remedy will remove the orange pigment, lighten the strands a little and give them shine. This method works gently, so you will see the desired result no earlier than in a few weeks, provided that you apply masks with lemon juice 2-3 times a week.
Prepare freshly squeezed lemon juice. Make a fresh batch each time or store leftovers in the refrigerator.
You will need 1 part juice and 3 parts water.
Pour the lemon juice and water into a plastic or glass bowl. Stir.
Apply the mixture to your hair and wrap it with cling film. You can warm your head with a thick towel.
Leave the mask for about 10–15 minutes and wash off with a sulfate-free shampoo.
Do not use this method if you are allergic to citrus fruits.
5. Dye your hair a darker color
Many girls that are trying to fix their orange color are surprised "I toned my hair and it's still orange. What should I do?". You may have performed the toning procedure without following the recommendations in the instructions. Another reason could be that you don't have a light shade of orange but a rich copper tone. In this case, the toner will not lighten the hair but slightly neutralize the orange color.
Particularly patient girls can repeat the bleaching procedure. Some people prefer to just get rid of the pesky shade as soon as possible and dye their hair a darker color to keep it healthy. And this is also a great option, although you did not plan to do this initially.
You can choose a reddish hue if you like how orange or red looks on your strands and cover up the resulting bleaching spots. For more neutral options, choose a dye color with a cool ash undertone that is darker than your current color. However, a lighter ash blonde on orange hair gives a beautiful light brown tint.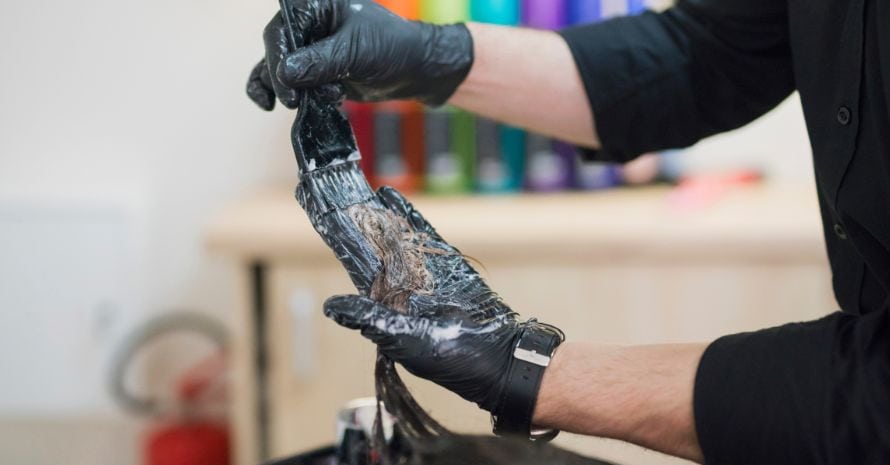 FAQ about Removing Unwanted Shades
Bleaching can lead to the most unexpected result. However, the good news is that there is an easy solution.
Does purple shampoo work on orange hair?
If your hair color is yellow-orange after bleaching, purple pigment can neutralize this shade. The best choice is to use a blue shampoo for fiery orange and orange-red strands.
How soon after bleaching hair can you bleach again?
Stylists recommend re-bleaching no earlier than 2 weeks after the previous procedure. Frequent bleaching can lead to severe hair damage, such as hair loss, frizziness, dryness, and scalp irritation.
My hair turned pink. How do I fix it?
To neutralize the pink pigment, use green shampoo. If this product does not help to get rid of the unwanted shade, repeat the bleaching after 2 to 3 weeks.
How to get yellow out of blonde hair home remedy?
Apply apple cider vinegar to your strands. Hold for up to 30 minutes and rinse thoroughly with warm water. You can also use a mixture of 2 parts fresh lemon juice and 1 part water, spraying it on your hair before washing your hair.
Don't Give Up on Your Dream Hairstyle
Although it may seem that your hair is completely ruined, it is not. This situation is widespread. Many girls, during home bleaching, and stylists, have gone through the experience of color correction. Modern hair products are designed specifically to solve these problems. Home remedies are also effective and more gentle.
How often do you change the color of your strands? Share your experience in the comments.