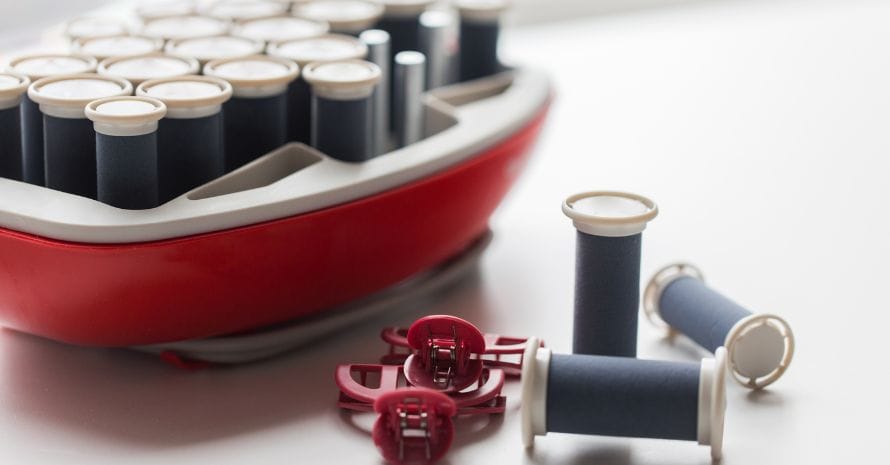 At first glance, hair rollers are associated with something old-fashioned. However, the technology of curlers has stepped forward. Now, with this device, you can get beautiful, shiny curls. You can do this quickly, for example, while getting ready for work in the morning.
A heated roller kit of different shapes is a true godsend for girls with short hair. I have prepared a review of the best hot rollers for short hair so that you can understand which size of curlers is best for you. You will learn which curlers can not only make a glamorous hairstyle but also keep your hair healthy.
Product
Top Pick
Title
BaBylissPRO Hot Rollers For All Hair Lengths, Nano...
Conair Ceramic 1 1/2-inch and 1 3/4-inch Hot...
REMINGTON Pro Hair Setter with Thermaluxe Advanced...
Pros
Nano titanium ceramic coat
Rollers come in two sizes
A convenient container for hair rollers
Top Pick
Product
Title
BaBylissPRO Hot Rollers For All Hair Lengths, Nano...
Pros
Nano titanium ceramic coat
Product
Title
Conair Ceramic 1 1/2-inch and 1 3/4-inch Hot...
Pros
Rollers come in two sizes
Product
Title
REMINGTON Pro Hair Setter with Thermaluxe Advanced...
Pros
A convenient container for hair rollers
7 Best Hot Rollers for Short Hair
Below, you will find the best hot rollers review with descriptions of the features of each set and opinions about them.
1. BaBylissPRO Nano Titanium: Best Rollers for Heat Styling
Brand: BaBylissPRO
Number of rollers: 20-piece set
Rollers size: ¾, 1, 1¼
Material: nano titanium ceramic
My friend Jennifer bought these hot rollers following the advice of her hairstylist. She said she was happy with the purchase. The curlers heat up quickly in a container and style her hair well. Jennifer also said they reliably held up on her thin hair. The 1¼ and ¾-inch hot rollers make elastic curls, and the one-inch curlers allow you to create volume at the roots.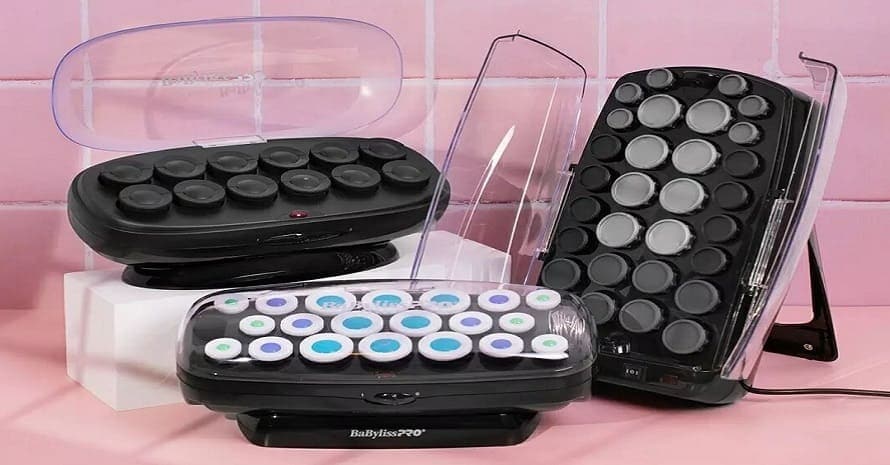 These curlers for professional use are perfect for those who like to make curls at home. The special nano-titanium coating gently heats the hair. Thanks to it, the rollers are lightweight. With this tool, you can get beautiful and healthy curls at home.
Professional stylists always trust the Babyliss brand. Girls also buy their hair styling appliances for home use because Babyliss is a good value for money.
PROS:
Nano titanium ceramic coat;
Good fixation;
Safe for hair.
2. Conair Jumbo-Sized Ceramic Hot Rollers: Most Budget Curlers
Brand: Conair
Number of rollers: 12-piece set
Rollers size: 1½, 1¾ inch
Material: ceramic
My cousin bought these rollers to make curls and add volume to her hair. Her strands are about halfway down her shoulders. She chose these curlers because the set has rollers of two different sizes. She was worried that the big ones would take a long time to warm up. However, the curlers got hot in a minute and kept warm for a long time.
These curlers heat the hair as gently as possible. The ceramic disperses the heat, and the velvety coating protects the hair from overheating. Also, the soft roller coating allows one to get beautiful curls without the frizz. You can fix the rollers on the hair with metal pins or special locks. Girls often disagree on which attachment is more convenient, but this set allows them to choose the most suitable way to style their locks.
Conair has been making hair styling products since 1959. They started with simple curlers and now produce all kinds of appliances and accessories that help fashionistas do all kinds of hairstyles.
PROS:
Price;
Rollers come in two sizes;
Ceramic coating.
CONS:
No clip storage compartment.
3. Remington H9100S: Best Hot Rollers for Fast Curl
Brand: Remington
Number of rollers: 20-piece set
Rollers size: 1¼, 1-inch
Material: ceramic
My best friend Betty bought these curlers for herself. She has pretty short hair that barely reaches her shoulders. This set consists of two kinds of rollers of 1 and 1¼ inches. The first allows her to get soft waves along the entire length, while the second lifts the roots. The container heats up in a couple of minutes, and the light shows her when the rollers are ready to use.
Overall, she was happy with the quality of these curlers. The only inconvenience is the hairpins, which leave traces in the hair. Probably, she needs more practice to get flawless curls.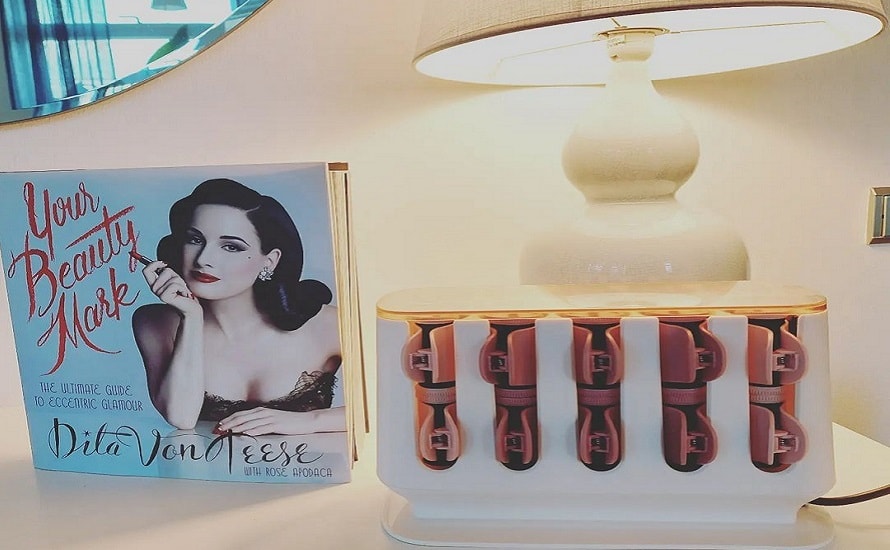 The roller kit not only looks stylish, but it is also functional. It takes up less space because the curlers are on top of each other. In addition, the cord will not create chaos on the nightstand because one can neatly wrap it around the container.
Remington is an American brand that consistently ranks among the best hair styling devices. Although the company started by manufacturing weapons, its attempts in the beauty industry have proven successful. One of their goals is to help women get not only beautiful but healthy curls at the same time. Most of their devices have temperature sensors that keep the hair from overheating.
PROS:
A convenient container for hair rollers;
Rollers come in two sizes;
Ceramic coating.
CONS:
Clips can leave marks on the hair.
4. CARUSO Molecular Steam Hairsetter: Best Tool for Bouncy Hair
Brand: Caruso
Number of rollers: 30-piece set
Rollers size: 5 sizes from ⅝ to 1¾ inches
Material: foam
My neighbor Janis had never done curls before. I recently saw her with a new hairstyle and wondered who made her such pretty waves. She told me about her new finding, a set of curlers from Caruso. Janis rarely did her hair with curlers because she didn't want to damage the structure of her hair.
These curlers heat her hair well and don't dry it out, so they have won her over. She is often on business trips, and this set is convenient to put in a suitcase, and it doesn't weigh much.
Steam heats these curlers. It is enough to pour water into a container, and when the water starts to give off steam, place the curlers one by one into a dedicated hole. The foam coating gently heats the hair. Five sizes of curlers, including ¾-inch hot rollers, allow one to get voluminous hair. A bag is also included, making it convenient to store and carry curlers.
Girls who are afraid of ruining their hair with styling products might consider Caruso's steam curlers. The brand specializes in creating safe styling tools.
PROS:
Foam coating;
Hair safe;
It is convenient to take it with you on trips.
CONS:
No temperature regulator.
5. INFINITIPRO by Conair: Best Hot Rollers for Voluminous Curls
Brand: Conair
Number of rollers: 20-piece set
Rollers size: 4 sizes‌ — jumbo, large, medium, and small
Material: ceramic
I sometimes do curls too, and I use this set from the Conair brand. I like it because it has rollers of 4 different sizes. I start from the bottom of my hair using the thinner rollers and add volume to my strands with the larger rollers. I like that I can regulate the heat depending on the hair type. The only drawback is the lack of a bag to store the clamps. It does not bother me as I have enough cases where I can put the clips.
Otherwise, I would have to buy an extra bag. These curlers have a ceramic and velvety coating, so each roller gently heats my strands. I don't feel that my hair is damaged or dried out.
PROS:
Ceramic coating;
Safe for the hair;
4 roller sizes.
6. Remington H1018: Best Hot Rollers for Travel
Brand: Remington
Number of rollers: 10-piece set
Rollers size: 2 sizes‌ (1¼ and 1-inch)
Material: ceramic
My co-worker used this set of curlers. She often travels and takes it with her. The compact case makes it convenient to put it in any suitcase. She loves this set of thermal curlers as it allows her to make spectacular curls wherever she goes. The curlers heat up quickly in the case and help her get nice waves.
They have a textured surface that makes it easy to hold your hair in place. They also have a handy hair clip attachment. The color of the barrette matches the color of the roller, which makes it easy to use. Also, one of the primary advantages of these thermal rollers is the Ionic+Ceramic system, which gently heats the hair and makes it shiny.
PROS:
Compact size;
Ionic + Ceramic System;
Convenient to fix on your hair.
CONS:
No automatic shut-off function.
7. Conair Compact HairSetter: Best Hot Rollers for Gentle Curls
Brand: Conair
Number of rollers: 20-piece set
Rollers size: 3 sizes‌ – ½, ¾, 1-inch
Material: plastic
My cousin's friend bought this roller set for short hair. They were her first curlers. She liked the variety of roller sizes because ¾ and ½-inch hot rollers allow her to make bouncy curls, and 1-inch ones empower her to do voluminous styling. They are easy to use, and the embossed surface securely fixes the hair. Also, the kit has stainless steel clips. It is easy to use and convenient to store curlers.
Special light turns on when the curlers are ready for use. The only disadvantage is the lack of a button to turn off the device, so you should remember to unplug the cord from the outlet. These curlers do not have modern technology like ionization or special coatings. Still, the plastic is gentle enough to heat the hair without drying it out.
PROS:
Convenient to fix on your hair;
Made of plastic;
Quickly heat up.
CONS:
No button to turn it off.
Buyer's Guide on Best Hot Rollers
You are now familiar with top-rated hot rollers. Next, I want to briefly tell you which parameters you should focus on when buying. I also have some tips on how to use hot rollers.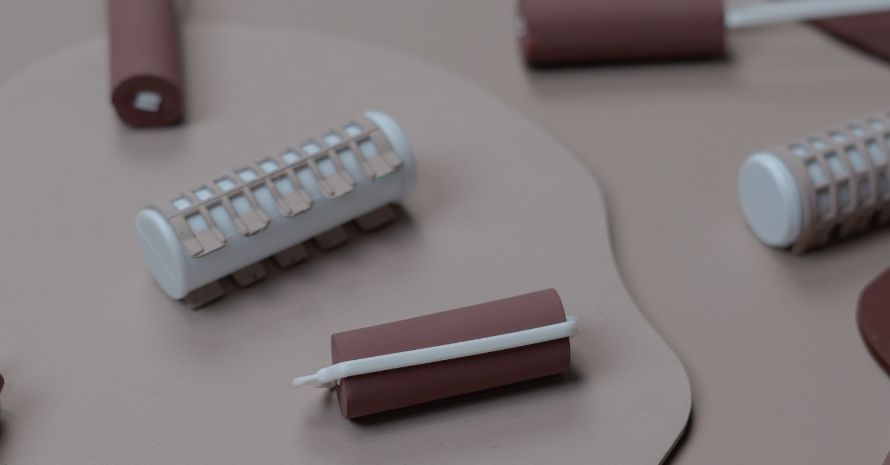 What to consider when choosing hot rollers for short hair
When choosing hot rollers that don't damage the hair, there are several factors to consider:
The hair density and the expected frequency of curler use. In the instructions, a manufacturer can specify that keeping the curlers for 10 minutes is enough to get the perfect curl. However, if your hair is too thick, you should keep the curlers longer to get a beautiful hairstyle. Since overheating harms hair health, it is necessary to focus on the material of hot rollers. Choose delicate materials: ceramic or titanium.
Thermostat. Having this feature will also protect your hair from overheating. High-quality curling kits have a thermostat that does not allow the curlers to get hotter than they should be.
Method of attachment. These can be special hairpins that gently secure each curler to the hair. Avoid elastic bands, as they can damage the shape of the curl.
Diameter curlers. Sometimes, the length of your hair allows you to experiment with curl variations. It can be a big elegant curl or a small and flirty one. Short hair is more limited in choice and can only hold a ring with fine curlers.
These criteria will help you distinguish quality heated rollers for short hair from those that can severely damage your hair.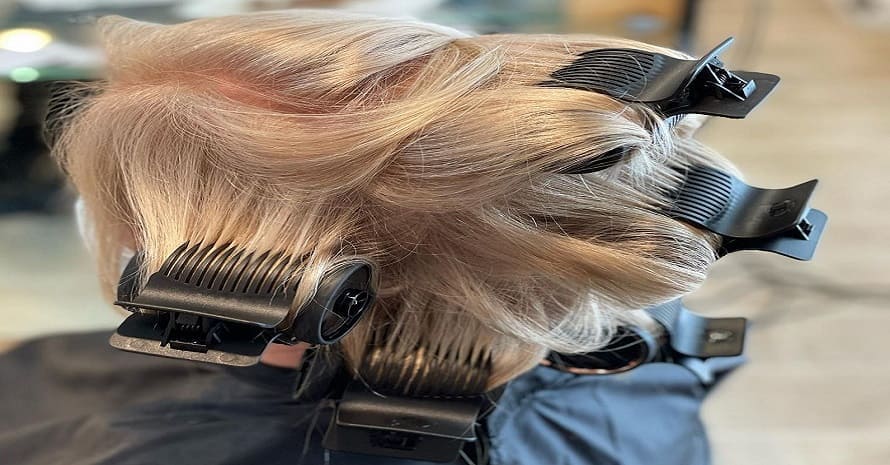 Hot rollers and sizes
We can divide the size of the thermal rollers into three main types:
Large, over ½ inches in diameter;
Medium, between 1 and ½ inches;
Small, from ½-inch hot rollers to 1-inch tools.
Large curlers are for long hair and can help you to create soft curls and volume at the roots. Medium curlers can create curls with a permed or wet effect. You can use small curlers on almost any hair length, but they look the best on short hair.
Thermo rollers can include rollers from small to large sizes to achieve a more voluminous hairstyle.
Why does hair length matter when styling with hot rollers?
Sometimes, though we want to experiment with curler size, some curlers might not fit our hair. For example, if you use very small curlers on long hair, the curling might not work because the hot roller will not be able to heat the hair. The same goes for using large curlers for short haircuts. The length of hair can be enough for one twist. Such a curl will not look beautiful and can't hold its shape even with styling.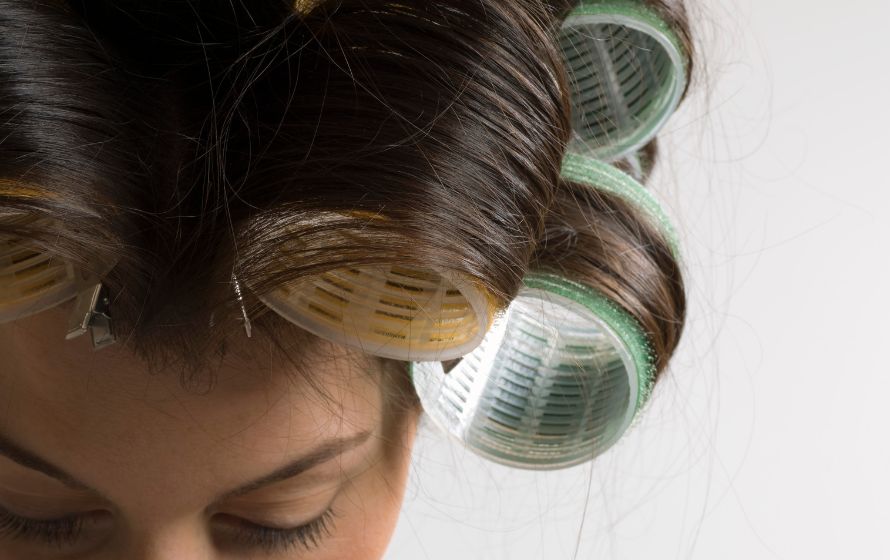 How to use hot rollers on short hair
The process of waving short hair is not much different from curling any other hair length. The main thing is that you should make sure that you have rollers of the proper diameter. You can make beautiful curls in short hair by following a few steps:
Prepare your hair. Be sure to apply a particular product with heat protection. Using a mousse or styling foam will allow the curls to hold longer. Sometimes styling and heat protection can come in a 2-in-1 product.
Collect your hair and leave a small part of it to start curling. For example, this can be the nape of your neck. You need to divide the hair into equal strands to make the curls beautiful. If you are the owner of thick hair, do not make the strands too thick; otherwise, the curl might not form.
Continue to put the curlers on until you curl all the locks.
Allow the hair to cool. Curls hold their shape best when you detangle them when they are cold. Warm hair is more elastic, and you can damage the shape.
Remove the curlers and brush the hair. Avoid using fine combs or brushes. The best way to detangle short hair is to use your fingers. Fix the curls as you like, and you can use hairspray.
Here's a tip for unruly hair. If your hair doesn't curl well, use curlers the next day or at least a few hours after you wash your hair. Sometimes, hair needs time to become more flexible.
FAQ About Using Hot Rollers
Here are some tips for taking care of hot curlers. Read my answers to the most common questions about this styling tool.
Are hot rollers less damaging?
All curling appliances can damage your hair, mainly if misused. Be sure to apply products with thermal protection on the hair and use the correct care for your hair type. Also, choose thermal rollers with a coating that heats the hair more gently, such as ceramic.
How do hot rollers work?
Electric curlers for short hair are heated in a container. There is paraffin inside each roller. When it heats up, the curlers are ready to use. The paraffin gives its heat to the hair and heats each strand evenly, resulting in beautiful curls.
How to clean hot rollers?
First, you should remove any hair residue from each roller. Then, remove the rest of the styling agent from the surface of the rollers. You can do it with a soft cloth and soapy water or alcohol. Ensure that the fabric is soft and does not scratch the ceramic surface.
Make Beautiful and Healthy Curls
Curlers are no longer an old-fashioned devices for curling hair. They do not require much effort from women. Using modern curlers, you do not sacrifice time or the beauty of your hair. You can make curls of different sizes and use rollers of the material that will gently heat your hair. Meanwhile, it does not take much time to curl your hair.
How do you curl your hair? Tell us in the comments.
Last update on 2022-12-11 / Affiliate links / Images from Amazon Product Advertising API