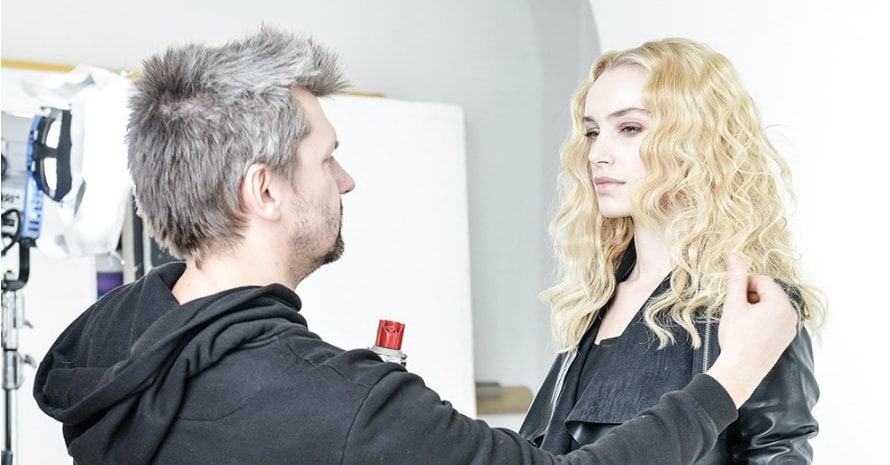 Women are always in search of a user-friendly tool to style their hair quickly and get the salon result. Beachy waves have become a widespread hairdo. However, there are certain secrets for its easy styling. One of them is using the best curling iron for beachy waves – without this device, it is much more complicated to cope with messy hair.
It is essential to choose a reliable product not only to achieve a charming hairdo. Besides, it also protects your hair from damage. Today, I want to share my experience and tell you everything I know about the curling irons and how to find a one-of-a-kind tool. Paul Mitchell wave curler is an excellent example among the most popular models on the market due to durable and easy-to-use technology. Let's discover more about it and other products!
Top 7 Best Curling Irons for Beachy Waves
Paul Mitchell 3-in-1 Curling Iron – Top Pick
BaBylissPRO Nano Titanium Conicurl – Great Value
ghd Professional Hair Curling Iron with Tapered Barrel – Premium Pick
T3 Custom Blend
BaBylissPRO Nano Titanium Spring Curling Iron
Bed Head Wave Artist Deep Waver for Beachy Waves
CHI Ceramic Tourmaline Curling Iron
Having worked in a styling field for a long time and tried many heating devices, I know for sure what characteristics they should have. Here you will find detailed wave iron reviews of the products I trust.
1. Paul Mitchell 3-in-1 Curling Iron – The Best Beach Wave Curler
Just two people who aspired to create luxury hair care products at an affordable price have begun the history of the Paul Mitchell company. Since that time, forty years have passed. However, the manufacturer hasn't changed its principles – they still provide the premium affordable hair goods. Paul Mitchell also takes a stand against animal testing and uses only eco-friendly ingredients for their products.
One curling iron is great, but the device with several barrels is much better. Paul Mitchell offers a tool with three interchangeable ceramic heads. They allow creating loose waves, natural-looking curls, and ringlets. Such a design means that this curler will fit any hair type – no matter you have short or long, fine or thick hair.
The best way to make beachy waves effortlessly is to use the medium barrel. However, you can also try 1.85 inches head – the result depends on your hair structure. Paul Mitchell curling iron heats up to 410 degrees Fahrenheit in a few minutes. It's a perfect temperature for the beachy waves. Also, the tool won't break your hair even if you use it frequently.
PROS:
Heats up quickly;
Has an ideal temperature;
Three barrels for diverse hairdos;
Fits any hair type.
2. BaBylissPRO Nano Titanium Conicurl – Beach Wave Curler with a Great Value
The BaByliss brand was born half a decade ago when its founder has improved the first curling tong designed for hairstylists. His innovation had great success in his town. That's why the founder decided to distribute his products throughout Europe – professionals and the public admitted the high quality of BaByliss goods. Nowadays, the corporation produces a good deal of more innovative electrical hairdressing tools.
The iron made with the nano titanium design will serve you for a long time. If you're a stylist, and you plan to use this device every day, the BaByliss product is the best curling iron that will make beachy waves for you. It has a tapered 1.5 to 3 inches barrel. With such a design, you're able to create either loose waves or tight curls. It suits the beachy waves perfectly because of its shape and dimensions – the hairdo will be long-lasting.
If your hair is delicate and you need specific care, don't worry – the iron has fifty heat settings. It may heat up to 450 degrees Fahrenheit. Usually, it's too hot, so I recommend you to use 400 degrees: this temperature will be enough to create a durable hairdo.
BaByliss used Sol-Gel technology to design this iron. It enables the device to allocate the heat more smoothly. Also, it makes the material stronger and more resistant to chemicals.
PROS:
Strong and durable material;
Has a suitable design for beachy waves;
Makes the hairdo long-lasting;
Has 50 heat settings.
CONS:
Too thick for the short hair.
The team of scientists and hair specialists tests the ghd product performance every time they offer a new tool. They strive to build the highest quality. It all started with the desire to help women have a good hair day, not only after the trip to the salon but every day.
Thanks to their hard work, nowadays, it is possible. Ghd wants to provide the best service – they create many video guides to help the hairdressers around the world.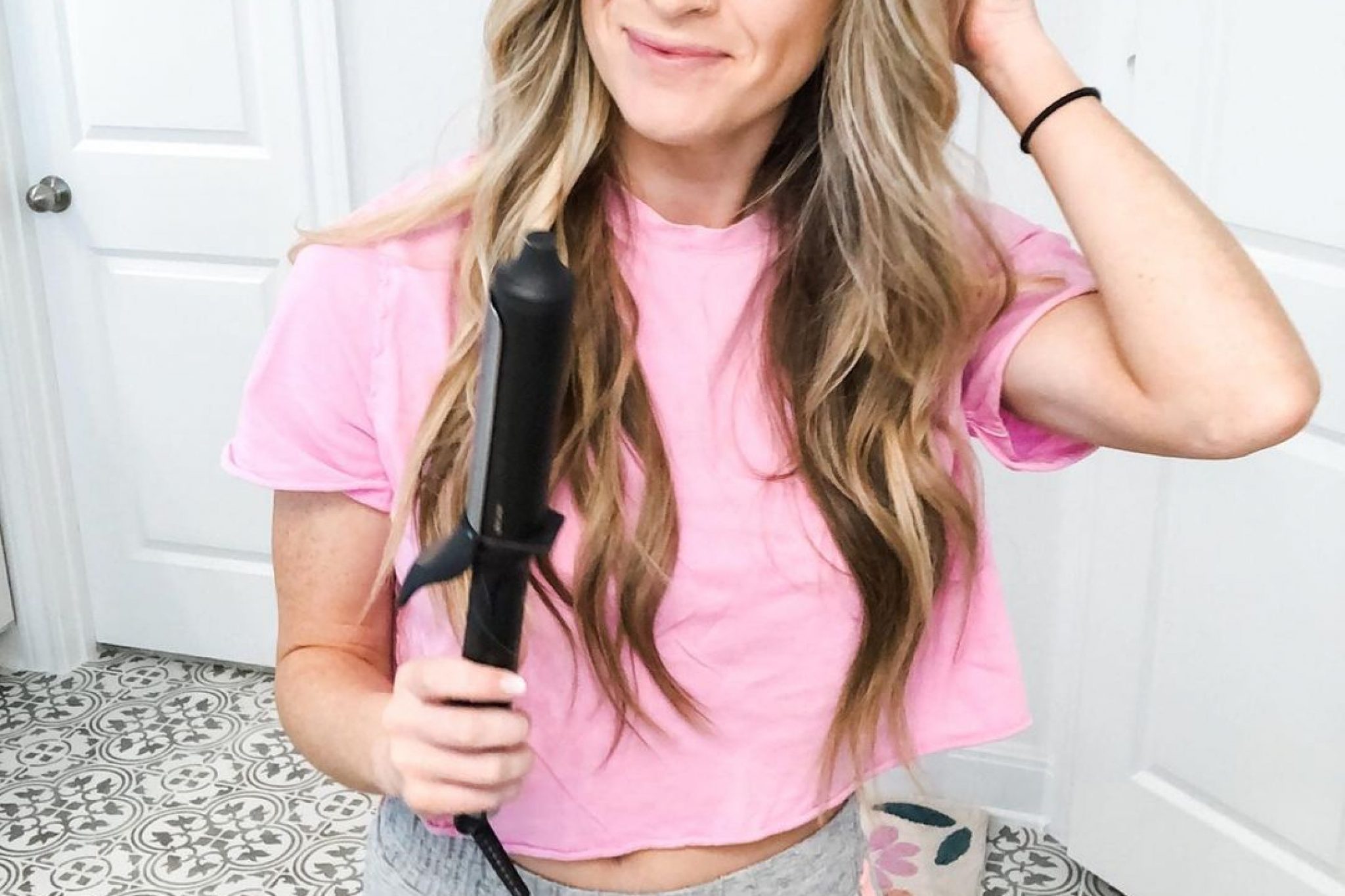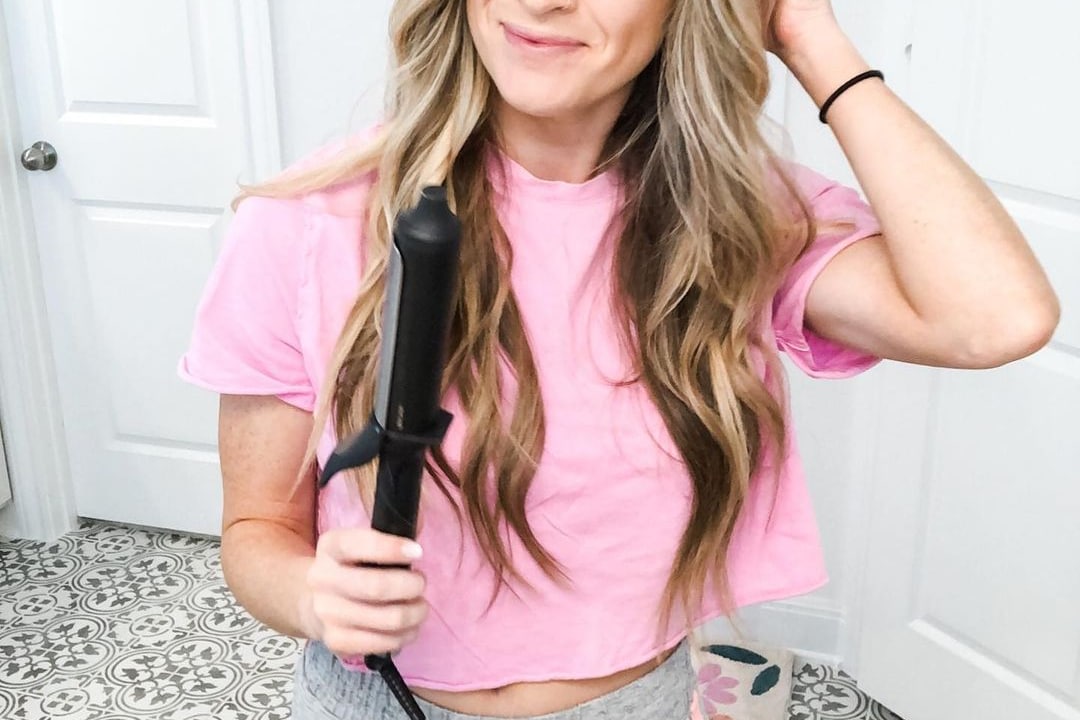 Ghd curling iron has a tapered 1.5 inches barrel – it is ideal for making bouncy curls or fascinating waves. Such a shape is popular among professional stylists because it allows creating a wide range of luxurious hairdos. The tool is suitable for any hair type. Many women think that if they have short hair, the beachy waves are not for them. It's not true, and this curler proves it.
The device can reach 365 degrees Fahrenheit, which is good to keep your hair healthy and shiny. Also, it has a unique ultra-zoneTM technology. Each section of hair will be recognized to allow the iron to adapt to it and provide the optimum temperature. The protective cool tip will help you during styling. Besides, the curler turns off after thirty minutes of non-usage.
PROS:
Allows creating a wide range of waves and curls;
Perfect for short hair;
Provides a healthy temperature for the hair;
Made with the ultra-zoneTM technology to heat up smoothly.
CONS:
The temperature may be too low for the long-lasting effect.
4. T3 Custom Blend – Durable Curling Iron for Beachy Waves
T3 provides a wide range of styling products for everyone to create their unique look. If you want to try how beachy waves look on you, this manufacturer offers one of the most long-lasting devices on the market. Their goal is to minimize the guesswork, maximize your time while giving you beautiful results, and keeping your hair healthy and strong.
With this 1.25 inches curler, there is no need to spend a lot of effort to make flawless curls. Only one pass is needed. You can choose from five adjustable heat settings up to 410 degrees Fahrenheit. The special lightweight ceramic design allows creating the frizz-free hairdo.
Also, a smart microchip minimizes the heat fluctuations and keeps a constant temperature. For the convenient usage, the iron has a one-hour auto-off and a cool tip.
PROS:
Provides long-lasting effect;
Doesn't require a lot of efforts;
Lightweight;
Has five heat settings;
Creates a frizz-free hairdo.
CONS:
Works worse with the short hair.
5. BaBylissPRO Nano Titanium Spring Curling Iron – Wand for Beach Waves for a Long-Lasting Effect
If you're searching for an iron that won't break your hair, this BaByliss device is one of those. The nano-titanium barrel uses far-infrared heat. It styles the hair more delicately and makes the curls or waves that last a whole day. This design is mostly applied in professional salons. However, the tool is comfortable to use, so you can easily buy it for home styling.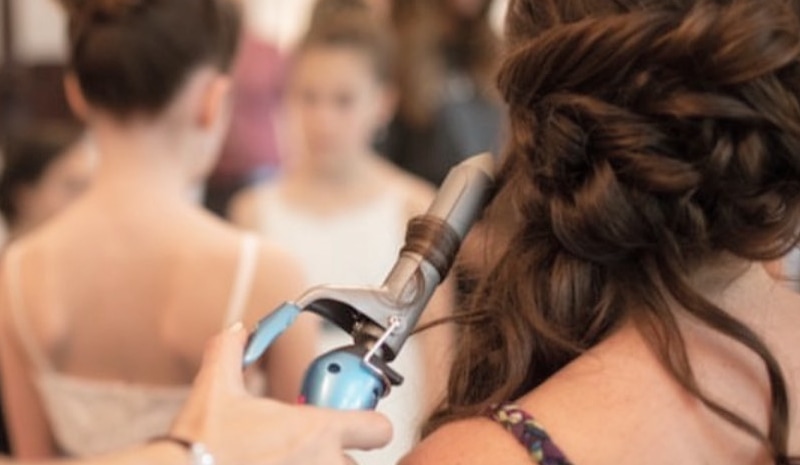 The curling iron has fifty heat settings – that means you can experiment and find the fitting temperature for your hair type. Also, it is available in four sizes.
The 1.25 inches is one of the best choices to make beachy waves. BaByliss curler is long-lasting because it is made with the Sol-Gel technology that keeps the material stronger and more durable.
PROS:
The curls keep their shape for a whole day;
Convenient to use;
Has 50 heat settings;
Strong material.
6. Bed Head Wave Artist Deep Waver for Beachy Waves – Best Curling Iron for Beach Waves with Unique Barrel
Bed Head innovations suit everyone who loves to experiment. Even such a simple hairdo as beachy waves may be styled in various ways – that is how you can underline your uniqueness.
This producer is not afraid to explore new. With Bed Head products, you will be able to do everything you want with your hair. The brand is not long on the market, but it has earned trust from many stylists and customers.
The tapered shape is suitable to make the beachy waves; however, Bed Head has found another solution. Its unique deep waver ceramic barrel works faultlessly. It is designed specifically for the beach waves or sculpted curls. You may choose from thirty heat settings. Thanks to this, the device fits all the hair types, even the fine, and short ones. It can reach 400 degrees Fahrenheit for a healthy and durable effect.
PROS:
Suits all hair types;
Has thirty heat settings;
Provide optimum temperature;
Makes perfect beachy waves.
CONS:
Provides a small range of hairdos.
7. CHI Ceramic Tourmaline Curling Iron – Easiest Curling Iron for Waves That Heats up Quickly
The founder of the CHI company had one mission: he wanted to create a safe work environment with no harsh chemicals and second-class technologies. The team of professionals continued improving this idea. They strive to apply the latest innovations and even cooperate with other huge technology corporations to create the most reliable tools for both stylists and consumers.
With the CHI curling iron, you don't need to wait long until it heats up. You may choose from several heat settings. The 1
PROS:
Keeps the perfect temperature;
Creates the shining hairdo;
Doesn't break your hair even if you use it every day;
Convenient.
CONS:
Works not on all hair types (not recommended for short hair).
How to make beach waves with a curling iron: A step-by-step guide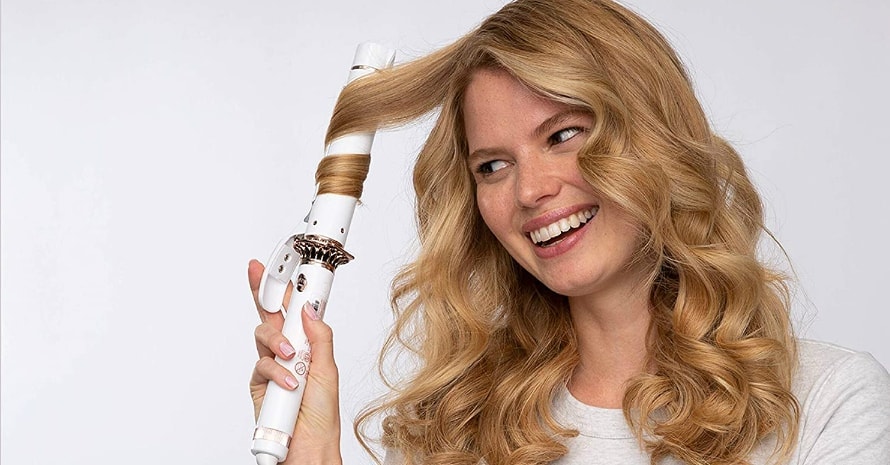 Thanks to the innovative technologies, you don't need to go to the salon to make everyday curls or waves. But how to make them right? Here you will find the curly guide.
"What can be simpler than creating waves?" – that's how many women think. However, there are basic principles that will help you make a perfect hairdo with less effort.
Step-1: Prepare your hair
Too hot temperatures may break your hair. But it's not the only reason for this. You should prepare your hair before you start working with the curling iron. Wash your hair with the shampoo and use a little amount of conditioner. If you usually use other caring products, you may apply them too. Don't forget about the heat protectant.
Step 2: Adjust the temperature
If you want to work with the curling iron securely, consider choosing the right heat settings and safety considerations. It's not only about your hair health. The 400 degrees temperature is not for playing – you should be careful to prevent your hands' damage. That's why a curler should have a protective clip.
Step 3: Create your curls
You better use the iron flipped upside down. It's the technique that allows making the right beachy waves. Take a one-inch section and hold it for a maximum of thirty seconds. However, it depends on the temperature. Then, you may take away the iron and hold the curl with your hand for another thirty seconds, so it can set.
You should repeat this procedure as many times as you need. It may be more difficult to cope with the long hair, so you should take small sections and do it accurately. You can put the hair spray on every curl, or apply it after you finish the hairdo. The first way is applied when you need the most long-lasting effect you can reach. Remember to discover how to use hair spray correctly.
Things to consider before buying curling iron for beachy waves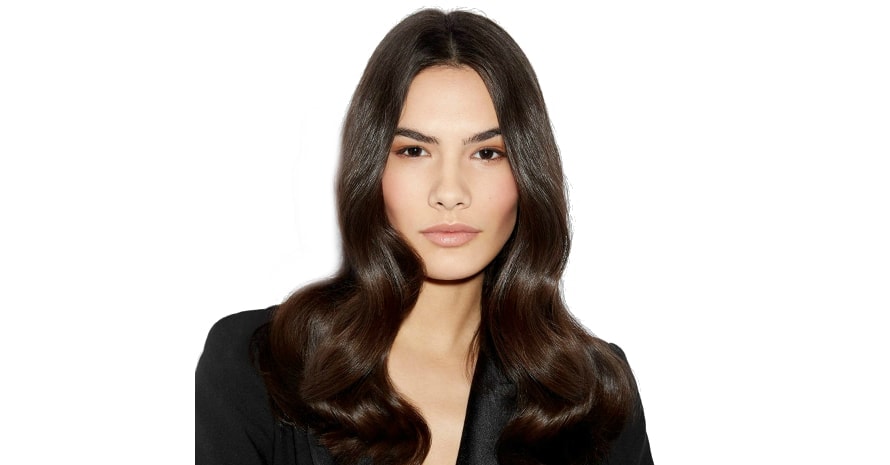 Beachy waves require a specific tool and certain characteristics. Here are recommendations on how to choose the correct option according to my experience.
Shape
With the standard curling iron, it will be more challenging to make the beautiful and long-lasting beachy waves. The curler should have a tapered shape. It differs a little because it has a thinner tip – thanks to this, you will get the waves and not ringlets, for example.
Barrel size
When you choose an iron, you should also consider the barrel size. If we talk about the tapered device, the 1.5 to the 1-inch barrel is the right option. However, you may buy 1.25 to 0.75 inches curler. It will also be a nice suit – it's significant not to purchase a too thick model because your waves won't look good with it.
Temperature
Due to my experience, the optimum temperature for the beachy waves is 400-410 degrees Fahrenheit. You should be very careful if you try the higher one. Especially when you have fine hair, it's better to style your hair with a maximum of 375 degrees.
That's why I recommend you to choose the iron that has several heat settings. You will find the best temperature that won't break the hair but keep your hairdo fresh for a long time.
Material
The most popular curling irons are made of ceramic or with nano-titanium technology. So, which beachwaver is better? These materials are both strong and durable. Besides, they heat up quickly. So, there is not a big difference between them – choose the design you like. Also, ceramic or titanium irons suit creating other hairdos.
Other features
Searching among the popular hair tools to make waves, consider the ones I have described – they will fit any hair type. However, if you have long hair, it's better to choose thicker iron. And on the contrary – if your hair is short, a thin curler will suit you more.
The tool with a 1-inch barrel is an optimum choice. Also, consider buying a product that has a convenient protective cool tip. Your comfortability should be the priority.
Common mistakes while curling hair for beach waves
The most frequent mistake is using the wrong curling iron. Luckily, now you have enough information that will help you choose the best option. But when you have already bought it, and you stand behind your mirror and want to make the most fantastic waves, you should be aware of what things to avoid.
Don't forget to prepare your hair. For the best effect, it should be fresh and well brushed out. People usually don't remember about the importance of using heat protectants on your hair, though it's a big mistake. To keep your hair healthy and shining, choose a suitable protectant for you.
Also, the wrong temperature can destroy all hairdos. As I have mentioned before, 400 degrees Fahrenheit won't damage your hair but keep the beachy waves fresh for longer. When you turn on the curler, wait for some time before styling. If you take too big hair sections, your waves won't be long-lasting. The one-inch section is enough.
Make Your Hairdo Better: Get the Professional Tips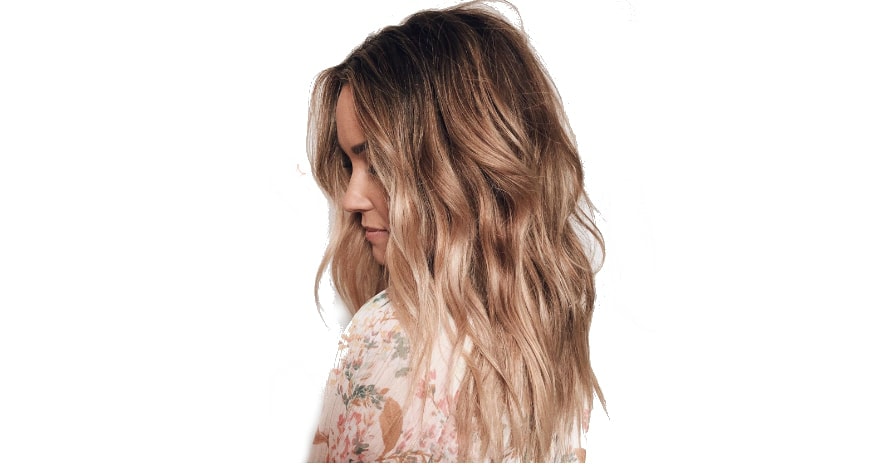 I believe that with the perfect hairdo, you will feel more confident. Beachy waves is a simple styling that will make your everyday look luxurious. Here are some tips on how to choose the right iron.
What is better for beach waves curling iron or flat iron?
People usually don't use flat irons to make such hairdos as beachy waves. When you apply the flat curler, you can damage your hair. It has the wrong shape for the beachy waves. You will spend a lot of time trying to make them with the flat iron. Curling devices will do it much faster. Also, the tapered shape is the right choice for this hairdo – it will reduce frizz and make it more long-lasting.
How to make my beach waves long-lasting?
First of all, it's better to make your beachy waves right after you have washed your hair. Thanks to this, it will be fresher – that means the unwished body oils won't complicate the styling process. Also, don't forget to use the heat protectant and other caring products you usually apply. But put them starting from the hair tip and ending in the middle of your hair length.
The waves will be long-lasting if your curler heats up to the right temperature. 400 degrees Fahrenheit is ok. It's not too hot to break the hair, but it's enough to provide a durable effect. After you have finished, don't forget about the hair spray.
Can all hair types be transformed into beach waves?
With the current technologies, everything is possible. However, you should find the right option for you. If you have short hair, it's better to choose the curler with the 0.75-1.25 inches barrel. For the long type, you should take the 1-1.5 inches iron. But don't use thicker models – they usually don't suit the beachy waves styling.
In case you have fine hair, the 400 degrees Fahrenheit is enough to make the long-lasting effect. However, the thick type may require a hotter temperature. But I recommend you to experiment. Most wavy hair styling tools I have described allow you to choose from several heat settings.
What kind of curling iron makes beach waves?
Hair curlers that create beach waves usually have a tapered shape. It is perfect because it fits all hair types and allows making the hairdo in the shortest time. Also, you can create other waves or curls with it.
However, some manufacturers, like Bed Head, use another specific shape. In most cases, they will mention that this curler is for beachy waves.
How to know if beach waves suit me?
Beachy wave is a standard hairdo that suits people with any hair type or length. If you're in the thought of whether you should buy a curling iron or not, you may try to make beach waves in the salon, and you will see for sure if this hairdo fits you. However, the tapered curler allows making diverse waves and curls. So, your money will be well-spent.
Finish Your Look with the Fascinating Beachy Waves!
Beauty will save the world, right? Choosing the most suitable curling iron for the beachy waves is a step towards the creation of a beautiful look for everyday life or special occasion. The styling tool should be easy-to-use and reliable. Paul Mitchell has become one of the most trusted brands, so its curling iron is likely to meet your expectations. No matter what hair type you have – this device will suit all of them.
Have you ever made the beachy waves at home? What recommendations do you have? Here is the section below; please, leave your comments there.
Last update on 2022-12-11 / Affiliate links / Images from Amazon Product Advertising API