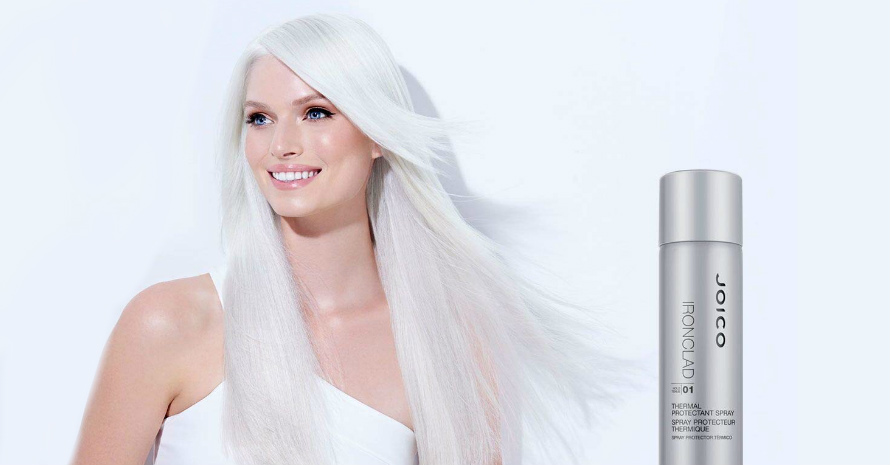 Many people don't use styling tools to protect their hair from blow-dry damage. I think that happens because they don't know where to find the top-quality product. Today I will tell you more about the best heat protectant for fine hair. This hair type needs a particular attitude.
A lot of thermal sprays can make them dry. With the Kenra Platinum blow-dry spray, this won't happen – it has a smooth and lightweight formula and works with high temperatures. If you choose the right protectant option, you will avoid the breakage. So, let's begin!
Pros
Reduces the blow-dry time up to 50 percent
Protects the hair from the highest temperature possible
Contains only natural ingredients
Top Pick
Pros
Reduces the blow-dry time up to 50 percent
Great Value
Pros
Protects the hair from the highest temperature possible
Budget Pick
Pros
Contains only natural ingredients
Top 7 Best Heat Protectant for Fine Hair
Kenra Platinum Blow-Dry Spray – Top Pick
Joico Ironclad Thermal Protectant – Great Value
HSI PROFESSIONAL Top 5 Heat Hair Protector & Conditioner – Budget Pick
Ghd Heat Protect Spray
Macadamia Professional Thermal Protectant Hair Spray
Moroccanoil Perfect Defense
Sexyhair Protection Hairspray
You need to spend some time to find the best products to protect fine hair from heat damage. Luckily, I have prepared a list of the top 7 tools for you.
1. Kenra Platinum Blow-Dry Spray – Hair Heat Protectant Spray Top Pick
It will soon be a hundred years since the Kenra company has established its first product. The founder was the best barber in his town. He strived to create the items people will like, and he didn't miss a chance to sell the newest goods to every customer. That's how his business became successful. Nowadays, Kenra offers a huge range of hair styling products, which stylists around the globe prefer to use.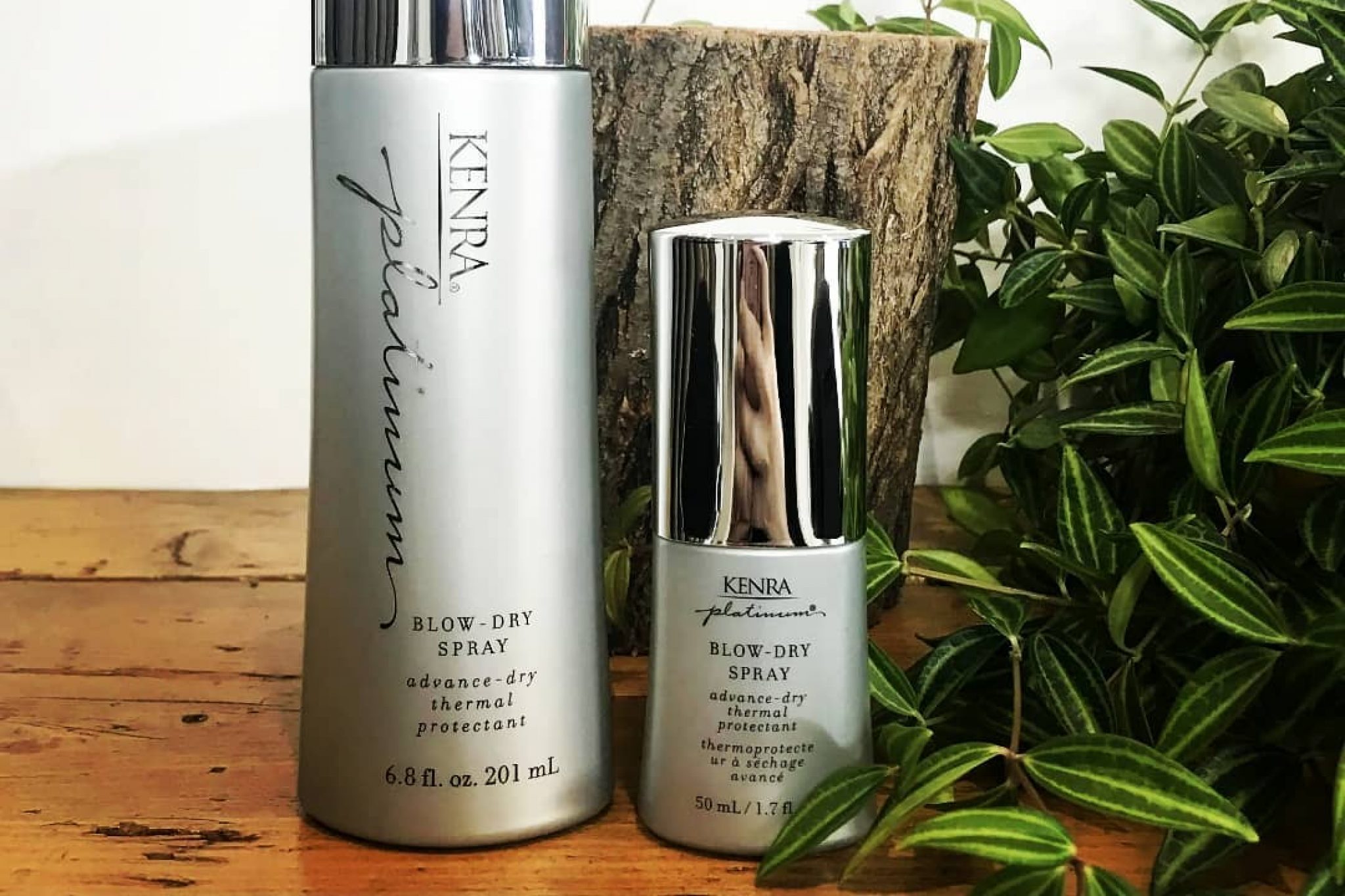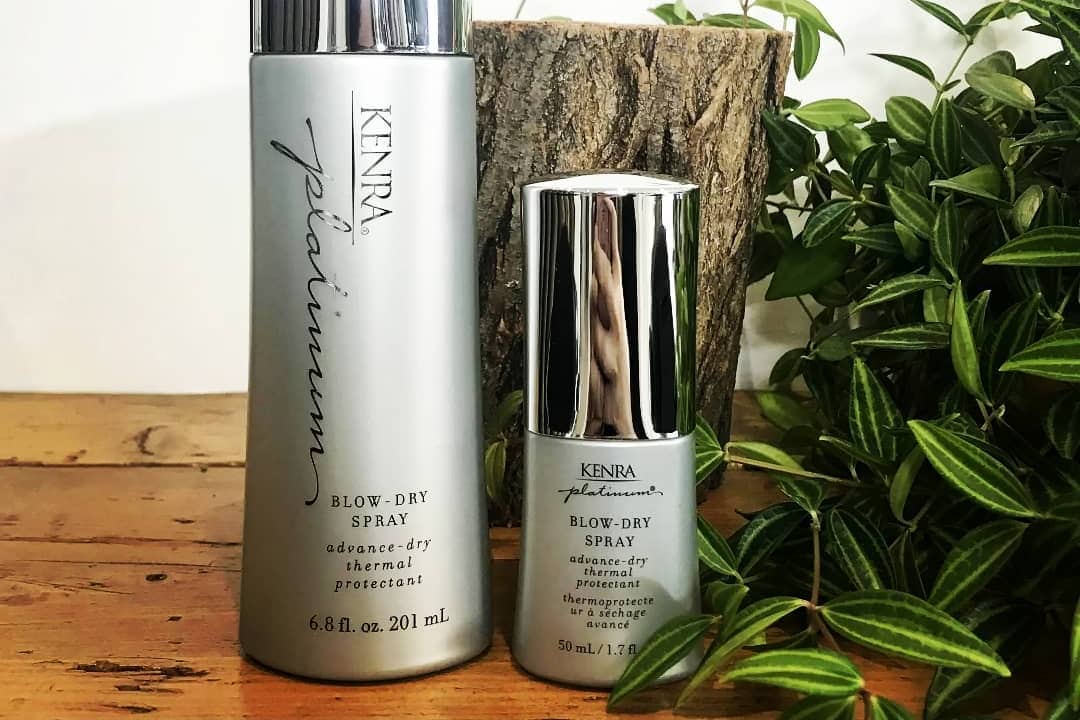 This blow-dry spray won a Stylist Choice Award in 2012, and since then, it keeps high ratings. The main reason for this is an exclusive technology. Platinum spray reduces the blow-dry time up to 50 percent when most other similar products provide only 20-30 percent decreasing.
The protectant provides thermal protection up to 428ºF – it's enough to protect your hair even from iron damage. Kenra spray doesn't make the hair dry. On the contrary, it helps it to look smooth and soft without the unwanted frizz. The long-lasting effect is guaranteed. A formula is ideal for medium to coarse types, and it is also resistant to humidity and detangles.
Pros:
Reduces the blow-dry time up to 50 percent;
Provides thermal protection;
Softens and smoothes the hair;
Long-lasting.
Cons:
2. Joico Ironclad Thermal Protectant – Thermal Protectant for Fine Hair With a Great Value
Joico company is focused on providing the products that will make your hair look beautiful and natural. Their innovations will return it to the strongest, shiniest, and healthiest state it could ever be. The manufacturer works already for forty years. During this time, it has become the leader in creating styling products, and Joico won't stop on this – they build plans and use new technologies every day.
This thermal protectant is a tool from the whole collection that helps you to style your hair from start to finish. It will work perfectly with other Joico products. However, even if you apply it alone, you will see the effect after the first usage. Protector successfully fights frizz. What is more important, it is static for more than 72 hours – the second-day hair will look amazing too.
You may apply it before flat iron, blow dryer, or curling wand session. The protectant will cope with the 450ºF temperature. Also, it's simpler to style your hair if you use this tool. It suits every hair type: fine, medium, and coarse, no matter if it is long or short.
Most of Joico's technologies are tested several times before they appear on the market. For this model, they use hair-identical keratins. They create a protection layer around every strand – it prevents heat damage and makes your hair much stronger.
Pros:
Works for more than 72 hours;
Protects the hair from the highest temperature possible;
Suits all hair types.
Cons:
Works better with other Joico products.
3. HSI PROFESSIONAL Top 5 Heat Hair Protector & Conditioner – Best Affordable Thermal Hair Protectant
If you want to take care of your hair like a professional, this heat protectant will be a great choice. It uses only natural ingredients. The mix of Moroccan argan oil, extra virgin olive oil, island coconut oil, macadamia nut oil, and desert aloe vera will renew your damaged hair and keep it healthy for a long time. Besides, it contains boosting vitamins. They help a lot in making your hair strong and shiny.
HSI Professional fits any hair type. You can use this protector on natural hair as well as human extensions – the effect will be the same. Moreover, the protector suits not only the fine hair but the coarse one. The product formula is the reason why it is good for everyone. Should we be worried about parabens? Absolutely not – this tool doesn't contain parabens, phosphates, and other chemicals. Besides, the protectant saves your color.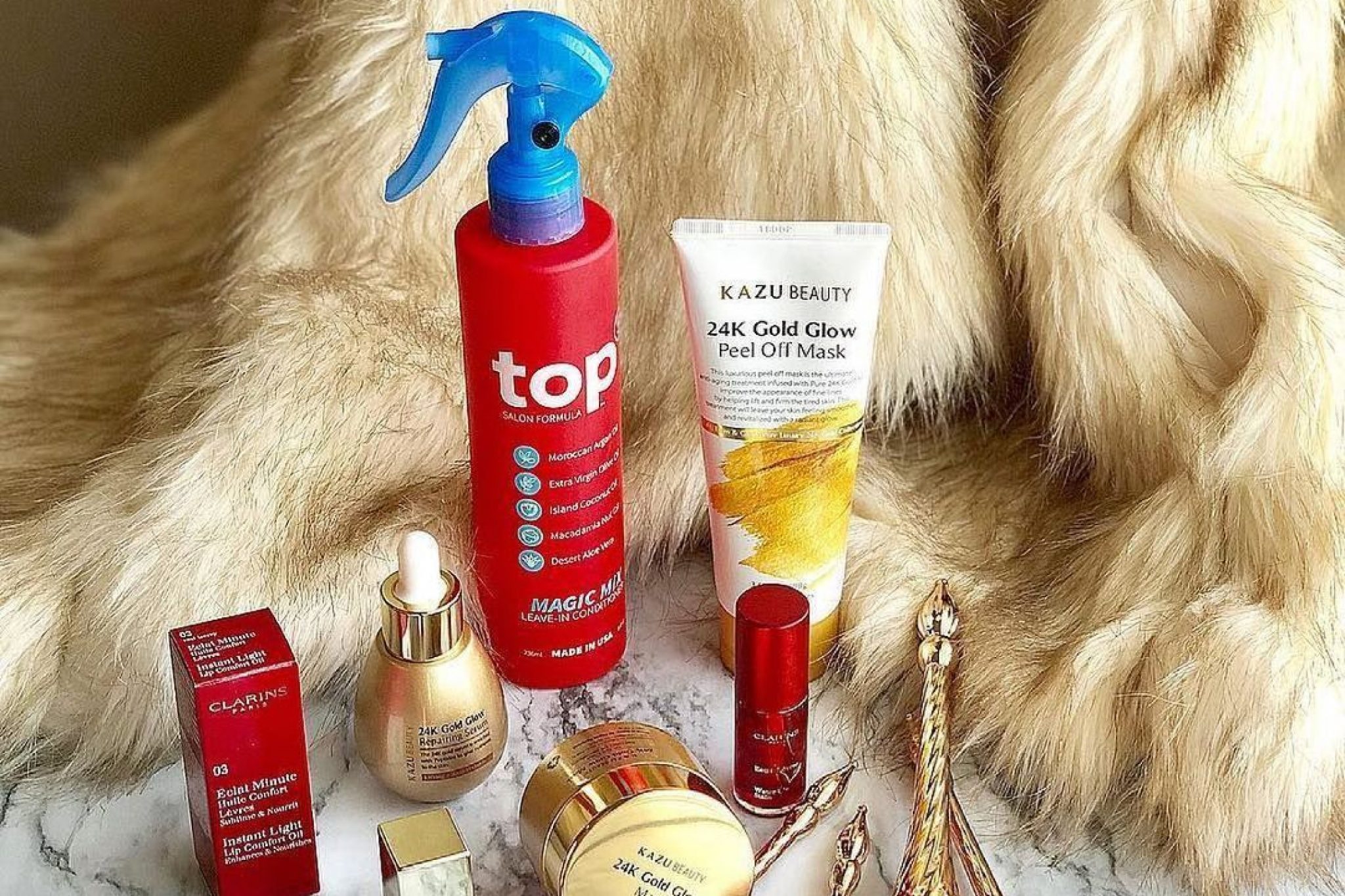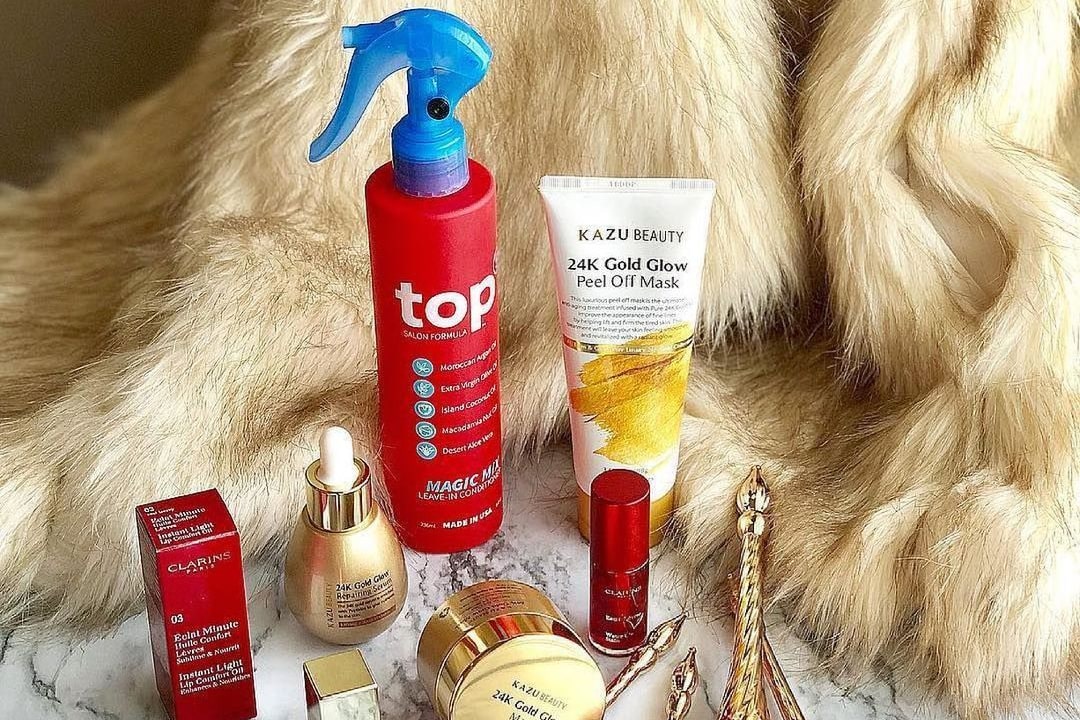 The tool can also be used as a leave-in conditioner. It makes a hairdo smoother and more hydrated – you will see how your hair becomes healthier through time. Also, the protector reduces frizz. You should use it not only before you blow-dry but also before you apply flat irons and curling wands.
This item protects from breakage up to 450ºF. HSI Professional product's top five formula allows you to take a piece of the salon wherever you go.
Pros:
Contains only natural ingredients;
Speeds up drying time;
Fits any hair type;
Can be used as a conditioner.
Cons:
Works slower than other products.
4. Ghd Heat Protect Spray – Best Heat Protectant Spray for Fine Hair
Good Hair Day believes that you can look fabulous not only when you visit a salon but every single day. This company was founded almost twenty years ago. Although they are not so long on the market, their products are widely used among stylists around the world. Ghd's purpose is to help women look and feel beautiful. The company has won many various awards – I can say they do the job.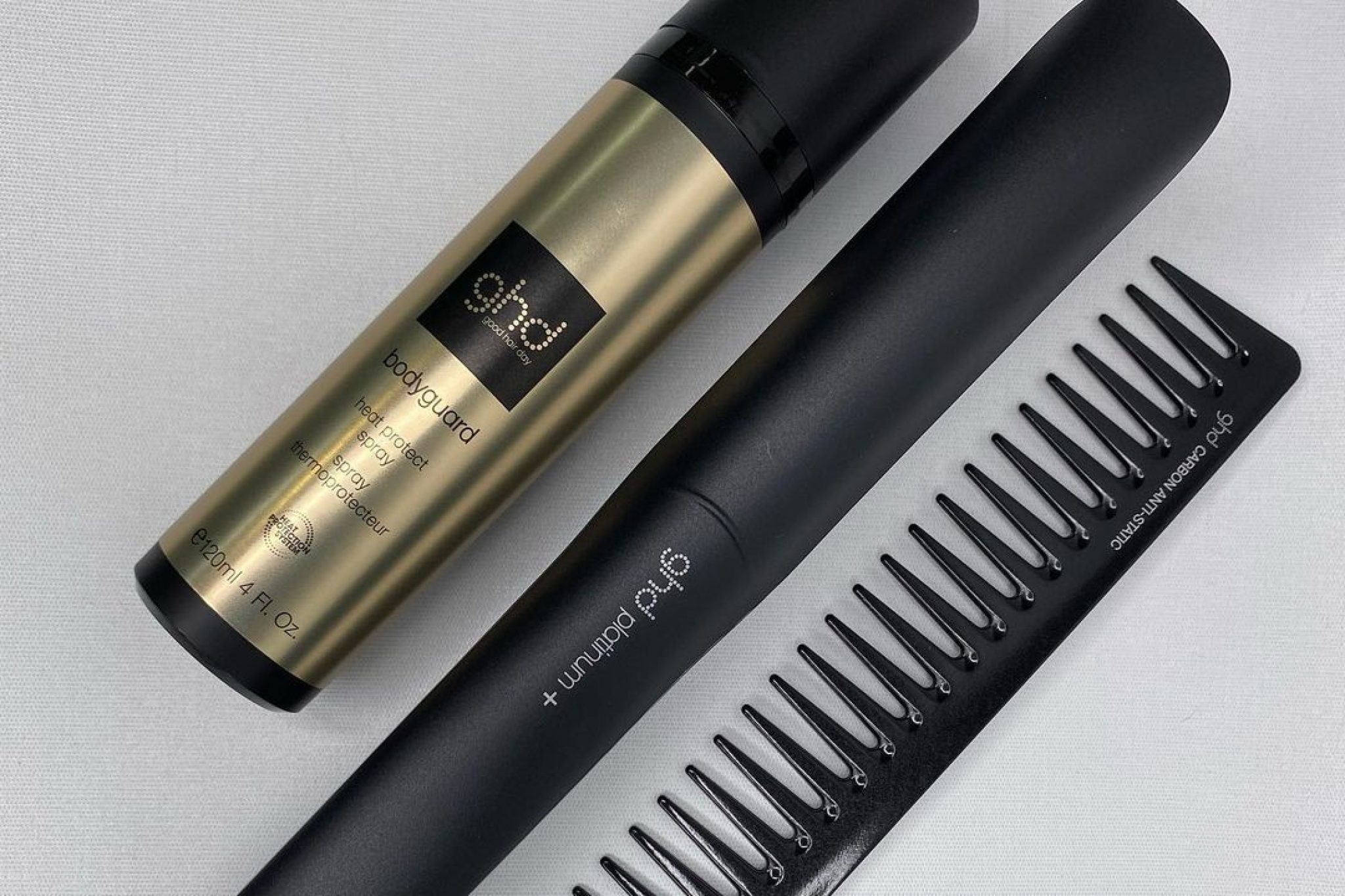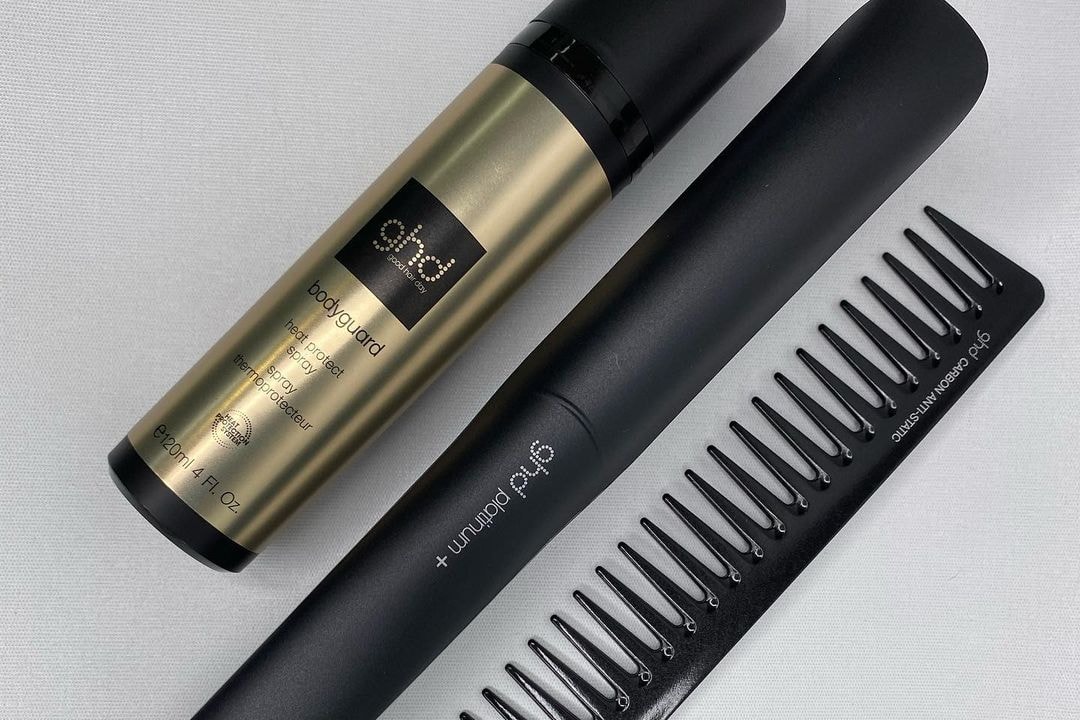 This manufacturer's heat protector is paraben-free. The formula is lightweight and easy-to-use, as well as all other heat protective hair products I have described. A tool gives a "no product" feeling. You really don't feel like you have something on your hair – the protectant works softly, and you will only see the excellent results.
You will see changes after the first use because the spray provides a fast effect. It creates an invisible protective barrier. Such a layer prevents hair breakage and returns it to a healthy state after a little time of usage. You may apply it before blow dry, flat iron, or other stylers. The product will protect your hair for at least two days.
It's important to put a protectant starting from roots to tips. This way, the barrier will cover all the surface. Also, you should comb the hair before you apply a dry blow. If you use other styling products, you need to use heat protecting spray first. In case you have fine hair, ghd's spray will work great for you.
Pros:
Creates a strong protective barrier;
Fast-acting;
Paraben-free;
Gives a "no product" effect.
Cons:
Not intended to suit all hair types.
5. Macadamia Professional Thermal Protectant Hair Spray – Natural Heat Protection Spray for Fine Hair
I know that many people strive to use only natural products that are not tested on animals. If you're the one, then Macadamia Professional styling tools are for you. They have manufacturing experience in more than a decade. There are diverse collections for all hair types, so you can easily find the items for the fine one. Macadamia provides products for salons – it has a big trust among customers because it uses only high-quality ingredients.
This thermal protectant contains four main oils and proteins that work perfectly together. There are many benefits of Macadamia oil for your hair. It fights off the brittle strands and adds some shine. To restore softness, the provider puts argan oil into the protectant.
The main role plays avocado oil. It prevents hair breakage by strengthening it. And the hydrolyzed rice protein & vegetable protein have the healing properties. Overall, the formula is lightweight and smooth.
Protector is resistant to humidity, but it's better to apply it on dry hair. It will protect you from heat damage up to 450ºF – so you can use it before the dry blow, flat iron, curling wand. It also eradicates frizz. If you have unhealthy fine hair, this tool will make it strong and shine in the shortest time.
Pros:
Consists of natural ingredients;
Make a hair softer and shinier;
Heals the damaged hair;
Cons:
6. Moroccanoil Perfect Defense – Best Fine Hair Heat Protectant With Argan Oil
When the Moroccanoil co-founder tried the product based on the argan oil, her hair became more smooth, light, and obedient. After that, she wanted to tell all women about this tool. In a short time, the company has grown and created the whole collection of items that include argan oil as the main ingredient. These styling products suit all types – try yourself and see the benefits and uses of argan oil.
Besides argan oil, the protectant also contains vitamins that rehydrate the hair. This product is nourishing enough to protect it from damage. Its formula doesn't allow the heat to dry your hair. It is humidity resistant, so you can apply it on a moist or dry surface.
It is important to put the protectant six inches away from you. This way, it will cover more surface and be more effective. After you use it, comb your hair. Now it is ready for hot styling – the tool can cope with the temperature up to 450ºF. You may apply it together with blow-dryers, crimpers, straighteners, curling irons. Heat protectant suits damp and dry hair. Don't worry – it won't make your hairdo too dry, but it makes it smoother.
Pros:
Works for all hair types;
Contains argan oil that makes the hair healthier and stronger;
Copes with all heat styling tools;
Cons:
7. Sexyhair Protection Hairspray – Best Heat Protectant for Fine Hair
Sexyhair company doesn't only sell high-quality heat resistant hair products; it also offers education programs. It has one most popular collection. But people don't know that Sexyhair has a full line of care and styling tools that will make every hair type look luxurious. They communicate with customers and listen to all their wishes. That's how they create products that fit everyone.
This hairspray has one of the highest protection systems. It reduces breakage up to 79 percent. That means that you will see the difference after the first usage. The item can protect your strands from the heat up to 450ºF.
As you see, it is the highest possible temperature in the styling tools, so there is no need to worry – your hair won't be damaged. Besides, it adds shine and makes your hairdo more static.
Pros:
Has a high protection system;
Fast-acting;
Make your hairdo more static.
Cons:
Not suitable for all hair types.
Thermal Protectant for Fine Hair: Quick Guide
Heat protectants for thin hair are easy-to-use styling tools, but I have a small guide for you, so you will feel more confident applying these products.
How do heat protectant sprays work?
I have heard not once that people don't believe that the heat protectants work. They think that manufacturers have created a great story to sell more products. However, that's not true, and many women can agree with me.
First of all, the protector makes a barrier over the cuticle that doesn't allow the heat to damage your hair. It's like the additional layer that doesn't allow the warmth to make your hair dry.
If your hair is too dry, you need to moisturize it first. Luckily, the heat protectant does this too. It works as a conditioner, but its formula is more lightweight, so it can fit both damp and dry types. The protector gives you more vitamins. They don't only nourish your hair but also save all the minerals inside thanks to the barrier. That's why after you use the protector, your hair looks much healthier.
People don't like oils in styling products because they may be too fat and damage the hair. When we talk about heat protectors, it is the opposite. Such oils as argan, avocado, grape seed help in creating the barrier. They also nourish your hair. Most manufacturers don't use a large oil amount for heat protectants, so you can be calm that it won't destroy your hairdo.
Why are heat protectants essential?
It would be hard to cope without the blow dryers, flat irons, and other tools. They help you look stylish or get ready for the meeting in the shortest time. But no curling wand can make you look beautiful if your hair is lacking vitamins and minerals. Of course, you may use high-quality shampoos and conditioners. However, it doesn't always work.
When you blow-dry your hair, not only the water that is on the surface evaporates but also the moisture that is inside. First of all, it makes your hair dry. It becomes naughty and looks not so good. Also, it loses the vitamins, because they are kept inside together with the water. This is what causes breakage.
But even if your hair is broken, it's not the problem. As I have described before, a heat protectant, together with other essential styling tools, will renew your hairdo. I'm sure that you will see the result after several applications.
How to use heat protectant spray?
Before the heat protectant usage, I recommend you to take off all the possible moisture with a towel. Thanks to this, the product will nourish better. Then you should shake the bottle a little.
Be careful, and don't put too much effort. Comb your hair before you spray the protector, and then hold the can 6-8 inches from you. Apply the needed product amount. It doesn't only depend on your hair length. If you have very dry hair, you should apply more protectant.
After you cover the hair with the product, you can dry blow it. In case you use a flat iron or curling wand, you can put the protector on the dry hair. I think it's even better to apply it in such a way. You can see where you should add more or less.
Tips for Protecting Your Hair
I think the next question and answer section will help you to understand the specifics of fine hair protection more.
Do I need a heat protectant for my fine hair?
The styling tools like a flat iron or dry blow may damage every type. However, fine hair needs protection the most. It is thin, and it's much easier to make it too dry. The continuous usage of dry blow without the protectant will make your hair look unhealthy and scrubby. It takes several seconds and a little spray amount to avoid this.
Usually, one bottle of heat protector will serve you at least one month. So, I highly recommend you to buy one for you. Of course, you can have more than one and choose the different one every time. Don't worry – it won't damage your hair if you do this.
What can I use if I don't have heat protectant spray?
Most heat protectants contain oils like argan, avocado, coconut, and others. They renew dry hair in the best way. You may buy them separately and use a little oil amount before the dry-blow session. Usually, it does work perfectly.
However, if you have damaged or highly dry hair, you may need additional vitamins. It will be harder to find something that can replace the heat protectant. These tools are not very expensive. Also, there are many top-quality products that cost a little. That's why I recommend you not to replace the spray but to find a suitable option for you.
What happens if you don't use a heat protectant?
I think most women know what the damaged hair looks like. Some people have a structure that doesn't break because of the heat. However, it's not about the fine hair. This type needs more care as it has less keratin and minerals inside because it is thinner.
If you use a heat protector, you will get more vitamins your hair needs. There are many tools that contain chemicals. I recommend you avoid them because it's not healthy – the products I have described are made of natural ingredients, so you can choose from them calmly.
Can I use a heat protectant before applying the flat iron?
The heat protectants save your hair from temperatures up to 450ºF. That means you can use this product before a flat iron session for sure. Besides, there is no need to put it more than in the blow-dry case. The protector works even in small amounts. But you should know how to flat iron your hair in the right way. You may also apply it before you style your hair with crimpers, straighteners, curling irons.
Do I need a conditioner if I use a heat protectant?
A conditioner and a heat protectant is not the same thing. Of course, the protector restores the vitamins and oils amount, but it has a lighter formula, and something also can elongate with the heat. That's why it won't be a mistake to apply conditioner too. It's better to do it as an everyday routine – I mean, not before using a flat or curling iron.
Find the Best Hair Protection
The hair gets damaged very easily, especially when you don't use any styling products. Nowadays, there are many affordable tools of high quality that not only protect your hair but also make it stronger and healthier. And all this without chemicals – only natural ingredients.
Kenra Platinum spray is one of the best items I have ever tried. It includes all oils and proteins your hair needs and helps you keep it soft and luxurious. Do you use a heat protectant? What manufacturer do you prefer? Do you have other recommendations? It would be great to see your comments.
Last update on 2022-12-11 / Affiliate links / Images from Amazon Product Advertising API