There are many features and specifics of the right hair styling products to consider if you want to create a great hairstyle at home and quickly. Your hair care products, brushes, regular cuts, and styling devices are among the things you need to choose wisely to make your hair look neat.
Besides standard hairdryers, curling and flat irons, there is increasing popularity of rotating hair brushes. It is a multifunctional tool suitable for styling hair of any length. Such a brush rotates with hot air supply, allowing you to make various hairdressing styles without standing hours with a curling iron in hands.
Pros
Allows drying and styling your hair simultaneously
Thick ceramic coating for extra hair protection
The ceramic material of the brush protects your hair
Pros
Allows drying and styling your hair simultaneously
Pros
Thick ceramic coating for extra hair protection
Pros
The ceramic material of the brush protects your hair
As a professional hairstylist, I know a lot about such tools, so that I decided to review a few hot air brushes so that you could pick the high-quality one without spending a fortune on the device. When choosing such a device, the first thing to do is to select the model with a rotating nozzle.
Such a brush will be more convenient to use, as well as more functional, and you will spend no more than five minutes to create the hairstyle exactly like in advertisements.
Rotating hair brushes can save you a lot of time spent on hairstyling in the morning, but such devices can also have a damaging effect on your hair if used in the wrong way. It is essential to pick the proper styling device for your hair type and length.
Before I dug deeper into specifics of hot air brushes, these tools seemed to be less convenient than a simple dryer, and some devices I used were too broad for thin hair locks. Also, many cheap models don't have more than one brush in a kit.
But after some practice with various types of haircuts and trying different devices, I realized the undeniable perks of using such a tool. This device is a perfect option if you want to make natural-looking waves or straighten unruly hair. In this article, I will review the best tools for hairstyling.
Top 5 Rotating Hot Air Brushes to Create a Perfect Hairstyle
InfinitiPro Hot Air Brush
BabylissPro BABNT178 Nano Titanium
Revlon Ceramic Hot Air Brush Kit
John Frieda Hot Air Brush
Joyyum 1000W 3-in-1
The main struggle to overcome while picking blow dryers and styling devices is to select the model that will allow you to make a neat look quickly without overheating your hair. To select a proper tool, you have to look thoroughly at such characteristics as the airflow, heating temperature, and electrical power.
The quicker you need to dry and style your locks, the more powerful the device must be. If you get yourself a rotating hot air brush with a too hot airflow, you may risk over-drying your hair. Don't forget that your hair requires gentle and thorough care. Thus, opt for the rotating hot air brush that features several blowing modes for different operations.
For example, a hot mode will work for drying your hair, a warm one for making a hairstyle, and a cold option for fixing curls. However, it's preferable to go with a moderate or cold airflow and use heat protection products.
Below are my top picks that will help you to create beautiful hairstyles effortlessly, keeping your hair healthy and neat.
1. InfinitiPro Hot Air Brush – A Great Rotating Hot Air Brush for Perfect Look
The functionality is one of the most integral points of a high-quality brush. Therefore, pay attention to this characteristic. However, you are guaranteed that this InfinitiPro tool is fitted with all the functions needed and is a fantastic styler.
While other less-priced devices can easily harm or overheat hair, this device works gently and helps to create an amazing hairstyle in seconds. Thanks to the ceramic attachment, this rotating hot air brush ensures proper haircare and allows keeping it healthy. Thi tool allows you to carefully dry your locks, providing a healthy shine to them.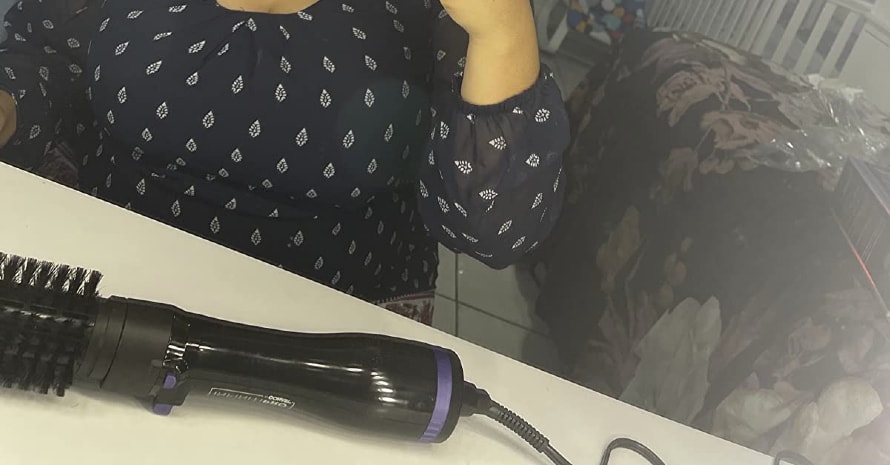 Besides, the new ion generator technology significantly multiplies the concentration of ions, providing the necessary protection for your hair from the hot air stream.
The ceramic Spin Brush nozzle has two speeds that work for both hot and cold air supply. With this attachment, your styling routine gets even safer, as the ceramic material doesn't allow the brush to heat up and damage the hair. In the hot mode, the nozzle can rotate in both directions, helping to increase the volume of your hair and give it a lovely shine.
What is particularly great in this rotating hot air brush is the removable filter. Thanks to it, if the nozzle gets clogged, you can quickly and easily clean the device. Thanks to this option, the service life of the item is guaranteed to be extended, and the brush will last you a long time. Moreover, with this InfinitiPro tool, you get two brushes for creating small and medium curls and waves.
Conair made a device promising to increase the hair volume and create soft waves and curls within the shortest possible time. And it's true, as using this tool, you will create a beautiful hairstyle quickly that will last throughout the day. What is more, you can control the wave volume and avoid the 90s or 80s hairstyles if you don't want them.
As there are two attachments of different sizes in the set, you can create light waves or more detailed curls for shorter hair. Also, both brushes can spin forward and backward, allowing you to make natural-looking waves. This device can cope even with thick hair and tame unruly curls, ensuring a stylish look.
The manufacturer states complete hair protection from hot air, thanks to the ionization feature and ceramic coating. However, I don't recommend drying completely wet locks with a rotating hot air brush if you don't want to overheat and damage it.
This type of tool wasn't made to replace a standard dryer, so make sure to get your hair dried out first before starting styling with this tool.
PROS:
The ionization and ceramic coating ensure a neat hairstyle;
Adds volume to the hair;
The brushes rotate forward and backward, allowing you to make beautiful waves and curls.
CONS:
Won't dry wet hair and suitable for almost dry hair.
2. BabylissPro BABNT178 Nano Titanium – The Best Rotating Blow Dryer for Any Hairstyle
Professional stylists favor the BabylissPro series a lot, and I am also a fan of this Nano Titanium tool. This Babyliss rotating hot air brush is a versatile device that allows creating any waves, curls, and hairstyles. Do you want to recreate the look of your favorite actress in the comfort of your home? This brush allows doing wonders with your hair.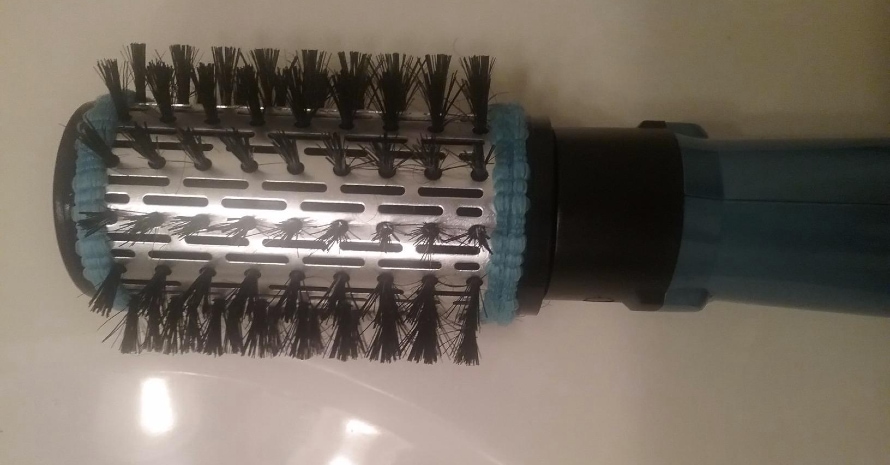 You can use this Babyliss rotating hot air brush as a curling iron, creating a desirable volume of your hair. With rotating bristles of the brush, as well as its bi-directional cylinder, you can make chic shiny curls. The ceramic material of the attachment with the ionization feature ensures this bright and healthy look.
To make defined locks or smoother hairstyle, you can turn off the rotation mode, and instead of volumizing your hair, this device will make accurate waves. However, like with any other hot air brush, it is advisable to use the tool when your hair is 80% dry.
This Babyliss rotating hot air brush improves the look of your hair, thanks to the anti-static bristle feature. Thus, the hair will look softer and healthy after styling, as if you just left a hairdressing salon.
PROS:
Comfortably fits in the hand;
Easy to make curls and waves and create any hairstyle;
The ceramic material of the brush protects your hair from overheating and makes it look shiny.
3. Revlon Ceramic Hot Air Brush Kit – The Best Rotating Hair Brush For Short Hair
This device can give your hair roots volume and create elastic curls in a couple of minutes. You can create a perfect look, regardless of the length and density of your hair. You can trust this rotating hair brush dryer because it is not only suitable for styling but also takes care of the condition of your curls.
With this device, no damage, brittleness, or cross-section of your hair are guaranteed. As it is a high-quality styling tool with a lot of useful features, this Revlon rotating hot air brush is a must-have at home.
From my experience, I can say that this Revlon rotating hot air brush dries hair well and allows creating a lovely hairstyle quickly. I often use a nozzle under the roots for adding volume to my haircut. I did not have problems with the operation of the brush, and it rotates quietly in both directions. It is possible to adjust the temperature of the airflow to style your hair with a safe level of heat.
There are several drying modes, and you can choose the one to your liking. The cord of this device is long enough to reach any outlets in your bathroom or room. The tool itself is compact, and when I don't use it, I can easily fit the device in my bathroom cabinet.
I want to note the quality of this device. The case is made of durable plastic, and even after a long time being in use, the tool has no scratches or other damage. A few of my friends who are also hairdressers have this tool at home, too, meaning by getting yourself this hot air brush, you can have a professional tool at home.
PROS:
A high-quality model;
An affordable price;
Thick ceramic coating for extra hair protection.
CONS:
It may be hard to change the nozzle when the item is already heated.
4. John Frieda Hot Air Brush – An Amazing Rotating Hair Brush for Defined Locks
This John Frieda rotating hot air brush is fantastic, and I never regretted this purchase. The tool is quite powerful and styles your locks fast without harming their quality. The handle lies nicely in your hand, and it is easy to press the buttons while styling your hair to regulate the airflow. The nozzle is useful, and the versatility of this brush is simply amazing.
Hairstyling can be done in a couple of minutes. This tool has three heating and rotation speed modes. Also, you will get two attachments for various looks.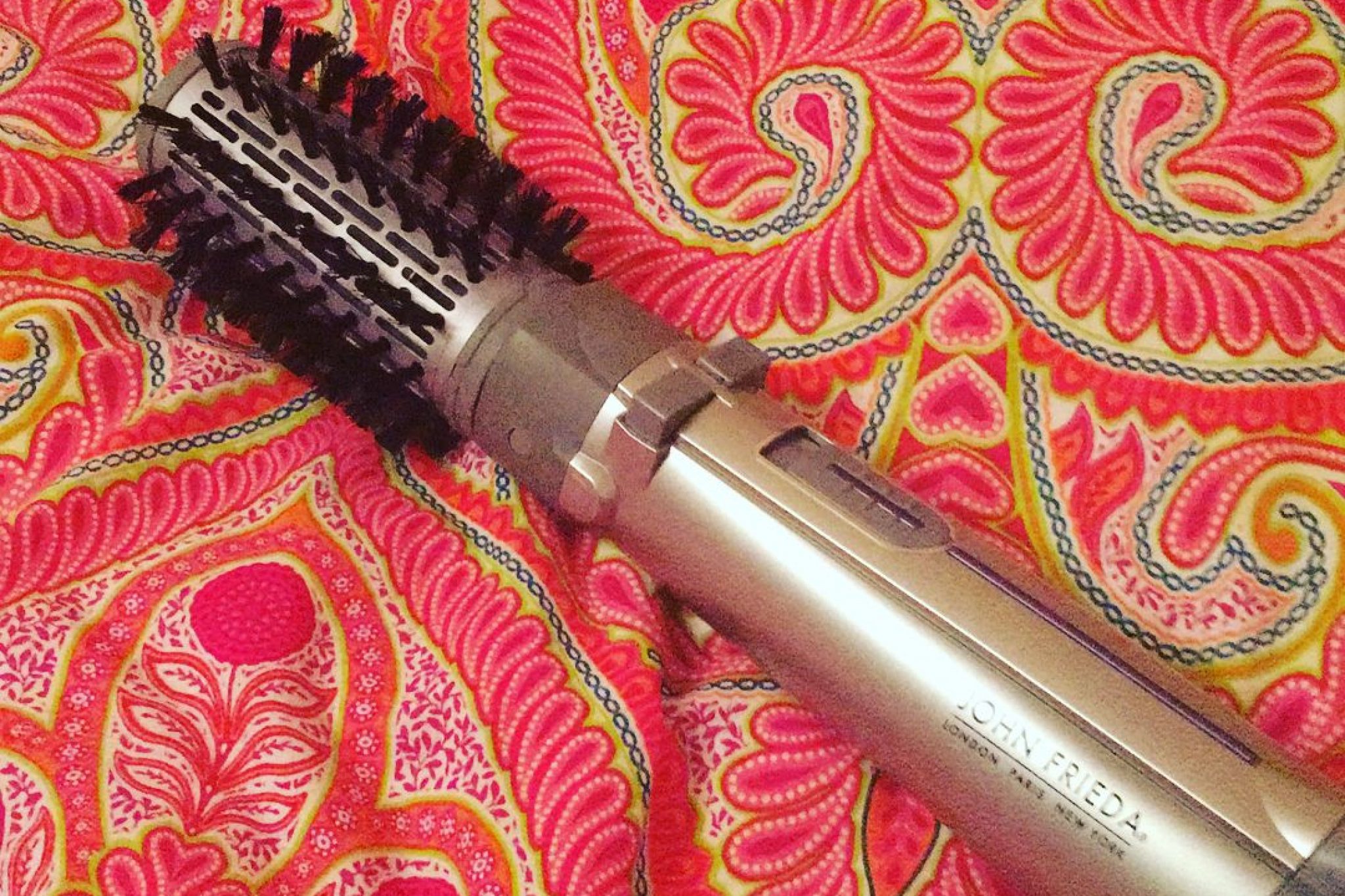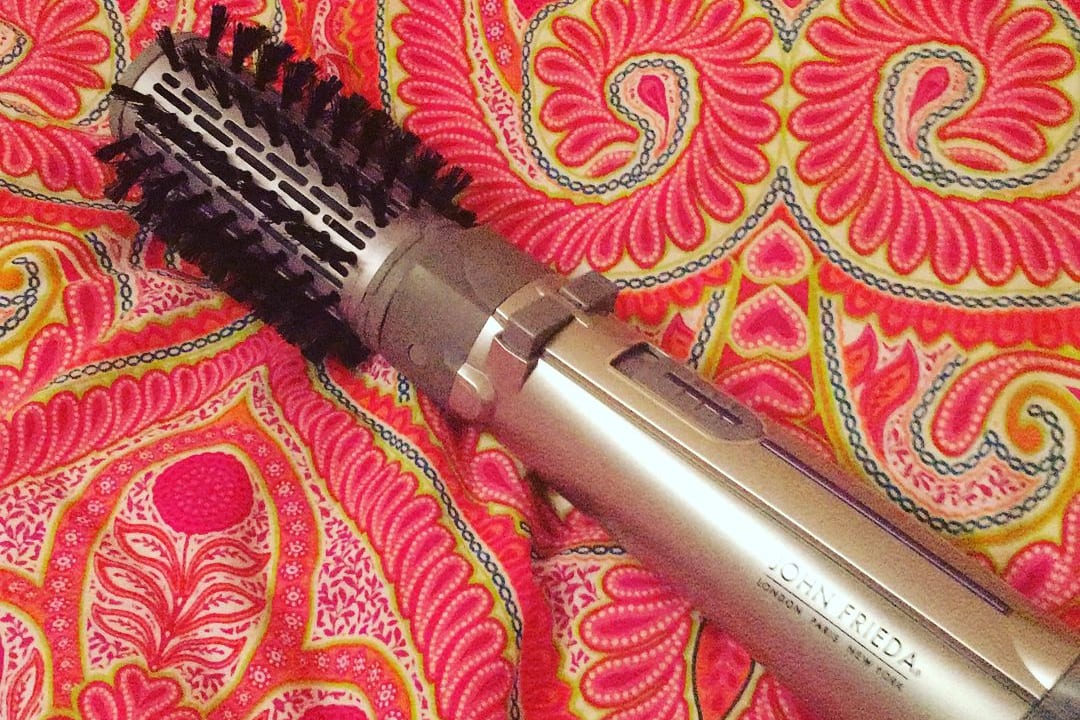 This hot air rotating brush is fitted with a loop on the handle to hang the device in your bathroom if needed. The only inconvenience you may experience while using this styler is its short cord. You have to stand right next to the outlet to do the styling because the cord is two meters long only, but it is not a huge con with the number of benefits this model has.
I want to note that this brush comes with a nozzle for straightening your locks pretty quickly. Moreover, using the brush, you can straighten your hair effectively with not a hot but warm airflow, protecting your locks from overheating.
If you twist curls in different directions with the help of this device, you will get natural-looking voluminous hair. Besides, you can make small curls using a smaller brush. Thanks to the rotation function, you can quickly finish your hairstyling routine.
This device allows me to save my time a lot because you can simultaneously dry your hair and style it. Once you get used to operating such a tool, making beautiful cuts will be a breathy task, even for locks in the back. I also like that the attachment has natural bristles so that it brushes my hair diligently and softens my locks.
PROS:
Great for straightening curly hair and curling straight one;
Allows drying and styling your hair simultaneously;
Perfect for adding volume to the hair.
CONS:
The cord may be too short for some.
5. Joyyum 1000W 3-in-1 – Perfect Rotating Hot Air Brush for Taming Unruly Hair
We rarely think about how hair quality and hairstyle can radically affect our overall appearance. If you want to make the effect positive and look good, it is very important to pick the right tools for making a hairstyle that won't lose its shape.
Read my full JOYYUM: 3-in-1 Auto-Rotating Hot Air Brush Review
If your hair is often electrified, looks dull, too thin, or loses volume after a couple of hours, this rotating hot air brush from Joyyum can save the situation. The ceramic coating of the attachment allows straightening unruly hair without troubles, making your curls look defined and bright. You can forget about messy looks or tangled hair with this brush.
This device has three heating settings, including hot and cold airflows. You can choose a low or high heat so that in case you have damaged or brittle hair, it is possible to make styling more gentle. The brush can rotate forward and backward, giving smooth control of the tool during the hairdressing routine. It is the best rotating hot air brush in terms of styling and creating the necessary volume and shape of curls.
Also, the power of this device is very high and reaches 1000 watts that allows giving your hair incredible volume quickly. But, at the same time, I don't recommend styling your hair at high temperatures if you don't want to damage it.
This hot air brush is ideal for thin, brittle hair. It can cope with the hair of any length, meaning both bob and long hair. This device can even replace your rotating curling iron with time, as it allows creating many different hairstyles to your liking.
Also, do not use this brush immediately after a shower. For this tool to style your hair gently, the hair should be slightly wet or almost dry.
PROS:
Two attachments for different types of curls;
Perfect for any hair length;
You can regulate the heat and airflow.
CONS:
It's only for 110 to 125 V, so you won't be able to use it overseas.
Things You Should Know Before Buying a Rotating Hot Air Brush
Once you get involved in the world of beauty and style, you'll see that there are so many innovative technologies and devices created to simplify your life and save some time for self-care. Making a hairstyle everyday can be a tough task, and many of us wake up hours earlier to get ready for a new day. But not everyone is ready for such sacrifices.
Hot air brushes are the future of our haircare routine. If you want to create a stylish look within minutes, such a tool with brush attachments will help you to create a neat hairstyle in no time.
You may have heard about blow dryer brushes before or had a similar tool back in the days, and its use resulted in unpleasant memories or damaged hair. At least, my first experience of using a rotating hot air brush was quite disappointing. And only after some time I've learned that I've been using the wrong device and utilizing it in a wrong way.
So, below are some things you should take into account before buying a rotating hot air brush.
Related Post: Best Hot Air Brushes for Fine Hair
How Can I Style My Hair?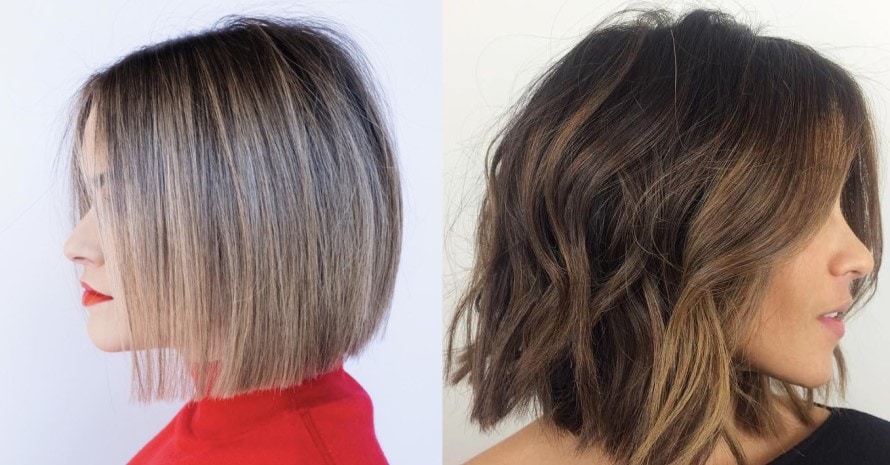 Styling short hair, especially bobs or similar haircuts, can be quite a nightmare but comes as a doable task with the right tool. If you want to buy a rotating hot air brush that will allow you to make different hairstyles, pay attention to its nozzles and attachments. Nozzles are what helps to style hair in different ways.
As a rule, when buying such a brush, you will get a couple of nozzles of different sizes for creating big curls or small natural waves. However, it is also essential to use various styling gels and mousses. Although with a rotating hot air brush you can create a beautiful hairstyle, only the appropriate hair styling products will make your look last longer.
Can Rotating Hot Air Brush Straighten Curly Hair?
Sure. With little practice, you can straighten curls and unruly hair with a rotating hot air brush. I also recommend using hair mousses to ensure quick and easy straightening of your hair.
Like a typical blow dryer, a hot air brush can give your hair the necessary volume that will last for several hours. But such tools do not do wonders, so if you wear a hat and get caught in the rain, strong wind, or snow, your hairstyle is still at risk. Thus, use sprays or mousses made for styling your type of hair.
A high-quality rotating hot air brush with an ionizing effect can not only straighten hair but also make it smooth and shiny. Therefore, when buying such a device, make sure that it has the ionization function that will help you to tame your hair.
What Are the Disadvantages of a Rotating Hot Air Brush?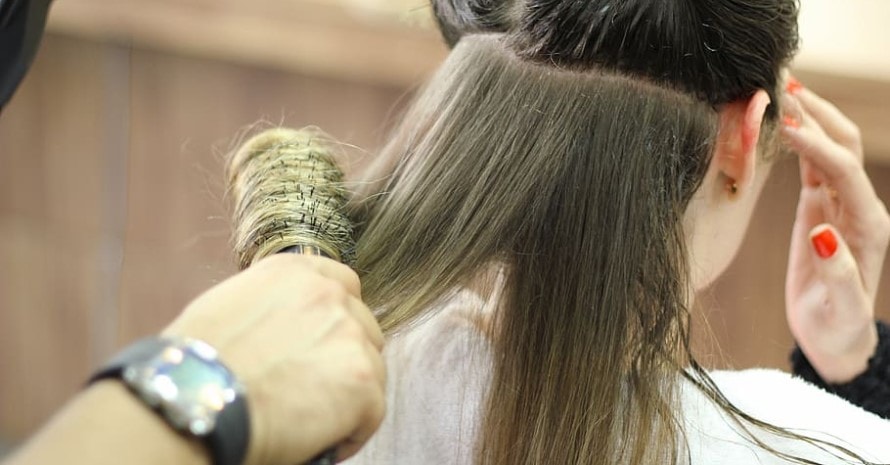 Although such tools are a must-have at home, they have some disadvantages, too. Because of the constant contact of the device with your hair, your locks can get stuck in the brush if you don't use it carefully enough. Thus, I recommend cleaning your model two or three times a week if you use it regularly.
Also, a rotating hot air brush usually has lower power compared to simple hair dryers. That is why such tools are not suitable for girls with long and thick hair. Rotating brushes just can't add volume to such a mass of hair, as it is a task for a powerful hairdryer. On the contrary, such brushes are perfect for creating volume for thin hair.
What Modes Can a Hair Style Brush Have?
A good hot air brush should have more than one mode to ensure you can choose the suitable amount of heat for styling your locks, thus, not damage them. Pay close attention to the temperature and airflow modes while selecting the right model. A high-quality rotating air brush should heat to not more than sixty degrees and have at least two regimes of warm and cold airflow for hairstyling.
What Is Ionization, and Why Does It Matter to Have One?
When it comes to hair drying, the ionization function protects the locks from exposure to hot air. Without this protection, your hair can get over-dried and damaged pretty soon by the styling tool. Besides, ionization helps to tame electrified hair.
How to Take Care of a Hot Air Brush?
Regularly clean the brushes from hair left on bristles, as it partially blocks the airflow of the tool. Also, it is necessary to check the instructions to understand which nozzles can be used on wet hair, and which on dry hair only. In most cases, you should style almost dry hair with these devices. Also, such a styling tool should be fitted with an automatic shutdown feature in case of overheating.
Conclusion: Can I Use a Rotating Hot Air Brush as a Simple Dryer?
A rotating hot air brush is a must-have tool for creating a beautiful hairstyle in a couple of minutes. When choosing such a tool, you should keep in mind the characteristics of a high-quality rotating brush and how you should use it.
If you want only to dry wet hair after a bath or shower, then you should buy a classic blow dryer since the rotating hot air brush styler won't dry wet hair quickly. If you need a hair styling device, a hot air brush will be the best solution and can replace all the traditional styling products, such as hair curlers, curling irons, and hot rollers.
Remember that you should not try to dry your wet hair right away if you do not want to overdry and destroy it. The hot air that comes from a brush can harm your hair if you use it as a simple blow dryer. You should use such a brush only after you dry your hair with a towel, or it air dried for some time.
If you select any of the models mentioned above, you are guaranteed a top-notch hair styling device. All of the tools have rotating brush attachments and ionization functions for taming and perfectly styling unruly hair of any length and thickness. They will help to make it look healthy and shiny.
It honestly took me some time to get used to styling my hair with a rotating hot air brush quickly, but the results are worth it. Although such a tool won't replace a blow dryer, it is a perfect way to style and make finishing touches to your locks.
I prefer using such a device when I'm really in a hurry and want to create a natural-looking wavy hairstyle. And what about you? Do you have a rotating hot air brush, or are you still considering buying one? Have you used any of the tools highlighted here? Don't hesitate to share your experience below.
Last update on 2022-12-11 / Affiliate links / Images from Amazon Product Advertising API