Hi guys. Chloe here. This post is special because it's going to feature an excellent hairstyling device that I've recently discovered. I've received this new hairstyling tool for review purposes over 4 weeks ago and have been testing it since. Yes, I purposely waited to write my review until I had this spiffy all-in-one device in my skillful hand for 30 days.
When I used it for the first time, I was very excited, though a little doubtful and even a bit leery of this non-brand name hairstyling tool near my hair. To be honest, I never treated hot air brushes seriously — probably because of some negative experience from the long-gone past.
The charming device I'll be covering today, however, has turned out to be really user-friendly and effective! Today I'm finally ready to reveal my experience-backed thoughts on it. So, in this post, I'll be talking about the auto-rotating hot air styler with ionization from JOYYUM.
The brand has been on the market for over a decade, it's internationally recognized and focused on producing some excellent-quality hair products and tools that do not cost a fortune.
JOYYUM is not as famous as, say, Revlon or Conair. Consider this fact a benefit — you get a solid hairstyling tool without having to pay extra money for the brand tag.
You probably know that I only agree to review stuff when I get to reveal my 100% honest opinion to our readers. The manufacturer didn't mind this approach, so make sure you're ready for an unbiased and absolutely independent review.
I'll start with the packaging, then discuss the pros and cons of the JOYYUM hot air brush, as well as some recommendations on styling your strands with the device.
I'll crown the post with the brief FAQ section, answering your potentially most frequently asked questions about the JOYYUM hot air brush.
Keep in mind that you can always ask me questions about the tool in the comment section at the bottom of this post. I greatly appreciate your feedback. Enjoy reading the post, making your own conclusions, commenting, and researching further on the issue whenever necessary.
Packaging Details: Simple and Cost-Effective
The JOYYUM hot air brush comes in a simple white cardboard packaging, nothing too fancy or velvety. Remember the breathtaking Aashi Beauty flat iron box I've dwelled upon in one of my recent reviews?
Well, things are different with JOYYUM. The company's ultimate goal is to take your breath away with their price/quality ratio — something that (quite rationally) excludes way too expensive packaging.
In addition to this, placing a relatively small hot air brush into a fancy rose gold fluffy box would seem a little over-the-top, don't you think? In our case, things look pretty much logical and sensible.
Keep in mind, however, that the cardboard box can be easily damaged during transportation. As a matter of fact, that's exactly what happened to me. After receiving the JOYYUM hot air brush from the manufacturer, I realized that the packaging was broken.
The heads on my newly arrived brush slightly changed their original shape post-damage. I didn't panic at all. Instead, I restored the brush heads by gently reshaping the bristles. Remember that these things can happen to anyone.
So don't fret if the box with your hot air brush breaks open during transportation. Take action, and you will resurrect the product in no time. Now, let's discuss the contents of the box in more detail.
So, What's in the Cost-Effective Cardboard Box?
Even before opening the box with your JOYYUM hot air brush, you already know it contains a lot more than just a brush. You get a brush, a blow dryer, and a curler all in one.
Such negative elements of modern life as air conditioning, being regularly exposed to synthetic fibers, and environmental issues contribute to building up great amounts of static electric charges in your strands. You can make things even worse by simply brushing or air drying. As a result, your tresses may start looking terrible.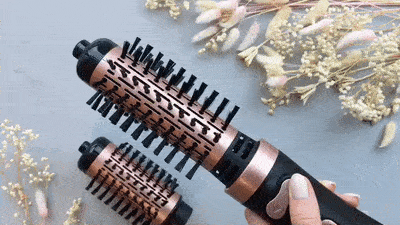 In addition to this, large amounts of static electric charges generated in the air may eventually turn your smooth and perfectly bouncy tresses into a frizzy flyaway mess. Now, that's when the JOYYUM hot air brush comes into play.
The natural ions produced by the JOYYUM ceramic-covered hot air brush contribute to neutralizing the static electricity charges, giving your mane a smooth and shiny look. Therefore, achieving your favorite style (and maintaining it for as long as possible) is as easy as pie.
So, here's exactly what you will happily lay your hands on upon opening the JOYYUM white box.
Your precious all-in-one brush, the ideal mix of a blowdryer and a round comb-like styler. It's a single-step blow dryer and volumizer that effectively assists you in achieving gorgeous curls. Yep. With JOYYUM, you get to easily enjoy brushing, blow drying, and curling your strands without even having to use any extra tools. Removing excess water from your soaking wet tresses and smoothing them with a comb to untangle should be on your must-do-prior-to-using-the-device list.
2 various-sized attachment accessories to cater to both long thick strands (2-in attachment) and thin hair (1 1/2- in attachment). By making the most of these two attachments, you will focus on safe blow drying and even get to create the type of hair spiral you want today. To switch from one attachment to another, simply press the button on top and move the tool upwards — that's super easy.
1000W-backed hot air blowing system that saves tons of your time by providing the exact level of heat you need and speedy heat-up functionality. The JOYYUM ceramic-covered hot air brush rotates in any direction you like, adding more bounce and healthy shine to your tresses.
Soft nylon bristles that smoothly untangle your strands, contributing to their increased volume and fabulous bounciness.
In addition to all this, the JOYYUM hot air brush smartly features 2 convenient heat settings, as well as one cool-shot option to give you great results irrespective of your hair type.
In other words, with JOYYUM, you get to create various hairstyles with speed and ease, using the high heat setting for thick to medium strands and opting for the low heat setting for fine and thinning hair. I personally loved this versatility.
Here's what I also liked about the JOYYUM hot air brush — aside from what's already been mentioned.
After using the JOYYUM all-in-one hot air spin brush, I was amazed at how easy and fast it was; definitely a pleasure to use if you're a busy woman like me.
My tresses do not get tangled up in the spin mechanism. In fact, the tool seems to 'feel' when your strands are about to get all lost in the brush and instantly turns off.
The JOYYUM all-in-one hot air spin brush helps you create some truly mesmerizing curls without damaging your hair. I'm happy with the brush heads, my hair does not tangle in them.
Also, my hair feels super soft after using the tool. And there's literally no frizz at all.
Awesome hot air brush if you have coarse or curly hair at the root: it's definitely going to get there and spin it out smoothly.
I also like that this hot air brush is quiet. And it saves my wrists and arms from fatigue.
It's really easy and convenient to hold. The brush is a bit on the heavier side, but still lightweight enough to operate.
The quality/performance ratio is the same as more expensive brand name hot air brush tools, so if you purchase the JOYYUM hot air brush, you and your happy wallet will definitely win.
The amazing rose gold color looks so chic and elegant on the tool that it makes me want to touch it all the time.
Using the tool made my mane look like I went to the most expensive salon in the city.
I use the brush on a daily basis these days. It gets me through several days without washing my hair — and my strands still look sleek and fresh!
As a matter of fact, after using the JOYYUM all-in-one hot air spin brush for a month, I can't think of any serious disadvantages. I've heard women say its motor is not strong enough, but then again, it might be a good thing since it prevents your hair from getting stuck in the mechanism.
Trust me, you don't want to feel the power of your vacuum cleaner on your strands. Medium motor power is just enough to keep your mane nicely styled and healthy.
The JOYYUM Hot Air Brush FAQ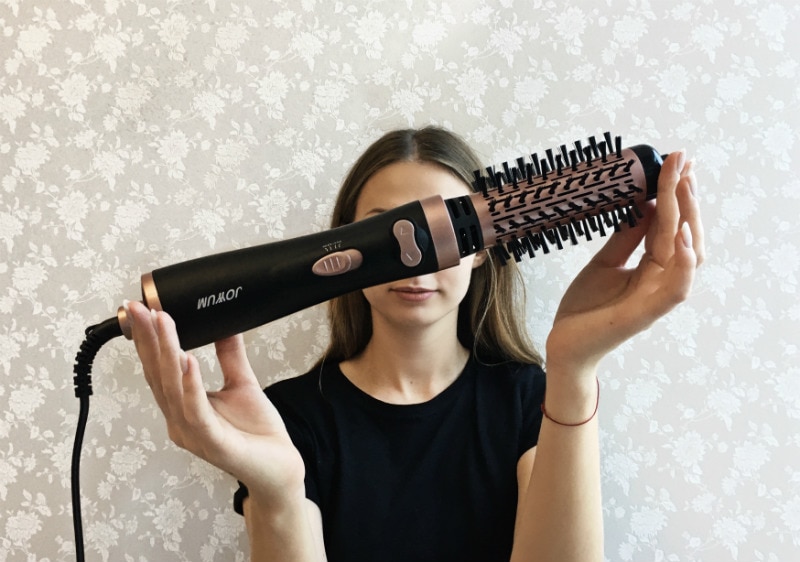 Can I use the hot air brush abroad?
The JOYYUM rotating hot air brush can only be used between 110 to 125 volts, so using it overseas without an adapter is out of the question.
Can I use the JOYYUM hot air styler on wet hair?
Yes — it's a blow dryer, after all. Just make sure you air-dry your strands for some time and use your favorite comb to smooth them in order to avoid tangling.
Yes, absolutely. You can utilize the JOYYUM hot air brush without the rotation function. Press the button down whenever you're up for using the rotation functionality. Don't forget that rotation works in both directions, so make sure you choose the needed arrow-button to push down.
How to switch from one brush attachments to another?
To change a brush attachment, switch the styler off, unplug the appliance and allow it to fully cool. Push the button for accessory and place the accessory you need into the unit until you hear a click. Push the button for accessory and remove the attachment from its recess.
How do I clean the brush?
You can remove dust and lint from the device by using a small brush or your vacuum cleaner brush attachment. Do not allow water to seep into the mechanisms while cleaning.
Are the bristles hard or soft?
The bristles are soft nylon, similar to brush bristles. I've heard women complain about the bristles of this hot air brush being too soft and i.e. impossible to grip their hair. I guess it all depends on your preferences. I personally love soft bristles that do not have metal parts causing your hair to burn.
Is the brush noisy?
Not at all. The brush is very quiet.
Is there a warranty?
Yes. The product comes with a one-year warranty from the manufacturer.
Cutting to the Chase: Gamechanger!
I must admit, I've always been too impatient to properly blowout my hair. The JOYYUM all-in-one hot air spin brush has been a gamechanger. It has dramatically shortened my hair styling time.
I'm really happy with the quickness with which the device dries my strands, as well as the volume it gives to my typically flat style.
And I actually like the price. I'm glad I've tested this great product, for it allowed me to share my honest opinion with you. Performance-wise, the JOYYUM hot air spin brush is definitely worth every penny.