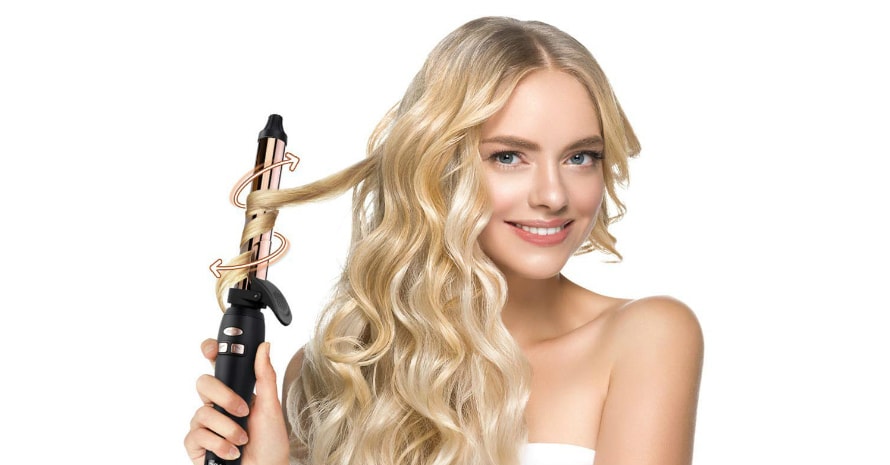 Turning a tangled mass of hair into an actual hairstyle can be a time-consuming process unless you have a really clever tool to save your effort. When it comes to curls, it's also a lot of strain for your wrist. Or is it?
Learn why The Beachwaver Co. S1 Dual Voltage is the best rotating curling iron in my opinion and find out about 6 more products that will style your hair in a safe and effortless way by spinning with your locks on it.
Pros
Three-step temperature control
Non-damaging ceramic coating
Dual barrel spin direction
Top Pick
Pros
Three-step temperature control
Runner Up
Pros
Non-damaging ceramic coating
Budget Pick
Pros
Dual barrel spin direction
We've also included a buyer's guide section to help you make an informed decision.
Top 7 Best Rotating Curling Iron Models of 2020
CHI Spin N Curl – Top Pick
Salontech Spinstyle – Great Value
Kiss Products Instawave – Budget Pick
TYMO Wavy Rotating Curling Iron
Beachwaver Co. S1 Dual Voltage
Conair Curl Secret
BIO IONIC Stylewinder
Here's a list of smartly designed irons to save your time and effort doing your hair. While each and every model here is at least very good, each of them stands out in its own way, so make sure you pick the one that best fits your situation!
1. CHI Spin N Curl

Rotating Hair Curler

:

Our Top Pick
more control for those who want to be precise.

You choose between 370°F, 390°F, and 410°F and set the desired rotation direction, then place a strand inside the fork-shaped barrel. Then you take it out on a beep (or any time earlier if you're anxious to).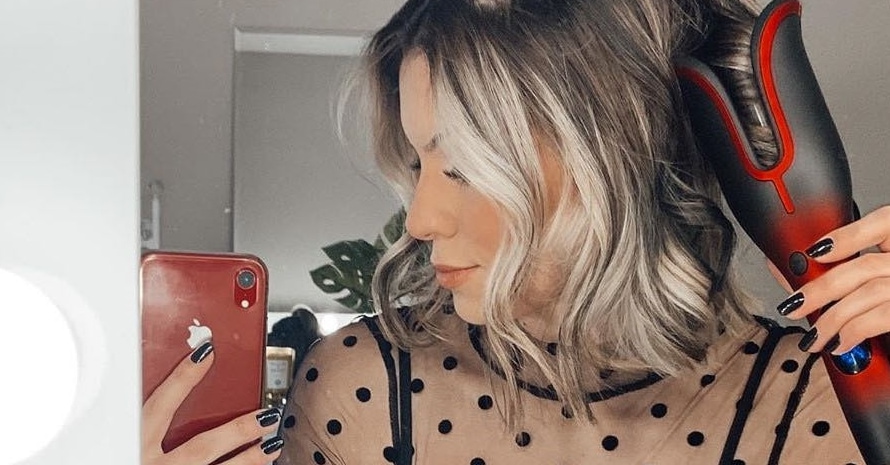 The ceramic coating preserves the natural shine of your hair without drying it to the point of damage. In fact, the whole piece is designed with maximum safety in mind and requires little to no skill.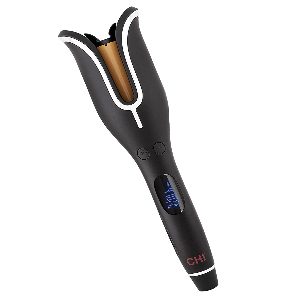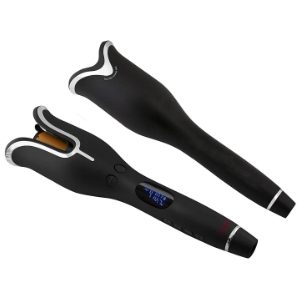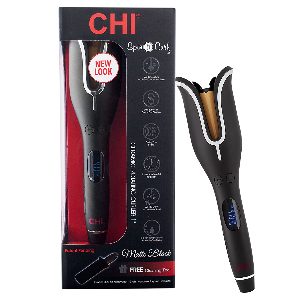 One problem we've found with this lazy-yet-efficient tool is that it leaves you with not the best volume around the top of your head.
Pros:
No curling skill needed;
Unlikely to damage your hair;
Safe design;
Dual rotation direction;
Three-step temperature control.
Cons:
Doesn't give you a lot of volume.
2. Salontech Spinstyle: An Extra Hot Curling Wand That Spins
What it means is that Spinstyle comes with a broader temperature range than most curling irons designed for at-home hairstyling. Heat level varies from 250°F to 450°F, making it a great tool for those blessed with extra thick and coarse hair. Two direction modes are available.
The barrel features a Pure Ceramic coating that keeps your hair naturally shiny and is unlikely to damage it. While meant for professional use, the tool is also highly intuitive. The only part of it that might require getting used to is the prong-set that's designed to detangle your locks before actually curling them, which works really well.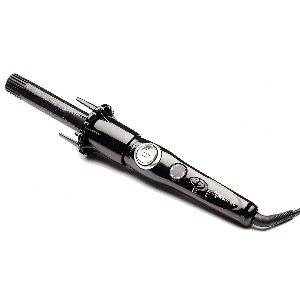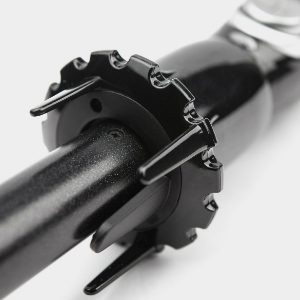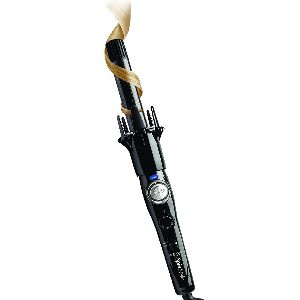 One improvement we would appreciate is a longer heating surface for those whose hair reaches way beyond their shoulders.
Pros:
Higher-than-average max temperature;
Non-damaging ceramic coating;
Detangles while spinning;
Heats up quickly.
Cons:
Might take some practice;
A longer barrel would be better.
3. Beachwaver Co. S1 Dual Voltage Rotating Hair Curler
The Beachwaver Co. is a young US-based brand dedicated almost entirely to rotating curling irons. The S lines is their everyday series with three options based on the barrel width, of which S1 is the classic 1 inch.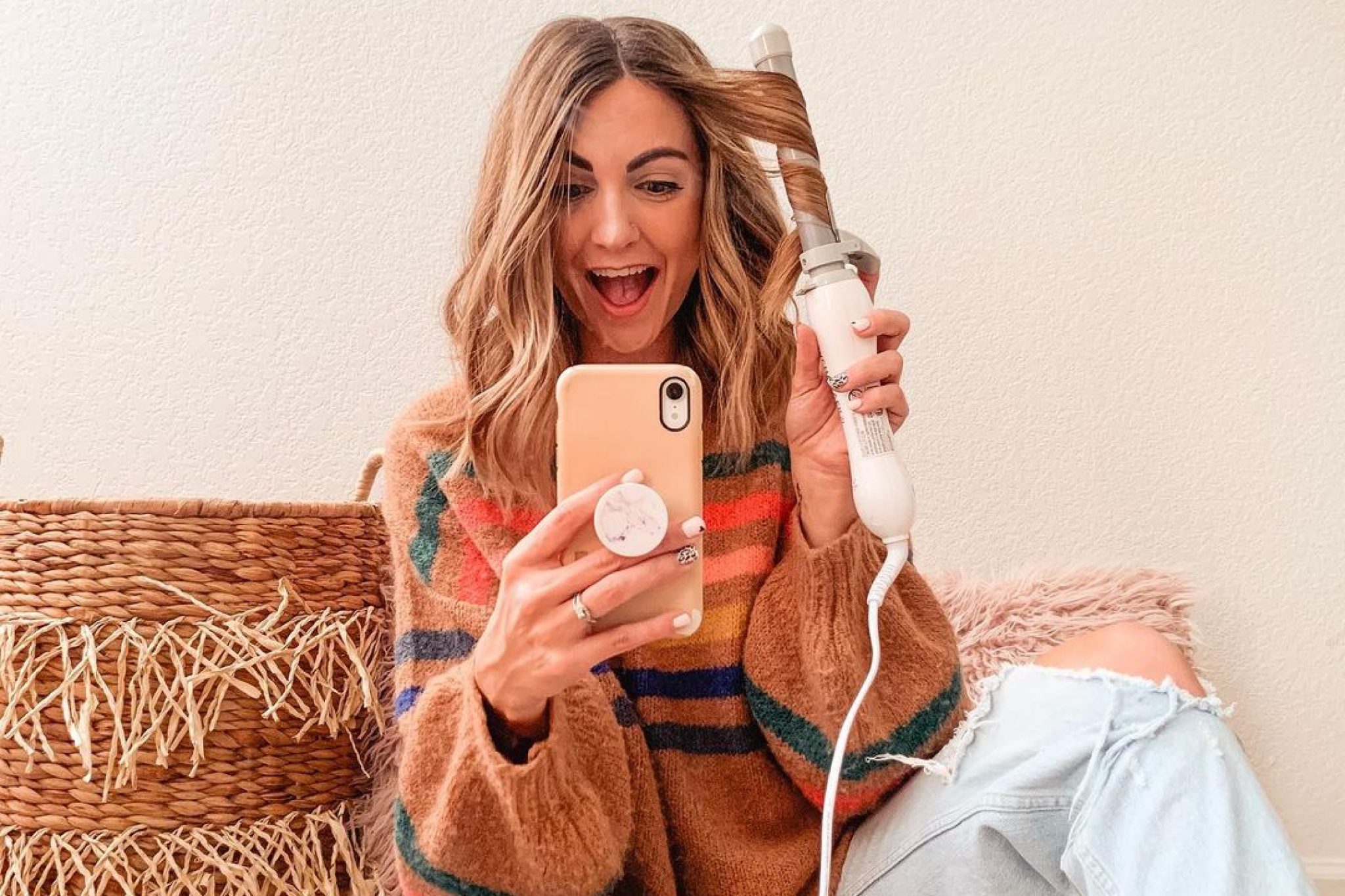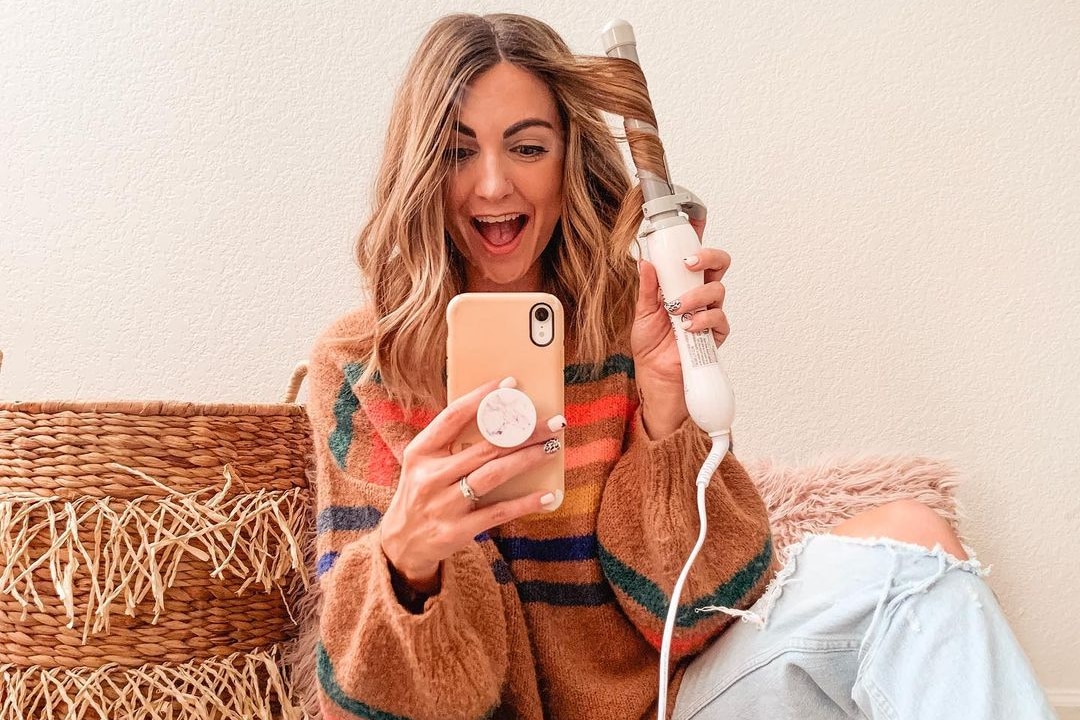 The 5.5 inch long barrel is made of ceramic, a material which is considered the best option for fine hair that breaks easily because it is gentler than the metal barrel. The distribution of heat is really even with no sign of cold spots.
This model features a digital temperature indicator that can switch between °C and °F. The Beachwaver Co. goes even further to celebrate diversity by making it a dual voltage unit, meaning it will work with either 100 or 240V depending on where in the world you are.
The heat range is 150ºC (290ºF) to 210ºC (410ºF), achieving the maximum within 30 seconds.
The automatic rotation of the barrel is controlled by direction arrow buttons. Two modes are available in terms of speed that can also be toggled between using a dedicated button.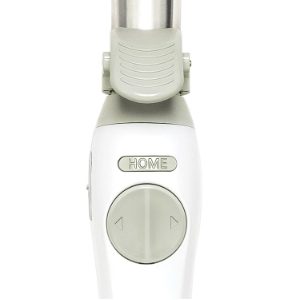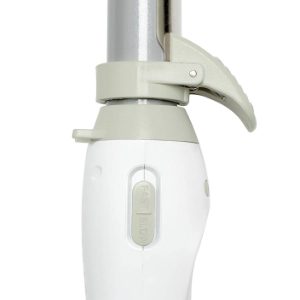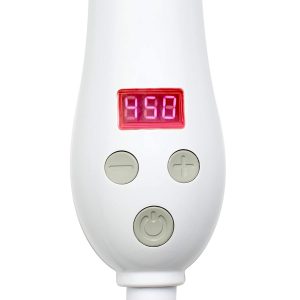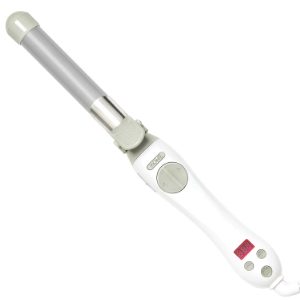 Although pricey, S1 is an easy-to-use reliable tool that gives you healthy natural-looking classical curls with lots of fine controls.
Pros:
Gentle, even heating with a ceramic barrel;
Makes natural classic curls;
Dual voltage and temperature indication options for travelers;
Lots of controls;
Quick heat-up.
Cons:
4. TYMO Wavy Rotating Curling Iron: A Spinning Hair Curler That Offers Great Value for the Money
Based in the US, TYMO is a company that specializes in hair styling tools such as flat irons and straightening brushes. Although it's a newcomer to the market, the brand has received a lot of positive reviews for reliable time-saving performance.
TYMO WAVY is the company's only curling iron. Just like our favorite above, it comes with a one-inch barrel, but this time it's made of titanium. While this is a less gentle material compared to ceramic and might prove damaging if you lack experience, it performs better on masses of coarse hair.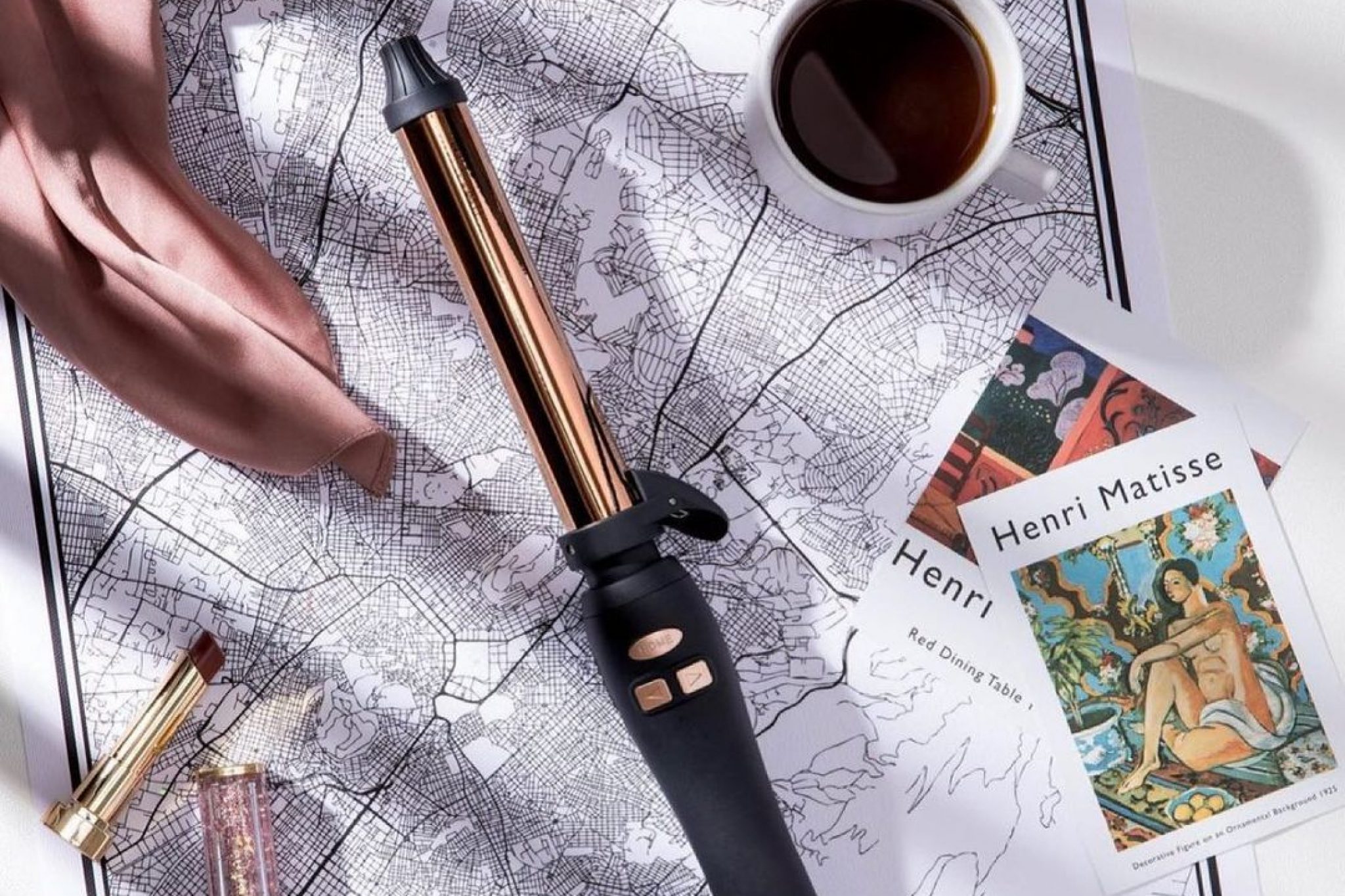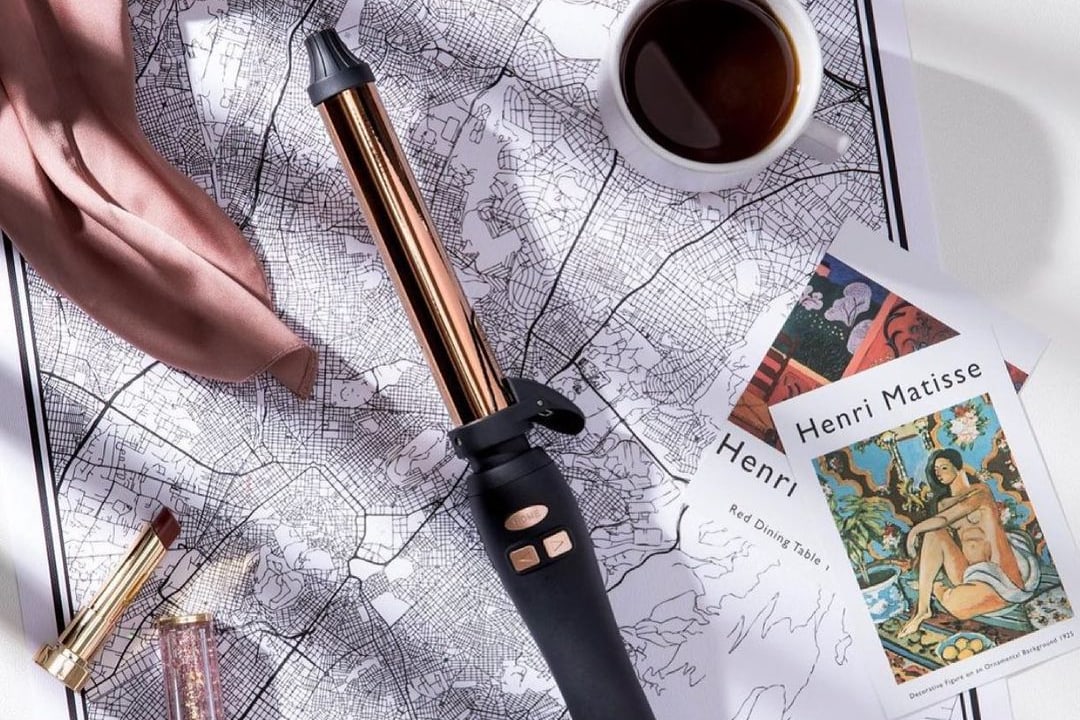 The barrel rotates in either direction, which is controlled by buttons on the handle. Seven temperature settings are available over a range of 290ºF to 410ºF. A LED display is included that uses Celsius or Fahrenheit depending on your voltage setting, which can be either 100V or 240 V.
It comes with a travel bag as well as two hair clips and a heat glove to protect your hand – a really nice touch.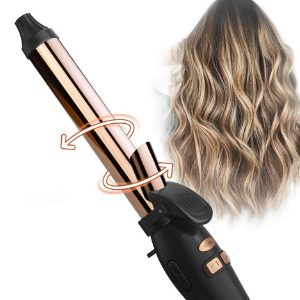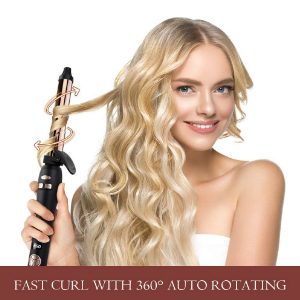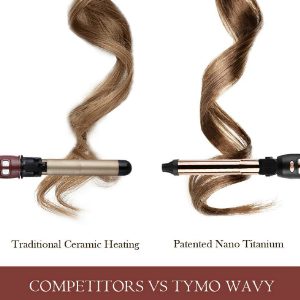 This TYMO heats all the way up within 30 seconds and is really quick at curling even thick hair. We highly recommend this model as a budget-friendly yet efficient curler unless you're worried about your styling skills or have hair that damages easily.
Pros:
Styles hair easily with effortless-looking curls;
Quick heat-up and curling;
Dual rotation speed and direction;
Seven heat modes;
Comes with a bag, a heat glove, and two clips.
Cons:
5. Kiss Products Instawave: The Best Low Budget Pick Rotating Barrel Curling Iron
Kiss Products started as a small studio in New York State but soon grew to make affordable yet reliable beauty products of its own. With an experience of over 30 years, the company offers an extensive line of hair care tools and more.
Instawave is their top curling iron and still has a lower price than most competitors. It has a versatile one-inch ceramic infused barrel that leaves your hair smooth and less prone to fizz than normally.
The first thing you notice about it is that it features a contraption of ridges and prongs that gather and detangle your hair, respectively. While potentially efficient, the design takes a bit of a learning curve to get the hang of.
Only two temperature settings are available, labeled High and Low, in which the former corresponds to 420ºF. This is not a problem for those with thick coarse hair who always use the maximum but leaves little flexibility for finer locks. The good news is that you can choose between two spinning directions to achieve a more natural look.
At 1.35 lbs, the product is also relatively lightweight.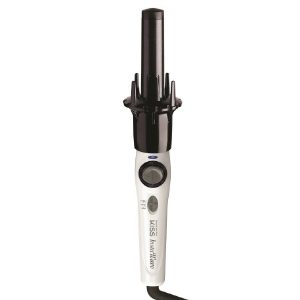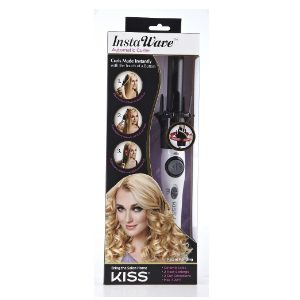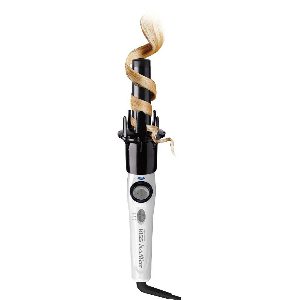 This tool works great after you've had enough practice with it, and it definitely stands out among competitors with comparable price tags for being reliable and gentle to your hair.
Pros:
Very affordable;
Dual barrel spin direction;
Comes with a grip-and-detangle feature;
Compact;
Gentle ceramic barrel.
Cons:
Takes time to get used to;
Only two temperature settings.
6. Conair Curl Secret: A Spinning Curling Iron That Does the Job for You
The device takes automation to a whole new level in that you rely on your timer and temperature settings exclusively. Three timing options are available with an additional choice of high or low heat. The inner space features tourmaline ceramic coating that prevents drying and tangling.
Please mind that the machine won't take strands that are too big or too tangled.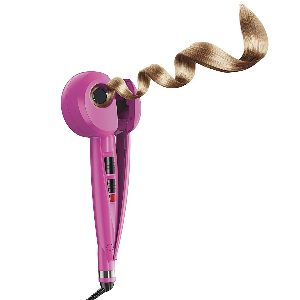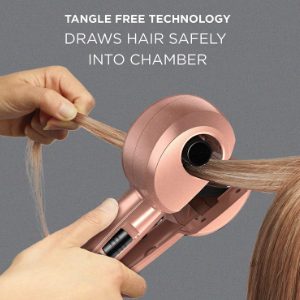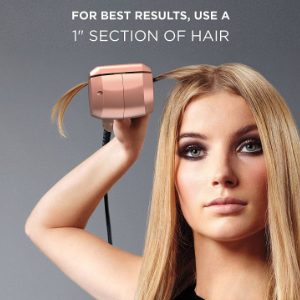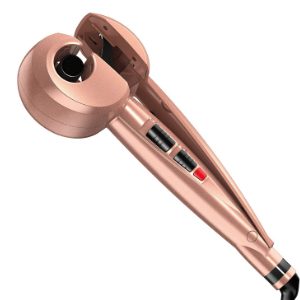 This tool is not control freak friendly by any means because it won't let you choose which way to spin. Instead, it will alternate curling direction automatically.
Pros:
Really does the job for you;
Extra gentle coating;
Good for dry hair;
Produces natural-looking curls.
Cons:
Forces alternating spinning direction;
Only two temperature settings.
7. BIO IONIC Stylewinder: A Moisture-Friendly Curling Iron That Spins
Indeed, this is a standard 1-inch cylindrical barrel with a rotation on/off button and temperature controls offering 140ºF to 440ºF, meaning it can get hotter than most non-professional irons.
The temperature increments in 9-degree steps, which offers a lot of fine control, and a display is included to read the current heat level. Unfortunately, however, you cannot adjust the direction of rotation.
The best thing about this iron is its Nano Ionic MX technology keeping your hair conditioned and smooth. This is why we recommend this tool for those whose hair is really prone to dryness.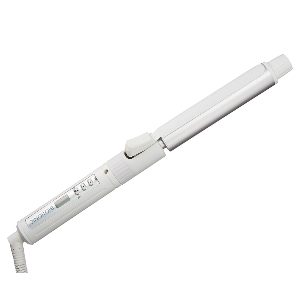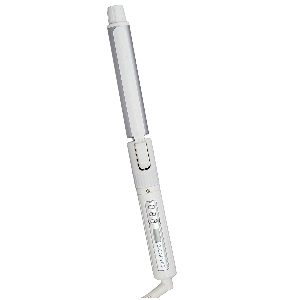 The design is otherwise unfussy to the point of ordinary but very well-made with all the safety features included.
Pros:
Improves hair hydration;
Intuitive and reliable design;
440ºF maximum heat;
Fine temperature control.
Cons:
No direction control;
Relatively pricey.
Buyer's Guide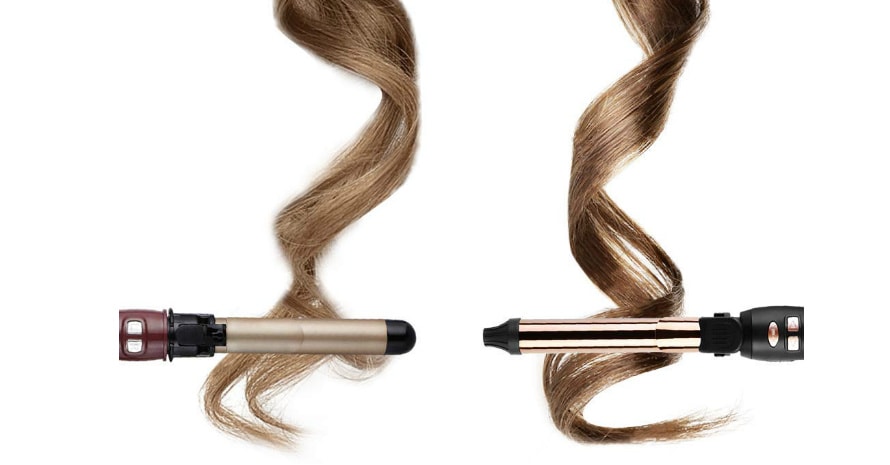 Here we'll tell you what to expect when looking for an auto-rotating curling iron and how to take advantage of the clever technology. Be sure to check the FAQ below if you have any questions left.
How Do I Use a Rotating Curling Iron?
Most products in this category look like a curling iron that curls itself rather than having you do the job by hand. The automation happens and the barrel level, causing it to spin (sometimes with a choice of directions, which works great to create a natural look).
Unlike in traditional curlers, the clamp is relatively loose to allow for all the turning underneath. All you need to do is adjust the settings according to your hair type, which means lower heat for fine hair and hotter modes for coarse locks, place a strand of hair under the clamp while holding the stick upright; otherwise, the hair will keep falling out.
Then press the control that starts barrel rotation and release as needed.
Some models have a more complicated design with de-tangling attachments that mostly look like a crown of prongs around the barrel. These might lack a clamp, which means you just hold the wand upright along the length of a section of your hair and start spinning, and it will catch a strand automatically.
Finally, there are designs that feature a curl chamber where you have no idea about what's going on under the hood. You simply place a strand in the space designed for it with the necessary heat and timer settings entered and press the on button.
Remember to comb your hair before styling it with a rotating curling iron, and let the curls set for some time so that they don't lose shape.
How to treat them afterward depends on the effect that you are trying to create. Those who prefer well-defined bouncy curls might find a bit of hairspray helpful, while more casual-looking styles such as the much-sought-after beach waves will benefit if you loosen the curls with your fingers just a little bit.
It's also essential that you should always curl your hair when it's dry to avoid damage. Regular users might want to give their locks extra protection by using hair oil occasionally and applying a heat protectant before curling it.
Safety Measures
Most curling irons nowadays come with a set of safety features such as automatic shut-off after a certain amount of time and safety stands that prevent the barrel from touching the surface underneath. Using a heat mat can be a good idea if you are really conscious.
Generic electricity precautions such as never using a device with a damaged plug or doing it near water are still a must. Remember not to touch the barrel unless you are wearing a heat-proof glove, which should fit snugly enough and not feel clumsy, and keep the tool out of children's reach.
Some designs are more burn-proof than others, though, so choose one like CHI Spin N Curl if you are anxious about exposed hot parts while in use.
What Are the Advantages of a Rotating Curling Iron
The greatest benefit that technology brings about is that it spares you a lot of tiresome wrist movement. All the spinning happens of its own accord. What you do is control the parameters such as heat, direction, and temperature rather than the motion.
This makes rotating curling irons an easier tool for those not sure about their motoric skills (while also leaving you less freedom in terms of barrel positioning). Besides, since there's no tight clamp the risk of damaging your hair by accident is reduced. With curl chamber designs, burns are also highly unlikely because there's hardly any heating surface exposed.
FAQ
Here are some questions that people often ask when it comes to self-spinning curling irons.
What rotating curling iron is best for my hair type?
As a rule of thumb, ceramic is gentler and thus better for fine, dry, and/or brittle hair, while titanium makes dealing with really coarse locks a little easier. You might also get a high-heat ceramic one if your hair is unruly. Remember to use the heat setting that fits your hair thickness and texture, too: the coarser, the hotter.
What size curling iron for short hair works best?
With rotating irons, it's not really about the size but the shape and whether it can be hold horizontally or in a diagonal position. Conair Curl Secret will probably work well on short hair for this reason.
How often can I use my rotating curling iron?
While it's not uncommon to curl your hair on a daily basis, one to two times a week is still a better schedule in terms of hair health. If you want the routine in your daily life, choose gentle protective coatings that will keep your locks protected and hydrated.
Wrapping It Up
Having your curling iron spin for you rather than using your muscle power is surely a clever idea that makes hair styling a lot easier, especially if you lack the skill or spend a lot of time doing it. Automation also means consistency, so you can recreate your favorite style time after time.
This said, it's high time you checked our top 7. And for those short of time, Beachwaver Co. S1 just has it all.
How long does it usually take you to curl your hair? Please share in the comments, and don't forget to specify what kind of curler you use.
Last update on 2022-12-11 / Affiliate links / Images from Amazon Product Advertising API