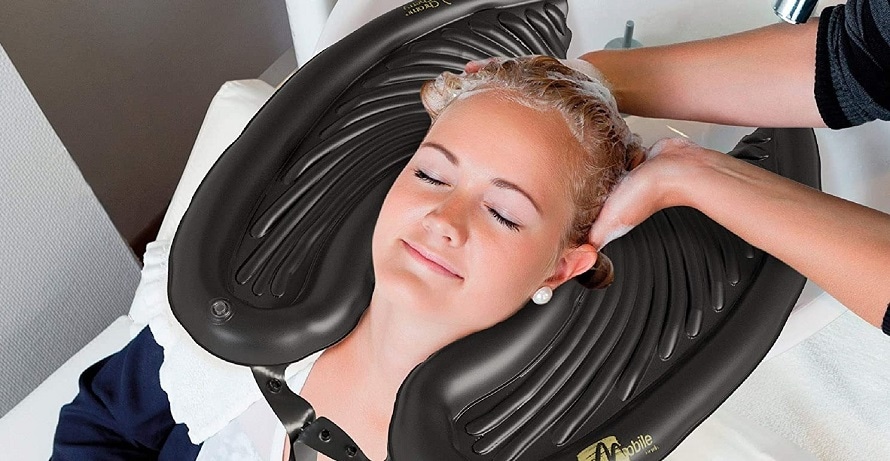 Whether you plan to open your salon or offer hair services at home, you need to find the best shampoo bowl that will be effective and convenient for both you and your client. This part of the equipment is used for washing hair before or after the cutting or trimming it.
The special construction of this washing basin allows doing all the procedures without creating a mess in your working space. Shampoo bowls can be stationary or portable, depending on your needs and preferences, but they remain an important element for your salon. In this article, you will learn how to choose them and what characteristics are significant in this task.
Pros
Portable, lightweight design
Double-reinforced saddle sticking
Best Portable Pick
Pros
Portable, lightweight design
Premium Pick
Pros
Double-reinforced saddle sticking
Top 7 Best Shampoo Bowl Selections
Best Portable Shampoo Bowl: Adjustable Sink from Nova Microdermabrasion
Professional Shampoo Basin with Shower from HEALTH LINE MASSAGE PRODUCTS
Best Shampoo Bowl for Home Salon: Unit Station from Polar Aurora
Heavy Duty CERAMIC Basin from LCL Beauty
Package from LCL Beauty
Mobile Salon from Chrome Cherry
Shampoo Bowl Station from BarberPub
Searching for the right product on the internet can be challenging. However, you can benefit from expert opinion. I'm here to help you with finding the right option. Let's start with my top selection of the basins for your salon.
1. Best Portable Shampoo Bowl: Adjustable Sink from Nova Microdermabrasion
This nice-looking shampoo bowl is one of the best portable models available today. It has a lightweight construction that makes it convenient to move the basin around the salon. It can be used as a temporary or permanent part of the salon equipment.
The adjustable height allows setting a convenient level for both client and a hairdresser. The larger bowl area of this basin also adds the convenience and effectiveness of the washing process.
The stylish look is ensured by the design and black gloss finish. Despite the color, the bowl will not be covered with stains, thanks to the stain-resistant coating.
There might be some problems with draining the water of the hose if it isn't directed down. But aside from this minor issue, this model remains the best portable shampoo bowl you can find on the market right now.








Pros:
Portable, lightweight design;
Adjustable height;
Large bowl area;
Stain-resistant materials;
Black coated gloss finish.
Cons:
2. Professional Shampoo Basin with Shower from HEALTH LINE MASSAGE PRODUCTS
For a professional salon, you might need a mounted shampoo bowl (or a few ones), where you can wash clients' hair without disturbing other people there. This basin from the HEALTH LINE MASSAGE PRODUCTS can be the perfect option.
It is a durable and solid basin with a stylish large black bowl and steel drain system. Its other parts are remarkable as well. The hair trap construction allows easy cleaning, and the drain hose is heat resistant, so it will not break because of the hot water you might use. The installation is simple, and the ergonomic design ensures convenience in use.
However, I have noticed in the complaints that there might be some leaking problems after the installation of this shampoo basin with the details from the kit. Replacing them solves the problems.








Pros:
Steel drain system;
Easy-to-clean hair trap;
Heat-resistant drain hose;
Simple installation process;
Ergonomic design.
Cons:
3. Best Shampoo Bowl for Home Salon: Unit Station from Polar Aurora
This premium pick salon unit has everything you need to have all the required functions of the shampoo station. It is easy to assemble this set and place it. The design will suit almost any modern salon. The construction is convenient for the client thanks to the reclining design of the chair, while the gel neck padding ensures additional comfort and fixation.
The material is durable and prevents ripping or tearing. Spray hose kit includes shower nozzle and a vacuum breaker.
This model can be the best shampoo bowl for home salon with a lot of free space, as the unit is pretty bulky. It requires almost the same area as the set of a basin and a chair, but you cannot separate them in this case.








Pros:
Easy installation;
Reclining construction and gel neck rest for comfort;
Double-reinforced saddle sticking;
A vacuum breaker and a spray hose with shower nozzle included;
Classic and stylish design.
Cons:
4. Wall Mounted Shampoo Bowl: Heavy Duty CERAMIC Basin from LCL Beauty
Buying this Basin from LCL Beauty, you get the complete kit for mounting and using this set in your salon. The installation process will be easy with the added hanging brackets. After this, the basin will be ready to use with the spray hose, and a breaker included.
The compact construction allows placing it in small corners, taking a little space. Heart-shaped design and the high-gloss white enamel finish can become a good addition to the interior. It is also easy to clean and maintain.
However, the drawback of this wall-mounted shampoo bowl is the type of mounting construction. It is not mounted from the back, so the sink might wobble a bit.








Pros:
A spray hose and a vacuum breaker are included;
Compact construction;
Stylish design and high-gloss white enamel finish;
Hanging bracket for wall installation;
Easy to clean and maintain.
Cons:
5. Shampoo Bowl and Chair Combo: Package from LCL Beauty
If you need a black set for your salon, take a look at this package from the LCL Beauty. The bowl is made of the ABS plastic that ensures lightweight but durable construction. It is covered with the high-gloss black finish for a stylish look.
The PVC leather chair is also durable and stylish. It has padded armrests for clients' comfort. Gel neck rest should be attached to the sink.
Buying this shampoo bowl and chair combo is a quiet beneficial deal. However, consider that there were complaints about the comfortability of the chair.








Pros:
ABS plastic bowl;
Durable high-gloss black finish;
Lightweight construction;
PVC leather chair;
Padded armrests and gel neck rest.
Cons:
6. Portable Shampoo Sink: Mobile Salon from Chrome Cherry
Chrome Cherry offers an affordable and easy solution for those who want to add comfort to washing hair at home. This sink is easy to use, as it is lightweight and inflatable. At the same time, it provides good neck support during washing or cutting hair. It is portable, so you can carry it around the home with ease. There are adjusting belts for fixing and attaching the sink.
However, this portable shampoo sink cannot be as sturdy as stationery models, so it might have some spilling issues and leaking seams, according to the customer reviews.








Pros:
Easy to inflate;
Solid neck support;
Convenient construction and size;
Adjustable.
Cons:
Might have leaking seams.
7. Shampoo Basin: Shampoo Bowl Station from BarberPub
The shampoo bowl station from the BarberPub is made of the durable materials, which also provide a stylish look to the entire unit. The bowl is made of the ABS material that ensures durability and lightweightness compared to the ceramic models.
Stainless steel details are also durable and provide high-quality performance. Clients will feel more comfortable with the special warm-design neck support.
This station comes with the whole backwash unit, so it is easy to install it in your salon. The construction matches the majority of chairs. But keep in mind that the height of the unit is not adjustable, and in some cases, customers have issues with proper reclining the chair.








Pros:
ABS bowl construction;
Stainless steel details;
Soft neck support padding;
Matches different salon chairs;
Easy and quick to install.
Cons:
Might not allow the chair recline properly.
Buyer's Guide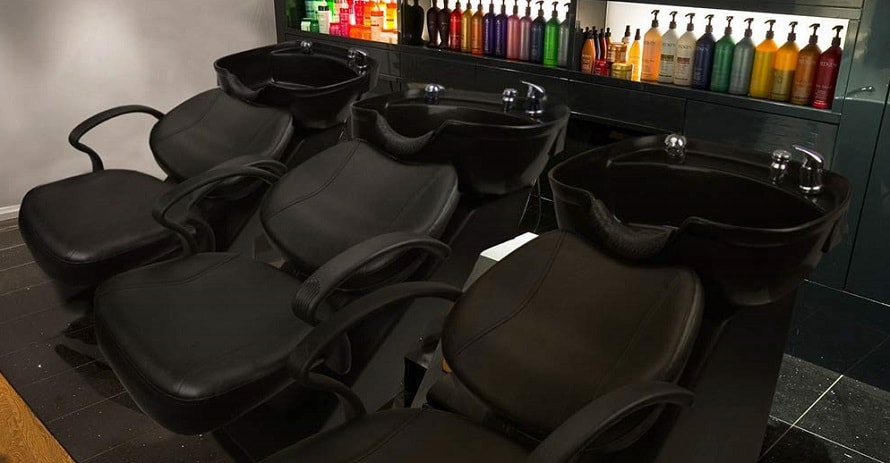 I'm sure the list above has something to offer to almost every reader of this article. However, in case you couldn't find a suitable option, I would like to help you with your further searches. Below, you will learn some basic info you need to know to detect the shampoo bowl worth your attention.
Shampoo Basin: Types
There are two main types of shampoo basins you may find: portable and stationary.
Portable models can also be used in both big and small salons. However, this group of products also includes basins you can purchase for home use. The constructions might include only a basin, or have a portable unit with the sink and the hose. An adjustable shampoo bowl will have a stand or the reclining design. There are also inflatable models, which are suitable for home use or during traveling.
The stationery models are usually mounted into the wall or have the unmovable construction. It can be just a bowl or the unit with the chair and other details. The main aspect is that you should find a suitable spot where you place it. Regardless of the size of your salon, you can find it useful. For big salons with a lot of customers, you might need a few of them, while in small salons, the one stationery sink will be enough.
Choosing the Best Shampoo Bowl
Here is what you have to consider in your perfect shampoo bowl:
Size. Make sure the bowl is big enough to wash the hair without making a mess and splashing water around. The neck should also be wide enough to fit any client.
Design. Apart from fitting the interior, the design should meet your salon specifications. The portable adjustable shampoo sink will be convenient for small salons with a few hairdressers. The mounted models will ensure a stable washing zone.
Material. The durability of the sink is crucial. Ceramic models are durable and easy to wash, but they are heavy. More lightweight sinks are made of the ABS plastic.
FAQ About Salon Sinks for Home
Here is even more information about shampoo bowls and their usage.
How to Use a Portable Shampoo Bowl?
Follow the manufacturer's instructions considering the setting of the bowl and applying its functions. If it is with the stand, just place it near the chair the client sits in, or attach the self-contained units to the client's neck.
How to Install a Shampoo Bowl at Home?
To install the salon sinks for home, follow the instructions as well. As a rule, the manual includes all the steps of the installation process and specify what details and tools you will need.
How Many Shampoo Bowls Should You Have Per Stylist?
The general rule is to plan the salon design to have at least one shampoo bowl per 150 square feet of working salon space, or for every three stylists.
Enjoy Your Best Shampoo Bowl
I hope my recommendations will help you to come up with the basin type that will suit all your salon needs and specifications. Follow my tips for choosing the right product in case none of the offered models is good enough for you. Also, do not forget to check the shampoo bowl reviews, where professionals and regular customers might share their opinion and experience.
Share your experience with us as well! Tell in the comments what model you like the most. What additional information do you know about it?
Last update on 2022-12-11 / Affiliate links / Images from Amazon Product Advertising API